"Traveling alone with my oldest daughter, Livi (now 2.5 years old) was nothing new to me. I did international and stateside trips several times alone. Traveling with two children, ages 2 and 5 months, along with all of our belongings was a new venture.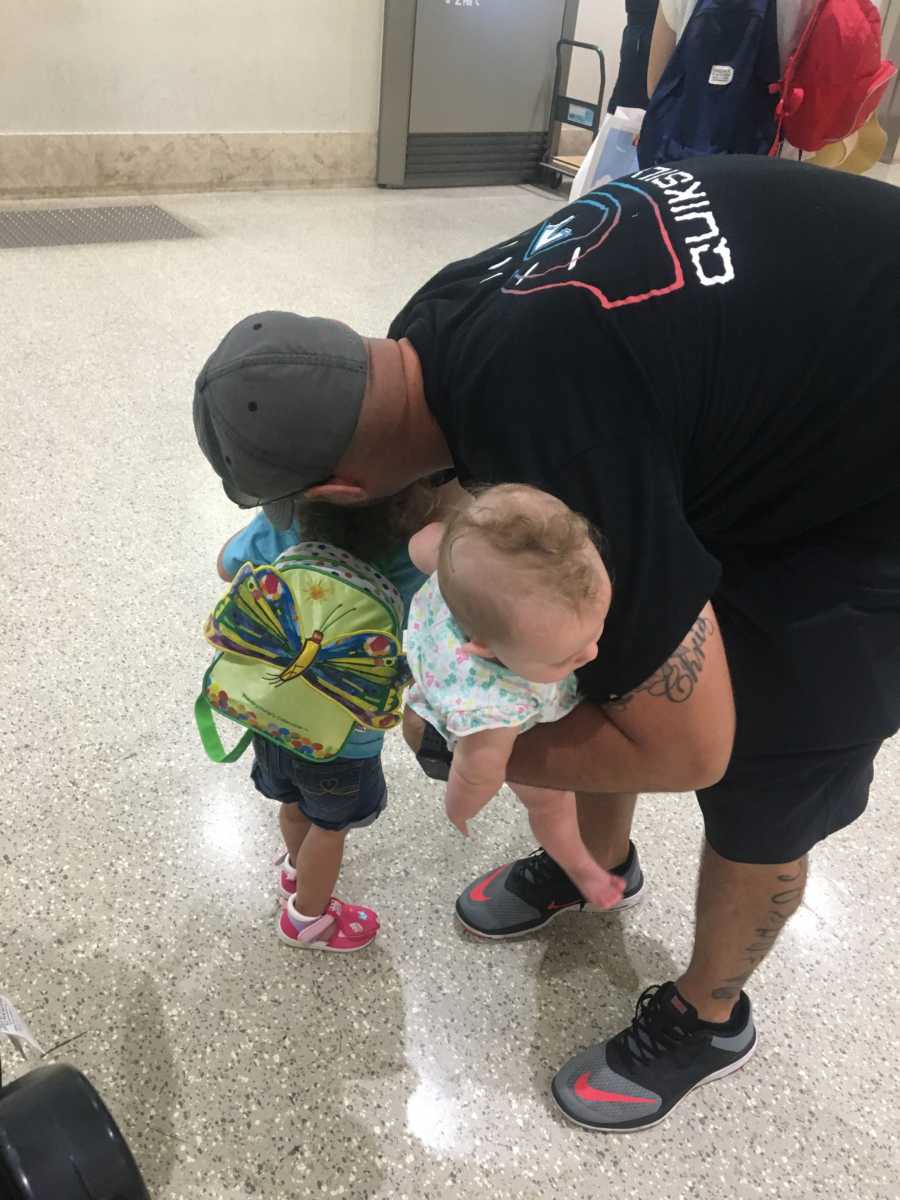 My husband works as an aircraft electrician for Boeing and worked at Kadena Air Base (KAB) in Okinawa, Japan, on two separate occasions. We had a baby girl born each time we were in Okinawa. On the second trip back to the United States, moving my two of our three kids and myself back to the states (the oldest, now 14 years old, was already stateside) was a big task. My husband did not make the trip with us since they had one more month of work to do at KAB. So, he dropped me off with a stroller, two car seats, three backpacks, a breast pump bag, two carry-on suitcases, and four large suitcases each weighing 50 pounds. There were lots of tears and screams but I was certain I could do this.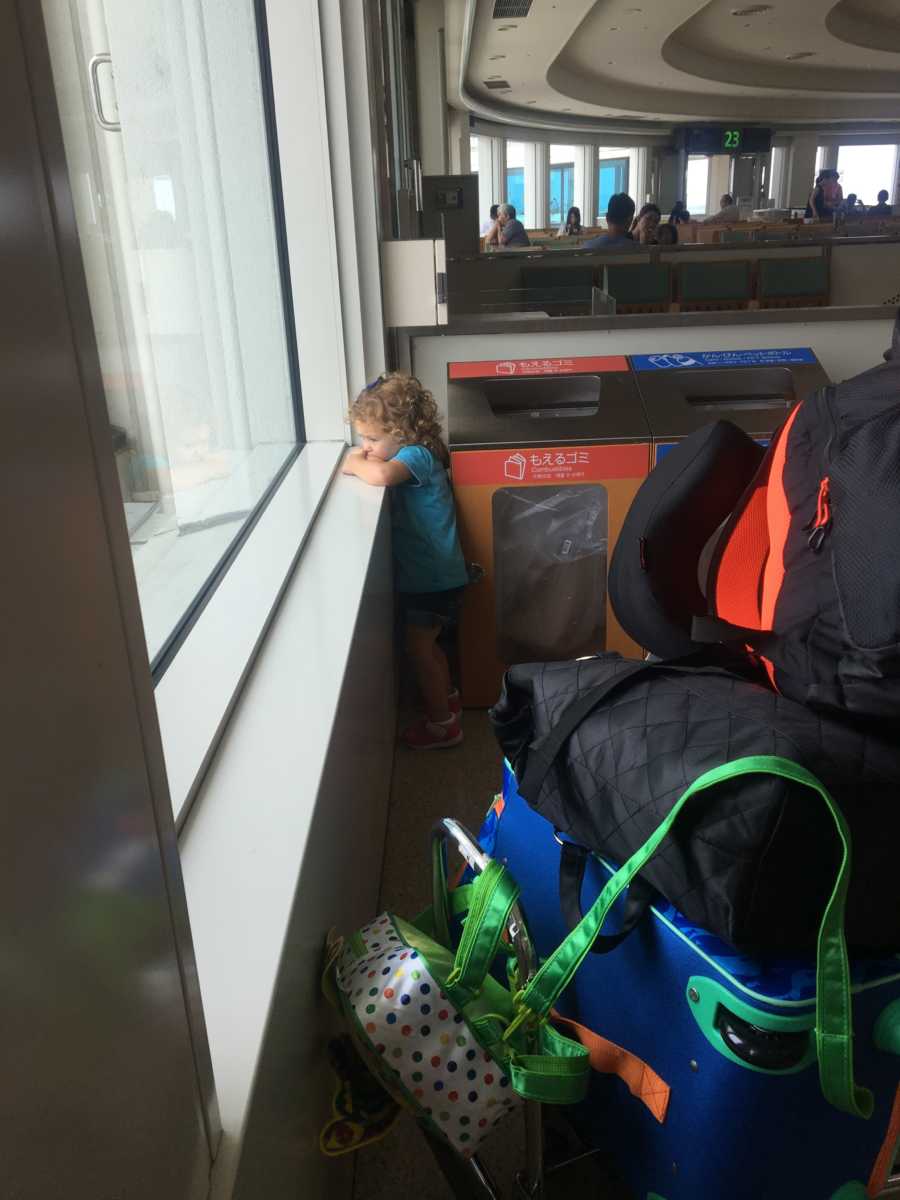 The first airport check-in at Okinawa started the trip out badly. They took my stroller and Livi's car seat. I needed the stroller to carry my stuff while I wore my infant (Cici), and I needed that car seat to contain at least one of the children on the flight. I was a mess. But, I got it together. They moved me to an empty row on the first flight so we didn't disrupt other passengers. I was fine with that; it helped me breathe actually. Then, Cici had a diaper blow out on my lap, all over herself, me and a blanket. I was not going to travel with poopy items so I asked the flight attendant to just trash it when she brought me an extra bag.
This same flight attendant met me in Tokyo to help me get my stroller and car seat for the long flight to Dallas. She was an angel.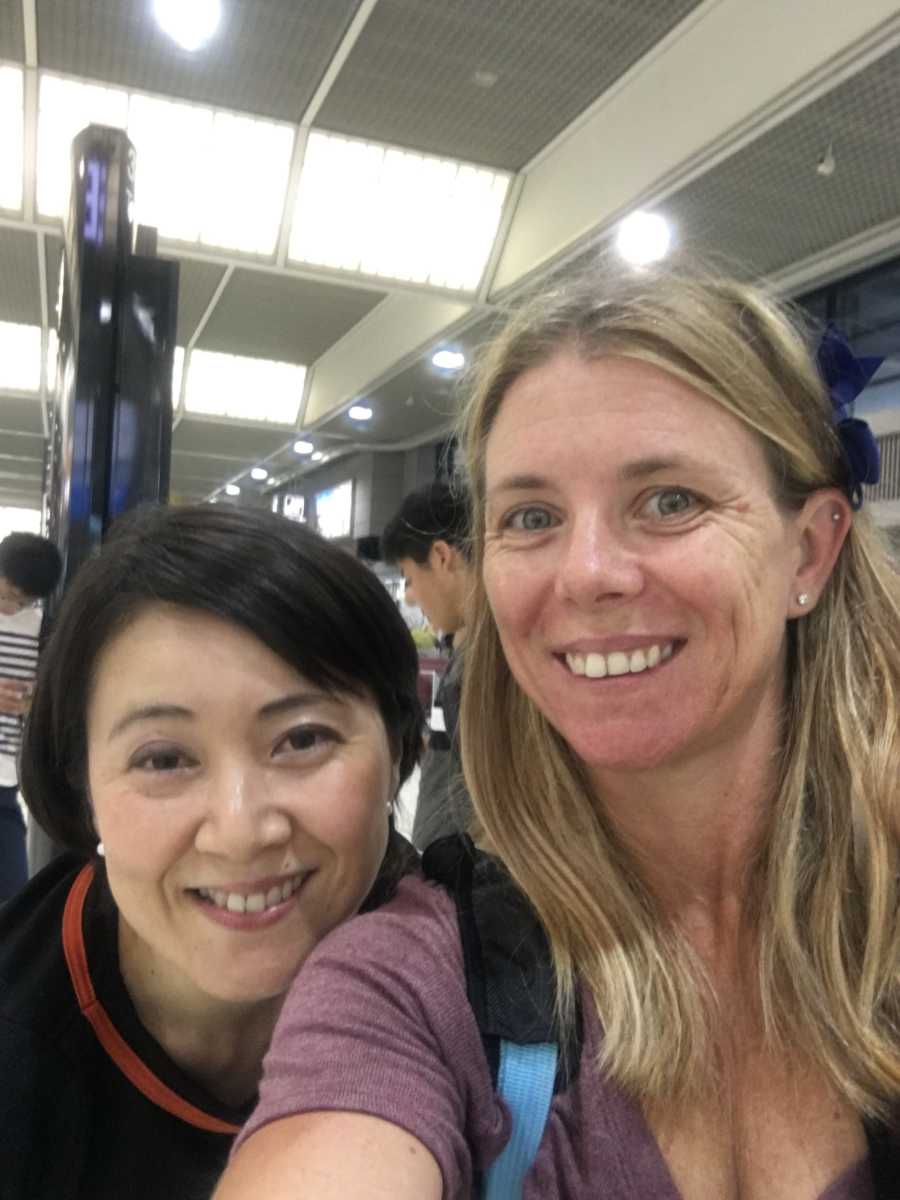 The walk was a mile or more and she was sweet to take time to walk with me instead of going home immediately like her co-workers. She also helped me communicate with immigration who didn't want to let me out of the country — that's a whole other story. I was a heated mess by this point.
Finally, we entered our flight from Tokyo to Dallas. We had a great row in the bulkhead so I could have a bassinet for the infant.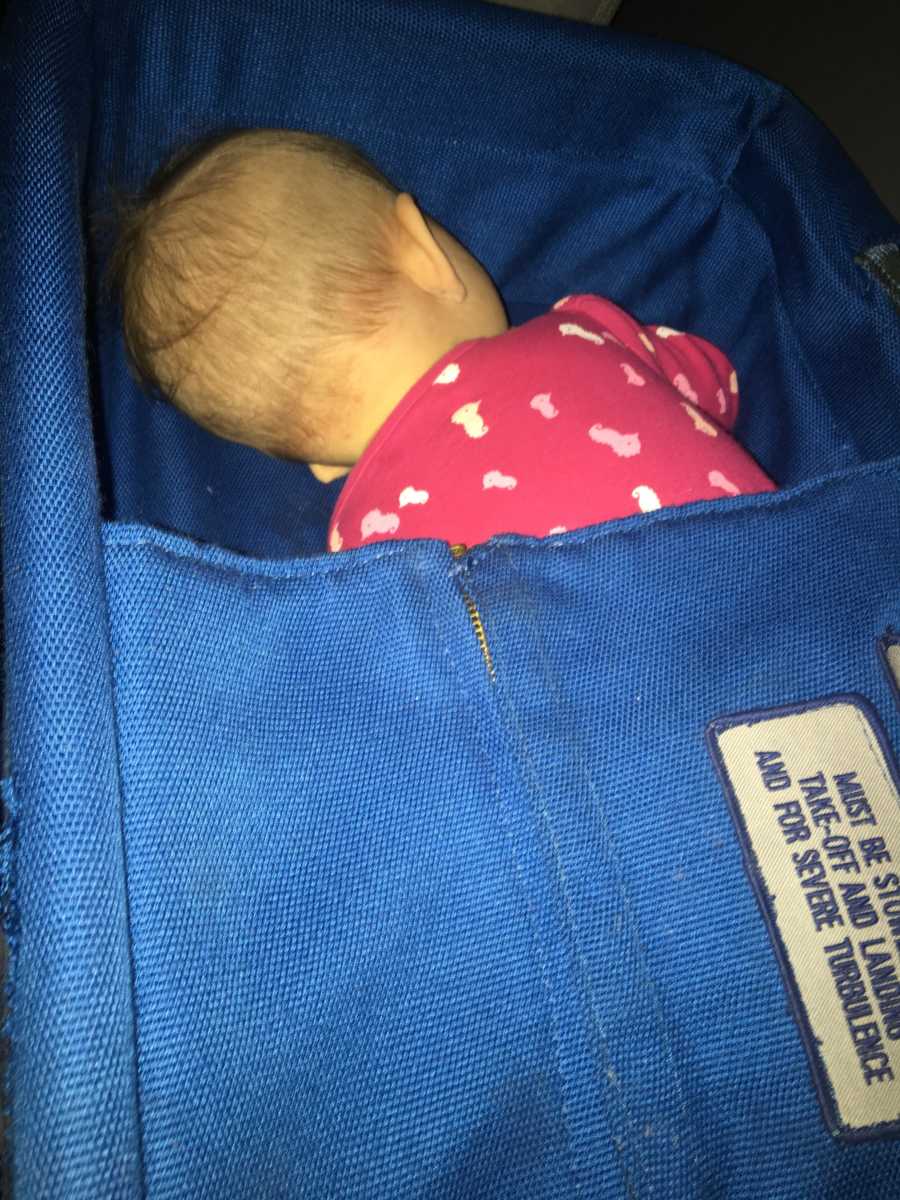 The car seat was installed and we got settled in. A man (later learned his name was Phillip) smiled at us throughout the flight; he didn't seem bothered by two kids and a tired mom. My girls did do well on the flight as they have traveled quite a bit, but it's always hard getting the 'ugh' look from the strangers on flights. Everyone on the flight was helpful. Phillip held Cici while I got the diaper backpack down from overhead storage. I did not know this at the time, but she threw up on him. He never said a word about it. He smiled really big at me when I took her back. I knew she did something but I wasn't sure; Phillip told me later in Dallas.
As we landed in Dallas 14 hours later, I was tired and realized we were landing late. We were rerouted in Texas because of storms. I was a little overwhelmed by the thought of going through customs and immigration with all the bags wondering how I was going to manage it. I've always been able to do it alone. I could do this. I just needed to be positive. Phillip asked if he could help with the car seat. I said no, but he insisted. Then, he stuck by my side at customs getting ALL of my luggage even though the line was an hour plus wait. I told him thank you for the assistance but to go on. He had a fast pass and didn't have any checked bags. He didn't have to stand in line. He tried helping me get a fast pass, but I couldn't do it. We each had a cart with my luggage. Seriously. He was amazing. He allowed me to put Livi on his cart since there was more room on his.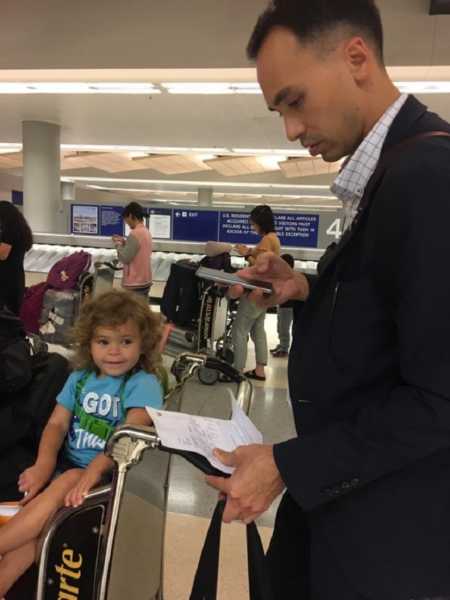 We chatted about family and jobs. He was in Texas for the birth of his brother and sister-in-law's first baby. What an amazing brother he is! He came from Thailand for that. That line took forever. He made sure his rental car would hold his reservation and stuck with me.
The next roadblock on our journey appeared. People were throwing luggage on a conveyor belt and running to catch flights. Well, Phillip talked me into going to the desk because he said there was no way I would make my next flight. He asked me how important it was that we arrive in Amarillo that day. He then told me if we needed to get there that night, he would drive us. I was taken aback! This complete stranger was my angel on earth. I explained it wasn't necessary, that we would be there several weeks and one less day wouldn't hurt anything. But seriously, he would give up time with his family to help us?! He walked with me, my girls and all my luggage to the ticket counter. The lady took sympathy on me and gave us a room in Dallas for the evening. While she was redoing our tickets and getting our accommodations together, Phillip was hiding coins in Livi's ears and gave her Thai paper money to hold (and keep). He made this process so much easier than it would have been. Again, my angel on earth. We rechecked our bags except what we needed for the evening. Phillip walked with the girls and me to the stop for hotel shuttles and went on his way.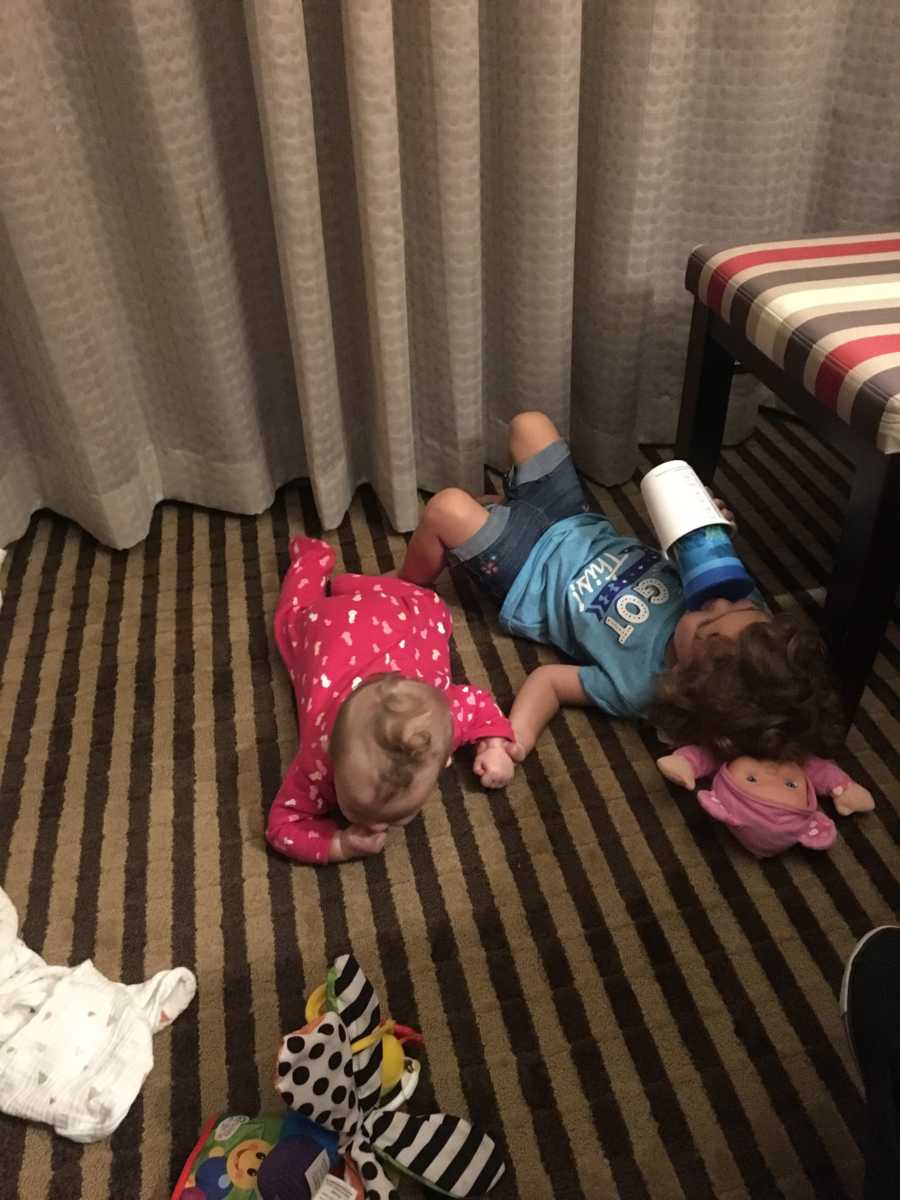 I was so overwhelmed and exhausted that I did not think to get his full information, LinkedIn profile or anything like that. I do remember seeing his last name on his passport. It had a lot of letters like mine and I commented about it. I know he was raised in Texas, is half Thai and has lived in Hawaii. I shared the picture of Phillip and Livi on my personal and business Facebook pages but haven't found him yet. I'd love to offer a proper thank you and let the world know how amazing this man was for my family. A complete stranger didn't have to help me, but he did with an open heart. I'll never forget him."
This story was submitted to Love What Matters by Jackie Oehlschlager, 36, of Virginia. Submit your story here, and subscribe to our best love stories in our newsletter here.
SHARE this story on Facebook to help find Phillip to thank him!