"During late September 2020, I saw an article on my Facebook newsfeed about someone who changed their skeleton yard display every day during the month of Halloween. After scrolling through the article and laughing at the outrageous poses that were included, I began to actually consider doing something similar.
Our house is situated on a busier road directly next to a stop sign, so we see a good deal of traffic on a daily basis. When the pandemic began in March 2020, my husband, Tim, and I started working from home full-time. My office window faces our front yard and I see quite a few walkers, joggers, cars and buses during the workday. I mentioned the idea of posing skeletons in the front yard to Tim, to which he jokingly responded, 'I only decorate the inside of the house, so that I can enjoy it!' This has been a running joke for a number of years now on why he doesn't put Christmas lights on the outside of our house!
That evening, I impulsively ordered two five-foot skeletons and a three-foot skeleton to represent each of our family members (Tim, myself and our preschool-aged son, CJ). I was honestly a little nervous when they arrived because I thought CJ might be afraid of them. To my surprise, he loved them and before they were displayed in the front yard, he took them for several rides in his toy truck. We named them 'The Skelintons' because that's how our CJ pronounced 'skeleton' at the time.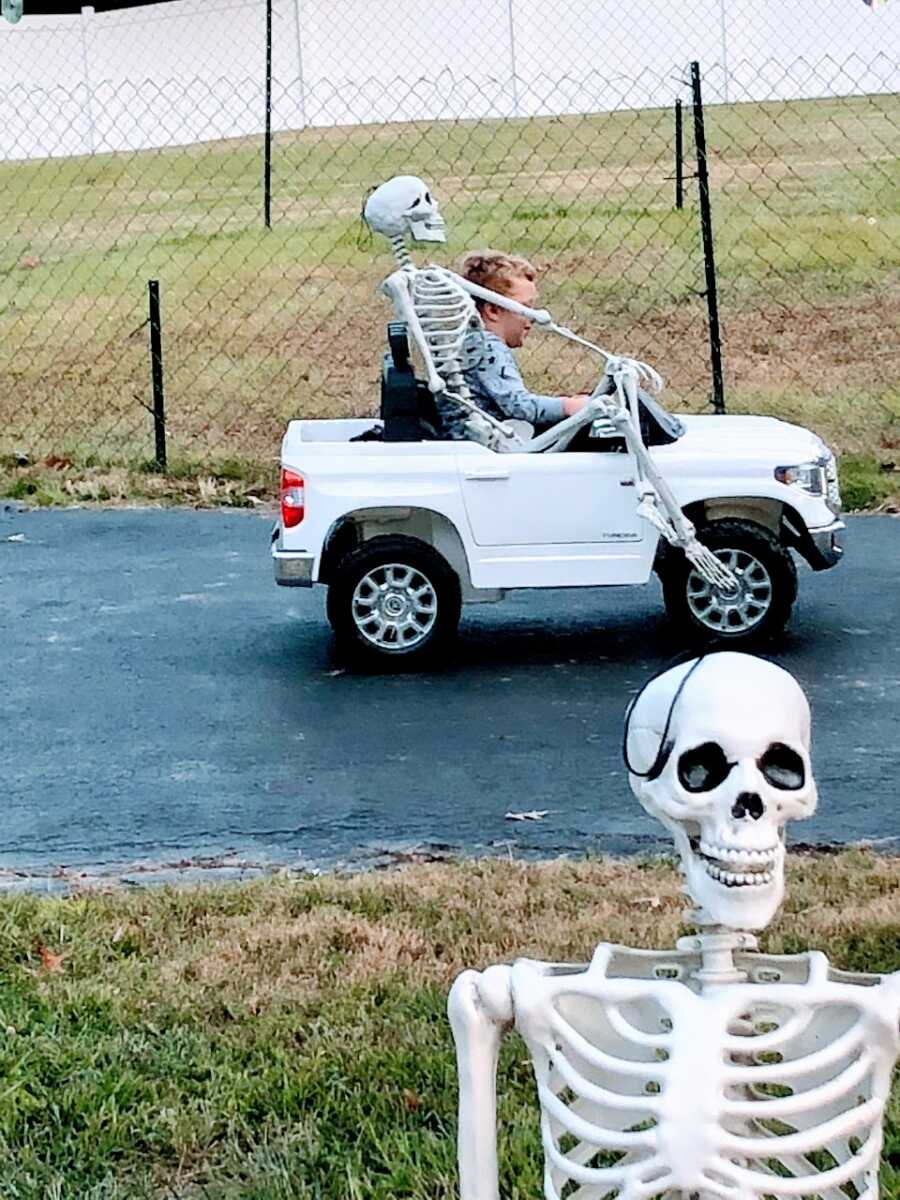 It took about a week of posing the Skelinton family in different scenarios before we received our first piece of 'fan mail' from a neighbor. In a time where you typically only receive bills and junk mail, we were extremely excited to receive a real piece of mail and for it to be from someone letting us know they were enjoying what we were doing!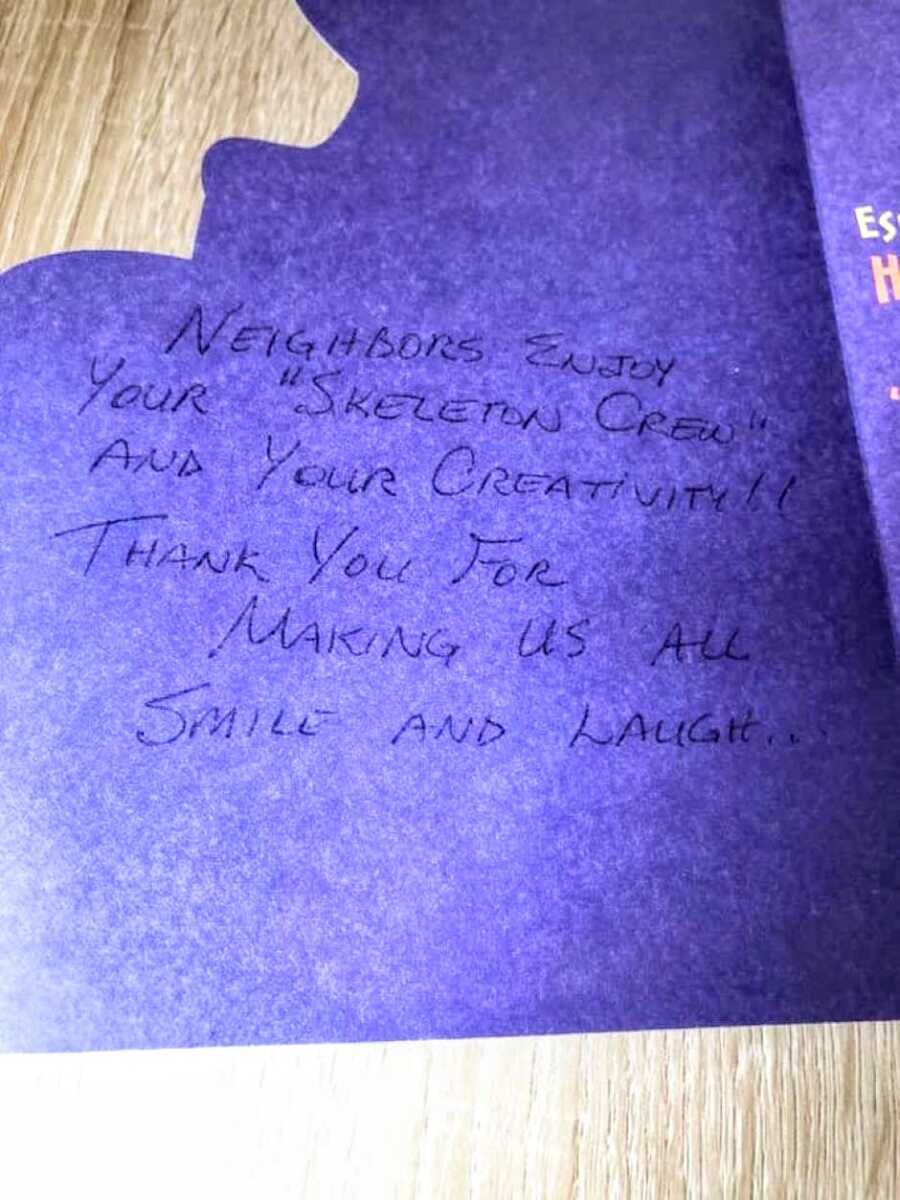 As the month went on, we noticed more waves from walkers, honks from drivers and comments of appreciation all around. The skeletons seemed to have provided the community with some comic relief during a time where many people were feeling isolated due to the pandemic. Neighbors would tell us they were sending daily pictures of the skeletons to their family and friends all around the country, even some from Arizona! We created our Facebook page to help share the skeleton's daily activities with members of the community and for those outside of the area who wanted to follow along.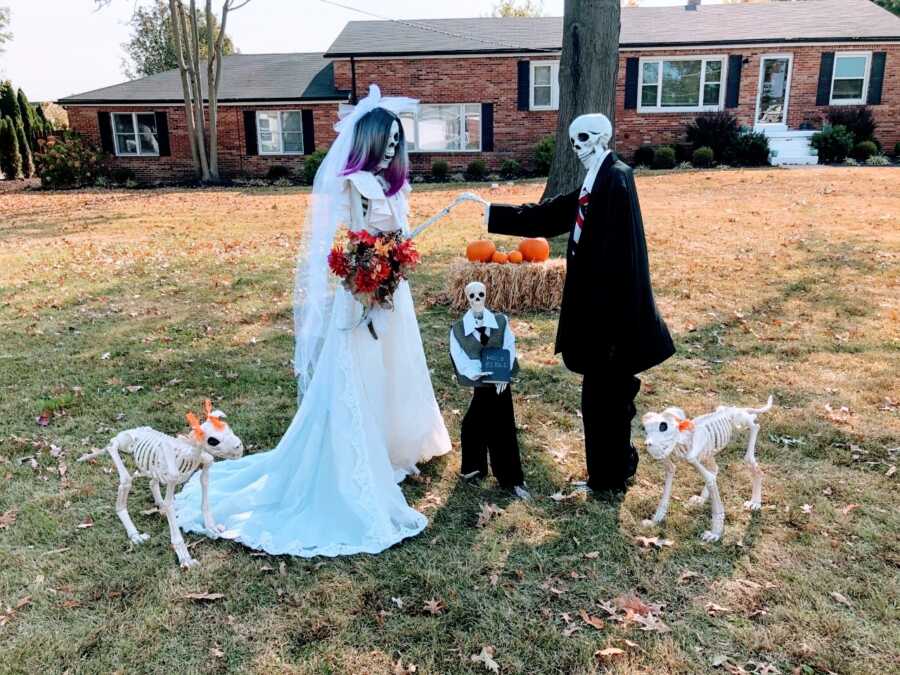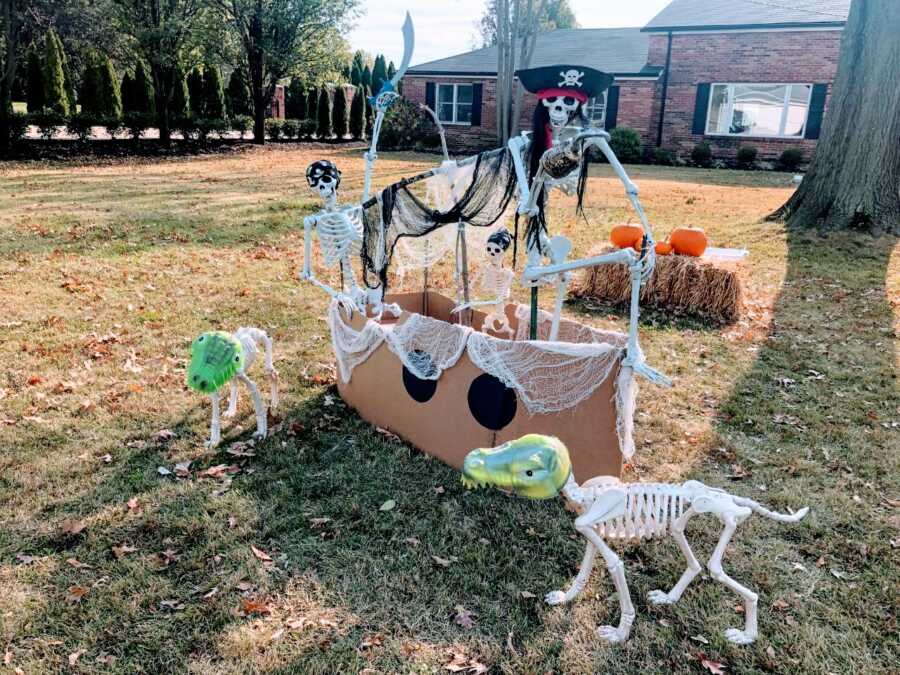 As the month came to an end, several neighbors expressed how much the skeletons would be missed. With that in mind, we decided the skeleton crew would make holiday appearances. They appeared for Thanksgiving, Christmas, Easter and Memorial Day. The 4th of July firework scene sparked an idea to expand the skeleton's appearances to include the Summer Olympics.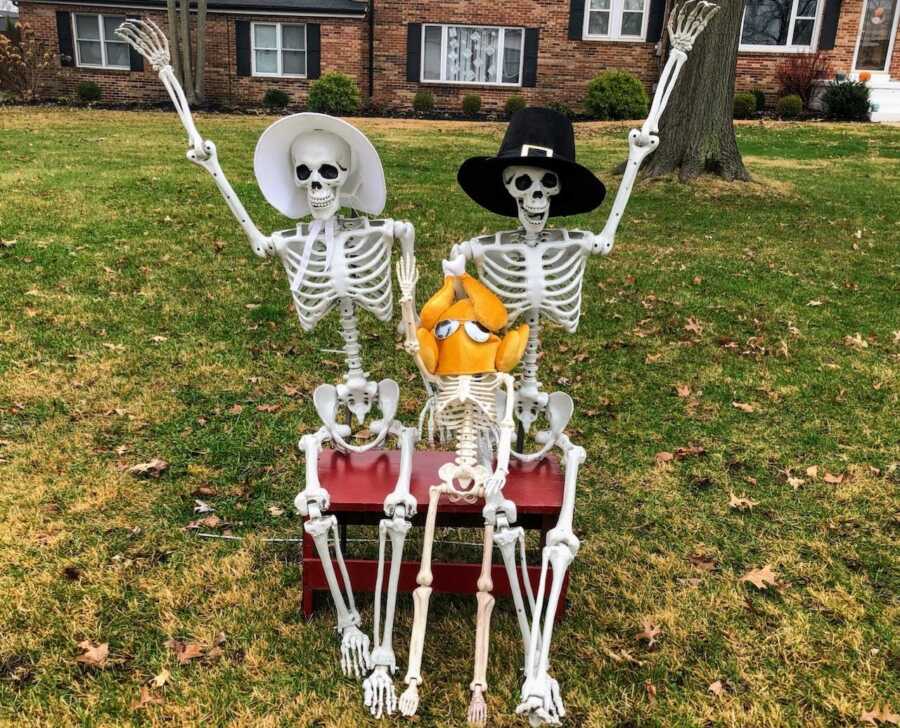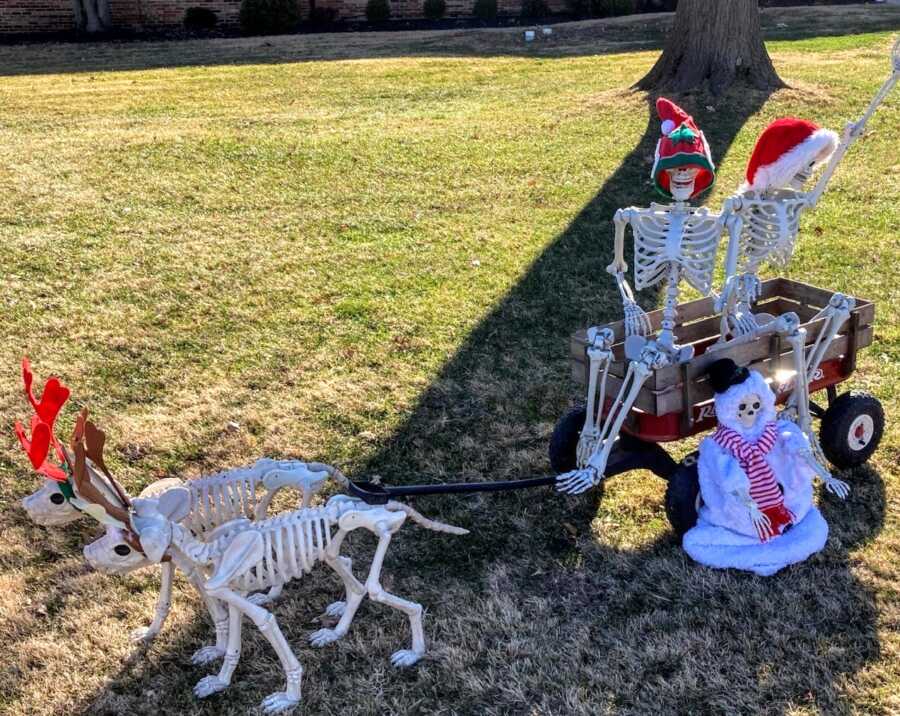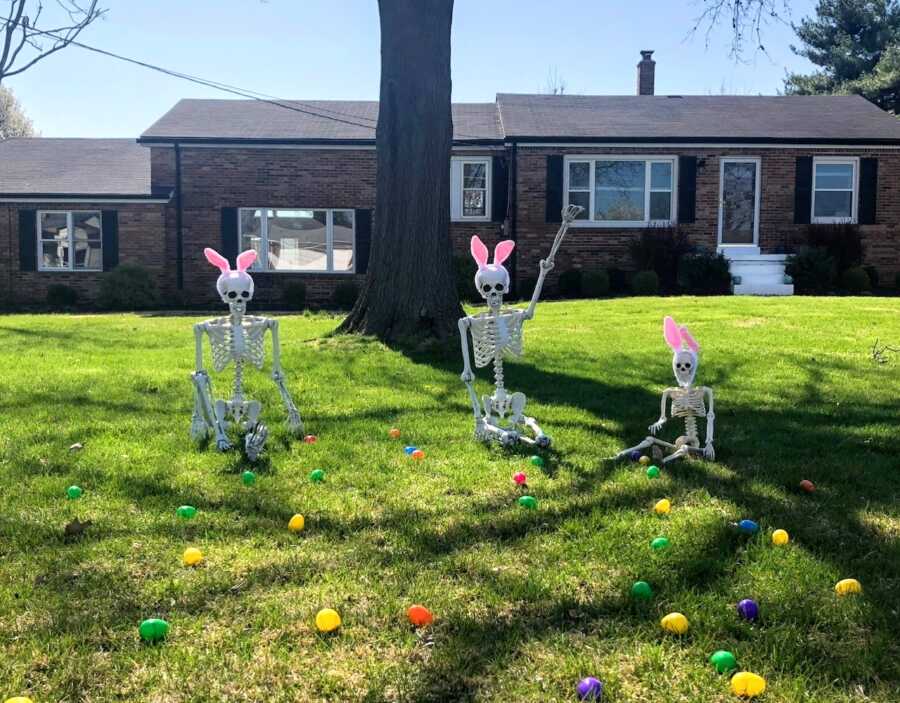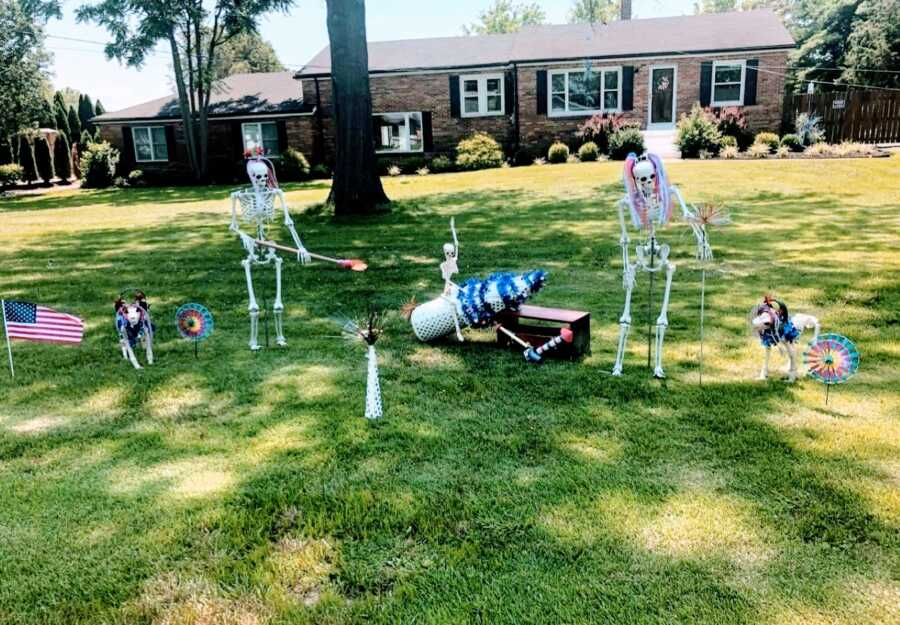 During the Summer Olympics, we created scenes of the skeletons participating in several events, including gymnastics, diving, pole vaulting and even BMX freestyle. The community absolutely loved it and we received more positive remarks than ever before.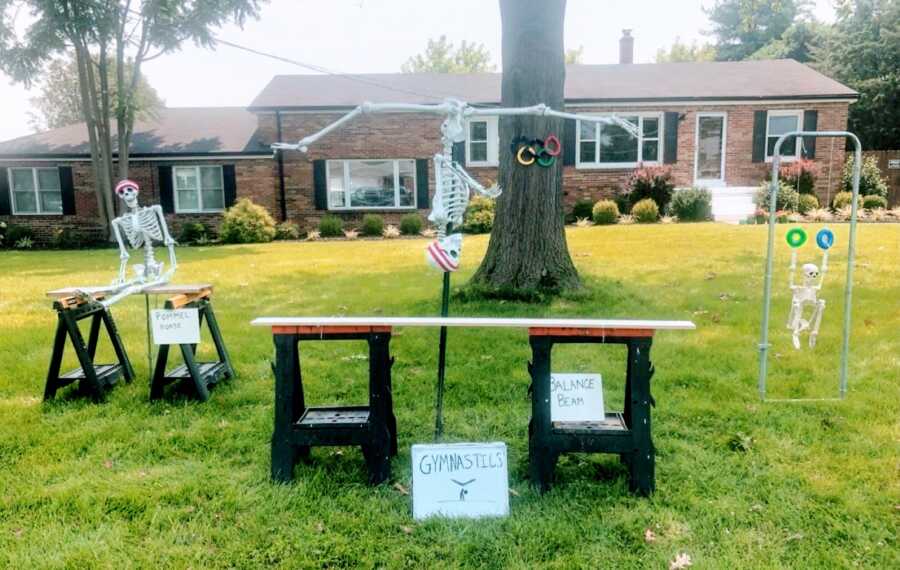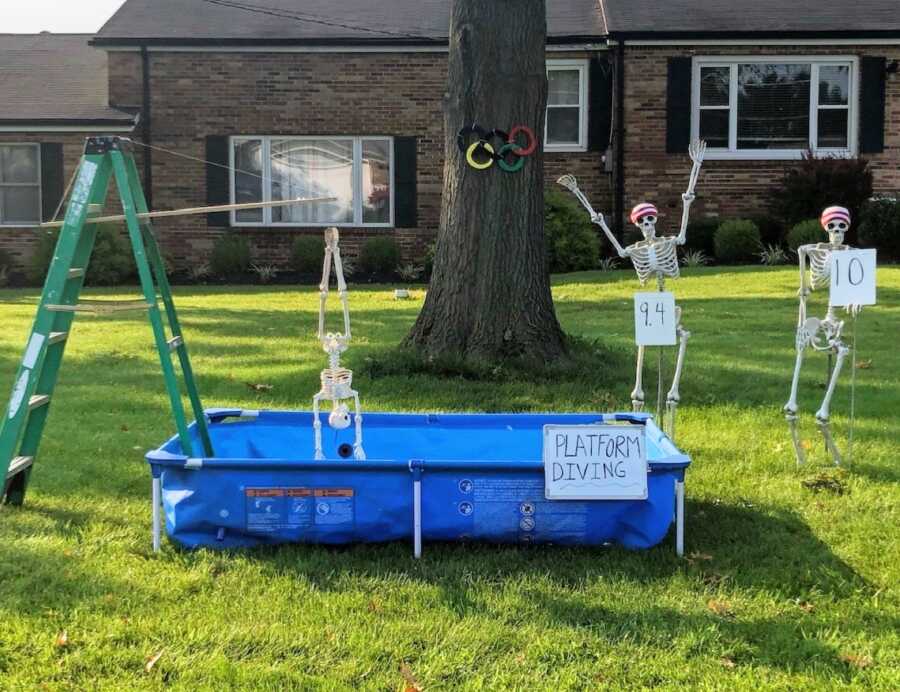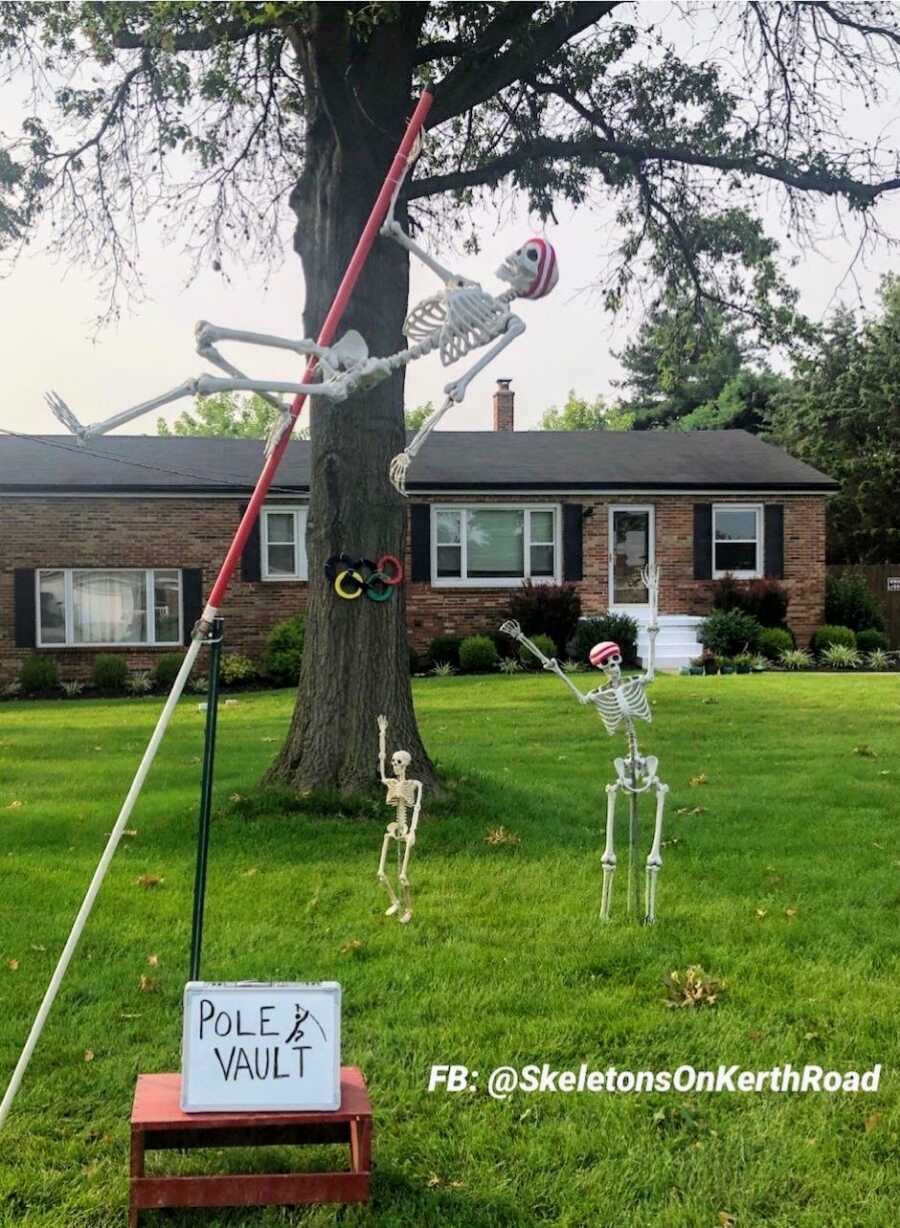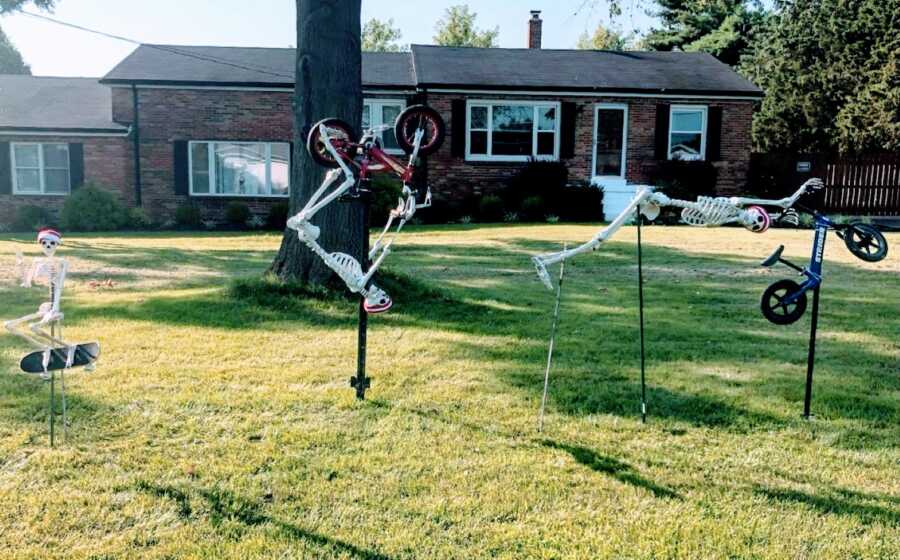 Around the same time as the Summer Olympics, I began my pursuit of the infamous, and incredibly difficult to find, 12-foot skeleton. After stalking Home Depot for several weeks, I was finally able to secure the newest member of the skeleton crew and he made his debut to the neighborhood a week before the rest of the shenanigans began.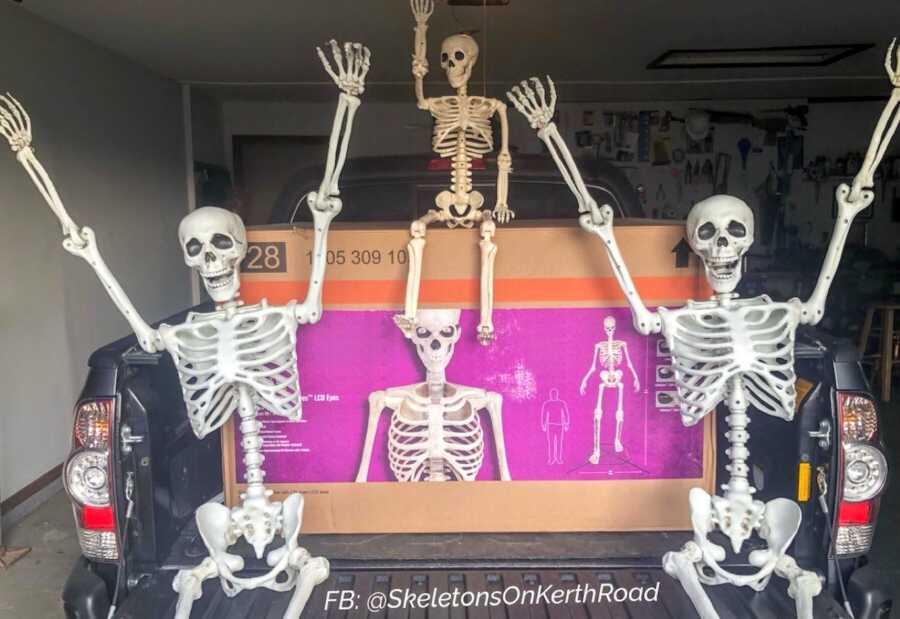 The month of October has been full of new adventures for both new skeletons and old. They have been practicing their ballet, reenacting Teenage Mutant Ninja Turtles and even Super Mario Brothers! We have definitely noticed an uptick in traffic on Kerth Road this month, especially around school dismissal. We love watching the cars slow down for pictures and when walkers take photos with the skeletons. The sense of community the skeletons have brought is why we continue to do it. And although it's almost Halloween, there will be plenty more skeleton shenanigans to come…planning for the Winter Olympics is already underway!"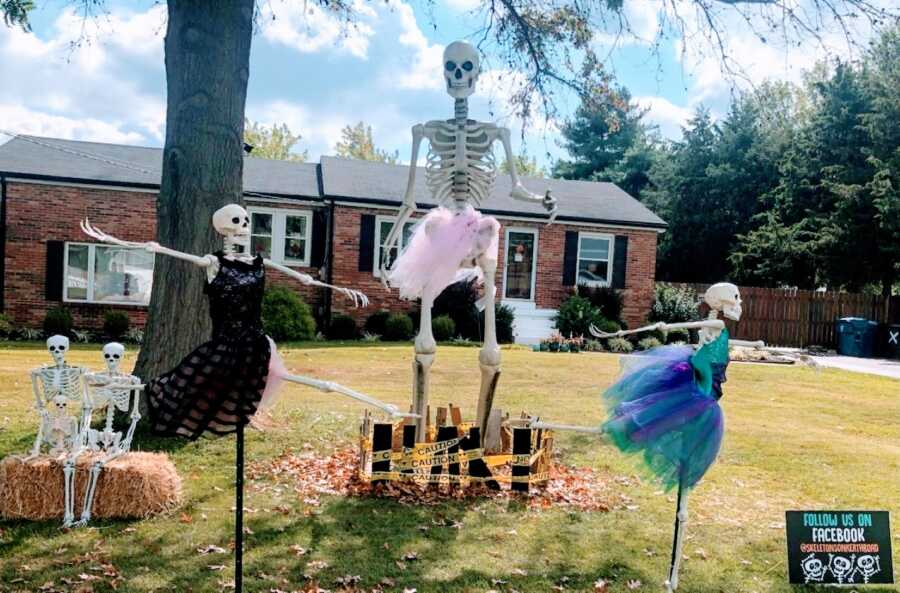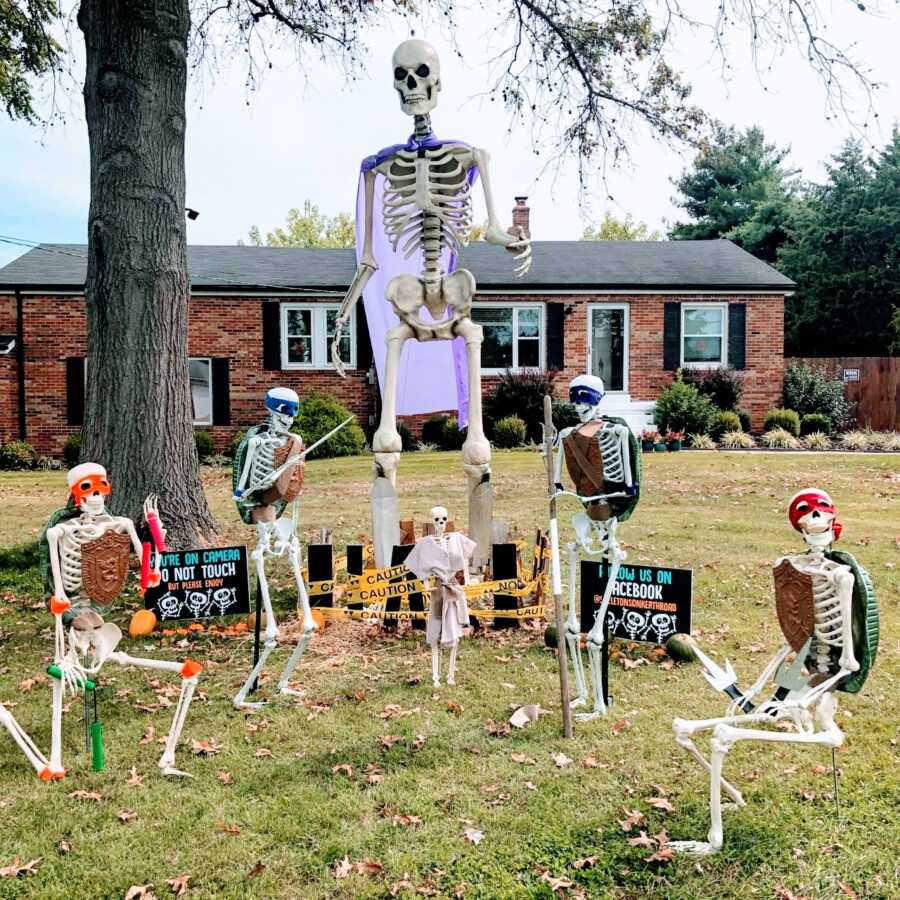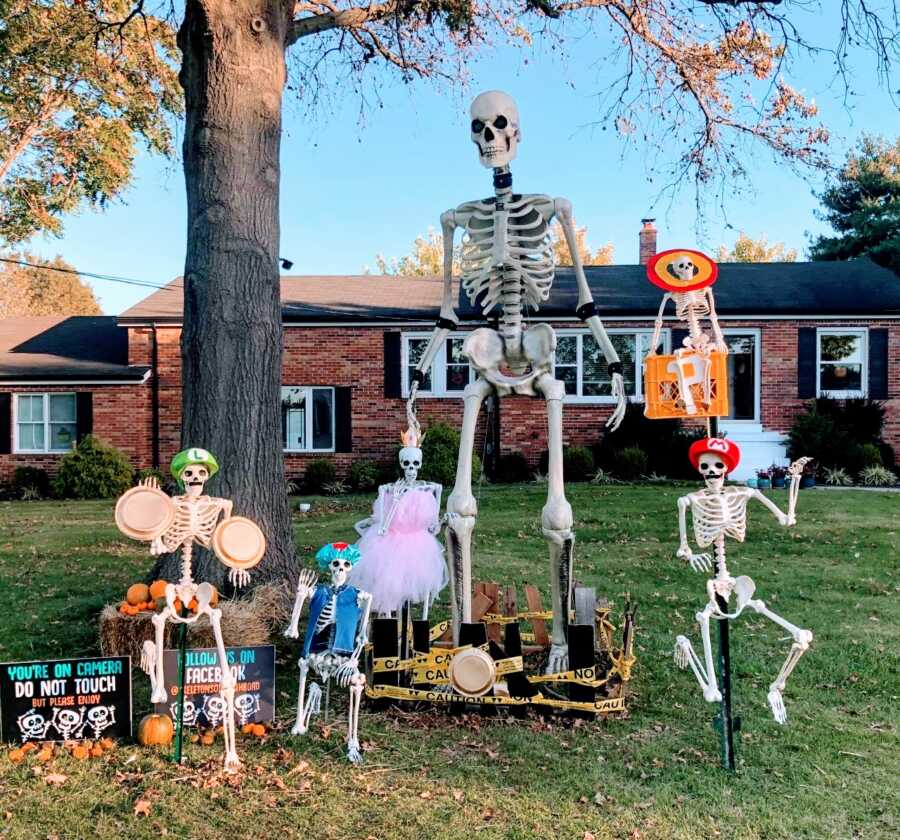 This story was submitted to Love What Matters by Hannah Pauk of St. Louis, MO. You can follow their journey on Facebook. Submit your own story here. Be sure to subscribe to our free email newsletter for our best stories, and YouTube for our best videos.
Read more stories like this here:
'My neighbors change these skeletons every day for Halloween. I think I finally need to share them.': Woman documents neighbors' amazing Halloween efforts
'Please take down your ghoul. It's scary and inappropriate.' An anonymous neighbor sent me a letter.': Mom urges 'let kids be kids' after neighbor complains about Halloween decorations
Woman Turns Sculpting Skills Into Full-Time Niche Business: You Won't Believe This Tiny  Food Isn't Real!
'We asked what he wanted to be for Halloween. 'Bumblebee, the Transformer.' We wanted his costume to actually transform.': Mom learns lesson from DIY Halloween costume fail
Help us show compassion is contagious. SHARE this beautiful story on Facebook with your friends and family.