"I was 4 years old at the time. I was in our living room, sitting on the floor, mumbling some improbable narrative about a little toy pony I had in my hands. My mom stopped vacuuming and approached me with trepidation, unsure of how to tell her 4-year-old daughter when she wakes from surgery the following day, her foot will be gone. 'Honey,' she says, 'Tomorrow isn't a normal surgery like you're used to. When you wake up, your foot isn't going to be there.'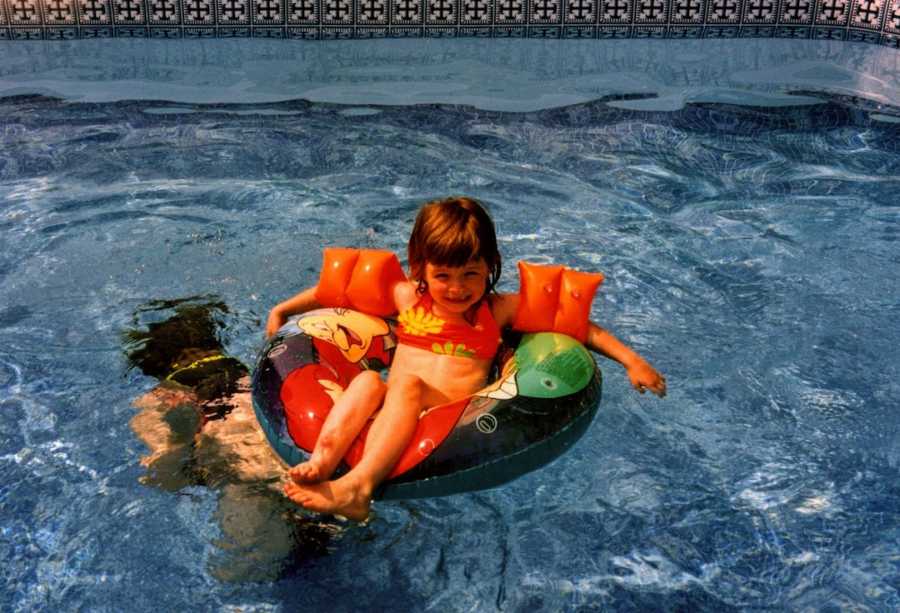 'Oh,' I paused, stopping my dramatic pony saga. I looked down at my braced foot, looked up to my mother, and said, 'So they're just gonna chop it off? That's cool. Do you think they'll use a big saw?' And just like that, I continued with my pony's couch adventures, unphased by the news just delivered by my mother. I was born with a congenital bone disease called pseudoarthrosis. About three-quarters of the way down, my tibia bone was a gap. It never fully formed into one solid bone. Instead, I was left with a leg I couldn't put weight on, and a foot that looked like it decided to stop downloading halfway through.
Doctors tried everything they could to save the leg and accompanying 'foot': rods, screws, bone grafts, prayers the foot would miraculously complete its download. Eventually, with numerous unsuccessful surgeries and prayers unanswered, the doctors presented my family with two options: 'You can keep trying to save the leg with the possibility of success being low, or you can amputate and fit her with a sweet prosthesis.' My family chose the second route, as evidenced by my pony-vacuum story. My mom planned for the amputation to be right around Christmas time. She was hoping the joy and festivities typically surrounding the holidays would distract me from my new life situation.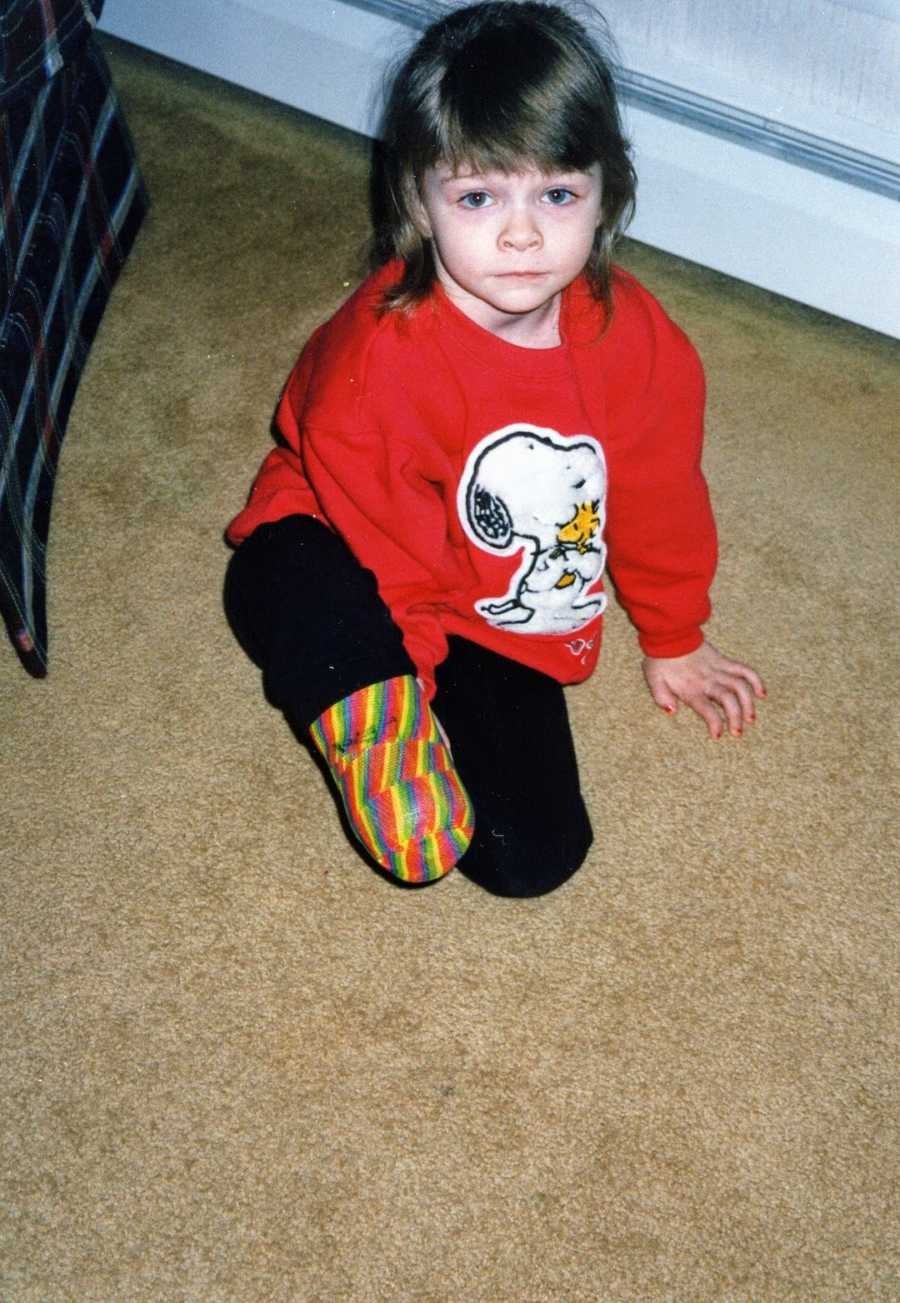 Her plan half-worked. I don't remember the amputation specifically, but I do remember when they took the bandages off for the first time afterward. At the bottom of my leg, where my foot would have been, was now replaced with a pink, squishy, bulbous mass. I've traded my half-downloaded foot for a leg that looked like it went through a garbage disposal. I asked the doctor to scrape off the pink squishy stuff. He somehow delicately explained to my 5-year-old self the pink squishy stuff was there to stay.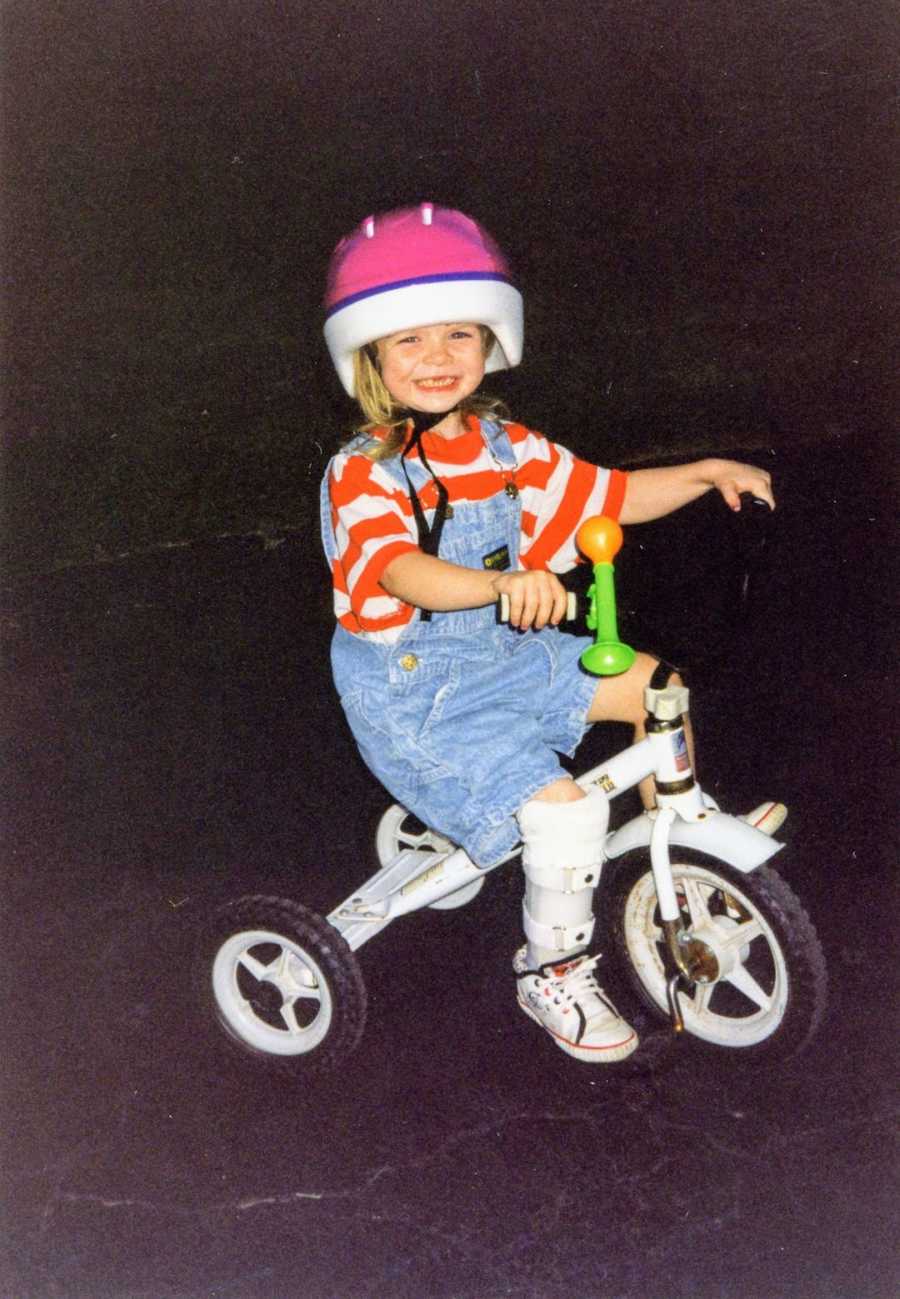 I remember being a bit devastated by the news. I wore a sock over my leg for the first few months because I hated to look at it. Eventually, though, the ability to be a kid again slowly started outweighing the pink squishy stuff. I was able to swim again, ride a bike, run, climb trees, play with my friends and siblings. At 5 years old, I quickly learned a life lesson many people struggle with into adulthood: self-acceptance. My pink squishy stuff is ultimately what allowed me to live a life majorly unaffected by my missing foot. I had come to be grateful for it rather than angered by it.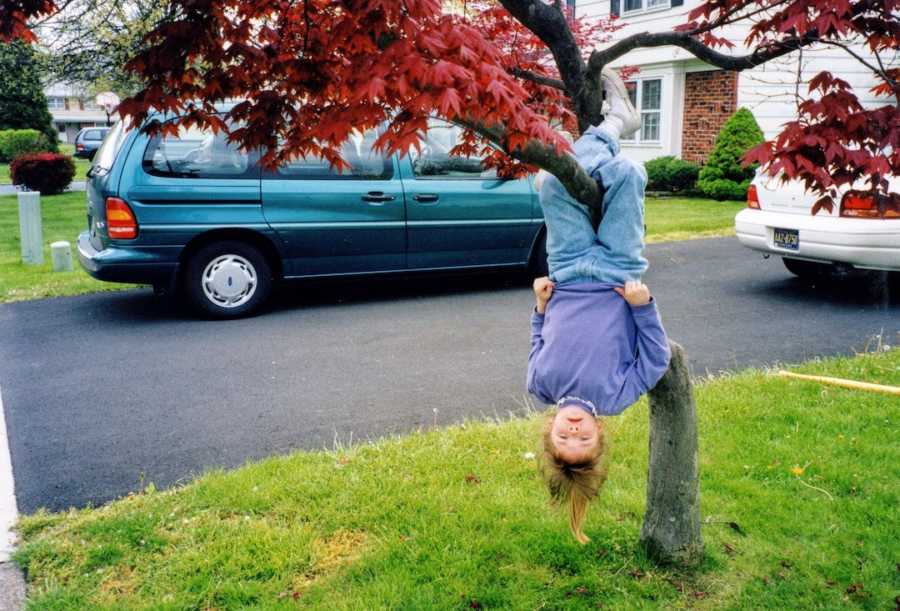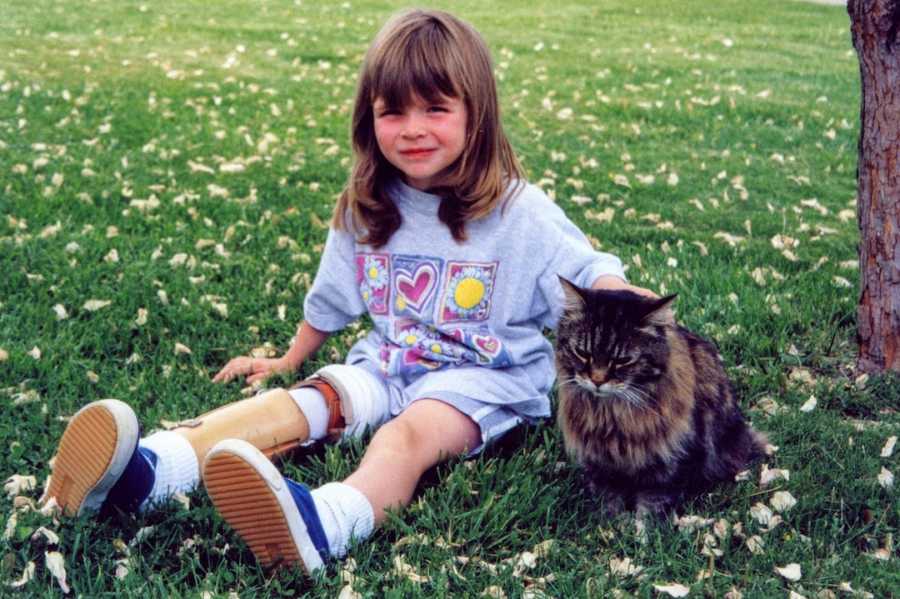 I credit my mom for my early self-acceptance life lesson. She taught me, 'Being different isn't just okay, it's something to be embraced and celebrated.' She helped me realize, even as a child, I had so much power to educate, inspire, and empower. Just by living my life, I was able to teach people having a disability doesn't automatically imply incapability. She also taught me my perception of myself and my leg is contagious—if I can accept myself, others will too. She's always been my biggest supporter and I cannot thank her enough for helping to build me into the woman I am today.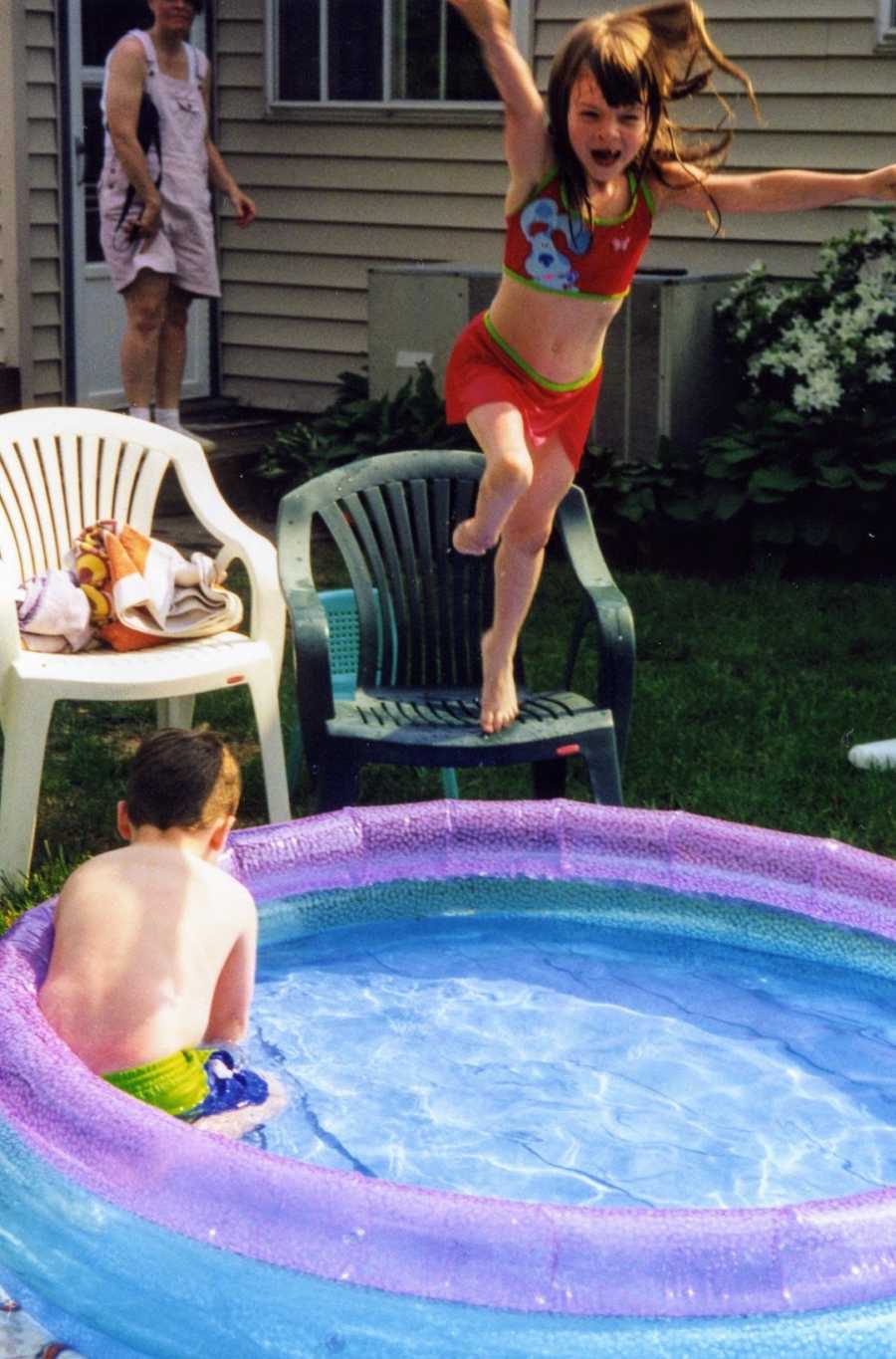 It's been over 20 years since my amputation and my pink squishy leg and I still live and breathe self-acceptance. I try to be as open and honest about my leg and my situation as possible. The more I can help educate, the more disabilities become accepted and accommodated in society. Unfortunately, the world still has a stigma around disabilities. I'm told far too frequently, 'You're brave for wearing shorts.' No one should be told they're brave for wearing a weather-appropriate piece of clothing. I'm hoping the more I embrace my difference and wear my shorts, the more others in a similar situation feel brave enough to wear their shorts. Wearing pants should be a choice, not a feeling of obligation out of fear of shame.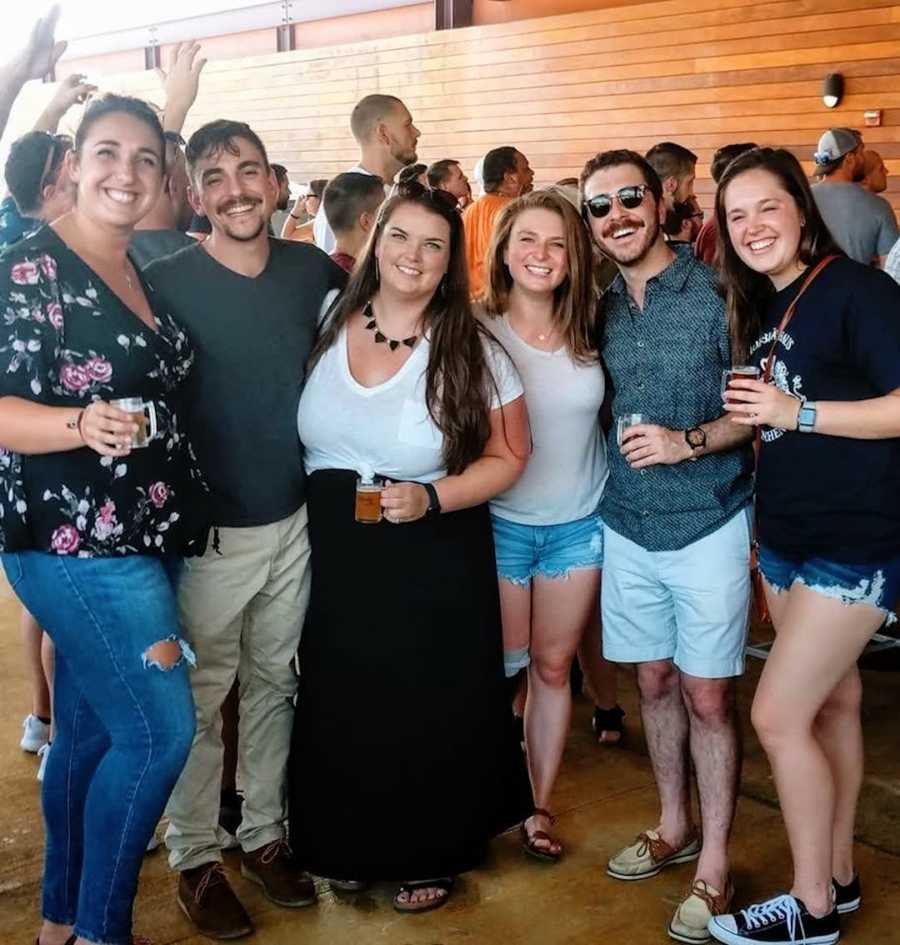 I've done a few things recently to truly try to embrace my leg and help destigmatize the perception around disabilities. After graduating from Lehigh University in 2016, I decided to decorate my grad cap with a joke around the cost of tuition. The cap said, 'Cost:' and had a checklist saying '45K,' 'Arm,' and 'Leg.' '45K' and 'Leg' were checked off. I took a picture with my cap and posted the photo on Reddit.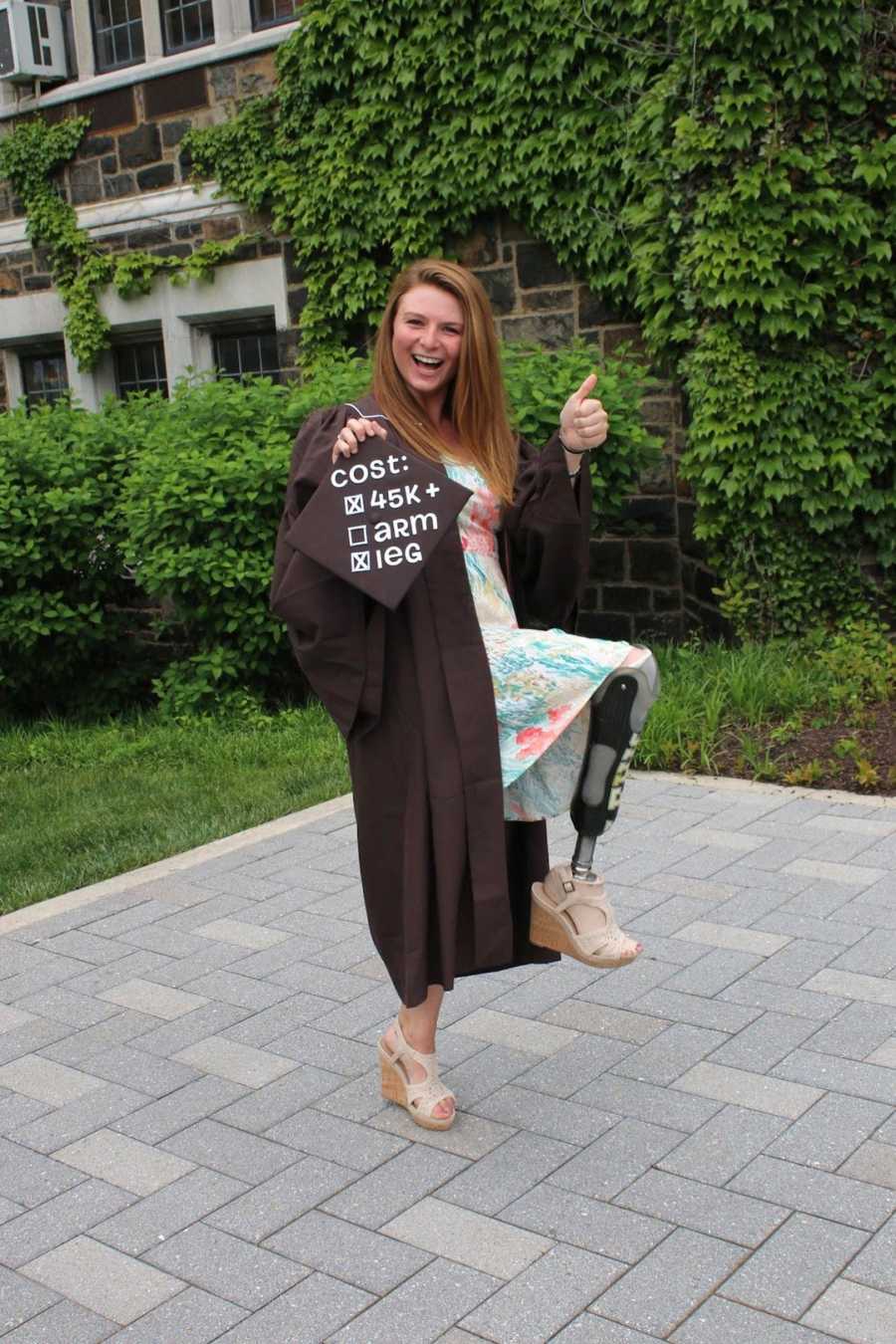 Within hours, the photo went viral. It was admittedly kind of neat seeing my face all over the internet, but what was even neater was the private messages I got. I had multiple messages from people saying they are in a similar situation and it's inspiring to see someone so confidently embrace the one thing they feel so self-conscious about. My seemingly-insignificant goofy decision to decorate my graduation cap had fundamentally helped shape people's perspectives of their own disabilities.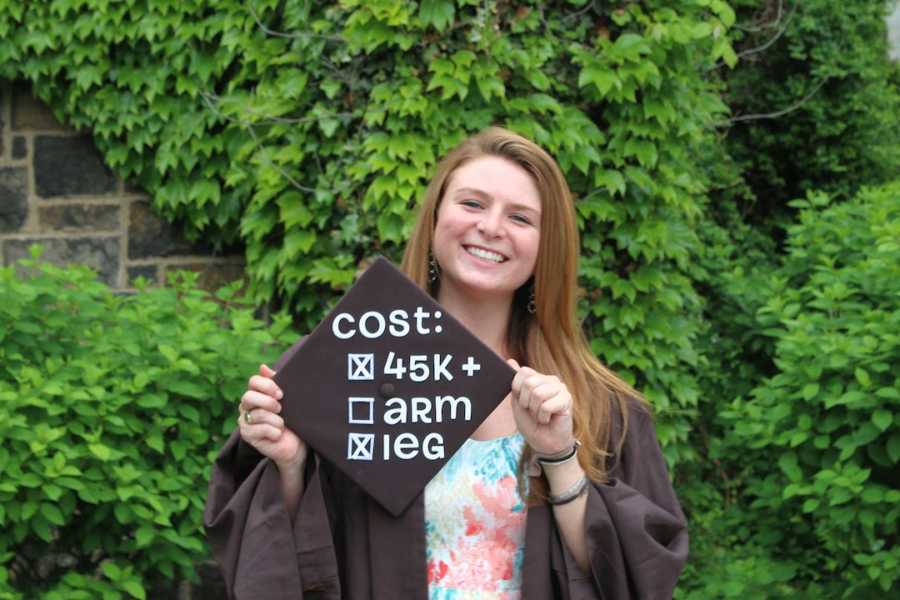 I kept up with this trend of posting photos on Reddit. I've posted a few things that went viral: My 'Christmas Story Leg Lamp' Halloween costume, my 'My Leg' shirt post-surgery photo, my 'one nightstand' Halloween costume (you'll have to search the internet for that one…). The photos with the most significant impact were my travel photos from Europe. In 2018, I went on a backpacking trip with a good friend from Lehigh. As we traveled from city to city, I would write the location on my chalkboard-painted prosthetic and take a photo. I wanted some unique travel photos to capture our adventures.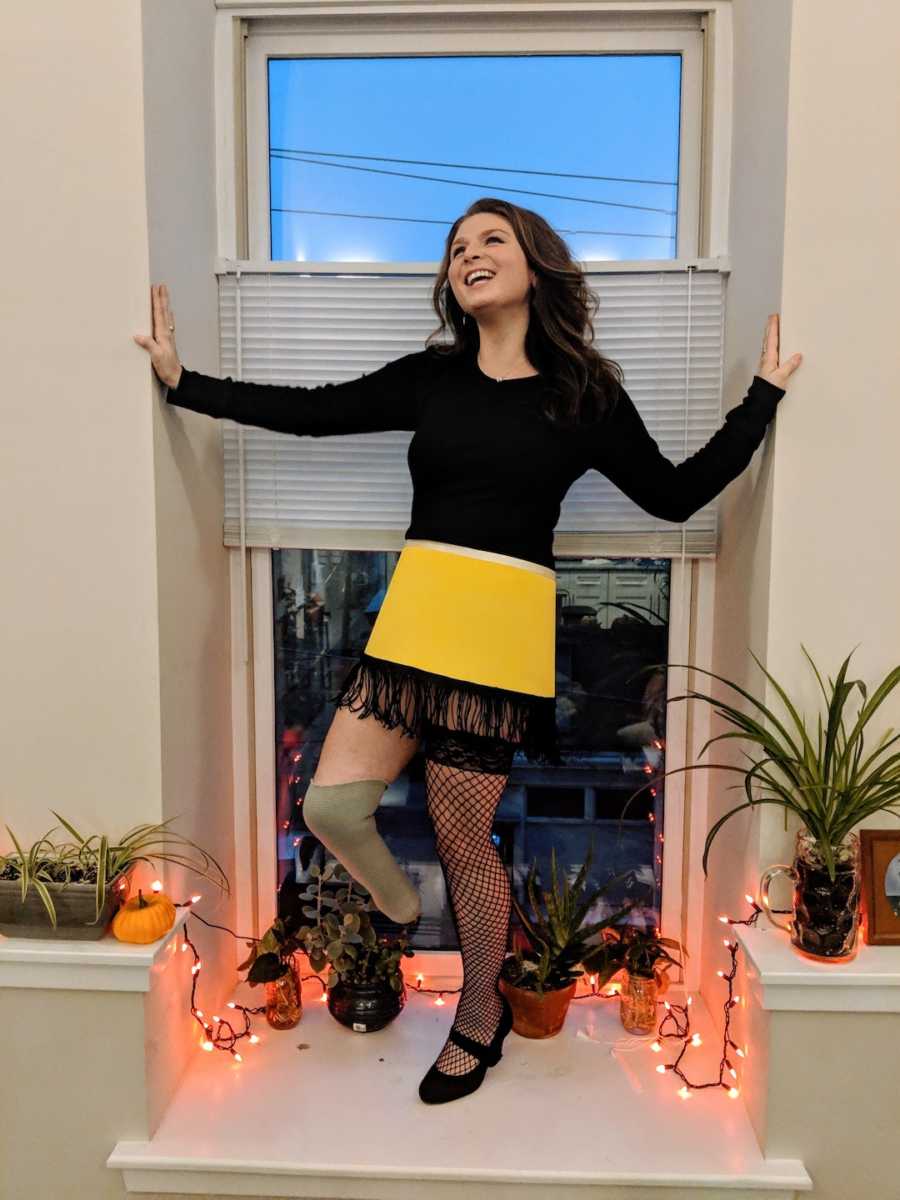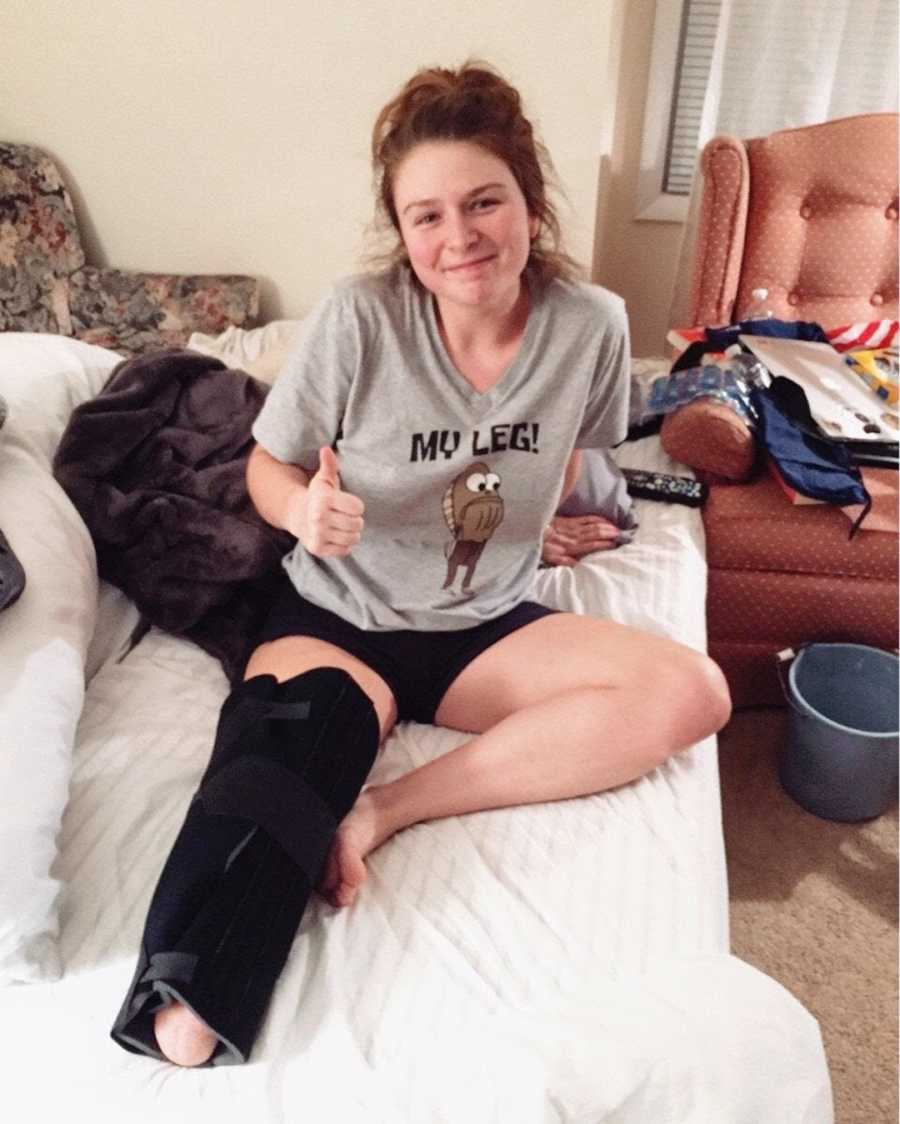 Ultimately, I posted these photos on Reddit and, yet again, within hours, the photos went viral and I had numerous messages from people commending me for my bravery. One message stands out. Someone messaged me saying, 'I've always dreamed of traveling, but I was always too afraid because of my disability.' My photos single-handedly convinced them to buy a plane ticket and plan the vacation they've always dreamed of. It felt so fulfilling, knowing my self-acceptance had such a profound impact on someone's life. I think of this stranger often, and hope they've come to live a life full of travel and self-acceptance.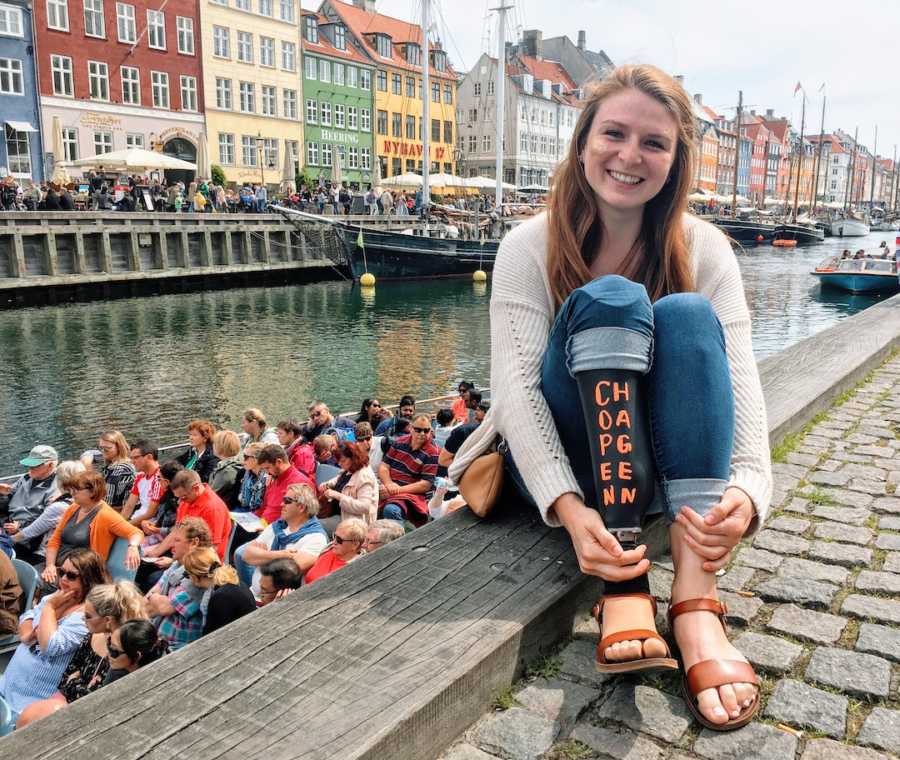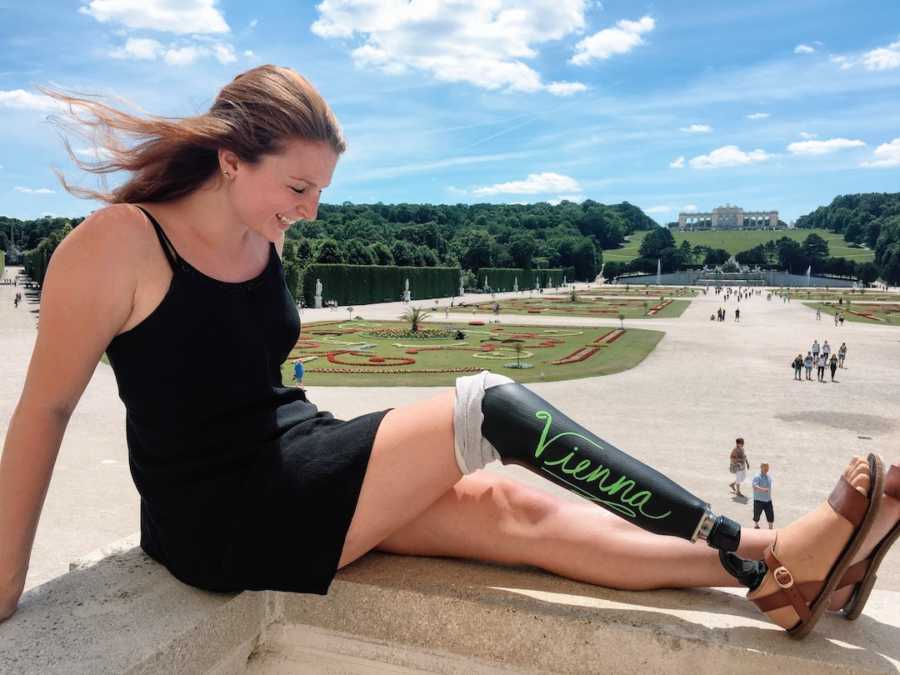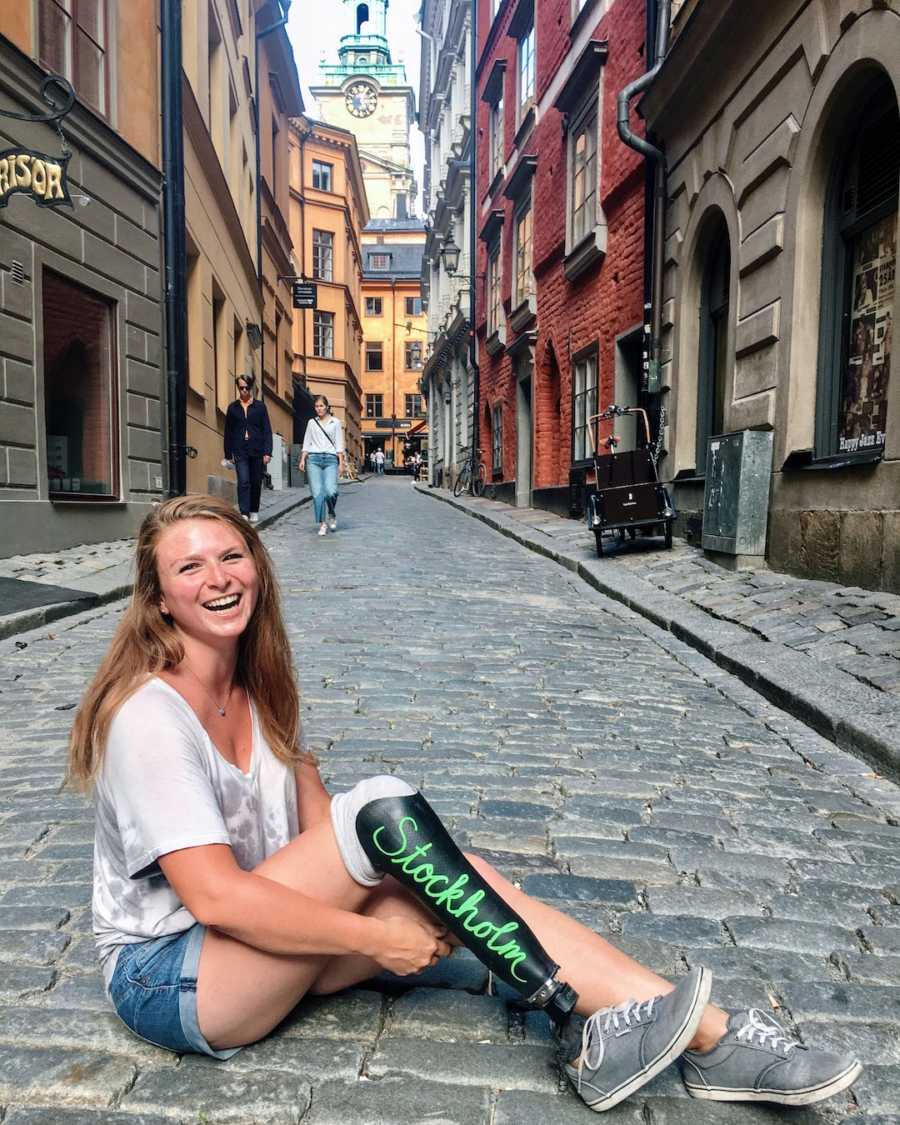 I know my story is far from over, but I am grateful for the opportunities I've already had to help spread a message of self-acceptance and disability positivity. I'm hopeful for a future where disabilities are embraced, differences are celebrated, and all people feel empowered to wear the d*mn shorts."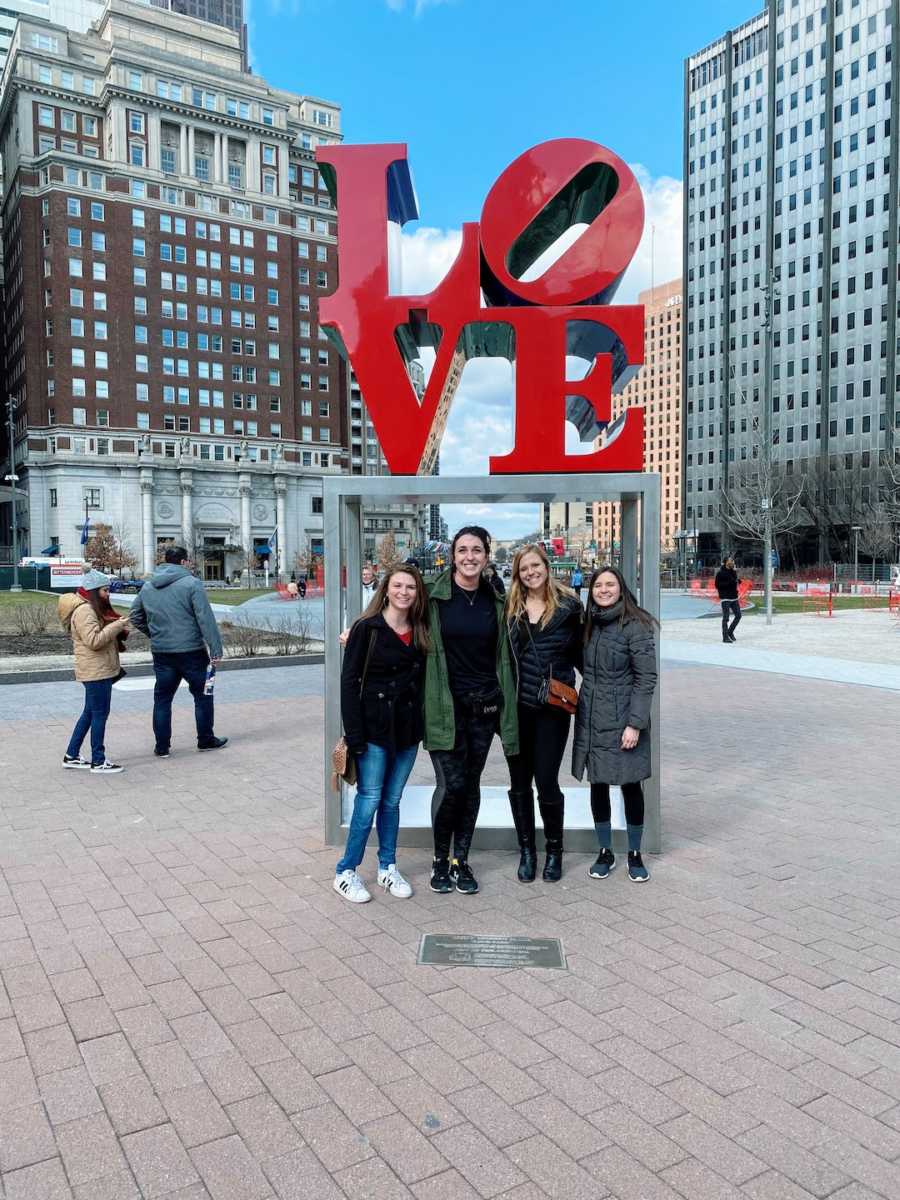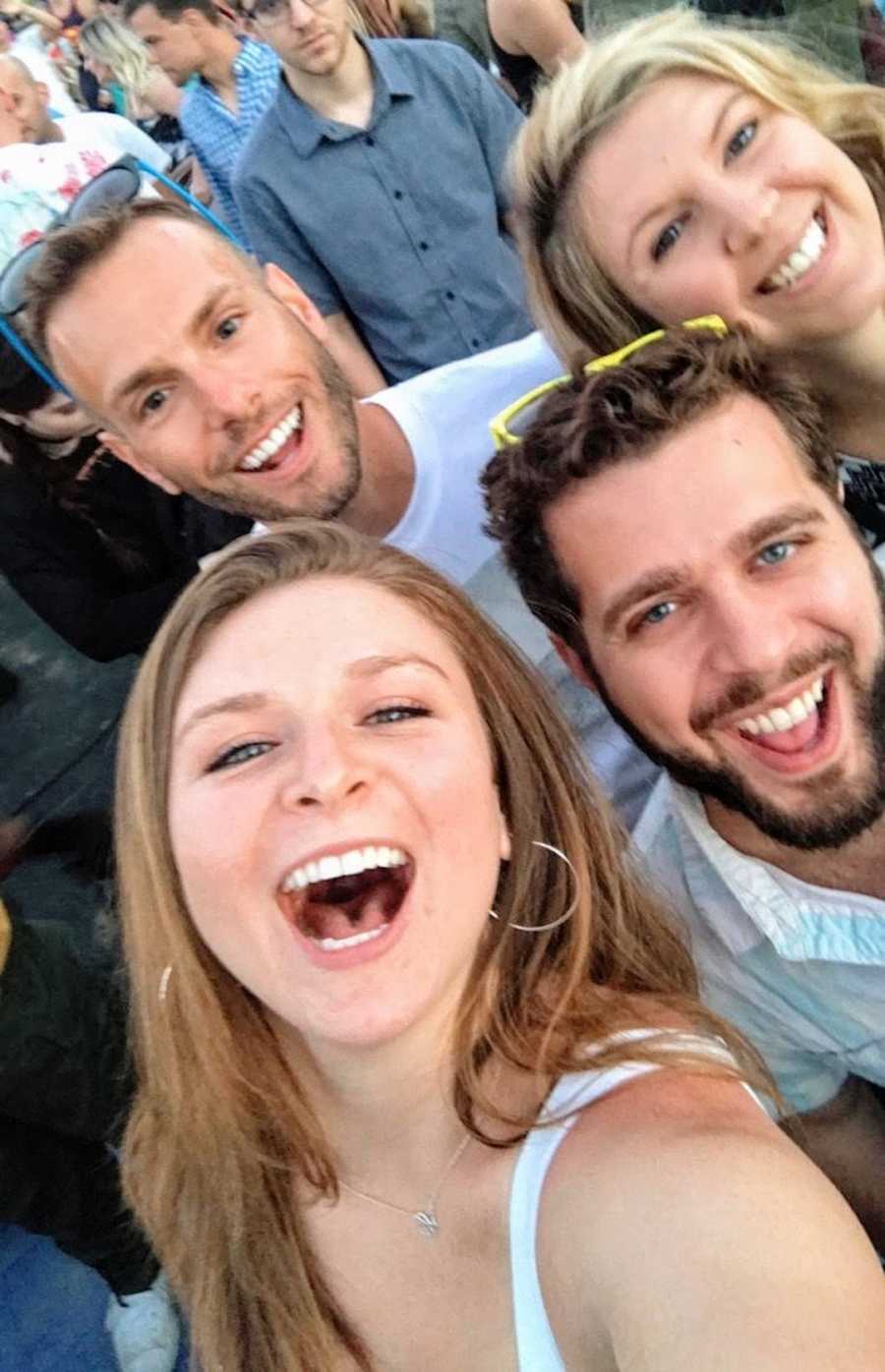 This story was submitted to Love What Matters by Devon Gallagher of Philadelphia, Pennsylvania. You can follow her journey on Instagram. Submit your own story here, and be sure to subscribe to our free email newsletter for our best stories, and YouTube for our best videos.
Read more stories like this:
'I park in the handicapped spot. 'You should be ashamed.' All of a sudden this woman is yelling words like 'report' and 'police.': Double amputee pens PSA for 'handicapped parking vigilantes'
'You're not special enough to be my girlfriend.' I cried. He was embarrassed by my prosthetics.': Amputee learns to own her uniqueness, 'My life isn't normal, but I wouldn't have it any other way'
'She won't make it through the night,' the doctor said. Minutes from dying, she turned to me. 'Mom, I can do this!': Girl contracts Necrotizing Fasciitis, continues passion for dance as amputee
'What? No hands?' The Universe chose me to be Ivy's mom.': Mother learns of daughter's limb difference, refuses terminating pregnancy because 'she was ours to love, protect'
SHARE this story on Facebook to help celebrate unique and beautiful differences!