"Being able to capture live births as a photographer can only be described as lucky. Photographing births is a healing outlet for me. I am fortunate to have two beautiful boys, but I do carry three angel babies who never got a chance to be. Every time I see one of these new faces, it gives me a bit of validation that I am on the right path. I see a brand new life and it soothes the mourning of my own births that never happened.
Corrina and I met when I was in need of her services. I needed a dog groomer and frankly, she is the best in the city. Meeting Corrina was, and is, one of the luckier moments in my life. Her family are the most wonderful people around. Laid back, great parents, huge animal lovers, and their daughter shines with absolute love.
I met with Corrina at a coffee shop one morning and she announced that she was getting married and wanted me to photograph her engagement and wedding, but there was more.
'I'm pregnant,' she said.
'Oh wow! How amazing!' I was so taken with excitement I felt as if I was with a close friend.
'Do you shoot birth photography?'
'Yes I do!,' I replied calmly, I hope.
'This is going to be a home birth,' Corrina said to me.
'I'm having a water birth.'
My passion is capturing my client's most intimate moments. In my world, I had won the lottery.
Around Corrina's due date we started checking in more consistently. Making sure I knew what was going on, how she felt, and any information we needed to have ready for the big day.
Her due date, came and went. In fact, it went over 12 days! As the days passed, I became keenly aware of my approaching vacation. You can't call a substitute for this intimate of a session. A relationship has been built. I was getting worried I would miss the huge moment.
On the 12th day I woke up at 6 a.m. and reached for my phone. Realizing it wasn't beside me, I frantically began searching only to find it wedged between the wall and my mattress. Every night prior, I was sleeping with it right next to me, just in case she called. A text from Corrina two hours earlier was the first notification I received.
'I don't want to alarm you, but today is definitely the day.' My heart started racing. Today was going to be exciting. I started getting everything together.

When I picked my phone up again to message her I noticed I had not just missed a text, I missed a call, and a voicemail! My heart sunk into my stomach. I called her back but there was no answer. Complete panic. I called again, and her husband answered. I could hear Corrina contracting in the background, so by the time Levi finished his sentence, I was already walking towards my shoes.
I raced to Corrina's house. Fortunately, she only lived a few blocks away. When I walked in the house, Corrina was already in the pool.
'It happened so fast,' she said to me.
'You're doing great,' I said to her, frantically unpacking my gear. I don't only get to capture the moment, but I also get to be an extra support in the moment.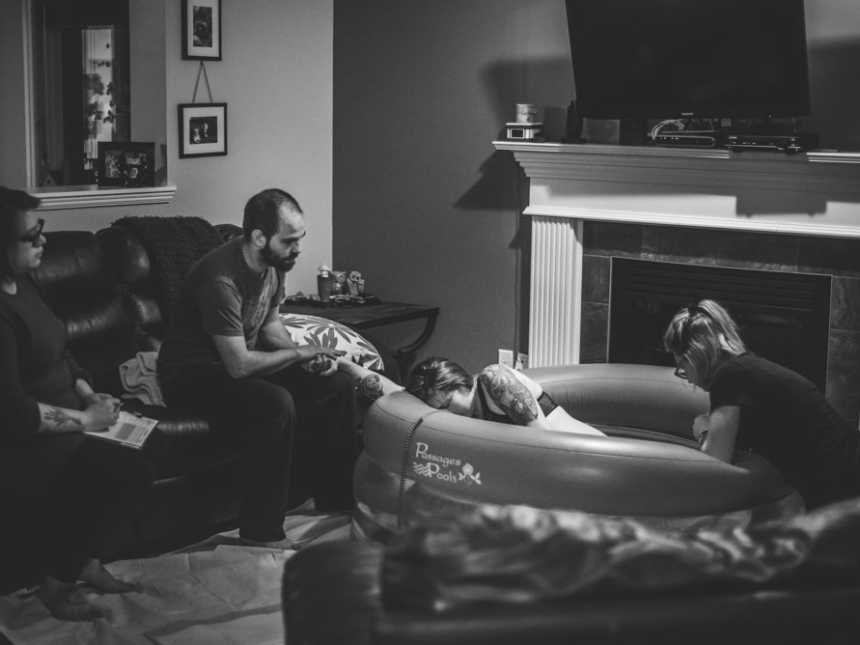 In the hustle of labor, I witnessed a moment that I will never forget. A moment that left me awe struck.
Being a bit too young to understand the dynamics of birth, Corinna's daughter, Freya, burst into tears, worried that her mom was in danger.
I watched as Mom, contracting in a pool, breathe through the pain to explain that she was fine. I didn't even know it was possible to hide your contractions! She then directed Dad to text the neighbors and take her next door for a little bit of comfort. Levi bent down to his frightened daughter and said, 'You know I would never let anything happen to you or Mommy, right? Never. Mommy is okay.' With that beautiful moment, Freya was swept away.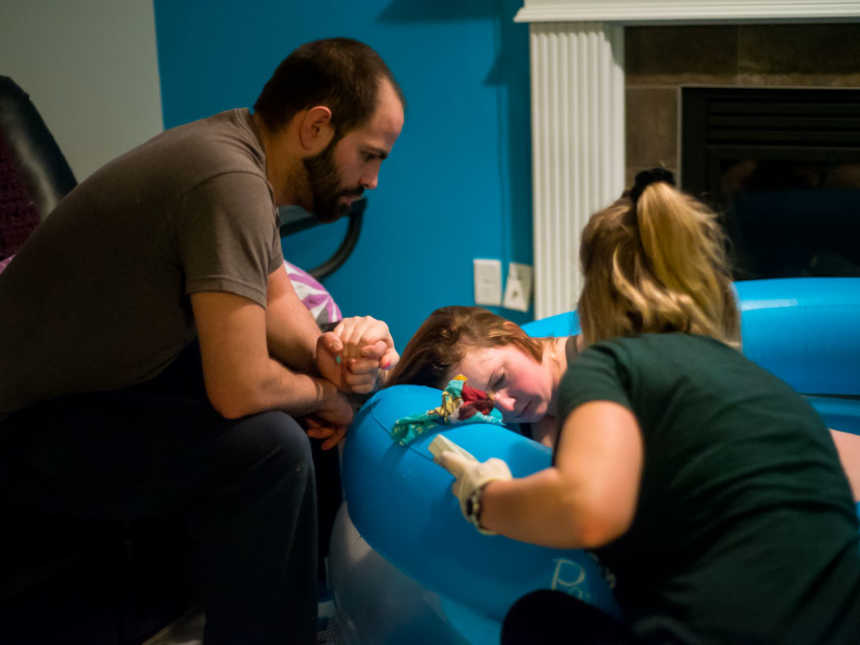 I barely got time to take five photos of the intensity before the magic started. Two pushes after Freya left, everyone in the room experienced something they had never, and for some of us will never again, see in our lives.
The first push revealed, not a head, but a white bubble. Even being wrapped up in the moment, I knew that it was different. I had seen births multiple times before and I had never seen this. Then she pushed again, and the entire white bubble was caught by her midwife. We all gasped.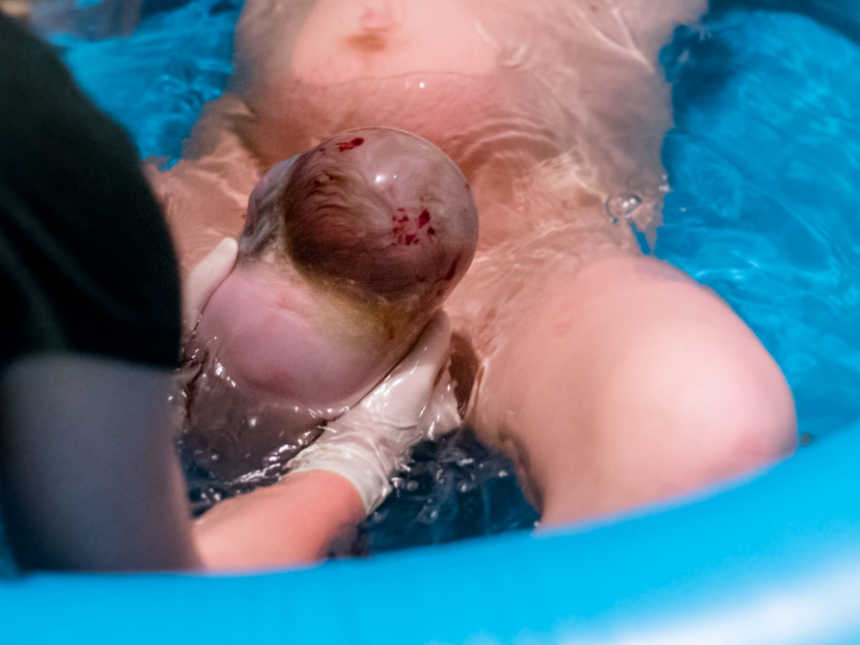 This perfect, beautiful, tiny baby was completely encapsulated in his sac. Fluid cushioning his neck, calm fingers right near his head, umbilical cord floating, and for one split second, we had a look into the rare in between of heaven and earth. I was able to see his world, from mine. Not yet breathing our air, still in the hands and protection of the Universe.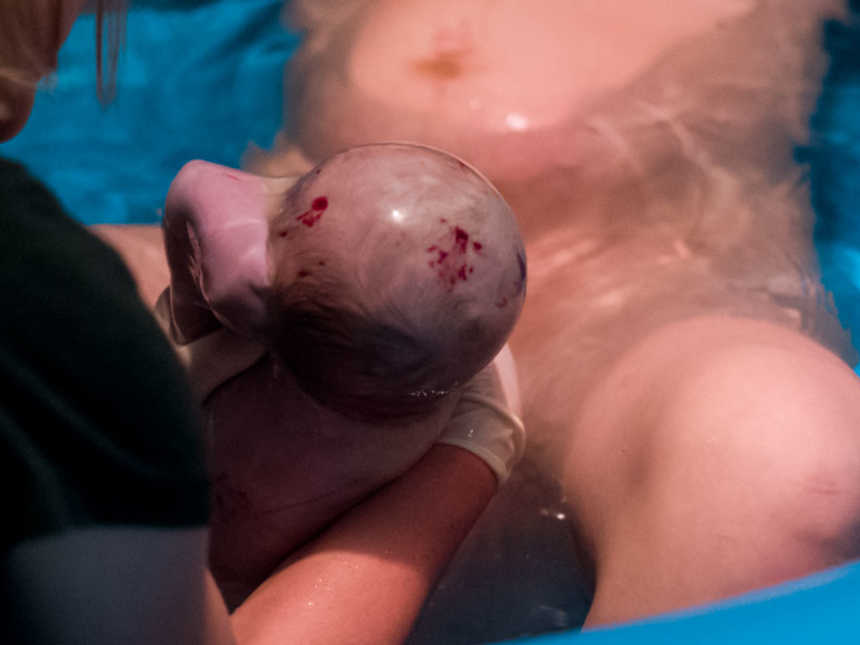 I watched a new, beautiful, perfect soul journey to our realm, and as he took his first breath, I took one too. It was a breath I will forever cherish. Inhaling the same air this brand new baby experienced bonded everyone in the room.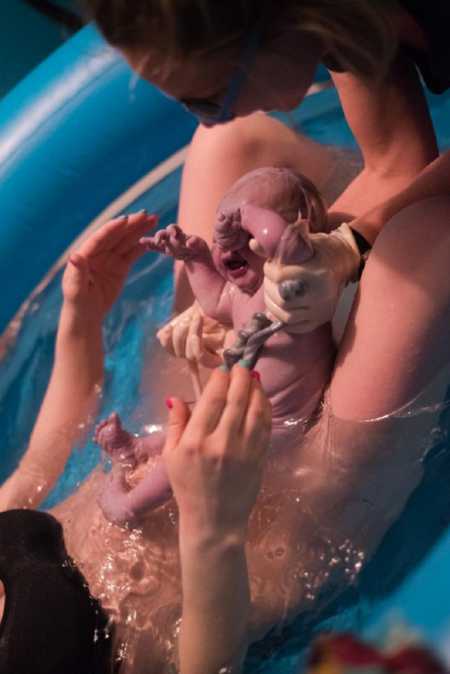 We all took his first breath with him, welcoming him to the world and appreciating the miracle that gave us our first and continued breath.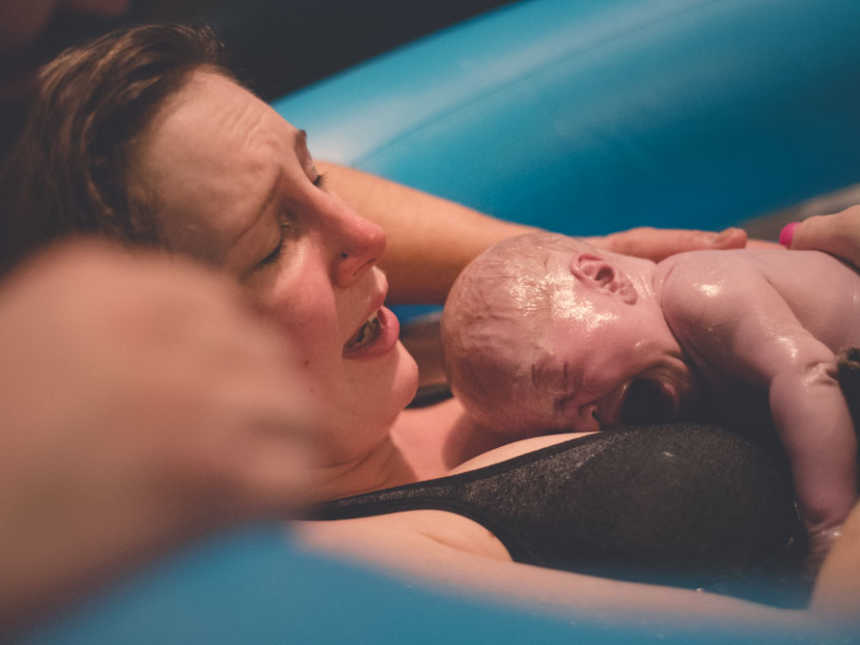 Corrina and Levi burst with pride and excitement. Holding Corrina's head, Levi thanked her, told her he was proud of her and kissed her. Everything was well in the world now that he was here.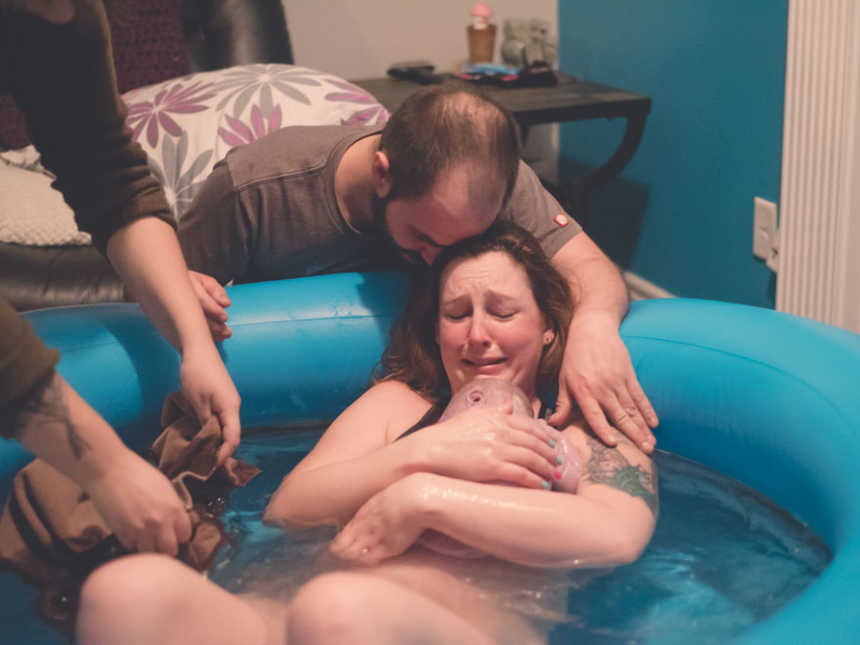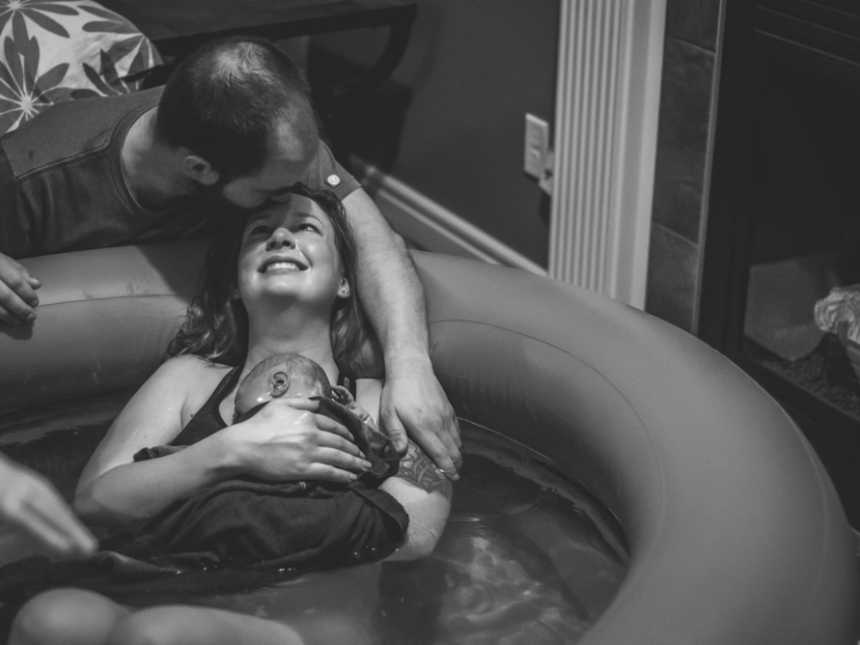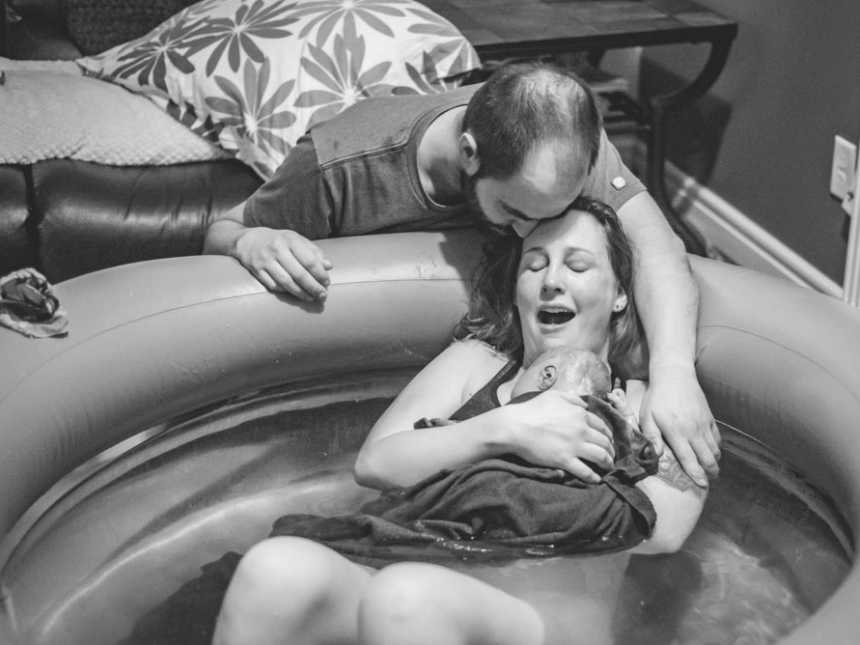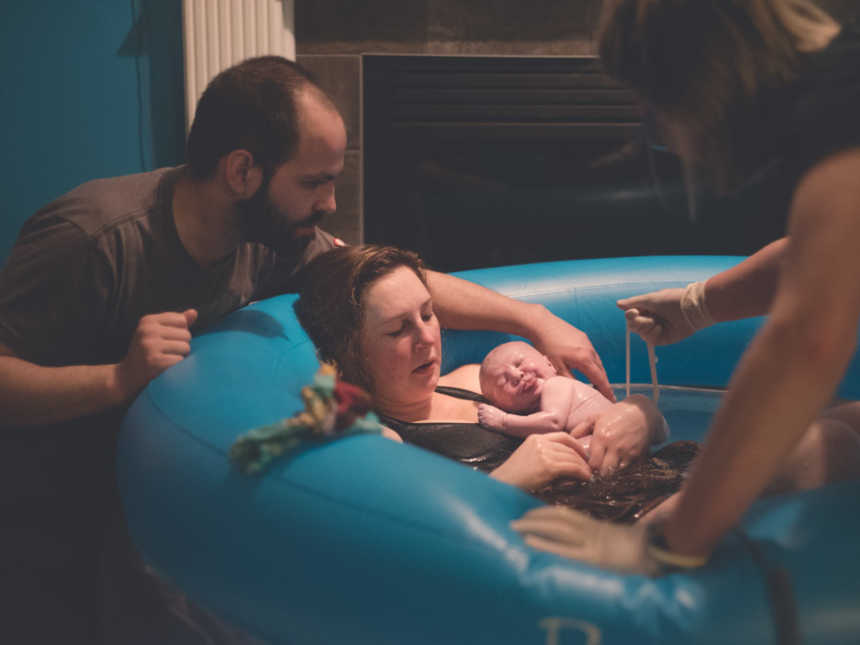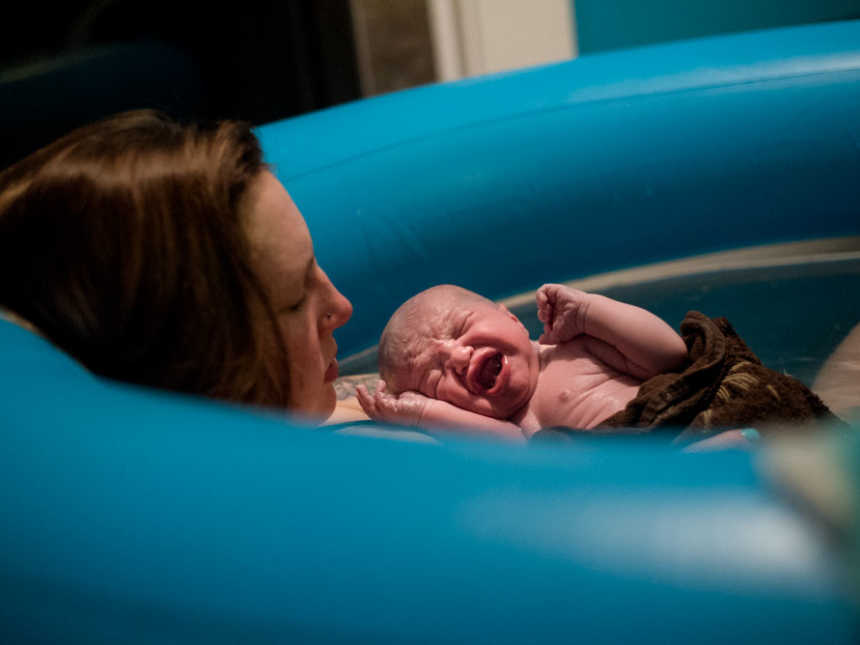 Freya was brought home after Mom was moved to the couch with her new baby boy. She had left as an only child and returned with her first new important role of life, big sister. The pride she exhumed touched everyone in the room and with cautious steps, bursting with excitement, she met the little man who changed her world.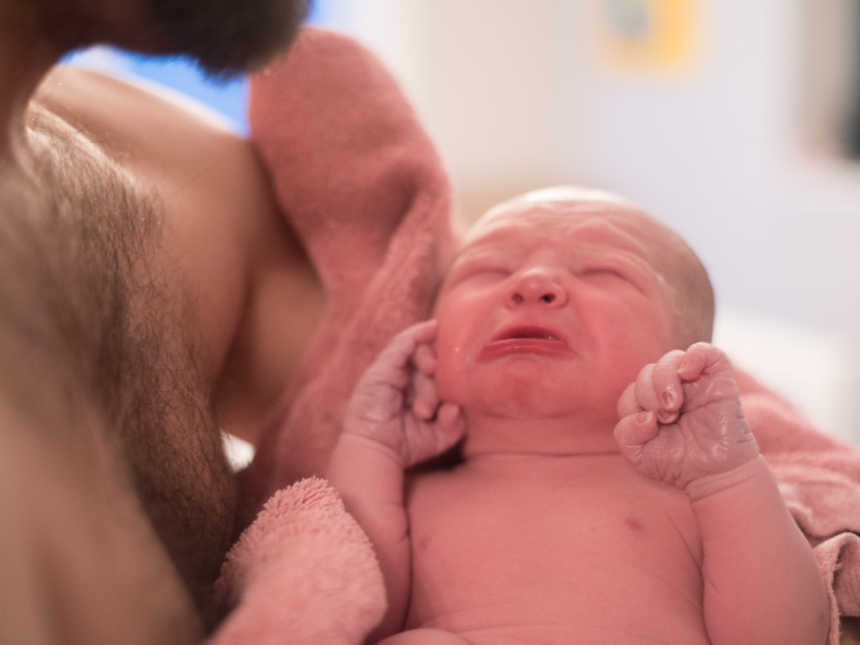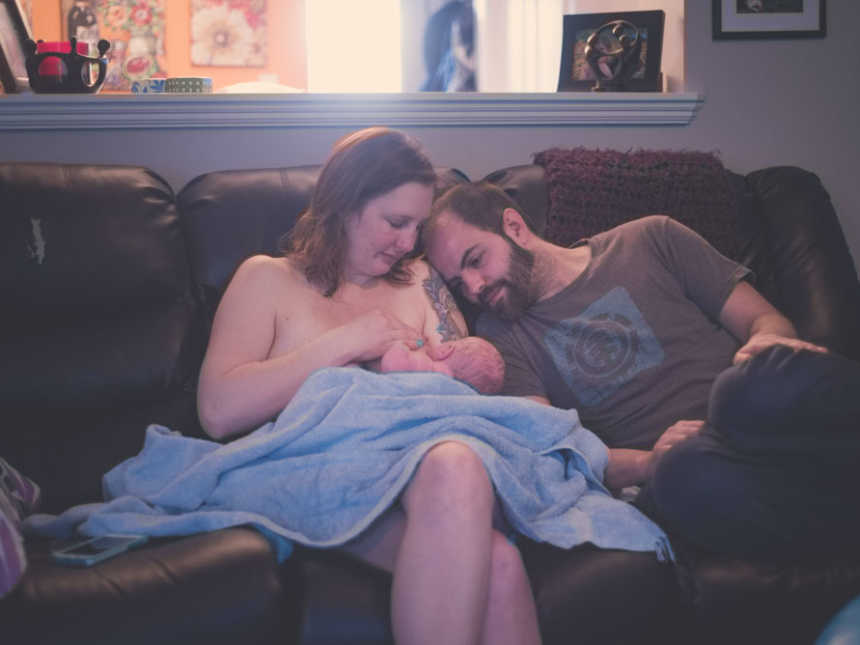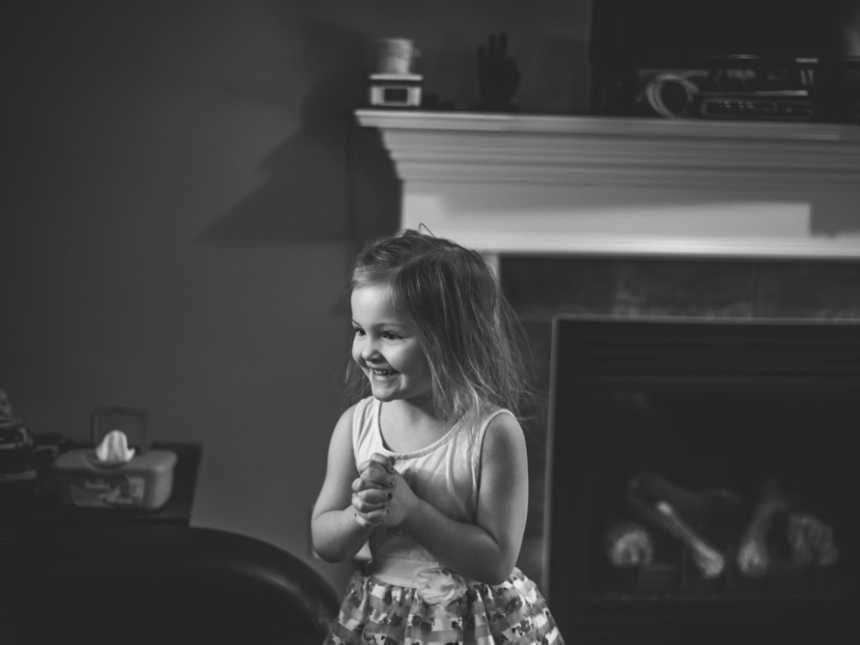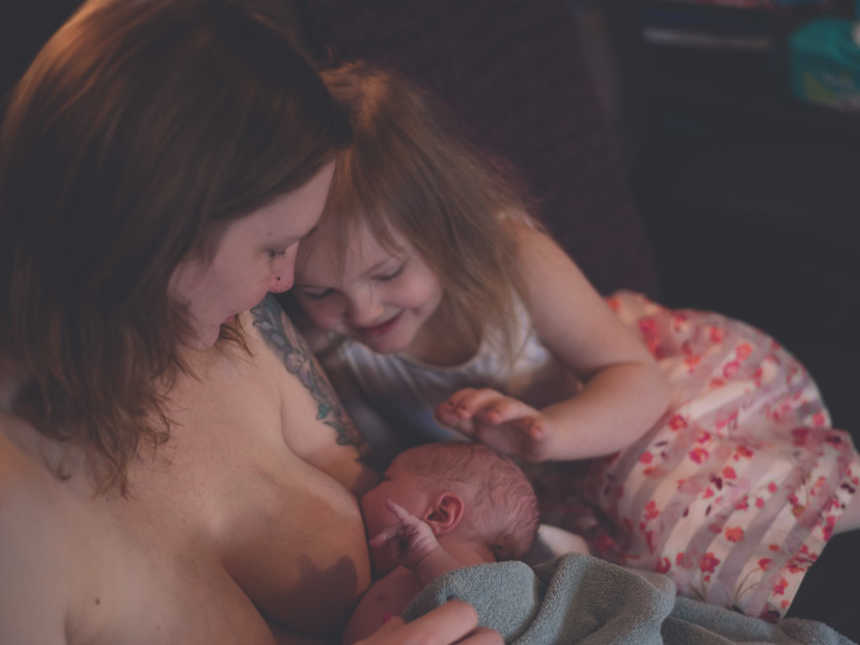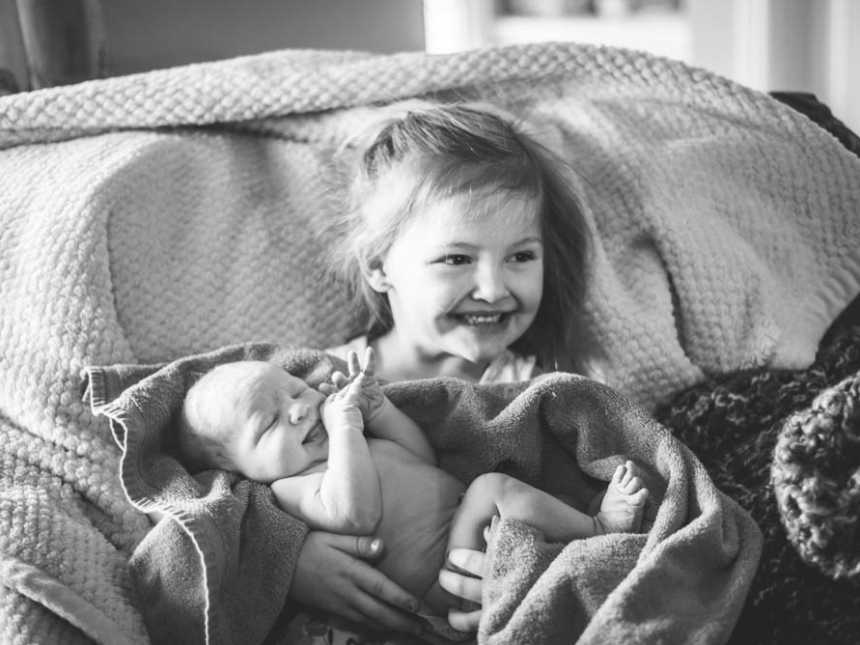 The next important family members to meet baby were the dogs. Each dog took turns greeting their new baby. Sniffing his head, nudging Dad's arm and assuming the role of protector.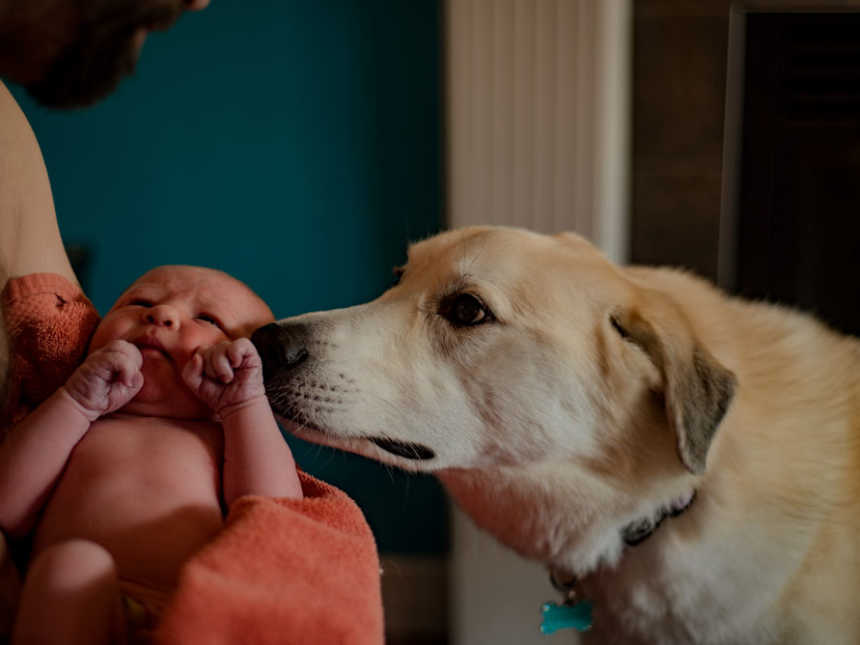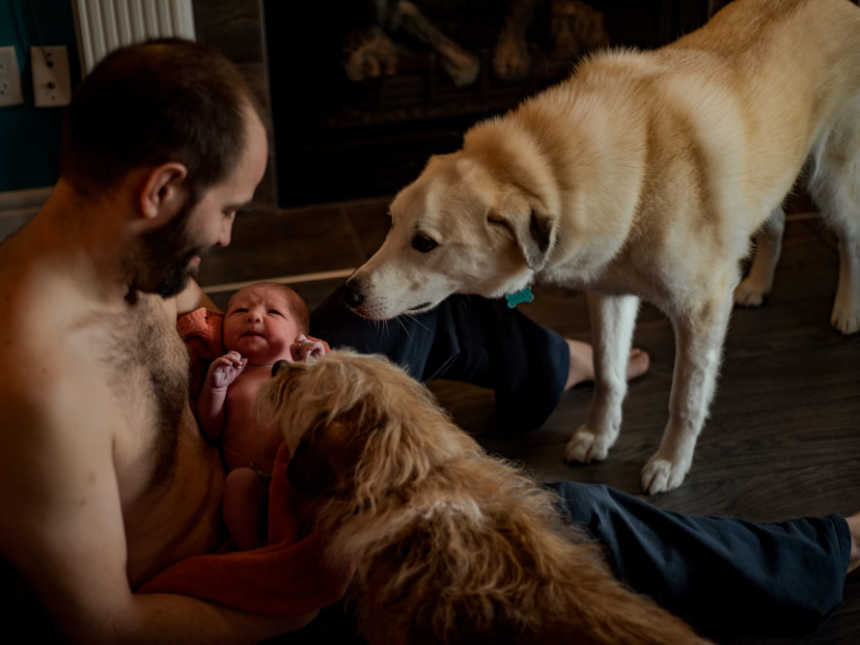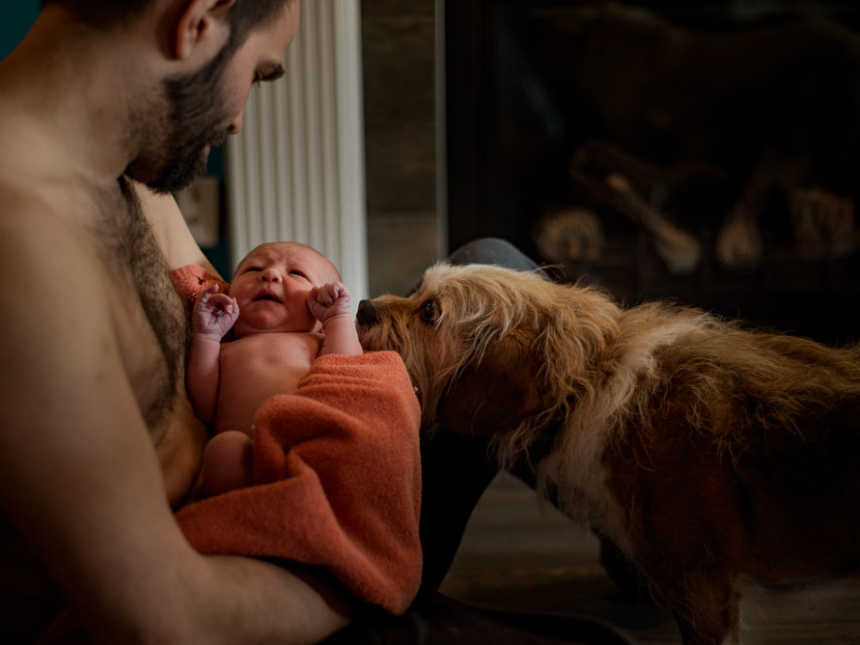 As the excitement died down, I snuck away back home to my two boys. I was completely different than when I had left; a new understanding of life, and a deeper connection with my spirituality.
As I sit on the beach feeling luckier than I have in ages it dawns on me. The encapsulation, home water delivery, and having it been professionally captured made it a 1 in a million birth. Baby Luca, whose name is only one letter away from the word Luck, was born at 6:49 a.m. (the same as our local lottery name 'Lotto 649') only 23 minutes after I made it there. I could have missed the whole thing.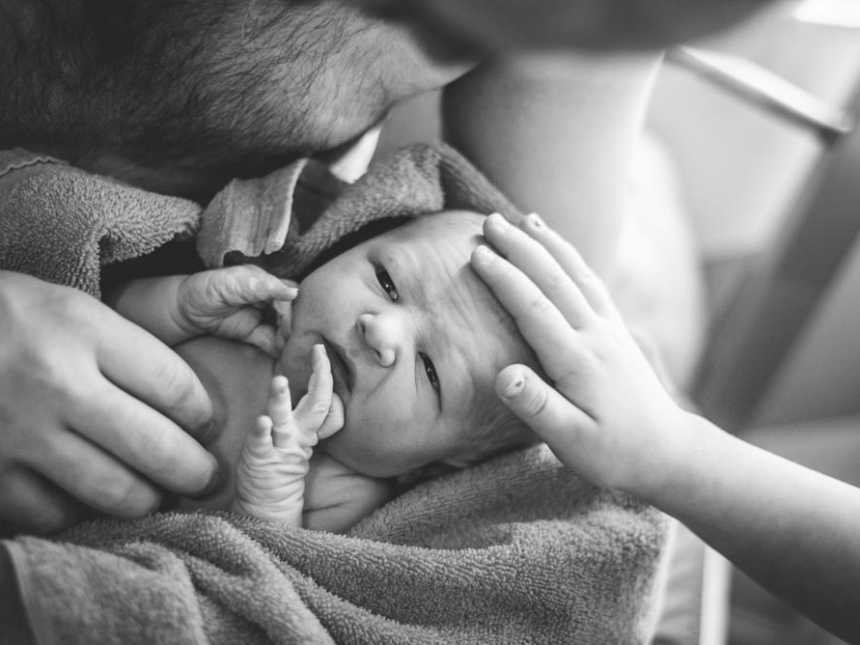 I can't help but feel in this seemingly unlucky era of the world that it has become luckier just by him being in it."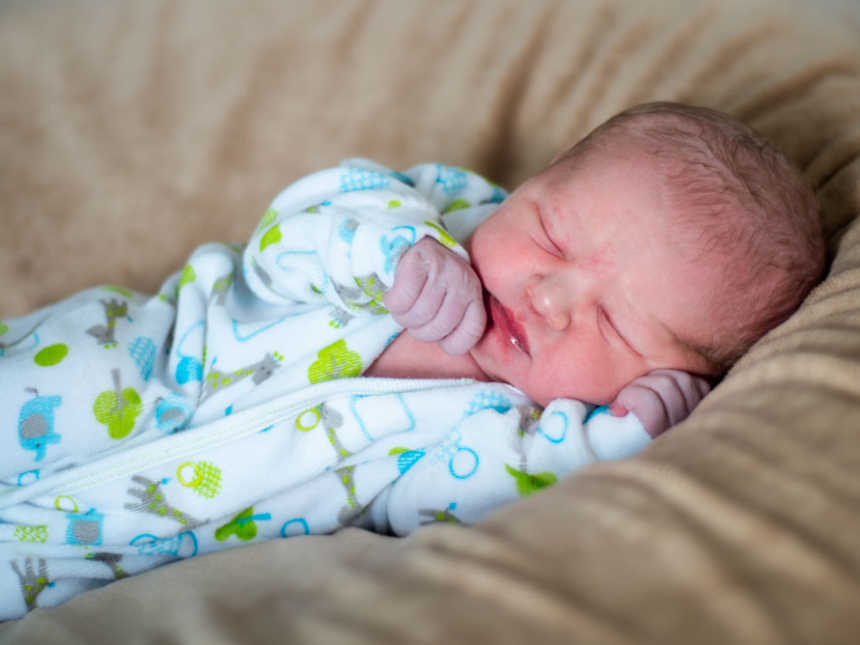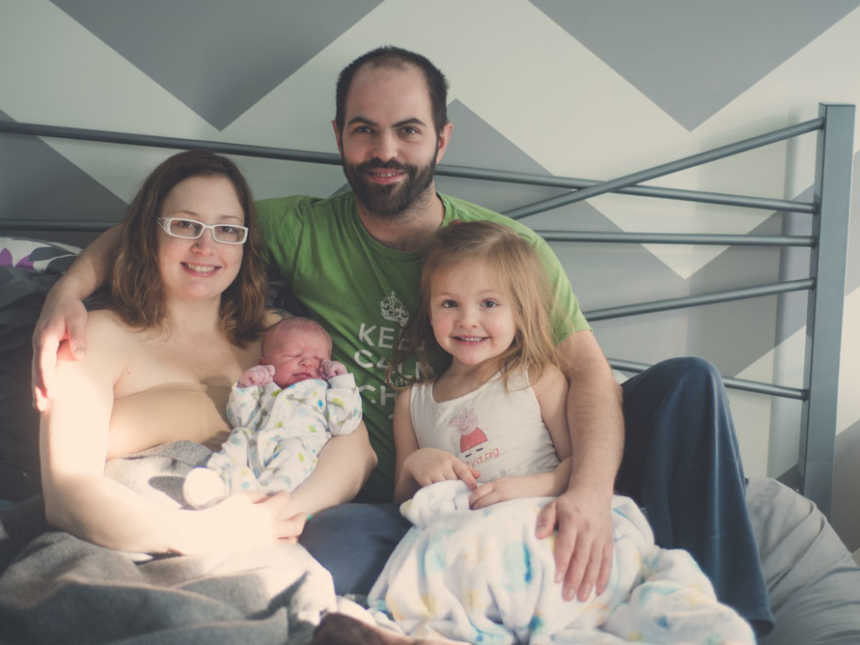 This story was submitted to Love What Matters by Kayleigh Lynds of Kayleigh Lynds Photography in Spruce Grove, Alberta, Canada.  Submit your story here, and be sure to subscribe to our best love stories here.
SHARE this story on Facebook if you believe in the unmistakable beauty of childbirth.