"In July of 2019, we found out we were pregnant with our rainbow baby! Seven months earlier, we had lost our baby girl, Everly. She was stillborn when I went into preterm labor at 21 weeks pregnant. We were devastated after our loss, but I knew we were meant to have another child. We were nervous and excited about our rainbow baby boy, but little did we know we were about to embark on a crazy journey!
Because of our loss, this pregnancy was considered high risk so I had a lot of early testing. When I was 14 weeks pregnant, I had an early anatomy scan. After the ultrasound, I sat in a conference room with my 3-year-old daughter, Aria, waiting to talk to the doctor. The doctor finally came in, sat down, and gave me devastating news. She told me our baby boy had a congenital diaphragmatic hernia (CDH), which meant he had a hole in his diaphragm. This hole left space for his stomach (and later several other organs) to migrate into his chest cavity, leaving little space for his lungs to grow. The doctor continued to tell me our baby boy would have around a 70% chance or less of survival depending on his severity. I was in complete shock when she told me this, and I broke down crying. I just felt like, 'why? We had just lost our baby girl, why is this happening now?' I left there without much hope.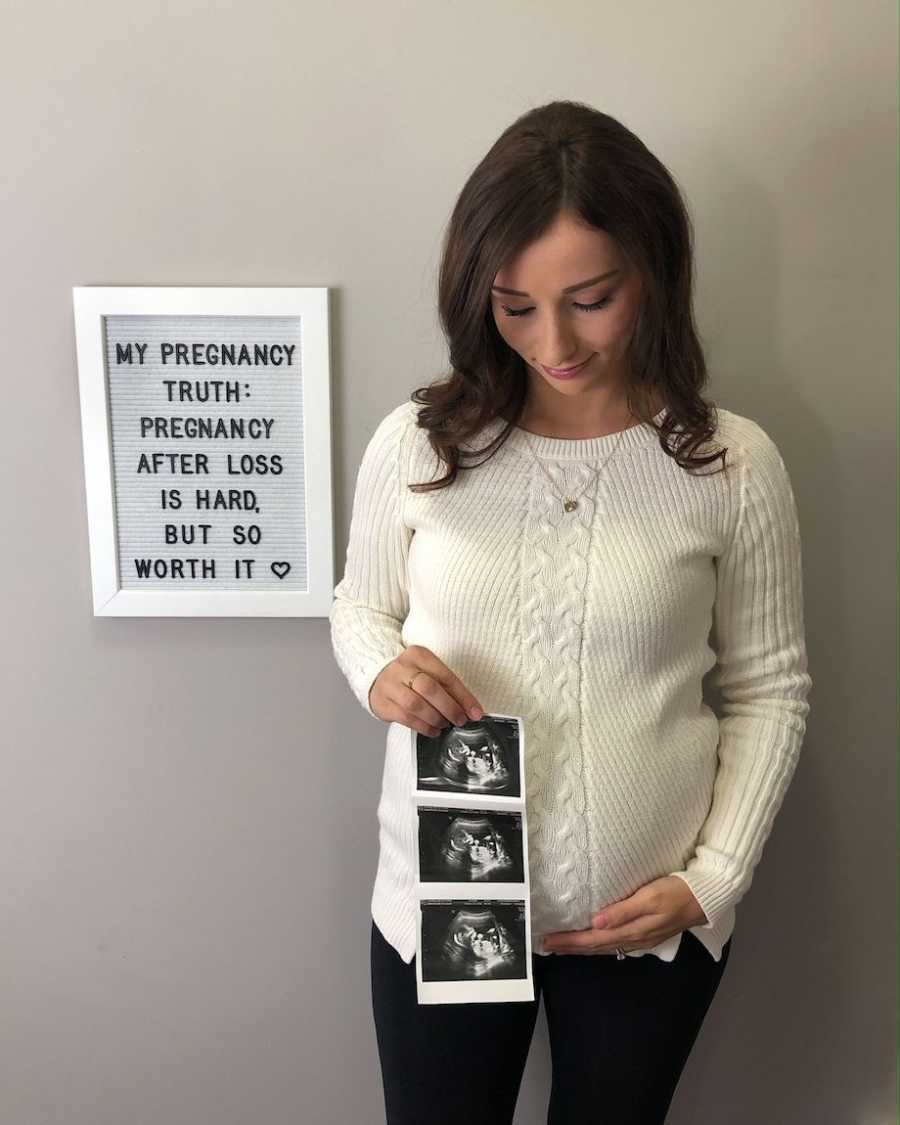 I called my husband, Aaron, when I left the office and then sat in my car and researched all about CDH. A few weeks later, I had appointments with other doctors where we were able to learn more about what it would look like once our baby was born. We learned he'd need to have surgery to repair his hernia and he'd be in the hospital for a couple of months so his lungs could grow stronger. We also learned some babies end up needing to be placed on ECMO, the highest form of life support, shortly after they are born to help their bodies rest so they'll be able to be strong enough to recover.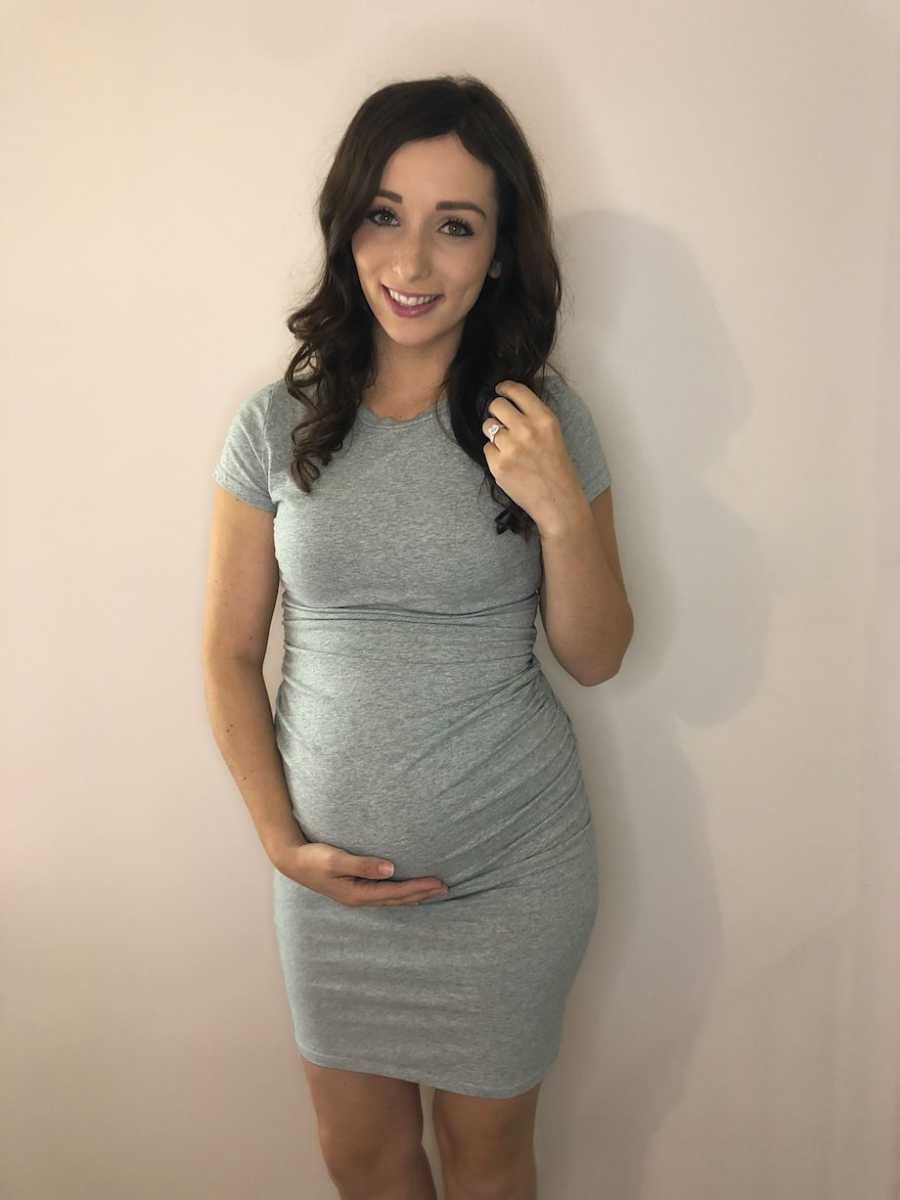 It was a lot to process and there were so many unknowns. Until our baby was here, the doctors could only assume what they thought his specific situation would look like but they didn't know for sure. At this point, our son was in the moderate to severe range of CDH with a 30-40% chance of needing ECMO.
We shared with a few family members about his diagnosis right away and then shared with some of our friends. After a few weeks, I decided to share the news on my Instagram. I was nervous to share with so many people but through sharing online, I was able to connect with so many other CDH moms and get connected with a CDH organization, My Tiny Hero, which provided us with a lot of support.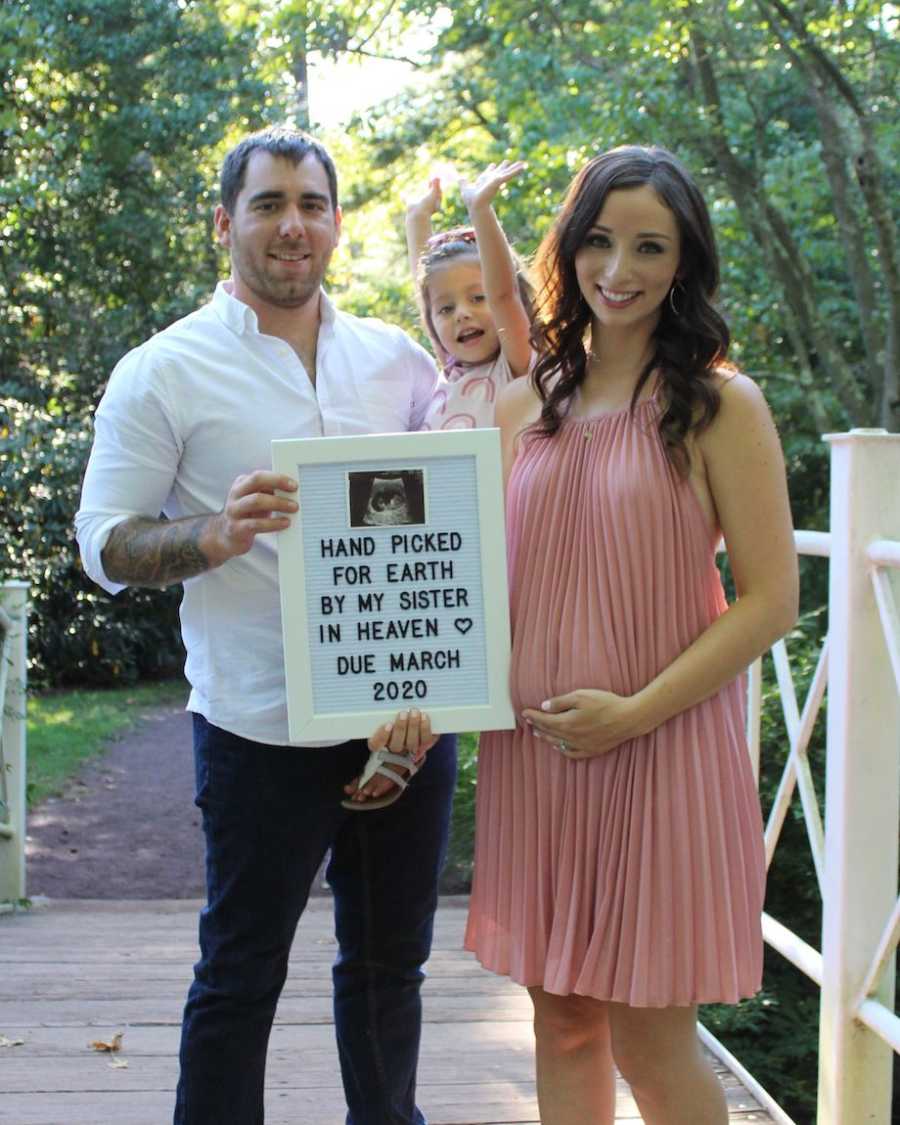 It had been a very hard few weeks leading up to this point. I cried, prayed, and asked God to help us get through yet another difficult situation. I had been feeling so scared and I knew I needed to make a mental shift going forward. I kept praying for strength and made the decision that even though this was going to be extremely difficult, I was going to chose to have faith rather than live in fear.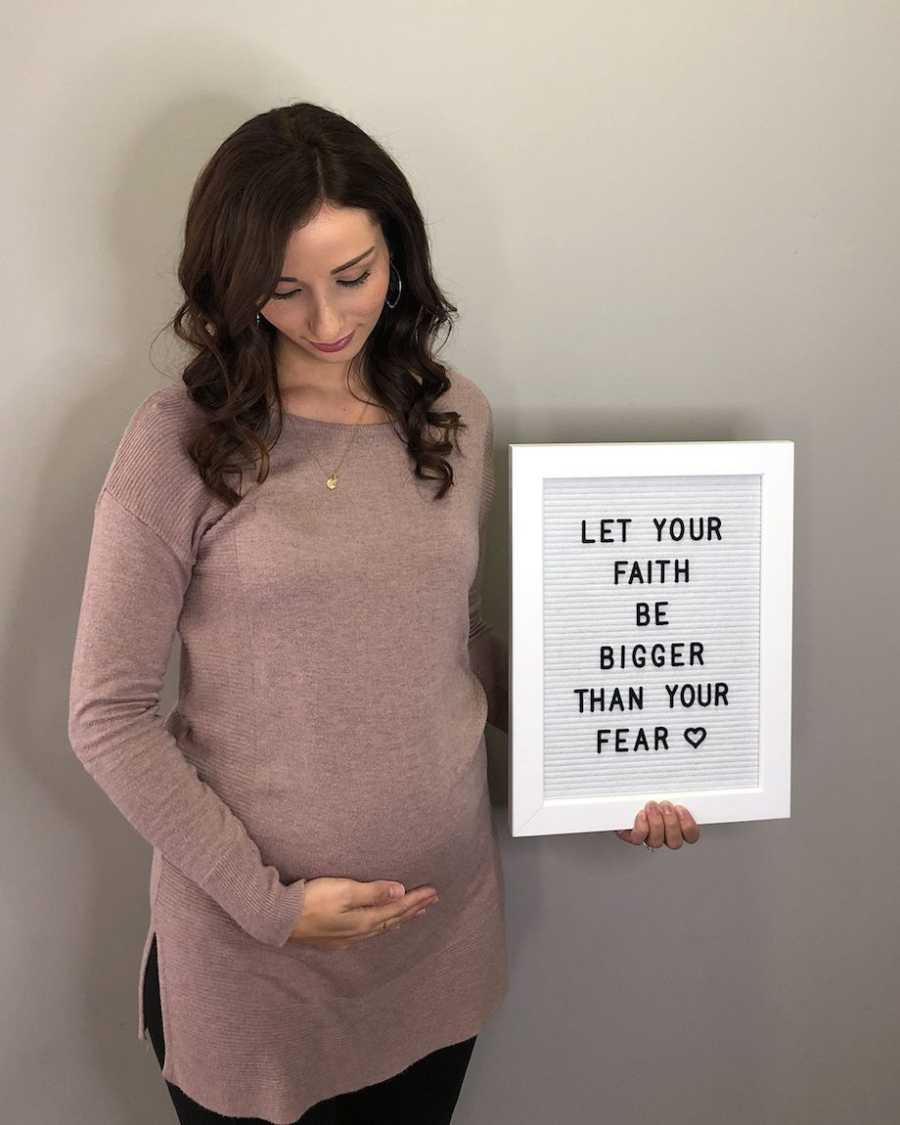 Over the next few months, we looked into a few different potential hospitals for our son, Samuel. We ended up deciding to temporarily relocate from New Jersey to St. Petersburg, Florida, to go to Johns Hopkins All Children's Hospital for his care. We found a specialty surgeon who gave Samuel an over 90% chance of survival even if he ended up needing ECMO. We couldn't argue with his success rate and knew that was the best place for Samuel's care!
Before relocating down there, we started getting things ready for Samuel at home. Our friends and family threw me a baby shower, and we turned our guest room into a nursery. It was a little scary making preparations to bring our baby home one day when, in the back of my mind, I wondered if I would ever really be bringing him home. But when fear like that started to creep in I kept reminding myself, 'Faith over fear, faith over fear. One day, you'll be standing in this room holding your little boy.'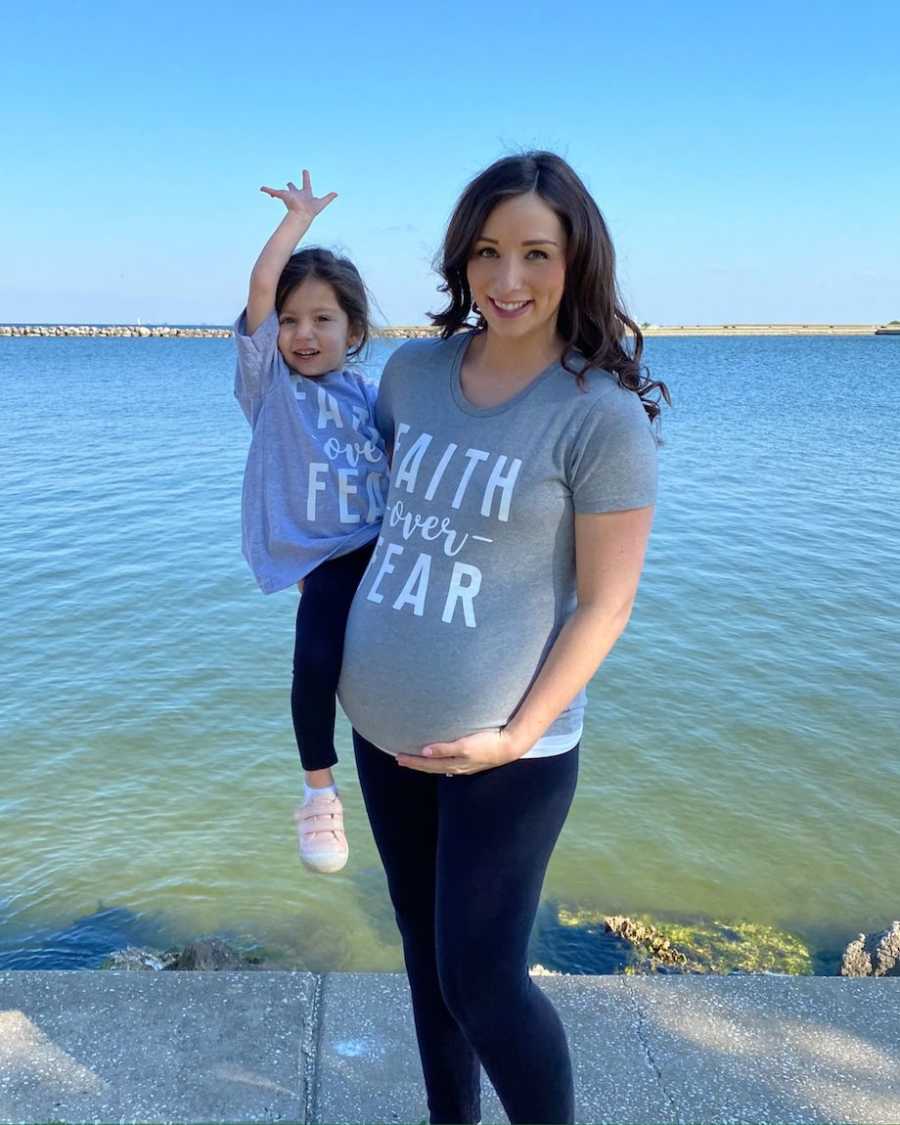 When I was 34 weeks pregnant, we finished packing up and headed down to Florida. I wasn't getting induced until I was 37 weeks pregnant but needed to be down there early just in case he came early. While down there, we stayed at the Ronald McDonald house. It was such a blessing to be able to stay there. They provided so much for us and we were only a block away from the hospital. There were also several other CDH families at that RMH we were able to connect with and lean on while we all went through the same thing. It seriously made the biggest difference to have support from others who understood exactly what we were going through.
During those few weeks before I was induced, I had more ultrasounds and another MRI to check on the status of Samuel's CDH. We found out his CDH was more severe than we originally thought, giving him a 90% chance of needing ECMO.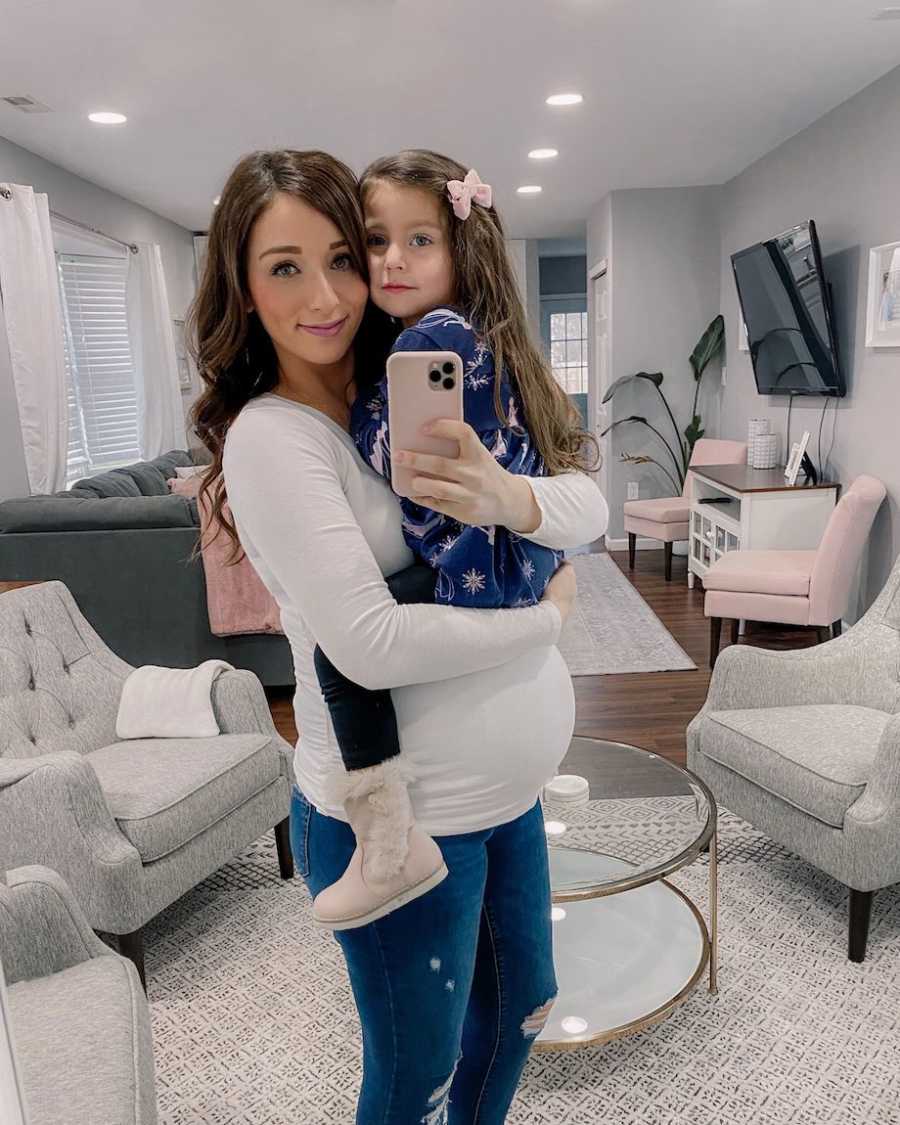 At just about 37 weeks pregnant, it was time for me to go in to get induced. I was nervous but so ready for Samuel to be here. I labored in a labor and delivery room and when it was time to push, I was brought into the OR so there was space for the CDH team who was on standby for Samuel. The delivery was rough. He was delivered with forceps, which gave me an extremely bad tear and also ruptured my placenta. I ended up losing 3 liters of blood. Once I delivered Samuel, he was taken immediately to an adjoining room where the CDH team intubated him and assessed him just as they planned. Right after, they wheeled him up to the CDH unit, just stopping by my bed for a moment so I could get a glimpse of him before they left. Aaron went up with him, and I laid in the OR for another hour or so getting blood transfusions and stitched up.
Around 8 hours after I delivered, I was doing okay enough that the nurses let Aaron wheel me up to finally go see our son. As we got to his room, I saw our precious little boy laying there, intubated, sedated, and hooked up to a million wires. I remember not knowing what to do. 'Do I talk to him? Am I allowed to touch him? Should I just sit by him?' It's not the type of moment you would ever think you'd have the first time you're with your child, but here we were.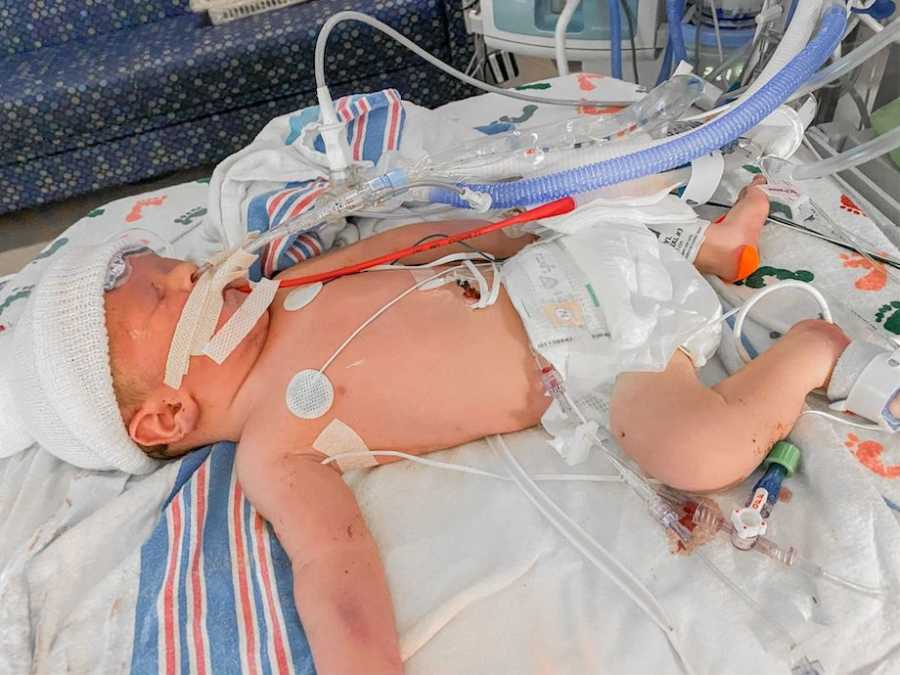 The next morning, we got a call from Samuel's nurse to come up to his room because the head surgeon wanted to talk with us. Samuel had done better than expected during his first day of life but early that morning, he had taken a little dip. His surgeon believed placing Samuel on ECMO, the highest form of life support, and then doing his repair surgery later that day was what was best for him. Not long after, Samuel was placed on ECMO, where his blood was pumped and oxygenated outside of his body, allowing his heart and lungs to rest for the next 13 days.
We were there all day, every day with him, sitting by him, and just being there. We felt helpless as our sweet boy laid there, fighting for his life, and there was nothing we could do. There were little glimmers of excitement during those first two weeks like when Samuel was 5 days old and opened his eyes for the first time. You would never think that such a little milestone could be so sweet but they had started weening his sedation and his swelling started to go down so he was able to muster up the energy to look around for the first time. It was the best.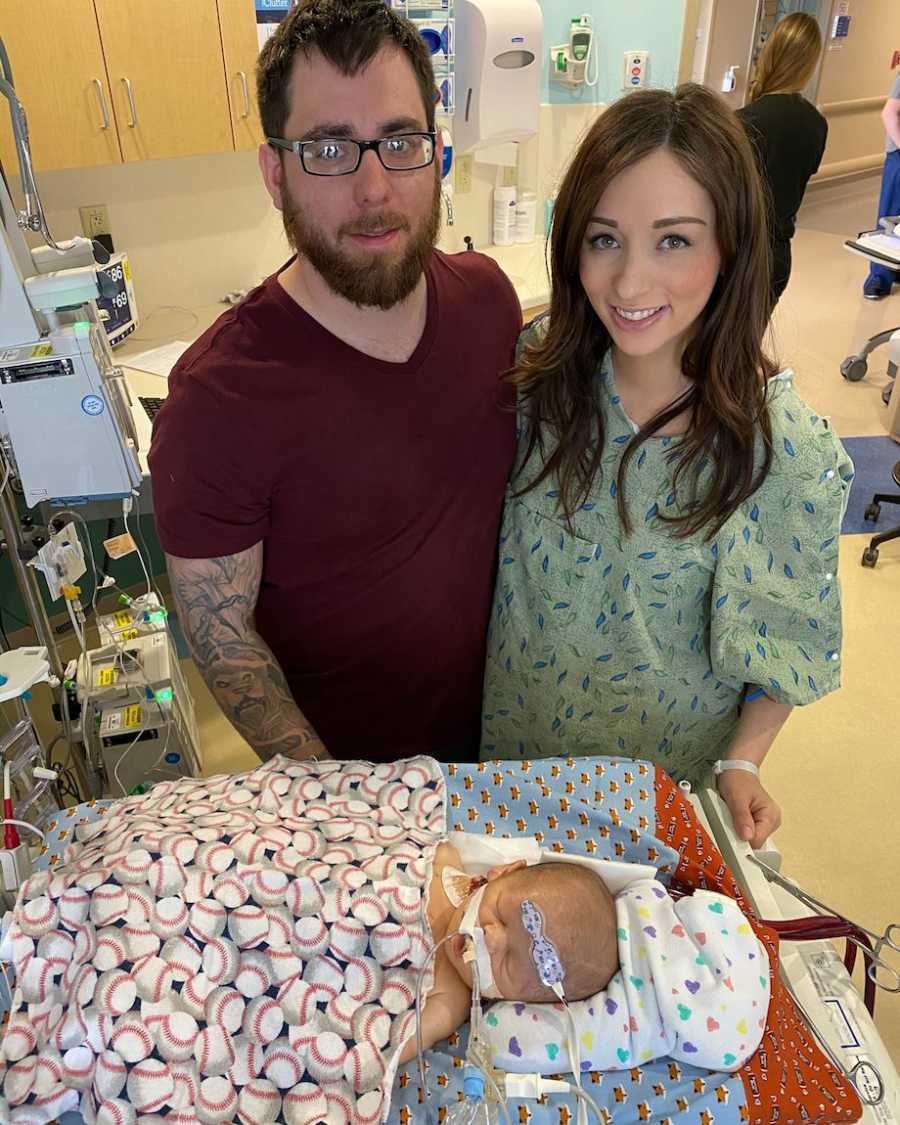 When Samuel was 6 days old, big changes were being made at the hospital due to Covid-19. No visitors were allowed at the hospital anymore, so only Aaron and I were allowed to be with him. We were very thankful some of our family members were already able to meet him. Just two days before the change, we brought our daughter, Aria, to see him so she could meet her brother.
The following week, Aaron left as planned to go home and go back to work. Aria and my sister were supposed to stay with me but with COVID-19 getting worse and changes being made in our country, we felt like it was best for them to go home to New Jersey and for Aaron to come back to Florida when he was able.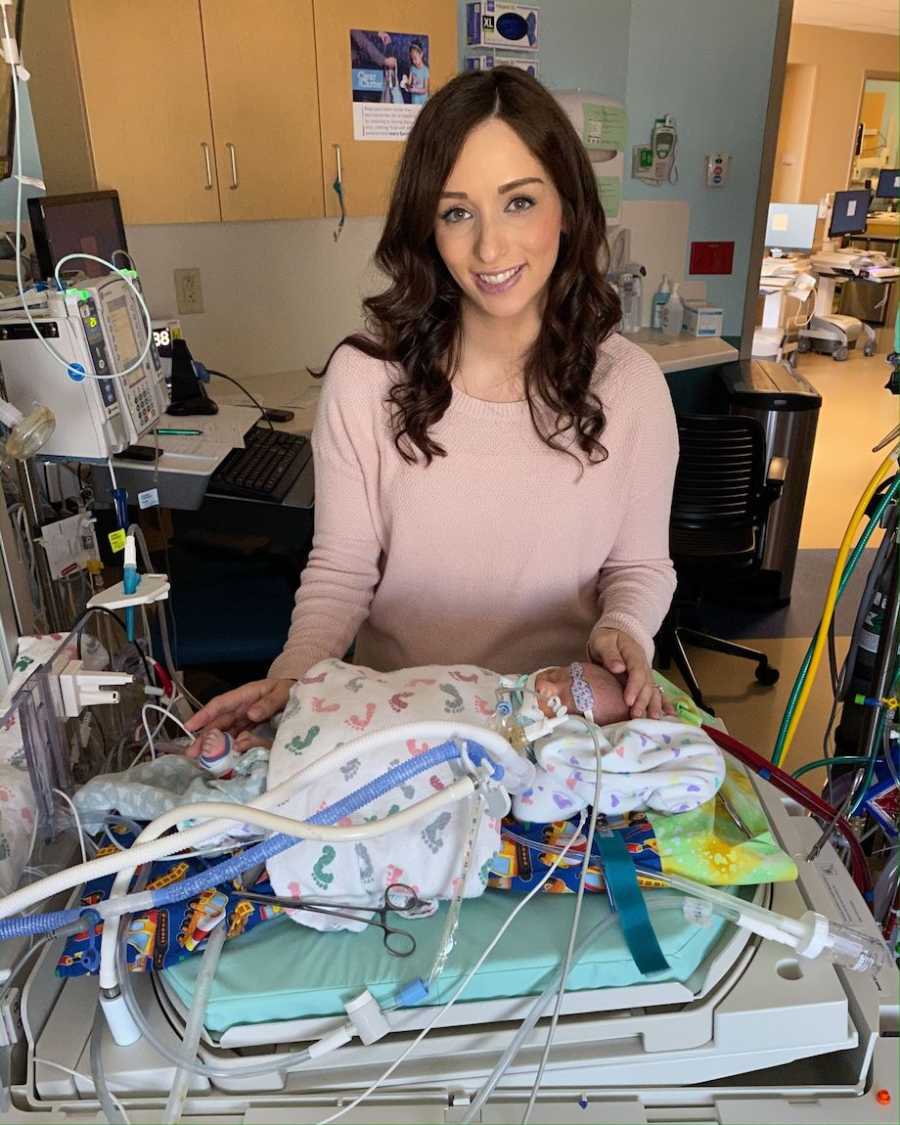 The week I was there alone before Aaron came back was the hardest of my life. Between giving birth not long before, being apart from my 3-year-old for the longest we've ever been apart, my husband not being there, and being in the hospital with my two-week-old baby I wasn't even allowed to hold was extremely, extremely hard for me.
During this time, I kept thinking about something I said after we lost Everly. I always said I would have done absolutely anything for Everly to have been okay and for her to be with us. So as I sat there in that hospital room with my baby boy alone, I said to myself, 'This is it, this is the 'absolutely anything.' I couldn't do anything to keep Everly here but I could for Samuel. And I needed to stay strong and do whatever it took to get my baby boy home.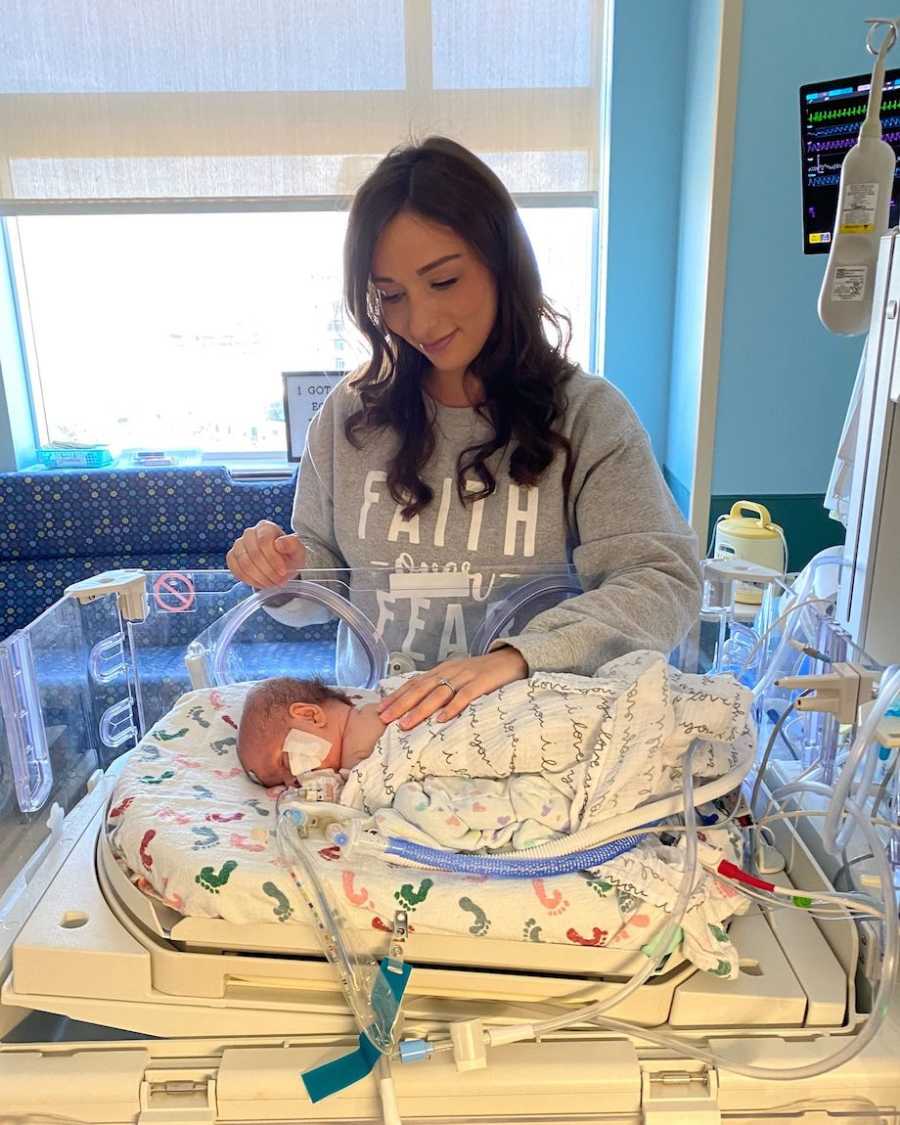 So that's what I did. I kept pushing through, and I refused to let fear take over. I was determined to have faith that God would get Samuel through all of this and we'd be bringing him home one day.
It wasn't an easy next few months but our little guy continued to fight and fight and fight. After he got off ECMO, his ventilator became the next focus. Around a week and a half after he was taken off of ECMO, they put a plan in place to ween him off of his ventilator. He got blood gases drawn a few times a day and if they were good, then they would ween his vent down. During this time, the hospital changed the rules again and parents had to visit one at a time. Aaron and I would take turns being with Samuel. As blood gases were taken, it was exciting and Aaron I would text each other updates. Finally, Samuel's vent was weened to the point where they were able to extubate him!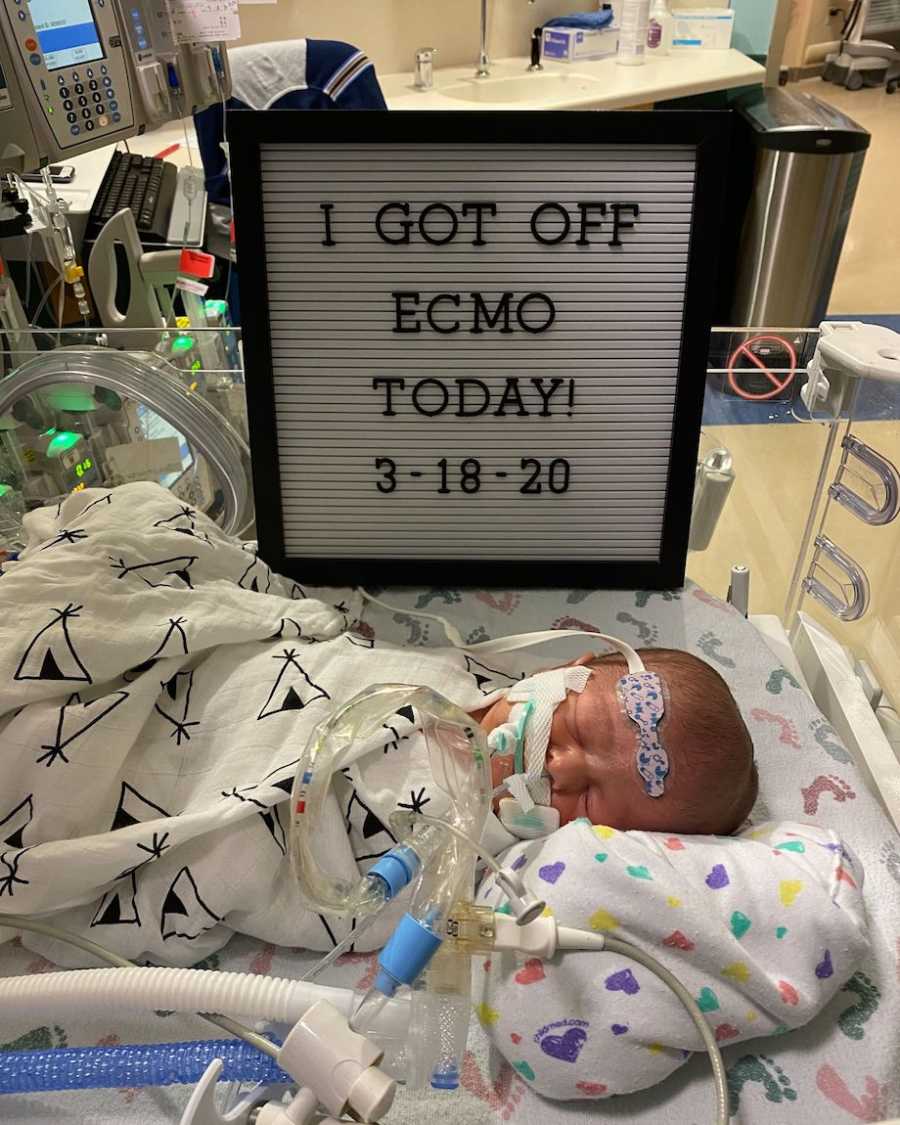 Samuel getting his ventilator out was not only exciting for the obvious reasons but that also meant in the next day or two, I would FINALLY be able to hold my baby boy for the first time! Two days after getting extubated, the moment finally came. With the assistance of his nurse handing him to me, I was able to hold Samuel for the first time. It was an amazing feeling! I held him for a few hours straight. My arm had fallen asleep but I never wanted to put him down.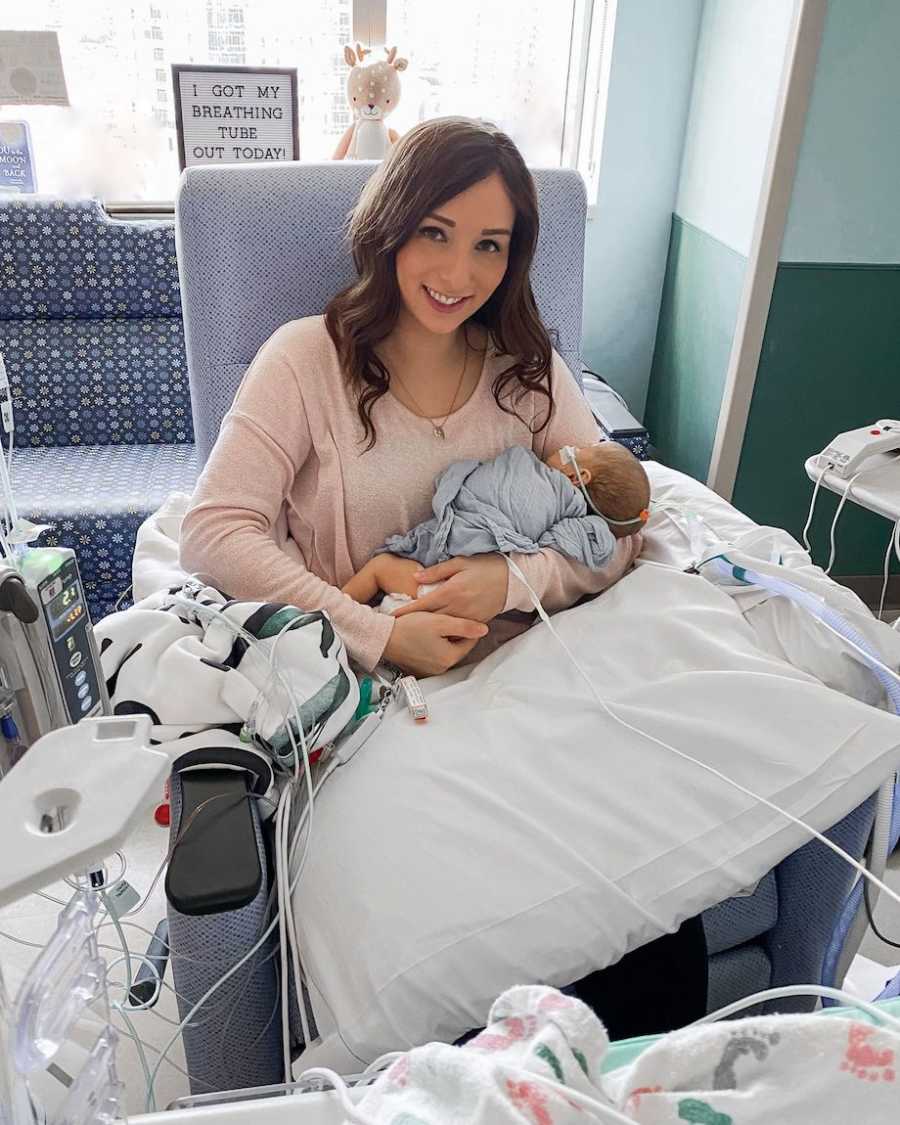 From there, we worked on getting Samuel's weaned off of all of his pain medications, sedatives, and slowly moved down on his CPAP air support settings until he got to wall oxygen. At this point, Samuel still had never eaten anything. He was solely getting TPN nutrients through his IV and PICC line. Eating and gaining weight was the last hurdle we had to get over before he'd be able to go home. We had to start out extremely slow with feeds. He started with only 5 milliliters of breastmilk, moving up as he was able to eat more and more. It was a very slow process but Samuel did well eating as they continued to increase his amount.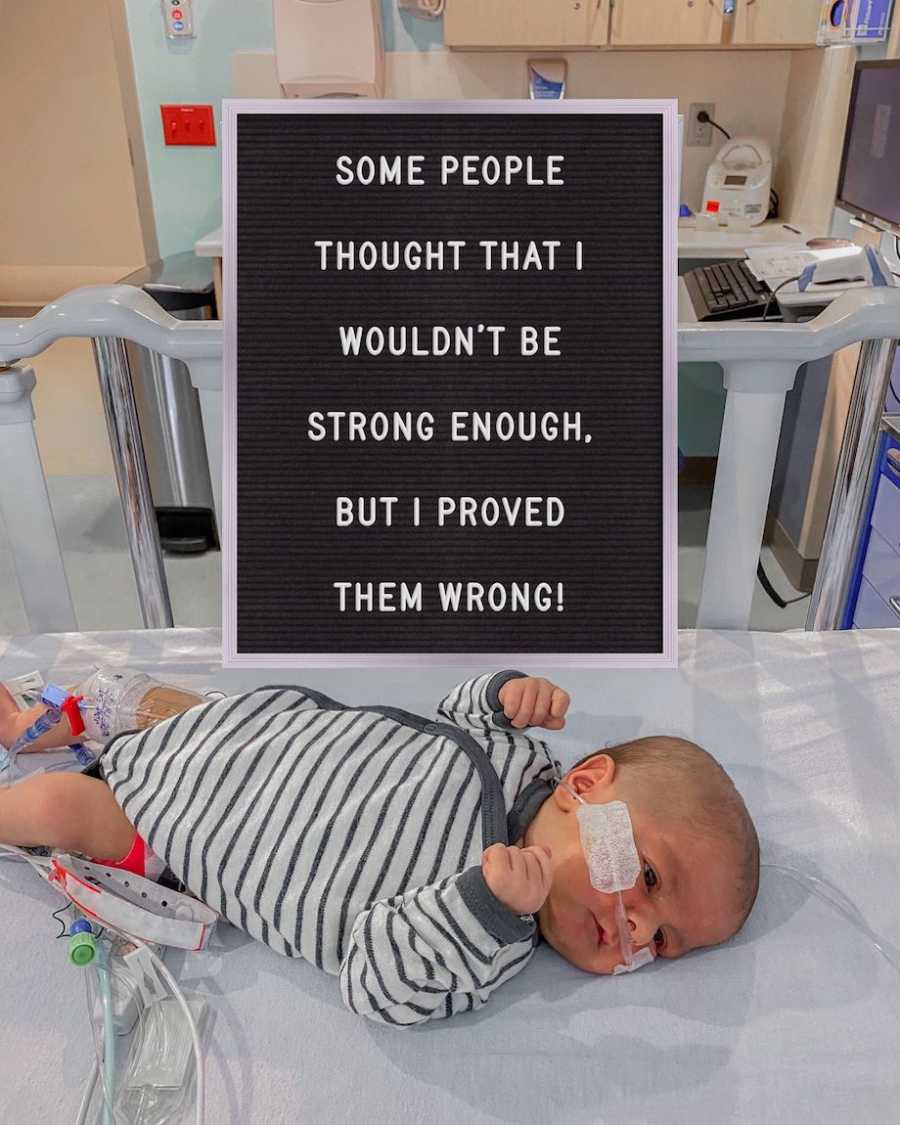 The doctors started talking to us about a discharge date but Samuel had severe reflux so they decided to do an Upper GI study to check what was going on before sending him home. Through the study, they saw that Samuel's esophagus wasn't the correct shape, which wasn't helping his reflux. He was also aspirating (milk getting into his lungs) when he drank. The surgeon recommended Samuel getting the Nissen/Gtube surgery and said without the surgery, he might really struggle his first year. The Nissan would help prevent him from aspirating and the Gtube would be helpful for feedings until he was able to eat as much as he needed to by mouth. We decided it was best for Samuel to get the surgery, so our discharge date went out the window and we were going to be there for at least a few more weeks.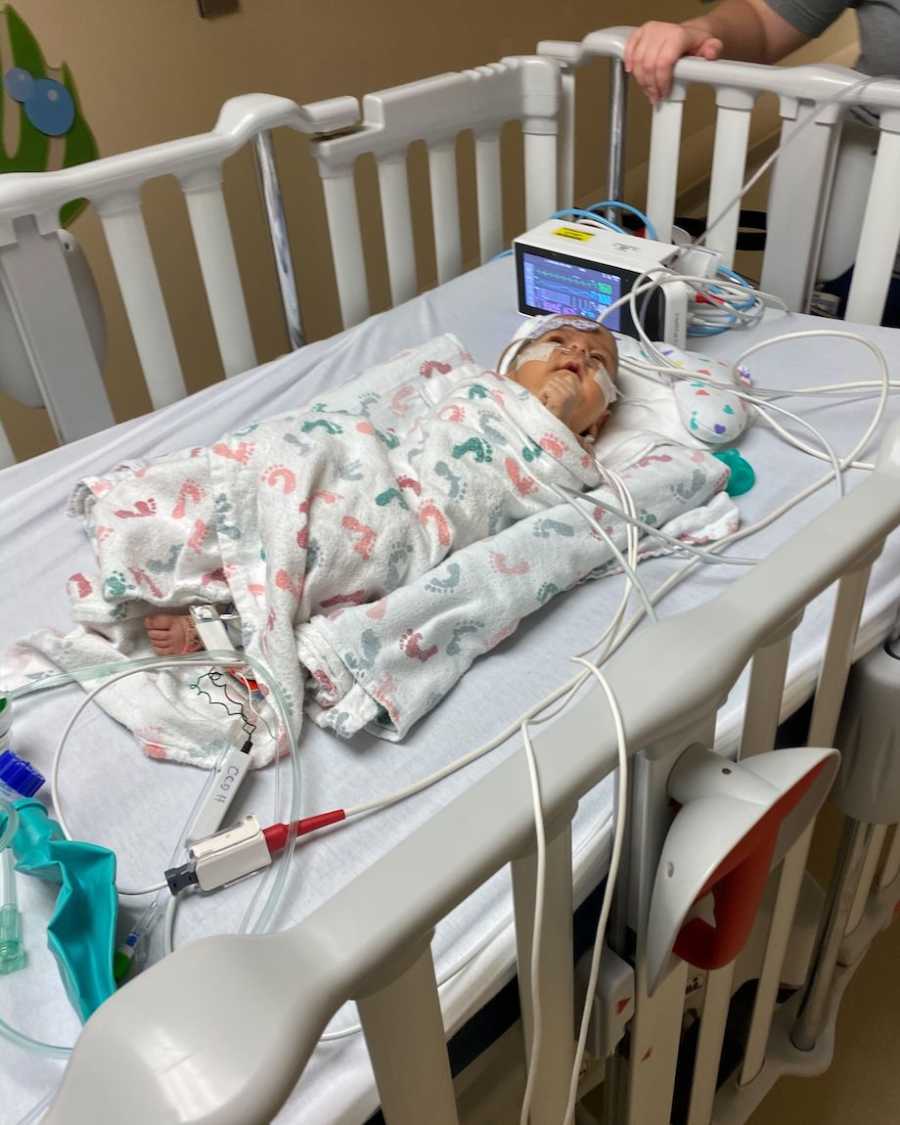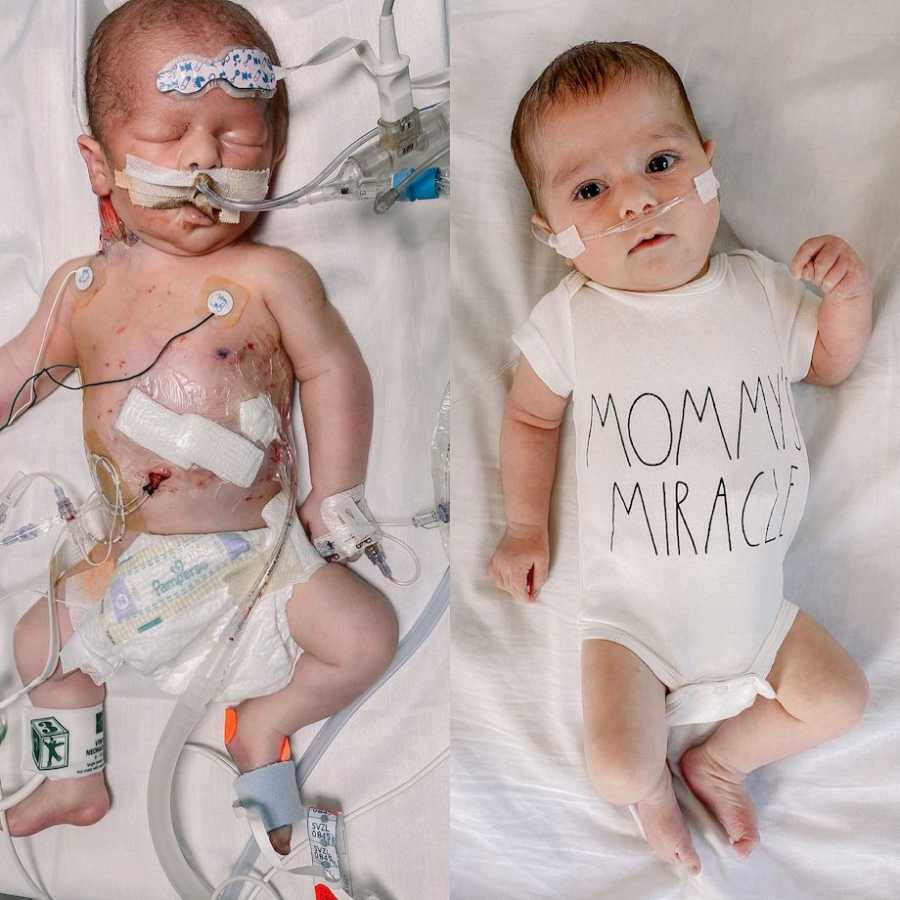 Surgery day came and it was nerve-wracking. I had to hand my sweet little babe over to the surgeons yet again. He was intubated for the surgery and although the surgery went well, he wasn't strong enough yet to get his breathing tube out right after surgery. When I got back to his room it was very hard seeing him in the state he was in. Seeing your baby intubated, swollen, and sedated, and seeing his silent cries again (when a baby is intubated they don't make any sounds when they cry) after he was doing so well is something I wish no one had to experience. It felt like we went completely backward. Thankfully after a few days, he was extubated again and slowly got back to himself again.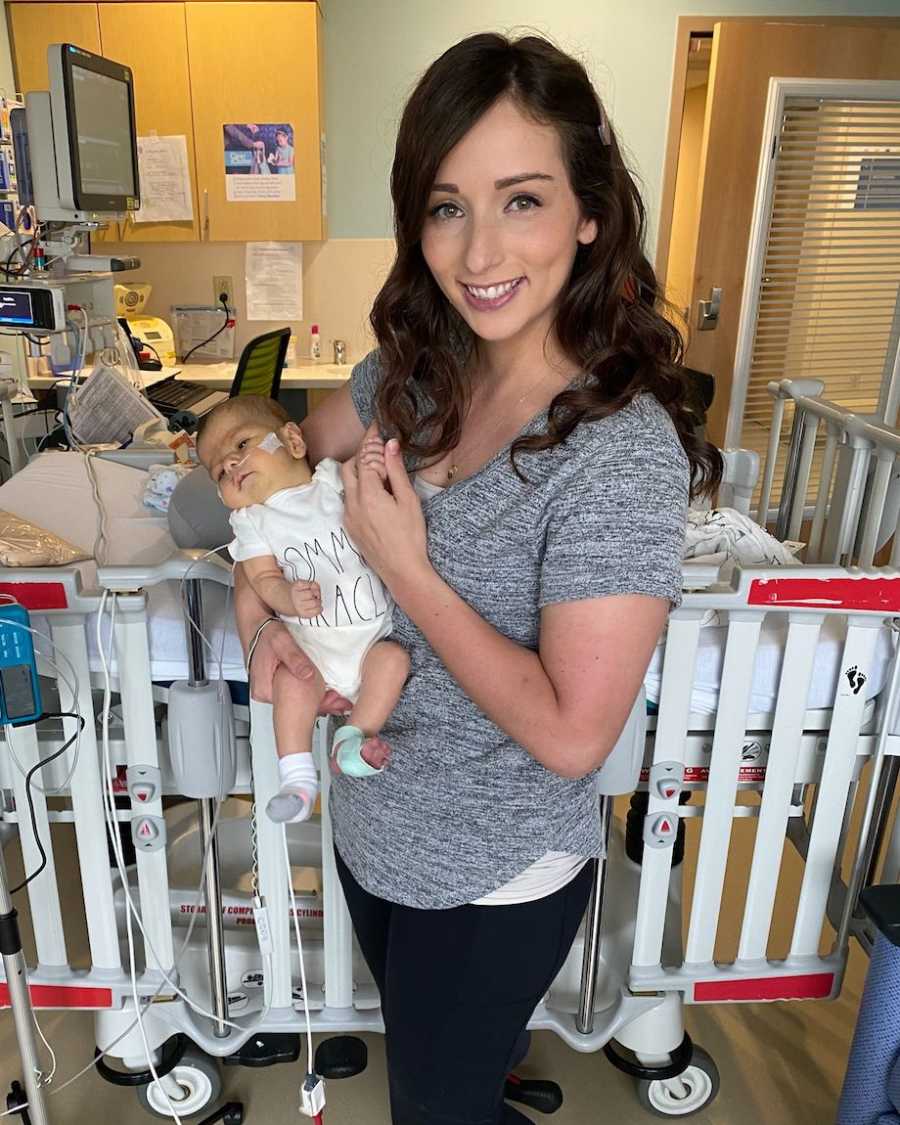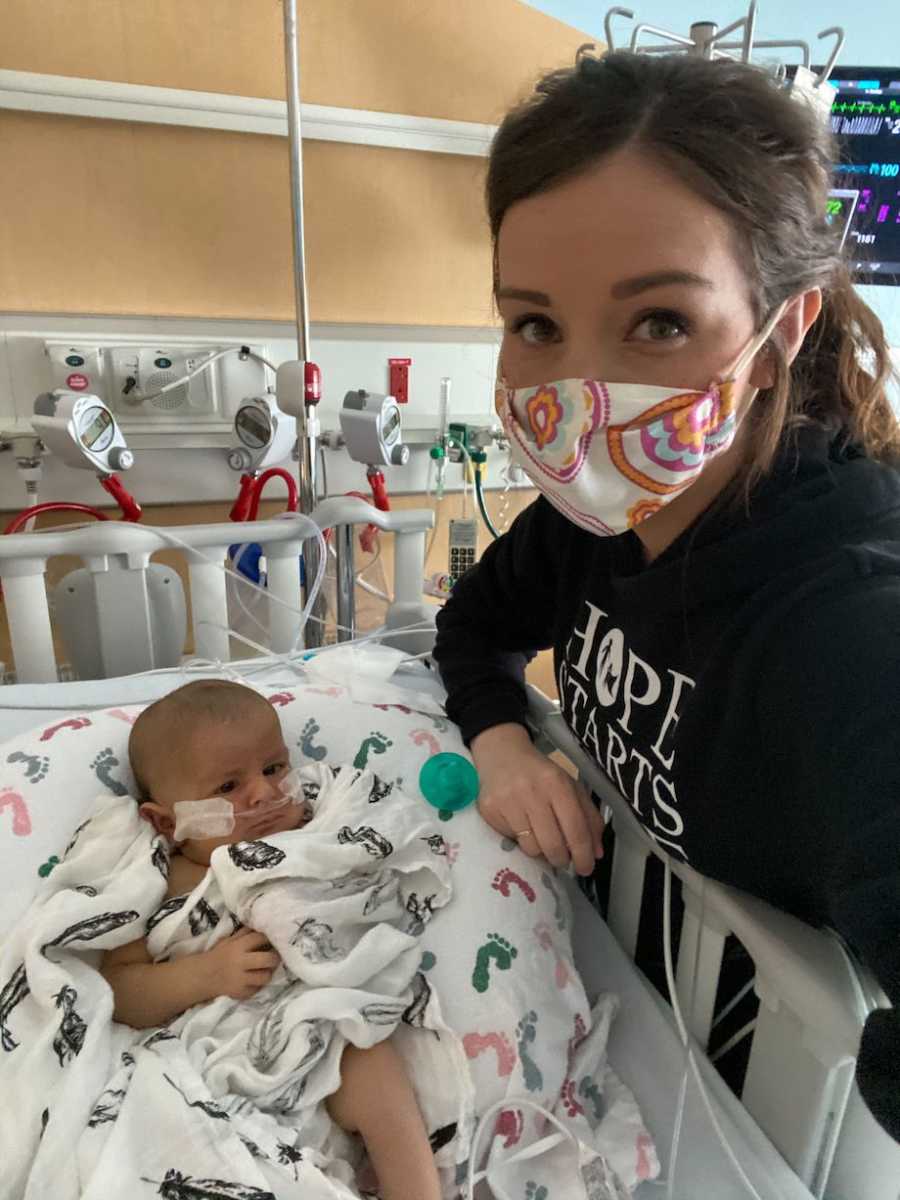 We spent the next week learning about his g-tube, getting several discharge tests done, and focusing on Samuel's weight gain. And before we knew it, the day had come where Samuel was getting discharged from the hospital! It was a long hard 71 days in the hospital but Samuel kept fighting and fighting and made it through.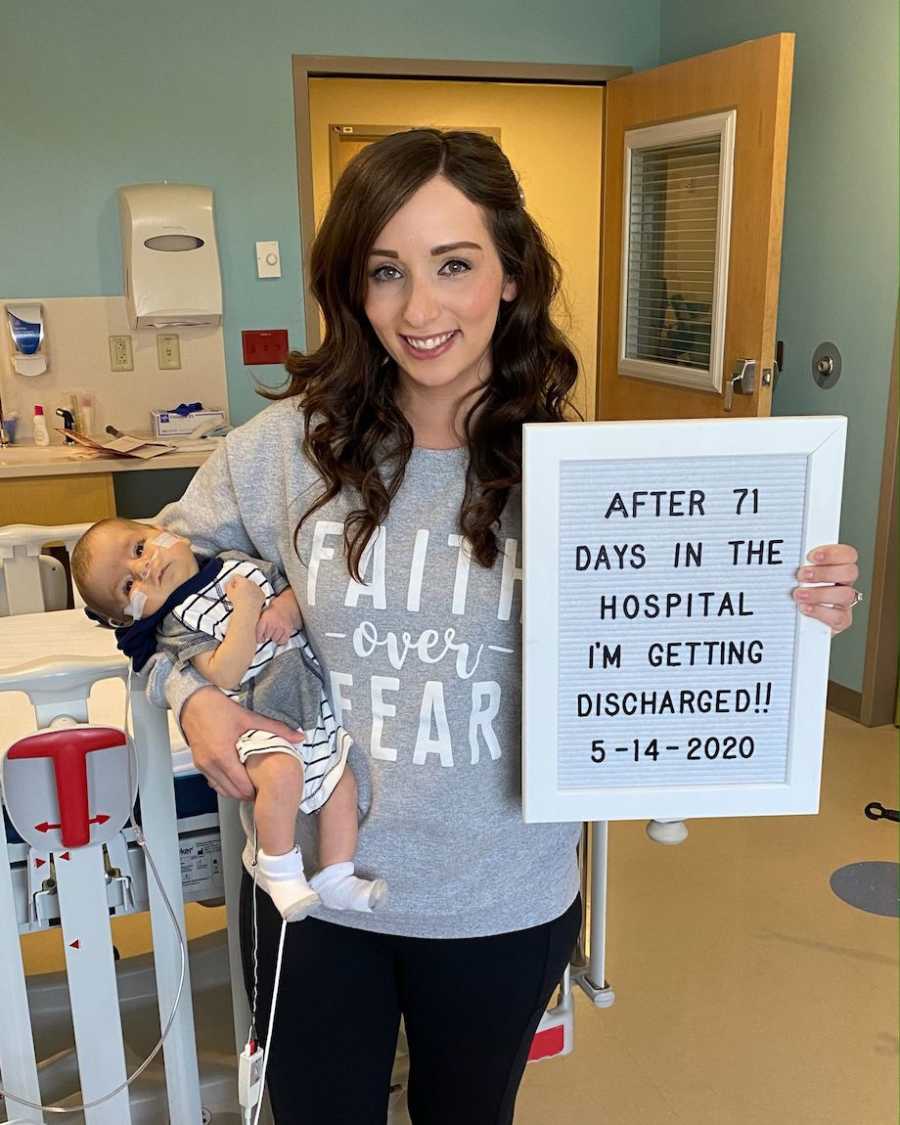 We got home to surprise signs all over our house from our friends welcoming Samuel home. We walked around the house reading each encouraging sign, and then I walked up to Samuel's nursery. I stood there, holding my little miracle baby, and it was like a full circle moment – the moment we had prayed and prayed for was here. We were standing in the nursery we had made months early out of faith, even though we didn't know if we'd ever get the chance to bring him home to it. Samuel was home, he was healthy and we couldn't have been more thankful for everything he had overcome."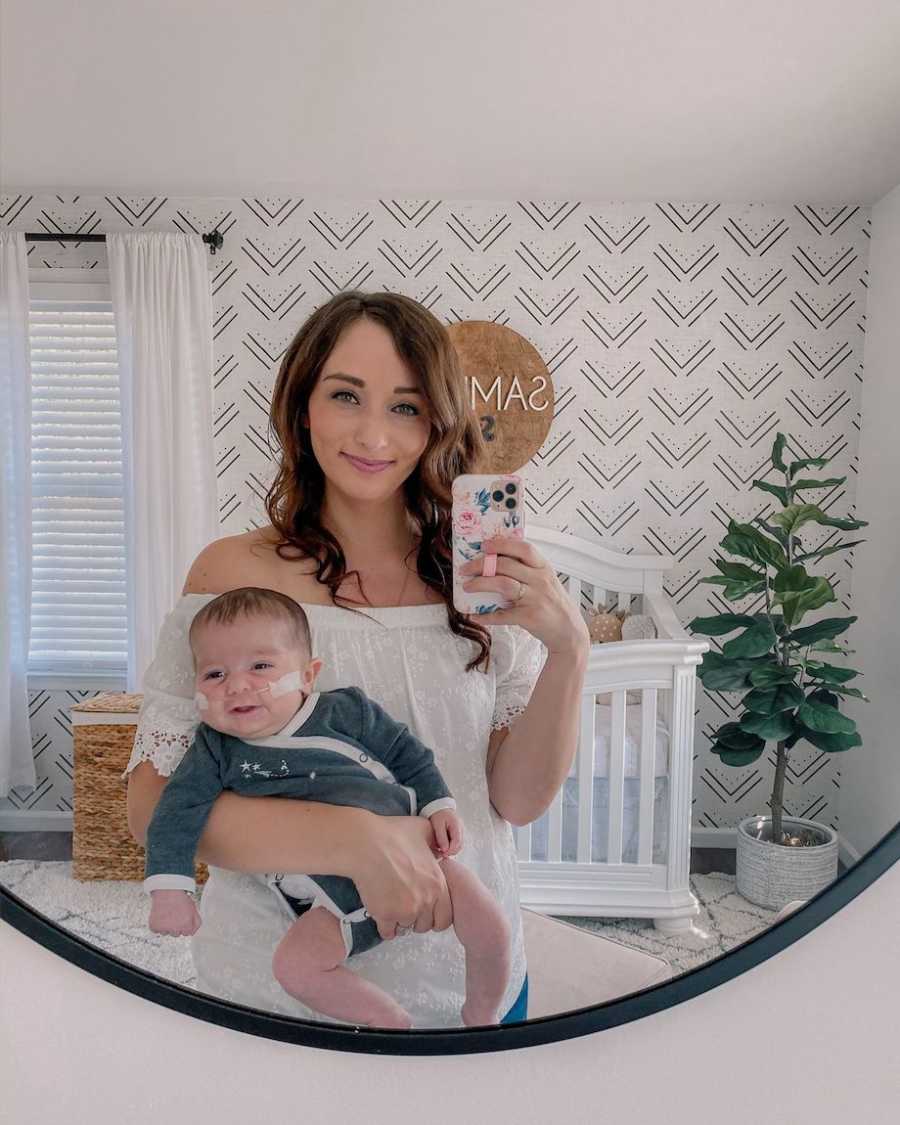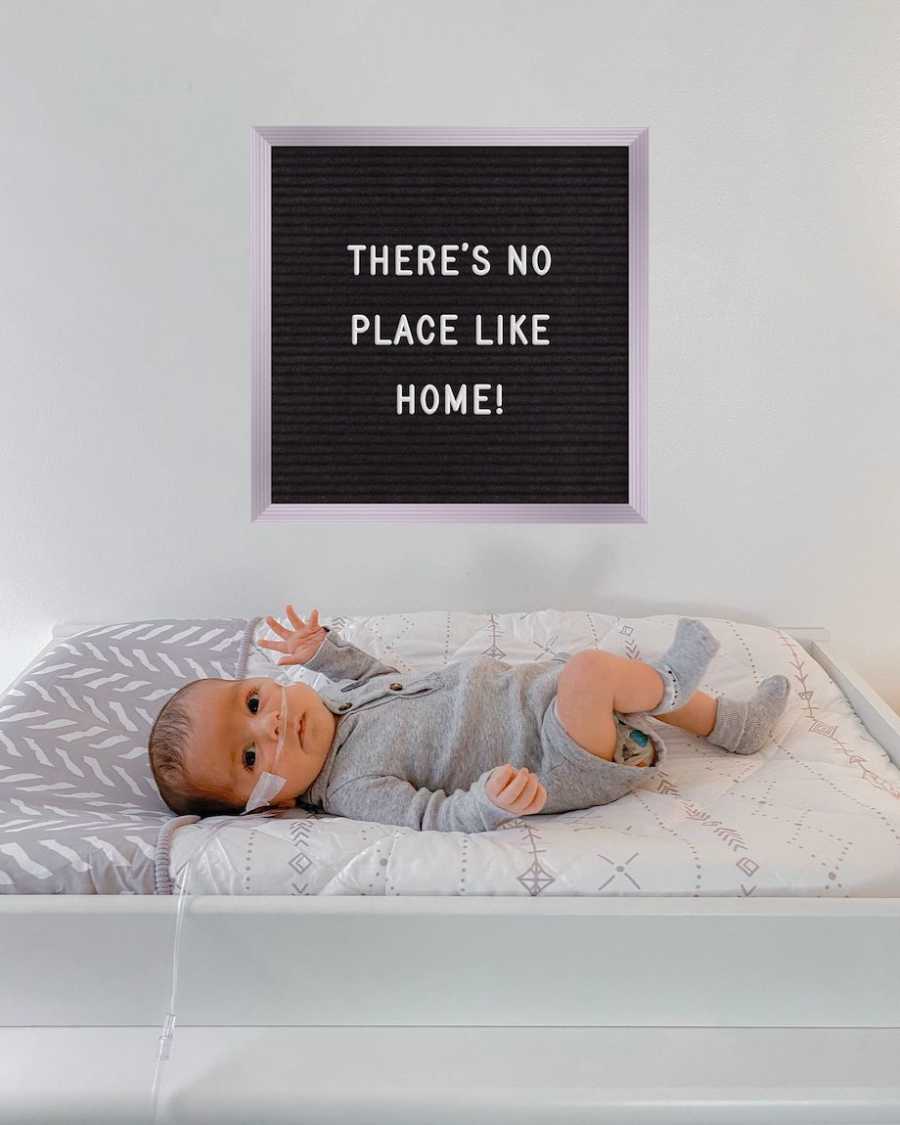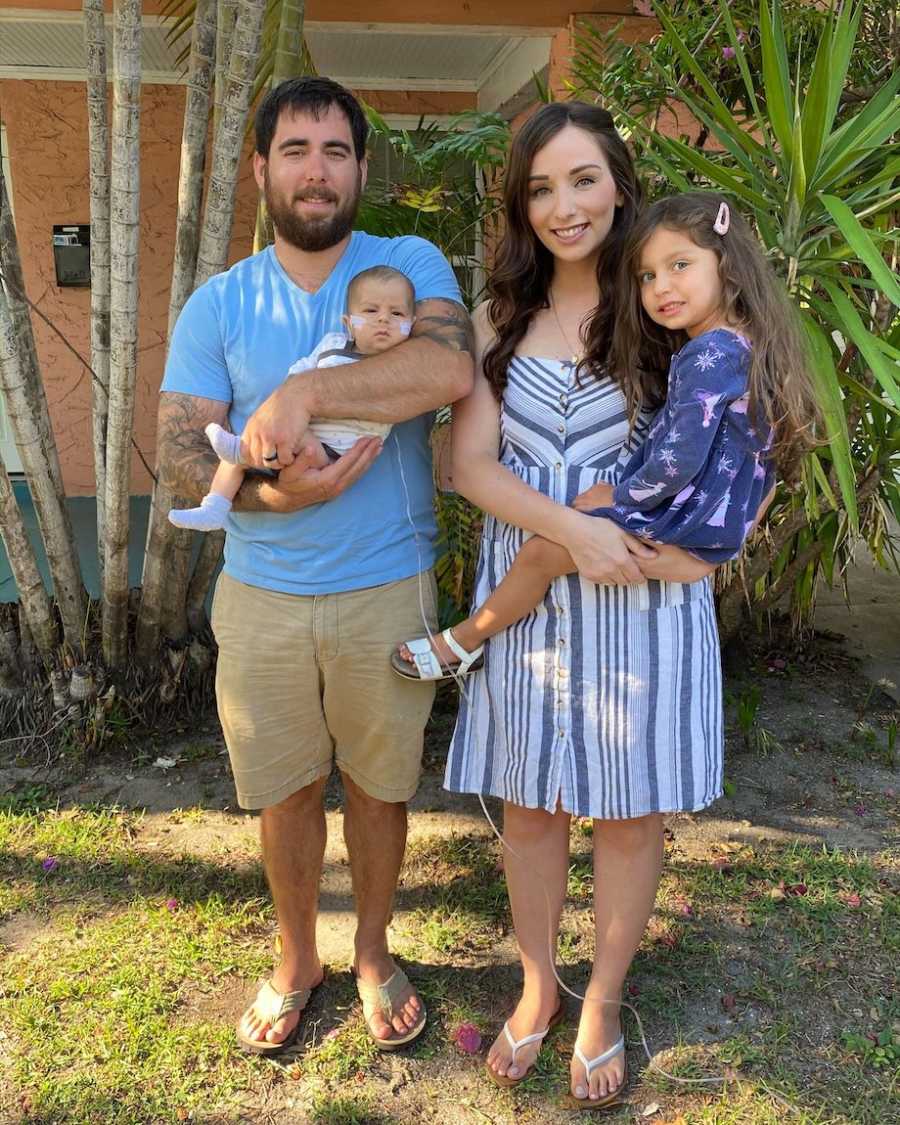 This story was submitted to Love What Matters by Cara Murtaugh. You can follow their journey on Instagram. Do you have a similar experience? We'd like to hear your important journey. Submit your own story here. Be sure to subscribe to our free email newsletter for our best stories, and YouTube for our best videos.
Read more inspiring stories of kids overcoming the odds here:
'What the hell did you do!' He looked at me. 'You'll likely be planing a funeral.': Mom describes years of 'medical issues' with son, but he still 'beats all odds'

'It was only a matter of time before the heartbeat stopped': After loss at 16 weeks, mom welcomes baby who 'kicked butt' in the NICU
'Is this the last time I can kiss him?' I'd just learned my baby had Down syndrome. Now, he was blue, floppy, and not breathing.': Mom says baby with Down syndrome, heart defects has taught her to 'focus on the positive things in life'
Give other moms strength and courage who are continuing to learn about their children with disabilities. SHARE this story on Facebook or Instagram.