"You know how one minute you're scrolling through social media and you see all these families doing all these perfect things? The stars are aligned, the moon is shining bright, the kids are all smiling and the filters are on point. And it inspires you. You want to look up the recipe or make the craft or try whatever the adventure is somebody else is talking about. Well, yeah. I thought it was a great idea. Until that one time.
It's a good thing we didn't have cell service while we were in the forest, but as soon as we hit civilization again, I couldn't help but wrap up our exciting little adventure with this fun tidbit to my mom. I hope you give yourself a break if things don't go just as perfectly planned.
Dear Mom,
I wanted to thank you for the camping memories. I wish I could transport our kids Stephen, Savanna, Shane and Kaitlyn back in time to my childhood, because I know they would have loved it. I have so many fond memories of camping, and I am hoping my kids look back and have at least one good memory of it. We just got home from camping. We tried really hard, I swear. I think we had a pretty good time, but, let me recap a few of the highlights.
Note…we're home a day early.
We packed the truck, completely to the brim, and after it was covered with a blanket, a net and a tarp, we looked exactly like the 'Beverly Hillbillies' and I'm not kidding. All we were missing was the rocking chair on top.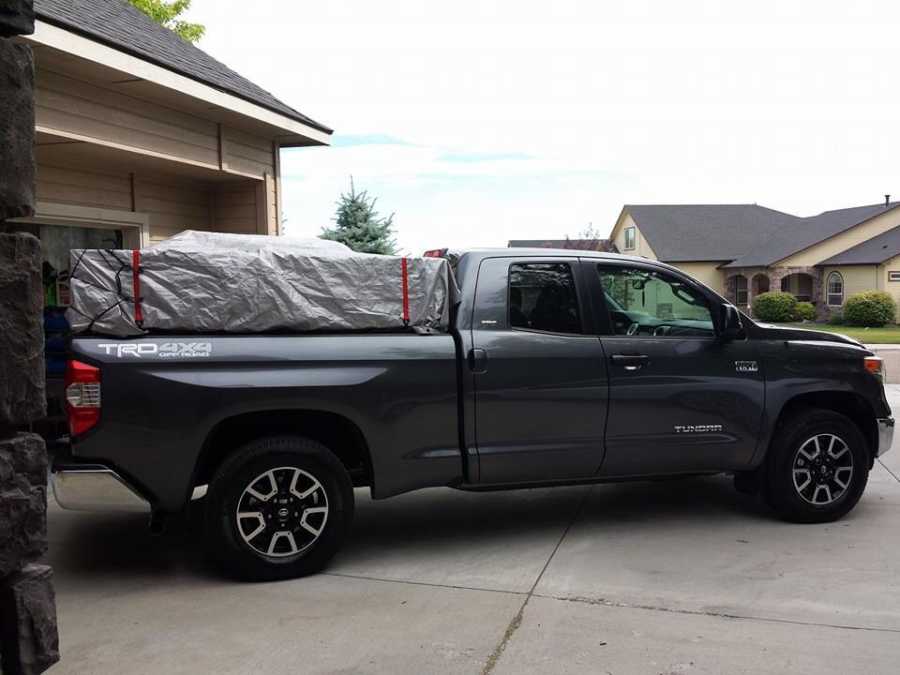 Chad, being the ever-prepared husband he is, decided to check all the tie downs and bungee cords 'one last time' and when he was done, he decided to check them, yet again, 'one last time.' By this point, I was waiting in my car for him to finish and pull the truck out, so I could park my car in the driveway. I watched him tug on every tie down, pat everything down, tuck in the tarp and then check the bungee cords, again, 'one last time.' As he did it, I am sure I heard him mumble the proverbial man phrase, 'this ain't going anywhere.' Until, it did. I guess he thought it would be a good idea to stretch the cord as far as it could go, you know to test it, and it was a great idea until it unhooked and shot at him like a rocket. It knocked him to the ground and before I could jump out of my car and rush to his aid, he was in the house. I was terrified that would see his eyeball on the floor in the laundry room and a trail of blood to the bathroom, but thankfully the hook caught him above the lip, under the eye and then over the eye, but not in the eye. Immediately, he had a black eye which immediately swelled up and shut. Stephen fixed the cord.
Of course, this meant I now had to drive. I'm pretty sure I wasn't the only one that was terrified with that idea, but after multiple bathroom stops (and a stop for sunglasses now that Chad couldn't see) we were off up the hill.
Six people in one completely packed truck for three hours, we finally got there and really, the scenery was beautiful. It was like a picture-perfect postcard full of pine trees, rolling hills and beautiful blue lake water. We all got out of the car, stretched and took in the mountain air. Chad and I talked about where to set up the tents as the kids ran and galloped over the rocks excited about the adventure to come.
That was, until the chipmunks came. I didn't mind, but I'm not sure the camping chair was well equipped to hold our teenager who perched herself standing on it. Once she realized they weren't going to actually attack her, things calmed down, but the spiders, the bugs, the butterflies – oh my.
She did, however, manage to go fishing with us, but I think she spent more time watching for wildlife than anything else. I am just happy she didn't go fishing again later in the day because, while Chad caught several fish, he didn't realize he was standing in a snake nest and mommy and babies were wrapped around his leg until it was too late. Maybe it was the one-eye thing, I don't know. He's usually so much better and sensing and seeing danger.
Shane, however, learned all sorts of things about survival, including how to whittle wood into spears (I think we have 15 now) and how to make para-cord bracelets. Somehow, he convinced Chad's brother in law to teach him how to make a 'dead fall' – some sort of survival contraption that involved a large, heavy, flat rock held up on sticks and a trap so whatever went under it would get squished. Of course, Savanna was hoping every-last-living-creature would run under it.
Chad was also super organized, having all of our bins labeled by number and the corresponding list on his IPAD, which, in the course of things, the screen got cracked. But that wouldn't deter Chad, who quickly became the ultimate summer camp director in the mountains. For some reason actually 'looking' in a bin was a big no-no, as getting the IPAD, and reading through the cracks on the screen (him doing so with one eye) was much more efficient. His system not only ensured fast access to all that we needed, but that all that we needed was present and accounted for.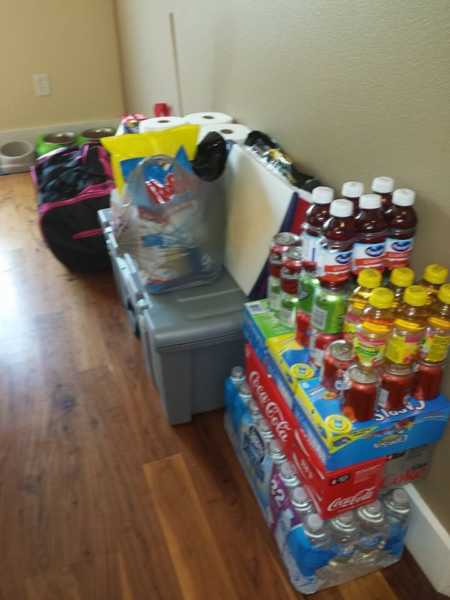 Very quickly, we realized we forgot the air pump, and after multiple trips to the 'lodge' looking for a pump, another air mattress or even a swim raft, Chad realized the lodge had an air compressor. So, back he went to the campsite, got the air mattress, hauled it back there, hooked it up and unbeknownst to him, the compressor had an oil leak, so as it turned on, oil shot up everywhere, and on some other guy's camping chair. That guy's $10 chair cost Chad $16 in Budweiser, but by God, we had a full mattress. Which, incidentally, didn't stay full for more than 2 hours.
However, we finally had dinner and afterwards, Kaitlyn cooked at least 50 marshmallows, and after everything was put away, we all went down for a 'restful' night's sleep. Except Savanna, who went to bed crying with her bladder full, because she refused to use the vault toilet, and was sure a bear was coming.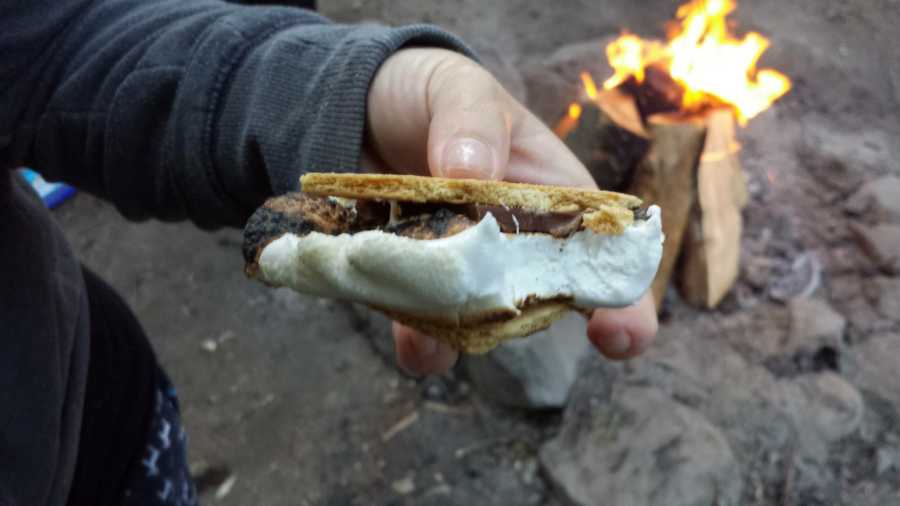 We made it through night one, and through the next day with several rounds of 'Uno,' 'Yahtzee' and 'Game of Things.' That night, we decided spaghetti was a good idea. It was great until clean up. Have you ever made spaghetti, sauce in the same pot, then used that pot to clean the dishes?  Yeah, me either. Until the other night. I guess a washing pot didn't make it on the list of things to bring.
Several Savanna anxiety attacks later, suddenly, she just feels sooo much better, but then it was Kaitlyn's turn to not feel well. At least she threw up all the marshmallows at the water pump for easy clean up, then quickly got over it.
This morning, after a big breakfast we decided that it was just time to come home. So, we packed up our three tents, two coolers, a deflated air mattress, a stove, a table, six chairs, six sleeping bags, fishing poles, three dozen sodas, four bins, fifteen whittled walking sticks, ten para-cord bracelets and prayed we didn't have a stow-away chipmunk or bug in our bag.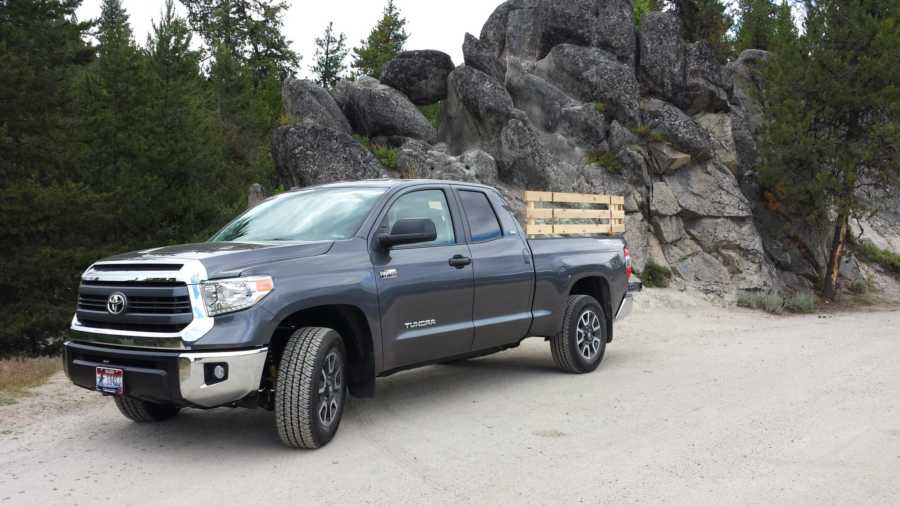 We made it home, this time with just tie-downs (no bungee cords) and I've never seen anybody run to a shower so fast. I'm pretty sure if we could have found a hazmat facility that Savanna could have gone through to really disinfect, she would have done it.
Anyway, all in all, it was pretty fun, but I think next time, Chad and I are going alone, or at least only taking the dogs…but then again…maybe not."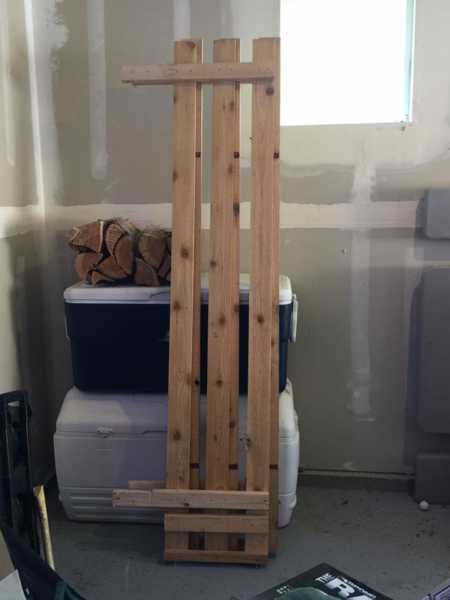 This story was submitted to Love What Matters by Diana Register of Meridian, Idaho. Her books, "My Kid Is an Asshole, and So Is My Dog" and "Grief Life," are now available in print and kindle. You can follow her work on her author Facebook page. Submit your story own here, and subscribe to our best stories in our free newsletter here.
Read more of Diana's hilarious stories:
'Fire burned in my eyes. He backed away. I pointed to the sink. 'Oh yeah, I cleaned out my room.' My eyes bulged.'
'These are so cool!' She was holding a fanny pack. Yes, a fricking fanny pack!' Mom's HYSTERICAL shopping excursion with teenage daughter
SHARE this story on Facebook if you can relate to family vacations gone wrong!