"It's been two months since I took a career leap I never anticipated coming and nearly three months since I left a post I'd always assumed would be where my radio career would end.
There's a time and a place for sharing all of the challenges this major shift in my life has brought along with it, not to mention being back to teaching with a class that is also entirely outside of my comfort zone. But that's not what I've been mulling over in my head for a while. Instead, the last two months have felt like some strange out of body experience. I've watched a scenario play out that includes a girl, her daddy issues, and a radio station.
I idolize my dad in a lot of ways. He's the epitome of an American Dream. When people want a poster boy for a kid who came here with nothing and made everything for his family, that's Frank. He is rugged, still handsome, the hardest working person in any room he enters, humble, generous, a proud Basque man, and an even more patriotic American. His Christmas tree is American flag-themed. It goes well with the taxidermy bucks and Basque relics on the walls of his living room.
But I don't really know my dad. I've heard more stories from others than I've heard from him. He's not a talker with his kids and I'm the one who probably heard the least until recently, that is.
It's a funny thing to feel like the black sheep of a family. It's even more ironic when your father came to the States as a shepherd. The truth is though, other than knowing I made my dad proud with my list of accomplishments, I didn't know him, and he certainly didn't know me. He'd given up trying to tell me the tattoos would get in the way of a real job and didn't say much when I showed up with my head half-shaven the first time. He stayed out of the family drama but was stoic and supportive as my relationships crumbled, telling me I needed to do what was good for me. He could tell you I worked in radio but didn't know any stations, except for KMJ. I'd hear he'd tell friends about my teaching at Fresno State. He'd introduce me to his employees at his company Christmas party as the one doing mental health. He went to my old house, the one I lived in for ten years, three times and one of those was to tell me my mom had died.
I'd go weeks without talking to him, months without seeing him, and we've always lived in the same town, only miles apart. I learned to collect my fatherly affirmations through the kind words he'd told others, like a treasure hunt I didn't know I was on.
My dad and I didn't talk about the news of the day, hobbies, or dreams. Maybe some brief talk on finances, chat about the kids, fill him in on one thing or another and always, always make plans to 'stop by' but we'd rarely follow through. I sort of relegated myself to not really knowing my dad the way some of my sisters did. I stopped thinking about how it hurt that so many unrelated people knew more of him than I did. I'd already had that with my mother. If it was both parents, I'd start to think I was the problem.
Then the job change happened. When it all fell into place, I knew he would be my biggest fan. I might have even mentioned that during an interview and thought to myself afterward how pathetic that could look, a kid seeking approval like that. I stopped and asked myself, 'Am I taking the offer in another attempt to make my dad proud, to notice me? Or is this just going to be a poetic secondary gain from an opportunity I earned after working so quietly for so long?' I decided it was the latter.
Here's how it all changed…
I now work for the only station my father has ever seen as legitimate and worthy. The other two decades of radio work were child's play, a detour of barely paying the bills until I decided to grow up. But not this one.
My dad calls me after shows now. At first, I thought it was a fluke. I've often questioned if he had my number in the past. In an effort to not get my hopes up too high, I thought maybe it was something that would taper off after a few days. Instead, it increased. He'd leave me messages telling me I had to guess which person recognized our last name on-air or call me with his take on a topic we'd covered. He gives me pointers on how I should approach topics and arguments. He never wants to be in air, but he'll send me photos of articles to support a story we're discussing. I didn't know the man knew how to work his iPhone. He even called me on Friday to wish me Happy Valentine's Day because we'd been talking about it. I don't know the last time he remembered Valentine's Day but I'm sure it was before I moved out in 2002.
A cynical, less healed version of myself might approach this absolutely clear, definite change in behavior as an angry critic. Perhaps interpret it as being finally worthy of what I thought was normal father-daughter interaction because I'd earned the right accolades. I can imagine it because I know I'd absolutely have that side to me if I hadn't done the personal work to dig out of that hole. If I didn't heal through my own mistakes, empty accomplishments, and bad relationships to be in a place where, as cliché as it sounds, I'm finally accepting and loving myself and, in the process, allowing a partner to love me too.
Here I sit, watching while strangely amused and still a little suspicious, in just a few months how the tides of a 36-year relationship have changed and a father and daughter are finally getting to know one another."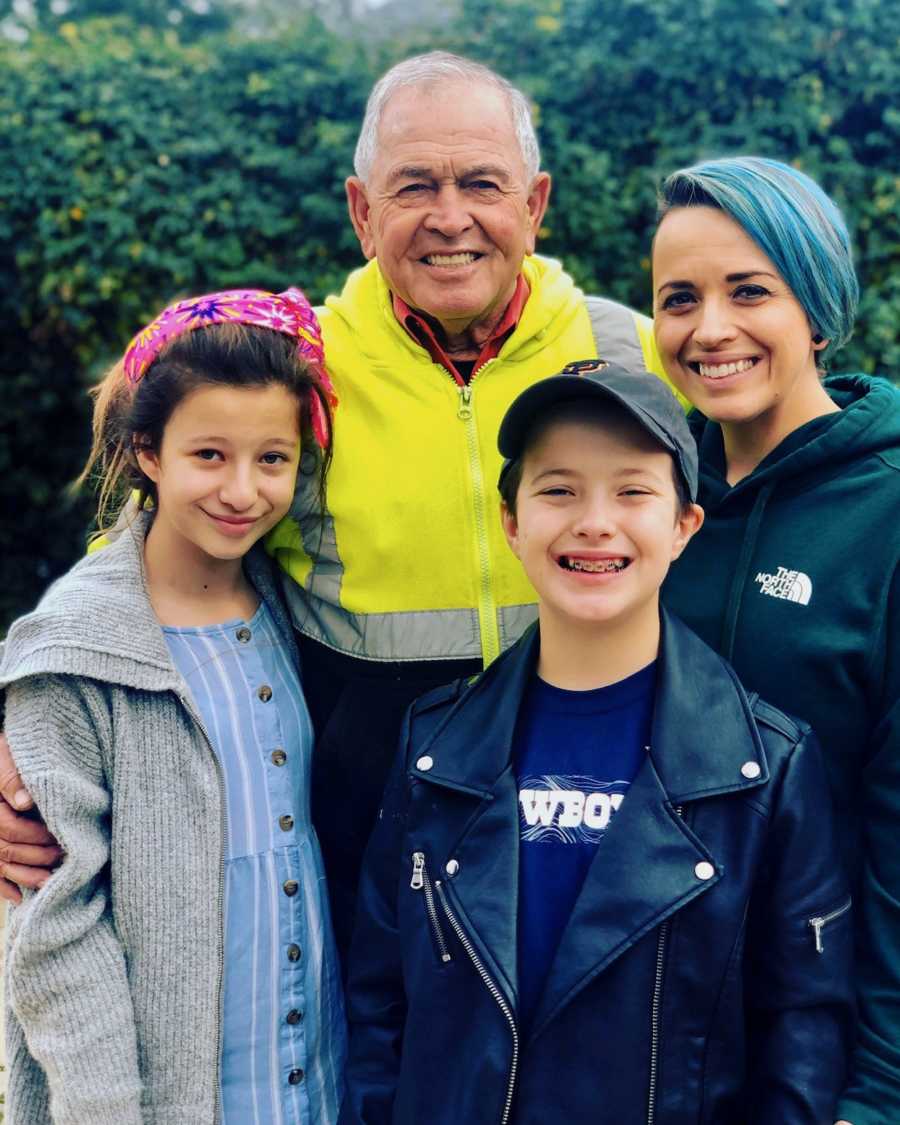 This story was submitted to Love What Matters by Frances Echeverria. Follow here on Twitter here. Do you have a similar experience? We'd like to hear your important journey. Submit your own story here. Be sure to subscribe to our free email newsletter for our best stories, and YouTube for our best videos.
Read more stories like this:
'I noticed two blacked out police cars in the yard. A detective inched closer. 'Your father is dead.' Lottery ticket rumors spread throughout the family.': Man honors late father by chasing dreams, becoming better father
'All I could muster at the party was, 'Are you serious?' over and over, as if my husband would use such heavy words to joke. 'Yes, they found him in his room.': Woman recalls complicated relationship with incarcerated father

Do you know someone who could benefit from reading this? SHARE this story on Facebook with family and friends.