"Beads for Needs is a non profit organization I started the summer before sixth grade. I am in ninth grade now, so it has been about four years since I founded Beads for Needs. I am truly so excited for my business to continue to grow and succeed in my mission of children helping children. I wanted to start my business because I looked around and saw how fortunate I was to be able to walk in the shower and have shampoo, sleep on a bed, and have shoes to wear. These aspects of our daily lives, like sleeping on a bed, are things we take for granted, so I wanted to help provide those essential needs to children who don't have them, which led me to the creation of Beads for Needs.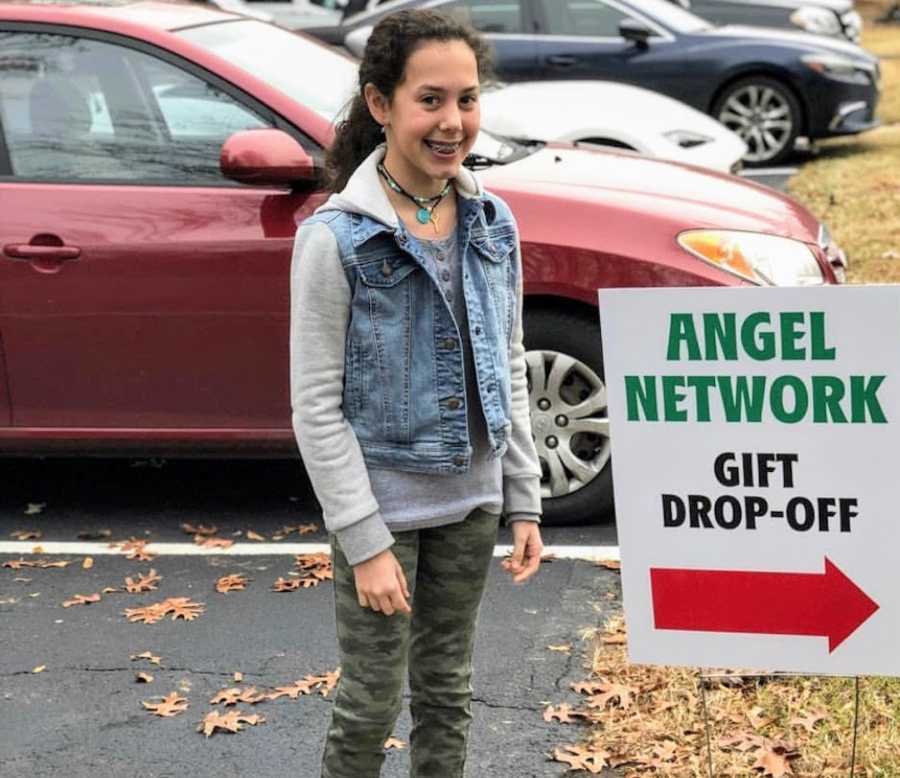 I started my business as an Instagram account where I would sell bracelets and necklaces. All of the money raised would then go to different children's charities in North Carolina. The products I started off making were glass beaded bracelets with inspirational quotes, college teams, or camp names. I customize necklaces and bracelets to whatever the customer would like. Then, I post pictures of some examples I made and some of the orders I had customized for certain people. Everything I sell is handmade by me. My business started off as just friends and neighbors purchasing my products through my Instagram account, but then it started to grow far beyond Instagram.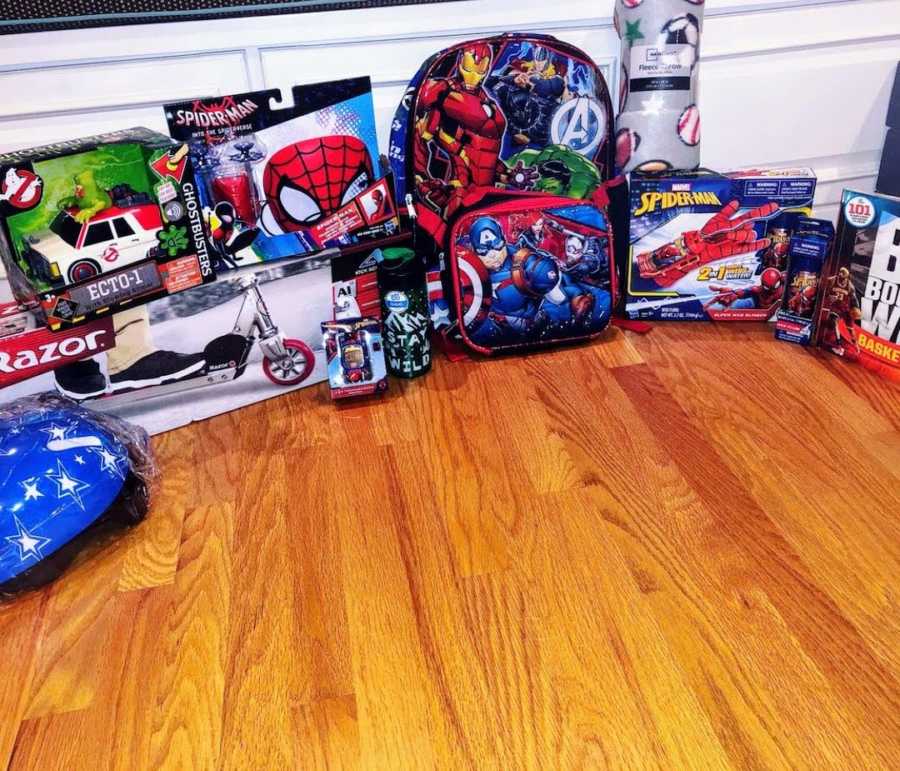 100% of the proceeds go to local children's charities! For my donation process, I do not want to make monetary donations, so when I reach a certain amount of money, I call a local children's charity and ask what their most critical needs are at the time. Then, I go out and shop for what they need, making sure to buy things on sale at places like Walmart and Costco, so I can get the most for my money without sacrificing the quality of the items. After I buy as much as possible with the money I raise, I take a picture with everything I bought and post it on my Instagram. I think it is very important for my supporters to see everything I buy, so they know exactly where the money is going. Then, I take all of the items to the local children's organization and take a picture of me, someone who works at the organization, and all of the items I am donating.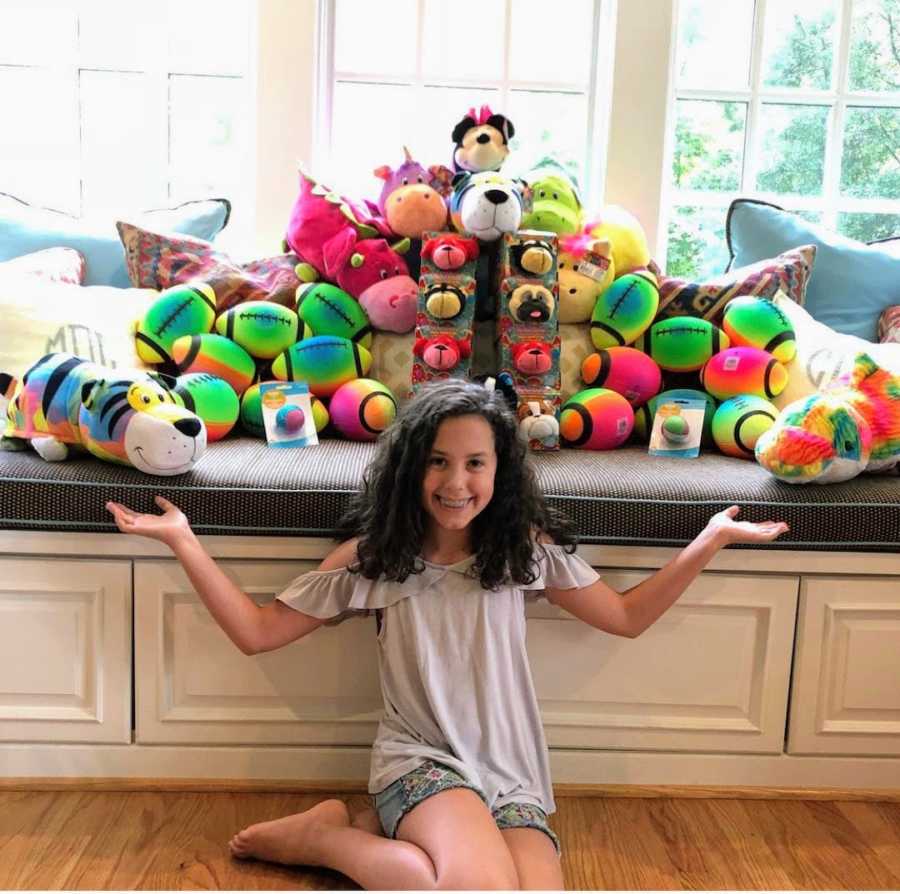 This step is also very important for people to see these items are going directly into the hands of children who need them the most. Also, it brings a lot of awareness to the organization itself. Every time I donate to a different organization, I always put their website link in my Instagram bio and tag them in my donation posts. As beaded bracelets will always be a great hit for the younger children, especially since I am able to customize them to their liking, I felt it was time to evolve with the trends. So, as I returned from Puerto Rico over spring break, I had purchased a cowrie shell necklace. When I got back to school and wore the necklace, everyone asked if I had made it and wanted to purchase one. I told them I had not made it. That night, I started thinking I could make one, so I ordered cowrie shells from California and got some string and started figuring out how to make them.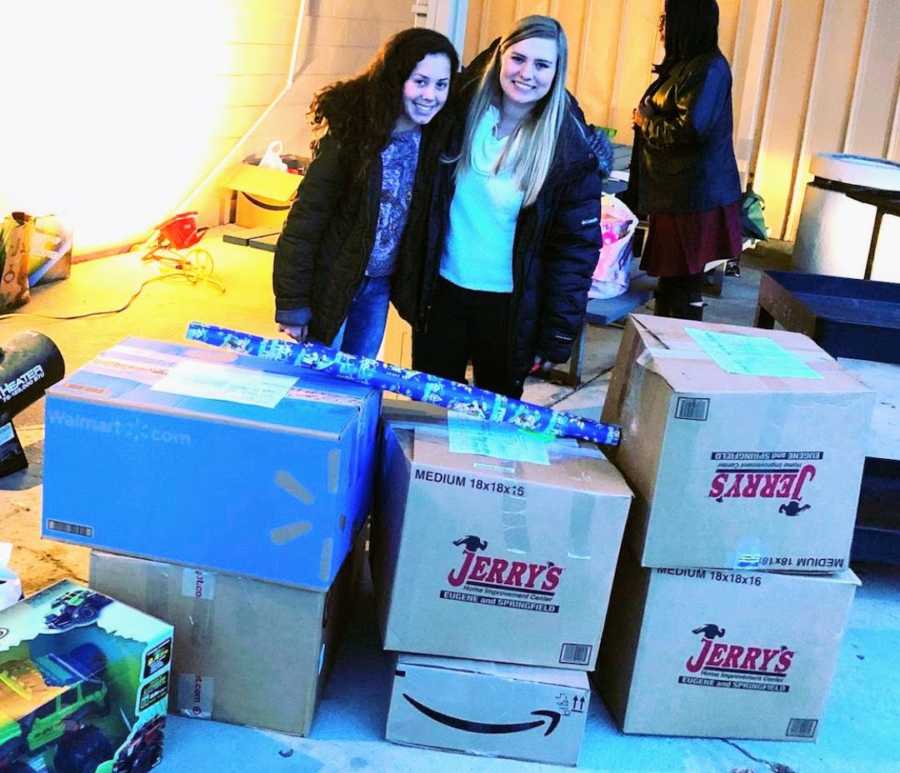 I based it off the one I got from Puerto Rico, and eventually I figured out how to make the necklace adjustable, which made it very easy to get over someone's head and then tighten it to the length they would like. When people found out I could make them, they went crazy! Shortly after, every girl in my grade had one I had made. I ended up making 600 dollars from just selling the shell chokers alone. I sold them for 12 dollars a piece, so about 50 necklaces were sold. It is very important to know the trends and to evolve with them. You have to keep changing your product based on the trends. You can't just rely on the same product year after year. This is the key factor in why my business is so successful today!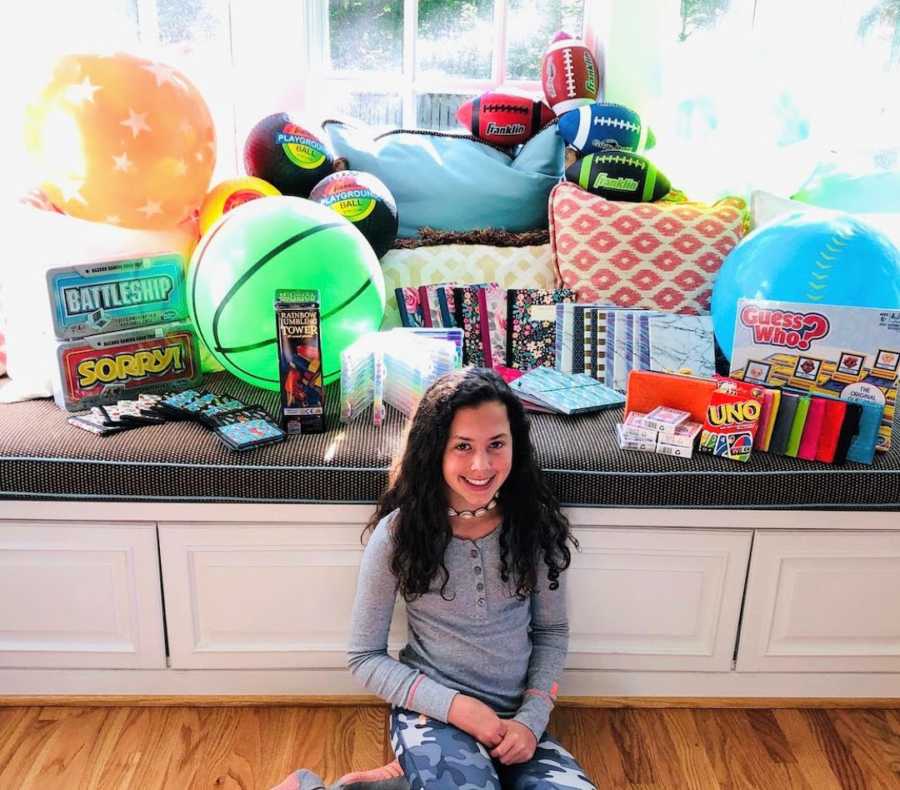 Due to how much money I was able to raise from the shell necklaces, I was able to adopt six children through a local children's charity, called A Child's Place. I have donated to A Child's Place numerous times and love to help their mission of providing aid to underprivileged children and their families in the public school system. I was able to fulfill their Christmas wish list and beyond. I purchased each child a Razor scooter, along with many other popular items for the age of each child. The family who received these gifts was so appreciative, and the mother wrote me a thank you note. Christmas is my favorite holiday, so I loved being able to help other children feel the same joy I feel on Christmas morning!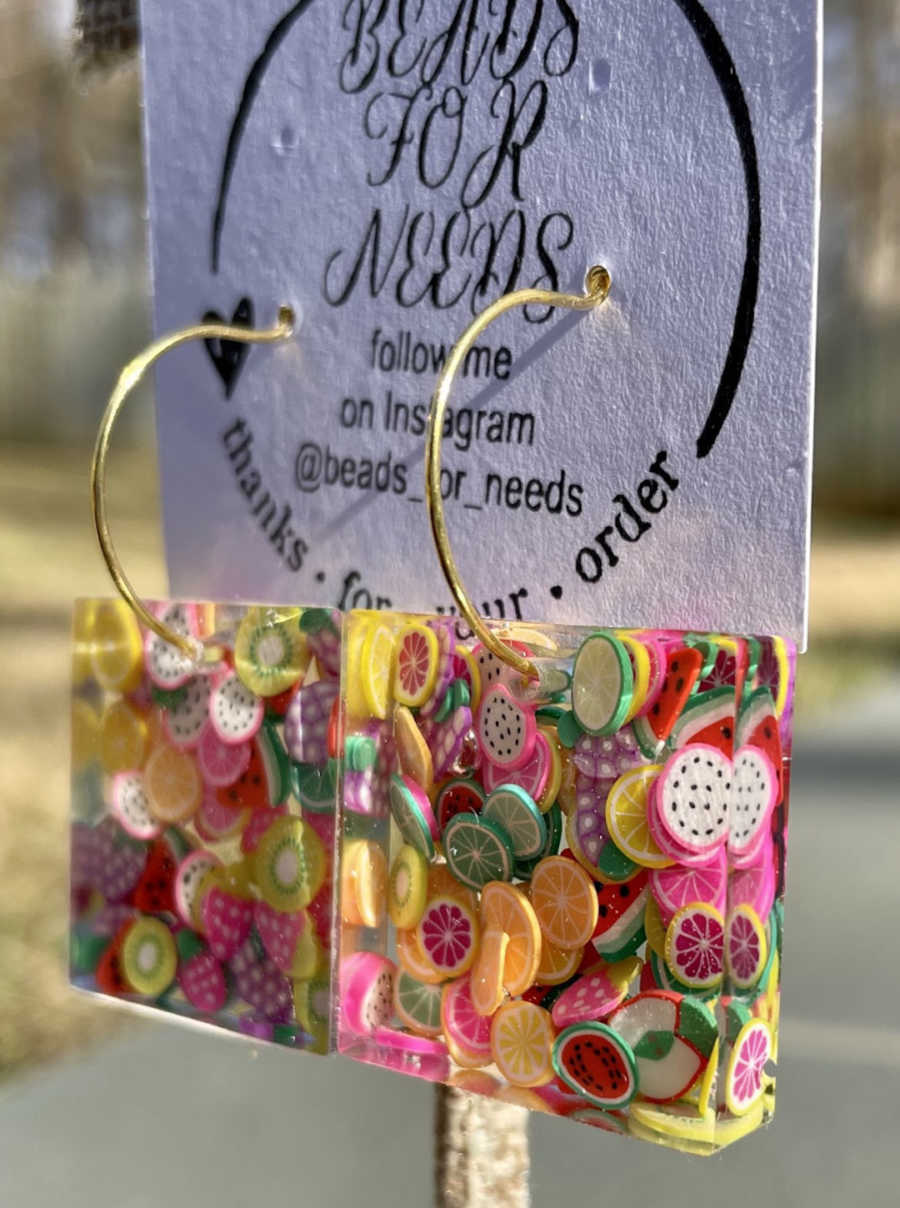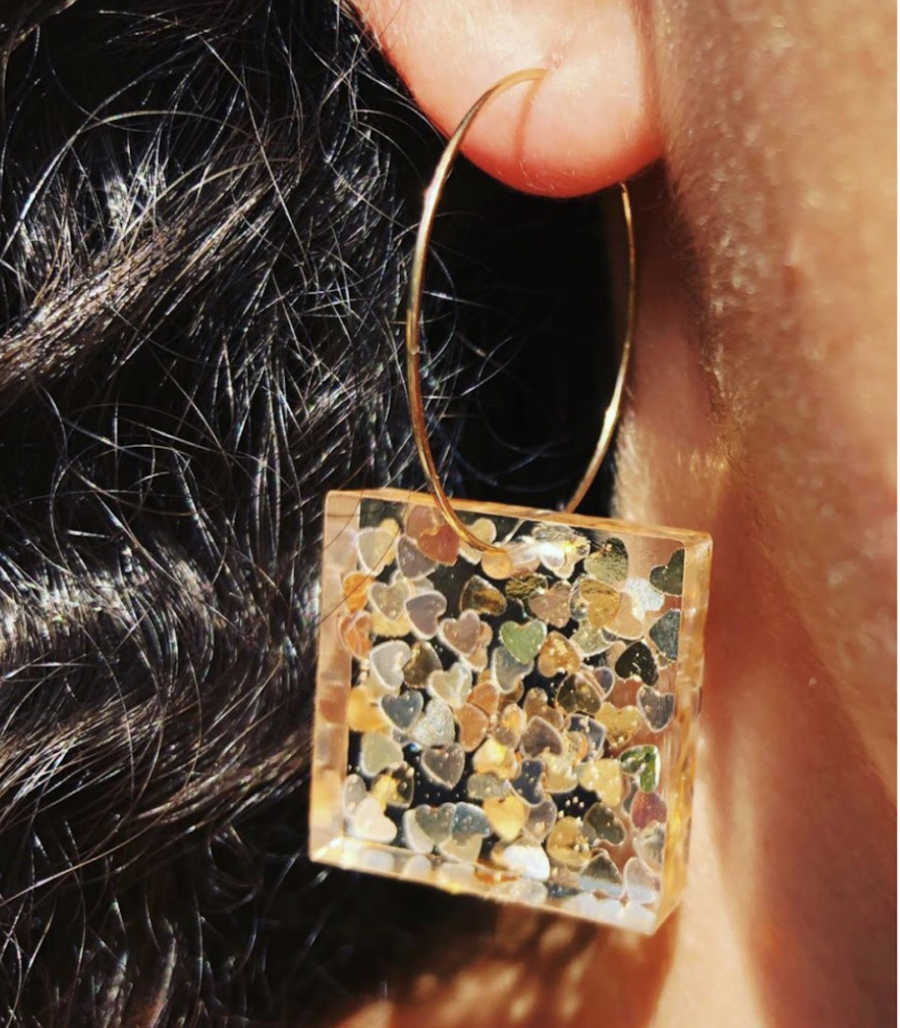 Due to the coronavirus, I knew selling my products at my school's sporting events was not an option anymore, so I had to come up with another way to make money. Over the summer, I created another product using resin. I handmade resin earrings and resin trays. I soon realized my products were boutique-worthy. I started emailing and calling a lot of different local boutiques in North Carolina. Swoozies, which is a very popular gift boutique, was very receptive. They allowed me to sell my resin earrings and trays in their store. They set me up a big round table right at the front of their store when you walk in. I picked two weekends to set up, a Saturday one weekend and a Saturday and Sunday the next weekend. It was extremely successful. I was busy selling all day.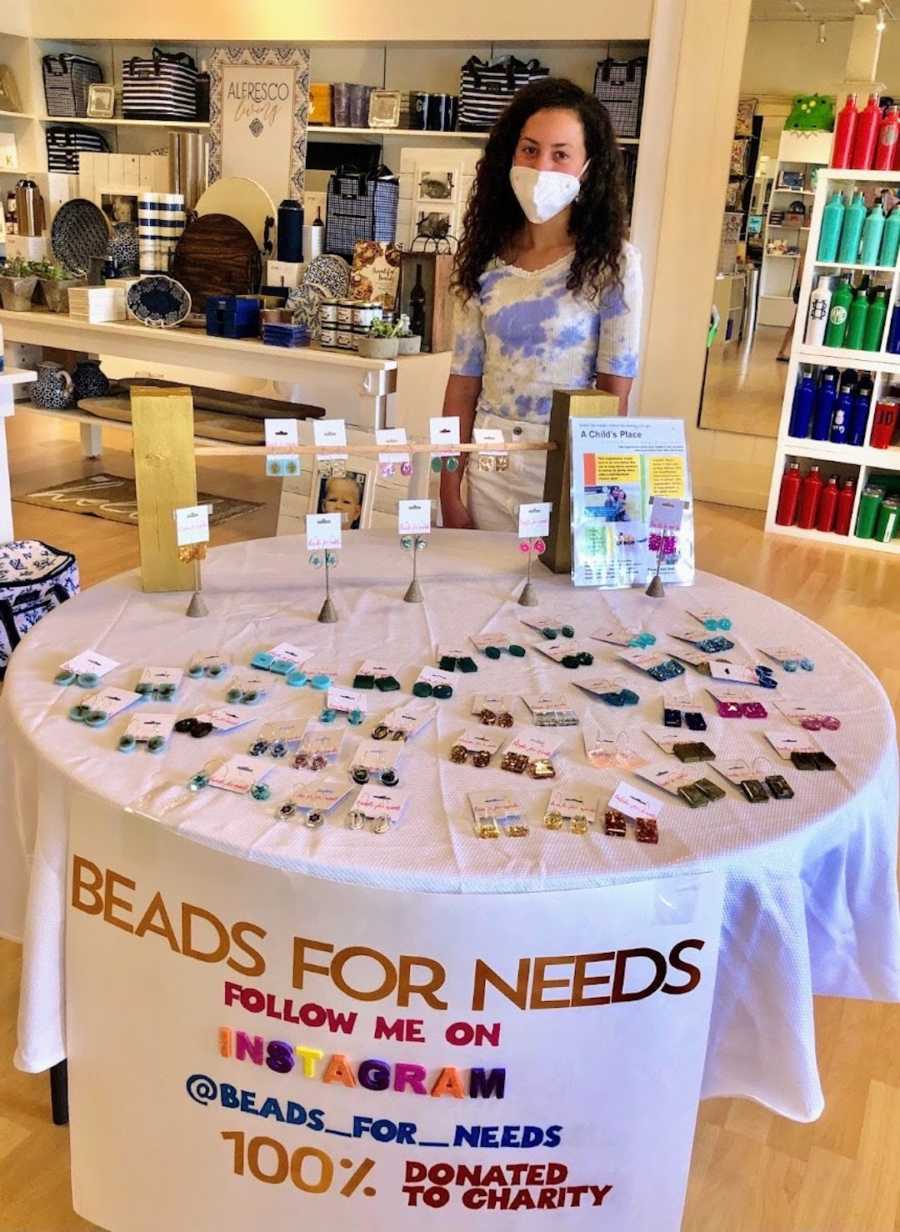 I did cash or Venmo, which made it very easy for people to purchase. Each person usually bought 2-3 pairs of earrings or a couple custom resin trays for gifts and for themselves. Swoozies was an awesome host because they did not take any money from me. This created a lot of publicity for Beads for Needs and got my organization out there. Due to my three sales at Swoozies. I was able to raise a lot of money and donate a lot of critically needed items to A Child's Place. Due to the coronavirus, I was sadly not able to purchase the needed items myself and drop them off, so I bought the items through their Amazon Wish List and had them sent directly to the organization.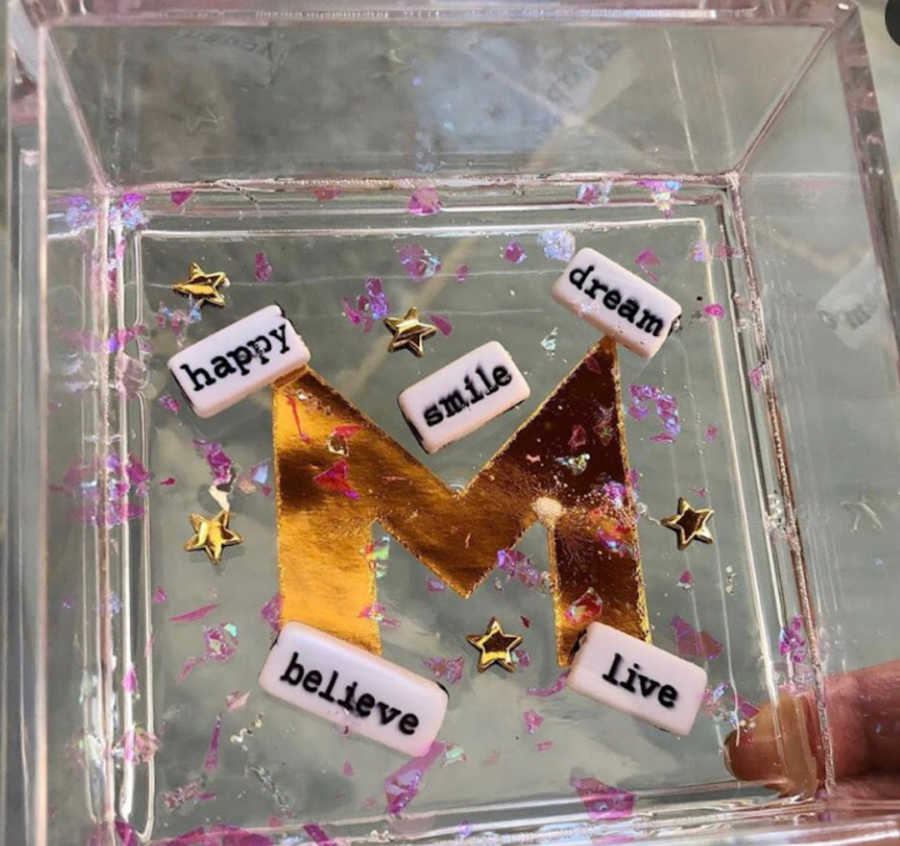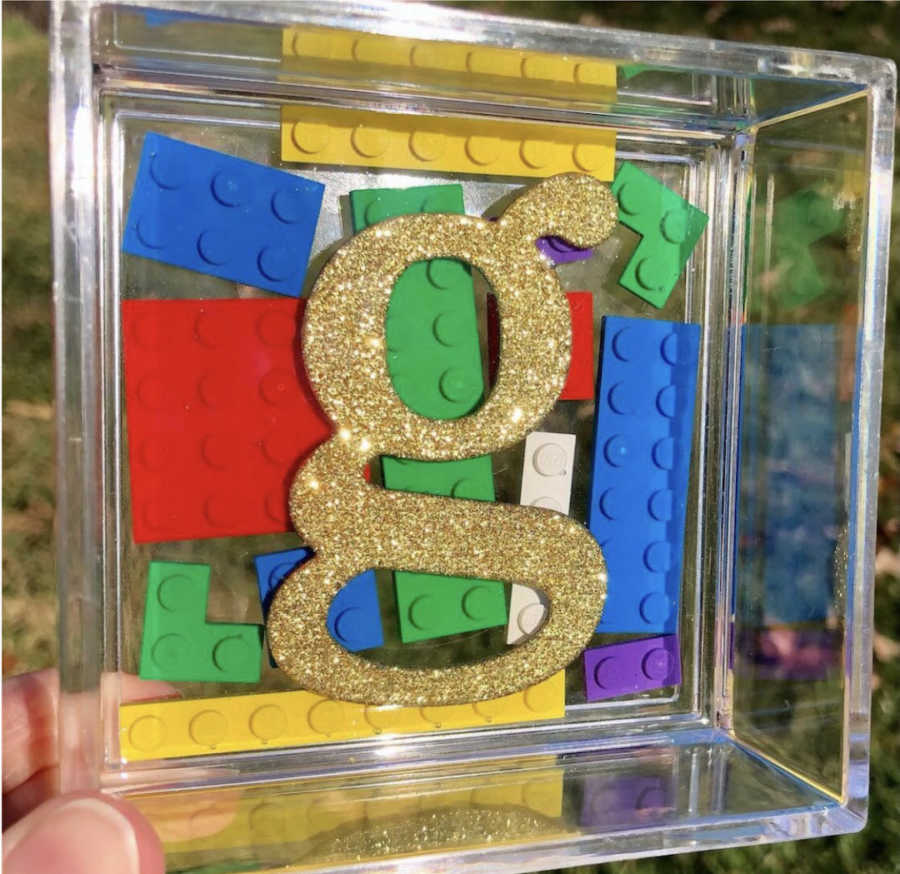 Throughout my years of running Beads for Needs, I have donated to several organizations such as A Child's Place (multiple times), A Pat's Place, and Alexander Youth Network. My first donation was for A Child's Place, in which I purchased shampoo, conditioner, bars of soap, hair combs, hair products, Ziploc bags, and laundry detergent pods. My next donation was to A Pat's Place, which provides assistance to children who are in abusive situations. At A Pat's Place, they have a closet for toys and a closet for snacks, so when a child enters their center they are given a snack and toy of their choice. This helps comfort the children in these transitional phases.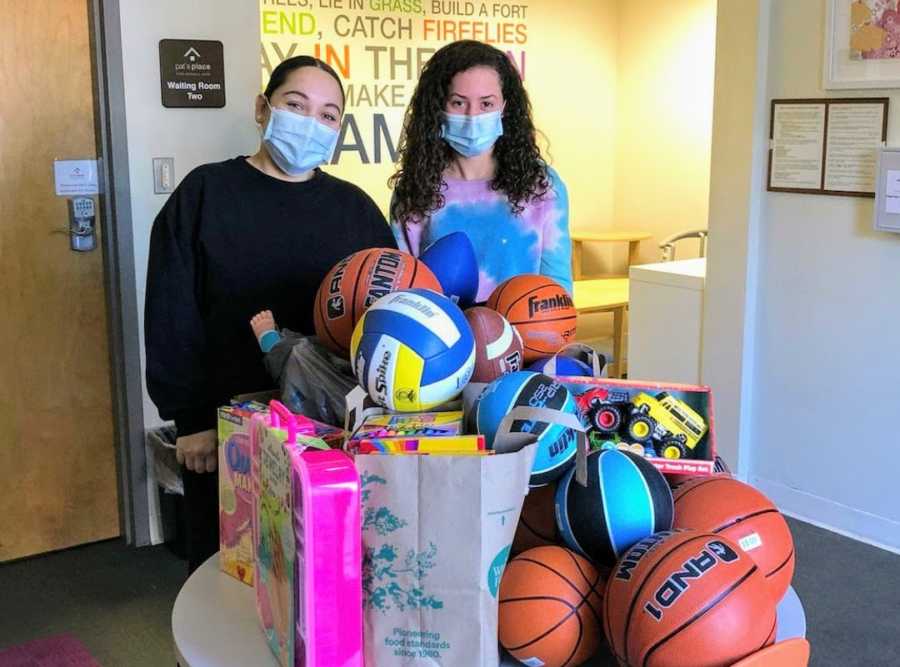 At the moment in which I was donating to A Pat's Place, they needed more toys for their toy closet. I purchased lots of colorful footballs, bouncy balls, big two-sided stuffed animals, and mini stuffed animals. My next donation was to Alexander Youth Network (AYN), which provides families with social and financial support in helping care for children with mental and behavioral health challenges. For AYN, I bought 20 Razor scooters, which are probably the most fun and exciting toy ever. They are perfect for all ages, which is why I thought they would be the most practical and fun for the children at AYN. Then, after I raised more money, I donated to A Pat's Place again, providing them with toys for the tweens and teens, since they help children from 2-18 years old.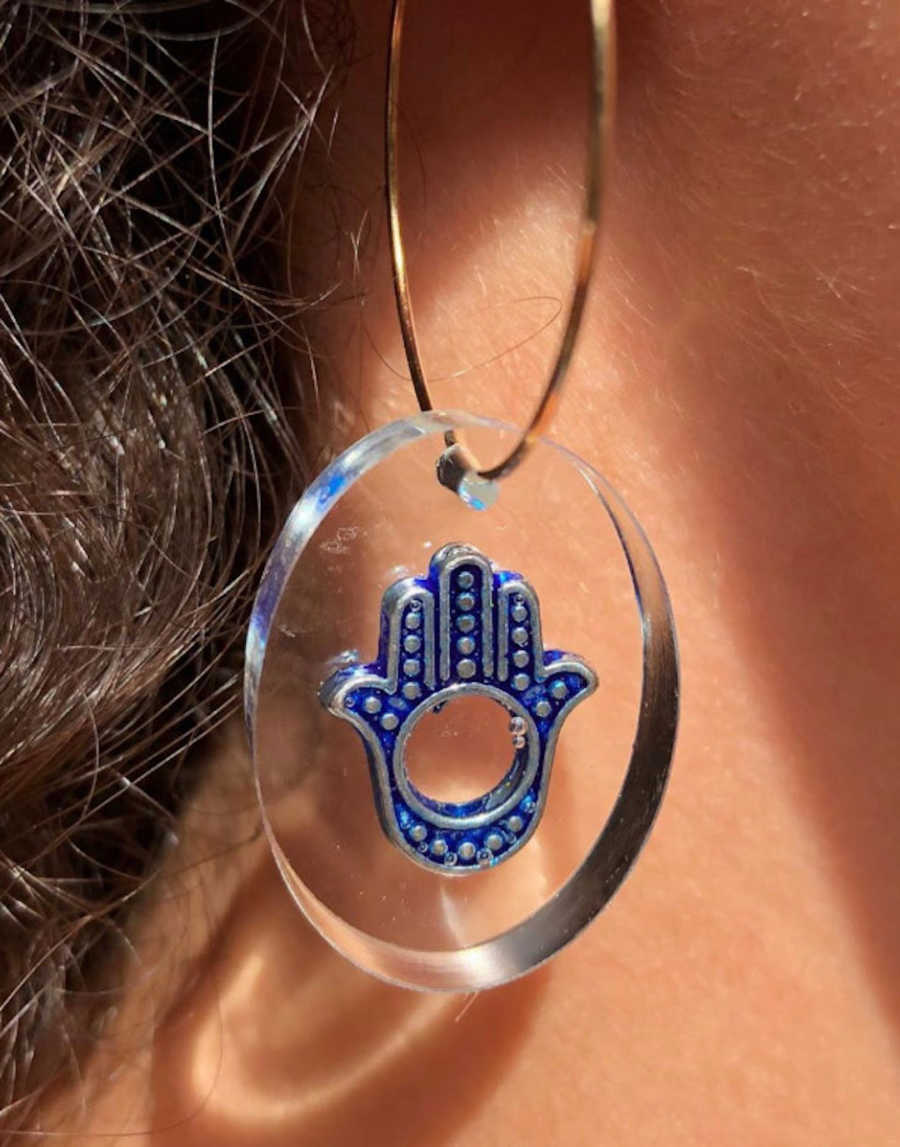 I purchased footballs, kickballs, board games, wallets, card games, journals/notebooks, and gel pens. I donated to A Child's Place again as well, because I think they have such a positive impact on children in the public school system. Their mission is very unique and aligns well with Beads for Needs' mission statement. This time, I purchased eight air mattresses and pots and pans. During COVID-19, I wanted to find a way to help children struggling during the pandemic, so I looked on their website and saw they were hosting a 'Feed a Family,' which is where I donated money to adopt a family by providing food. My last donation up to this point was to A Pat's Place, where I donated basketballs, markers, journals, baby dolls, rainbow looms, matchbox cars, crayons, footballs, jewelry making sets, coloring books, and sketchbooks.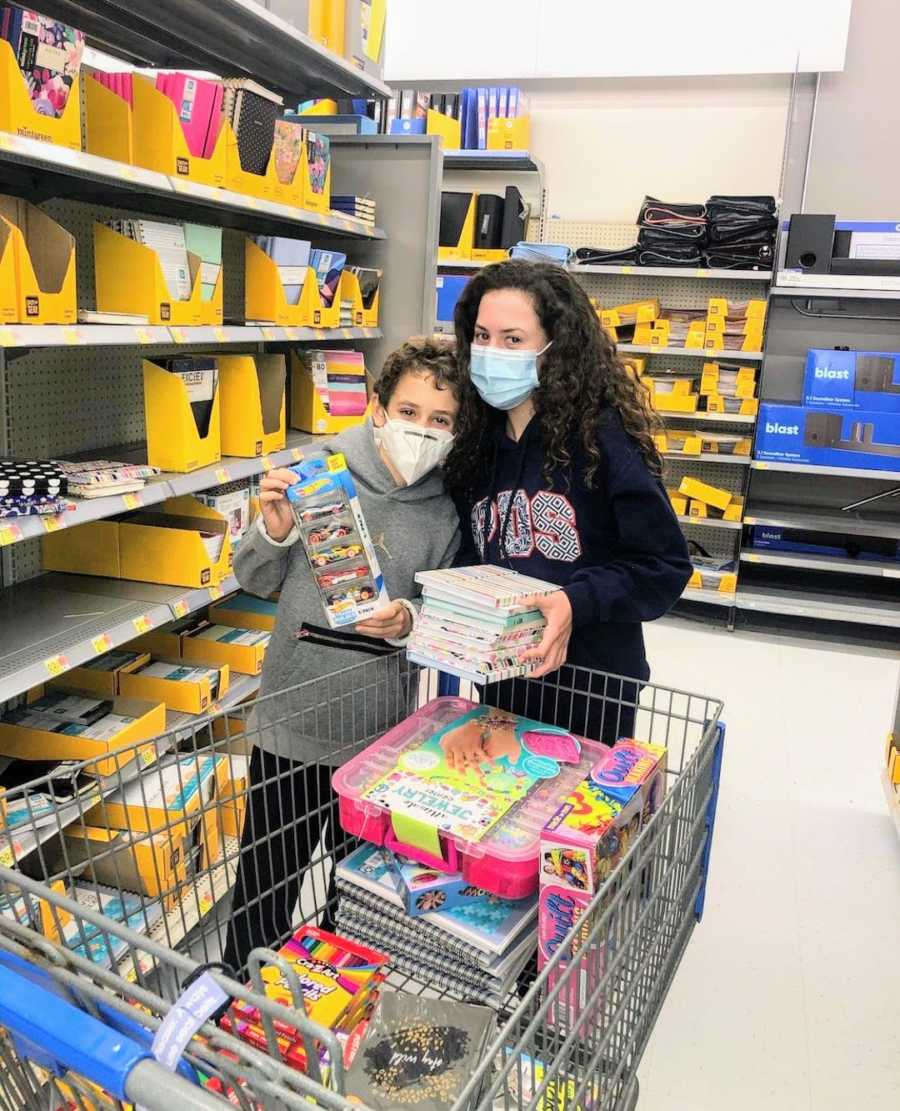 I am looking forward to doing many more sales at Swoozies! Thank you for reading about my journey to help children in need. I feel most people think, 'I will donate to charities when I am older,' but why not now? Children are just as capable as helping others as adults. I think it is so important to take action when you are young and spread awareness for causes you are passionate about!"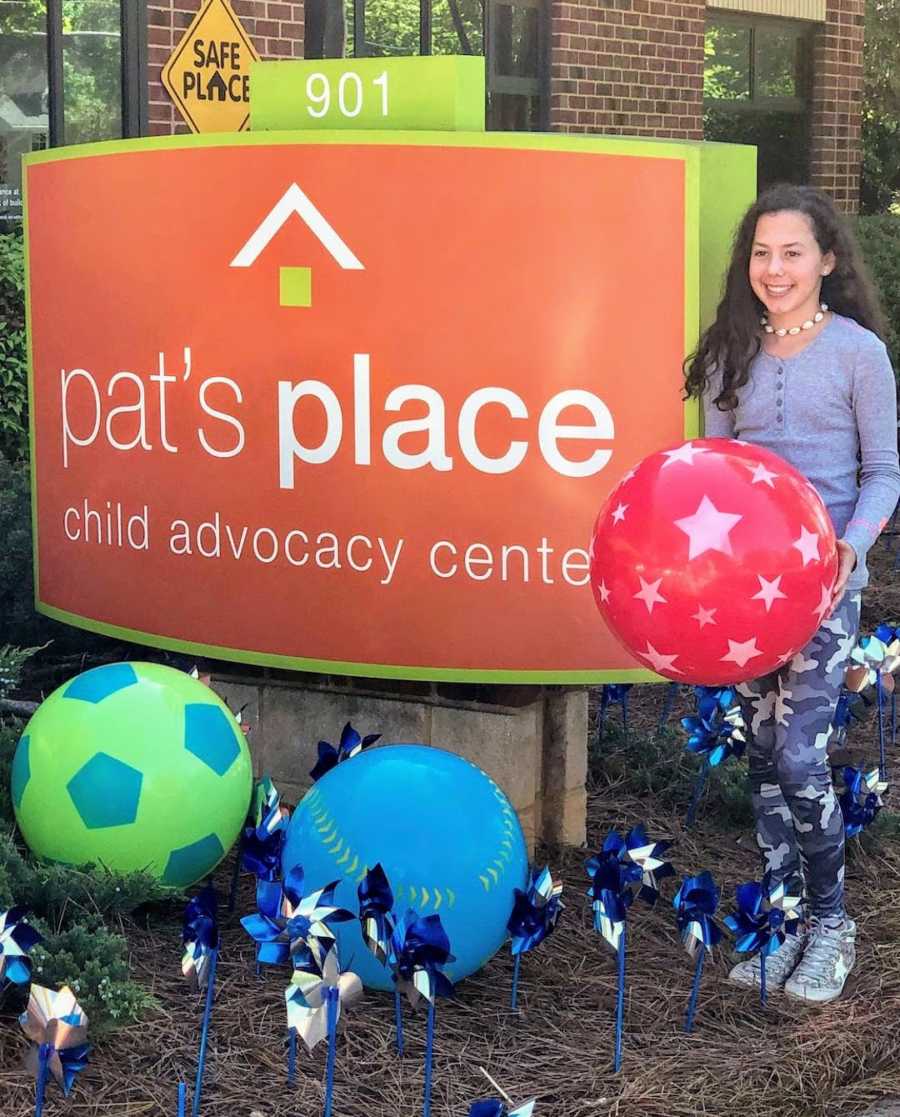 This story was submitted to Love What Matters by Mary Linda of North Carolina. You can follow their journey on Instagram. Submit your own story here, and be sure to subscribe to our free email newsletter for our best stories, and YouTube for our best videos.
Read more beautiful stories about kindness:
'I didn't want to say this over email, but we picked someone else for the job.' After a year of rejections, I lost my sense of worth.': Woman details company's act of kindness after job rejection
'I rushed over to apologize. 'He's fine,' she said in a quiet voice. I swallowed my tears. She showed me my son is not a nuisance, but a gift.': Special needs mom shares stranger's act of kindness
'I saw an elderly man with his walker at the corner. 'I'm trying to get to the 99-cent store 1.5 miles away.' His wife needed some chocolate bars.': Man shares act of kindness for 93-year-old man
'I put down my window. She handed me a bag and said, 'We want to thank you for what you're doing. You and all truckers working hard to keep our supply lines open.': Truck driver 'touched' by stranger's act of kindness during pandemic
Help us show compassion is contagious. SHARE this beautiful story on Facebook with friends and family.