"I was newly married — just 4 months — and new to stepmom life and also new to life with a child with special needs.
When I became his stepmom, Liam was 8 years old, a nonverbal child with Down syndrome. He is a delightful, joyful child whose primary source of communication is through a combination of pictures and his own version of sign language.
4 months into our marriage, we began a 2-week lockdown due to Covid-19. Our custody agreement is 50/50 with one week with one parent and one week with the other. When the lockdown originated, Liam's mom was working from home and the school where I worked was temporarily closed. Liam moved to remote learning and it made sense for him to stay with us full time. Of course, what we thought was going to be an extended 1 or 2-week stay turned into 3 and a half months of him living with us full-time.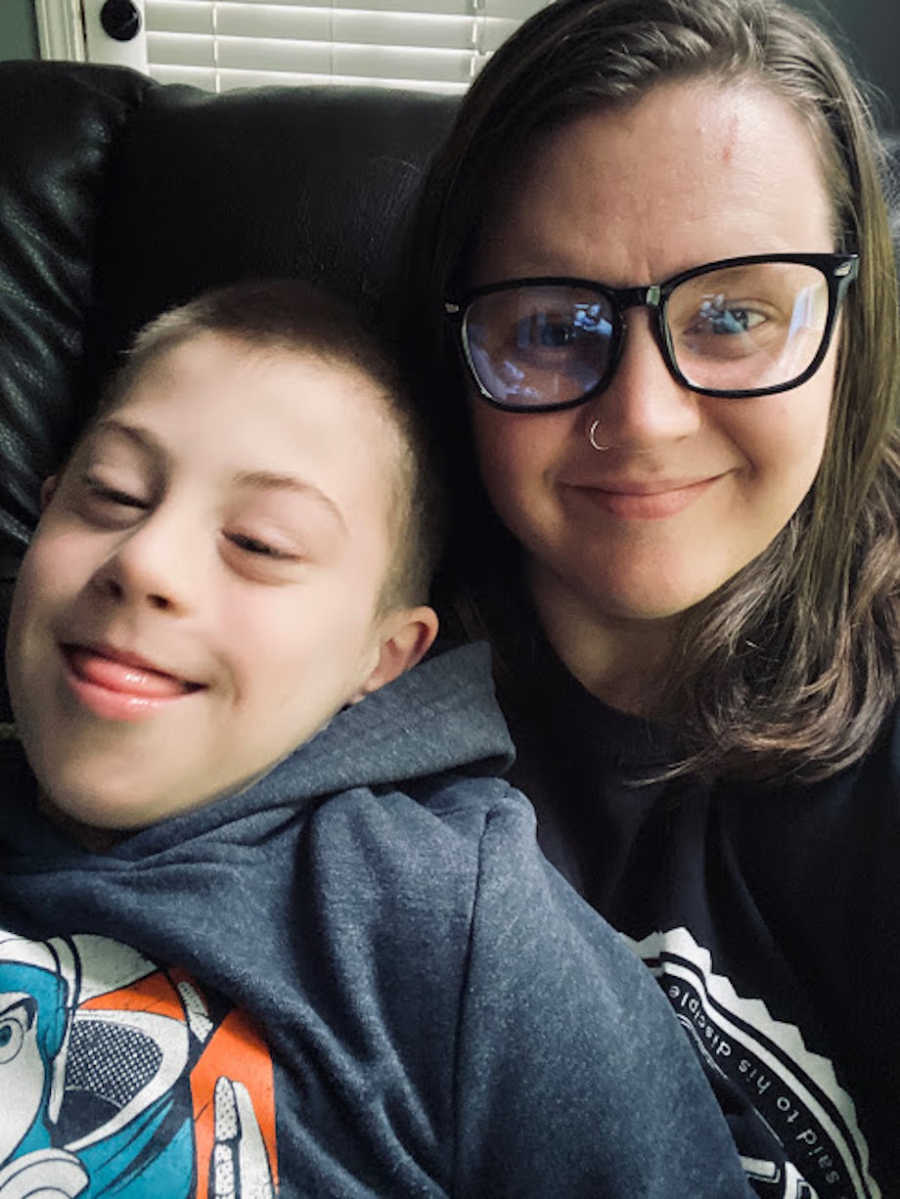 My husband is an essential employee and went to work every day. I stayed home, in our tiny two-bedroom condo, with Liam. It was our first time to have extended one-on-one days together.
One of the things Liam enjoys is rearranging things. Large things, like furniture. One morning early into quarantine, I woke up to discover he had moved his plastic workbench, our rolling luggage, his toy chest, and the majority of his bedding from his bed from his bedroom to our living room while we were sleeping. I decided that morning, it was a good time to work on sleep training.
Before I married Brian, Liam slept in his dad's bed. When I moved in and he was put to sleep in his own bed, he wasn't exactly thrilled. More than once, I woke up to wet spots on the carpet where he had peed on his bedroom floor. He also got up multiple times a night. He started with sitting in the hallway, then after we got him to stay in his room, he was up every hour or so, moving furniture or pulling all of his clothes out of dresser drawers.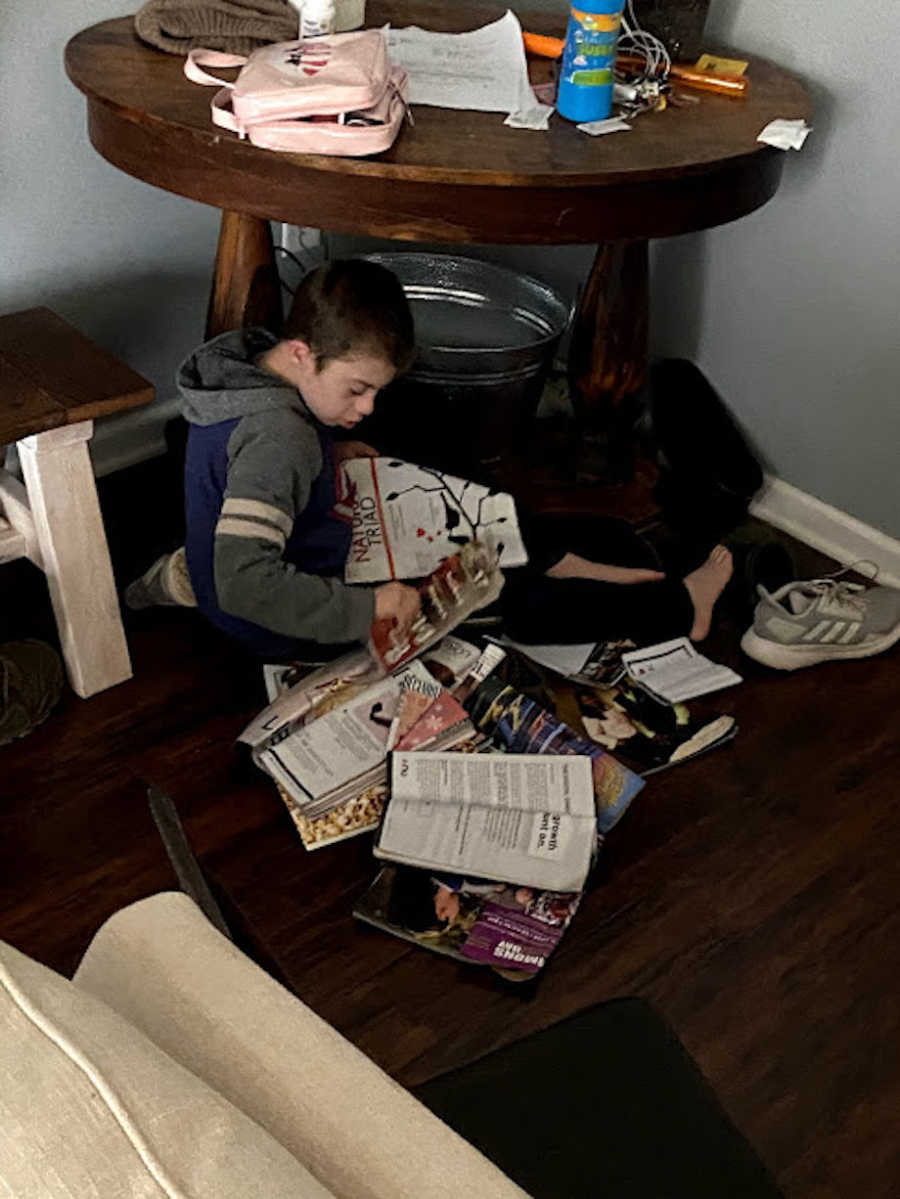 Liam also took naps. We had reports, in the past, Liam would fall asleep after lunch at school or during his after-school program. He would fall asleep on car rides in the afternoon, and when I started doing the math, I realized he was sleeping on and off a lot during the day. Since we were staying home all day together, I made it a point to not let him nap. Oftentimes, he would go and climb into his bed and I would make him get out of bed. This resulted in a very unhappy child, and we had a lot of incidents where he would wet his pants multiple times a day. I was quickly figuring out this was his way to express his unhappiness.
He was still waking up multiple times at night, so I started tracking that. After a couple of nights, I felt overwhelmed, and then the nights he wasn't up as much, I wasn't getting any sleep, due to being so anxious he was getting up and moving around the house.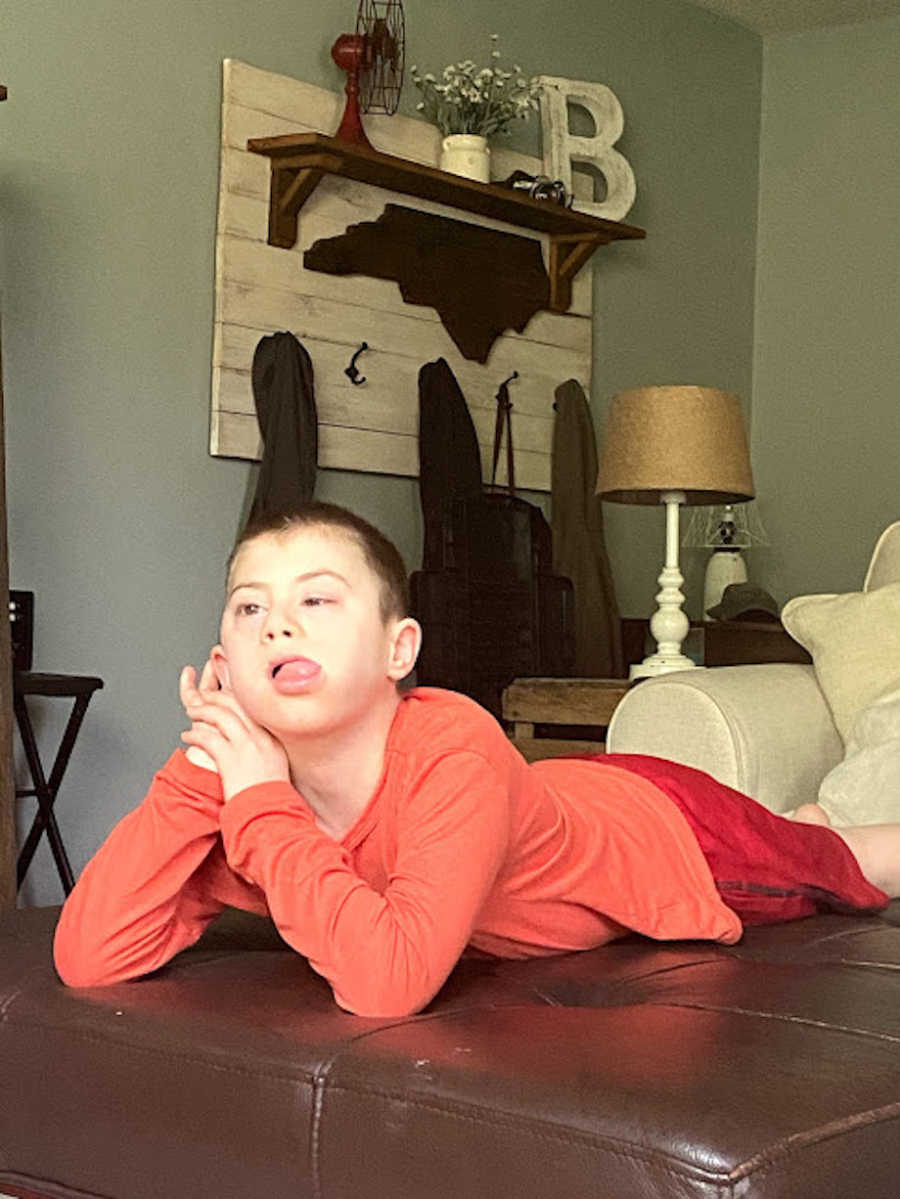 I tried it all. Essential oils. Benadryl. Melatonin. I tried warm baths before bed, I made sure his nighttime routine was the same every night. We put a sound machine in his room, but he unplugged it and hid it from us, so that didn't work.
In fact, nothing seemed to be working. I reached out to friends and tried their remedies. I connected with other special needs moms who reassured me I wasn't failing. One mom informed me children with Down syndrome can struggle with sleeping, ad it isn't uncommon. She had tried all of the remedies I had and none had worked for her son either.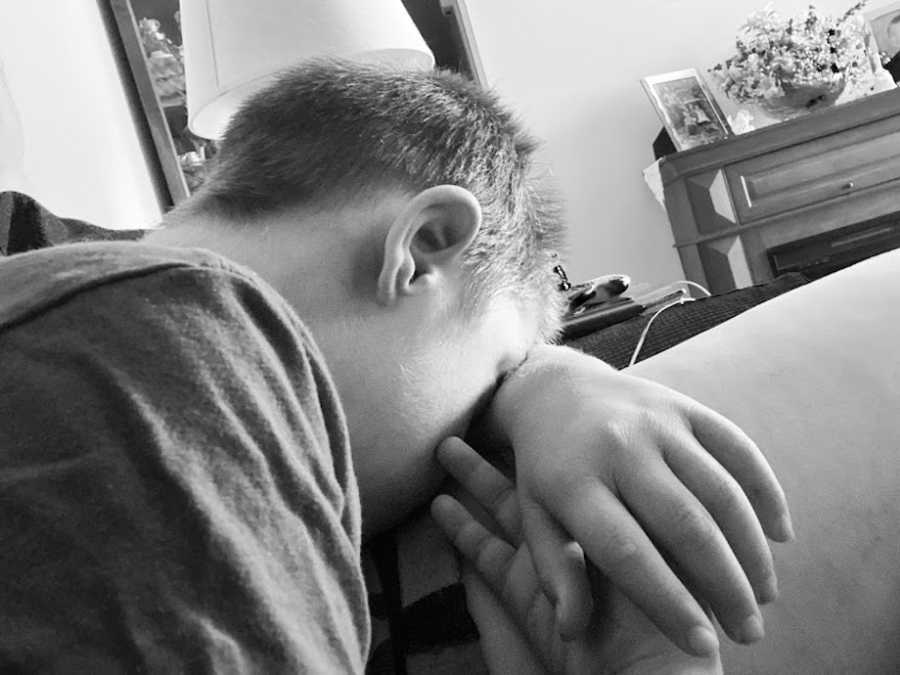 When it comes to processing medications, their bodies can react differently. For example, I tried Melatonin. I gave him 7 mg as his doctor encouraged, and Liam laid awake and stared at the ceiling for 3 hours. The next morning, however, he was a zombie. So I learned pretty fast his body takes much longer to break down the medication. A few nights later, I tried crushing the melatonin up and I gave it to him 2 hours before bed. He still laid in bed wide awake. Thankfully, the next morning he wasn't a zombie.
This same friend also told me how she locks her son's door at night — purely as a safety issue because he was getting out and getting into things that could potentially harm him. I left that phone conversation feeling a little bit of hope, more than I had felt in weeks. I talked to my husband, Brian, and we decided to turn his doorknob around and lock his door at night. We talked through how scary it was for us to wake up and realize Liam was in the living room all alone and we hadn't heard him. He had access to the door, which he could open, and had he left the house we would have had no idea.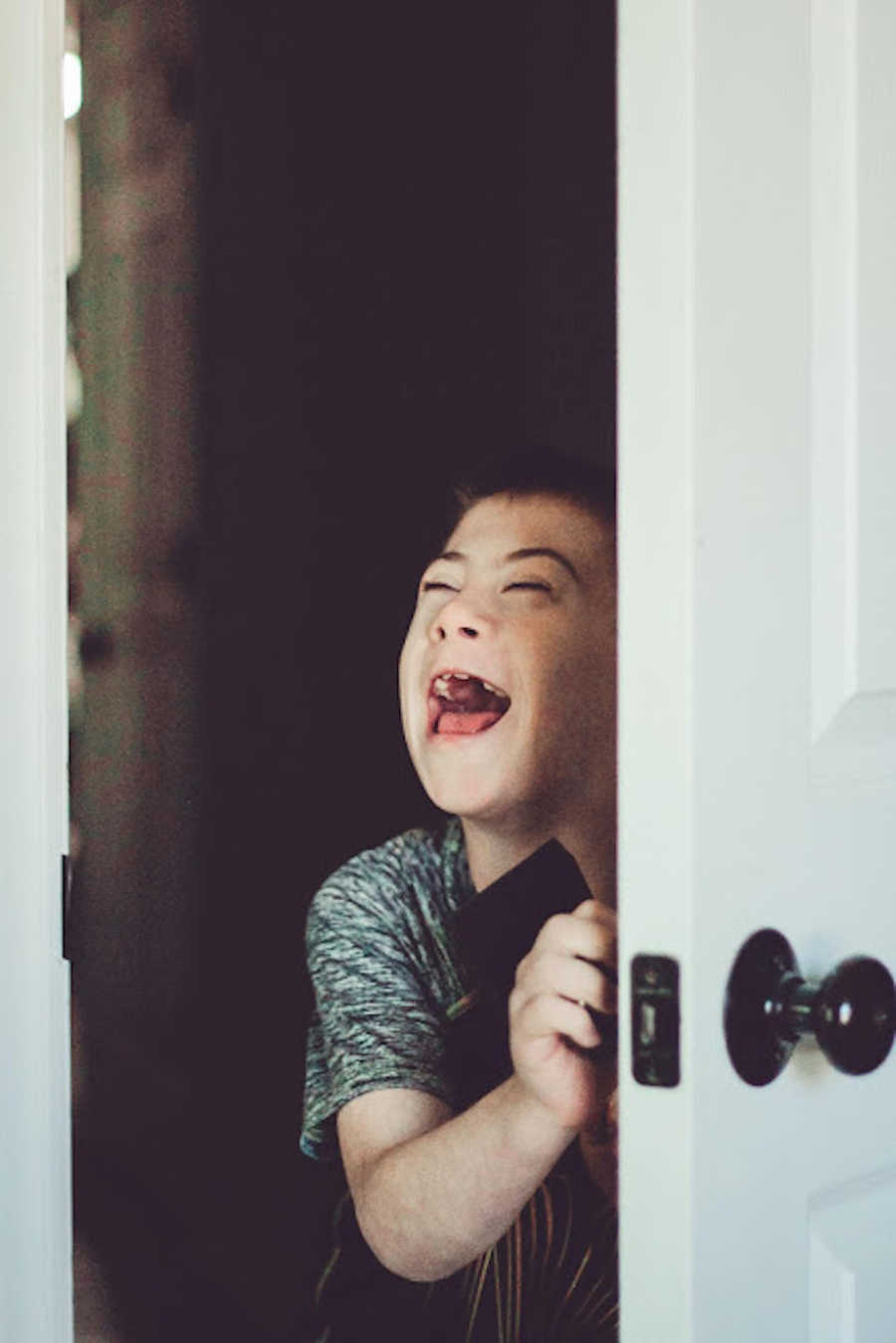 The first couple of nights Liam was not the biggest fan of the door being shut and locked. We noticed he liked to sit at the doorway and look for us in the hallway. This was a way to get us to come to check on him. He sat in front of the locked door multiple times and would try to open it. When it wouldn't open, he would go back to sitting on the floor. This repeated almost a week and when he learned we weren't coming to check on him because we heard him make noise, he got to where he would put himself back in bed. After a couple of weeks, we started noticing he wasn't napping during the day and he also wasn't getting up multiple times during the night.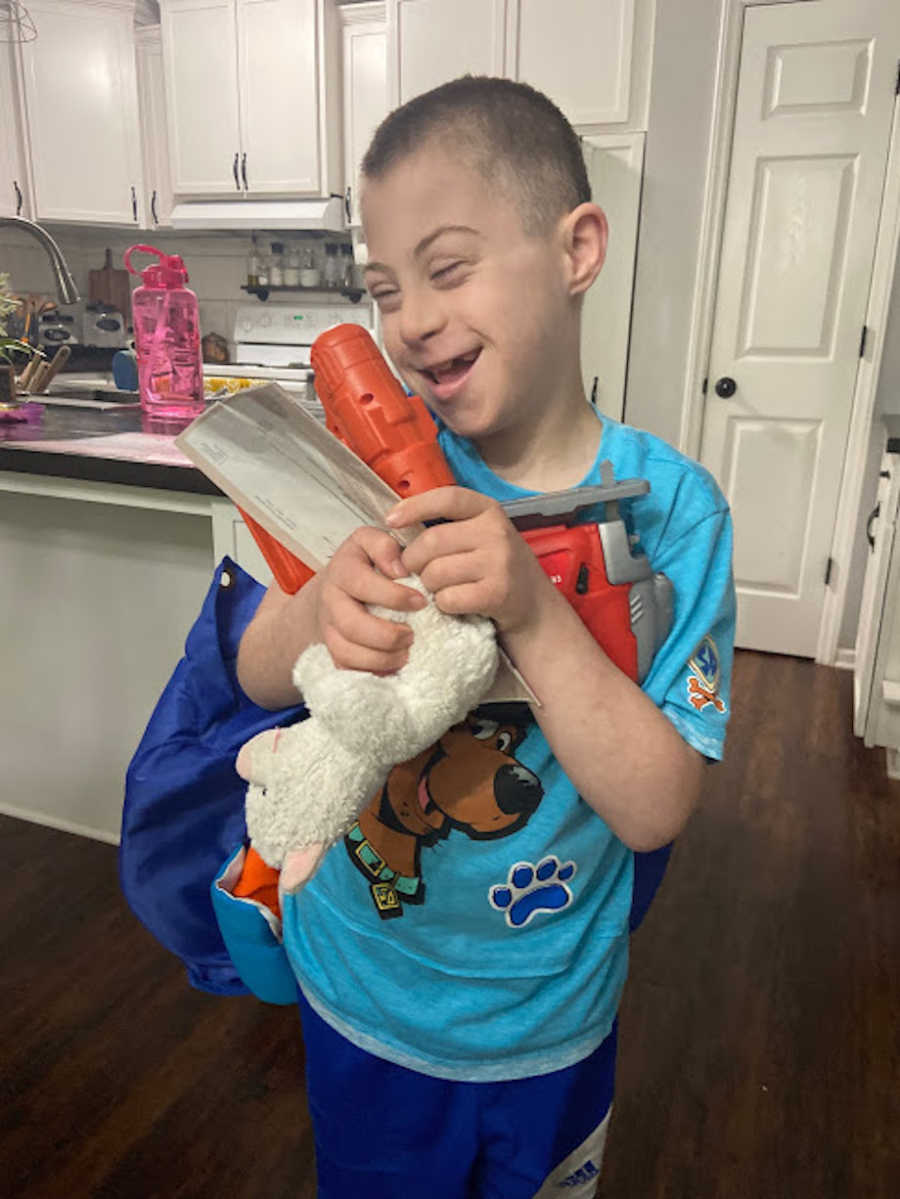 3 and a half months later, we were able to pick back up on our custody arrangement and we even noticed he was doing better at his mother's house as well. Those 3 and a half months were hard. I cried lots of tears. I learned very quickly I knew very little about not only being a stepmom but being a stepmom to a nonverbal child with Down syndrome.
Family friends just kept reminding me this was hard work. I was new to being a stepmom, I was new to parenting, I was new to special needs. This. Was. Hard. But again, I could do hard things. I worked through the pain, I worked through the tears and the sleepless night, and then suddenly, I could see the rising. I could see the light at the end of the tunnel and the amazing amount of progress Liam was making. Was it perfect? No. But it was something to celebrate.
Through the tears, the sleepless nights, the many timeouts, that time with Liam created a bond I will forever be thankful for. It was a unique time — total isolation for us both — and it was challenging, but also so rewarding. I got to watch him grow and learn to trust me. It was something I will forever cherish."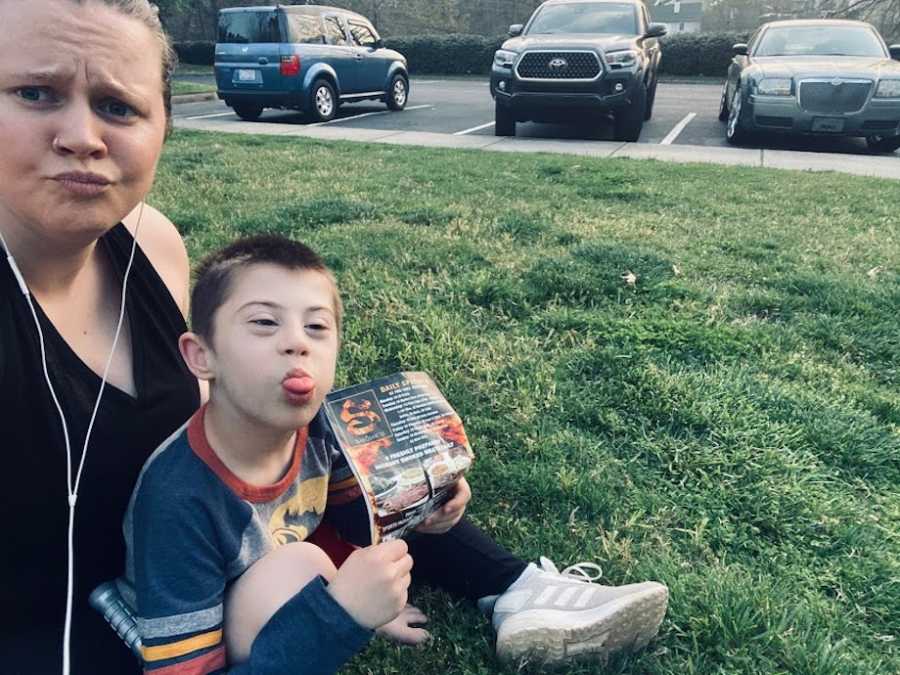 This story was submitted to Love What Matters by Hannah Allison. You can follow their journey on Instagram. Do you have a similar experience? We'd like to hear your important journey. Submit your own story here. Be sure to subscribe to our free email newsletter for our best stories, and YouTube for our best videos.
Read more touching stories like this here:
'I'd had 3 babies before, but this was the first time someone asked if I WANTED one of them.': Mom welcomes baby with Down syndrome, 'Loving her is the easiest thing I've ever done'
'The nurse handed my daughter back. I instantly noticed her teeny tiny ears. 'Do you think she has IT?' I looked at my husband in fear.': Mom of 3 births baby with down syndrome, 'She is the most amazing human being I've ever met'
'Is he ok?' I was afraid to say the words. I never told a soul about my feelings, not even my husband.': Mom births son with Down syndrome, 'I am so thankful for his perfect 47 chromosomes'
'My principal said, 'I'm adding a boy to your class. He's from foster care and has Down syndrome.' I felt this tug on my heart. 'I want to take him home.': Single mom, kindergarten teacher adopts down syndrome student
Do you know someone who could benefit from reading this? SHARE this story on Facebook with family and friends.