"When my second child Emmett was diagnosed with Down syndrome at 12 weeks pregnant, I never could have imagined how hard it would be on parents to obtain a special needs diagnosis. We had decided to do the NIPT testing to find out the gender early. It was a Wednesday afternoon when I received a phone call from my OB office. I knew our results for the gender were in and didn't think much at first how it was the doctor on the other end of the phone calling me. I very quickly interrupted her to say, 'Don't tell me the gender! I would like it emailed to me so that I can do a gender reveal.' After she agreed to my request she said, 'Ok Sarah, but I have to tell you that the screening test resulted in positive markers for Trisomy 21.' Suddenly, my house which was filled with afternoon sunlight went dark, and heaviness filled the air of our living room.
The rest of the phone call became a blur. She mentioned going in for further ultrasounds and referrals to genetic counselors. At the end of the conversation I said in a defeated voice, 'Well ok, just go ahead and tell me the gender of the baby now.' After her attempt in encouraging me to stick with my other plans, she proceeded with my wishes and said, 'It's a boy. You are having a boy!' Our family was shocked, crushed, and devastated by the news. I've never cried so much or felt so broken-hearted more than those early weeks in receiving his diagnosis.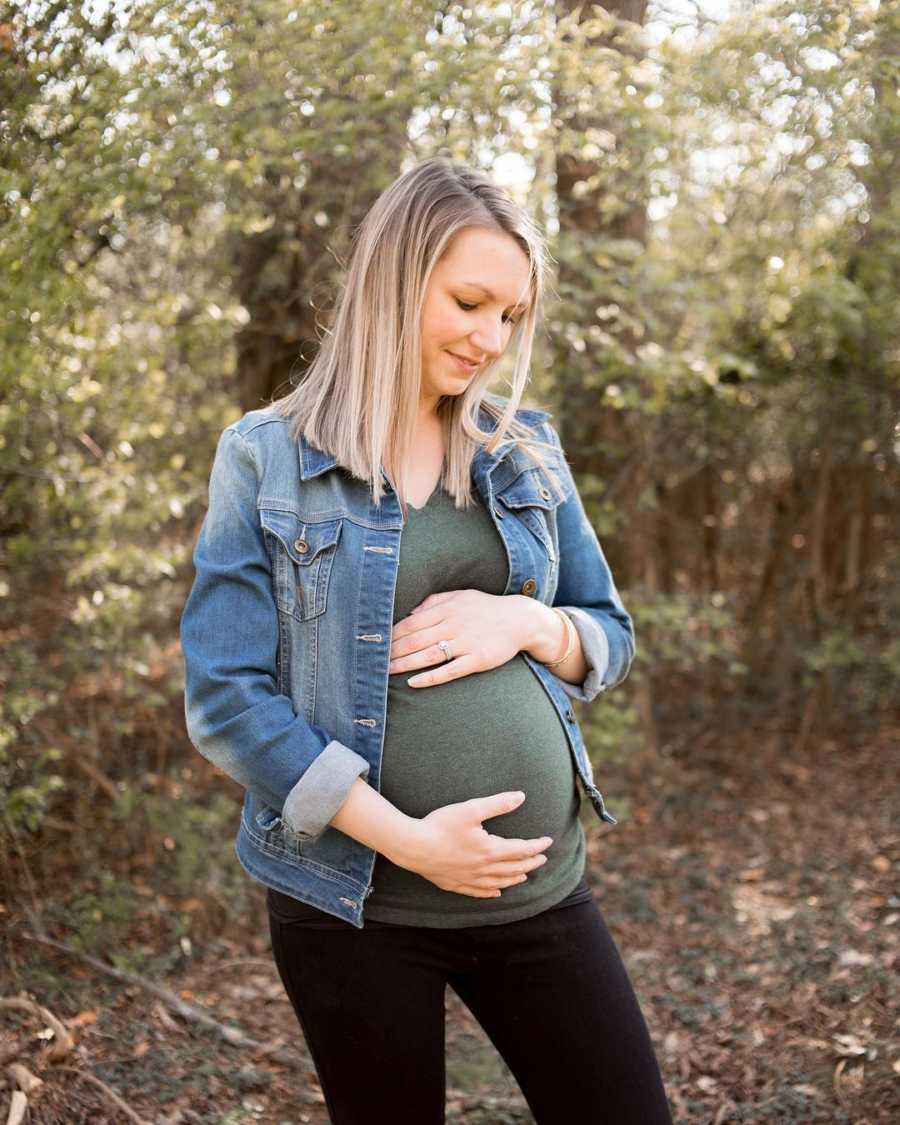 Down syndrome effects 1 out of every 700 babies in the United States and when found prenatally 67% of those babies are terminated. I fully understood those numbers when I obtained my own diagnosis for Emmett. The anxiety in the unknown is immensely suffocating and so many questions out of fear seemed to come to mind. Would he be included among his peers? Would he be sick constantly? Would he need surgeries? What would his relationship be like with my oldest daughter? The question I struggled with the most and the majority of second time parents usually ask themselves was, 'Will I love him as much as I love my daughter?'
All of these fears and questions immediately disappeared the moment he was placed onto my chest after birth. He was here and he was ours! There was no fear because our love for him was stronger reminding me of the verse in 1 John 4:18 which states 'There is no fear in love. But perfect love drives out fear.'‭‭ Upon Emmett's arrival, our love was not hindered because of the diagnosis of Down syndrome. We saw him for who he was, as our son. We loved him for being Emmett. After the awful fears I had during pregnancy, I would say to him, 'I love you so much it hurts.' It hurt because I couldn't believe there was once a time I questioned if this love between the two of us would even be possible.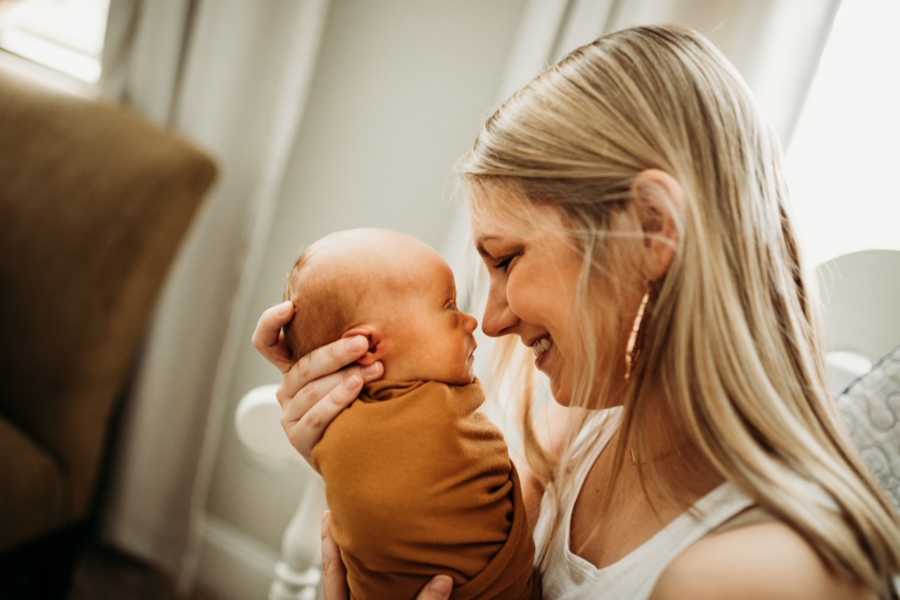 Emmett was a planned induction at 37 weeks. He spent the full first hour of his life chest to chest with me. The NICU team never set a foot in our delivery room. He maintained his temperatures, fed beautifully, and never left my hospital bedside. Amazingly, We were discharged within 24 hours.
I knew from the beginning that our story was always meant to be shared, and I wanted to provide hope for other families going through the lows in this valley of a prenatal diagnosis. I wanted others to know the joy after the grief. I wanted my best to help families know that they will love their child because of who they will be and that a diagnosis, like any other, is irrelevant when it comes to their child.  So when Emmett was six months old, through faith, I launched our 501(3)c nonprofit, Love that Surpasses.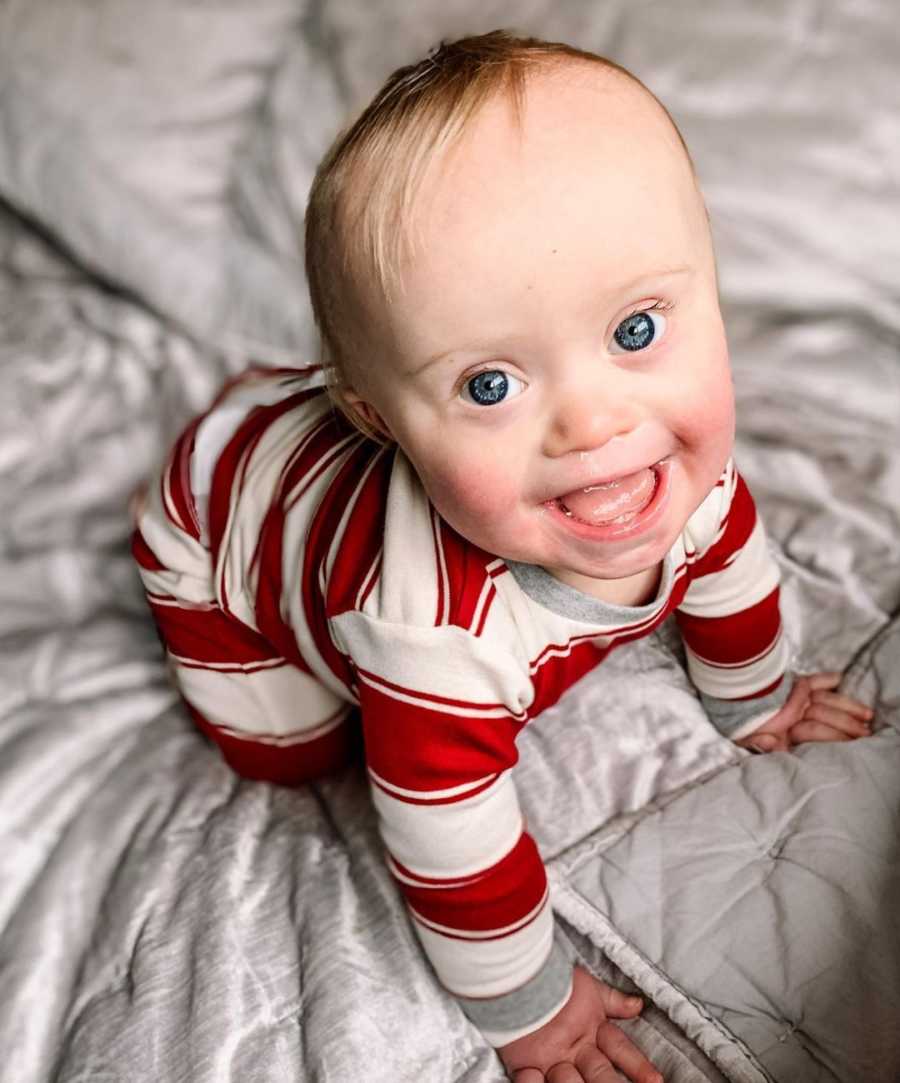 Our nonprofit name originates from Ephesians 3:17-19, which states just how abundant Gods love is for ALL of us. People with special needs are often viewed and described as less, broken, defective by worldly standards. Most of the time these thoughts are buried deep in our hearts. We deny they are there until we are forced to face this injustice personally. Our goal is to expose this untruth and promote how loved, valued, and worthy we all our in His love that surpasses knowledge.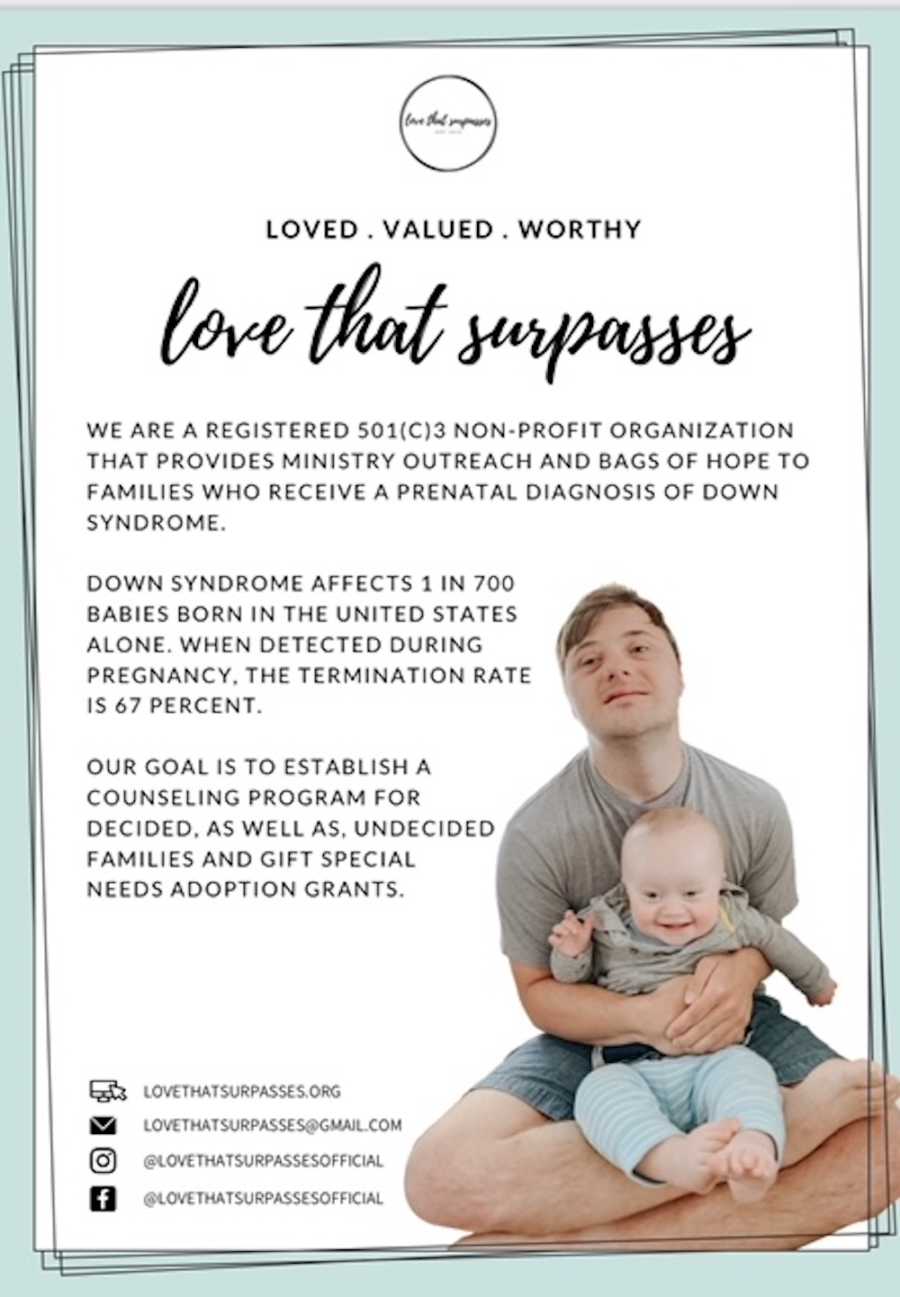 We launched our nonprofit March of 2020, and with it our Bags of Hope program. We ship these Bags of Hope throughout the nation to families who receive a prenatal diagnosis of Down syndrome for their unborn child. Our goal is to provide light and the real truth through Christ to families in one of the darkest moments of their lives. Since launching, we have reached over 150 families and our bags have been shipped throughout 35 states in the U.S. In the month of January 2021 alone, I have mailed out 60 bags of hope to families and continue to receive email requests daily. We have other goals to further our ministry outreach and would love to be able to provide adoption grants to families who are adopting a child with special needs. We have received overwhelming support and encouragement from our family, friends, and most importantly the new families that we reach who say they truly needed the hope that was given to them through us.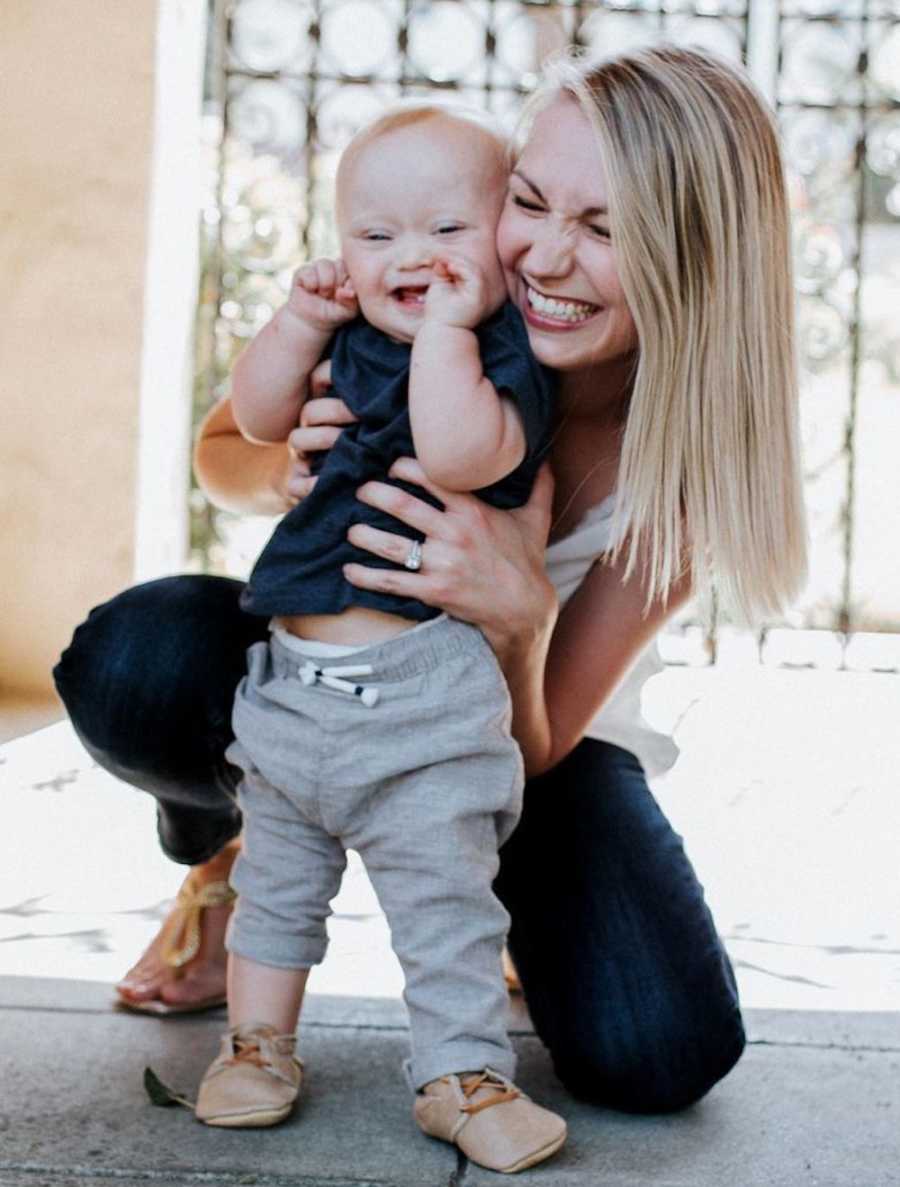 In efforts to raise awareness to our mission we are hosting a nationwide online auction March 14-21st.
Being a Nashville native, I was able to reach out and share our mission with Lauren Akins in efforts to request an autographed copy of her new book, 'Live in Love.' She is so passionate about helping others, and when she was told what we were doing we received the news that she loved it. She agreed to send the book for our auction and I was overjoyed!
At 09:17 a.m. Friday morning, while I was working, I received a text message from my mom stating, 'Love that Surpasses has received a box from Thomas Rhett, the country singer.' I was shocked at the box which had arrived in the mail, because it was almost as tall as I was. The anticipation of getting off of work and going home to open that box was suspenseful. I was overjoyed, shocked, excited, and so emotional as I would tear up on and off throughout the day thinking of this blessing they had given me. When I got home from work that evening my family gathered around as we opened this surprise package to find an autographed guitar from Thomas Rhett. To say we were stunned and grateful is a complete understatement. Lauren and Thomas have always been known to have big hearts in giving back and here's another story that America deserves to hear about them because the world truly needs more kind humans like them.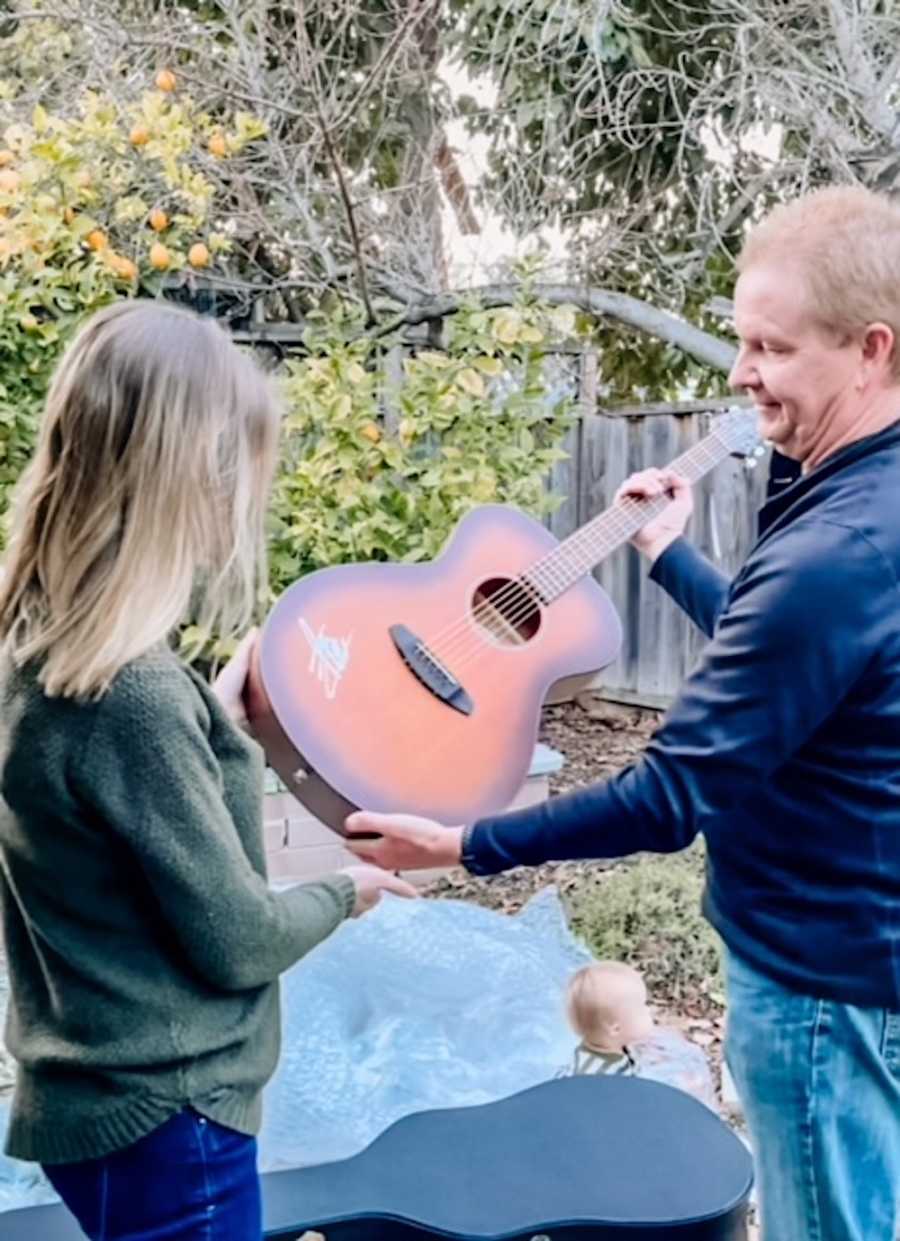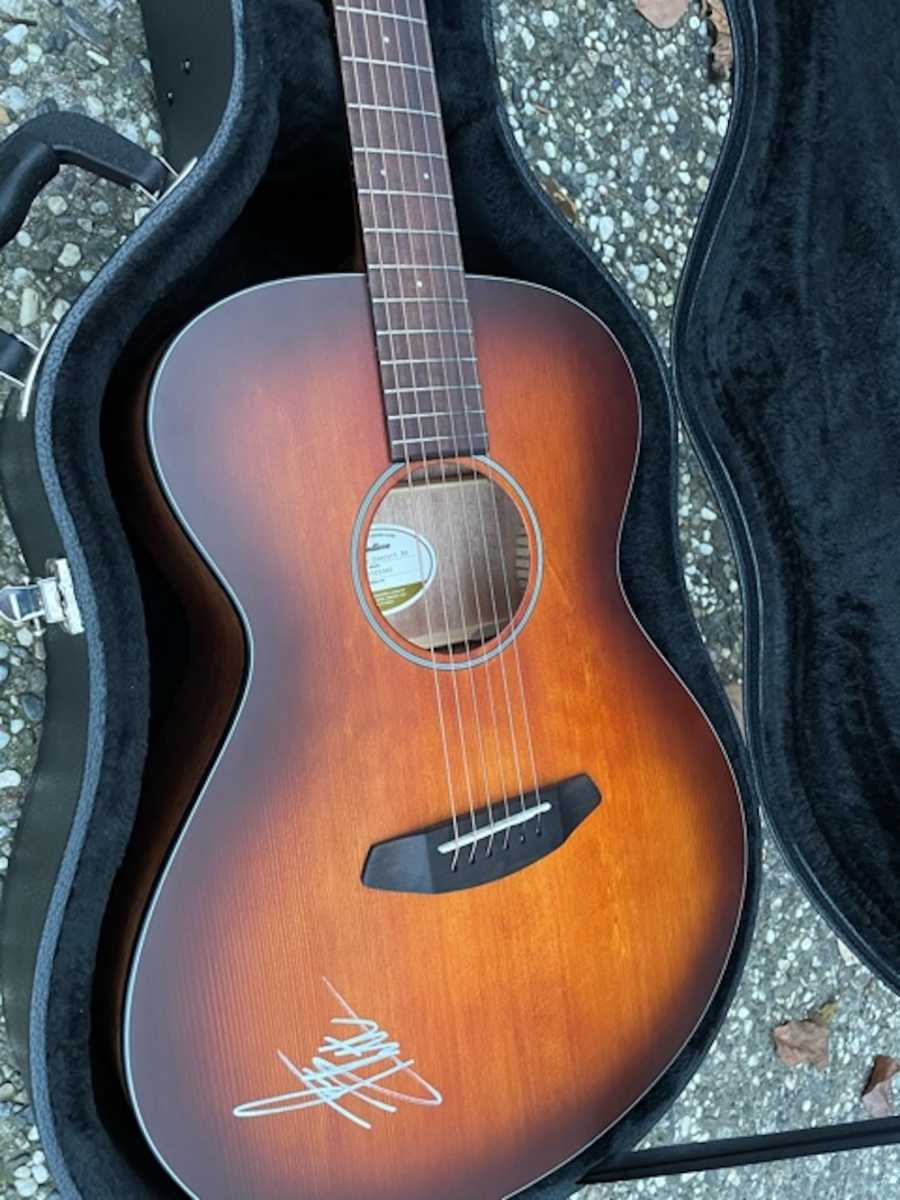 Thank you Thomas Rhett and Lauren Akins for blessing us with this item. We are truly humbled by this unexpected gift and blown away at how much love and support we have received from our hometown."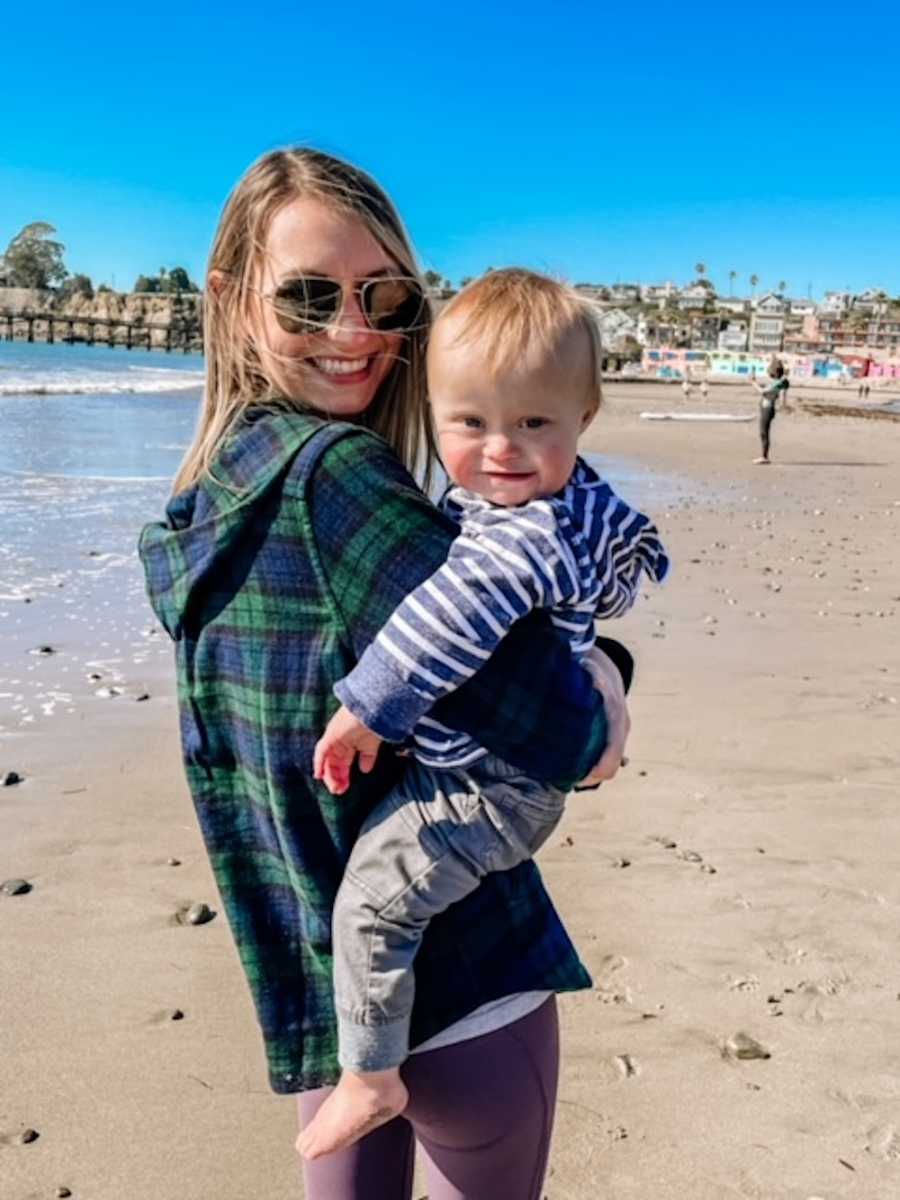 This story was submitted to Love What Matters by Sarah Lowry. You can follow her journey on Instagram. Follow their nonprofit on Instagram and their website. Submit your own story here. Be sure to subscribe to our free email newsletter for our best stories, and YouTube for our best videos.
Read more amazing stories about nonprofits and charities here:
'The sounds, the smells, the whole NICU experience. It never leaves you.': Mom of preemie creates nonprofit organization to 'give back to the premature baby community'
'Leave what you can, take what you need.': Woman builds charity boxes to serve community, 'Kindness is for everyone'
'People with anxiety later found my card, which made their day. I don't expect a pat on the back.': Man gives back with fundraising project, 'The work is so rewarding'
'Christmas isn't going to be the same this year. But through everything, kindness hasn't been canceled.': Mom creates '12 Days of Christmas Kindness' to give back, 'We all need more love this year'
Provide beauty and strength for others. SHARE this story on Facebook and Instagram with your friends and family.