"I was taking everything out of my kitchen cabinets tonight, and I had one cabinet filled with photos. Hundreds of photos. It's the place I put all my orange Shutterfly envelopes filled with my most cherished memories. As I was taking them out, going through them, and going down memory lane, this letter fell out. It was written a day before our nine-year wedding anniversary.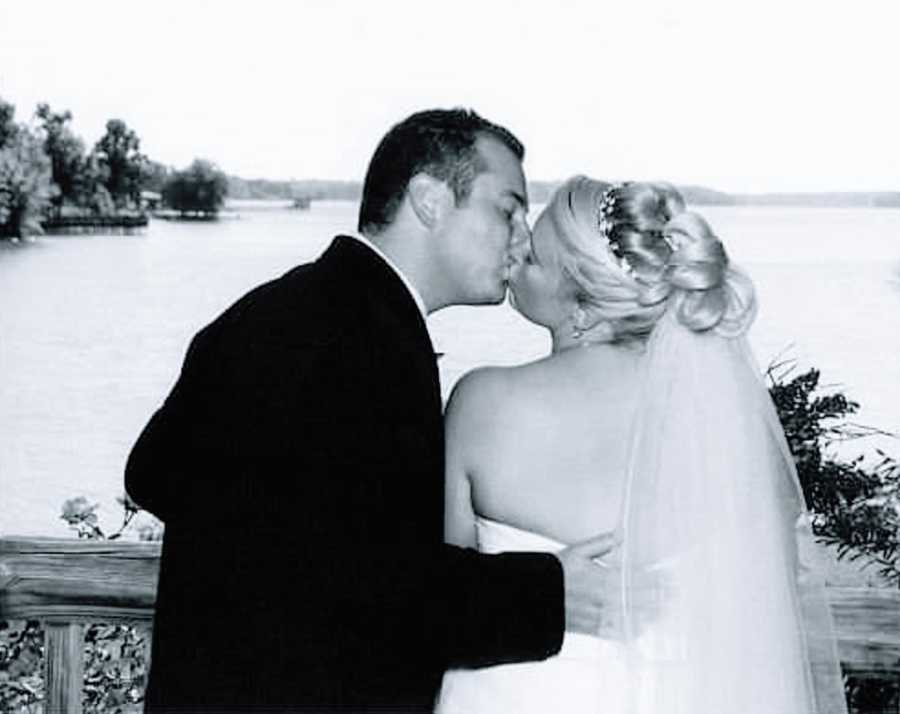 We aren't Hallmark card people. I don't think we have ever given each other an actual card in all the years we've been together. We have always preferred to handwrite something to each other. I saved this particular anniversary note and put it in a safe spot. I think of all the notes my husband has written to me, this one reads relief. I can actually hear the sigh of relief through his words on the paper.
At the time my husband wrote it, we were about five years into having beaten and overcome addiction. We had learned how to properly heal from that, and we had also learned the true meaning of forgiveness. We were both taking a moment to breathe a long, slow sigh of relief.
He wrote:
'Shannon,
It's been 9 years since we said 'I do!' I'll always remember how nervous we were. I remember you had a cold and were taking DayQuil. We had our love of each other, an unexplainable connection we couldn't explain. You were my best friend, and I felt like I could tell you anything. We were standing together in front of God professing our commitment.
Fast forward to today, and we are still here, side by side, trying to raise two beautiful babies. I have changed so much since then, and so have you. Yet every day, the fire of love I have for you still burns brightly. Congrats on us, nine years and still counting. I love you, Shannon Jane Quirk, you're the best mom anyone could want. Let's never give up and keep pluggin!
Love,
James'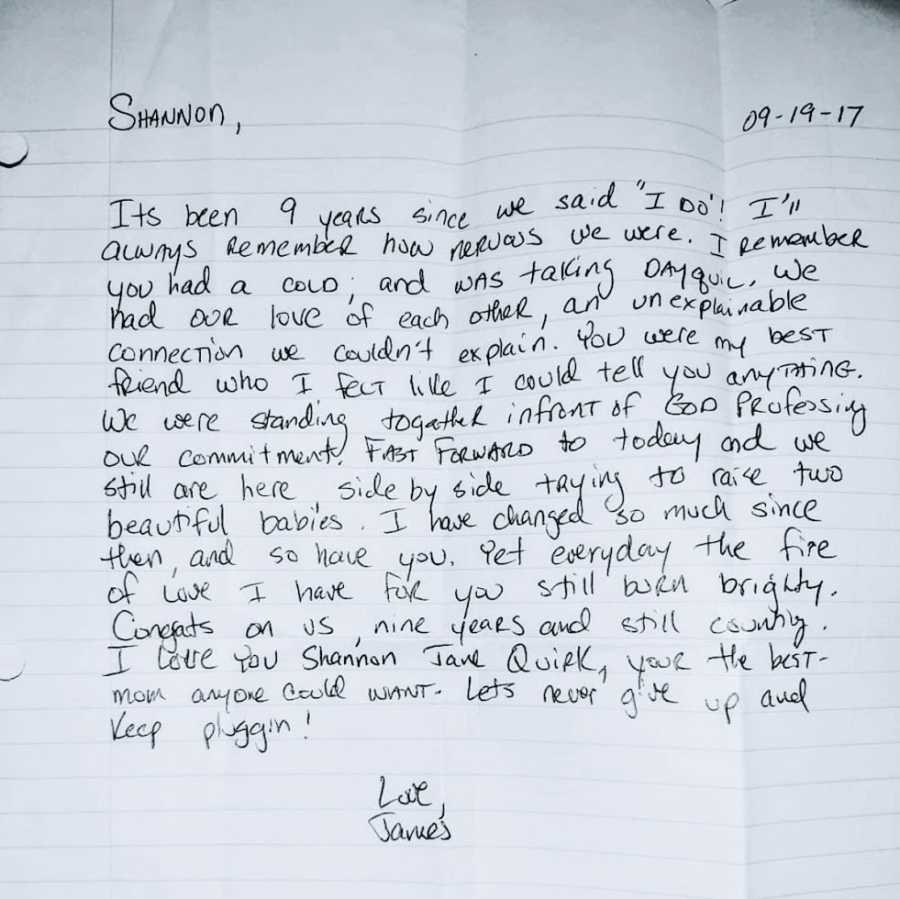 We did it. We came out on the other side.
In his words, there is also this overwhelming sense of pride and accomplishment. Here we are, still going strong, side by side, defying the odds, trying to raise our now THREE babies!
We had family photos scheduled on the exact day of our nine-year wedding anniversary. We had them taken at the exact spot we had our wedding photos taken. It might have seemed odd to celebrate a nine-year anniversary in such a big way. Usually, it would be ten, fifteen, or twenty. I believe this is the year when it started to sink in that we were on the other side of the pain. Life had just gotten so busy, we never realized we made it through until that moment.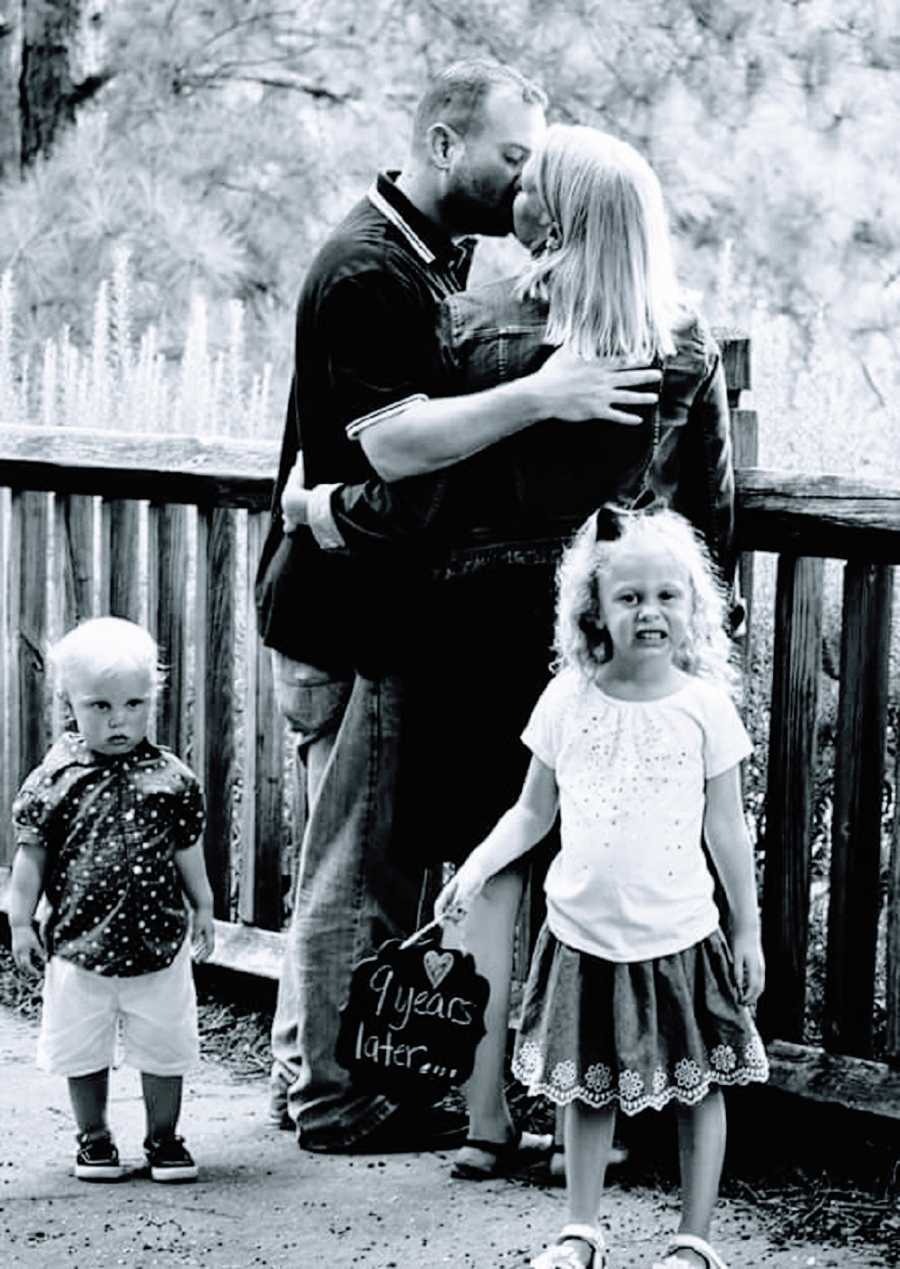 We were settling into parenthood, we were having fun again, life was starting to feel a little more effortless, and it took an odd year anniversary for us to stop and reflect on all we had accomplished.
It's amazing to look back at your life and see how far you've come; to have gratitude for both the good and the bad. Sure, there's always the other side of the coin, how far you have to go. It's important to acknowledge that side too so you can keep going, keep pressing forward, keep climbing higher. At this moment though, on our nine-year anniversary, we were clearly reflecting on all the gains we had made as husband and wife, and how powerful our love was to get us here.
Every love story is different. Every saved love note is different. Every emotion attached to those sweet memories is different. The only thing that is the same is the disbelief of how quickly life goes. While you're doing daily chores, working, and raising families, life keeps moving forward. If you don't stop and remember to cherish and celebrate the nine-year anniversaries as though they were twenty-five-year anniversaries, you might miss out on seeing the beauty of how your love story is unfolding.
Just a little over a month from now, we'll be celebrating our thirteenth wedding anniversary. It looks like we did exactly what James wrote to me four years ago, we're still 'pluggin.' And pluggin is what we'll continue to do until death do us part."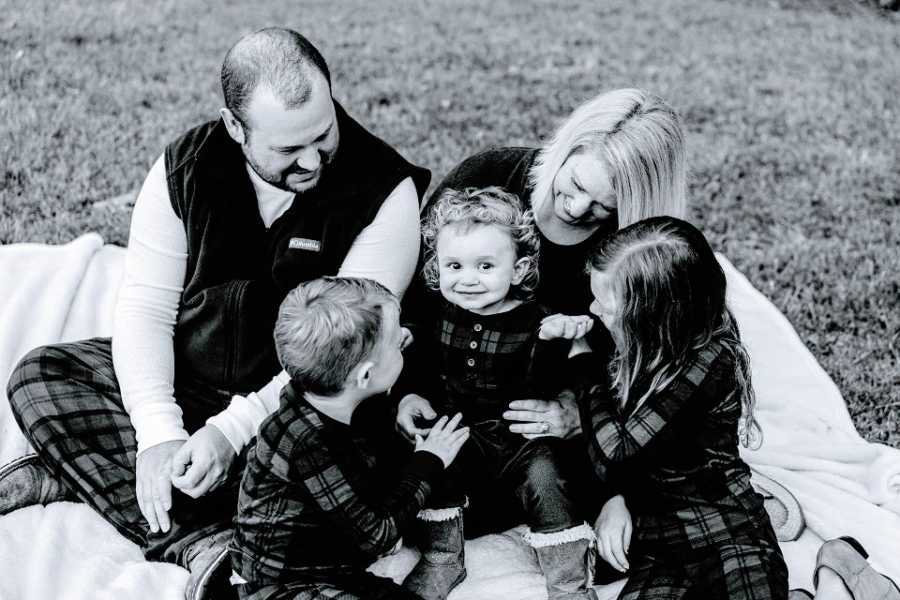 This story was submitted to Love What Matters by Shannon Quirk. You can follow their journey on Instagram. Submit your own story here, and be sure to subscribe to our free email newsletter for our best stories, and YouTube for our best videos.
Read more stories from Shannon here:
'Why did I go through this?' I realized the hardest work starts after the addiction, not during.': Wife of a former addict writes her way to healing and forgiveness
'It'll be different this time.' I'd BEG the doctors not to fill prescriptions. The doctor believed HIM.': Wife of former addict shares beautiful 'reverse love story'
Read more stories like this here:
'What the hell did she leave on my truck?' This muscle-bound man was barreling towards me.': Woman finds new purpose and true love delivering 'Love Notes' to veterans
'The last note he wrote me said 'LOVE'': Dying father's handwritten notes to daughter before she had to do 'THE HARDEST THING' for him
Help us show compassion is contagious. SHARE this story on Facebook with family and friends.