"My story started back in the year 2000 when I met Tommy. We met at a nightclub, and we hit it off straight away. Pretty much from the second day, we were inseparable, and after a week of being together, we moved in with each other.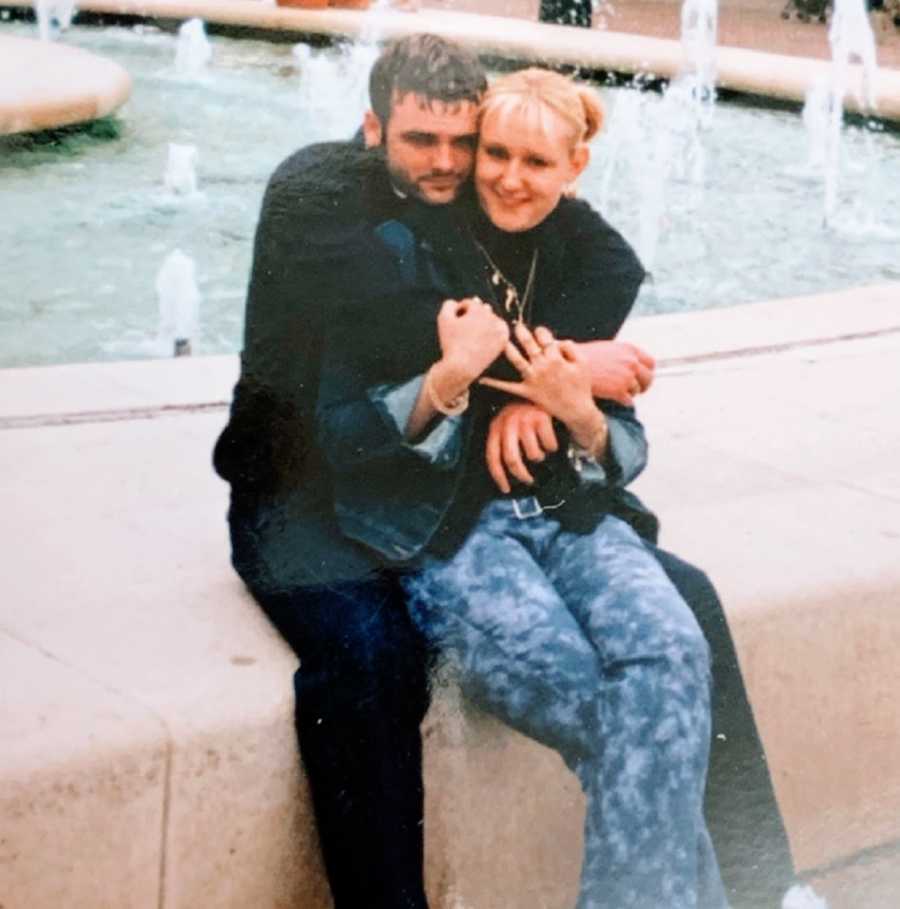 At the time, people were telling us our relationship couldn't last because we'd rushed moving in with each other. 21 years later, we are still here and going strong with 11 children.
We always talked about having babies and creating our own family, and I was very clear from the beginning that I would love to have a big family with Tommy. I told him I'd love to have six babies, but obviously, once I reached that number, I decided I needed a few more, so here we are today at the number of 11.
After being together for a while, we moved to the Isle of White and got married there. We both got jobs, and got our first apartment together. Not long after, we found out I was pregnant. Our firstborn was born in July 2003. We called him Mitchell.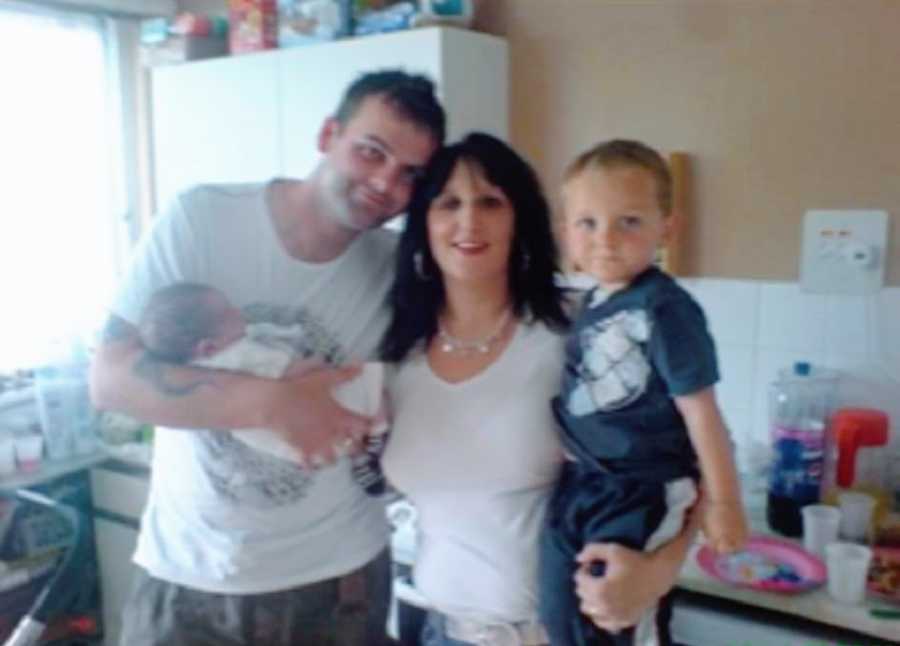 After the birth of Mitchell, we moved back to London to be closer to family, and shortly after, we had our daughter Lauren. Pretty much from that point on, the babies came pretty much one every 18 months, so we moved on from having Lauren to then Joe, Ryley, Tommy, Ashlee, Dean, Freddie, Danny, Neave. We also foster our niece which takes us to 11 children 3 girls and 8 boys—we are slowly running out of boys' names!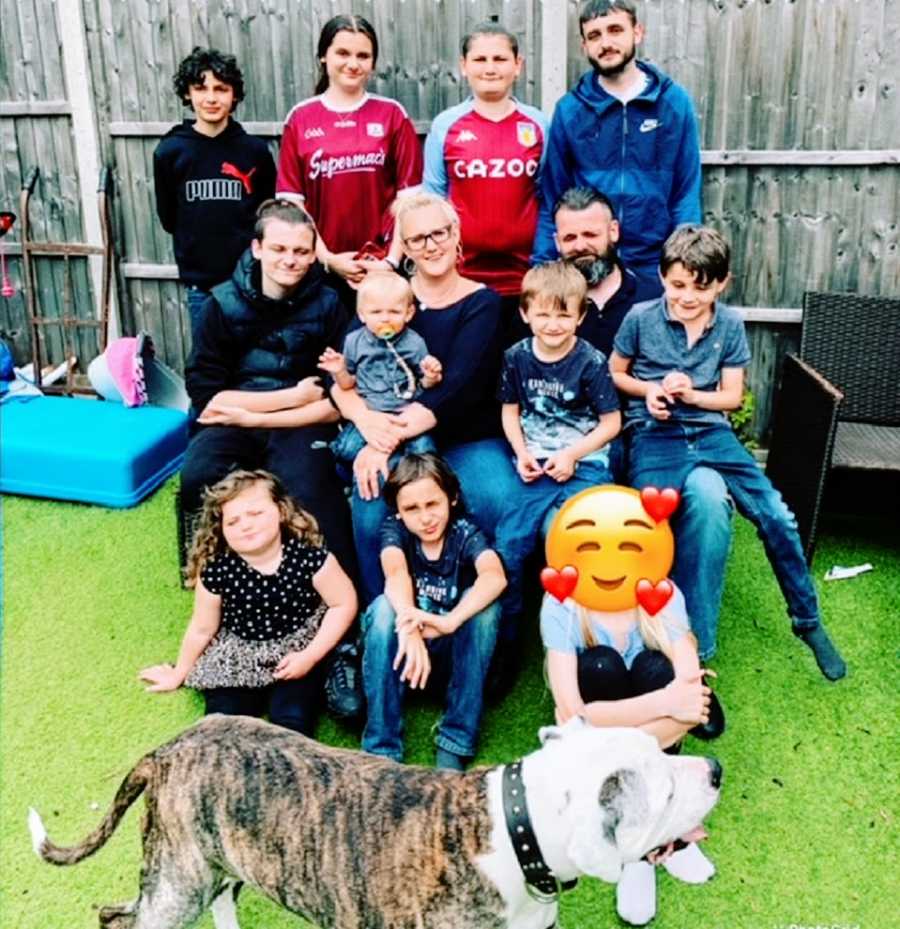 Then, in 2020, Brody made an appearance. What a time to be born in the year 2020 when the world went into lockdown! It was a completely different experience from having a baby and being able to bring him home and show him to the family. Being isolated and not being able to attend playgroups or see friends was hard.
Brody reached his first year before he even met some of our family, but for the first time out of all of my children, I managed to breastfeed having the time with no visitors. I managed to learn how myself. I created a bond and managed to feed Brody right up until this day. With my other children, I wasn't so lucky, and I expressed for them until they were nine months.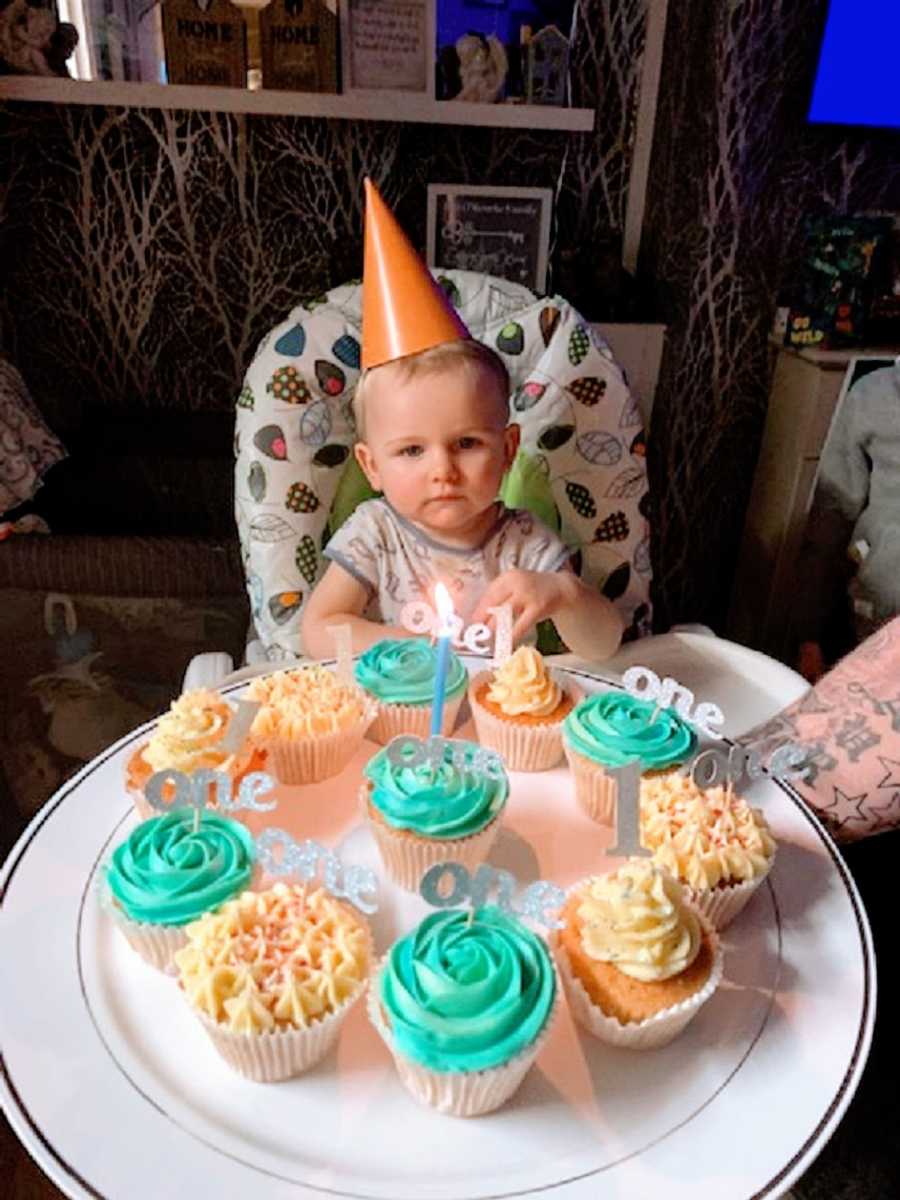 I always knew from the very start I wanted to be a mom. It was one of my dreams in life, and luckily for me, I found my soulmate, my best friend, and someone who I love so much to share this incredible journey with. Without him, I wouldn't be where I am today.
People often ask me how I cope with being a mom to so many, and sometimes it feels like people just think I'm a single mom and I do it all on my own. The truth behind it all is without Tommy, I wouldn't have been able to. He gets up at 3 a.m. every morning to head to work to start his shift at 5 a.m.
When he comes home, we sometimes take the opportunity when all the children are at school to head out and have a little bit of lunch together, or we spend the afternoon meal prepping for that evening's meal. He's been there for every birth, supported me through all of my pregnancies, and he and I equally share the day-to-day care of the children, whether it be school runs, shopping, or cooking, we are a team. He's a great dad to the children, offering them love and support when they need it and always being there for them and for me.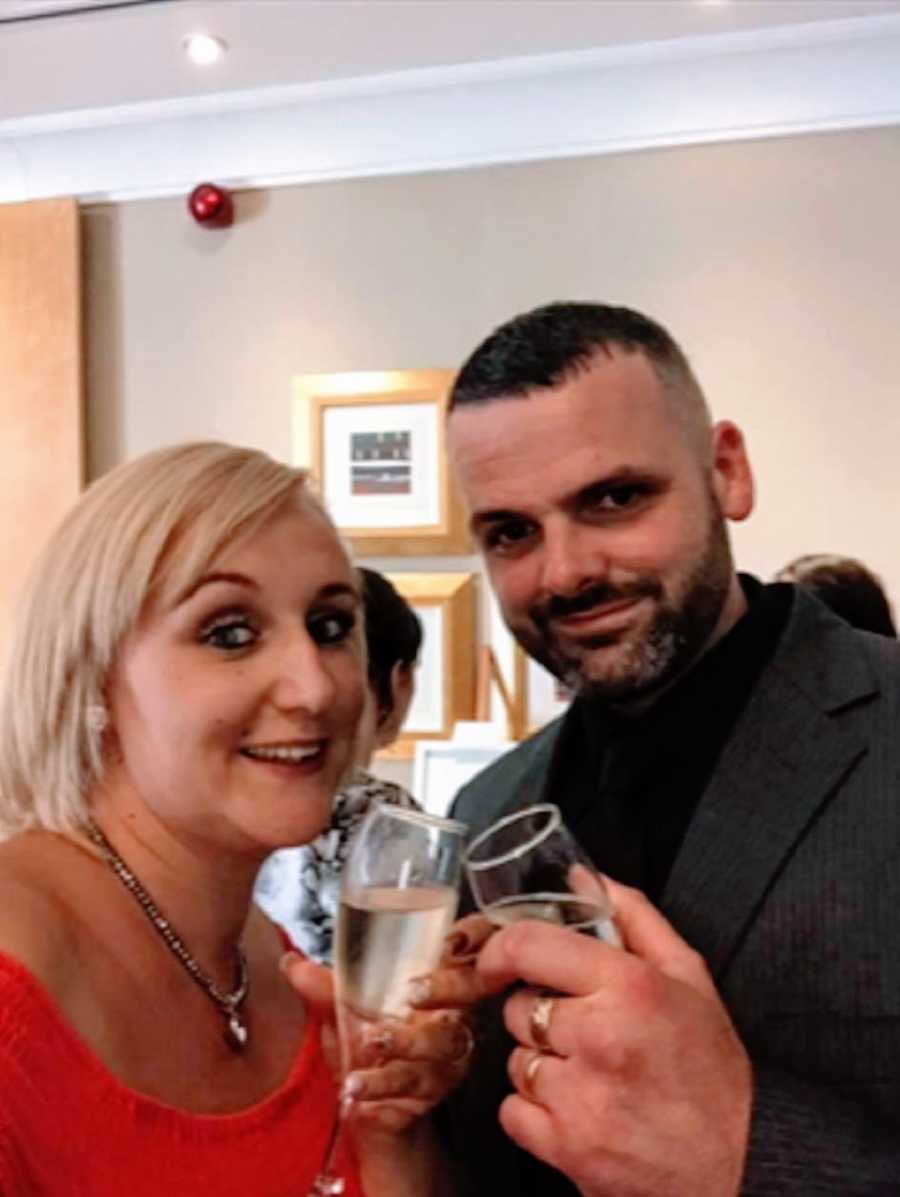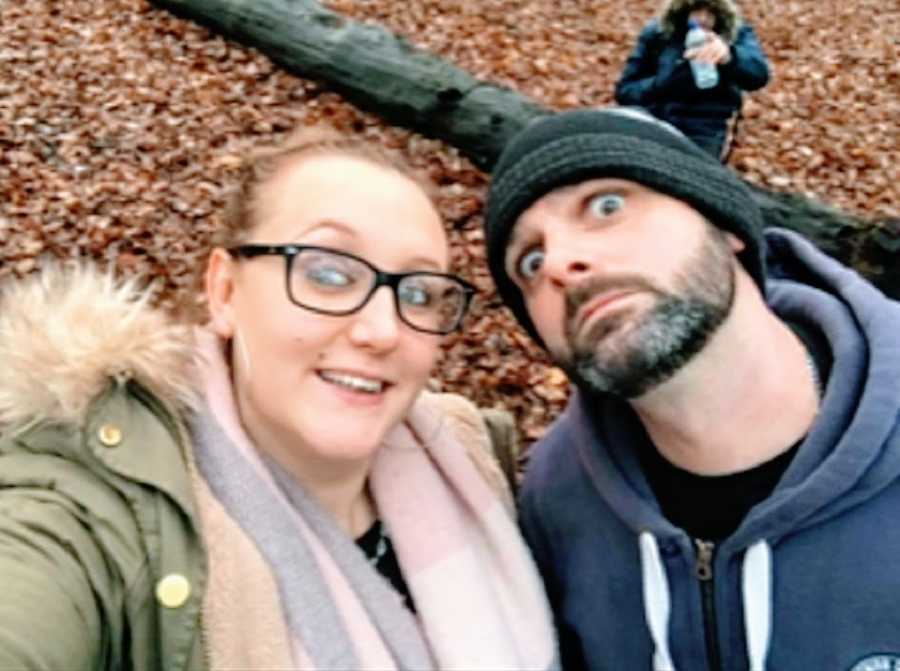 We are busy, as you can imagine. Everybody plays a role, everybody chips in, and everybody knows what we do as a family. It's important we have chores in our home, and we follow a routine. We love doing things as a family, so birthdays and celebrations are always great, as there are so many of us all the birthday seem like we're having a party. Our house is full—there's always something going on, always shouting, laughing, and joking, but that's just us. We are a close unit, and we do everything together. We have a minibus, so we go out on our days off.
My journey of motherhood has been challenging and fulfilling, and it's the most enjoyable thing I've ever done. We have up days and down days and days when we don't know whether to laugh or cry. But we are a team, so on the bad days, we know there are happier days along the way.
Having so many children, we have been faced with people asking questions wanting to know why we chose to have a big family, what's it like to have a big family, and most importantly, the questions we always get asked are, 'Are they all from the same baby father?' 'Do you own a TV?' (If I had a dollar for every time we were asked that, we would be rich).
Of course, we've had to face difficulties along the way—it's just simple things, like going from a simple-sized, normal family car to a 15-seater minibus. Or when we want to go out for meals, we have to make sure we order a big table at a place that will cater to all of us. Or booking vacations—if we wanted to go on a camper vacation, we wouldn't be able to get one, we would have to get two, which of course would bulk up the price of the vacation. We've actually found it cheaper to rent a vacation home where we could all fit in and be together, rather than being in two separate lodges, cabins, or campers.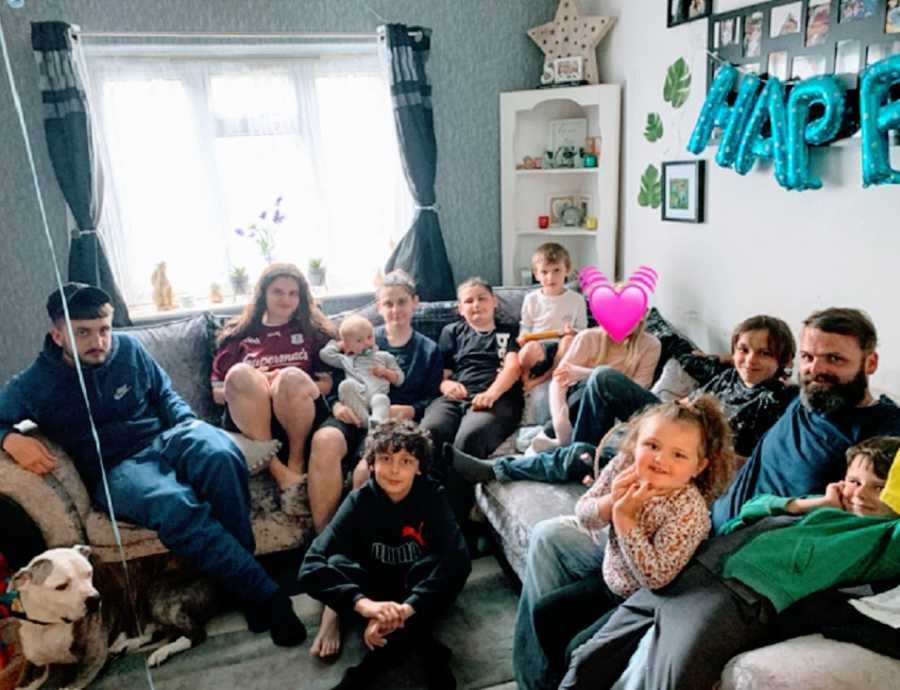 There are challenges, but we overcome them as a big family. Silly things like taking the children swimming—obviously, we can't take them all at one time so when we get the chance, we take 2 at a time. Even for opticians or the dentist, we can't always be seen together, so our appointments will be spread over three days.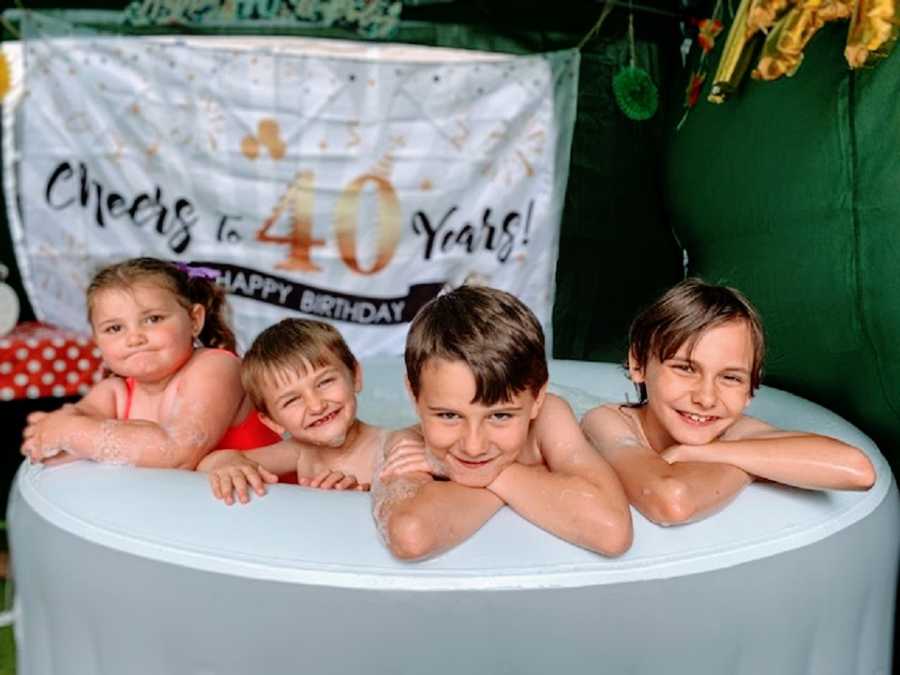 It's gotten easier over the years because the older children tend to go out with their friends and do more things independently. But they always gravitate back to home, and even after being out for a couple of nights, they just want to be home in their own bed, back in the madness.
For me, I love doing things as a family. But I've found it hard as the children have grown, as you need to place trust in them and allow them to do things on their own, which can be a scary time for any parent. For example, starting high school traveling on their own, and having teenagers, as we all know, is a scary time!
With the gangs and the violence on the streets at the moment, this is a terrifying time for us parents, so at nighttime, I lie awake until everybody is home when I can rest assured. But until that happens, every siren I hear, every shout I hear keeps me awake until all of the children are home and safe, as my oldest son is 18 now.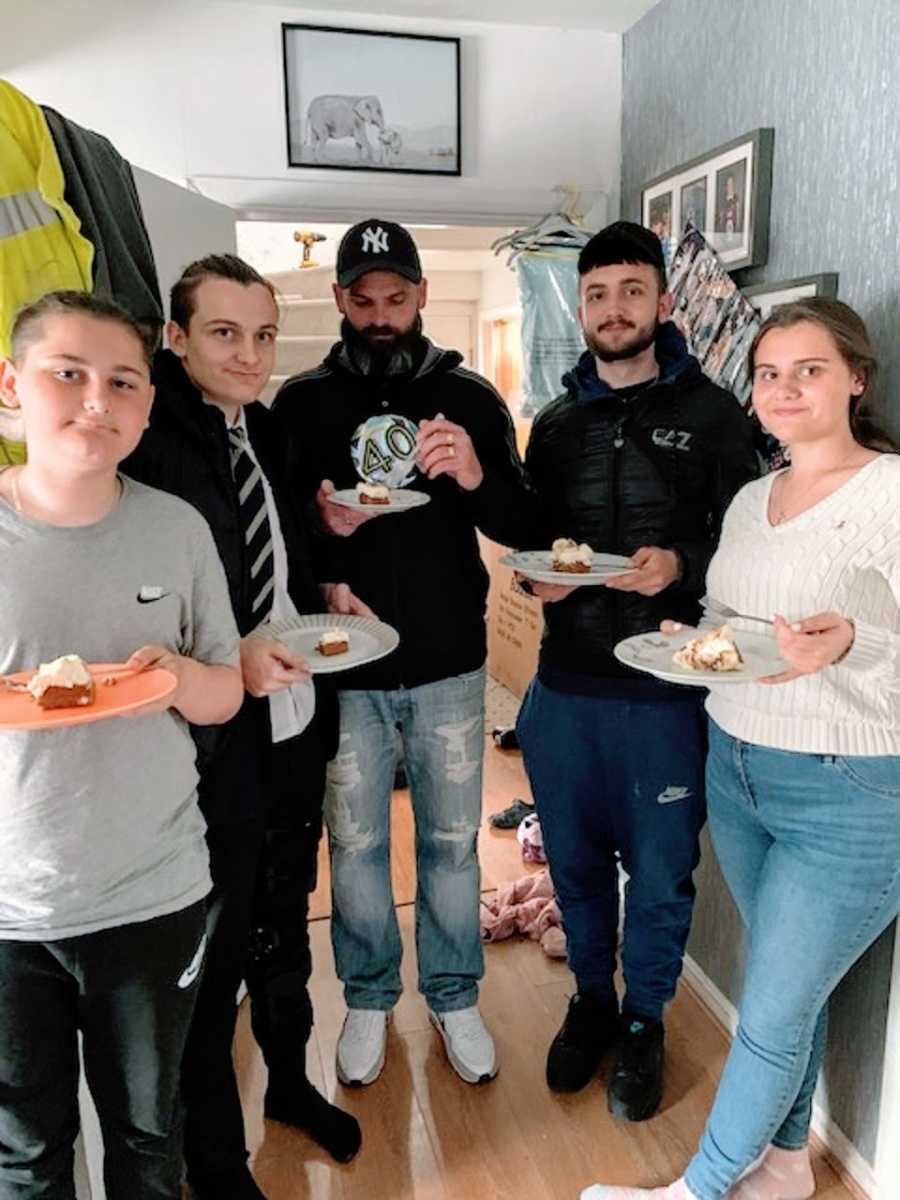 We have come across a few things as a family that are new, and we've had to deal with struggles along the way. One of our boys was born with epilepsy, which was a complete shock and came from nowhere. At the age of nine, he was diagnosed, so learning to deal with his condition and medication has been a new thing for all of us. He starts middle school this year, which again is another worry of ours, but luckily he has older brothers at the school who he will travel with, and they will be around if he ever needs them. That's the best part of having a big family—there's always someone on hand, always someone you can rely on, and you always know somebody's got your back.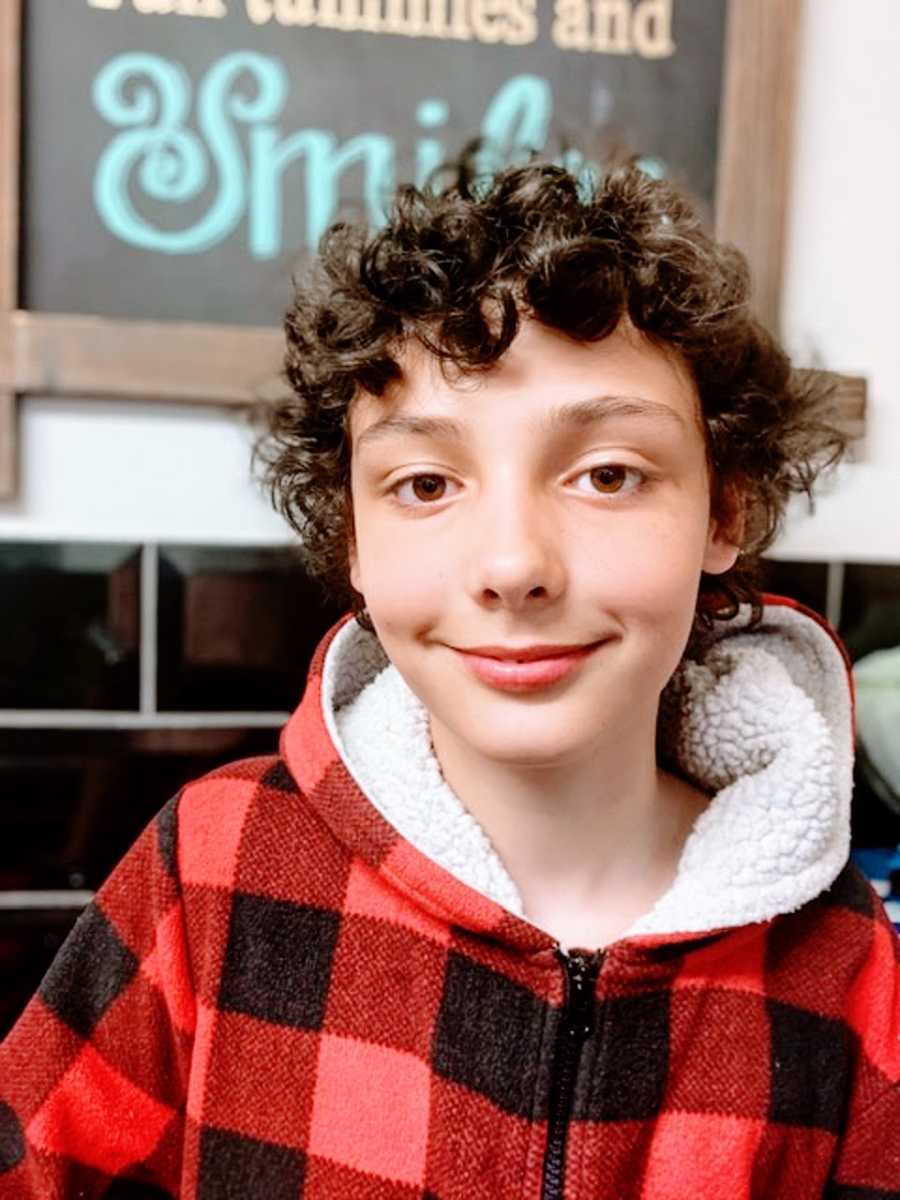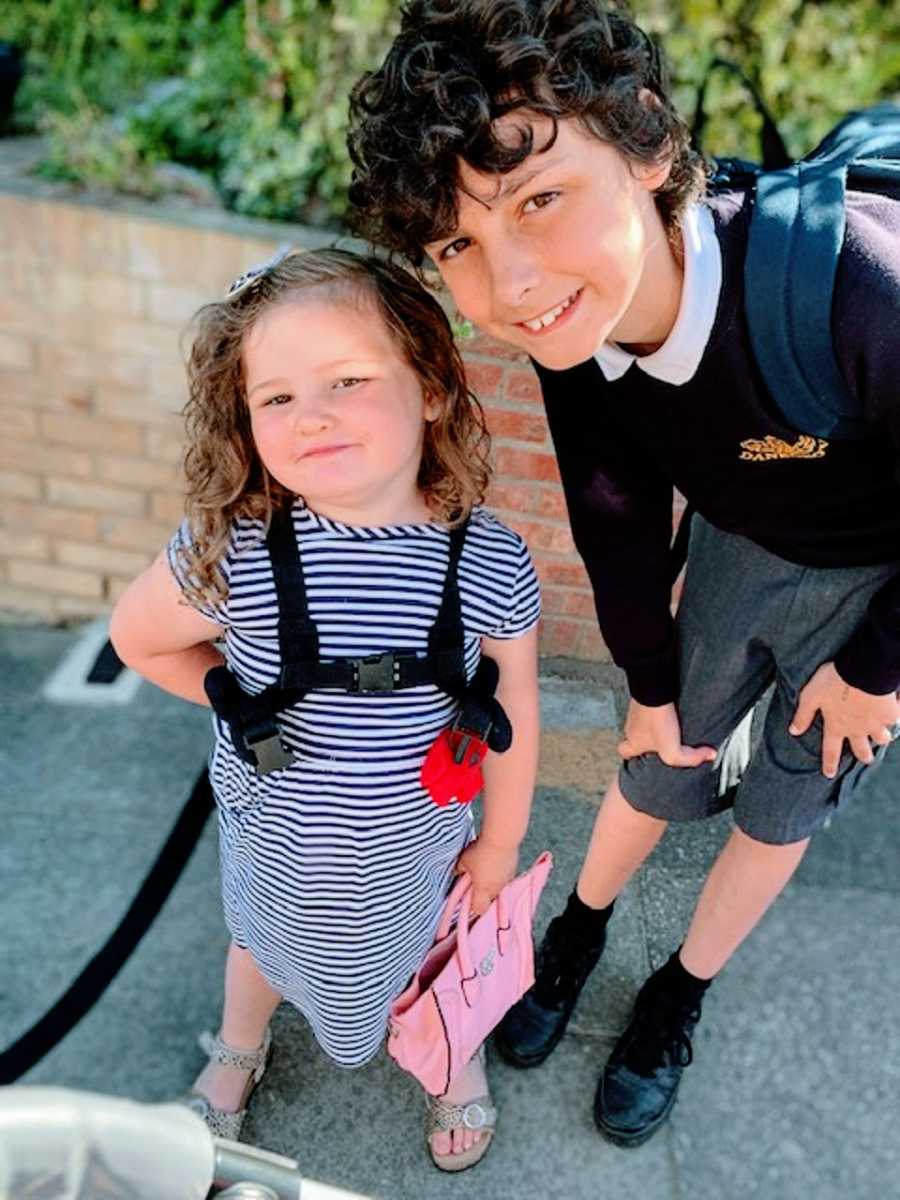 Having a big family doesn't stop us from doing things we enjoy. We go on family vacation at least once a year. Most of the time when we're on vacation, we meet new people who are intrigued by the size of our family, constantly asking the same questions. 'Is this your last?' 'Are you having any more?' 'Wow! Are these all yours?' Proudly, we tell them yes, they are all ours, and we never say never to anymore.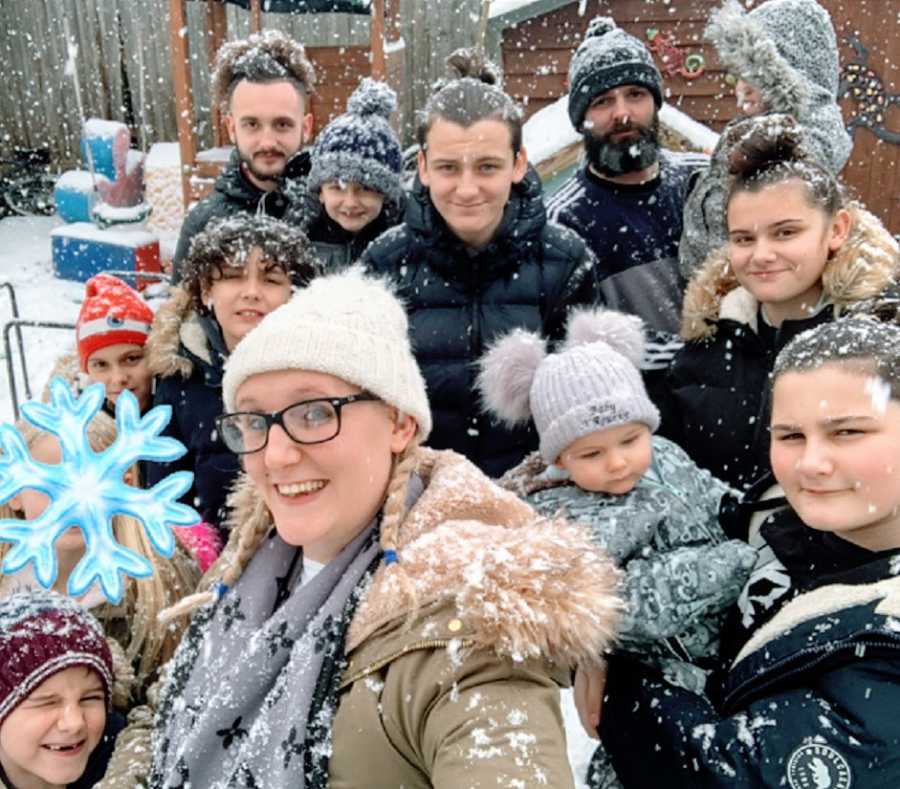 At the moment, I have a baby massage training instructor course which I have just finished and have now started baby yoga. Once this is finished, I intend to start my own business or work in a mother-and-baby unit teaching the importance of baby massage and baby/toddler yoga. This is one thing that I wanted to do for me to give me a future to help in other mums or carers learning the power of love from baby massage. I enjoyed doing it with my children, and in this house, we believe it's important to support others. Sometimes we all have to chip in to make that happen.
I absolutely loved having all the babies close together—I really enjoyed going to mother and baby groups and meeting new moms and families, some of whom I'm still friends with today. I think it's important as a family to also have couples' time, which we do either by staying in and having a movie night and takeout or occasionally, going out for a night (very rarely).
Our eldest children are now at college, and we couldn't be prouder of how far they have come with a lot of encouragement from me and Tommy to push them along the way. Now, it's a case of watching the little ones follow in their footsteps.
So, at the moment, we are looking forward to enjoying a summer together, hopefully with a vacation. After last year, I think everybody needs a vacation. We will be working on our social media, where we do a lot of cooking, as we have a cooking page where Tommy and I take turns cooking and also do challenges where the children decide who is the winner receiving the family medal.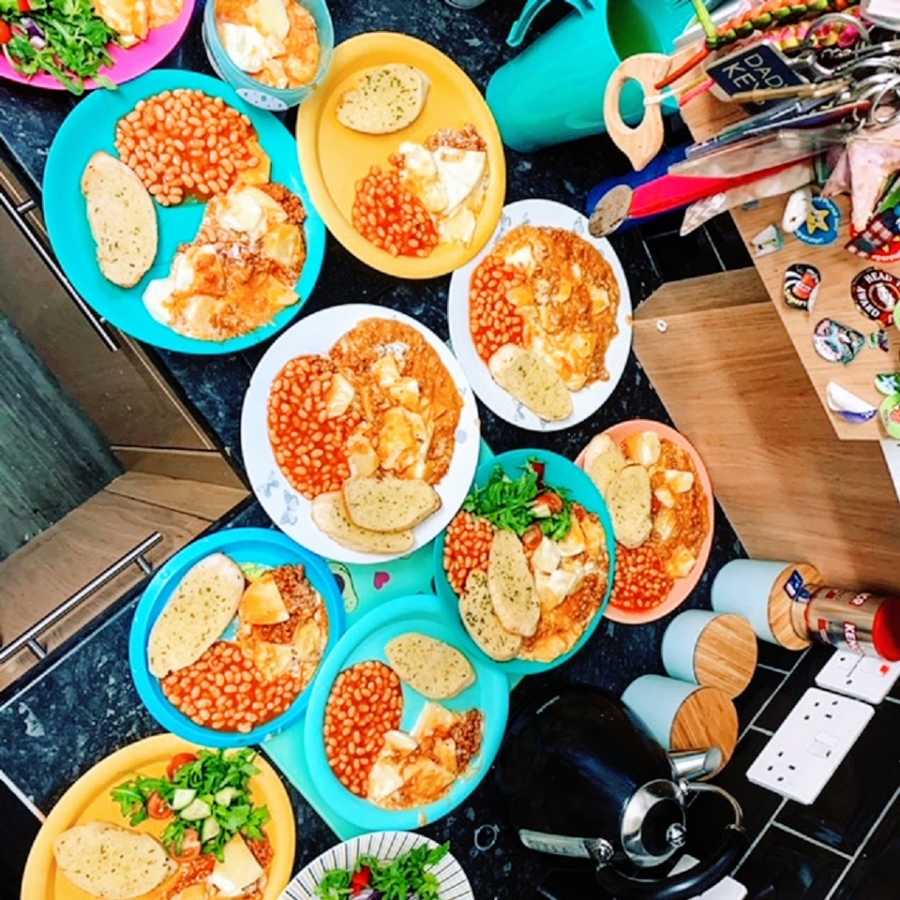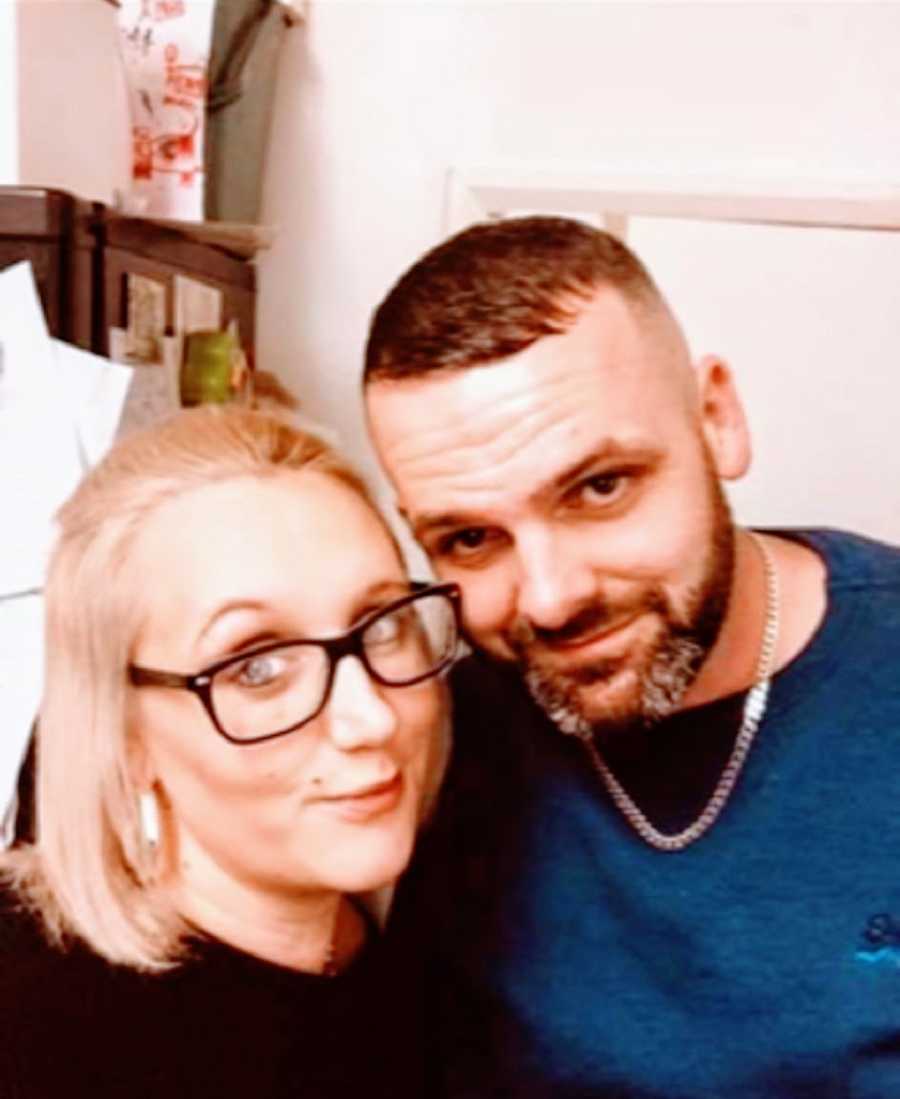 I set up this page to share food ideas with other parents, who are sometimes struggling with thinking of different meals to cook in a week. Between Tommy and me, we make sure we choose two dishes a week that are new for the children to try. It doesn't always end in a positive result, but at least they get to try new things, and we get to share them with other families.
Our cooking page is called 'Food Ideas for All the Family.' This has been something we've done for a while—it brings us closer together, and we have a laugh doing it. We also have a family page called 'The O'Rourkes' Madness and Mayhem,' where we share everything we get up to as a family, from days out to things we cook to home improvements and things we find when we're out and about. Generally, just sharing the madness going on behind closed doors.
One thing I love to do is to look back at all photos to see how much the children have all grown and changed. Looking back at all the memories we have made along the way with babies entering the family and vacations. We've been married twice—we renewed our vows, and some of the children were part of that. In 2023, we will be celebrating 20 years of marriage! So now, we're making plans for the future and creating those future photos with our new memories."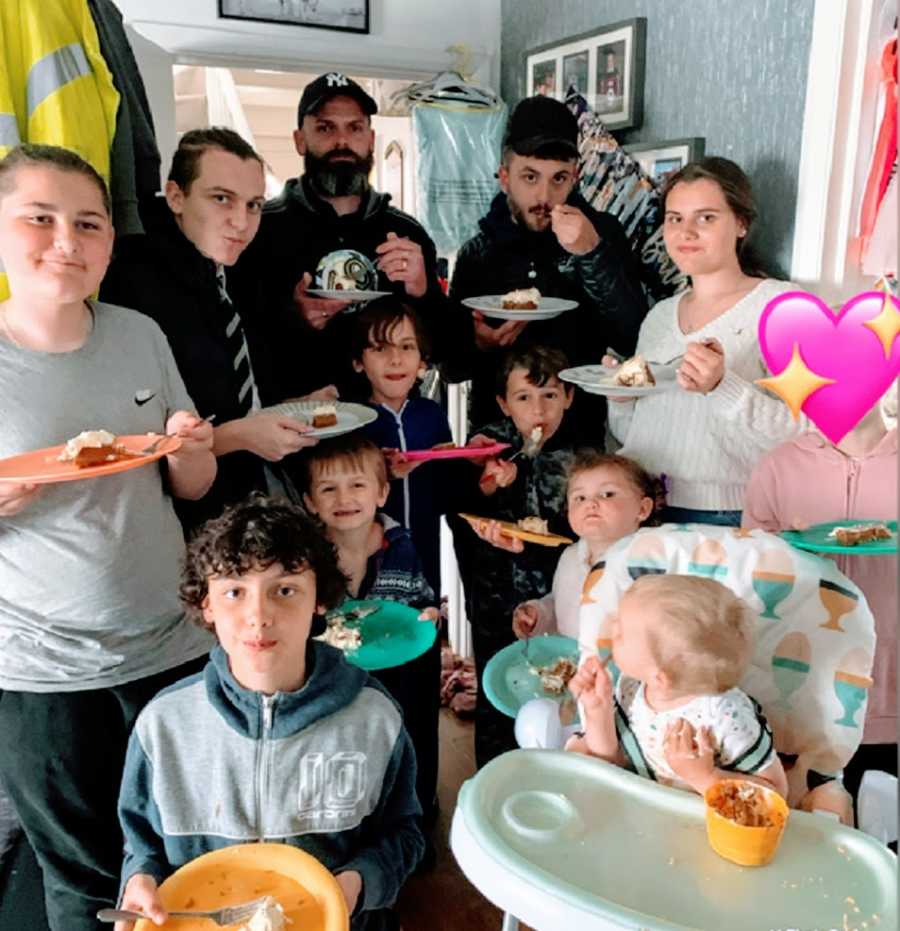 This story was submitted to Love What Matters by Joanne O'Rourke. You can follow their journey on Instagram and Facebook. Do you have a similar experience? We'd like to hear your important journey. Submit your own story here. Be sure to subscribe to our free email newsletter for our best stories, and YouTube for our best videos.
Read more stories like this here:
'Who's that?' I turn the camera to reveal not one, but two babies. 'We kept it a secret Dad!!': Mom to 5 surprises dad battling prostate cancer with newborn twins, now family of 9
'She scanned my stomach. 'Congratulations, Mom and Dad! Oh, wait…' My heart sank. 'I see three here!': Couple has triplets, twins through embryo adoption, 'We're the lucky ones'
Yes, Having A Big Family Is Awesome — Here's Why
'Are they ALL yours?' What do I say? 'Yes, these 4 are mine, but those 3 aren't.' Being a step-parent is THE thankless job.': Mom discusses ups and downs of being a blended family
Provide beauty and strength for others. SHARE this story on Facebook with friends and family.