Traumatic Car Accident
"My name is Joyce Osborne.  I'm the mother of Thomas Anthony Klohn, 30, and this is the story of his distracted driving crash. Thomas was just like other young adults his age and thought he was invincible. Since Thomas' crash I have dedicated myself to telling HIS story so others may live and end the epidemic of road tragedies.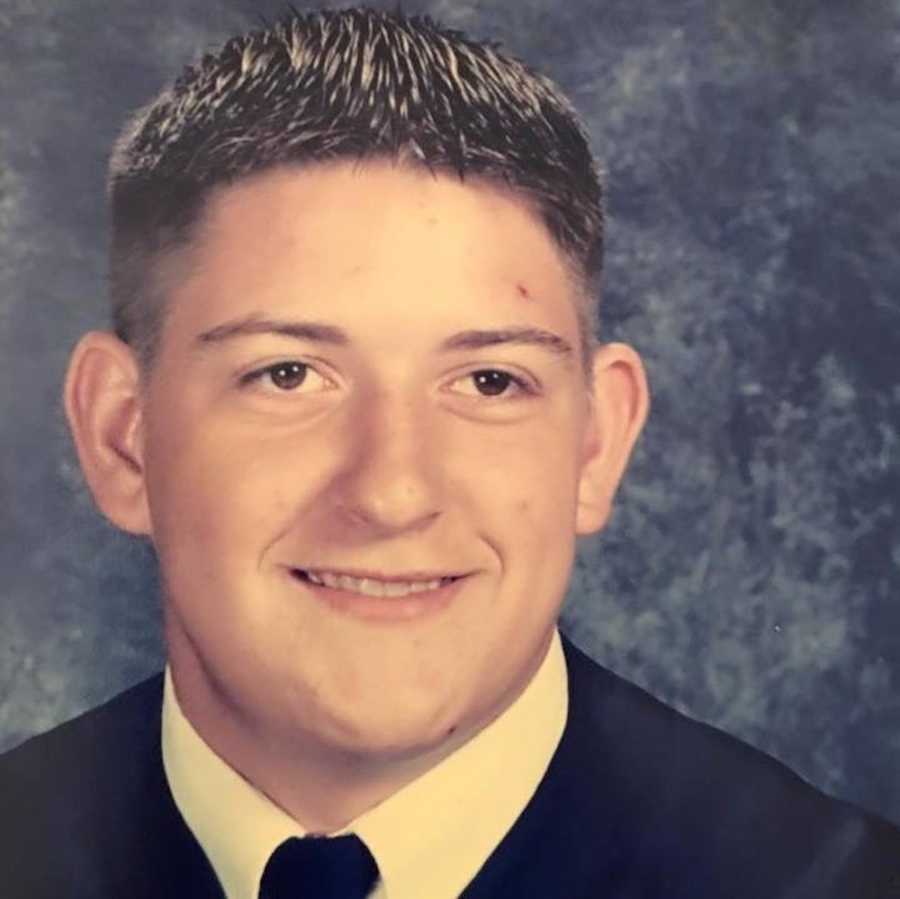 Thomas was always one to lend a hand to anyone in need. On February 12, that's exactly what he was doing. He had traveled to Arizona to go pick a friend up and help her move back to Texas.
On February 12, 2016, my life along with several other lives would irrevocably change forever. At 9 o'clock that evening I received a call from a State Trooper in Arizona who informed me my son had been involved in a crash that had taken his life. Before the trooper could tell me the cause of the crash, I asked him if my son was texting while driving. His response was 'Yes ma'am.'  It was a mother's intuition I suppose, I knew the answer before he responded. I was in total disbelief. That horrible Friday night and for the next couple of weeks I was in a complete fog. I remember having so many questions, wanting answers right then, but unfortunately, I couldn't find out anything until Monday. The two days I had to wait to get any answers seemed like an eternity. All I could think of was my child was in another state all alone. I needed to be with him and he needed to be home.
In the early morning hours of February 14, I began the task of trying to figure out what I needed to do to get my baby back. I contacted the state trooper and asked him who I needed to contact with regards to my son. After the trooper informed me of who I needed to contact, I wanted and needed to know could I put clothes on him for the funeral. I'm not sure why out of all the questions I had spinning in my head, that came out but it did. In a very saddened tone his response was, 'No ma'am, I'm sorry you can't.'  After hanging the phone up, I became physically ill. Shortly thereafter, I contacted the funeral home who then gave me the number to the medical examiner's office.  After contacting the ME, I told them who I was and I was inquiring about my son. Imagine my surprise when they told me, 'I'm sorry but we don't have a Thomas Klohn here.'  I felt like I was having an out of body experience and remember thinking just maybe, there had been some mistake. As panic began to set in and now not knowing where my son was I called the funeral home back. It was then that I was told my son had been registered in the ME's office as John Doe. I angrily responded, 'What?! My son has a name!'  Once I calmed down and regained my composure she explained Thomas did not have any ID on him when they received his body. In yet another surreal moment during this process, I called the ME back and explained I was the Mother of their John Doe. I couldn't grasp it then or even now, my only child labeled as a John Doe. I still get a horrible feeling in the pit of my stomach, just thinking of THAT moment.
The ME's office requested Thomas' dental records and told me they may need my DNA to positively identify him. I thought to myself, what, why do you need my DNA, I can identify him. It was in that very moment I began to understand just how horrible the crash my Thomas was involved in. Thomas had been burnt beyond recognition. My knees literally felt like jello. I dropped to the ground and began to scream as loudly as I could.  My poor baby, my only child.  Later that day, I was told I needed to fill out the death certificate and return it to the funeral home as soon as possible. This wasn't really happening, I just knew any minute I would wake up from this horrible nightmare. In the few hours I would manage to get some sleep I had nightmares. I began to avoid sleeping just to avoid the nightmares of Thomas being all alone and burning. I finally get the call from the medical examiner's office informing me my son was ready to be picked up. I relayed the message to the funeral home and inquired about the next step in getting my son home. Due to circumstances, Thomas had to be cremated. There would be no casket, I would not get to say goodbye to him before he was cremated. That still haunts me to this day. Since my son died in one state and services would be in another, I had to deal with two different funeral homes. I'm calling one on the status of getting his remains and talking to the other to plan his services. I was exhausted and spent. At long last, I got the call informing me my son was ready to come home. My son in a box. I'm carrying my son in a box, it shouldn't be like this.  It just shouldn't.
On March 12, 2016, exactly one month to the day of my son's passing we had his 'Celebration of Life' services.  Since we did not get a chance to say goodbye, we wrote letters to him and placed them in his cremation box. I don't remember a lot about the 'Celebration of Life' services, I do remember thinking to myself this would be the last time my son and I would be in a car together. At the cemetery services, his sons' and I placed Thomas in has final resting spot. I wanted to stay right there with my son. I wanted to be with him. That was the absolute worst day of my life.
Car Accident Details
Within a week or so, I began to want to know all the details of my son's crash. I needed to know every detail no matter how small or how painful. All I knew for sure was my son was no longer with us, my grandkids no longer had their father and Thomas died texting while driving. I also knew it was a one vehicle crash. I contacted Arizona Department of Public Safety and requested a copy of the crash report and any pictures they had. I was told it would be a few weeks before they could get them to me. I then called the medical examiner's office and requested his autopsy report. I was already in possession of his phone.
Based on the crash site and pictures, along with the damage to Thomas' truck, it became apparent that Thomas was in the middle of typing a text when he exited the roadway going 75 miles per hour. He then struck a guard rail end cap and continued on until the front end struck a large granite boulder. His truck became airborne, slid across the westbound lanes of I-10, indicted by the fuel trail, and landed on the driver's side facing south, and blocked westbound travel lanes. The undercarriage of the truck sustained extensive contact damage. At some point this truck caught fire and was fully engulfed.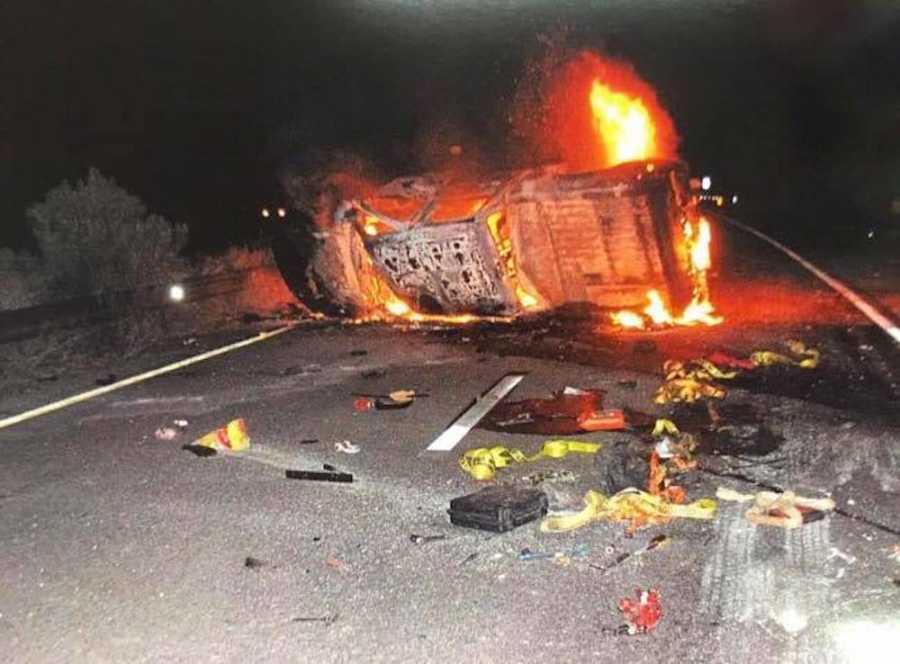 Based on the witness' statement, the crash happened at 12:58 a.m. He said for several minutes he tried to extinguish the fire but it was just too intense. In his statement, the border patrol witness said he could hear Thomas crying out for help before he succumbed to the fire. The truck continued to burn and the fire was finally put out at 01:58 a.m. My son was pronounced deceased at 1:08 a.m.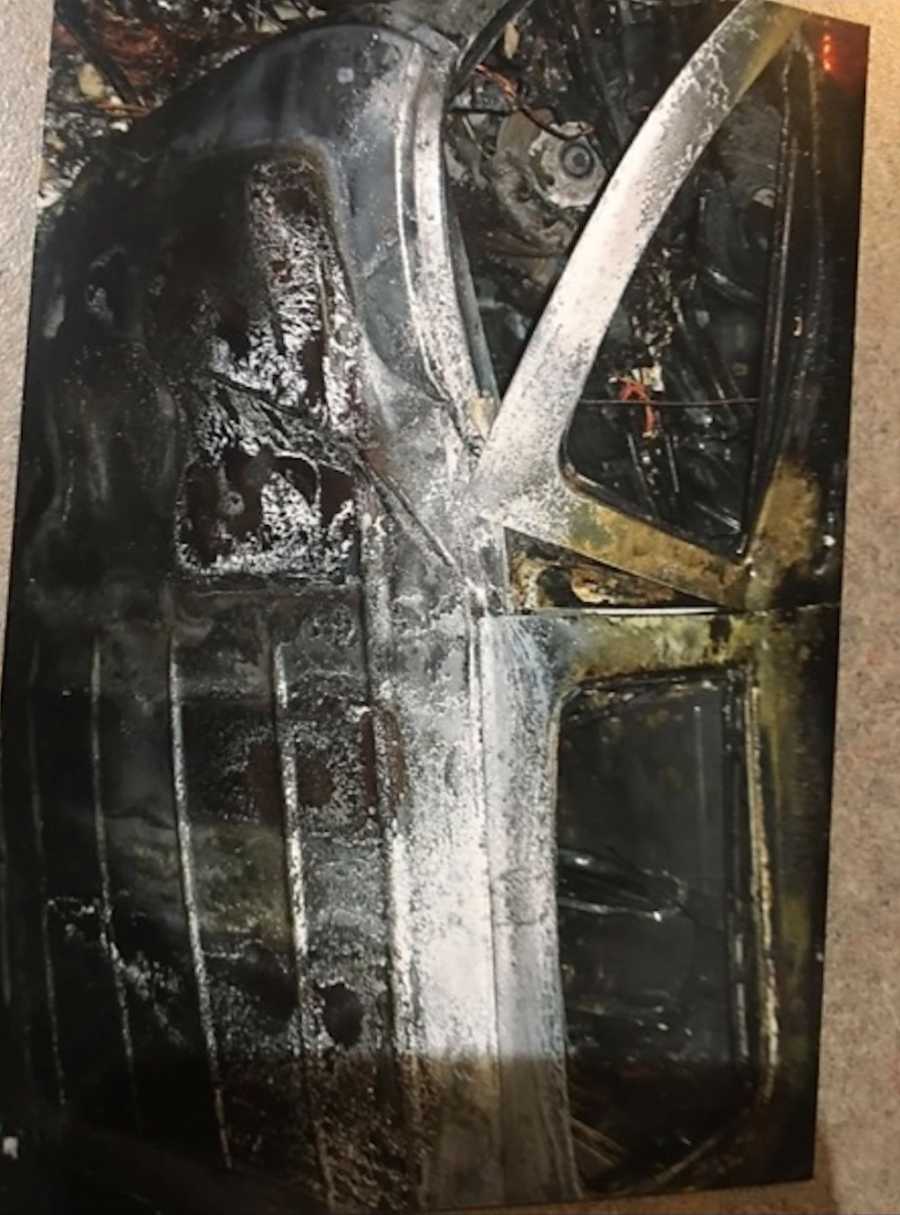 I contacted the border patrol to thank him for being there with my son in his last moments. I was extremely grateful for his efforts in trying to help my son. He then told me Thomas' car battery was found about 100 feet from his truck but right there in the middle of the road ironically was his cellphone which was ringing, a red bull, and a pack of cigarettes.
I still had nagging questions as to how they identified my son, without having his DNA or any dental records. I then contacted the medical examiner's office and spoke to Dr. Chen who performed Thomas' autopsy. I asked her how they concluded it was indeed my son. She explained that through the anthropology report, his phone, the VIN number on his truck, and a picture of his Texas Driver's License, it was in fact my son. She also spent time explaining his manner of death which was ruled blunt force trauma and thermal heating.
Distracted Driving Advocation
Finally, I had all those nagging questions answered except for one, and probably the most important question. I had the answer in front of me but had to get the courage to get the answer. I wanted to know what text was so important it had taken my son away from everyone who loved him. Finally, that moment had come, I opened the phone and there it was. The text he was in the middle of when he crashed his truck. It was apparent from the text, Thomas and his friend had been texting back and forth for some time before that final text that was never sent.  I read, and re-read, and re-read the text he was in the middle of, anger overcame me. It was such a mundane text and it could have waited. That text altered so many lives. My son leaves behind three beautiful children, two boys and one girl, all under the age of ten. They will never get another I love you, another hug or kiss, or a lifelong set of memories with him. It is up to the ones left behind to keep his memory alive for his children. I now often think of what the future holds for my grandkids. Their dad should be here to cheer them on when they are celebrating their many accomplishments in life. He should be here to encourage them when they don't succeed the first time. He won't be here when they graduate, succeed in their chosen careers, get married, or have children of their own. My son won't be here to be a pawpaw to his grandkids. This is NOT how it should be.
Since my son's passing, I have become my son's voice. I have become an advocate to stop distracted driving. Distracted driving is ANY activity that takes your attention away from driving. When you choose to drive distracted you're not only putting yourself at risk, but you also endanger others on the road around you. Parents need to set examples for their kids and talk to them about the consequences of distracted driving. Distracted driving crashes are 100% preventable. Think before you put the key in the ignition. Don't make My story YOUR story."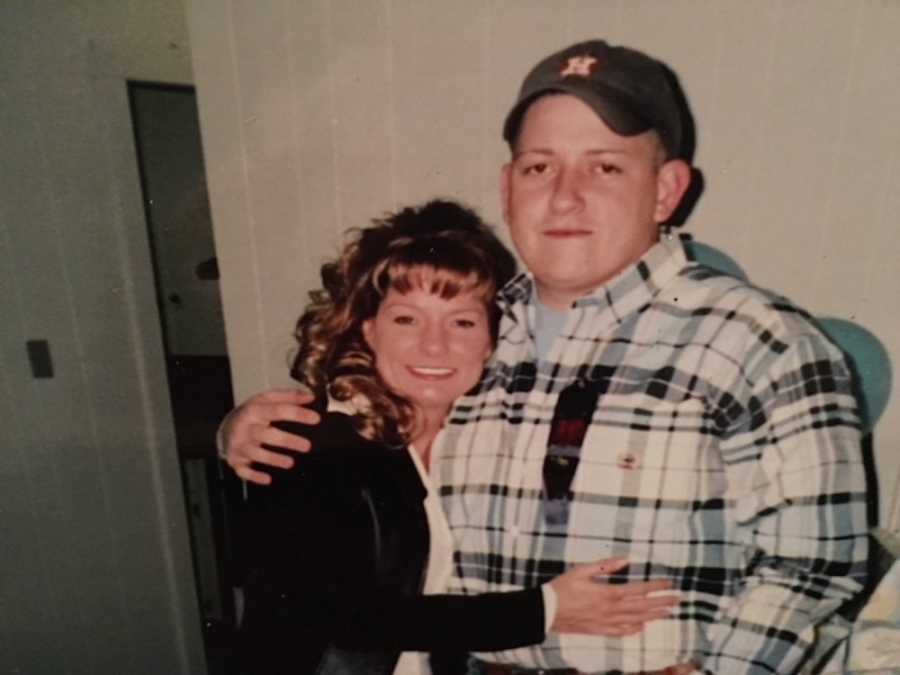 This story was submitted to Love What Matters by Joyce Osborne of Texas. Be sure to subscribe to our free email newsletter for our best stories.
Do you know someone who could benefit from this story? SHARE on Facebook or Twitter.