"My name is Kevin Penny and I live in Halifax, Nova Scotia. Born and raised in rural Nova Scotia, I had a typical country boy upbringing. I have two older brothers and a younger sister, and we basically lived on a small firm. We had chickens, pigs, and even a rabbit! My favorite pastimes were being outside playing any sport possible. That could include shooting hoops with my friends or siblings, or having a pickup game of baseball in the backyard! I was a good student and well-liked within the community.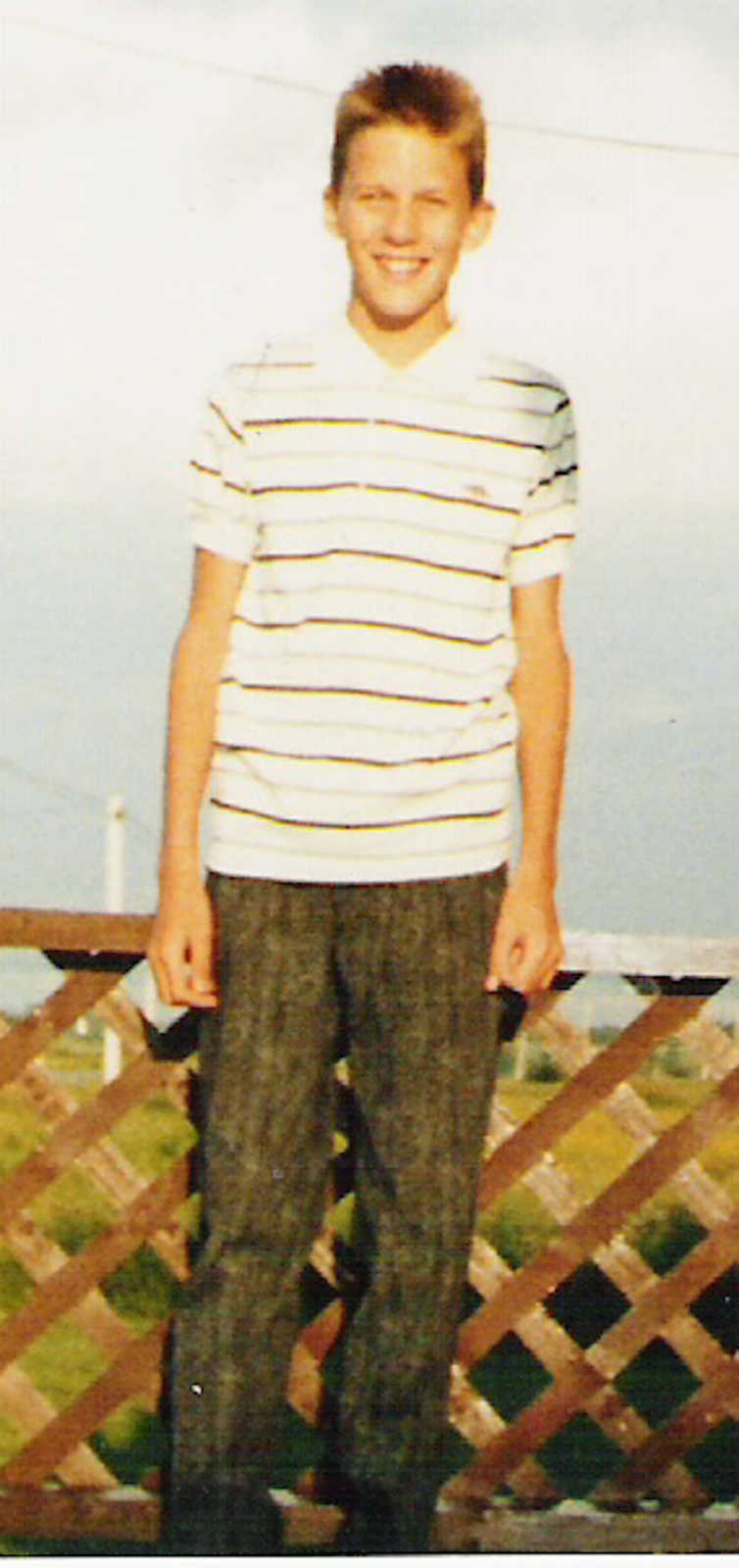 However, in October of 1991, my life changed forever in an instant. That evening, I was with my sister driving a bicycle built for two, collecting paper route money when, as we were going down the hill, I lost the brakes on the bike. This would normally not be a huge issue. However, after collecting speed and going into oncoming traffic, I swerved, and we went across the intersection and directly into the ditch. Being on the front of the bicycle, I went headfirst and instantly broke my neck at the C4 level. Instantly, I was paralyzed from the chest down. A quadriplegic.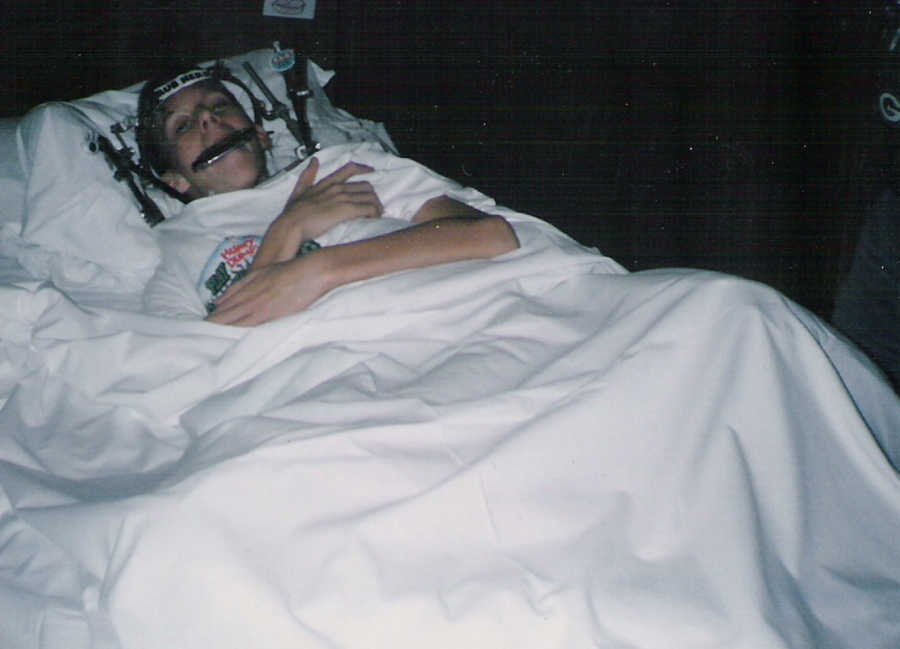 Luckily, paramedics were able to attend to me quickly and get me to the hospital, where I continued to breathe on my own. After getting stabilized, I remember not really understanding what was going on, but being aware of my paralysis. I didn't really feel sad, but more scared of the unknown. I asked one of the medical staff (Rick Bishop, who became one of my best friends), 'Can you hold my hand?' Even though I couldn't feel him holding my hand, he gave me a sense of comfort. What I was not aware of at the time was there was an army of family, friends, and community rooting for me to move past this tragic accident.
Imagine, going from an active 15-year-old boy to being paralyzed and reliant on a wheelchair and others to support me with my daily living needs. A bit of adjustment… But somehow, someway, I was able to persevere and move past that stage to begin my new life as a person with a disability. As I mentioned, community played a huge role during my time living in rural Nova Scotia. There were fundraisers, such as dances and bake sales. There were individuals stepping up with goodwill by supporting my family during this difficult time. There were even many anonymous donations given to help make our home accessible. I would hear the stories of goodwill over my time in rehab when my family would come visit me in Halifax on the weekends! Wow… So much support!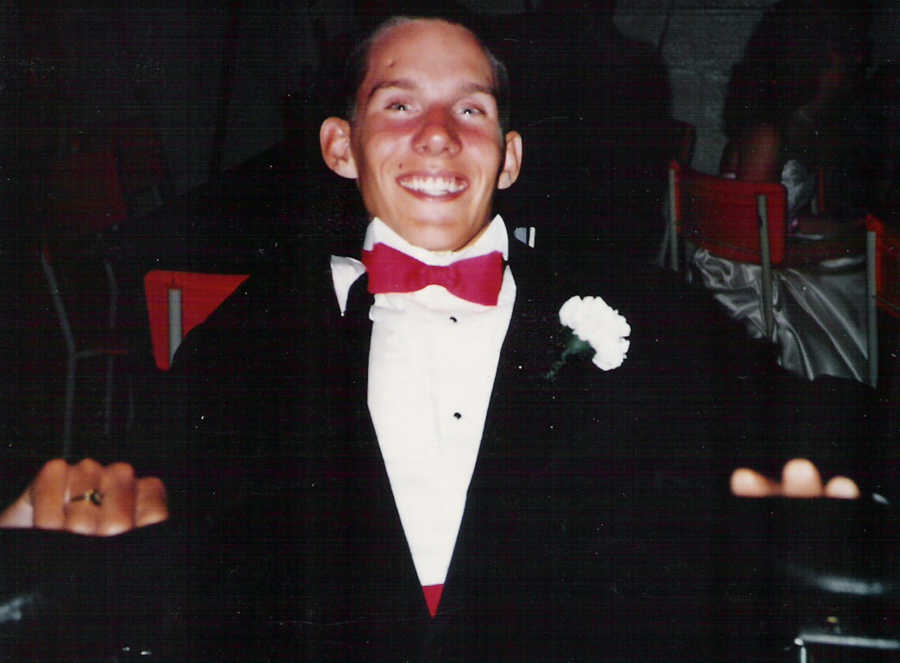 Finally, after learning how to adapt to my disability, learning how to use a computer, and drive a wheelchair, I was ready to go home! Hantsport was interesting as a wheelchair user. There were not many other individuals, especially at my young age, who used wheelchairs, and accessibility in my hometown was much different than the big city of Halifax! But once again, I was able to adapt and persevered by earning my high school diploma. This would not have been able to be accomplished without the support and hard work of so many people!
Fast forward a couple of years, and I moved back to Halifax where I attended St. Mary's University after just turning 19 years old. This was a huge step in my independence, as I was spoiled by my family during my 3 years living at home. I was destined to get my education as I knew that would be instrumental in achieving my independence and life goals. This is one of the hardest things I ever had to do in my life. However, looking back, I think it made me the person I am today! I had to learn once again to adapt by managing my own personal care, studying full-time towards a Bachelor of Commerce, and trying to keep a level head! Somehow, I was able to get through that, even though there were some very challenging times where I had to lean on the support of my community.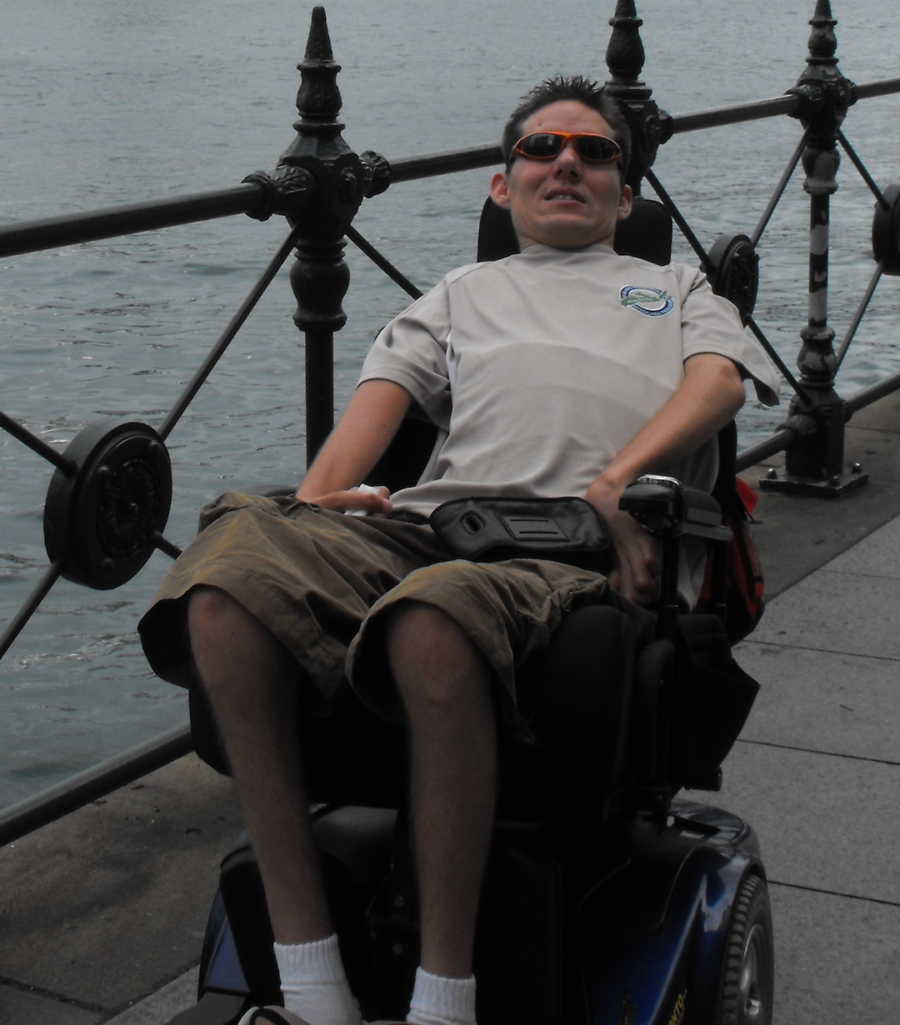 After 5 years of hard work and a lot of enjoyable memories, I completed my Bachelor of Commerce Degree in Small Business Management and was ready to take on the world! The next 2 years were a bit of a struggle. However, in 2002, I began working in Post-Secondary Education, working specifically with persons with disabilities! Wow, full circle! Having the job allowed me to become financially independent, no longer needing the supports provided by income assistance (other than my disability-related supports). I was able to take care of myself! To this day, I continue to work in the post-secondary environment supporting students with disabilities and giving them a chance to succeed in this world!
Sports were a highlight of my life! They still are! In the beginning, I was a spectator to many of the sports I played and loved; baseball, soccer, basketball, you name it, I loved playing or watching. Now, because of my physical limitations, I was unable to participate in the sports the way I was used to. That all changed in 2006 when I was introduced to the sport of disabled sailing. Never sailing in my life, I traveled to Vancouver, British Columbia for what's called the Mobility Cup. This event allows experienced and beginner sailors an opportunity to compete on a level playing field amongst their peers. I was hooked immediately! The following year, Halifax, Nova Scotia started a disabled sailing program and hosted Mobility Cup 2007. To this day, I still enjoy sailing. However, more recreational opportunities have become available in my area and I take every chance I get to try something different.
As you can imagine, living with a severe physical disability, there can be ups and downs! Luckily, I've had many more ups than downs but have had a few close calls over my 29 years. I almost left this earth because of two bouts of pneumonia and have had to deal with many urinary tract infections (UTI), which can cause ongoing medical issues. I've had kidney stones removed, pressure sores that turned bad. But somehow, I have managed to continue on with a positive attitude knowing I have a great support system! I have had the privilege of being able to travel the world and experience many phenomenal things. Though traveling is not always easy, it is in my blood and I will continue to do this as long as I am physically able to get to where I want to go!
In both my personal and professional life, I have gained so much knowledge about issues that face persons with all disabilities, and this knowledge has allowed me to continue to fight for disability rights! Whether it's housing rights, education rights, peer support, or just generally advocacy, I love helping people, and using my lived experiences to promote change!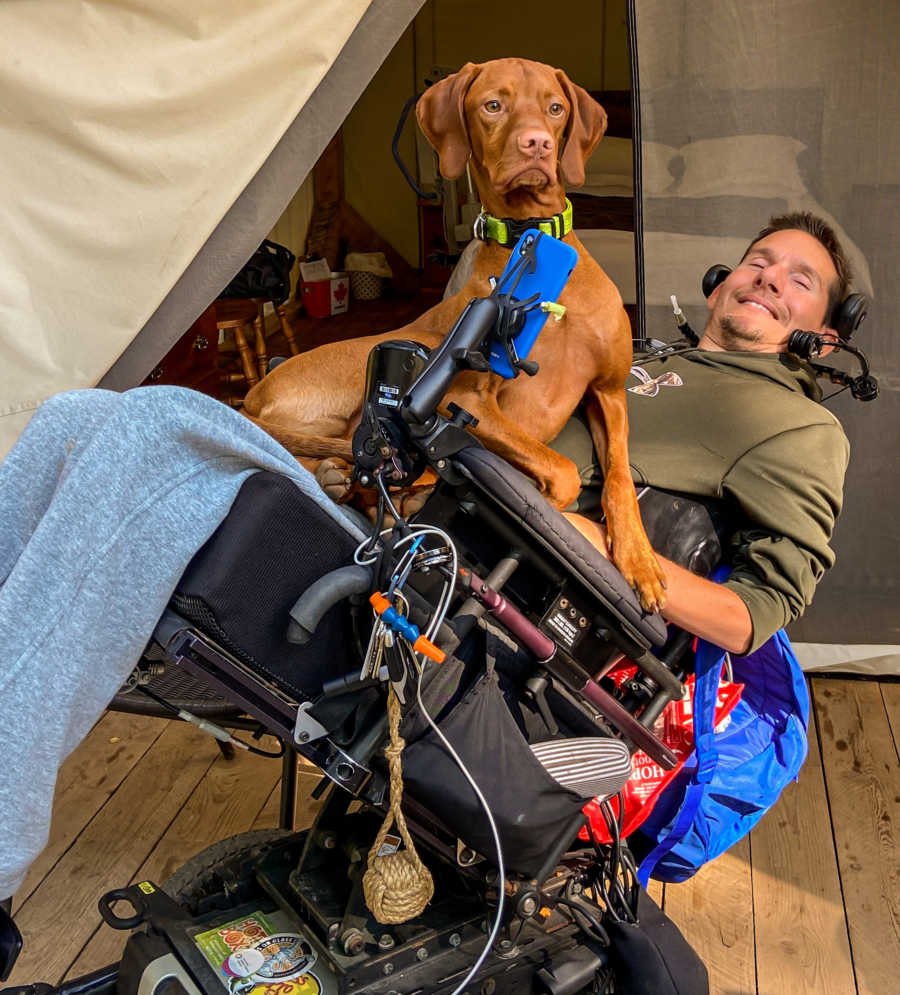 Now let's talk relationships… Fortunately, I have not had difficulty over my 29 years as a quadriplegic in the area of dating. I have been in a few long-term relationships, a few short-term relationships, and currently am with the love of my life, Dee! Dee and I met in 2013 while I was supporting the disabled sailing program here in Nova Scotia. Dee, an accomplished sailor in her own right, applied for a summer sailing position with the organization as a sailing instructor.
During that summer, she kind of took me under her wing, and really taught me the ins-and-outs of sailboat racing. During those times on the boat, we had such interesting conversations and formed a very strong friendship which continued over the next 12 months. In 2014, after an interesting sailing adventure to Alberta, we officially solidified our relationship and started dating. Since then, we have not looked back! We have been able to travel to so many amazing places, and have been able to meet so many people.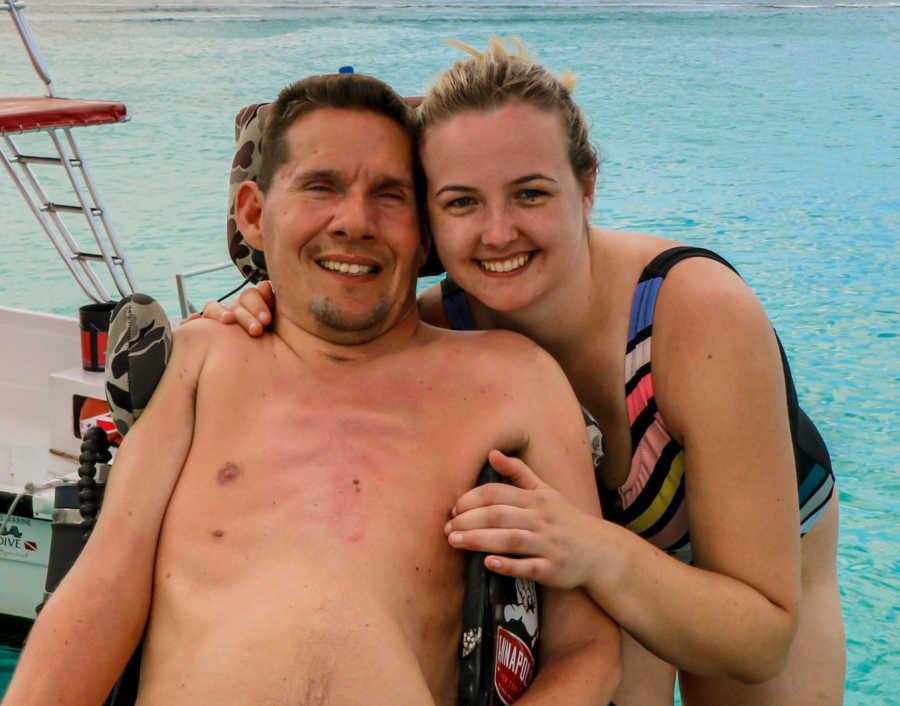 We love the outdoors and love trying new things. That is why we started Accessible Adventurers! As an inter-abled couple, we wanted to showcase our adventures to show there are many cool and wonderful things to participate in if you go in with an open mind. What first started out as an Instagram page morphed into a YouTube channel, where we showcase our adventures! It could be going to the beach, skating on the oval (a local outdoor ice-skating rink), enjoying a wonderful restaurant, or just hanging out on the waterfront! We also like to promote the great work that is continually being done in the area of accessibility, thus furthering opportunities for persons with disabilities.
So that's my story! What have I learned? What would I tell someone who had a newly acquired disability? I think the greatest advice I could give to someone who acquired a disability would be, 'Stay true to yourself!
Regardless of your physical limitations, you are still human! Continue trying new things. Continue to push the boundaries and most importantly, stay positive! Surround yourself with the support of people who love you and generally care about your well-being. Ask for the support of others who have similar experiences. And most importantly, learn from those experiences and never say never!"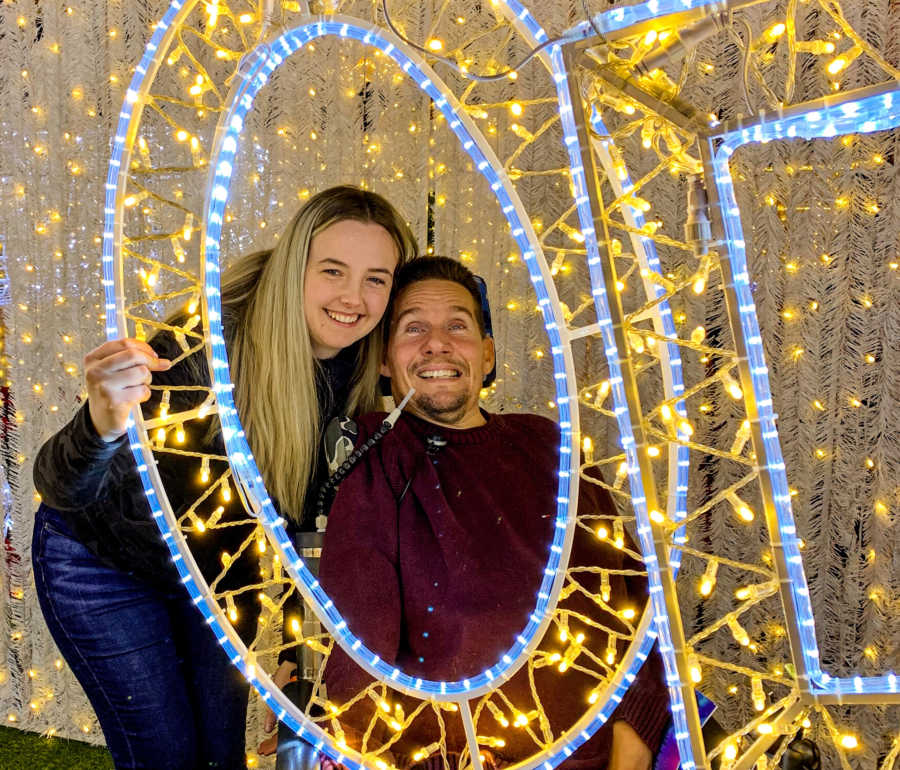 This story was submitted to Love What Matters by Kevin Penny from Halifax, Nova Scotia Canada. Follow his journey on Instagram, Youtube, and Facebook.  Do you have a similar experience? We'd like to hear your important journey. Submit your own story here, and be sure to subscribe to our free email newsletter for our best stories.
Read more stories like this: 
'I mouthed, 'I can breathe.' Dark voices started whispering inside my head. 'I am scared to be a mother.': Young woman survives near-fatal wreck, beats all odds, 'My journey isn't over but I'm starting to feel like ME again'
I whispered, 'Dad I still need you. Today, you fight.' He looked at me with his kind eyes and shook his head.': Adopted daughter's emotional tribute to her quadriplegic dad on his death bed
'Just turn the key,' she said. I was flustered. 'I don't know how!' I forgot how to tie shoes. I struggled seeing a future.': College student with Acute Flaccid Myelitisnow thriving, 'I'm unlocking my independence'
'She's been gone too long.' It was a freak event during birth. She stopped breathing twice, turning grey.': 2-day-old baby diagnosed with brain bleed, 'She's our big adventure'
Do you know someone who could benefit from this story? Please SHARE on Facebook to let them know a community of support is available.