Trigger Warning: This story contains details of miscarriage and infertility that may be triggering to some.
"This is my reality of living with Endometriosis at age 31. This is me after another laparoscopy and hysteroscope for endo excision, adhesion removal, and what they call a 'clean up.' My doctor told me I had adhesions sticking everything together on my left-hand side. This was the reason for all of the chronic pain I have felt for years. Day four is today and I am only just able to get myself up out of bed. My beautiful husband is waiting on me hand and foot.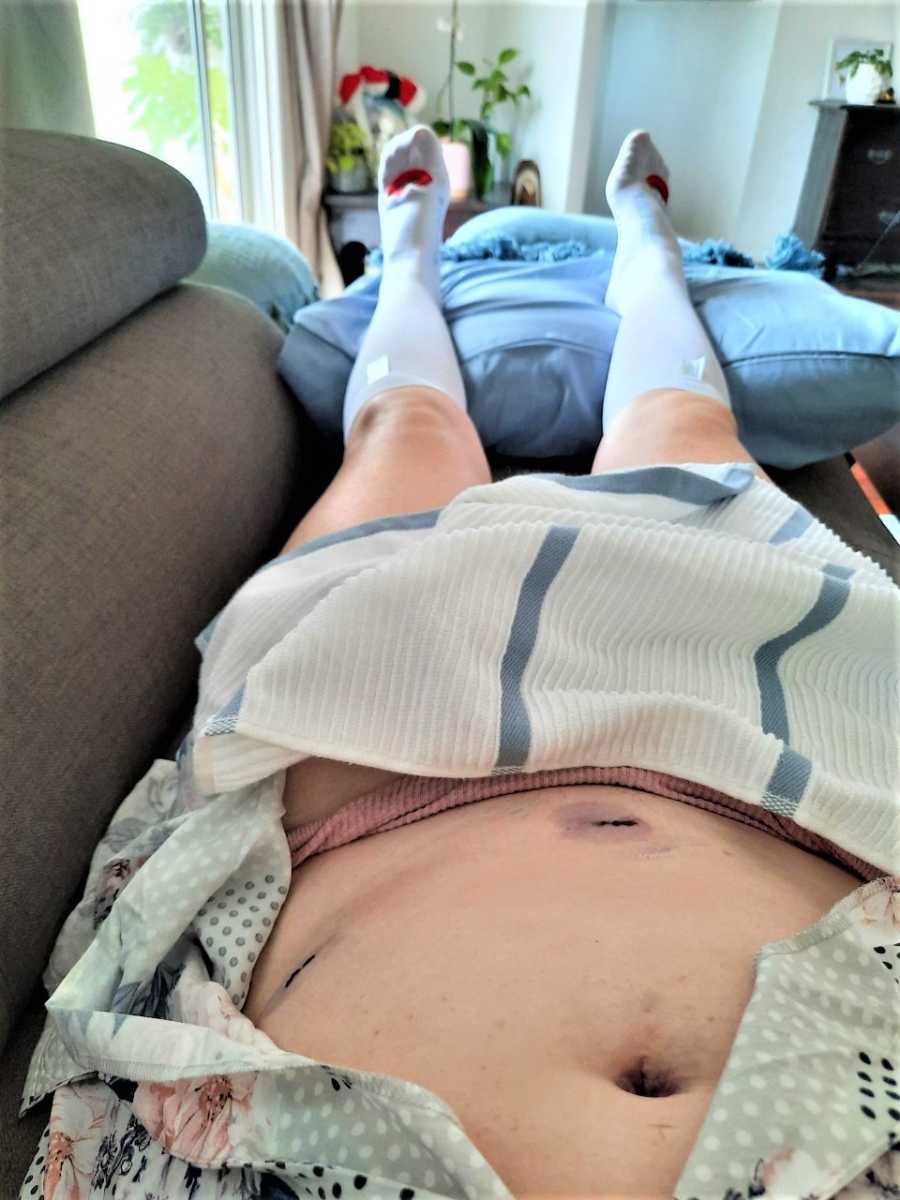 Since my first period at age 13, I have suffered from terrible periods. Gynecological and pelvic issues have been a part of my life for 18 years. I have been so very lucky and ended up with a career working in imaging for one of the biggest mentors in my life, a sonologist OBGYN who specializes in Endometriosis. Who knew emigrating from the UK 14 years ago to Australia would land me on this journey.
Our rock-solid marriage has been tested to its limits time and time again. 18 years of chronic pain and three naturally conceived miscarriages/angel babies finally led us to seek help with our carefully chosen specialist and fertility doctor. I have been in and out of the hospital, had several surgeries, and seen several top gynecologists since I diagnosed early at age 18.
The doctor we see now was our second opinion, and every day we count our stars to be blessed enough to have met him and his staff. We live in the beautiful Sunshine State of Australia and my incredible husband and I are lucky enough to have secure jobs where we work hard and so, in turn, are able to afford private health care. We have never had to sacrifice in any areas of our life and have traveled the world together as best friends and lovers. We always talk about living life to the fullest, and we have always tried to do this regardless of good times or bad. On the dark days, we cry, scream, and break down. On the golden days, we laugh, hold each other, and count our blessings.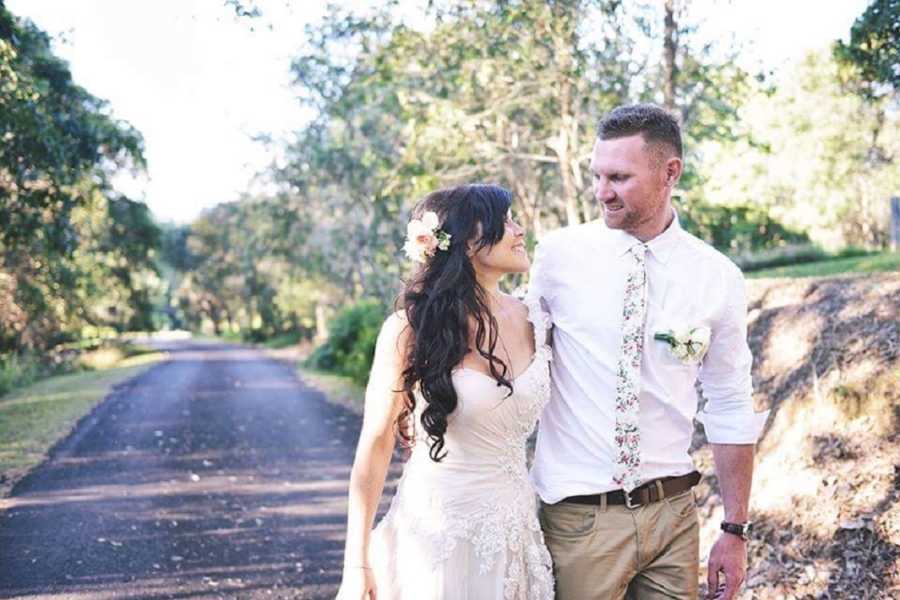 Since September 2016, from the moment we got married, we started talking about family, our future, the children we dreamt of, what we would do differently from our childhoods. Our values and morals are the same and we have such love and respect for each other as a couple. Our first miscarriage began when I sat on the floor of our shower, holding our tiny baby in my hands. I was around eight weeks along and it was only a few months after our honeymoon. I didn't even know what I was looking at. I just remember the grief, the pain, the emptiness, the blood. Since that day, we have fought for our future family and we will not give up until we get there. We have lost another two little babies since then, each time just as excruciating. Each time, the lessons and memories are just as hard.
We are so lucky in so many ways, but the mental and emotional struggle has nearly ruined all the good parts of me. In January of 2020, I was prescribed fertility medications to assist with ovulation and egg count after multiple tests came back to reveal I hadn't ovulated for years. My reproductive system essentially could not function on its own. Add the stress and pain from Endometriosis on top of this. My hubby was placed on every vitamin and tablet you could think of. The entire year has been spent tracking ovulation cycles, our doctor monitoring when we have sex, the medications adding extra hormones, and therefore flaring up endo adhesions, causing even worse pain than before. I had to take multiple sick days from my work.
In June 2020, we were told we may not fall pregnant naturally again. Our option at this stage would be to pursue IVF. Being a very natural and spiritual person, I was unable to cope with this news and told the clinic goodbye, saying we would pursue our own journey. After four months of soul searching, women's retreats, new friends, and a stronger bond between me and my husband than ever before, we decided to get in contact with the clinic again and start our IVF journey.
It was all very quick. Our nurse is an absolute godsend. It's strange when you want to be friends with someone who is helping you through such an awful time as part of their job. I got to the point in life where I could no longer function properly or have conversations with anyone about babies or pregnancy. I cut off anyone who would ask 'have you tried…' by literally walking away from them or ignoring them. We have had to let go of a handful of friends when we realized they would never understand and they didn't have our best interests at heart. We joke together that we are practically professionals now. I've had years of acupuncture, yoga, fertility massage, ayurvedic medicine… you name it, we have tried it.
My first IVF medication was taken in a bathroom at work, hiding from co-workers. No one knew about our journey, not even our families or best friends.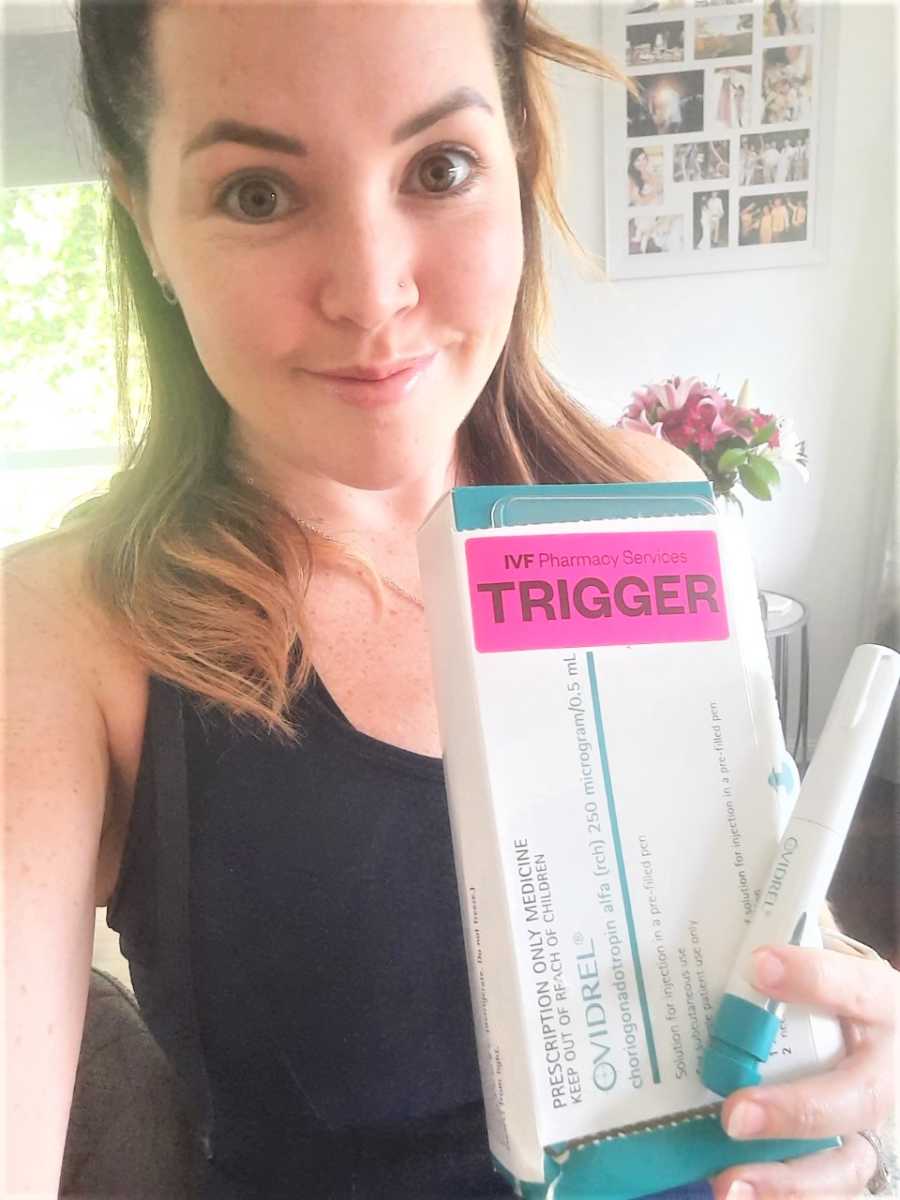 Four weeks ago, our first IVF cycle ended up being canceled abruptly due to hyperstimulation ovarian syndrome. Our transfer was canceled and I ended up hospitalized due to the sickness and acute pain. Our nurse told me that I had ovaries the size of grapefruits! I was angry at the world. I could no longer find the joy I was always so intent on maintaining. Our egg collection was still scheduled as they had to try to drain the fluid. I looked like I was seven months pregnant. The drainage was one of the worst things I ever went through in my life. They are not meant to be painful, yet I remember crying while I sat waiting for my husband, asking myself, 'What the heck just happened?'
At my follow up appointment, my doctor and I decided to try another surgery to check everything out. We will never forget how kind all the nurses and our doctor was during the preoperation and postoperation stages. My husband was allowed to come all the way through to the surgical ward where they put some music on for us through some speakers! I was absolutely beside myself. Even with COVID-19 restrictions, they let my hubby stay with me until I went to sleep. The saying 'just be kind' has never meant more to us than it does now.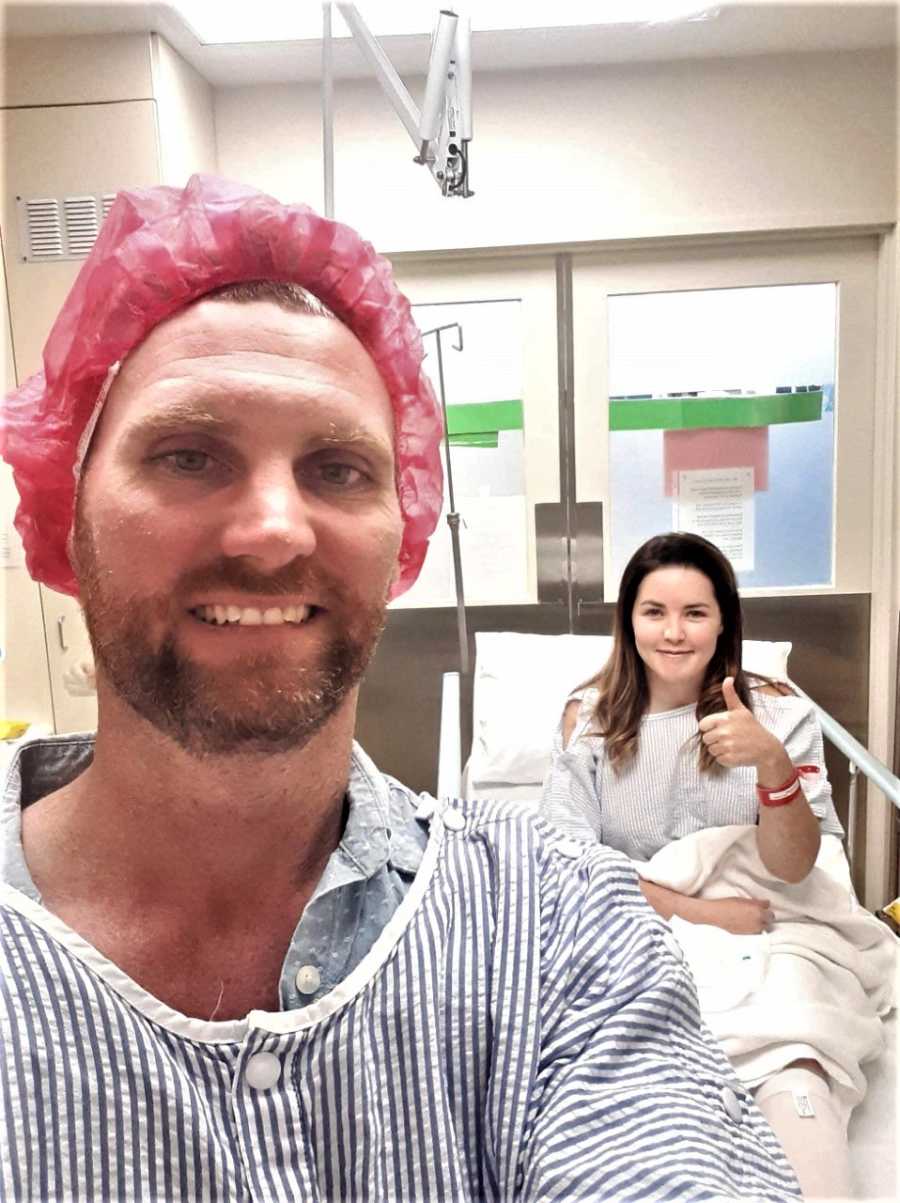 At this point, four days after surgery, my angel Hubby and I have decided we want to help people like us. If we can help just one woman or man suffering from loss and infertility just by telling our story, then that would be enough. I am studying psychology so one day I can be that person for someone to rely on. We are writing a book about our journey and no, we haven't reached our light at the end of the tunnel yet. We will never give up.
We will need to try another round of IVF in order to get to where we need to be next year. But right, now our focus is on healing and being as strong as we can be as a man and wife. We thank God for our amazing friends and the people we have met on our journey. I hope one day I will be able to send you the next chapter in our book when we finally can be the parents we are fighting so hard to become."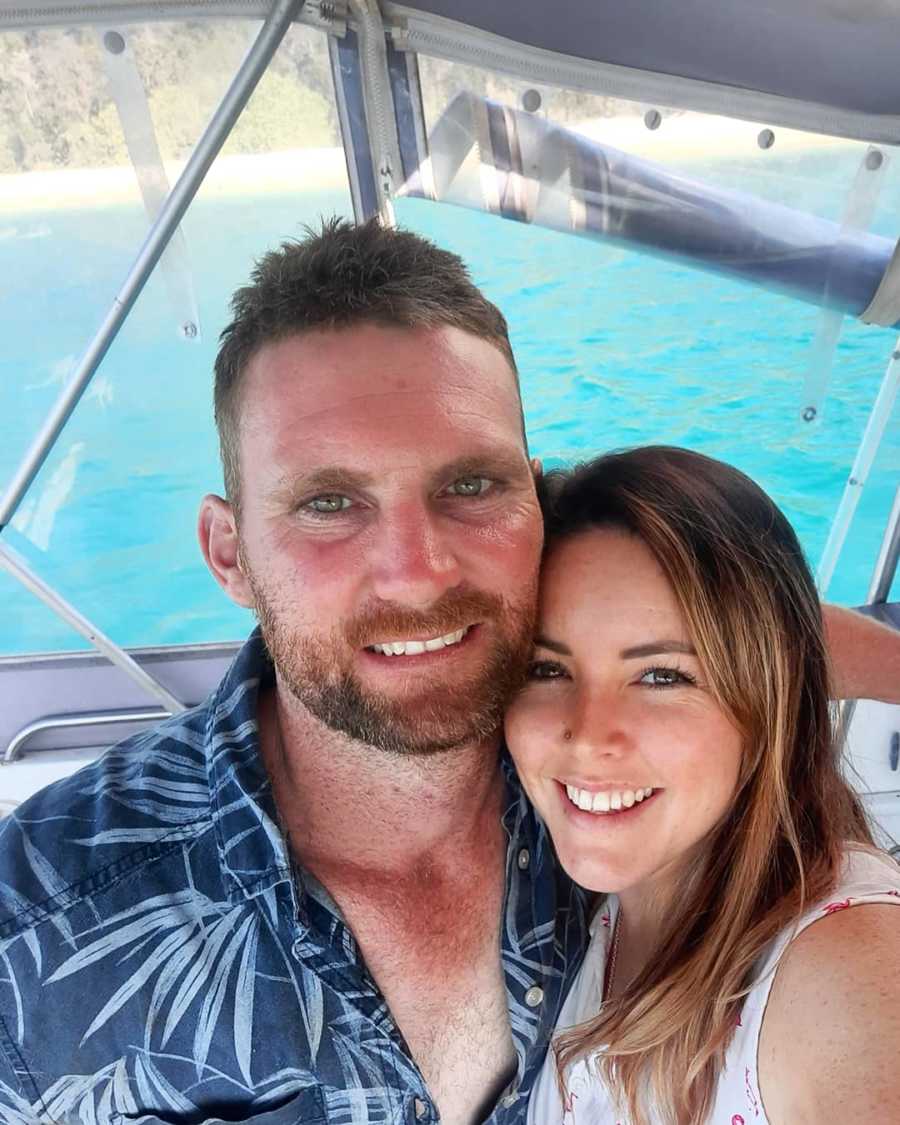 This story was submitted to Love What Matters by Sammie and Chris Curtis from Sunshine Coast, Australia. Submit your own story here, and be sure to subscribe to our free email newsletter for our best stories, and YouTube for our best videos.
Read more stories from endometriosis warriors:
'We usually tell women at this stage to complete their families.' I was only 17. That wasn't an option. I had no idea how unlucky I'd be.': Woman battles stage 4 endometriosis, 2 miscarriages, and hysterectomy
'I want to live in my parents' basement with 13 kids and no husband,' said 3-year-old me. One part is true. Babies, and lots of 'em!': Woman shares emotional battle with Endometriosis, knows she'll someday 'be a mama'
'You need to isolate immediately.' The chances of survival for me are extremely low.' : Woman with asthma, stage 4 endometriosis says, 'I've been fighting my whole life, I don't plan on stopping now'
'He's going to leave you,' it said. I cried and I shook. I wanted to be a mother for as long as I can remember.': Woman with endometriosis keeps fighting
Please SHARE this article with your friends and family to raise awareness about endometriosis!