"When I was a kid, I learned to respect my elders and to look down on anyone younger than me. It was clear parents expected us kids to 'behave' – which generally meant to not be too loud or obnoxious, to get along (don't tattletale), to respect our parents, and to do as we're told.
When I became a parent, I learned the hard way this parenting approach makes children an easy target for potential abuse.
Since then, I've learned that by expecting kids to act their developmental age, by treating them as equals (while still being responsible for them), by listening to their conflicts and helping them resolve them every time they need help, by teaching them how to not only respect others but themselves and everyone's boundaries, needs, thoughts, and feelings, by allowing them to ask questions about everything (including sex and yes, even my parenting), I discovered not only do each of my seven children respect and love me, they also know me better than I know my parents. They are way more accepting of people that are developmentally younger than they are.
This doesn't mean they don't have conflicts or they don't get annoyed with their loud and obnoxious younger siblings.
It means we call each other out on unloving and disrespectful treatment. We hold our safe and accepting space together, and we hold each other accountable within that space.
This shift in parenting hasn't been easy. But the reward has been extraordinary. The bond my kids have with each other and with me and my partner is so much stronger than what I experienced as a kid.
The love apparent in our family is beautiful.
It requires daily work. It's not the kind of thing you set up and let run on its own. But the work gets easier. And the work is bonding in and of itself.
This pic is of our 12-year-old and their 2-year-old sibling, who needed a hug.
I love how much they both enjoyed this moment. There was no disdain for the annoying toddler. Just love.
Some days are super hard relationally. I'm going to hold onto this moment to remind me of how easy some days can be too."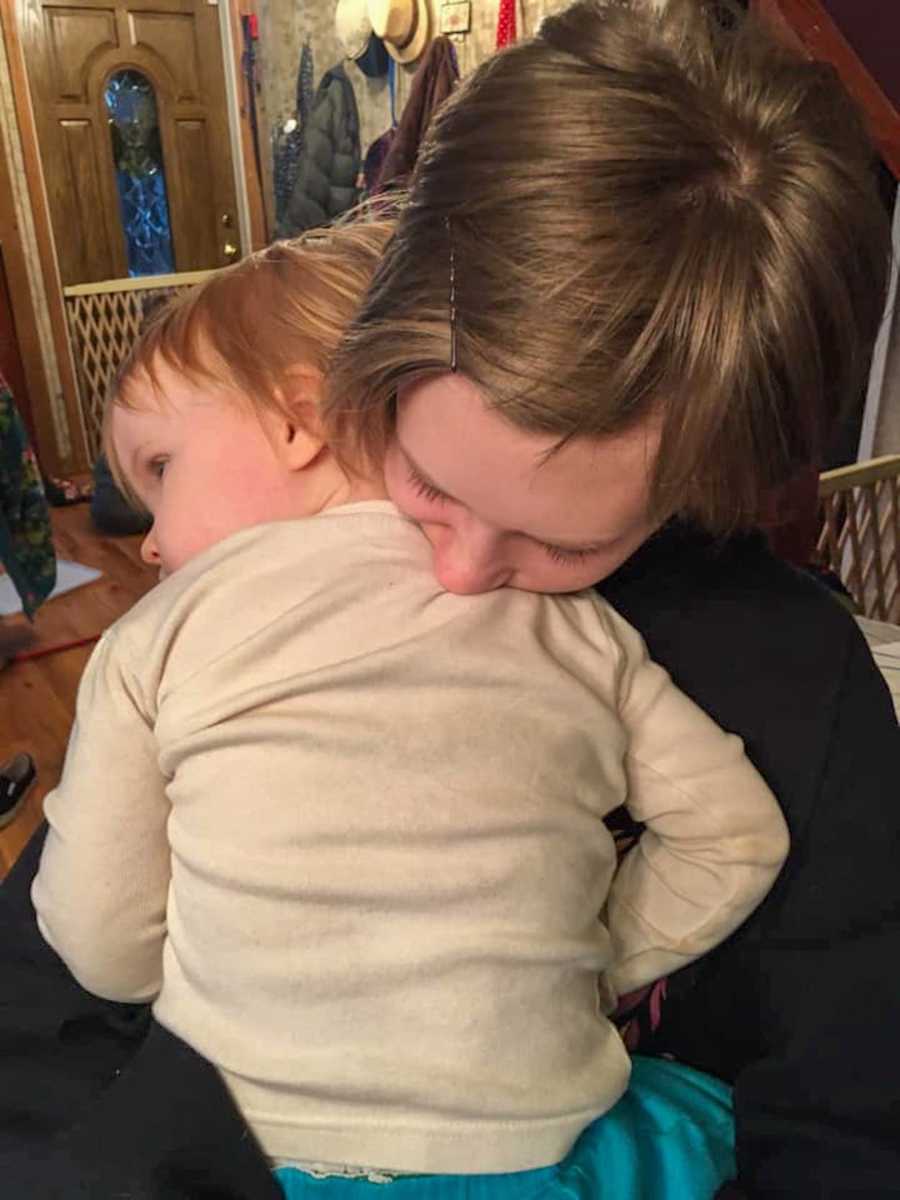 This story was submitted to Love What Matters by Jessica and Jeremy Martin-Weber of We're All Human Here. Follow We're All Human Here  on Instagram here
"When I was a kid, it was clear parents expected us kids to 'behave.' Some days are super hard. I'm going to hold onto this moment to remind me of how easy some days can be, too."
. The article originally appeared here. Submit your story here, and be sure to subscribe to our best love stories here.
Read more stories from Jessica and Jeremy here: 
'She came to us asking why she felt so much anger. Jeremy gave her a hammer. The slightest thing sets her off, boiling just under the surface.': Daughter 'relieved to know she wasn't alone' after parents help her to 'release anger safely'
'She growled that nothing was wrong. She skulked off. 'Would you like a hug?' She paused, and moved closer.': Mom's heart aches for daughter whose friends 'never have time for her'
Do you know someone who could benefit from this story? SHARE this story on Facebook with your friends and family.