A Unique Wedding
"I was never a girl who fantasized much about weddings. Getting married was never on my to-do list. I knew I would only get married if I was absolutely sure I found the right person. Eventually, I met Jack. We were both completing our 200 hour yoga teacher certification in Costa Rica. He lived in Boulder and I lived in Austin, so I wasn't sure how things would work out, but after a couple visits when we were back in the states, I decided to move out to Colorado and see where things went. Just before my move, my maternal grandmother passed away. She and I were very close. She lived down the street when I was really little, so we spent a lot of time together. My husband, Jack, never got to meet her, but I felt like she was waiting for me to find the right person.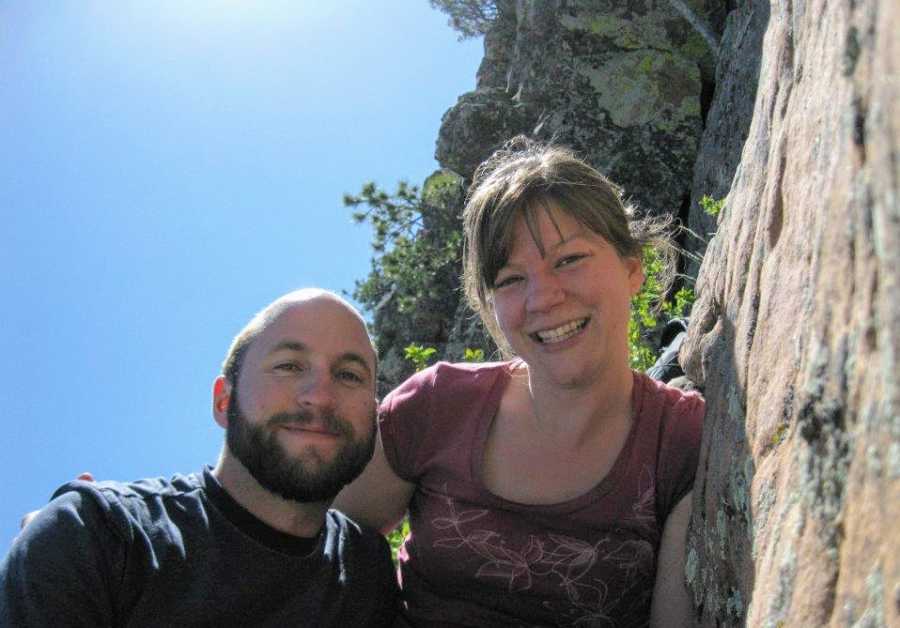 When Jack and I got engaged, I knew I wanted a different sort of wedding. A small wedding was out because my dad was one of six kids– I have a lot of amazing cousins, aunts and uncles! I wanted it to feel small, though. I wanted everyone we invited to know that they mattered, and to feel like they were a part of our wedding. We decided on a Quaker-style wedding. My best friend growing up was Quaker, so I was familiar with how a Quaker wedding worked. Basically, the couple shares their vows, and then the floor is open for anyone who wants to share a blessing for the couple.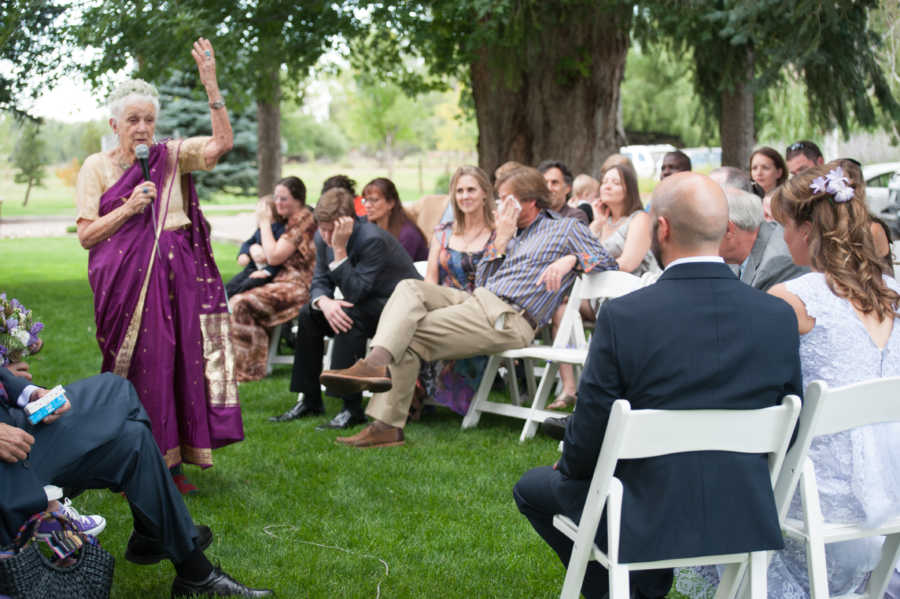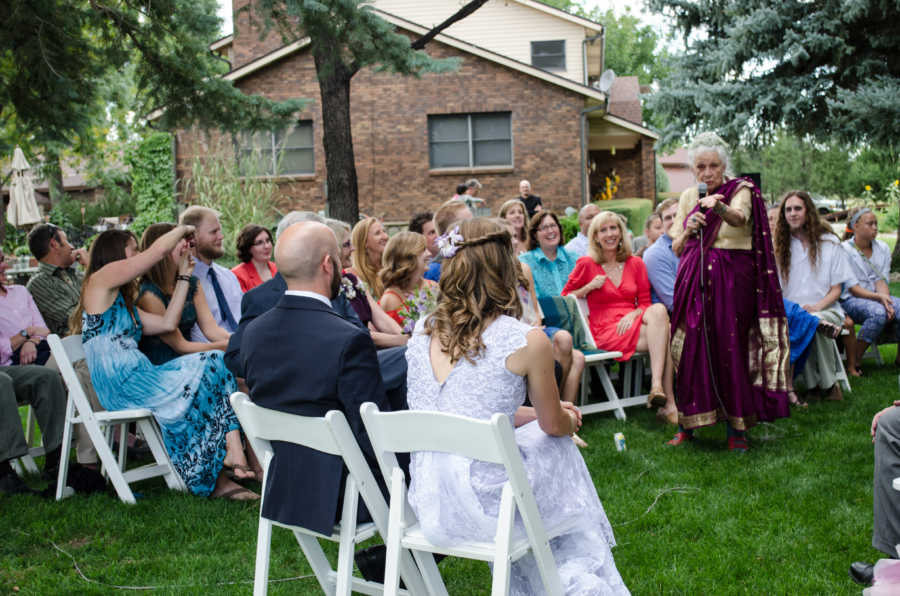 Family Affair
We worked our own personal touches into every moment of the ceremony. We both had both of our parents walk us down the aisle, and we decided on having multi-generational flower girls. Both of these choices were significant for us because we decided not to have any bridesmaids or groomsmen. Our parents and our flower girls were our wedding party. My mom made flower girl dresses for our nieces, and my paternal grandmother was our third flower girl. She wore a purple sari that I had bought when she took our family to visit her childhood home in India back in 2006.
For our best stories, subscribe to our free email newsletter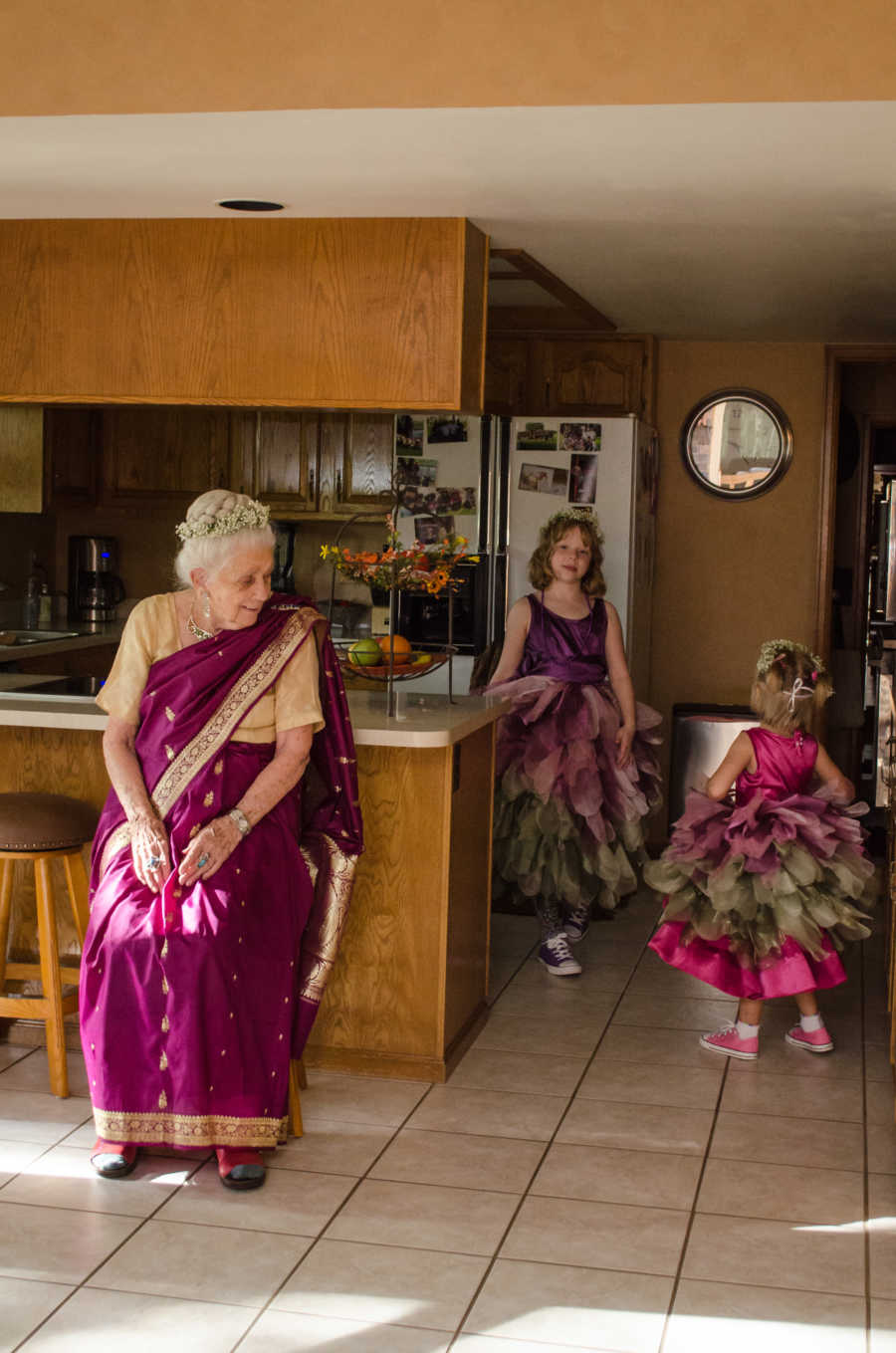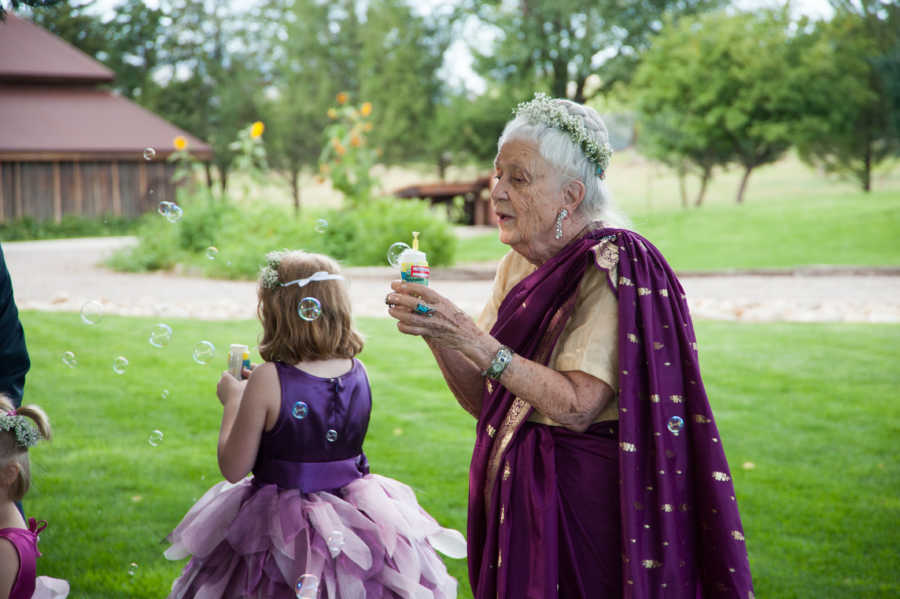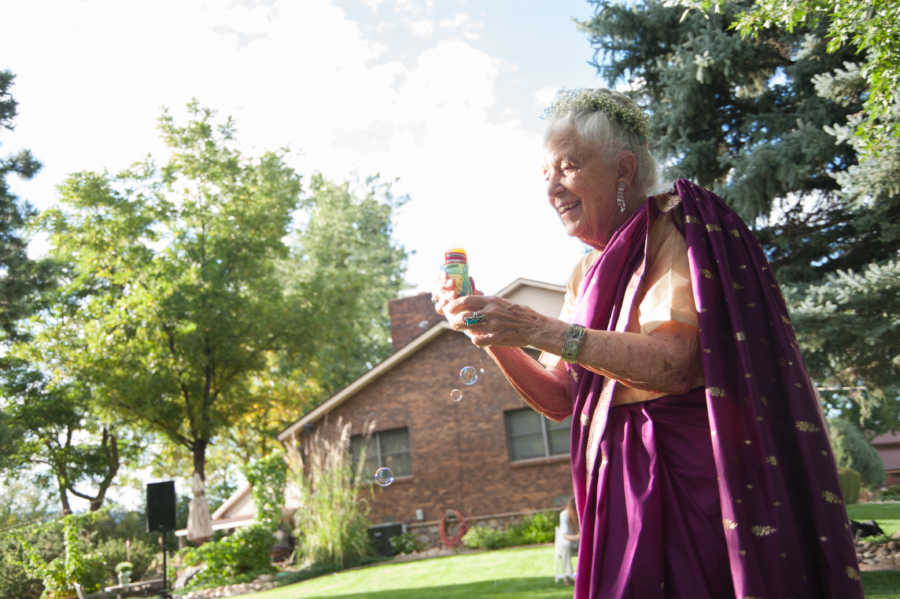 My Grandmother
It meant a lot to me to have my grandmother be a part of my wedding, especially since I had recently lost my other grandmother. My Dad's mom was equally influential in my life, and it felt like a way of honoring both of these strong women who helped me evolve into the person I am today. My Dad's mother was born in India in 1920, and lived there until she went off to college. Her parents were medical missionaries, and she went on to medical school herself at a time when women weren't becoming doctors. I feel so lucky that I was able to travel with her to see where she grew up. I've traveled a lot, but our trip to India was so rich with personal history, it was unlike any other trip I've been on.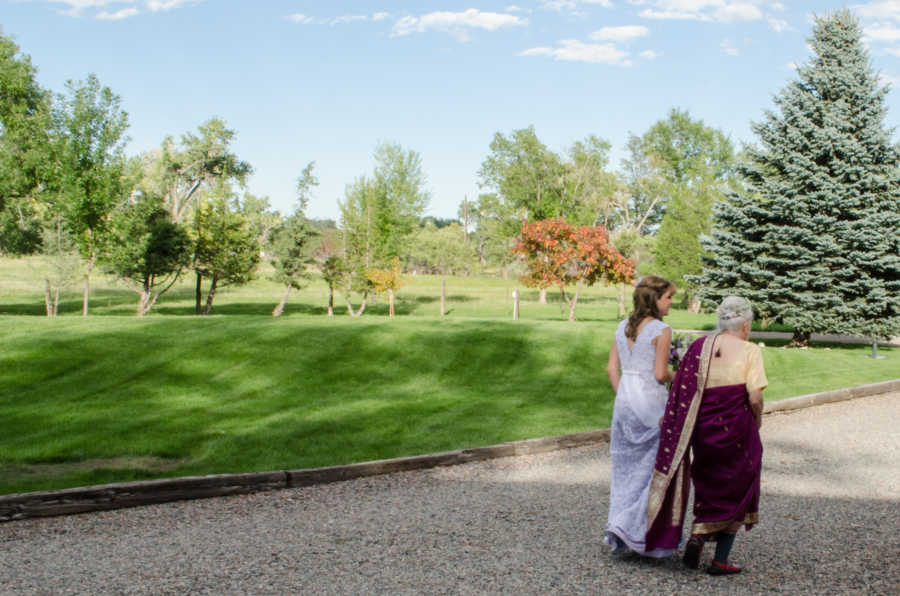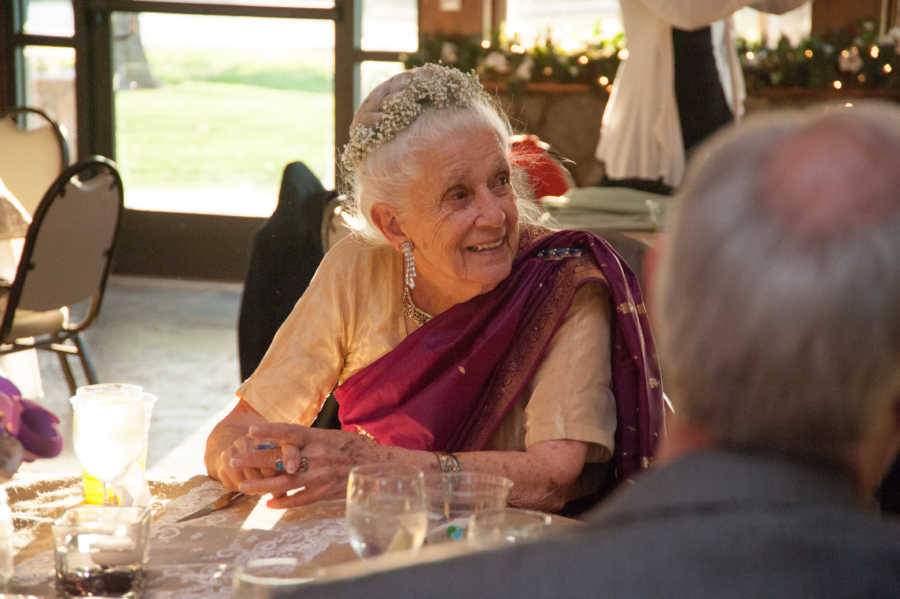 As a child, I remember thinking that my grandmother was the wisest woman I know. Her stories of growing up in India have shaped my sense of how I fit in the world, and her trailblazing spirit has inspired me to believe in my ability to carve my own path. Following her down the aisle felt so right, I just knew that I was exactly where I was supposed to be: loved and in love, and sharing that with the world.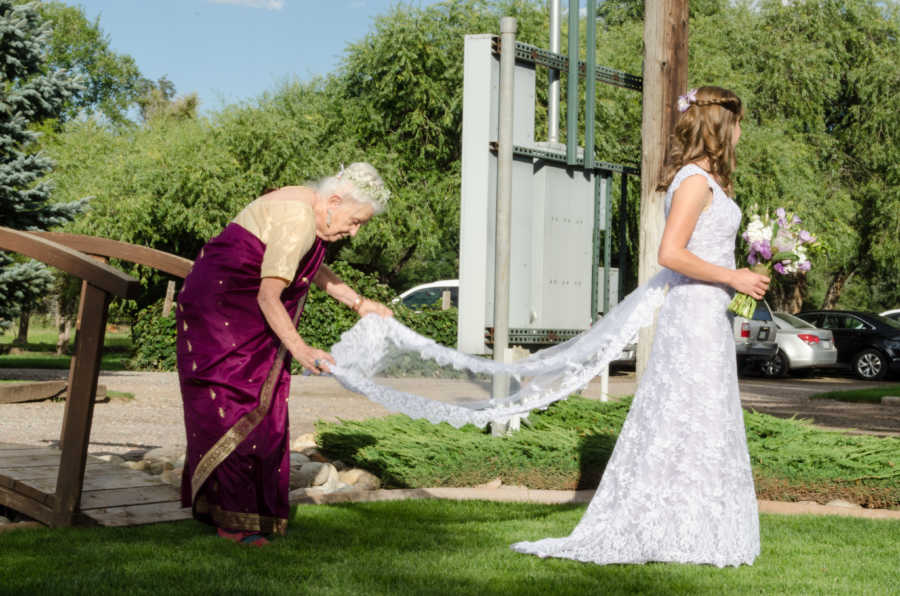 Our bond and our marriage are stronger for all of the support we received and the heartfelt blessings that were shared with us. I will never forget my grandmother's presence or the tears in her eyes when she stood up to speak. Her blessing was beautiful:
How could I have lived so long to be a flower girl at your wedding? All the blessings from way back come forward through the two of you. The future holds great promise. It doesn't seem like it, but when I look at this group, when we Om'd together, what a blessing. What an absolute blessing. Thank you. Thank you for finding each other, and for bringing us all together. This is a true blessing. And I know that my parents, and their parents, and your parents' parents parents on back, our forefathers, speak through me that the future is in good hands. Thank you. Thank you for being you.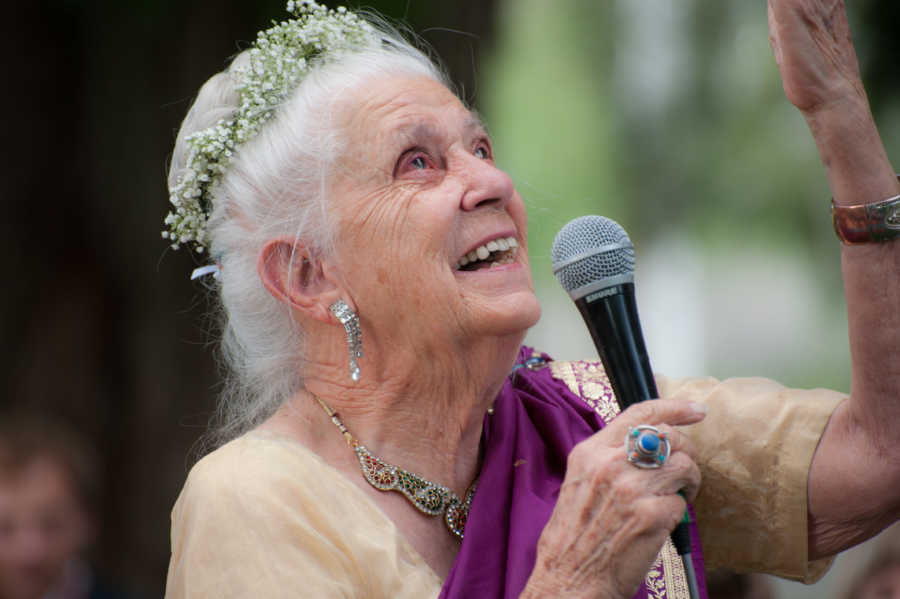 I hope I am able to carry on her legacy of love to my own children and grandchildren. I hope that my daughter will one day look back on these photos and see the strength and beauty of the women who came before her. I hope she gets an opportunity to know my grandmother well, but I know she's leaving a strong legacy that shows through in all of our stories, photos, and memories."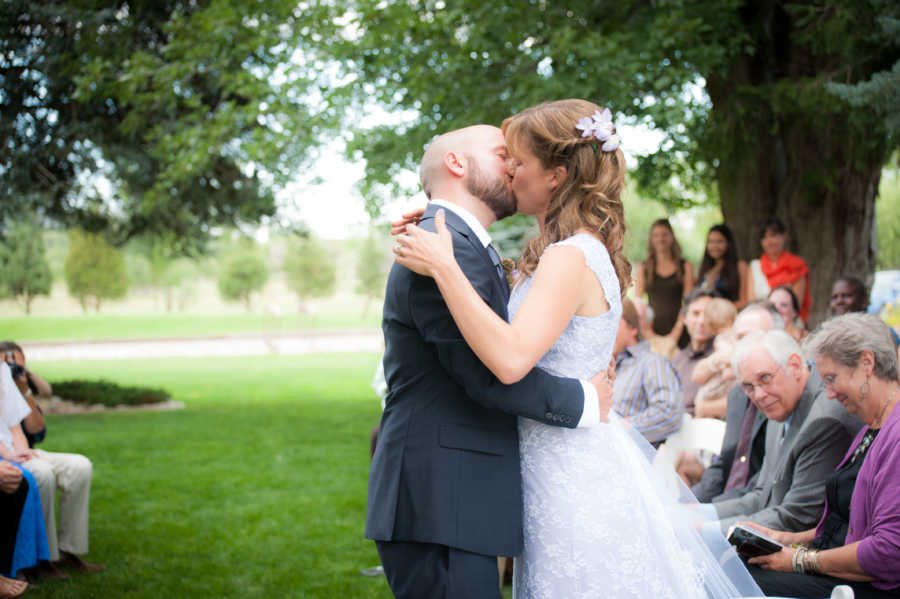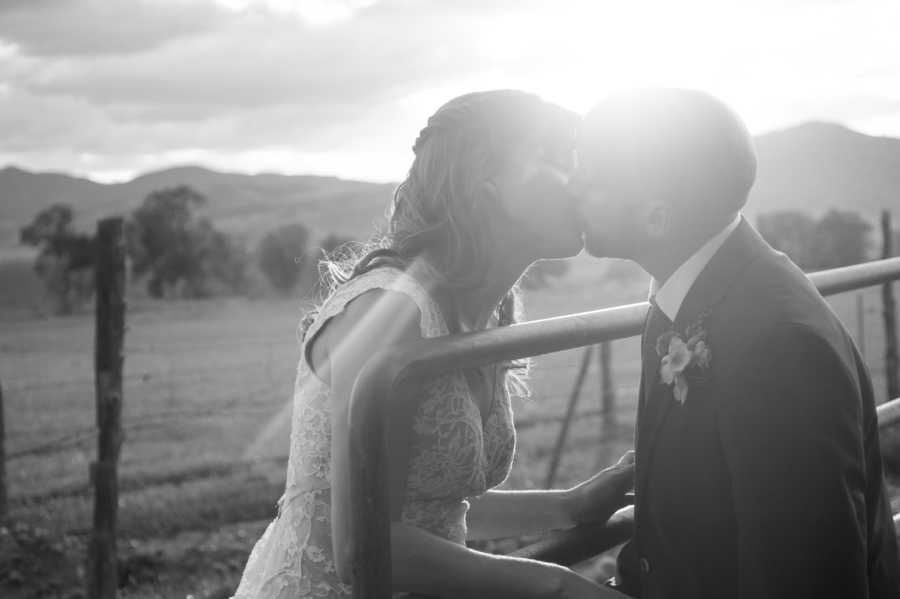 This story was submitted to Love What Matters by bride Julia McGarey and her photographer Kristi Miller of KAMera Photojournalism. Submit your own story here, and subscribe to our best stories in our free newsletter here.
Read more stories like this here:
'People stood to see what was wrong with the screaming kid in the back of the plane. 'Call me Grandma Jackie.': Mom praises flight attendant's kindness, 'She went above and beyond'
Grandma Who Sounds Just Like Stevie Nicks Is Taking The Internet By Storm
'She was there in the toughest times of my life.': Grandma's sweet reaction to finding out she'll be moving in with grandson
'Just leave it all, sweetie. Leave the mess. It means you were around today, and a little piece of you is still here.': Grandma shares sweet reminder to 'never take life for granted'
SHARE this beautiful story on Facebook if you believe in the wisdom of grandparents!