"Lean into the unexpected. You'd be surprised where it takes you.
Adeline Blake Manna Quarello was born on July 21st, 2020 in the middle of a pandemic in a cold OR. I had a planned c-section three weeks before my due date because of some tremendous pain and stenosis in my upper cervical spine. I was so excited to not be pregnant anymore and to meet our daughter that I practically skipped into that OR. Despite the crazy pandemic circumstances and the anxiety I carried inside about experiencing my first major surgery, the room was full of a beautiful energy. My pregnancy had been long and arduous, but I had made it through with the help of my incredible husband, family, and a team of doctors. It was time to be on the other side of all that I had endured to finally meet our baby girl! I was expecting another big baby (my first born, Charlee, was close to 9 lbs!) who was most likely dark haired and healthy. Our baby girl had passed all her testing and grew on track throughout my entire pregnancy. While on the table, I remember thinking about whether she'd be spicy and sweet like her older sister, or more mild tempered and chill? What would she look like, sound like, feel like?! It didn't matter either way, but it was fun to daydream about.
Less than five minutes after the c-section began, my OB asked if we were ready to meet our daughter! She raised her up over the curtain and this adorable floppy baby with long arms and legs peeked out. Everyone screamed 'Congratulations!' as Adeline Blake Manna Quarello cried out. My husband and I cried a sigh of relief ourselves as we heard her little voice. I was at peace. What I didn't know at that beautiful moment was that my entire world as I knew it was about to erupt into a completely overwhelming earthquake. From that moment on, my life's perspective was about to crumble, and I was to learn that the only option for me was to lean in.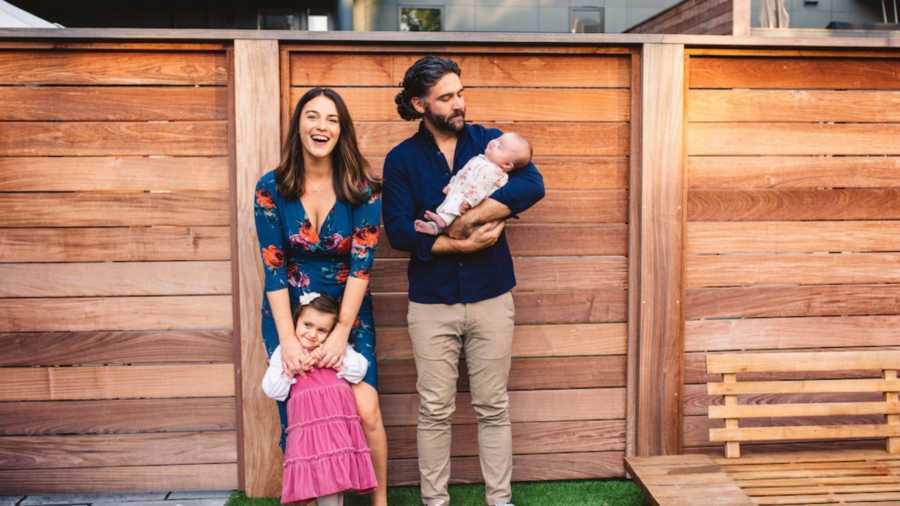 My husband Matt and I were blindsided shortly after Adeline was born when the doctors made it clear that she had many markers of Down syndrome. I experienced every emotion you could imagine: shock, denial, grief, anger, sadness, trauma. This new reality was so heavy as I was simultaneously mourning the loss of the baby I had day dreamed about, while caring for my newborn with special needs. I would look at her sweet face and feel such devotion and love, while also feeling scared out of my mind. It didn't feel real. Those first few months were a complete blur. The plans we had made for our life and family halted right in their tracks. Instead of snuggling our new baby during the day, my husband and I were on the phone with different doctors, making appointments with every type of practitioner. I was given an enormous packet of information on Down syndrome and Early intervention, both of which were completely foreign to me. I was booking Adeline appointments at the cardiologist, geneticist etc., while Matt had a separate list to go through and book. I felt like I had been catapulted into a new dimension with no time to truly process what was happening because I had to care for my new baby, and that of course came first.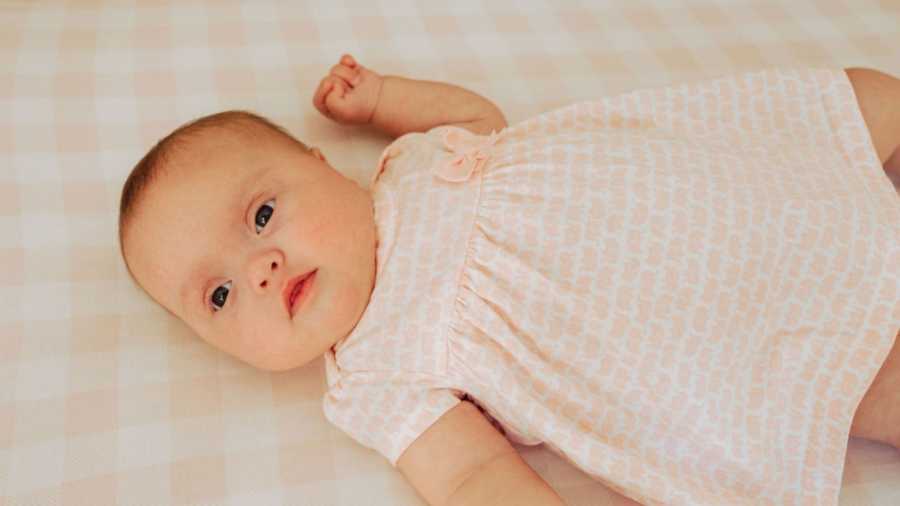 So what did I do? I leaned in. I decided to stop just surviving those early days and try to take control of my own narrative with Adeline in my life. I had fallen in love with her and accepted her for exactly who she was from day one, but my mind and body had not met me at the same place yet. So I took control. I announced her diagnosis publicly on October 1st of 2020, which marked the first day of Down Syndrome Awareness Month. The response was incredible. The outreach, love, and support cemented that I had the most incredible support system of loving family and friends. It was remarkable and truly helped me start down the path of healing. It gave me the courage to join a support group of 45 plus women, all mothers of children with down syndrome born in 2021.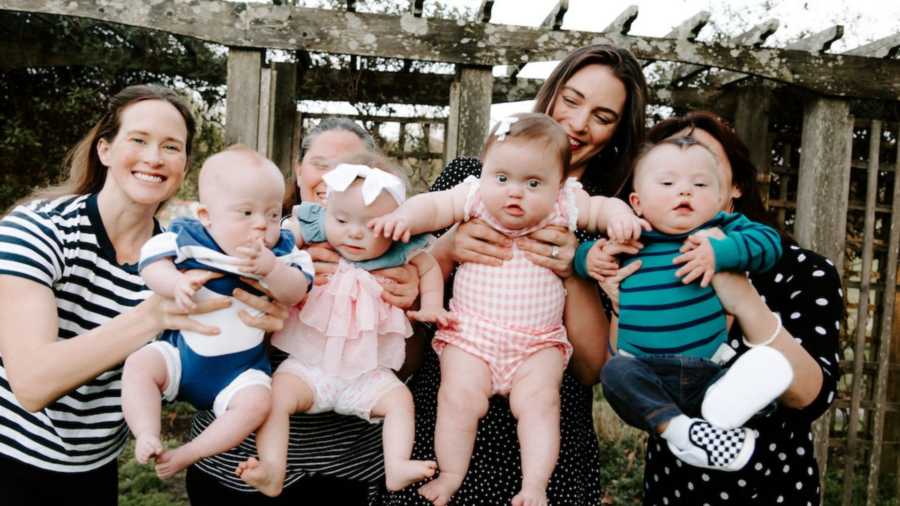 What I gained in return from joining this group is honestly more than I can put into words.
Every thought and feeling I shared, whether it was something I was proud of or not, was accepted. Every time I expressed a doubt, another mother in my support group felt it too and carried my pain alongside hers.
This support group, of which I am still actively a part of today, sparked an idea and fire within me which has grown into my now full-time purpose. I met Taryn Lagronigro within this group, and we became fast friends. We bonded over having children with Down syndrome. My daydreams changed from wondering who my daughter would look like, to how I can change the world around her to be better. I was beginning to find my feet as Adeline's Mom, and every day I got stronger and stronger. Taryn and I bonded on exactly this.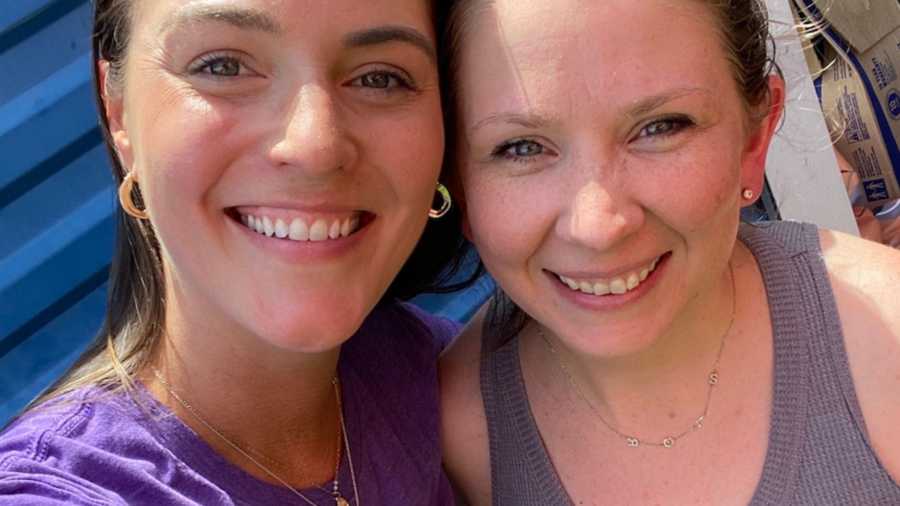 The power of community saved my life. I reflected on the impact of that and Taryn and I founded www.ExtraLuckyMoms.com. We wanted a place of refuge and relief. A place where all people could share in changing the narrative surrounding what a life with a child with special needs is like. We wanted to encourage others to lean in. To reach out. To let go of their expectations, and allow their children to surprise them with their resilience.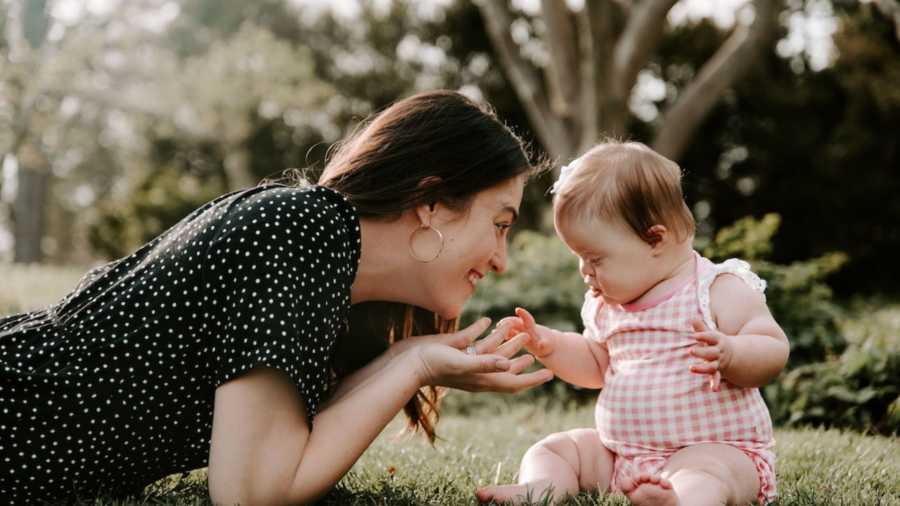 You see, Adeline turned one this week, and if I could have seen even a glimpse of who this beautiful child would be back then, I would have felt hope much sooner than I felt fear. Adeline is the sun. She is the brightest light in any room and inspires me daily. She works hard to accomplish things that I have always had the privilege to do easily. She has completely changed me for the better.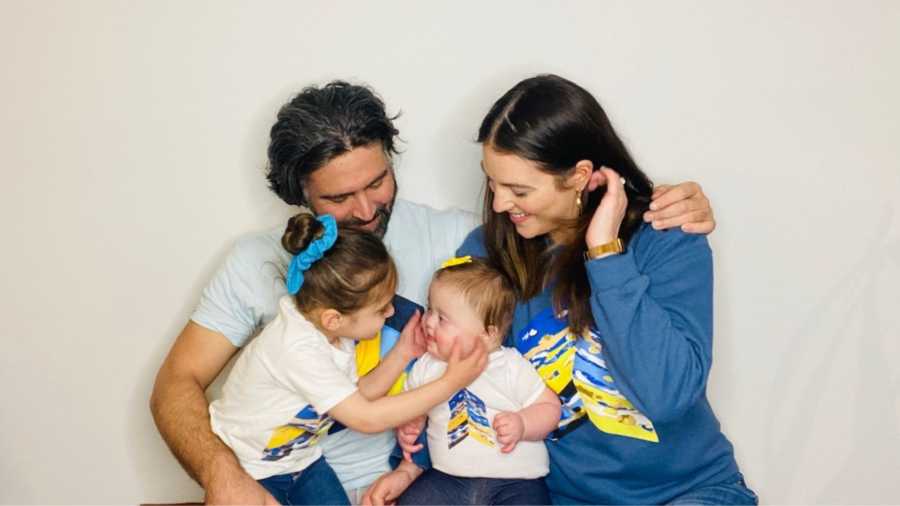 At Extra Lucky Moms, a part of our mission is to celebrate the big, the small, and everything in between. I wish I had done this before I had Adeline, but I'd be lying if I said that I did. It took falling to my knees and leaning into my reality to make me realize that happiness is a choice. Perspective is everything. I choose to recognize how far we have come over where we wish we could be. I choose to celebrate and advocate for my daughter by starting a community to bless others with what I received.
Who knew that a birth diagnosis of Down Syndrome and 365 days could be so transformative.
I encourage everyone to lean in, because you never know where it will take you. I thank Adeline for guiding me and I can't wait to see what happens next."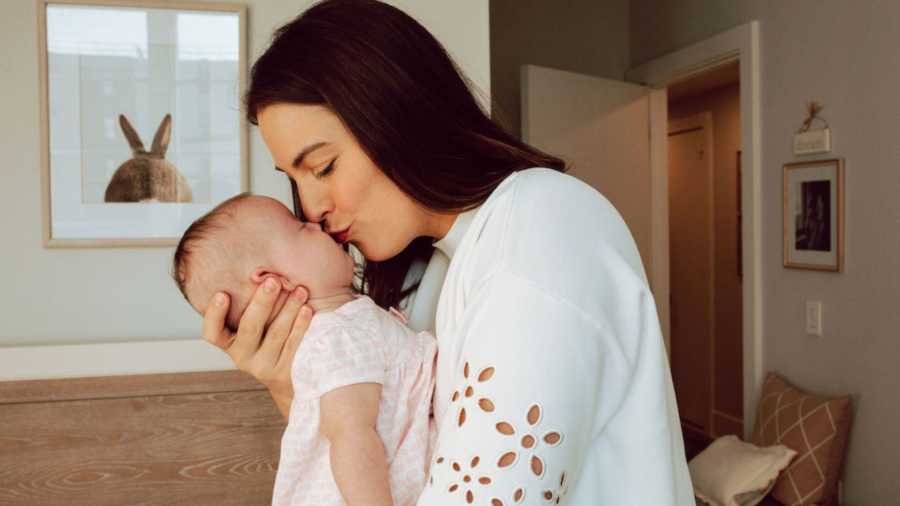 This story was submitted to Love What Matters by Jessica Quarello of Hoboken, NJ. You can follow her personal journey on Instagram, her down syndrome community on Instagram, and her blog. Submit your own story here and be sure to subscribe to our free newsletter for our best stories, and our Youtube here. 
Read more powerful stories like this:
'Will they hold her like I do?' No, they won't. I'm supposed to protect you.': Mom advocates for her children with Down syndrome, dyslexia, and dysgraphia, 'Our differences should be celebrated'
'Stop Googling. Enjoy that little baby in front of you, exactly where they are at. Because this little person will astound you.': Mom to child with Down syndrome shares 12 touching reminders
'My entire life, I witnessed a person with disability have a joyful life. No matter what her life looked like, it'd be a good one.': Mom births daughter with Down syndrome after advocating for uncle
Do you know someone who could benefit from this story?  SHARE  this story on Facebook to let others know a community of support is available.