"When I was 17, I had this dream of going off to the military and serving my country to the best of my abilities. So, shortly after I turned 18, I did exactly that — I went to my nearest recruiting station and talked to a recruiter about my hopes and dreams of joining the military and then going to school to become an architect. After we spoke I was shipped off to Military Entrance Processing Station (MEPS) a few weeks later to take the Armed Services Vocational Aptitude Battery test (ASVAB) and find my place in the military. I soon found out my true potential when I talked to a Marine Corps recruiter and loved the excitement and challenges that were ahead of me! I was only 18 at the time and was ready to jump in and do whatever was asked of me.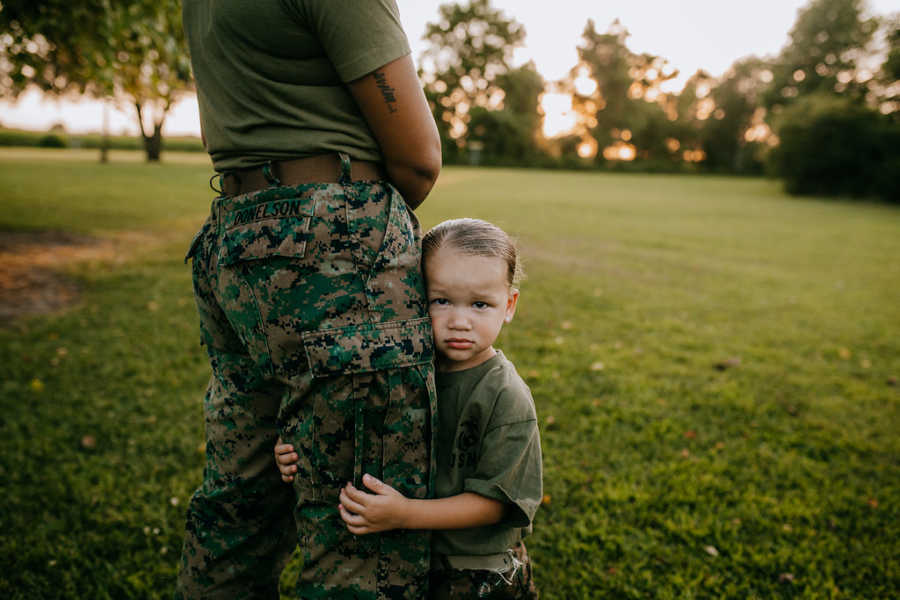 March 12th, 2014, I swore into not only the military, but the United States Marine Corps, and left for boot camp shortly after that. I took a plane from my hometown to Georgia, then from Georgia to Beaufort, South Carolina. It was the most nerve-wracking night of my life, and I am woman enough to admit that now. I specifically remember getting to the airport in South Carolina, and the bus driver that was taking us to the island reminded me of Patricia Belcher from the 'Jeepers Creepers' movies. She was so kind and soft spoken, and she told all the girls who were wearing makeup to quickly go wash their faces and toss out their earrings and non-expensive jewelry because she said we would become easy targets for the drill instructors once we got to the 'yellow footprints.' We very thankful she warned us ahead of time.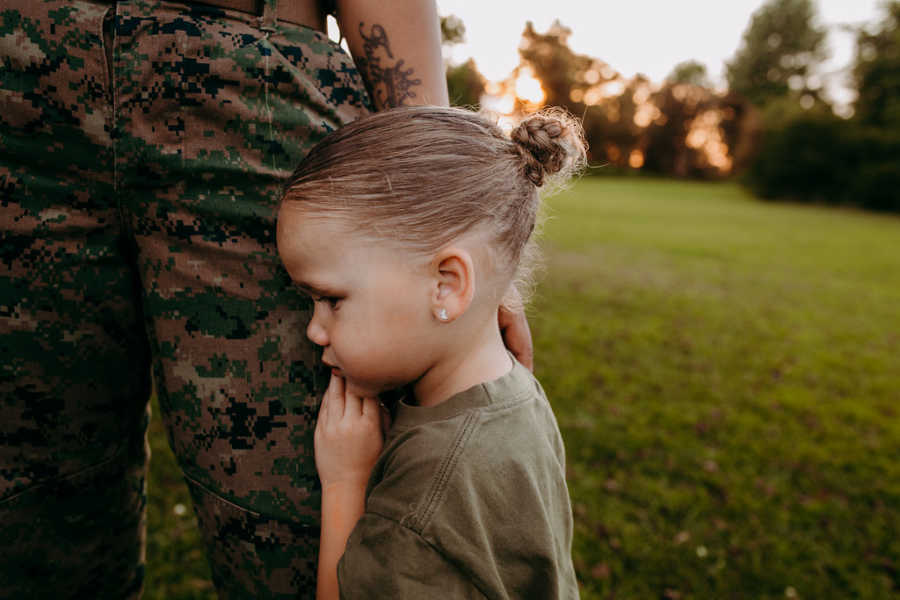 We loaded on the bus two per seat, males in the back and females in the front. The bus driver came over the speaker in a very sweet voice and said, 'Ladies and gentlemen, we are about to depart to your new home for the next 3 months. If you are so lucky to make it to the end, it will be the best, most rewarding thing you ever do in your life, so don't take it lightly; however, keep your head down on this bus ride and don't make a sound unless spoken to. Good luck future Marines, the world is in your hands. Make America proud.'
Next thing I remember was a blur. Drill instructors screaming, things flying across the room, phone calls being made, getting shoved into a classroom for a few days, training for 3 months non-stop day and night, and then graduation day.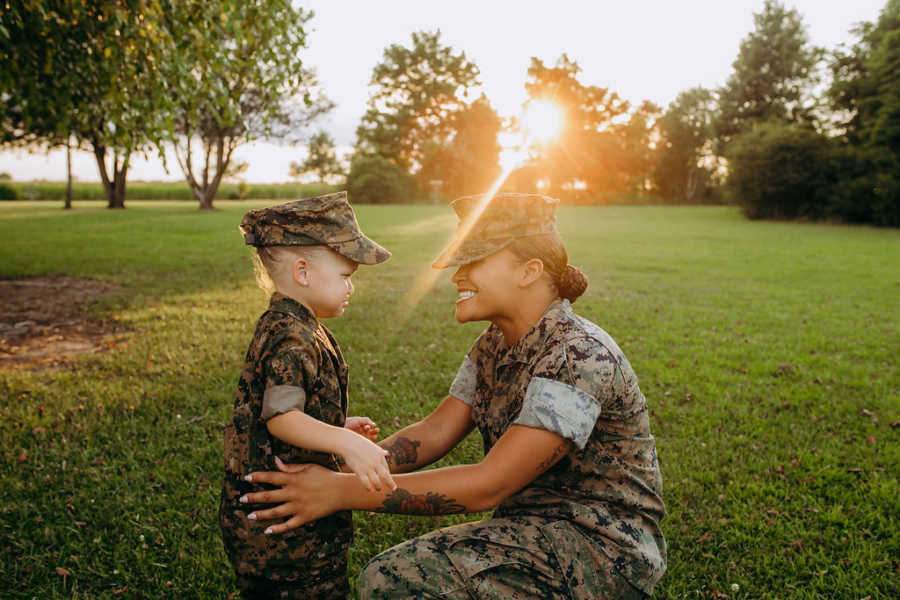 The next few months I went through Marine Combat Training (MCT) and Military Occupational Specialty (MOS) school, where I stumbled across a young male Marine who became my husband and gave me this beautiful baby girl in these pictures. I got pregnant shortly after hitting the fleet and that's when reality set in. I would work out almost every day when I was pregnant. It was tough but I wanted to be able to recover quickly once I had her. I went through many training periods when I would have to leave my daughter with my husband's parents and with friends. It's a very rough time as a parent when you have to sign a form in the military stating you will have someone watch your kid at all times during your training periods, and your child has no understanding as to why they have to see you on Skype instead of coming home in person, or why they see you for only 3 days before you're gone for 3 weeks again.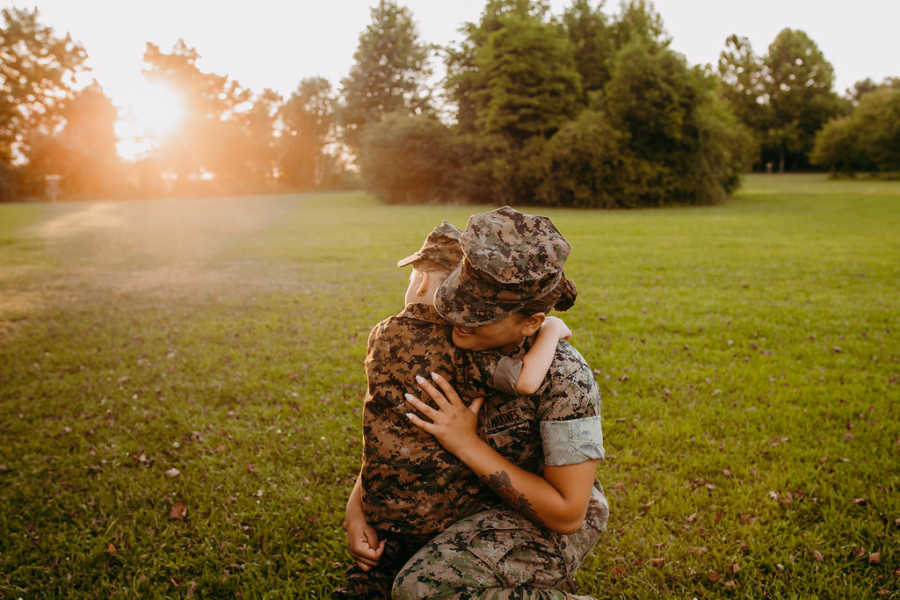 My daughter's father is deployed to Afghanistan for what was supposed to be a 9-month tour, which has turned into an 11-month tour at the moment. Our daughter has been confused because she only gets to see him on Skype and he has to tell her he's at work, so when I would tell her I was on my way to work, she would cry because she would think I wasn't coming to pick her up, which would break my heart of course but there was nothing I could do at that point.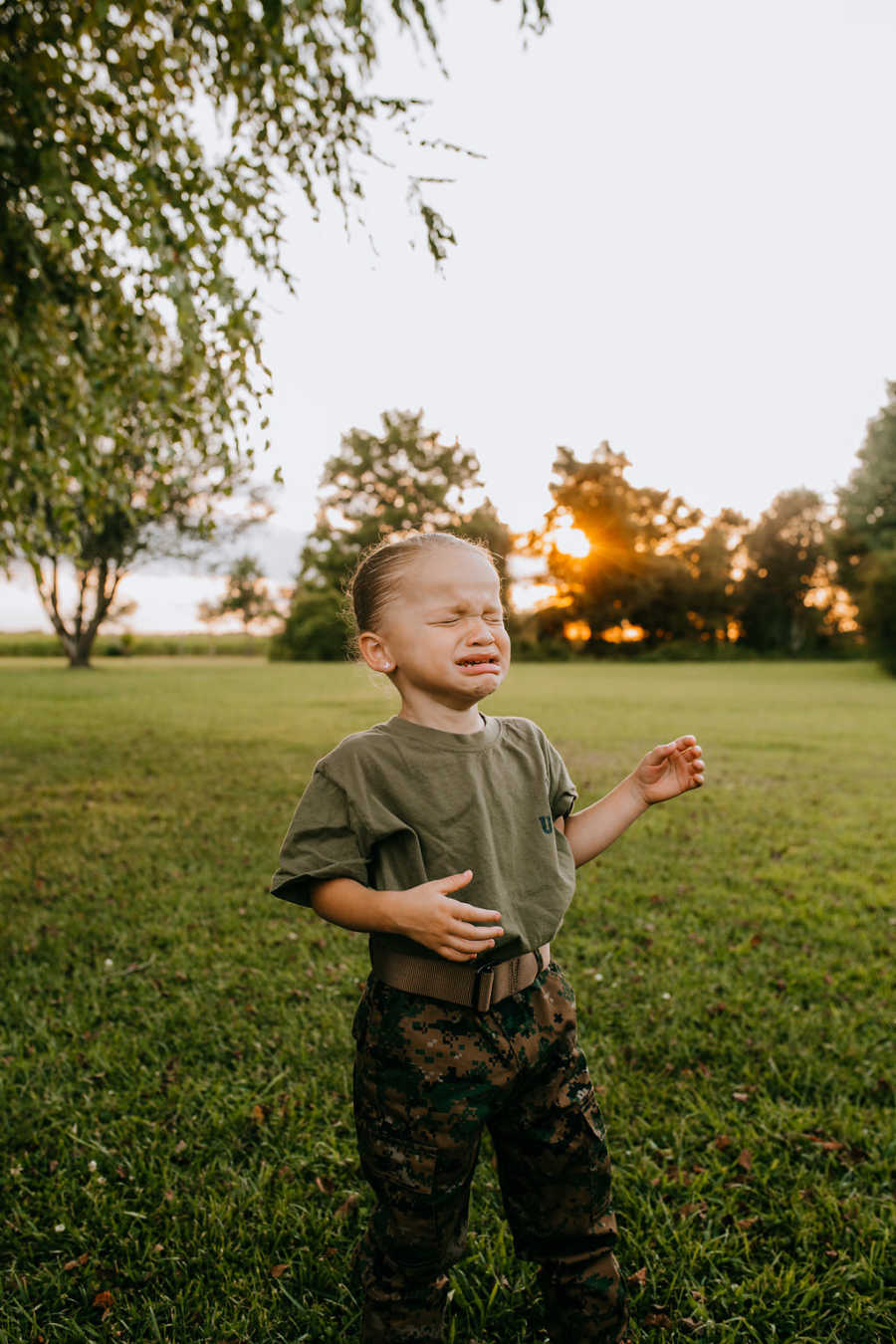 This is why I decided it was my time to fold up my uniform and come home to our daughter every single day. Don't get me wrong, I loved being a Marine and I plan to rejoin once she is older. I know there are plenty of Marine Mommas and Daddies that make it work on a daily basis, but I did not have my biological parents growing up and if there is one thing her dad and I can give her, it will be just that… to be present.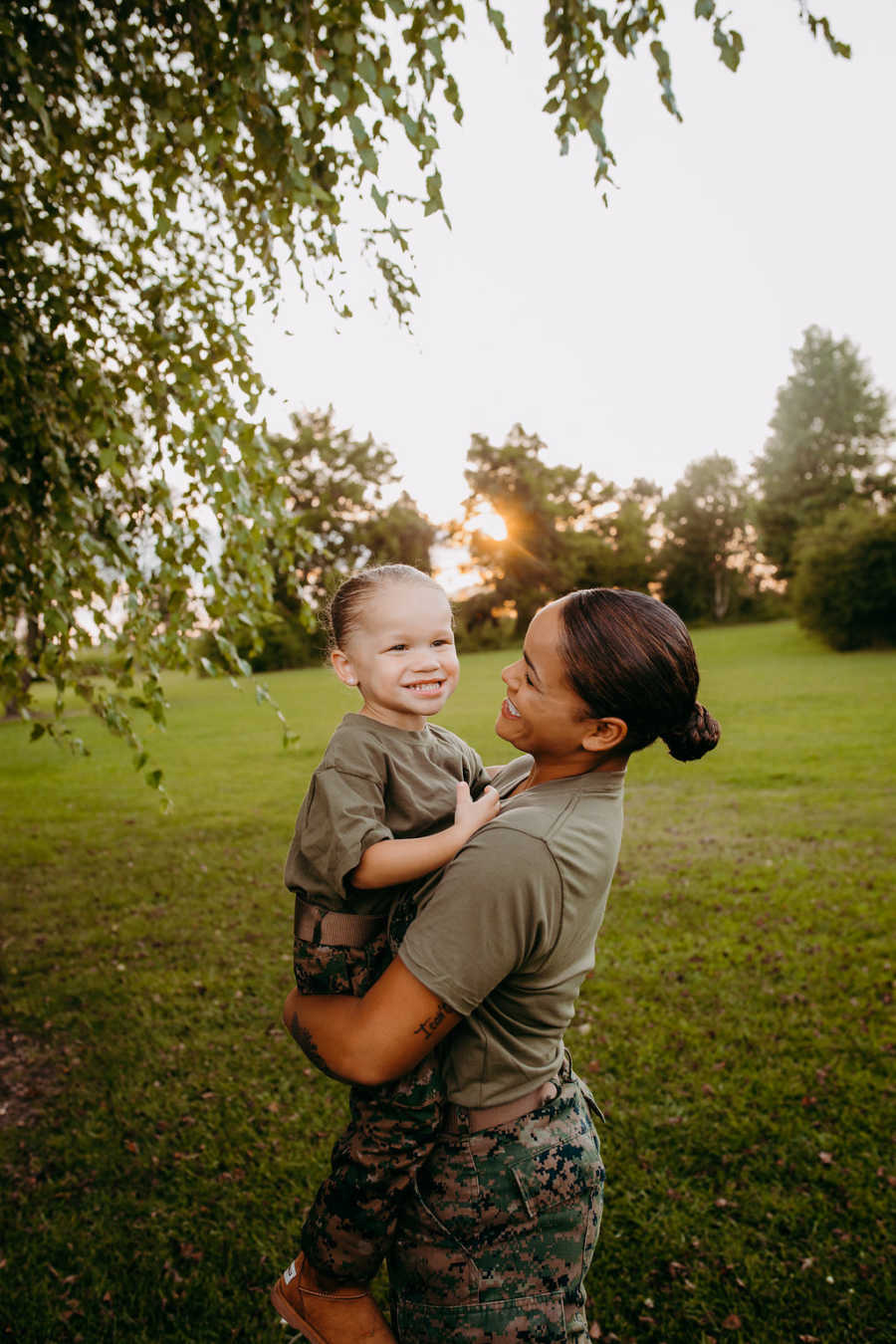 On June 22nd, I received my DD Form-214 and I have started my new job, am going back to college again for architecture, and I'm trying to give our little girl the best life and gift I can give her — a Momma and Daddy she can be proud of."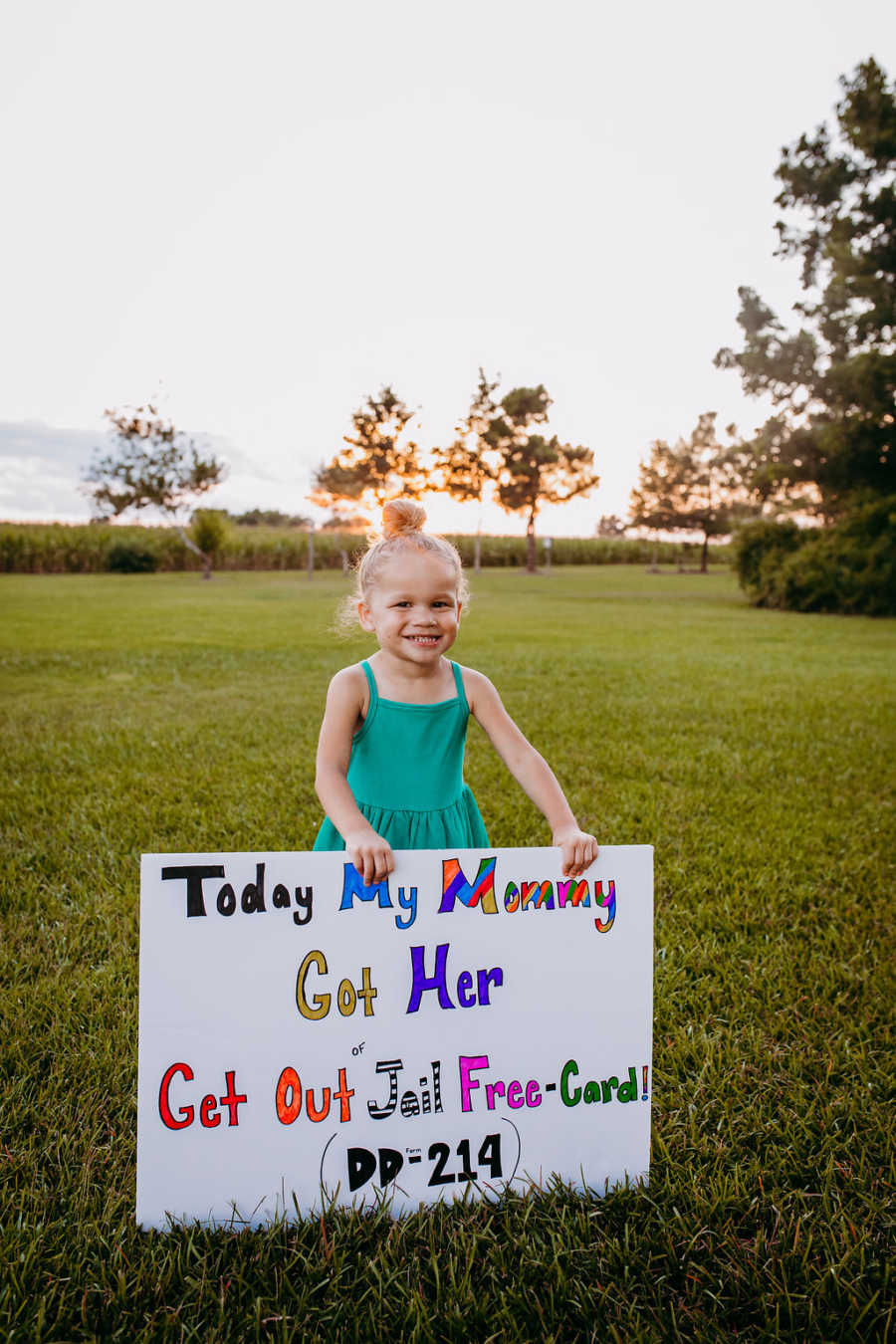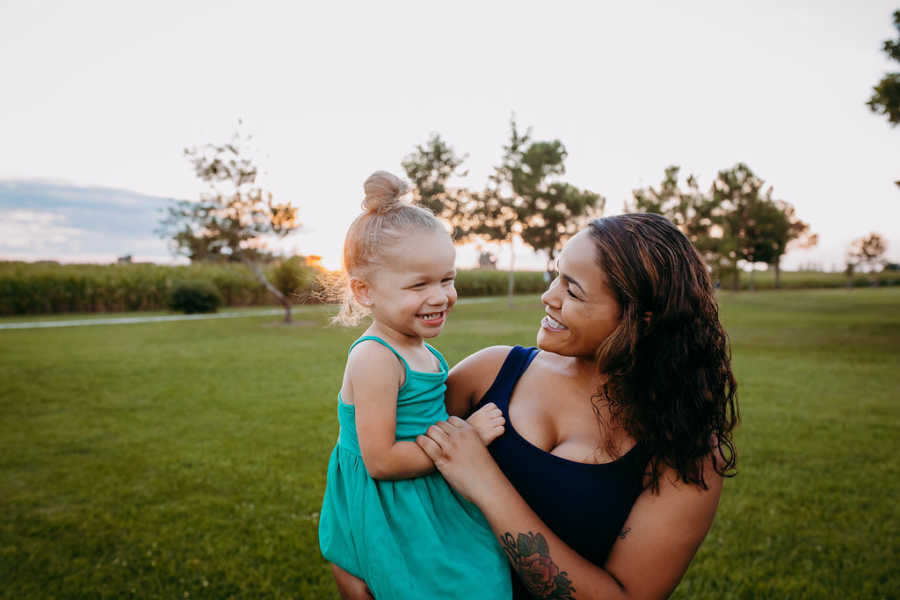 This story was submitted to Love What Matters by Mercedes Fitch-Donelson of North Carolina. Submit your own story here, and subscribe to our best stories in our free newsletter here.
Read more stories like this here:
'I have two toddlers that need a place to stay.' He was nonverbal, drug-exposed, and had a brain lesion. We were terrified.': Military family adopts brothers from foster care, 'Miracles happen every day'
'They have the sweet, enduring love of fairytales.': Family celebrates 75th anniversary with wedding great-grandparents never had in midst of WWII
'How do we fully express gratitude to those willing to sacrifice more than we could ever imagine?': Wife finally finds the words to thank military members
'If I get deployed, do you want to get married?' I was married to the military. I was constantly lost, never sure what would happen next.': Military spouse encourages 'love your own dreams again'
Show your love for the active duty heroes around the world. SHARE this story on Facebook.