"The world shifted for me the moment Chuck said, 'I want to have ten kids.'
To be honest, I had barely even noticed our 22-year-old Canadian on our team before this moment. We were in Brazil, nearly two dozen of us digging two fish-raising ponds by hand at a Bible school. The school planned to stock the ponds and raise fish, thereby supporting themselves.
'I want to have ten kids,' Chuck had said to another leader.
'Hey, Chuck,' I said, across the room, 'Do you really want to have ten kids?'
'Yes,' he replied, with a shy smile. Chuck was soft-spoken with bright blue eyes and a smile that lit up the room.
I was 18 and about to start my first year of college. I knew I wanted to have a large family someday. I'll admit, ten kids seemed a bit extreme to me. I wanted lots of kids, 'lots' defined by me as seven or eight kids. Preferably seven, since for some strange reason my brain prefers odd numbers, and nine, well, that was just too many, you know?
At the end of the summer, we parted ways. Me, heading back to Alaska, him to British Columbia, Canada. We exchanged addresses (this was 1994 after all) and began writing back and forth. After five months of writing, Chuck came to visit me in Alaska and proposed to me. On the beach. On a chunk of ice. In January.
Chuck and I married in May, less than a year after we had met and spent our summer sweating together at the equator. When people questioned our judgment at marrying so soon, I would respond with, 'Well, we lived together for 2 ½ months, so I figured we may as well get married.'
Our first baby, Adalia, arrived less than a year after we were married. 17 months later came our first son, Judah, and 12 months after that, Tilly. Then along came Enoch and twelve months later (they actually shared the same due date a year apart) Kalina. I gave birth to five babies in five years and one day.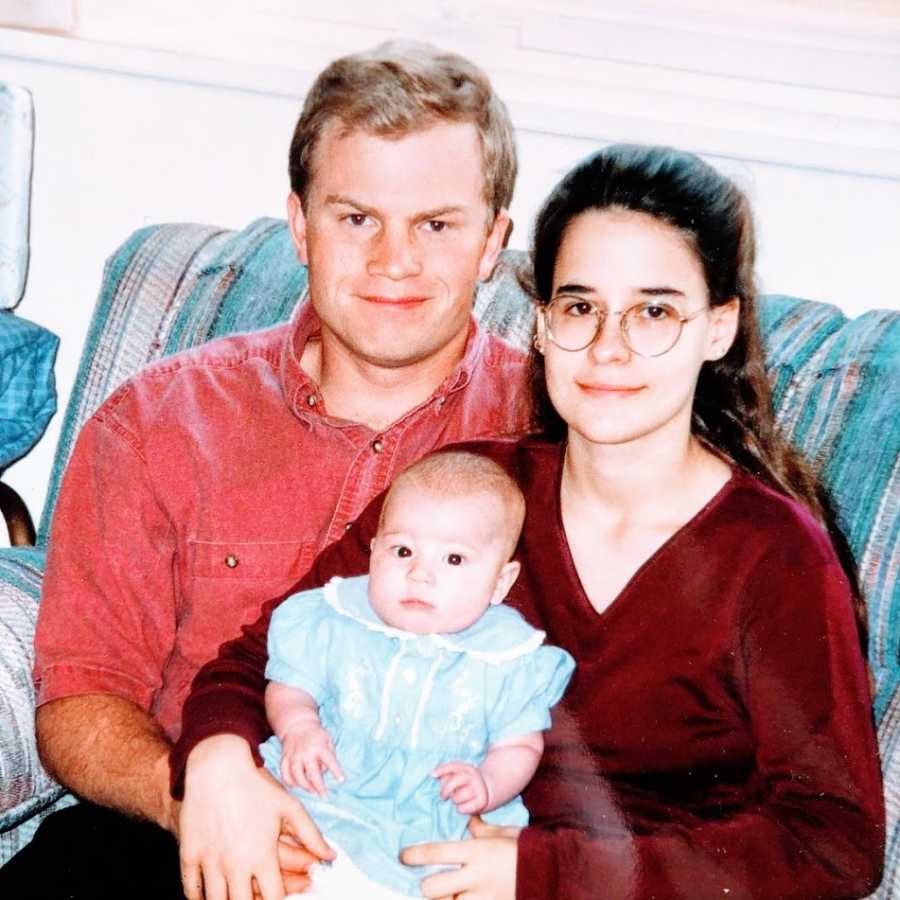 Chuck and I had the perfect formula for raising well-adjusted, happy children. Or so we thought at the time. We would work hard and teach our children to do the same. Having the ideal home environment would surely protect our children from and harm. Nutritious food would keep them healthy and strong and homeschooling would give them a superior education.
Adoption had always been part of our plan, and an extreme shortage of foster parents in our state led us to get licensed as foster parents and then approved to adopt. Within a year we had a newborn baby boy placed in our arms. We named him Mordecai. He was African American and had a small tuft of dark hair on the top of his head.
Mordecai was prenatally drug and alcohol-exposed and born missing a few fingers and toes. To us, he was perfect. Well, to most of us he was perfect. A couple of his older siblings complained because we had told them we were adopting a 'black' baby and this one was 'brown.' Soon they adjusted and loved holding and playing with him.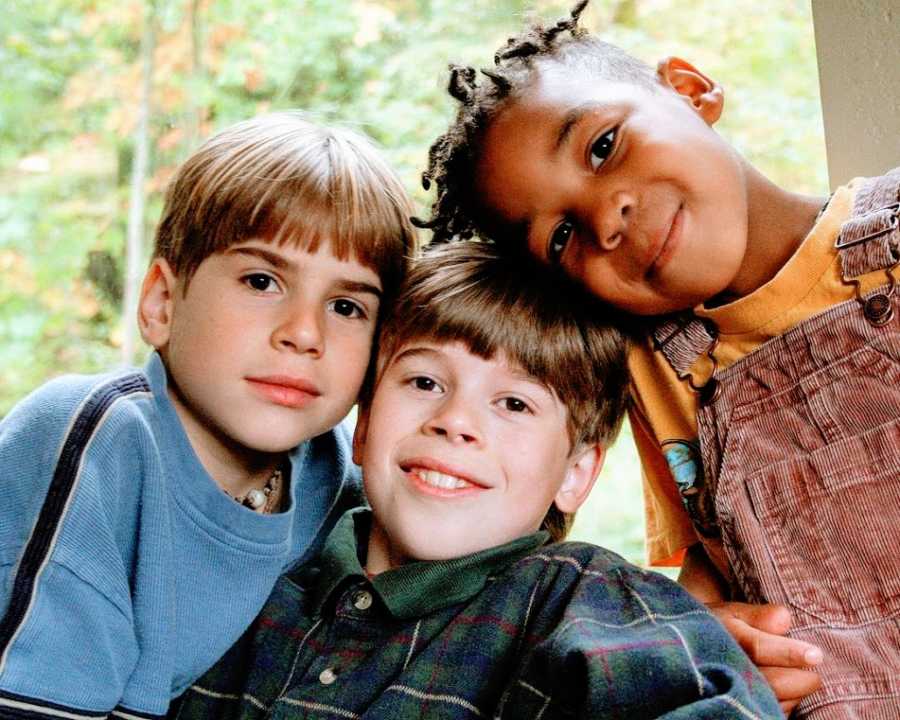 Seven weeks after Mordecai joined our family, I gave birth to a baby girl we named Jubilee. As soon as my milk came in with Jubilee, I began breastfeeding Mordecai as well. I loved dressing my 'twins' in matching outfits. With seven kids under the age of seven, I spent most days at home with my lively brood.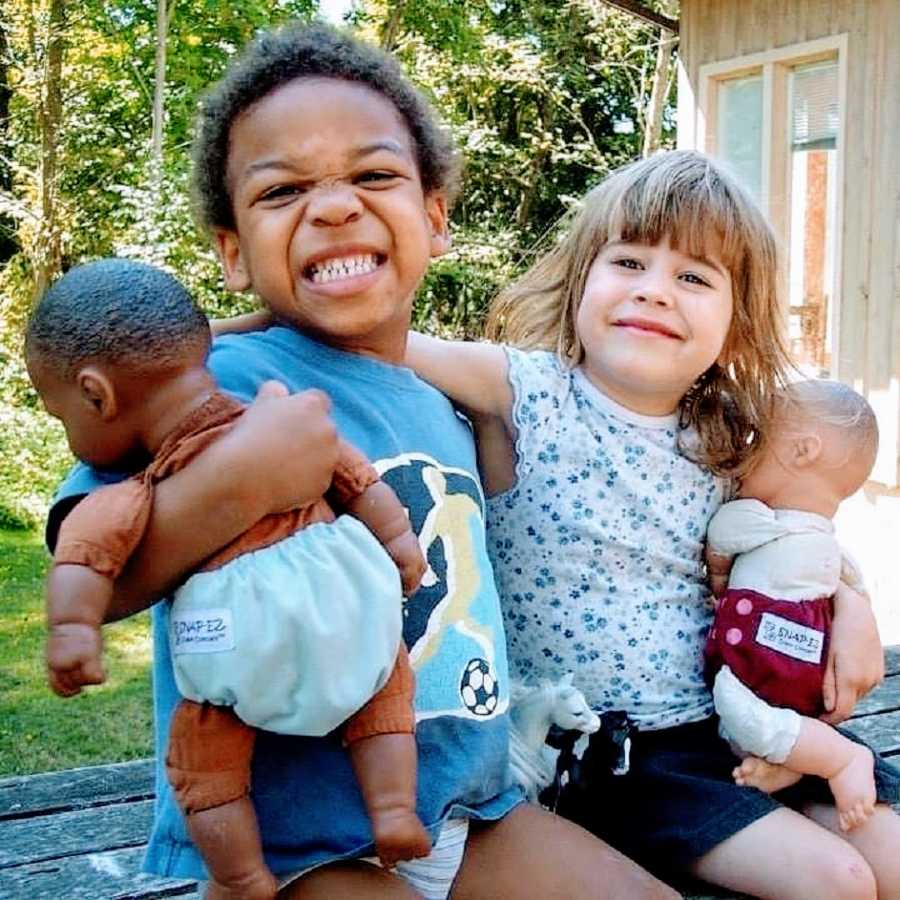 I'll admit, adopting a drug and alcohol-exposed infant threw us for a loop. Mordecai struggled to eat. His suck and swallow reflexes were not well-coordinated. He slept constantly for the first few weeks he was with us. Then one day he seemed to wake up and realize where he was, and he began to scream. My days took on a new cadence as I cooked, did laundry, and attempted homeschooling with a screaming baby in my arms, on my back, in the sling. It didn't matter where he was. Mordecai cried so much he earned the nickname Morde-cry.
I was tired, sure, but at the age of 27, I had youth on my side.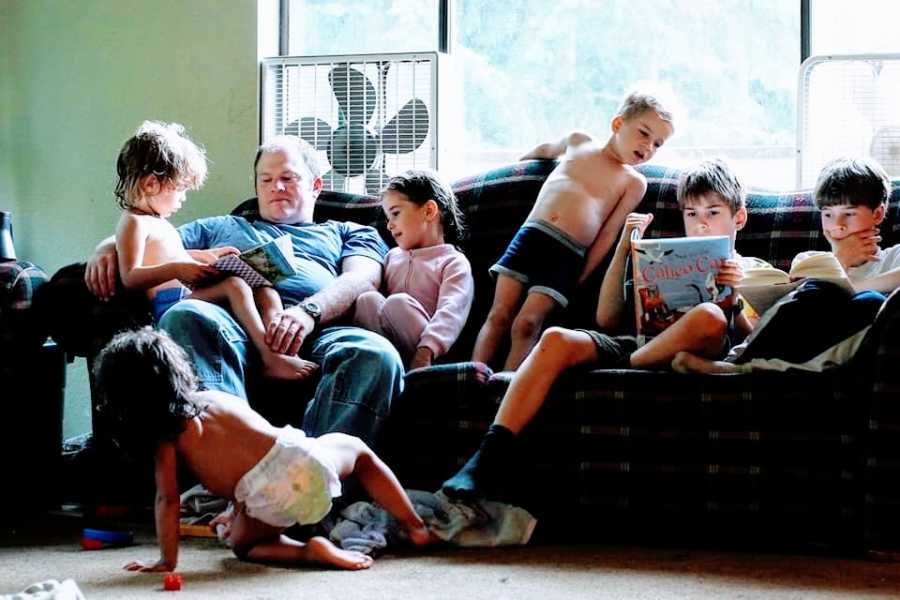 We bought a bigger house for our growing brood and within a year of moving in our eighth baby was born at home. Hezekiah was an easy-going, calm, and serious baby. He was so easy, in fact, we started talking about adopting again. We didn't want Mordecai to grow up the only adopted child in our home. In an irony that wouldn't hit us for years, we were willing to take a wide variety of special needs but not medically fragile kids. While Chuck and I are not squeamish, we knew there was no way we could make the two-hour journey to our local children's hospital with our large crew.
With our home study updated, we assumed we would get an older child this time. Until the phone rang one summer afternoon.
'We have a baby girl here. She is three days old, biracial, and addicted to cocaine. Do you want her?'
I was stunned. A three-day-old baby?
The social worker gave me a few more details and pressed again, 'Do you want her?'
We weren't new to the adoption process. I knew saying yes didn't mean we would get her. I also remembered the weeks between agreeing to take Mordecai and actually picking him up. So I said yes.
'Can you come to get her now? We really want her picked up today.'
I would later learn if she even spent a single day in foster care she would be 'in the system,' a situation that could drag on for months if not years.
That evening, Chuck and I picked up a three-day-old baby girl while I was six months pregnant with our ninth (now tenth) child. Tucker was born when Avi was just 3 ½ months old, and I was able to breastfeed Avi alongside her younger brother, Tucker.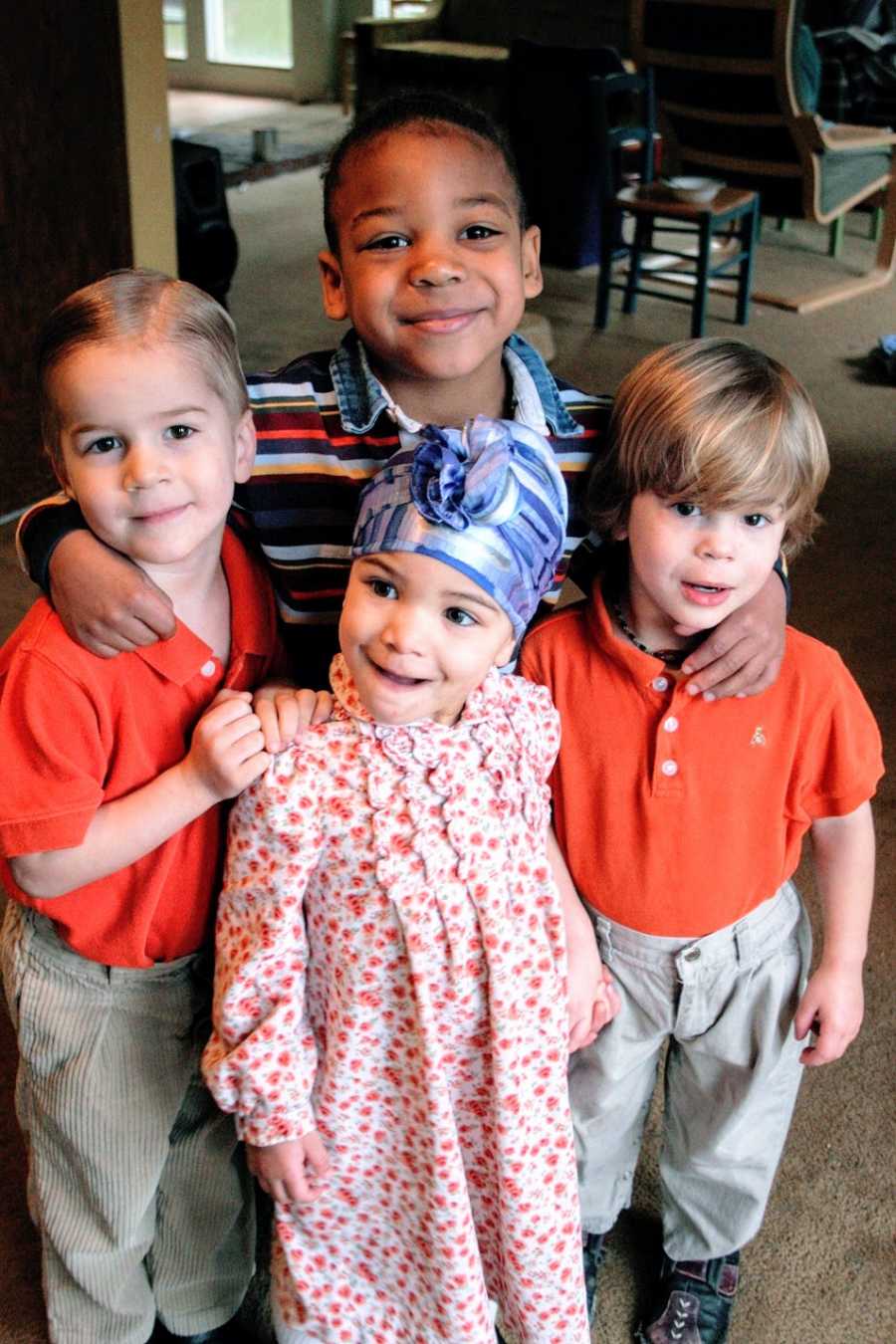 By 2007, when Avi and Tucker were barely two, we brought home three teens from West Africa. Chuck had always wanted to adopt a sibling group, and Liberia had just experienced two back-to-back civil wars that destroyed the infrastructure of the county. Bringing three African teens into our home presented challenges for everyone.
Between cultural differences, mourning as they gave up their home country and friends, struggling to live a new life and routines dictated by the clock, they experienced LEGO bricks and puzzles for the first time, as teens. It was hard on everyone, but so very rewarding. Keziah, the oldest, quickly became best friends with Adalia, our firstborn. Within a year our two boys, Ezra and Boaz, grew from kids (Boaz, 13, was the size of our 7-year-old) into handsome, strapping teens. When I look back on those years, I see so many things we could have done differently, done better. But we did the best we could at the time. All three are now living independent lives and have been able to contact the family they have left in Liberia.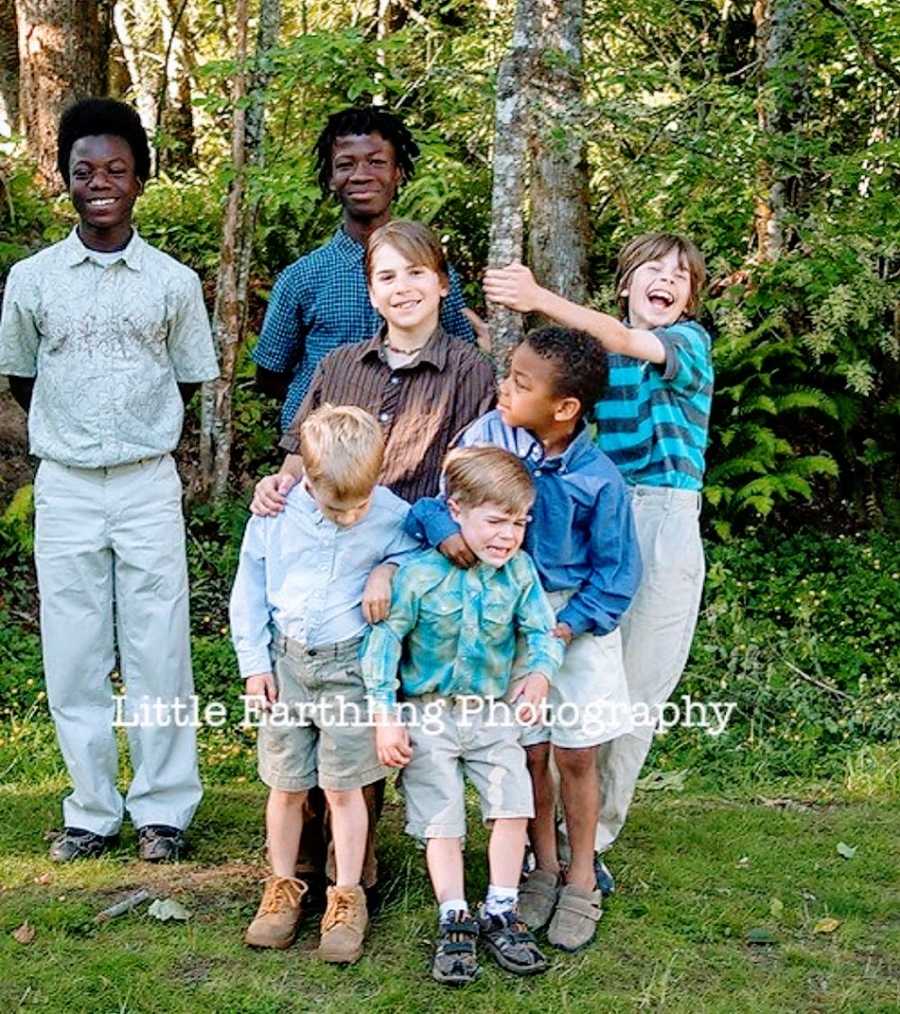 You would think thirteen kids would be enough. And it was. By this time our sphere had widened. We were busy with Cub Scouts and homeschool friends. Our lives were full. But that didn't stop us from deciding to add just one more baby.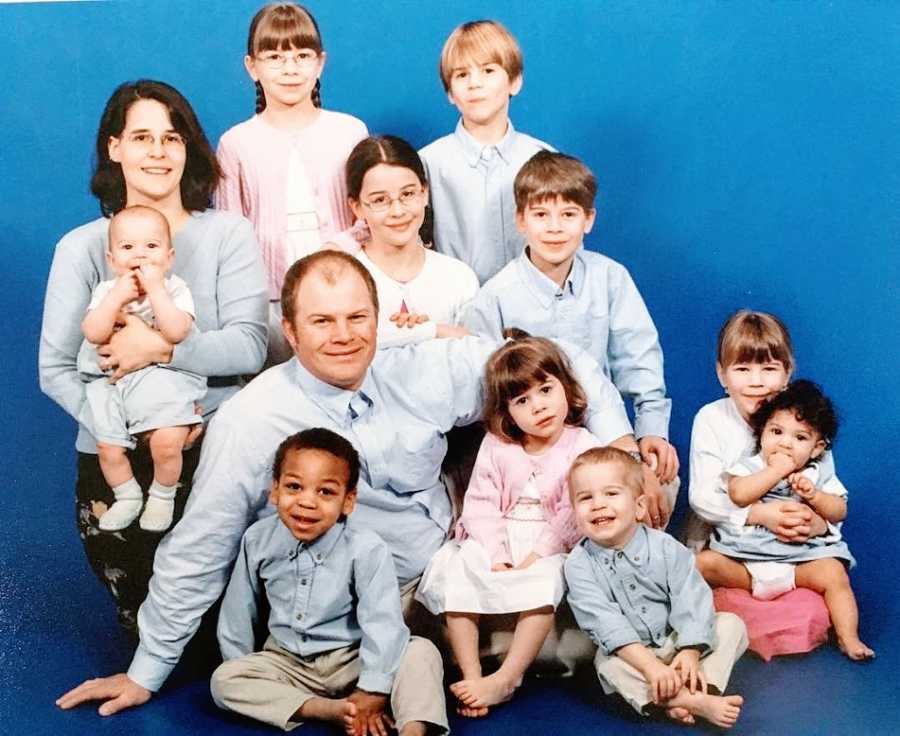 'A baby will be fun,' we said. 'Our children are older, we have plenty of arms to hold and love a new baby.' Our children, used to a new baby every year, were just as excited as we were.
Our last baby, Apollo, arrived in 2010 via emergency c-section due to a cord prolapse at home. He was fussy and barely slept. He wore me ragged, and I wondered if, at 34, I was just too old to take care of a baby.
In 2011, just when we thought we knew everything about parenting, Apollo, 20 months old, was diagnosed with a double aortic arch, a rare congenital heart defect. A month later, he would have heart surgery, a month after that, a feeding tube placed in his stomach, and five months later, a second heart surgery in Texas. Apollo's next five years would be filled with doctor's visits, medical procedures, and surgeries. Remember when we knew we couldn't manage a medically fragile baby and a two-hour drive to the children's hospital? Turns out we could, when our child's health was on the line.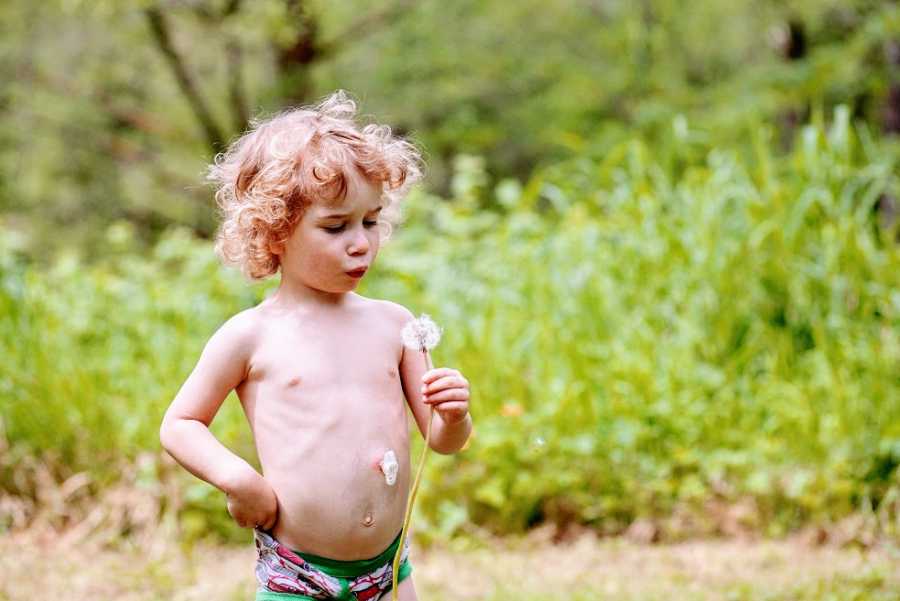 Apollo's sickness stretched our family and resources to a near breaking point. We all had to learn to work together and help each other out. I was so thankful for the years I spent teaching my children to cook, do chores, and laundry. This meant when we needed to be gone, our older children were able to pick up the slack.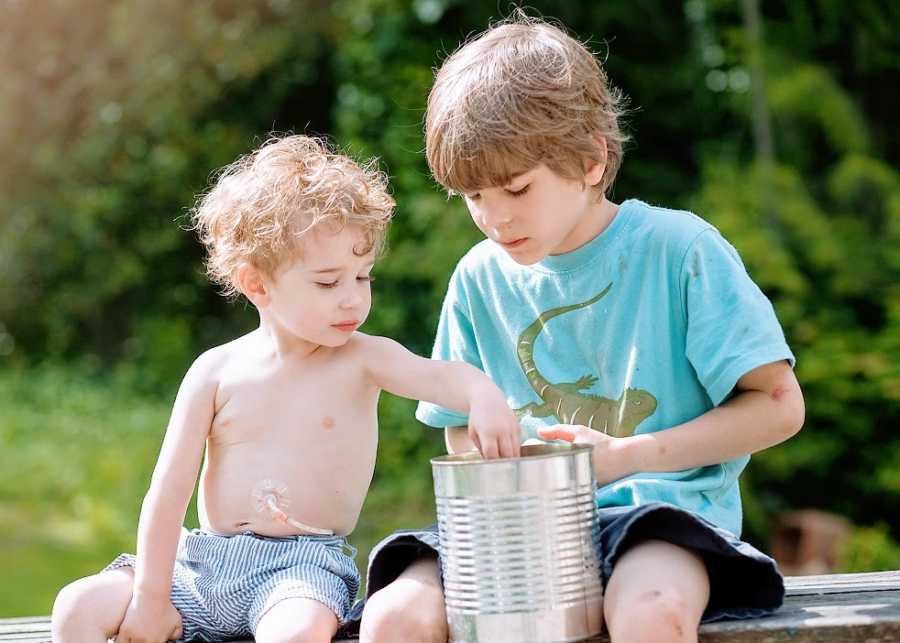 Our kids learned compassion and resilience as they watched us tube-feed their brother, as they sat and watched Winnie the Pooh endlessly when it was the only thing that would calm him. Our teens loved taking their curly-haired brother out to show him off to friends. Instead of tearing us apart, Apollo's needs drew us closer together. As it turns out the struggles we overcame together strengthened all of us.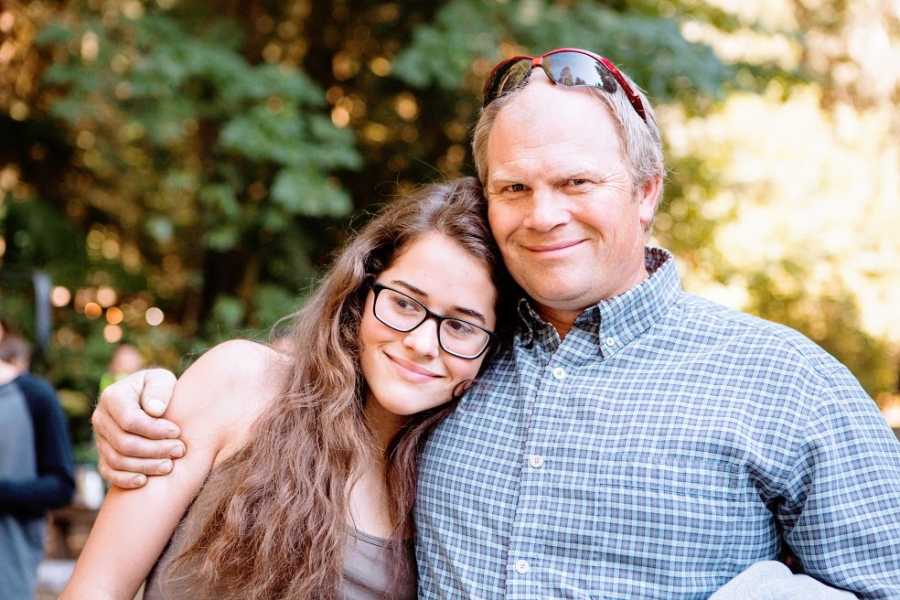 Today, in 2021, our oldest eight children are adults who live independently. Apollo is 11, healthy, and doing well. We have six kids left at home ranging in age from 11-18. We are enjoying life slowing down a bit and looking forward to spending as much time as we can with our four grandchildren."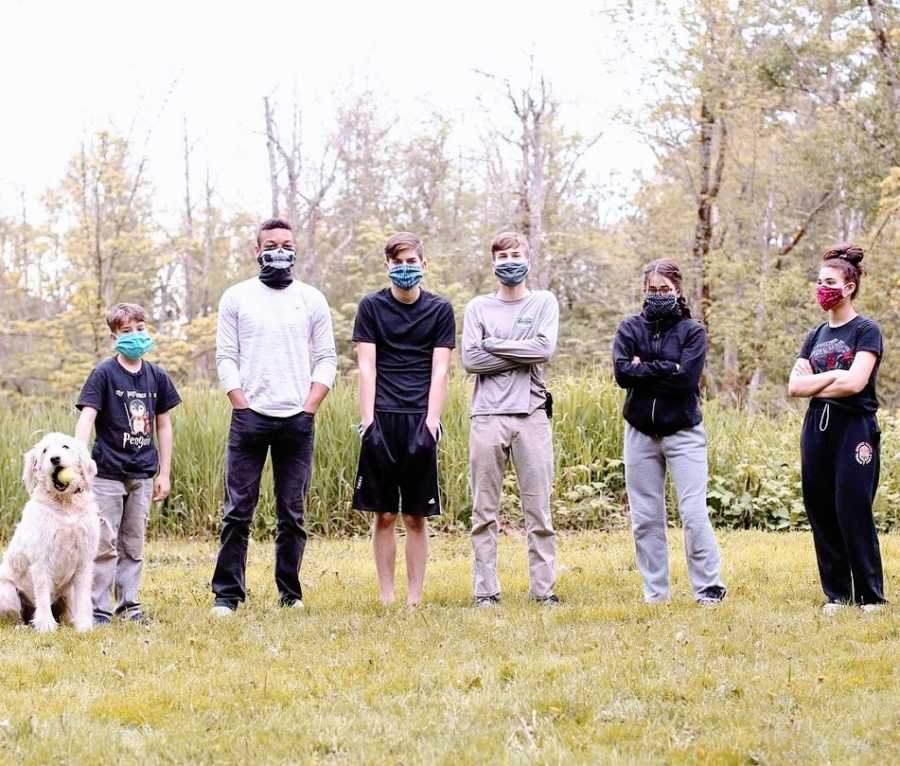 This story was submitted to Love What Matters by Renee Bergeron of Bellingham, Washington. You can follow their journey on Instagram, their blog, or Renee's photography site. Submit your own story here, and be sure to subscribe to our free email newsletter for our best stories, and YouTube for our best videos.
Read more stories like this:
'My parents had over 30 temporary placements and adopted 9 children. I struggled with my identity. I didn't fit.': Man thanks adoptive family, 'I'm meant to do something important'
'Are they all from the same father?' I told him I'd love to have 6 babies, but here we are with 11.': Mom of 11 shares the challenges and beauty of big family life
'I've had 9 children, by myself. One passed away. I'm expecting, but I have no idea when my 'due date' is.': Single mom fosters multiple children and has open adoption, 'It's all on me, baby!'
'Isn't it strange parenting a teen who isn't much younger than you?' My adopted son and I are 13 years apart, but to him, I'm just mom.': Mom fosters 17 children, 'They are all so worthy of love'
Do you know someone who could benefit from reading this? SHARE this story on Facebook with family and friends.