"4 years ago, on July 16th,  I was sitting, hysterical, at the Hershey Children's Hospital patiently awaiting the arrival of the Life Lion helicopter that was transporting my 2-month-old baby.
Lincoln unexpectedly came flying into this world nearly 2 months premature after I was diagnosed with preeclampsia. He weighed a fragile 3 pounds and 10 ounces, measuring at just 17 inches long. I was 20 years old and terrified, but he stole our hearts at a glance. I was a first time Mom of not just a newborn, but a premature newborn. Lincoln spent 3 weeks in the hospital nursery growing; my husband and I did not leave his side as I recovered from an emergency cesarean.
His head was the exact same size as a baseball, and he fit right in my husband's massive hands. He was so little, and I was so scared I bawled every night after leaving him in the nursery to go back to my hospital room. Over the course of 3 weeks, his nurses taught us to feed him, burp him, change him, and dress him. The day we got to bring him home he weighed 4 pounds 3 ounces – we were on top of the world.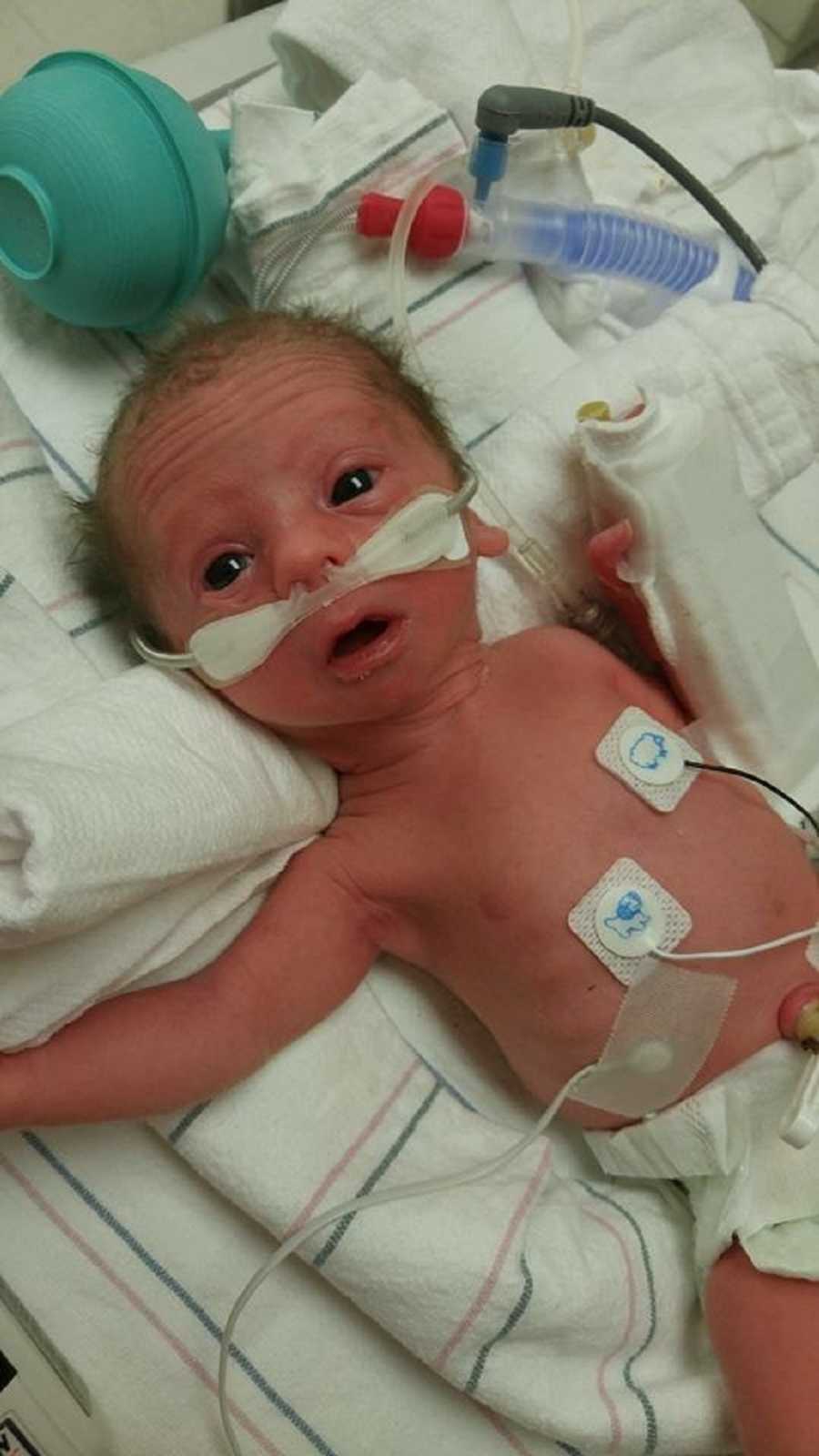 2 months of bonding, loving, bathing, feeding, cherishing, and falling in love with Lincoln went by. He was almost 10 pounds! I put him in a brand-new outfit every day just to take his picture. To this day, I am still just as obsessed. I went back to work after my maternity leave ended. Leaving him felt like knives in my soul. On July 16th, I got a text message, 'Lex, we had an accident, but I don't want to worry you, I think he's okay.' I clocked out and flew home, ran through the door and picked up my baby, and yes, he DID look okay, but I knew he wasn't. It's hard to describe, almost like a cloud of doom just overwhelmed me. I KNEW instantly he was NOT okay.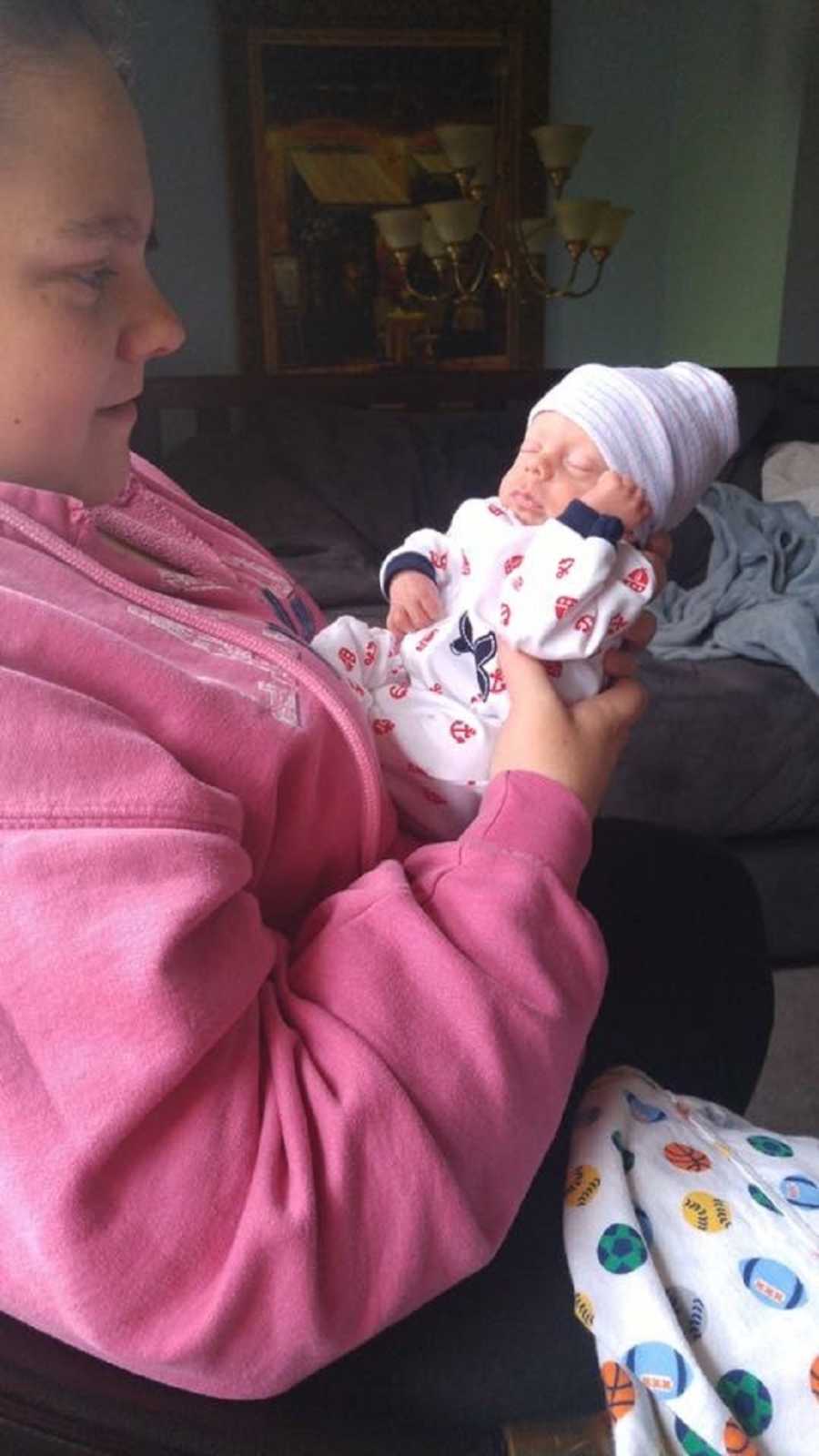 He was whimpering but he didn't show any severe signs of distress. He had no significant bruising or bleeding, but I could feel the 'wrongness' within him. We immediately took him to our local hospital. I got him out of his car seat the second we pulled in, and I ran into the emergency room. As soon as I stepped foot in the hospital, he stopped breathing. The staff checking us in attempted to ask why we were there, and I remember screaming, 'He isn't breathing, he isn't breathing!' The nurse took him from me and ran off with him as I fell to the floor of the hospital, wailing.
Lincoln was stabilized and flown out to the children's hospital an hour away. My best friend at the time immediately came to pick me up to follow his helicopter. He was intubated during the flight and was essentially unconscious when they arrived. Lincoln suffered 2 severe subdural hematomas (brain bleeds). He couldn't breathe on his own, he was seizing, and he would undergo cranial surgery to place drains in an attempt to relieve the pressure on his brain.
I was so numb I couldn't even cry. I sat, surrounded by family, and stared. I was labeled as a Mom who 'wasn't emotionally responding appropriately to his diagnosis' and was said to be 'in denial about my son's prognosis.' His first night in the PICU I asked three times, 'Is my baby going to die?' and no one would answer me. After an MRI, they told me Lincoln was considered a 'fatality' because of the brain damage done and IF he made it, he likely wouldn't be able to walk, talk, or even feed himself. He would never be the same. He sustained a severe traumatic brain injury.
He was so swollen he was unrecognizable. 2 days later his drains were surgically placed, his head wrapped in gauze, and a neck was brace holding him tightly in place. He had 10-12 different medications running in to him in different locations. A central line ran through his groin. 4 days later, the constant seizures stopped. 1 week later, Lincoln started to breathe over the vent. A few days after that, he opened his eyes. They weaned him off the vent, extubated him, and 10 days later, he had his first bottle. He was smiling and giggling and his doctors were astounded. I waited 8 days to hold him.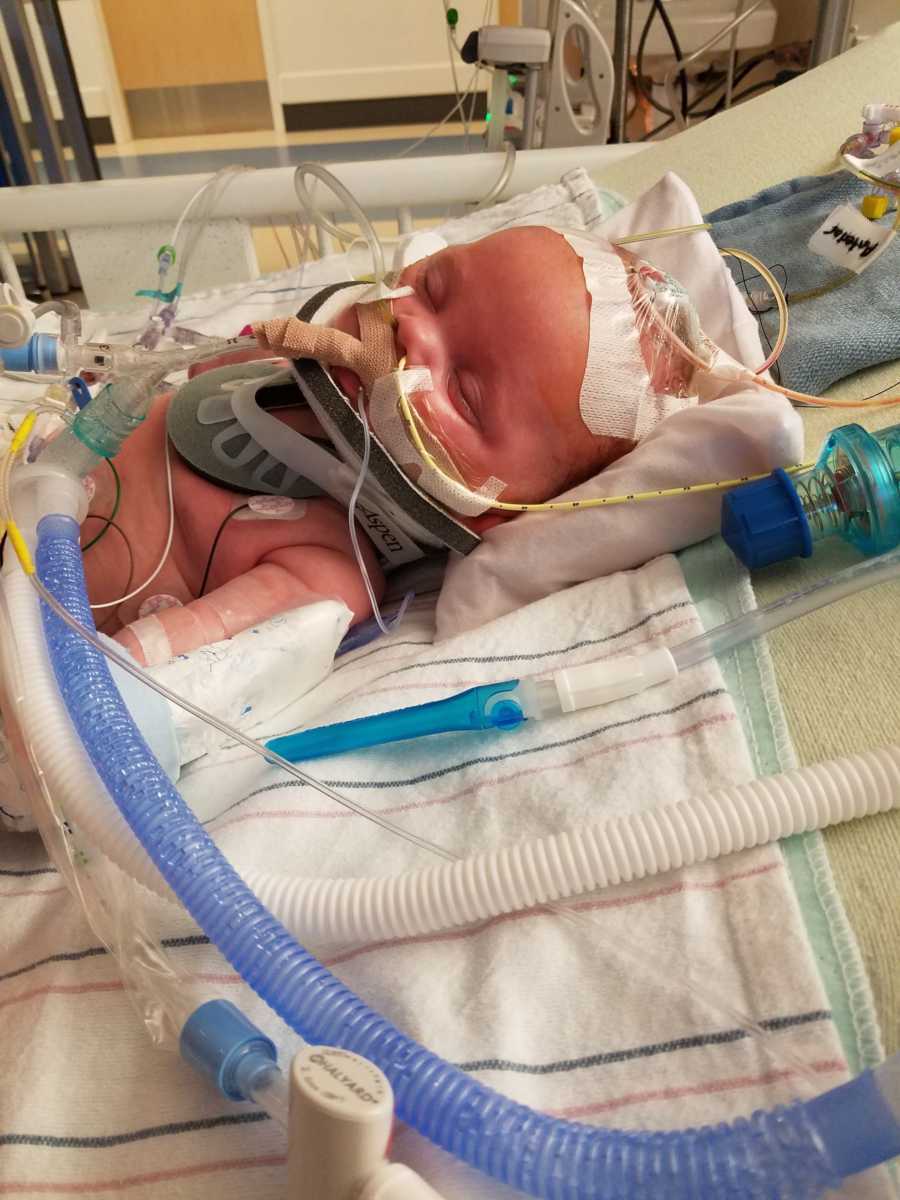 Every year, I avoid talking about this day because it was so embarrassing. My son was the baby who literally fell onto his head accidentally, but society would never see it that way. The media and local news blew it up into something it wasn't and that will follow Lincoln for the rest of his life. I remained in a constant state of paranoia in public that someone was talking badly behind my back about Lincoln and my family. I wholeheartedly hesitated to announce our second pregnancy with Lincoln's brother, Leland, in fear people would judge us for having another baby after Lincoln's accident as if we weren't capable of taking care of them.
I became so depressed because I wouldn't think twice about giving my life for my boys and felt like I failed as his Mom. I worry every day that kids will make fun of him for something he had no control over, that the scars on his head will make him a target for bullies, or his weak right arm will make him stand out because it will be hard for him to use scissors, type, write, or even catch a ball. I worry he will fall and break his arm that he spent the last 4 years rehabilitating and be back at square one. I dread explaining to him why he cannot ever sustain another head injury, play sports, or do certain things because the chances of his brain withstanding it are slim. I am finally learning to let him gain some independence and it took 4 years.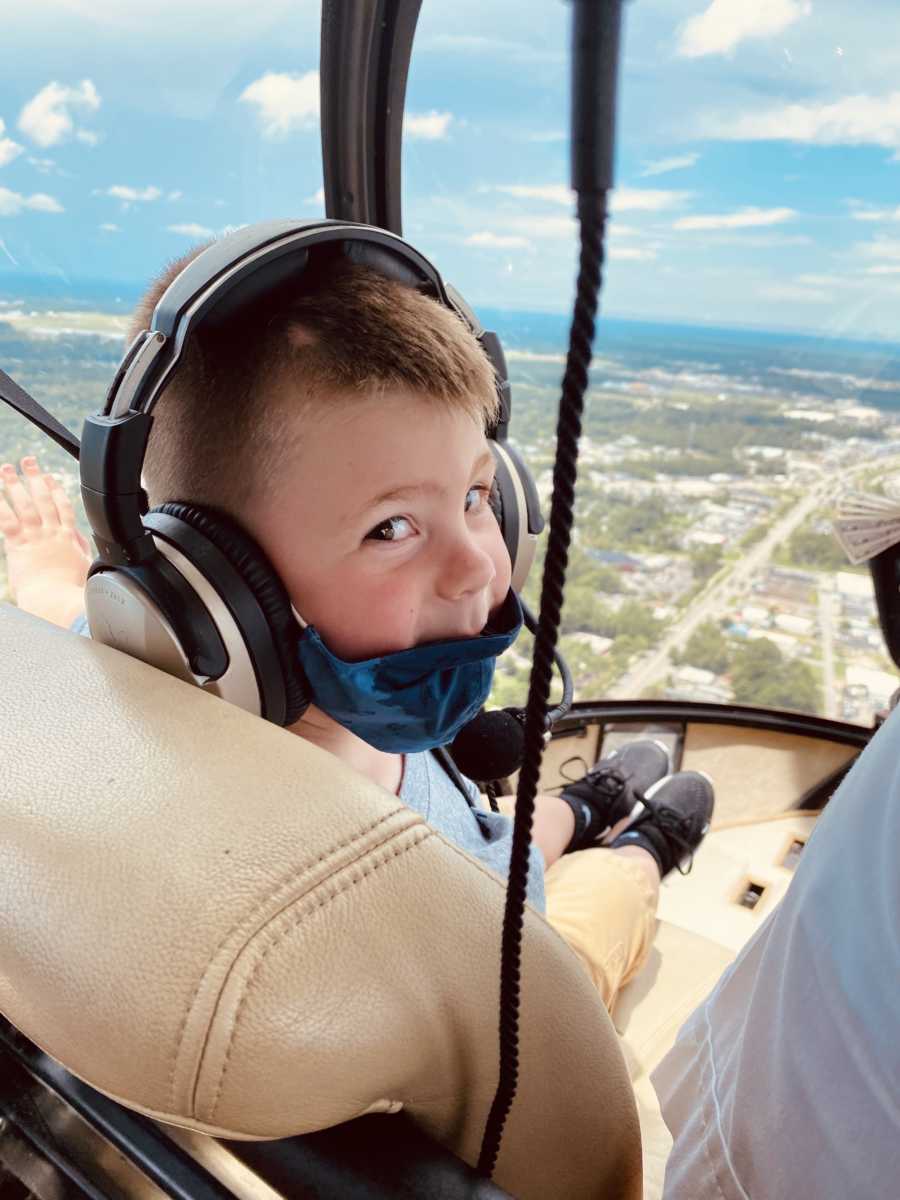 I joined a parent support group on Facebook of children with TBI's. There are parents whose children suffered the same injury and didn't recover like Lincoln. I regret ever being embarrassed because my baby fought like hell, and while the scars on his head and the arm that never regenerated a neurological connection are visible, the brain injury isn't. He looks like a typical child, he is a typical child, but his brain is wired differently now, and it is beautiful. He loves babies, he gives us a hundred kisses a day, and never goes to bed without reminding me I am his best friend.
Some don't comprehend the depth of a traumatic brain injury—it never goes away, it never fully heals, and he will carry the damage of it forever. Our entire family does. He has worked SO hard and for that I will always celebrate half a dozen medications, neurosurgery appointments, neurology appointments, ophthalmologist appointments, MRIs, bloodwork, 4 years of physical and occupational, and speech therapy weekly, and this will not ever end. Lincoln will be working the rest of his life to do what we take for granted sometimes but I don't ever for a second want him to think they make him 'less' because if you ask me, he puts the sun in the sky.
I was told my son was going to die and that changes you. I was barely a Mom. Lincoln was 2 months old and I was 21. Every met milestone is so emotional, every first, every trip, every new skill, everything he does fills me with pure pride and emotion. What if I never got the chance to see him do it? I am abrasive and I have quite the attitude sometimes—you would never believe how much I cry over him. What if he never experienced this or that? What if? I think about this every single day. Sometimes in life we take the smallest mundane things for granted, but he doesn't.
Last year, the most coincidental thing happened. We met with Lincoln's service coordinator at the Capital Area Intermediate Unit to map out Lincoln's IEP for preschool starting the end of August 2019. PRESCHOOL! We made it to preschool! I expressed to her that I couldn't put Lincoln in school on Tuesdays and Thursdays because I would be in class and I did not want him transported by anyone else– car seat safety! She asked what I was pursuing in school and I told her I had hoped to one day be a NICU/PICU nurse.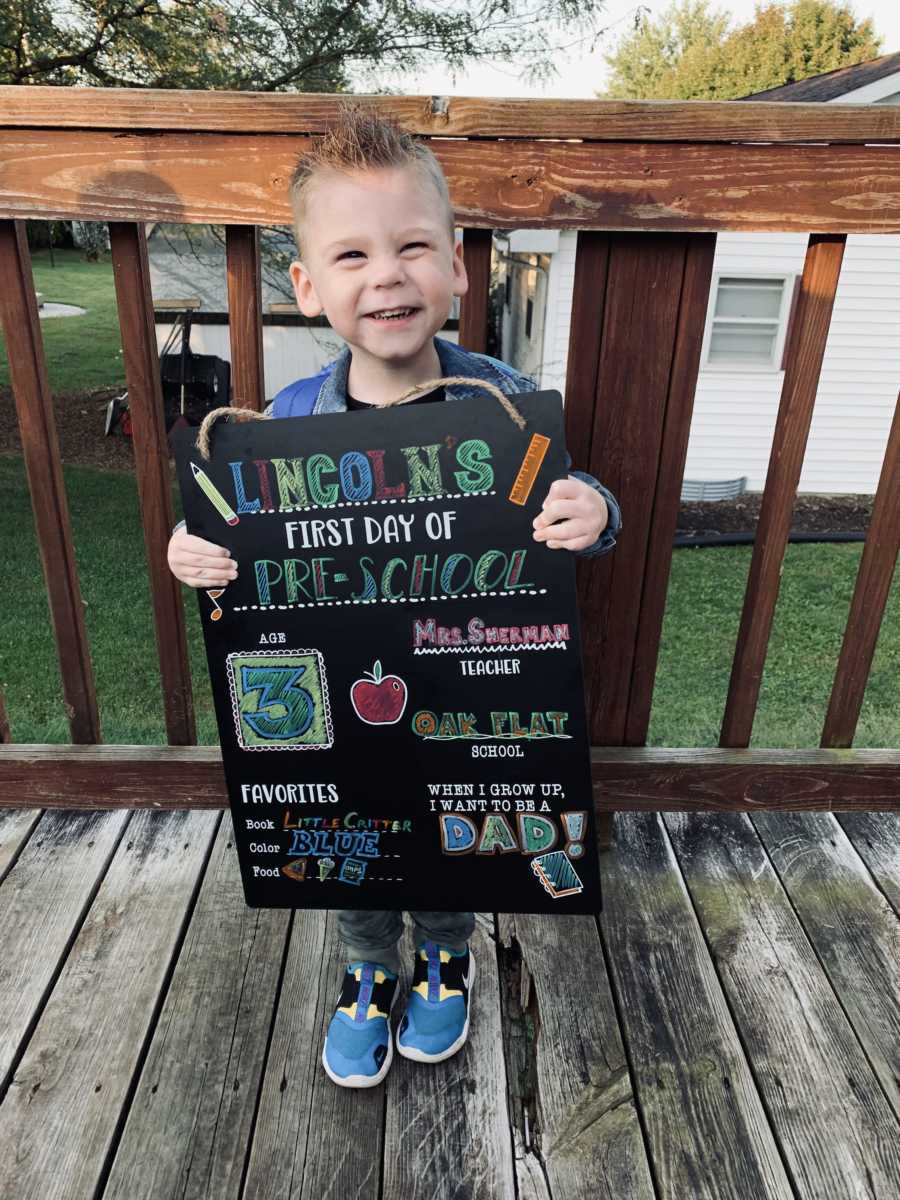 The nurses that tended to Lincoln changed my life and now, after 2 hospital stays, we had so many of them to be grateful for. His service coordinator expressed to me that her son-in-law was a former PICU nurse at the Hershey Children's Hospital, and I then told her about a gentleman who took care of Lincoln, and me, for that matter. He inspired me in 100 different ways. She then told me her son-in-law's name and it was the same man! It was Lincoln's nurse! Her son-in-law cared for my infant who was expected to be incapacitated for the rest of his life and now she was setting up his IEP for preschool!
3 years had gone by and I will never forget his name. I am unable to express with words how grateful I am for him. For every single member of Lincoln's care and rehabilitation team over the course of the last 4 years and for every NICU/PICU nurse that BOTH of my premature sons encountered: Michael, Chris, Jennifer, Diana, Pam, Cathy, Marylin, Ron, Cindy, Alicia, Michelle, Karla, Justine, Carrie, the flight nurses, the surgeons, the neurologists, the pediatricians, the radiologist, the lab, the housekeepers, the respiratory and physical and speech and occupational therapists, the IEP and service coordinators, and the preschool teachers and assistants. I see you and remember you, and think of you and I thank you. You changed our lives.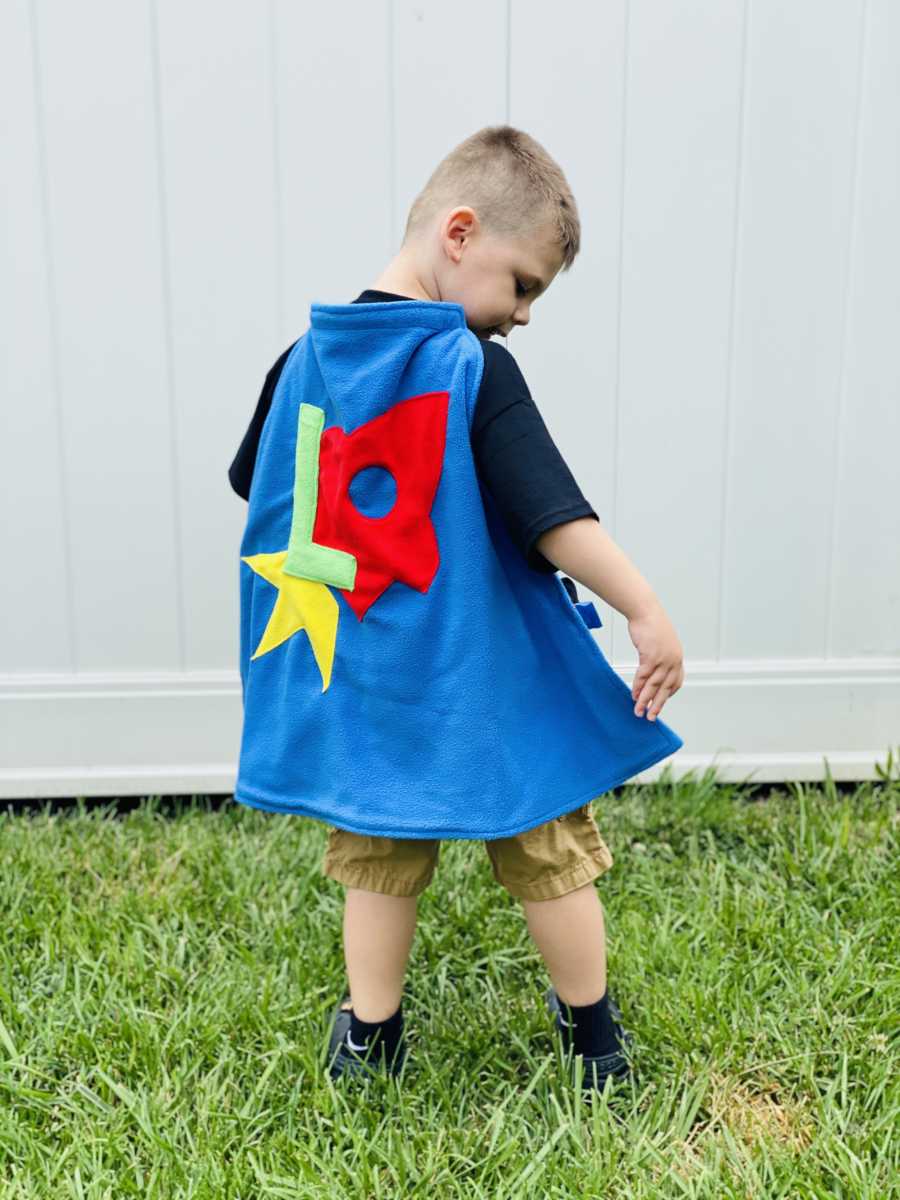 I was told by a doctor, 'You need to accept your sons' fate. You are severely in denial.' Do not ever tell a parent not to hold out hope for their child. You are a doctor, not God. I have a hard time believing in miracles these days. Then, I look at Lincoln and Leland. According to the rules of science, Lincoln should not be here today. But he is and we are going to do insurmountable things with that.
Lincoln's brain is damaged by medical definition, but he is no less. He is different and he is unstoppable. He is so emotionally in touch with others, he asked for a tuba for Christmas when he was 3. He wants to be a Dad when he grows up. He wants an air fryer to make chicken nuggets. He tells himself, 'Me is strong and brave!' He cares with his entire heart. He asks me to give him homework to do. He kisses my forehead when he wakes up before me. He loves his family. He is kind, gentle, and sensitive.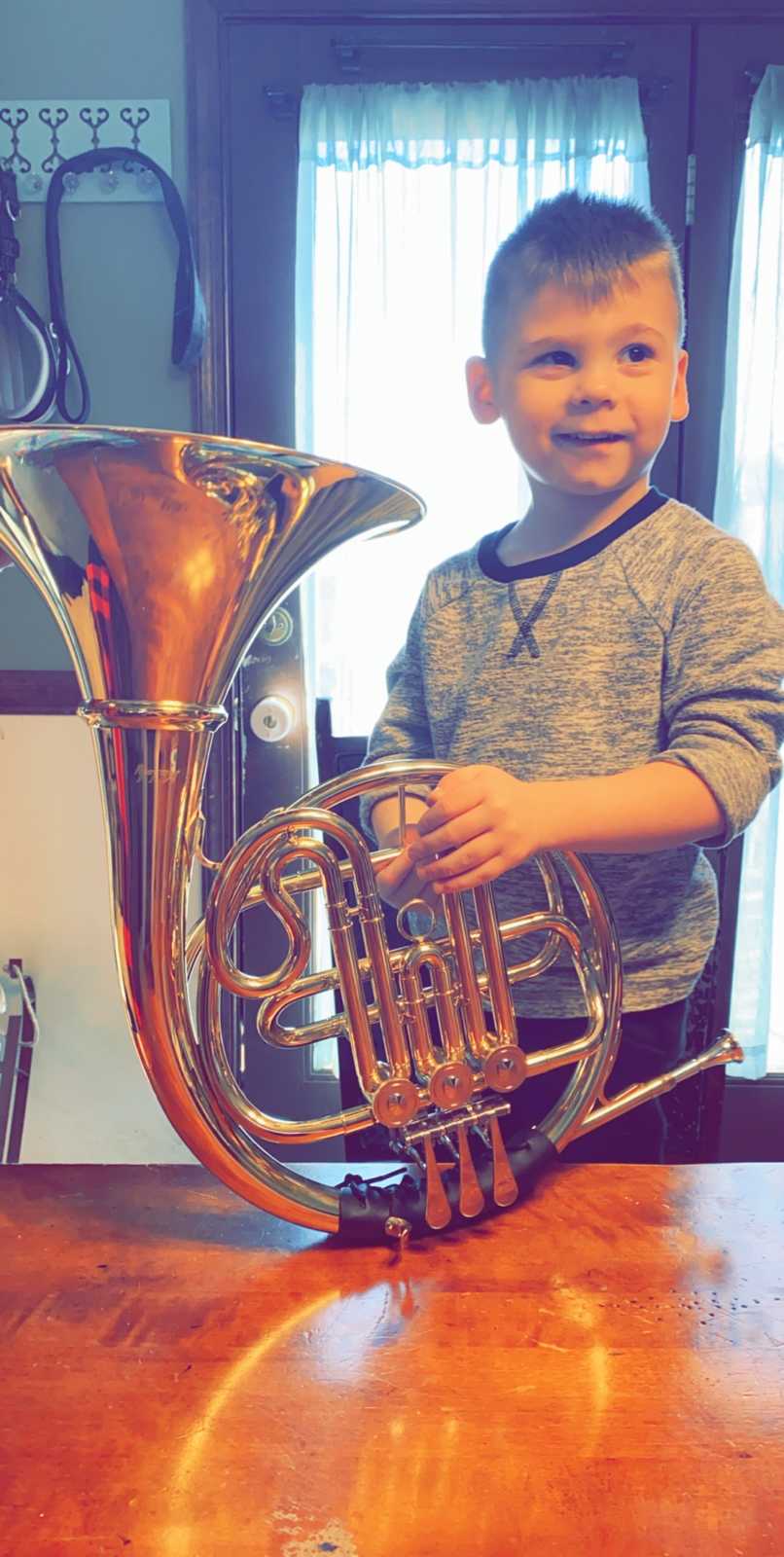 Lincoln started his second year of preschool today and I started my first year of nursing school. We were given a second chance and were going to use it the right way because I believe we both have the ability to change lives.
Lincoln, you are a real-life miracle, your story is important and I hope you never forget that. I will spend every night before bed, even on the days you drove me to insanity fighting with your brother, reminding you that you are strong, smart, and capable of conquering the world. Your injury will never define you.
A reminder for the rest of those who do not suffer from conditions that cannot be seen there is ALWAYS more than what meets the eye, and just because you cannot see it, does not mean it doesn't exist. Be patient—life changes drastically between blinks."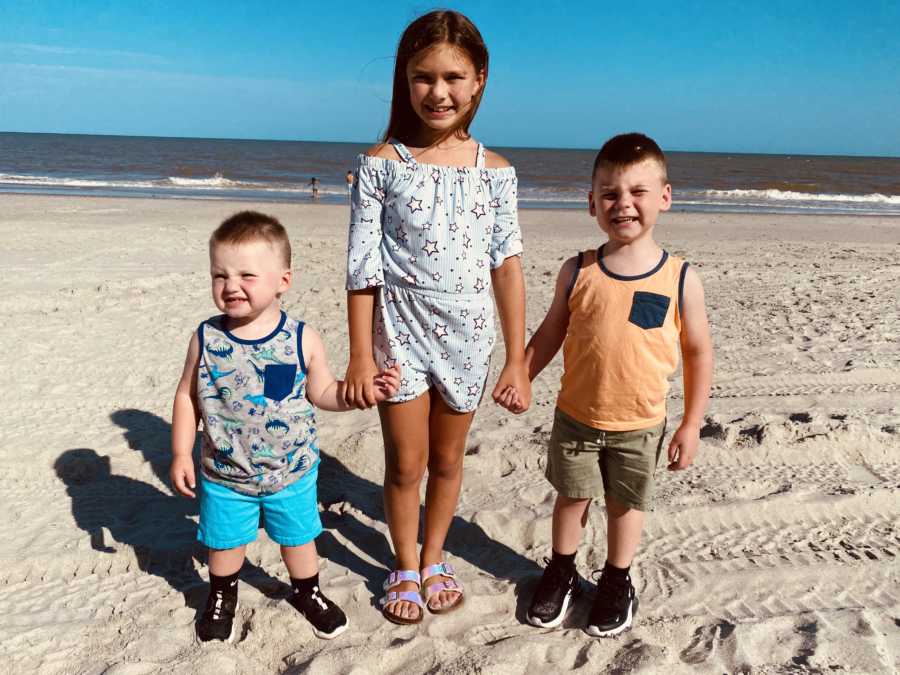 This story was submitted to Love What Matters by Alexis Asbury of Shippensburg, Pennsylvania. Submit your own story here and be sure to subscribe to our free email newsletter for our best stories, and YouTube for our best videos.
Read more stories about survivors of traumatic brain injuries:
'I woke up and saw him. 'Who are you?!' A rush of panic took over my body.': Woman gets engaged to husband again after traumatic brain injury causes memory loss
'Marry that boy. Make him happy.' I would wear makeup to cover the bruises on my cheek.': Woman's husband suffers from PTSD, traumatic brain injury post-military, 'Never give up on their love'
Do you know someone who could benefit from reading this? SHARE this story on Facebook with family and friends.