Disclaimer: This story contains details of suicide, suicidal thoughts, abuse, and drug addiction that may be upsetting to some.
"When we lost my oldest brother, Stephen, to suicide in November 2012, our lives changed forever. My mom, brother Michael, and I were completely lost and left only with questions such as, 'How could this happen?' and 'Why did this happen?' We never thought we would lose Stephen to suicide, and of course, we did not anticipate Michael would die by suicide as well nine years later.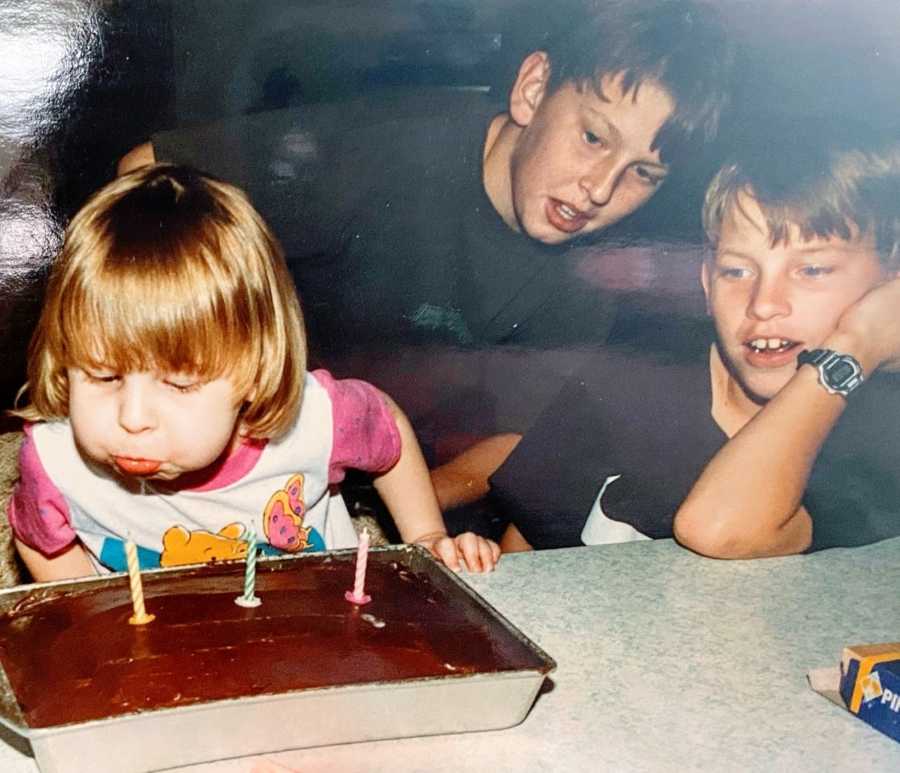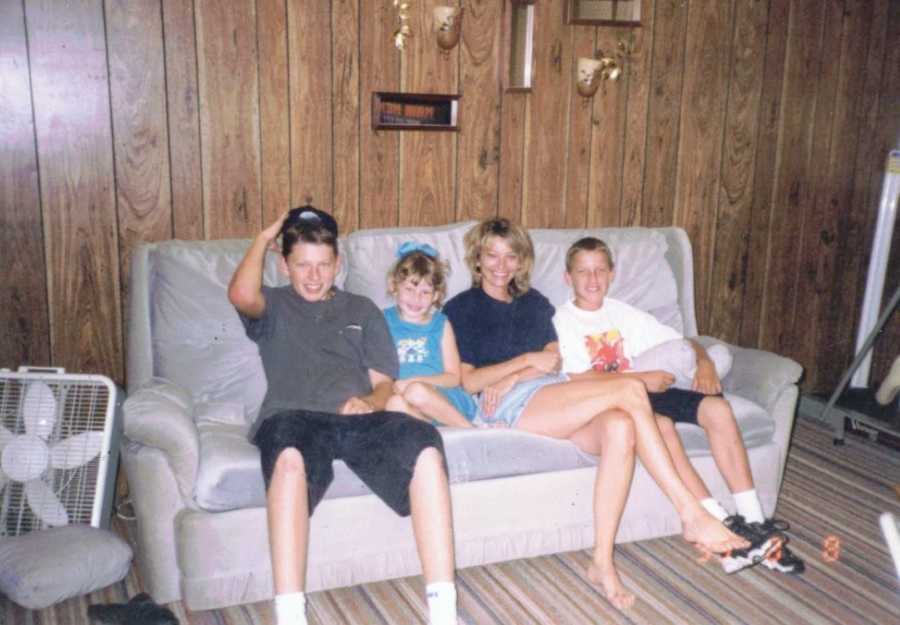 I was the youngest of three and had two brothers, Stephen (oldest) and Michael (middle). We were seven to ten years apart, so I was much younger than both of them. I remember my brothers fondly. Stephen loved having a little sister and put so much effort into teaching me how to draw when I was little. He was an incredible artist and wanted to pass on the talent, if possible. I ended up growing up wanting to do everything like Stephen, so I continued to practice art with him and now I am a Graphic Designer. Michael was extremely intelligent. He was studying Astronomy and Geophysics in college. He would always help me with math homework when I needed it, which was much appreciated as an artist. I loved both of them so much.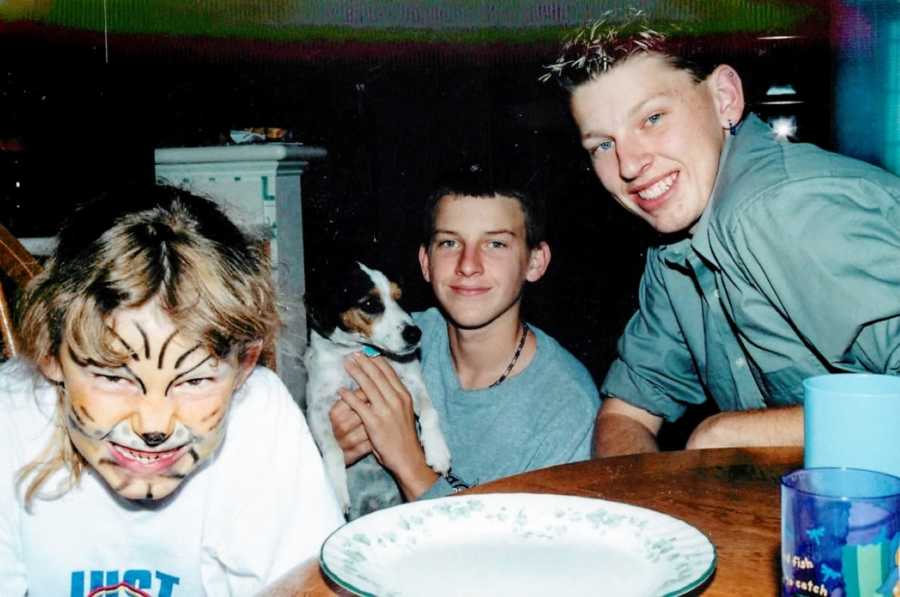 Twenty years ago, Stephen was diagnosed with Testicular Cancer at the age of seventeen. I remember him being very sick and having to drink these huge bottles of medicine that would make him throw up. I was seven years old, so I don't remember all of the details well, but he did end up beating cancer, which was great news for all of us! Shortly after, he started his long battle with heroin addiction, which would take a huge toll on my life for the next ten years.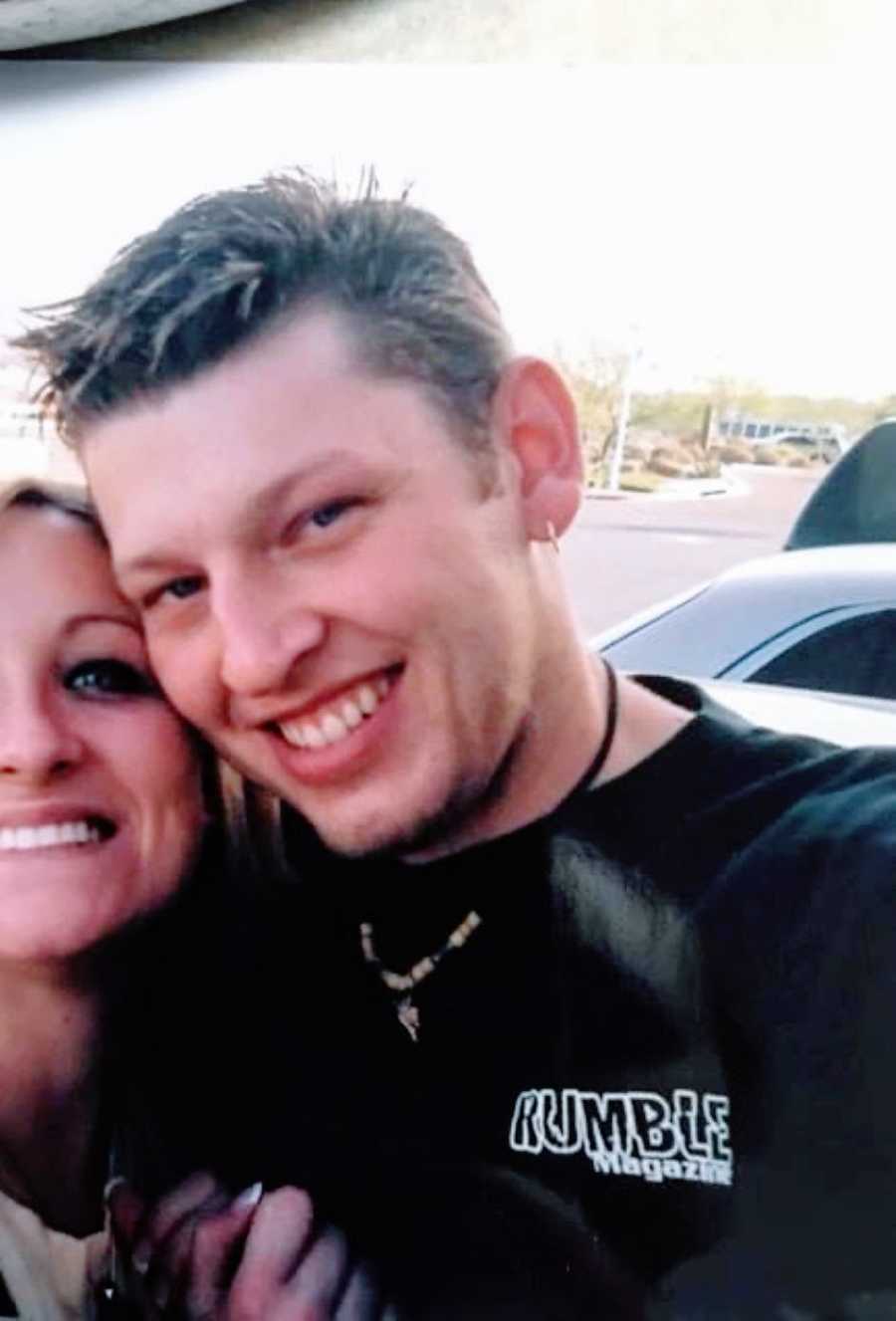 We didn't have the best family history. My dad owned a construction company and became addicted to meth while working long hours. Eventually, my dad's addiction became violent, and he didn't try to keep it a secret. He would physically beat my mom in front of me at the age of eight. He wanted her wedding ring so he could pawn it to buy more drugs. He would hide all of his drugs in my bathroom because no one would think to look there. Definitely not the best environment for a child. After a few months, my mom filed for a divorce, and my brothers were living on their own, leaving me home alone to deal with my parents. I was trapped between two fighting adults, one who lost his mind to meth, and the other who was so physically and emotionally damaged it was hard for her to do anything. This started a lot of drinking and drug problems in our family.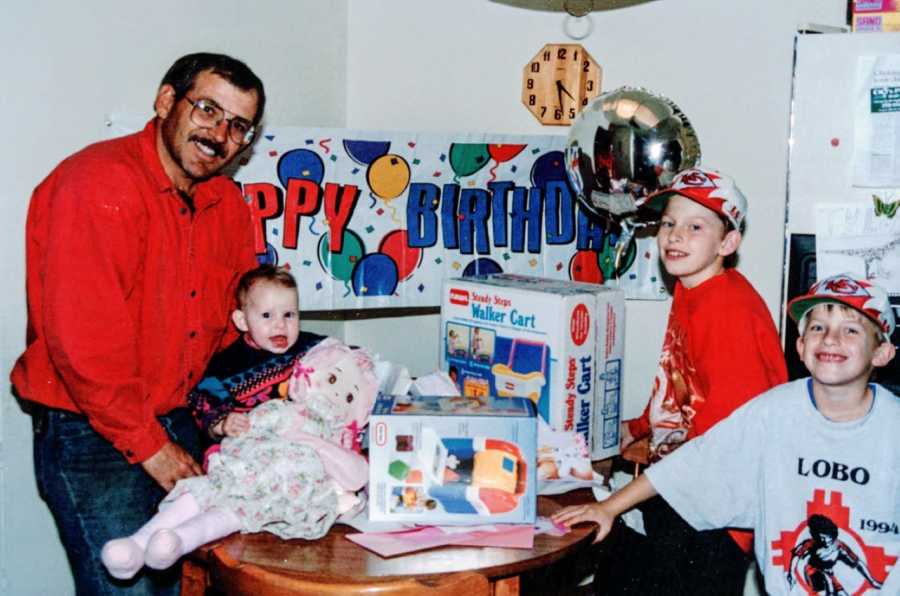 I wish I could say those were just a couple of tough years, but bad things continued to happen. As I got older, I struggled with a lot of mental health issues myself. I saw many psychiatrists and was put on all sorts of medication that were 'supposed to help,' but they only made things worse for me. I struggled with suicidal thoughts in high school but didn't try to act on it until September of 2012 when I was eighteen. I am beyond grateful to this day that it was a FAILED suicide attempt. Knowing what I know now, it would have been the biggest mistake of my life.
On November 15, 2012, I came home from school and saw Stephen was in the backyard smoking a cigarette and crying. I came out to talk to him, to which he broke down even harder and told me he had thoughts about wanting to end his life. He said the world would be 'better off without him'- which of course was far from the truth. Drug abuse really has a way of convincing you everything is much worse than it is and no one cares about you. We cried for hours as I tried to talk him out of taking his life. I told him I can't do this without him, he was my hero, my big brother, my best friend, and I needed him here. I really hoped my talk would have helped, and I truly thought it did.
Five days later my mom called. 'Stephen overdosed on heroin and I don't think he is going to make it.' That call still haunts me to this day. I remember being outside of my friend's house and just falling to the ground because I didn't know what else to do. Stephen was in the hospital on life support. He was dead when the paramedics arrived, but when they came to bag him up his body gasped for air, which by law means they have to take the person to the hospital. They had him 'frozen' at the same temperature they found his body at, essentially a medically induced coma. They said on November 22, 2012, they would attempt to 'reheat his body to see if they could get a pulse.' I remember praying and thinking it would be okay, it would work and he would come back to life. However, it didn't work. The nurse told us we could stay in the room for this, but we are going to unplug the machine and we could stay in here until he's 'gone.' We held his hands as the monitor flat lined.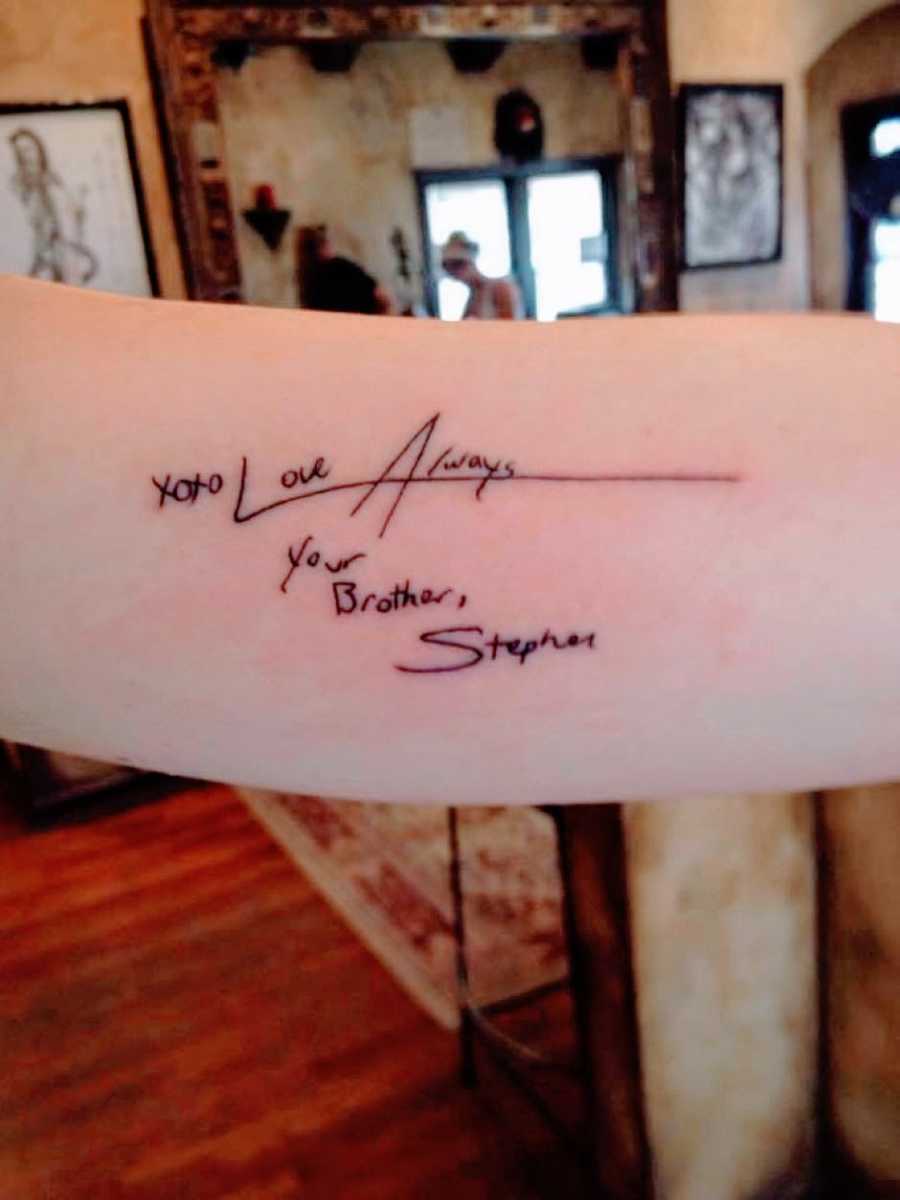 Michael and I drove to the hospital together so we left together, which was one of our first of many difficult car rides together. We didn't find out until later when we spoke to Stephen's girlfriend it was planned, not accidental. Which only made it worse. Over the past nine years since we lost Stephen, we had many other losses in our life too. We lost all of our grandparents and even our dad. My dad was in bad health; he lost his sanity and his health to drugs. Michael struggled tremendously with losing them, and he never really recovered from losing Stephen to begin with, so it only hurt that much worse. He began to drink heavily. I hoped once he graduated from college and got a job in his industry it would get easier for him.
Michael started dating a woman two years ago, who seemed to be good for him at first. He stopped drinking, he lost weight, he was hiking and motivated! It was amazing to see him like that after all these years. As time went on, her true colors started to show. She accused him of cheating every single day. Michael's roommates and friends would hear her on the phone screaming at him, asking him to FaceTime her to prove he wasn't with a girl. For someone who has already expressed they are suicidal and had a run-in with the cops twice trying to help calm him down to not take his life, we hoped she would understand the severity of the situation and try not contribute to his downward spiral. To be honest, I don't know if Michael had it in him to cheat, but the truth of the matter is she was hurting too and had her own struggles she needed to work through. I don't know the specifics on how bad her words got, but I saw a change in my brother I had never seen before, and it was terrifying. We kept telling him he could find someone who would treat him better, but he was in love with her despite getting mistreated.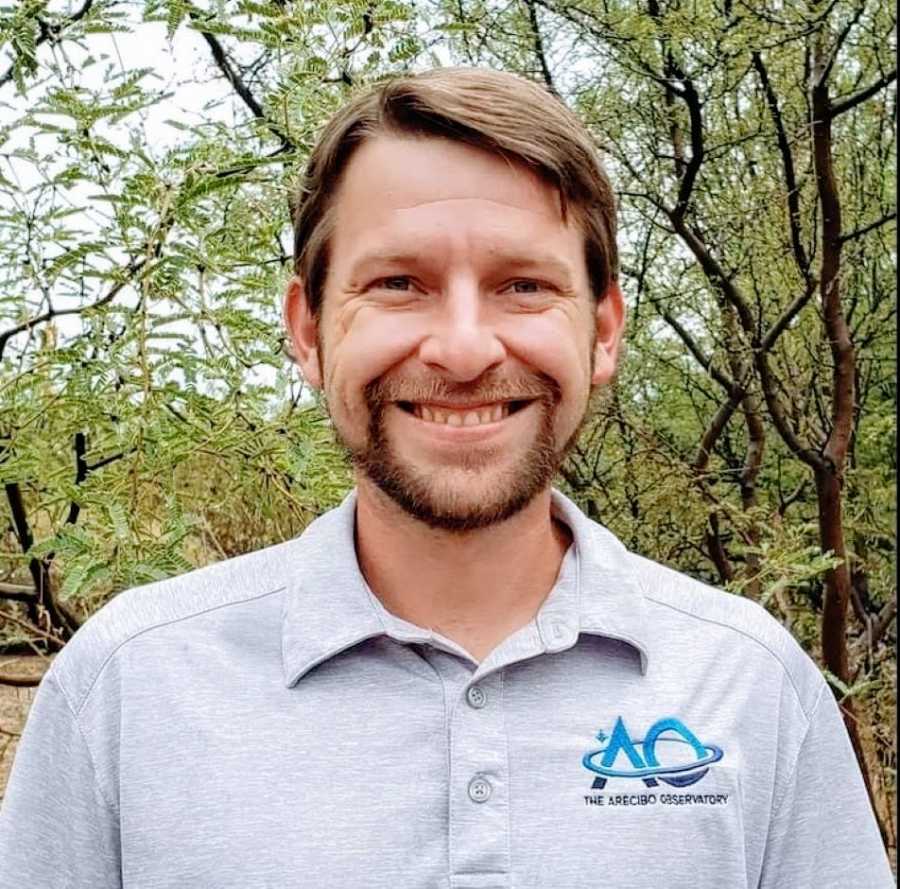 When 2021 began, I remember being hopeful this year would get better. We needed a good year, all of us did after Covid. But on January 29, 2021, my mom was diagnosed with Triple-Negative Breast Cancer, an incurable form of breast cancer and statistics show most have two years left to live upon diagnosis. Michael took this very hard. He assumed our mom was on her deathbed. He began drinking heavily again, especially when he and his girlfriend were fighting.
On February 7, 2021, Trent (my fiancé) and I went over to my mom's house to watch the Super Bowl with family. To my surprise, when we got there, Michael was telling me about how his girlfriend changed her Facebook status to single without telling him and was hardly speaking to him. He was very upset, but still watched the game with us. We laughed, ate food, and talked until one point I noticed the recycling had five empty IPA bottles (he was the only one drinking them) in it and Michael was starting to yell at the game. I get it, it's football, people yell! This was very different. I remember looking at Trent because I was very anxious, but we were planning to leave at halftime anyway to prep for the week. Plus, Michael had done this more times than I can count; he's gotten extremely drunk and angry and everything ended up fine. I assumed it was one of those times, but I was wrong.
When it was 6:30 p.m., it was halftime. Trent and I said our goodbyes and we went home. When I got home, I started to cook our meal prep for the week when I noticed my phone ringing at 7:15 p.m. I looked down and saw it was my mom. I immediately had a bad feeling. I answered the call, hoping she was calling to say we forgot something, but instead, she was hysterical. 'I heard a gunshot and I don't know where Michael is. Where is he? What do I do?!' I grabbed Trent and we sped over, but stayed on the phone with my mom. I said, 'Can you call him?' She mentioned before the gunshot went off, Michael got even more upset than he already was and threw his phone on the ground, and screamed, 'I can't do this anymore.' When his phone hit the ground the case broke off of it,  bounced up, and cut my mom's face. She said, 'Ouch, Michael. You hurt me!' and he said, 'Are you okay mom?' She said that was the last thing he said to her and a few moments later she heard a gunshot.
My mom said she was going to look for him and would call me back. Trent and I were in the car driving as fast as we could, nervously repeating over and over again, 'Should we call the cops now!? He wouldn't do this, especially after Stephen, he couldn't. He is just mad, maybe he just fired his gun into the sky. We will make sure to get him checked in for mental help tomorrow; he will be fine.' I texted my mom, 'Any luck?' To which she responded and said, 'He's dead.'
I remember saying those words out loud to Trent. My whole body went numb and I started hyperventilating and cried. We were five minutes away. I kept thinking, 'Maybe he will survive it, maybe he is not dead, it's fine!' Denial at its finest. Once we pulled through her gated community and got close enough to her house, I jumped out of the car and ran in before Trent parked. My mom was hysterical. She said, 'He's in there.' I ran inside to see him lying there. He really did it. The minute I saw him I knew – no one survives that. I was completely numb. There were no more tears, no sadness or anger. Just confusion and nothingness.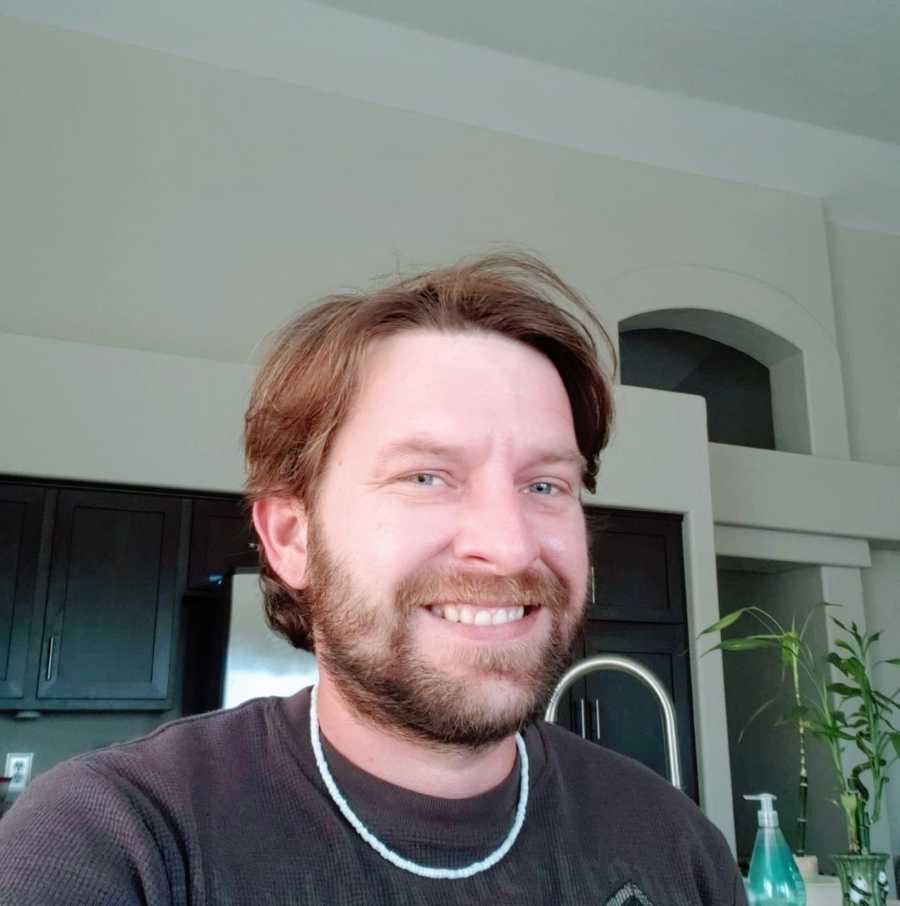 We were just talking about the future plans, he scheduled his tattoo removal over the next nine months, he was about to graduate from college. Michael was very impulsive when he was upset and drinking, and the only thing that mattered at the moment was ending his pain. I wish I could have spoken to him, and tried to help, but I'm not sure I could have. It has been three months, but it has felt like years since it happened. I'm in therapy now, suffering from PTSD, depression, and anxiety, and I am so thankful for my therapist. She has helped so much during this time.
I told my therapist I had this idea, a way to help support others in small ways but wasn't totally sure how to make it happen. A week went by and it hit me: 'Two Brothers Initiative,' a suicide prevention community that advocates for mental health support. Two Brothers Initiative is my way of teaching others about warning signs and how to help someone who needs it. My goal is to remind those who are struggling that they are not alone in this fight, and they are surrounded by those who want to help them every step of the way. Suicide can be difficult to discuss, but it will never be as difficult as the regret of not opening the door to someone who may need to talk before it's too late. Through this initiative, it is my hope I can save someone else's brother or loved one. If you are suffering from mental illness, suicidal thoughts, or grief from losing a loved one, the Two Brothers Initiative will be here for you.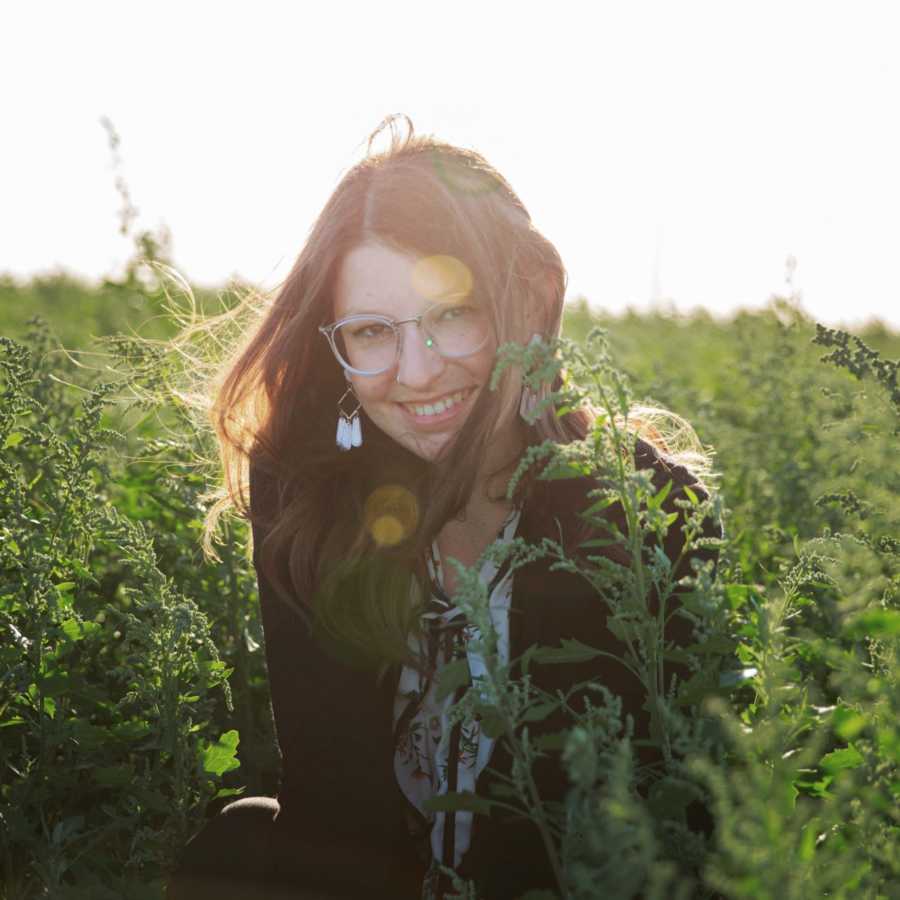 If you are grieving the loss of a loved one like me, I want you to know you are not alone, either. Grief is a difficult journey and healing is not linear. The only thing that will mend the pain is time, so please don't rush yourself and be gentle. Feel your emotions, do not bury them. Talk about your pain with someone – whether it's your partner, a therapist, or friends. I am sorry you are dealing with loss too, but I am here for you. Your emotions are 100% valid.
If you are suicidal, please contact any of these resources for help:
Suicide Prevention Lifeline: 1-800-273-8255
Crisis Text Line: Text 'HOME' to 741741
Chat With Someone: IMAlive.org
You are not alone, you are so beyond loved, and your life matters so much to everyone around you – including me. So many others out here care for you and want you to live. Suicide is not the solution to the problem, it only makes it so that the problem can never get better. So many people can't imagine their life without you in it. Please stay."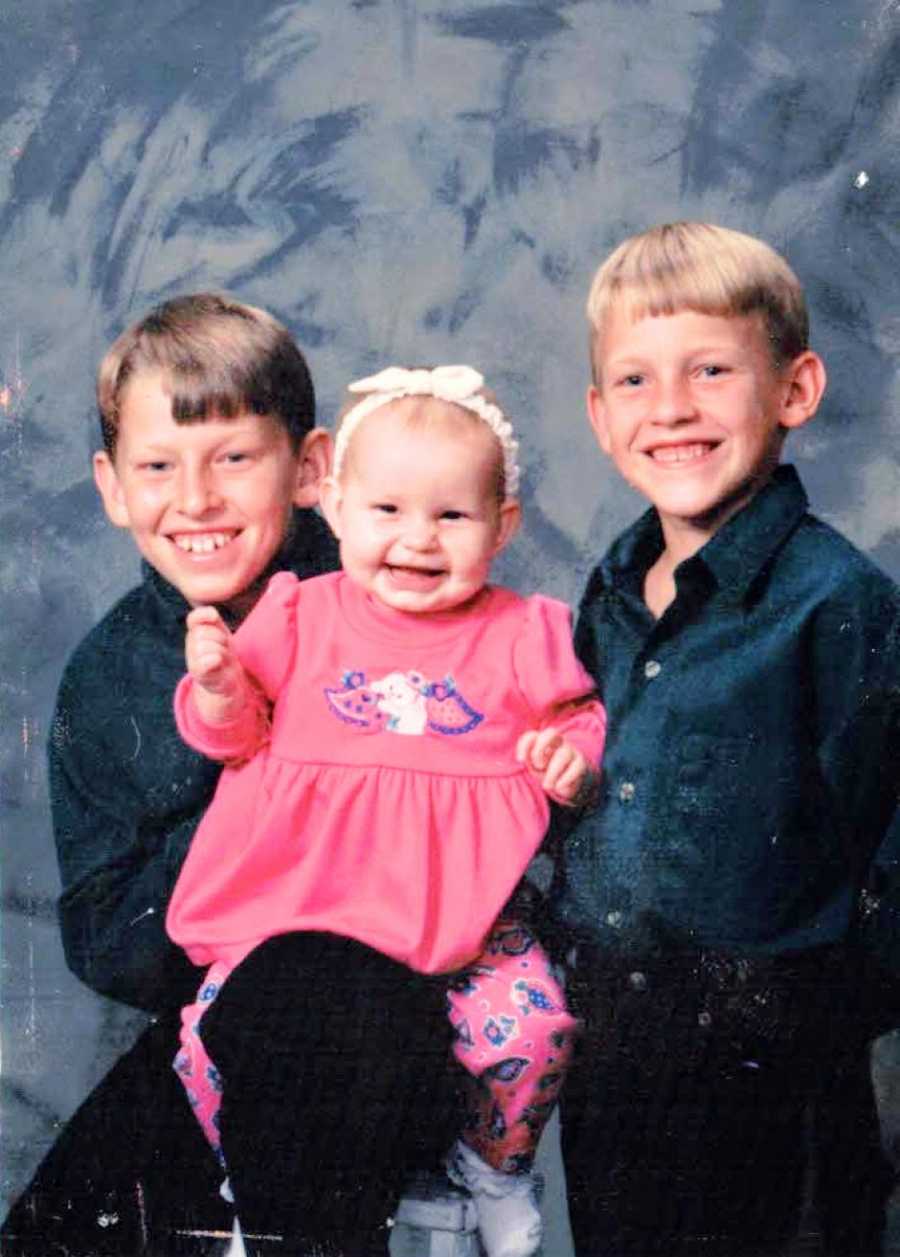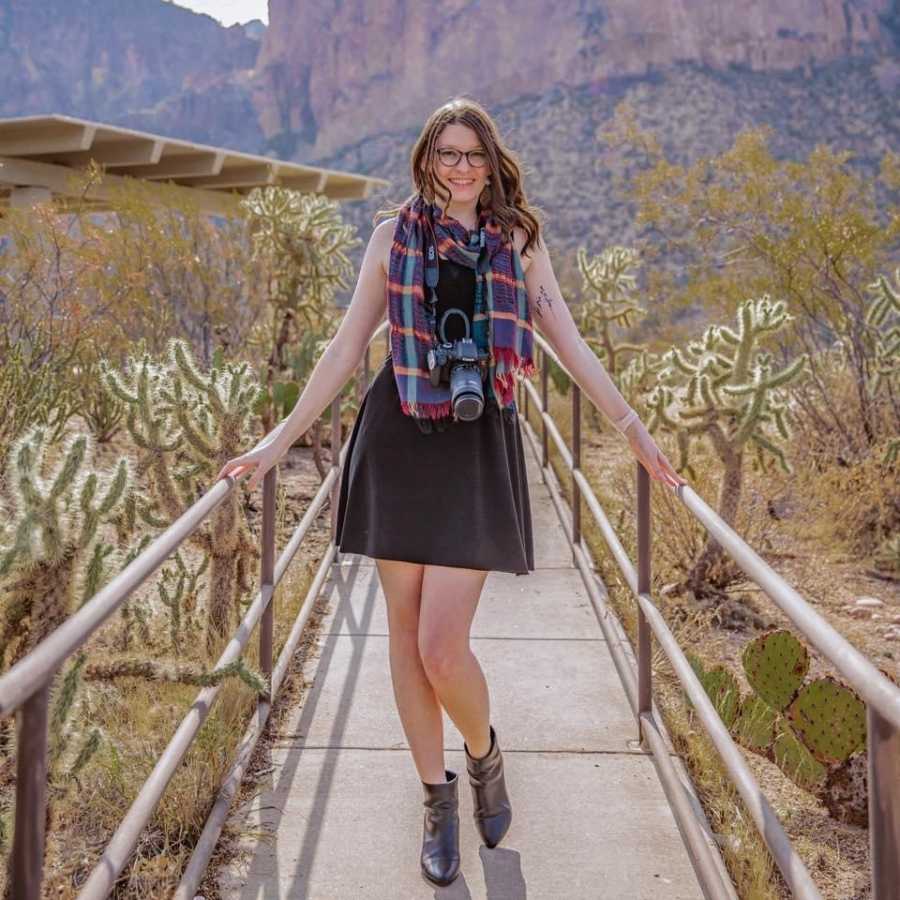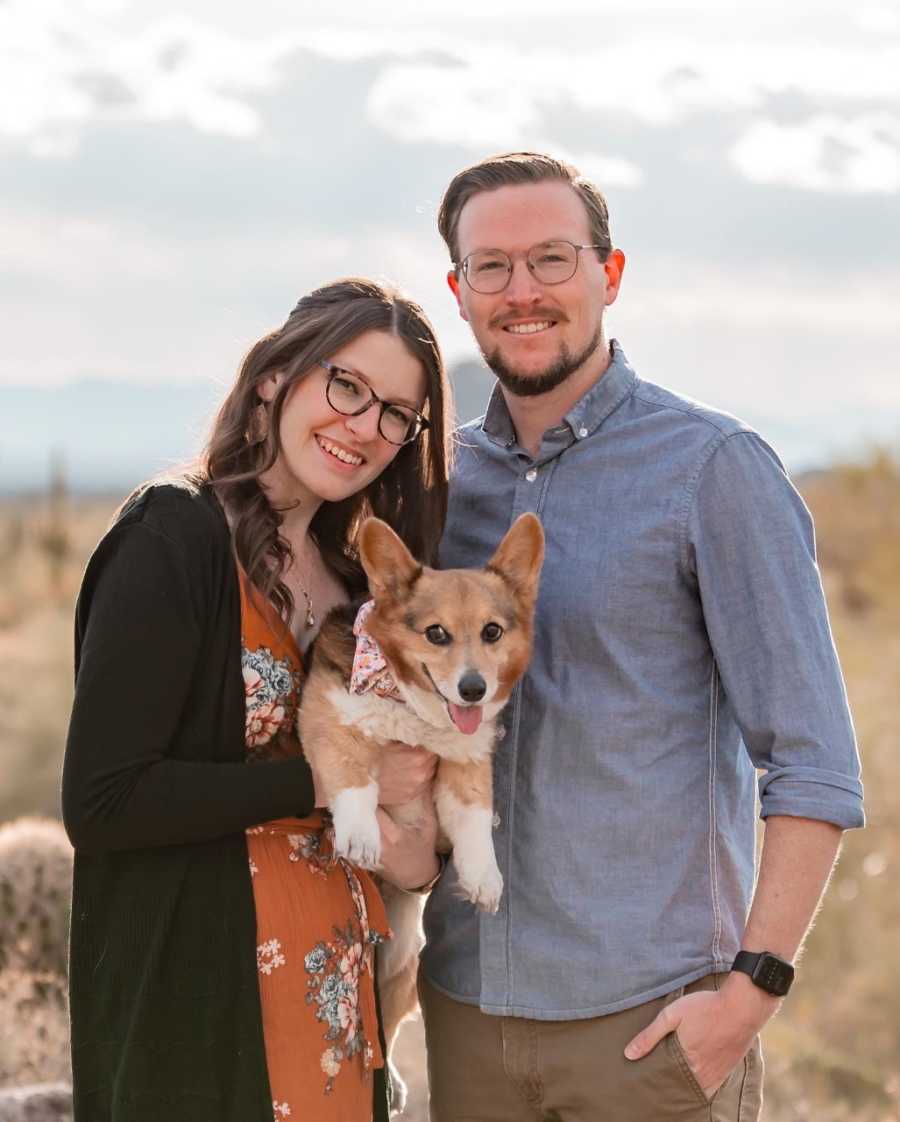 This story was submitted to Love What Matters by Jules Steckler of Phoenix, AZ. You can follow Two Brothers Initiative on Facebook and Instagram. Be sure to subscribe to our free email newsletter for our best stories.
Read more stories like this here:
'I gave an ultimatum. 'Get help or I need a divorce.' Something jolted me awake at 1 a.m. The door to the gun safe was open.': Widow finds forgiveness after husband's suicide, 'I meet his memory with sympathy'
'Why bother? Nothing's left of my life.' I was a washed-up, homeless veteran injecting meth into my arm.': Veteran launches organization to end veteran suicide after battling addiction, 'Your life is worth living'
Provide hope for someone struggling. SHARE this story on Facebook to let others know a community of support is available.