"(Mom) On April 9, 2017, our lives changed forever when we welcomed our perfect little Theodore Quinn Prive into the world. He truly was a beautiful and perfect little baby. We were so proud and so in love. When it was time for me (Mom) to go back to work, I was heartbroken. Luckily, we found a wonderful in-home daycare near our house that we loved. Life was good and we had settled into our new routine.
On the day before my 30th birthday, I picked Theo up from daycare. I happened to notice that his little legs had bruises all over them between his knees and ankles. He was only four months old so he wasn't crawling yet, and there was really no obvious explanation for the bruises. The day care owner also mentioned that his appetite had really decreased that week. I was already uneasy about a small bump I noticed on his scalp that appeared maybe a week or two before the bruising, so I made an appointment for him at the pediatrician's office for that following week. Over the weekend, we could tell that he was feeling under the weather and he had a stuffy nose.
Because I was working, Nate took Theo to his appointment the next week. He made sure to bring up the bump on his scalp and inquired about the bruising. He was told that, 'babies just bruise easily' and the bump was just a birthmark. Knowing my concern and paying attention to his own intuition, he pushed for blood work to be done. An hour passed by before the pediatrician came back to tell him that she was sending us directly to USA Children's and Women's Hospital in Mobile, AL. Theo's white blood cell count was 113,000 and she said usually when it's that high, it can only mean one thing… leukemia.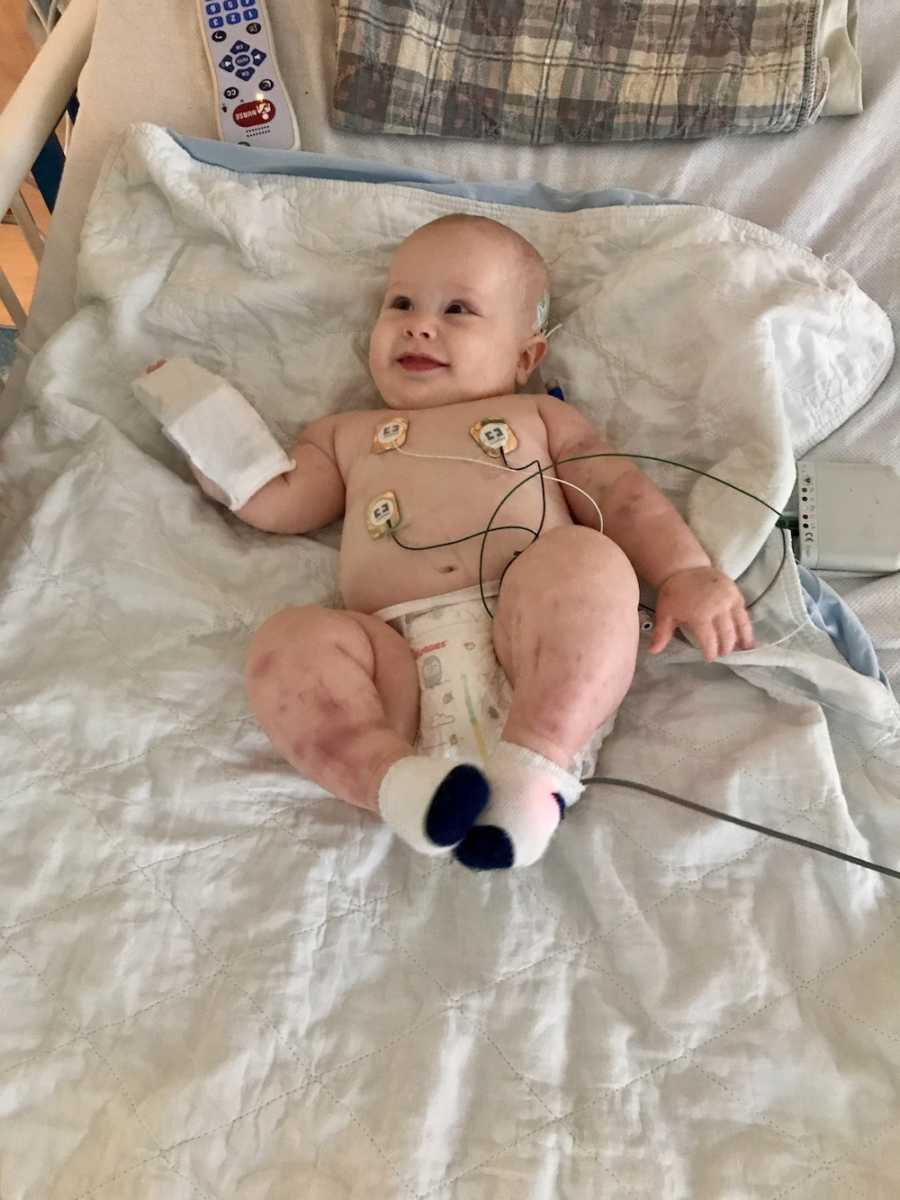 We took Theo directly to Mobile and were immediately admitted to the PICU. Our minds were filled with fear and uncertainty and our stomachs were in knots. I distinctly remember walking down that long hallway to our room at the end and seeing the faces of all the nurses looking at us as we walked by. That's terrifying as a parent. We had no idea what was next, we continued to hope and pray that it was just an infection or something else that caused his body to produce this abnormal amount of white cells. Unfortunately, that was not reality. He was diagnosed with acute lymphoblastic leukemia (ALL) and the next day Theo underwent a bone marrow aspiration, lumbar puncture, and started high dose chemotherapy.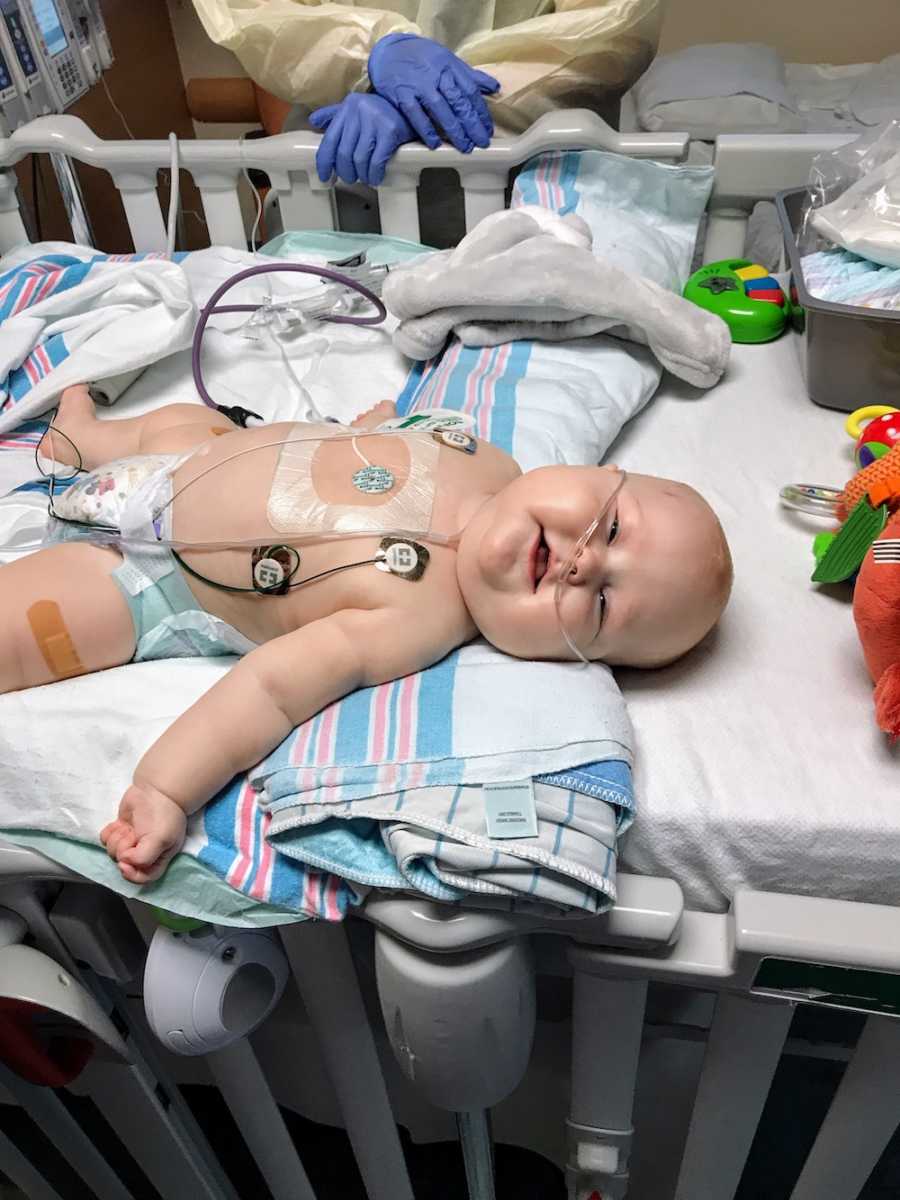 (Dad) Initially, we were told he would be admitted for two weeks and then we would be able to continue treatment through the outpatient clinic. Those two weeks turned into 227 consecutive days. Seven and a half months he was fully admitted… every night, every day, 99.9% of the time confined to a 10×10 hospital room on the fourth floor with a view of the hospital courtyard. He was connected to an IV pump, monitors, blood pressure cuffs and his little 15 pound body was getting pumped full of poison every day. While all of this was occurring, we still had to try to push him to hit his milestones and continue to develop like a normal baby boy.
Many days our only goal as parents was to get him to smile or laugh just once. We would try anything from jumping around, playing peek-a-boo, to making funny faces. Many days we failed and there were several weeks he didn't smile at all because he was so miserable. Just a heartbreaking little face looking back at you and you could see the pain in his eyes, the confusion of not understanding why he felt this way…'Mom, Dad, I had no idea life would be like this, just how painful it would be.' I could puke just thinking about those days.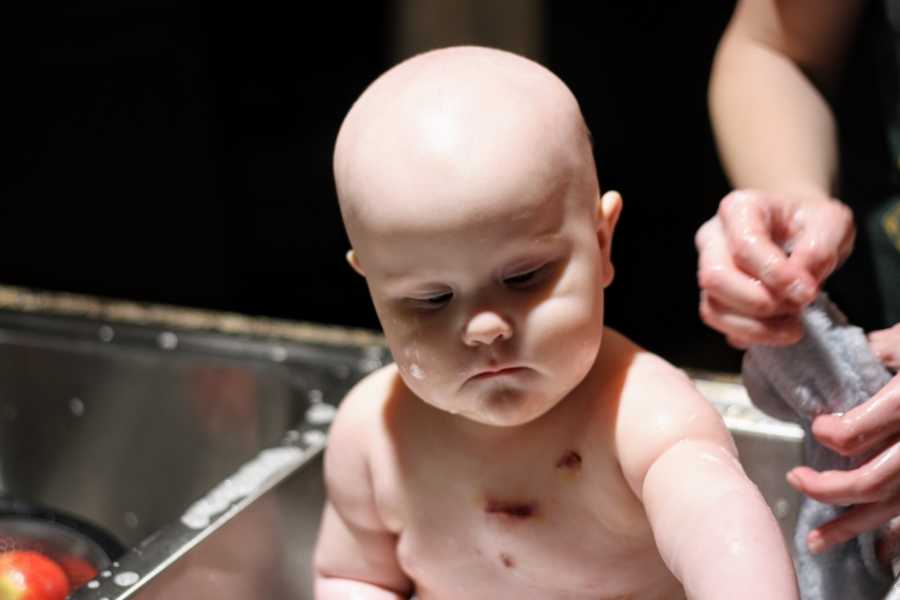 To think back on the days we were in the ICU after he was first diagnosed, I recall overhearing things being said about our baby between the medical staff. Hearing the ICU doctor say, 'I don't think he'll make it through the week.' to one of the oncology doctors. The heartbreak mixed with rage was like a wrecking ball to the faith I had been so solidified in prior to this moment. As a father who felt responsible for protecting my family, holding them close and fighting for them,
Coming to the realization that I was completely incapable of doing anything other than pray and believe that where my strength will do nothing and my God's strength is above all was a tough moment.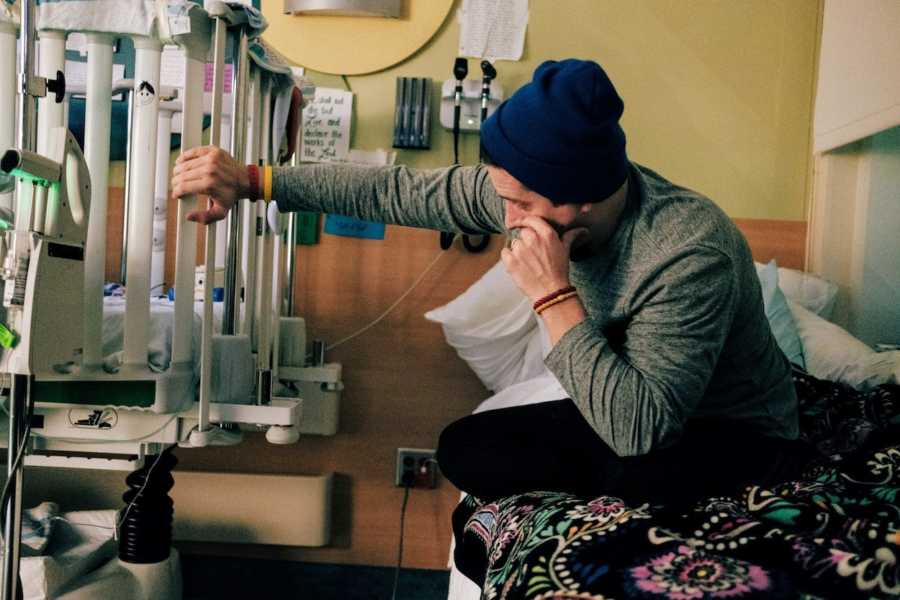 After several days, we transferred to the oncology floor and we were informed of just how long we could expect to stay admitted. We knew that we had to make Theo as comfortable as we could. We turned that little room into our home for the next several months with one of us with him at all times. Eventually, we had to return to work, even if just for a few hours a week, in order to maintain our employment status and to pay our bills. The hospital is around a one hour drive from our house and our jobs, so it was a juggling act between the hospital room, the Ronald McDonald House, and our home. Being at home tended to be the most depressing and lonely place to lay our heads because of the separation from a spouse and our beautiful boy fighting for his life, as well as the heartache of the three of us not being able to be home together.
Finally, on April 13th, 2018, just four days after Theo's first birthday, we were able to go home and begin the maintenance phase of treatment. Sweet victory! A battle had been won and we spent the next nine months cherishing every moment at home. We bought bikes and a pull along bike cart for Theo to ride in, and through the spring and summer we spent many Friday or Saturday nights driving down to the state park where we would go on an hour or two hour long adventure. We were soaking in all that God has created and letting this boy live and have freedom. Our little family was whole again in these small moments. The things we take for granted are too many to count. Watching our little baby, who had been through so much, grow to become this curious toddler, full of excitement and passion and energy filled our hearts with joy. All he wanted to do was adventure, go outside, and pet that random doggy, but he still couldn't live like a 'normal' boy. He was still taking daily oral chemo, which continued to limit what we could do, where we could take him, who he could come into contact with and we took many precautions to assure he did not get sick while his immune system continued to get depleted.
(Mom) We were counting down the days until end of treatment, which was the end of August of 2019, and it was less than eight months away. We would go to the outpatient clinic for labs every week to two weeks and Theo's chemo was constantly being adjusted due to his body not metabolizing it. Right after Christmas 2018, the catheter of his port burst near his clavicle and he had to have a new port surgically placed. It was around this time that his blood counts started to drop, and at the time, we thought it may have been due to a new medication he had started to take in efforts to help his body metabolize the chemo he was on. We held all of his medications for a week and went back the next week to check his counts again. We were shocked to find out that he needed a blood transfusion and a platelet transfusion as both were dangerously low. He had not needed a transfusion of either for over nine months. Nate voiced a few concerns to our oncologist and they ultimately decided to send a blood sample to the lab for a flow cytometry, which would tell us if there were any leukemia cells in the blood that may not have been able to be seen by the naked eye.
After receiving his platelet transfusion, Theo spiked a fever. Due to him being neutropenic, he was admitted to the hospital and we started antibiotics. Late that afternoon, the hospital room phone rang and I answered it. Our doctor was on the other end of the line, and his voice sounded like he didn't want to say what he knew he had to tell us. The results of the flow cytometry were back, and it detected a protein specific to leukemia cells in 0.2% of the sample. Having been in full remission, there should have been 0%. I was in shock and disbelief. How could this be happening all over again? The news was absolutely devastating for our family. The very thing that we feared and worried about every single day had actually happened. The leukemia had returned in our sweet little boy's body.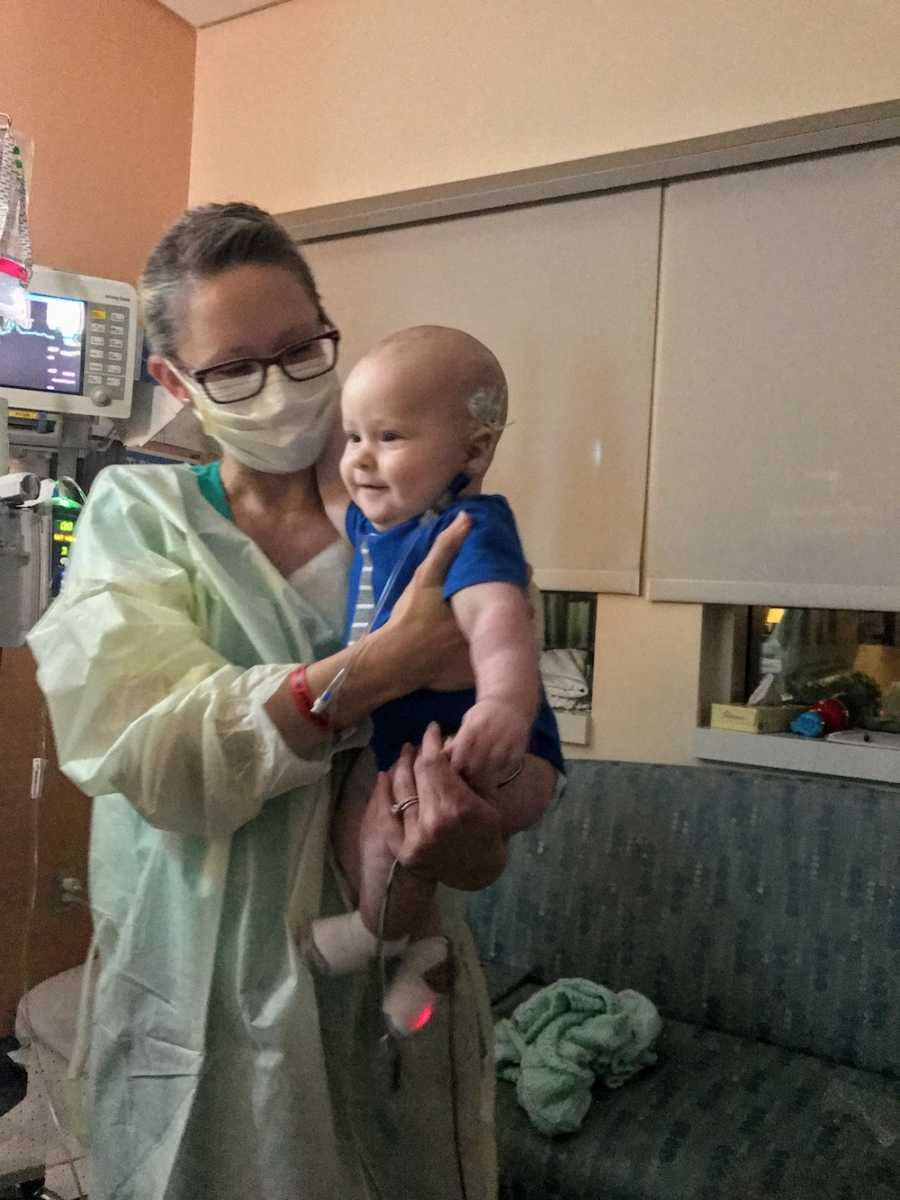 Feelings of anger crept up inside of me. Anger that my baby had to go through more treatment. Anger that the light we saw at the end of the tunnel was now further away. Anger that the 'normal' we now had was gone. Anger slowly faded into determination. We were determined to get Theo to the best facility we could for treatment no matter what we had to do. We spent the weekend reaching out to different hospitals and other families who have gone down this path. We narrowed our options down to several of the top facilities in the nation and ultimately chose to transfer to Children's Hospital of Philadelphia, where they are on the cutting edge of developing new treatments and we would be given more options.
By the divine intervention of God, we safely made it to CHOP and are currently awaiting a plan of action for treatment."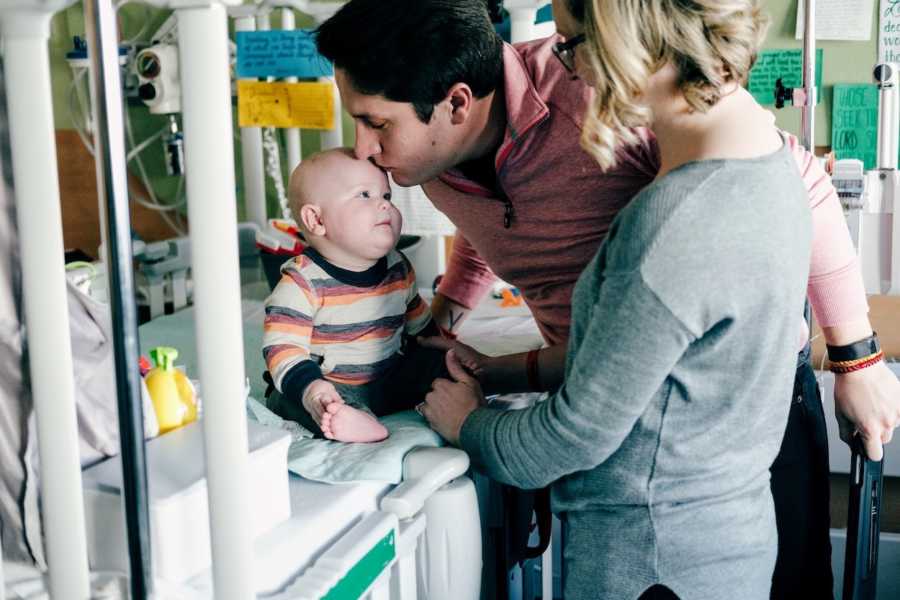 This story was submitted to Love What Matters by Nathan and Nettie Prive of Foley Alabama. Follow their journey  on Instagram here. Do you have a similar experience? We'd like to hear your important journey. Submit your own story here. Be sure to subscribe to our free email newsletter for our best stories, and YouTube for our best videos.
Read more stories like this: 
'I feel something.' Not a single OBGYN had ever touched me above the shoulders. Now I am different.': Woman diagnosed with thyroid cancer after switching doctors, 'I panicked'
Do you know someone who could benefit from this story? SHARE this story on Facebook with your friends and family.