"I'd like to share another story with you of two friends, Breanna and Katrena, whose paths intertwined with the Mills brothers, Kris and Jeremy. Theirs is a story of an extraordinary love and loss, and a limitless strength.
There are all kinds of love in this world, but never the same love twice.
Our story starts with Breanna.
Breanna met Kris Mills at a house party in the summer of 2009. 'I remember thinking he was really cute and fun to be around. We ended up hanging out all week and I laughed so much. He was a complete gentleman. From then on, he had me, for sure. I'd relive that week all over if I could.'
They spent the next few months getting to know each other. 'He was the most genuine person. One of the most honest people I've ever met. He was smart. And I'm not just saying that because he is my love, but he was really smart in all things that he did in life.' That New Year's Eve, Breanna got a call from Kris asking where she was because he just had to be with her when the ball dropped. 'He made it there just in time to kiss me at midnight. It was honestly one of my very first true midnight kisses.' A few days later, they made their relationship official when Kris asked her to be his girlfriend on January 5, 2010.
Their relationship grew stronger every day. They enjoyed little things like going to root for the Cleveland Indians, or spending their nights laughing at home together playing video games. Simply enjoying each other's company. They eventually found out they were expecting their first daughter, Brielle.
'He loved everything about being a dad. He was all about his family. I've never seen someone more involved with making his child happy on a daily basis. They were always going on adventures like canoeing or fishing. We took a family vacation to Myrtle Beach when Brielle was 3. She remembers all of it and talks about it all the time.'
A few years later, Bre and Kris decided to try for a second baby. In early July of 2017, Bre found out she was expecting, and Kris couldn't be more excited. 'As soon as I showed him my positive pregnancy test, he said 'well, here we go!'
A few short weeks after this incredible news, Kris was in car accident, and passed away a few days later from his injuries on August 3rd, 2017. Breanna was 11 weeks pregnant at the time. A few weeks after Kris had passed, she found out they were having a little girl, and decided to name her Kehlani Kris, after her adoring father.
'Me and the girls were his forever and always. That's something Kris always said.'
Katrena + Jeremy crossed paths many times before dating. Katrena even recalls Jeremy at her 19th birthday party, which is funny because they shared the exact same birthday. 'I remember he stopped and asked me, 'is it your birthday? Because it's mine too!'. They wished each other a happy birthday and that was that. 'He always told me it was that moment that he knew he had to have me somehow.' It wasn't until they were 21 that their relationship became official.
'I woke up to a sign on my door that said, 'Will you be my girlfriend?' and how could I say no?!' Young and in love, Katrena and Jeremy continued their relationship and their bond and love grew stronger every day. 'Jeremy was a strong soul. He was powerful, giving and loving. He is my soul mate, my person, my best friend, my king.'
They began a family together and have two beautiful little girls, Audrey and Kalayah. 'They are two little people made from love. Who are here for a reason. Our gift from God. They deserve the world, because they are our world. I'll never forget watching Jeremy cry as he held our daughters for the very first time.'
'My girls look just like Jeremy,' Katrena said. 'When I look at our girls, I melt. They are both so much of him. But deeply in their eyes. Not only that, but Kalayah sleeps just like him. Audrey is so talented like him. She's my little artist. They are the best parts of him.'
Jeremy loved being a dad. 'He adored when Audrey ran into his arms,' Katrena said. 'And when Kalayah's face lit up when he walked into a room. He loved knowing they were his forever.' Jeremy was so proud of the family he made.
In August of 2018, Jeremy swept Katrena off her feet when he proposed to her in Mexico. He planned a romantic horseback ride at sunset on a white sand beach. 'He wrapped his arms around me and told me that he loves me with all of him. He got down on one knee and asked me to marry him, and of course I said yes! We kissed and I felt everything around me melt away. We were complete.'
Just shy of 5 months later on January 8, 2019, Jeremy was called home to be with God. Two incredible men gone way too soon, but they left a legacy of unfathomable love for their girls to hold onto for the rest of their lives. Devastated and lost, Breanna and Katrena picked each other up and continued to give their all to raising their four little girls.
Not only do they provide them with food, shelter, clothes, education, etc. but make it a priority to provide for their soils, teaching them to be strong when it isn't easy. Teaching them to keep going when they feel like giving in, all while keeping the spirit and memory of their fathers alive and celebrating them every day. 'School doesn't teach us how to grieve. School doesn't prepare you for these kinds of situations. So, I need to teach my girls to be strong.'
'We talk about him all the time and always bring up the good times. Brielle prays to him at night. On his birthday, we buy a cake and sing. At Christmas we decorate a small tree and take it to his memorial. Honestly, we celebrate him every day. We love him.' Bre said.
'For me,' Katrena said, 'the most important thing is for them to know Jeremy loves them. Always has and always will. They were his world. Even though they cannot touch him, their blood runs within them, and because of that- he will live forever through them.'
'Brielle definitely has his personality,' Bre said 'and Kehlani has his attitude. Every time I look at my girls, I see Kris. I see his smile, his eyes, his love. They make me feel strong.'
Breanna and Katrena are surrounded by incredible support teams of family and friends who have gone above and beyond to help them pull through and thrive. They also look to each other, because no one can truly understand the reality of their situation like the other.
Katrena admires Bre saying 'seeing her strength, watching how she continues to keep her girls happy. I look at her in awe of what she has become through the hardest time in her life. She is a warrior.' And Bre feels the same about Katrena saying 'she has the biggest heart. She has since the moment I met her. She's been there for me so much since Kris has been gone. We're not just friends, we're family.'
'This is a struggle each and every day. Pain doesn't go away. But love is never ending. Energy never dies. I have to keep living for two little girls whose world changed in the blink of an eye. While also reminding them, it is and will always be the four of us forever. I'll hold their Dada in my heart until I'm in his arms again.' Katrena said.
'I have my bad days, believe me. But I have to show my girls that we can do anything and get through anything. When my girls look at me, I want them to see a strong, independent woman. I want them to see that even in one of the hardest times in my life that their mom pulled through this and survived for their sake.' says Bre.
Bre and Katrena radiate strength. They keep going. They keep going through the tears and the hard days that bring them to their knees. They do it for their girls. They do it for their boys. And they do it for the hope of heaven and that they will all be together again someday.
Even though the reason Kris and Jeremy are gone is still unknown, and may never be fully understood, the love that they gave to their family is strong enough for the girls to feel and hold onto for a lifetime. God knew that Bre and Katrena would need these little girls to get them through. They are four beautiful gifts, given to them by two men who loved them beyond measure. Something for them to physically hold, but knowing they are never without their boys.
They are always with them, always watching and always listening. 'I pay attention to signs. They are always with us. I believe that. I have the most handsome guardian angel,' said Bre.
Katrena opened up about her family's nightly routine saying 'I tell our girls each night as we say our prayers, 'Though we may not see you, though we may not hear you, we always know you're there.''
Six Mills girls, all by fate. Four by blood, and two by heart. They are forever their girls."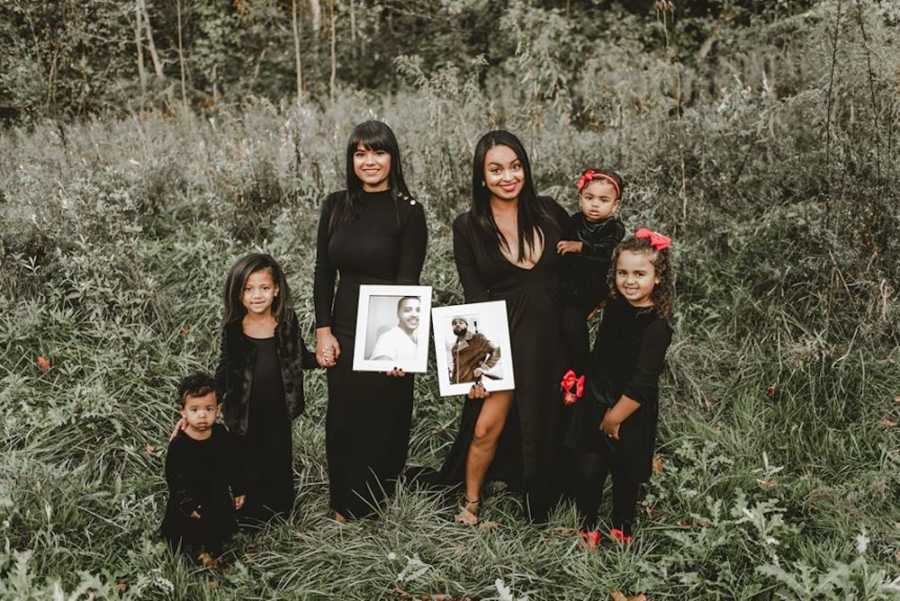 This story was submitted to Love What Matters by Aileen Smith of Aileen Elizabeth Photography. Do you have a similar experience? We'd like to hear your important journey. Submit your own story here. Be sure to subscribe to our free email newsletter for our best stories, and YouTube for our best videos.
Read more stories like this:
'It's bad, they have her on life support.' I cried out to keep my sister earth side, not to take her from us.': Young woman recalls sister's harrowing car accident, how she overcame her 'impossible' recovery
'She's the one who lost her toddler in a car accident. Awful, just terrible.' That comment was made at a wedding.': Mom incredibly tired of grief 'defining' her, learns she is 'worth' time for 'self care'
Do you know someone who could benefit from this story? Please SHARE on Facebook and Instagram to let them know a community of support is available.