"After months of trying to get pregnant with a second child, I was beginning to give up hope. Last August my husband, who is in the military, left to be away from our family in North Carolina for 18-24 months to become a warrant officer and attend flight school at Fort Rucker, Alabama. I put my faith in God that it would all work out and supported my husband in his decision.
We only saw each other 3 times while he was gone, one of those times being Christmas for two weeks. I prayed that while he was home we would somehow become pregnant. 10 days after that trip home, our sweet 2 year old little girl recorded a video telling her daddy there was a baby in mommy's belly and we sent it to him. He called me overjoyed that we were pregnant.
Due to some unfortunate circumstances, my husband was unable to finish flight school and his job with the National Guard in North Carolina was no longer available. His heart has always been to work with JAG in the Army, so even when that meant he would have to move across the country to Seattle, Washington, I was behind his decision. He left for Washington in April while I continued taking care of our toddler here in North Carolina and loving every minute of my pregnancy.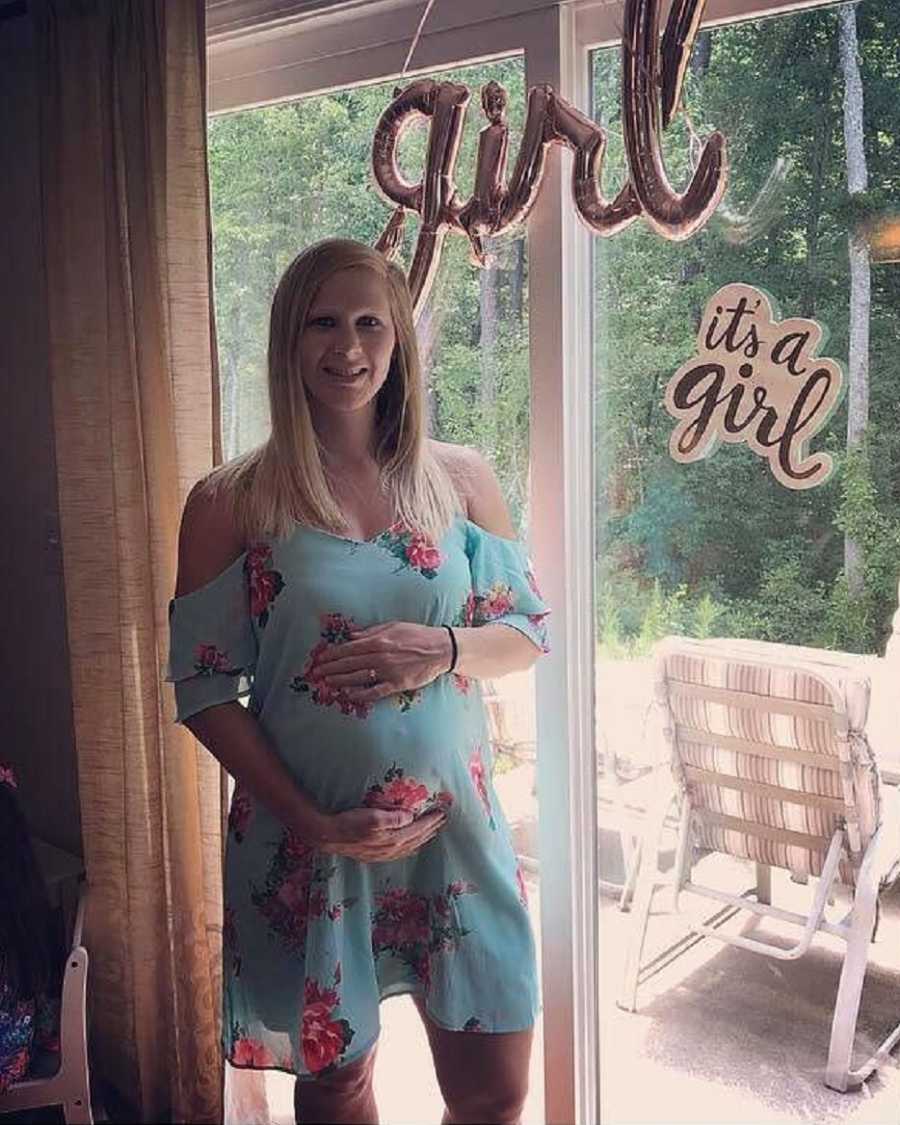 As the time drew closer to my due date, I really started getting anxious about him realistically not making it home in time for the birth. The flight home is 8 hours and he barely had any leave to take time off to ensure he was home prior to the birth. The Army only gives 10 days paternity leave but 2 of those days would be spent traveling. We wanted to savor those days afforded to us to spend with the baby at home instead of playing the waiting game for her to get here. Our plan was for him to fly home the day before my due date and if she didn't come on my due date, I would be induced he next day.
I remembered seeing other women who had professional photoshoots of them giving birth and contemplated doing it in case my husband couldn't be there with me. It just felt right, so I went ahead and booked a photographer. I still held on to faith it would all work out perfectly and he would be there.
39 weeks rolled around and not only was I anxious about having the baby, Hurricane Florence shows up. My mother, who lives 4 hours away, came to stay with me during the storm in case I went into labor. Fortunately, we were not affected by the Hurricane as predicted, and the baby did not come during the storm. However, I did start having Braxton Hicks at night. I started getting excited the baby might be coming.
My mom returned home and I went to my last doctor's appointment, just 4 days away from my due date. I was 4-5 cm dilated but not contracting at the time. I called my husband and told him I wanted him to go ahead and book a flight home that day after work because I felt like she was going to be coming very soon. He booked his flight for 4:00 p.m. PDT which is 7:00 p.m. EST. He would arrive in North Carolina at 6:00 a.m. EST.
I got off the phone and continued my normal day to not get too anxious about waiting on the contractions. My 3-year-old and I went shopping with friends to pass time. While out shopping I felt like I was starting to have contractions but wasn't really sure. I felt like maybe my mind was just playing tricks on me because I was ready to meet the baby. I started timing them and they were about 5-8 minutes apart. I called my doctor and went back in to monitor them. Sure enough, my doctor confirmed my contractions and I was now 6cm dilated. He told me I was in active labor and to go to the hospital. I called my husband to let him know. His plane still didn't leave Washington for another 2 hours.
My emotions started running high at this point. I called my friends to drop my little girl off for the last time as an only child with them, and worried my mom and husband wouldn't make it there in time.
When I arrived at the hospital about 6:00 p.m. there weren't any available rooms in the Labor & Delivery so I went to triage. I remained calm and had amazing nurses who helped get me admitted. I was ready for my epidural, but I was scared I was going to have to go through it alone. I begged my nurse to stay with me because it was shift change and thankfully she did. Shortly after my epidural my best friend walked in and about 10 minutes later my mom showed up too. I was transitioned to my L&D room. I felt much more calm and excited at this point. Now, just to get my husband to me.
My husband got on his flight from Washington to San Francisco which took about 3 hours. When he landed I was still at 6cm dilated so my doctor broke my water to speed up the process. My husband had 3 hours in San Francisco before boarding his final flight to North Carolina. At this point we were hoping the baby would come while he was still on the ground and he could at least FaceTime with us to watch the birth. My photographer Samantha Snipes of Sammi Snaps arrived and started getting her things set up while we waited.
I continued progressing and about 11:45 p.m. my husband asked for any last updates as he was about to start boarding the plane. Last they had checked, I was at 8cm dilated. My nurse decided to check me just for his sake and it was time to push! I instantly was overwhelmed with so many emotions! I was so scared it was actually happening. I was terrified my husband would miss it because it was time for his plane to take off. I was excited because I couldn't wait to meet my baby girl and it was finally about to happen.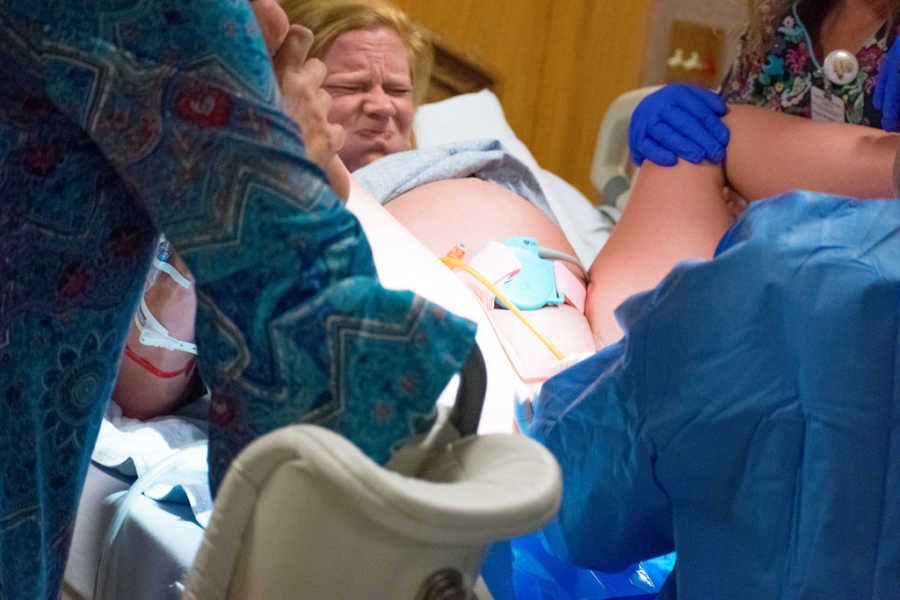 I FaceTimed my husband as fast as I could. When he answered the phone, he was walking to board the plane. I told him to stop right where he was because we were about to have the baby. He sat down against the wall right beside the boarding line. People passed by him boarding the plane as he sat there in tears of amazement that his baby girl was making her debut into the world. He was sad he wasn't physically able to be there, but so happy he was able to watch his baby be born. It only took 11 minutes for her to come into the world at 12:02 a.m.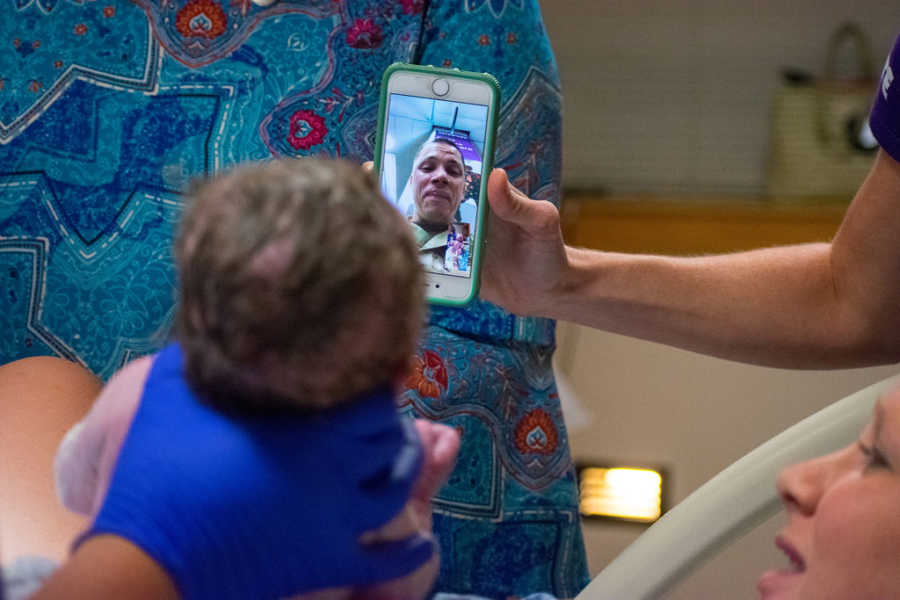 Our precious, healthy baby girl was 7 lbs 6 oz and 20 inches long. She got to see her daddy just as she was handed to mommy. He was instantly in love as tears rolled down his face on FaceTime.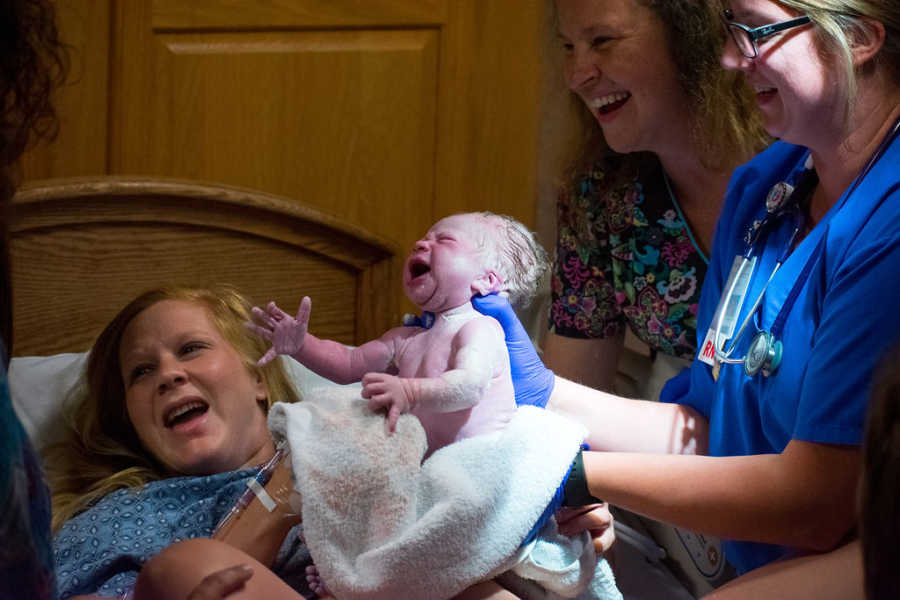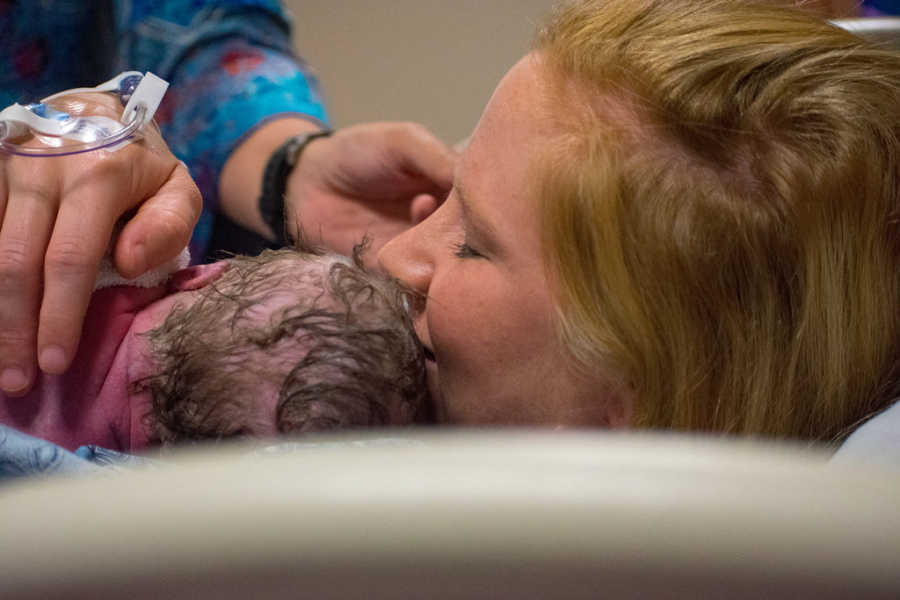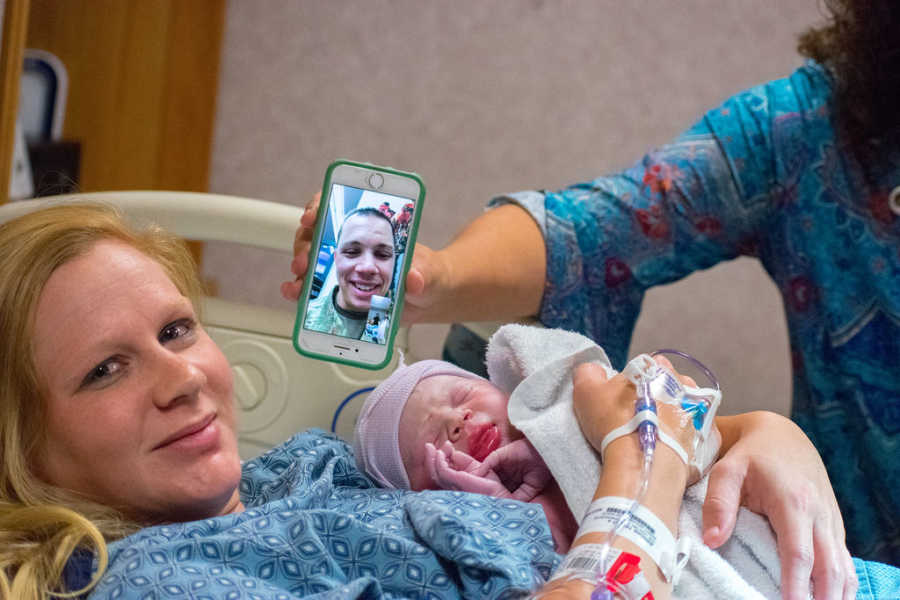 Our photographer not only captured one of the most precious, intimate moments of our lives, she was able to capture my husband Facetiming with us to be a part of it all. She quickly took a family picture of us as I told him to hurry onto his plane so he could get to us. He barely made it onto the plane, but he made it safely to us about 8:00 a.m. that morning and was able to hold his newborn baby girl in his arms.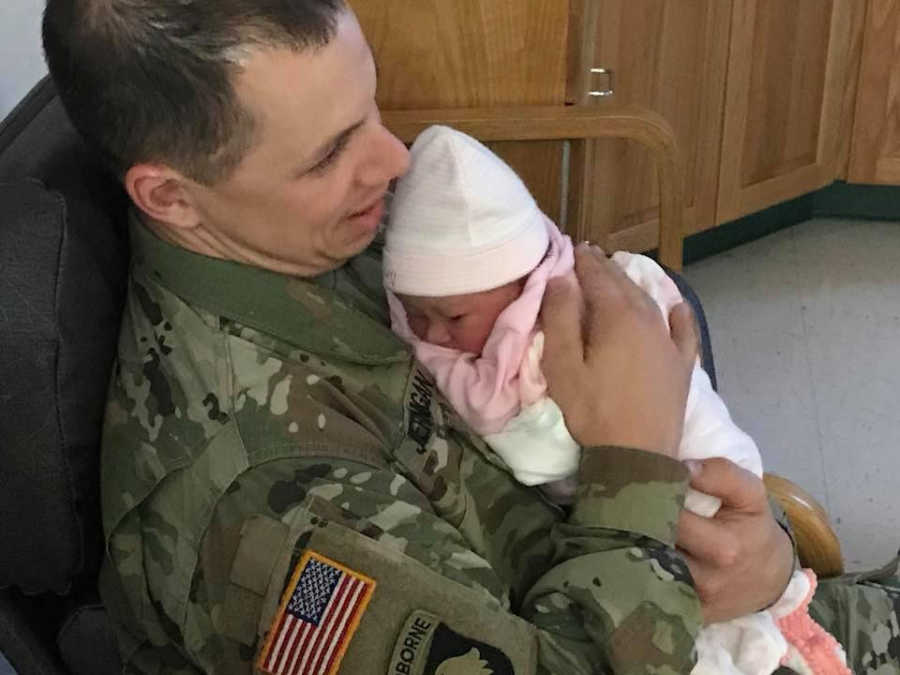 God's timing during all this is amazing to me. Living the military life is very complex and full of sacrifices for the entire family. Our first little girl has lived over half her life with her daddy gone and now our second little girl wasn't able to have him here for her birth.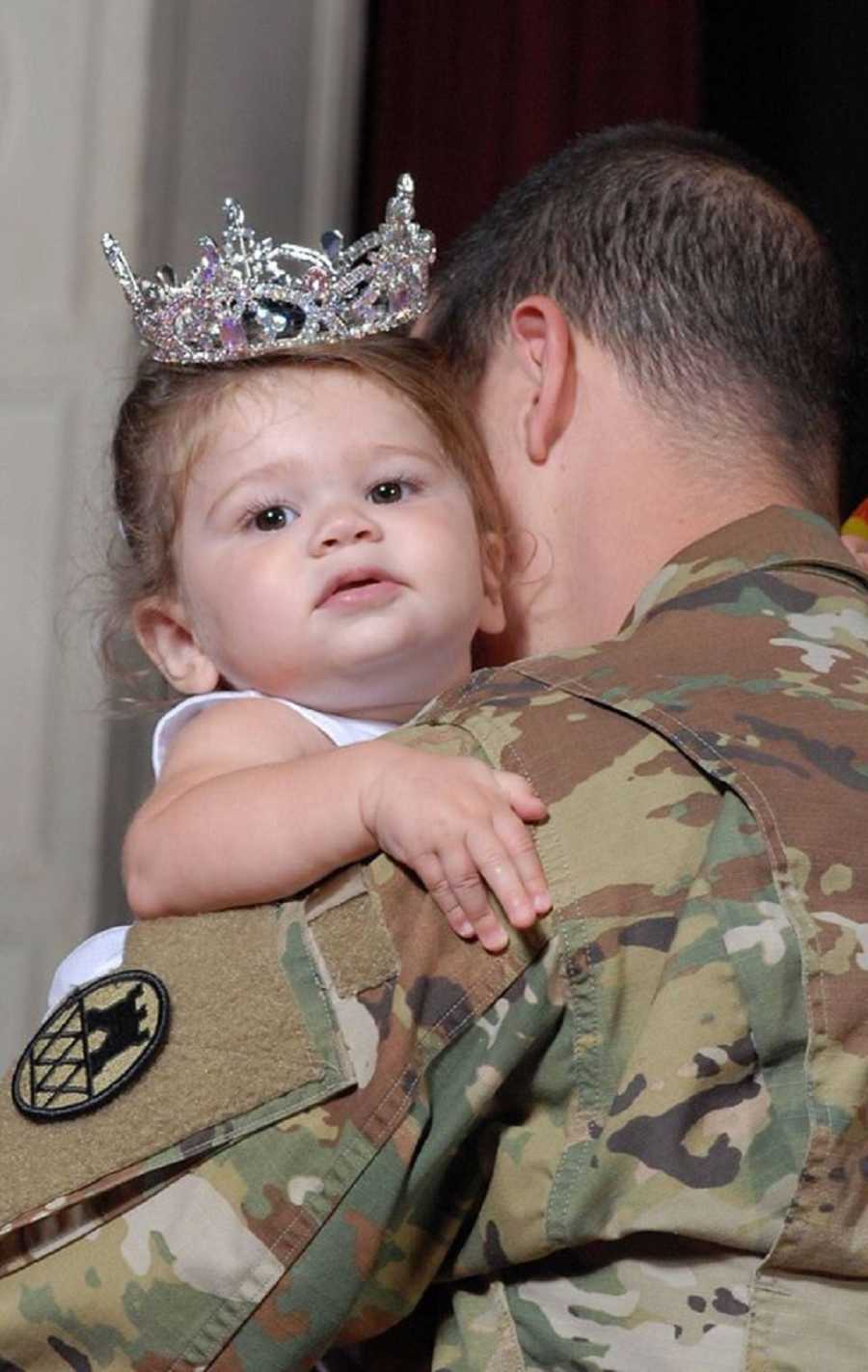 I try to focus on the positive in our lives, and that is that I have an amazing, supportive husband who loves all three of his girls unconditionally and would do anything for us. We are all very blessed and the time away just makes me cherish the time we have together that much more. Daddy is forever our HERO!"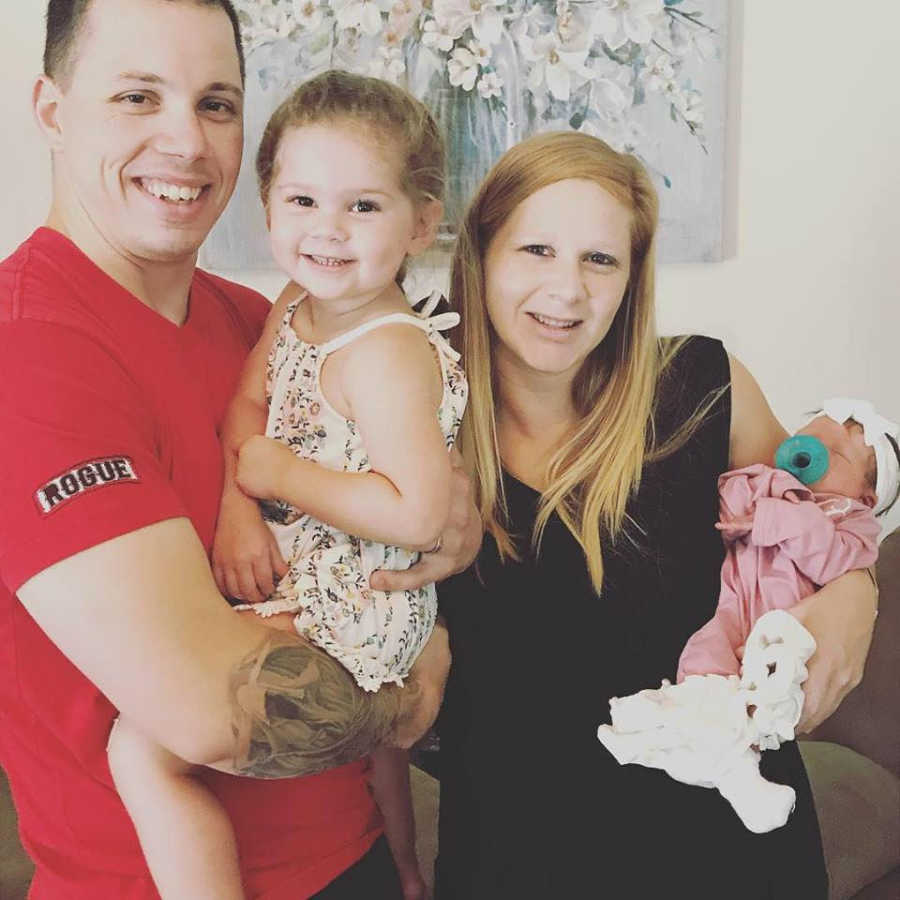 This story was submitted to Love What Matters by Tiffany Jernigan of Sanford, North Carolina.  Submit your own story here, and subscribe to our best stories in our free newsletter here.
Read more stories like this here:
'I have two toddlers that need a place to stay.' He was nonverbal, drug-exposed, and had a brain lesion. We were terrified.': Military family adopts brothers from foster care, 'Miracles happen every day'
'We're the only American family on the block. 'Dear Neighbors, we'd be happy to see you tonight.' They took the time to include us.': Military family finds community during deployment, urges 'make others feel welcome'
'Yes, this is our daughter.' My husband cut me off. I could hear him telling everyone, 'I'm going to be a dad!': Military family adopts child who was 'always intended to be ours'
'The hardest part was losing my freedom before I ever had it. I went from being a child to raising a child.': Teen mom shares happy, successful family life despite stigma
Show your love for the active duty heroes around the world. SHARE this story on Facebook.