"We met two years ago at a Christian camp. I had worked there several summers before and would come volunteer and help out from time to time. When I got there, they ended up not needing me, so I hung out and helped where I could in the kitchen where Merissa was working, and we started talking and got to know each other. I realized I liked her as a person pretty much right away, and after the second weekend I was definitely starting to feel a bit more than just 'like.'
I decided to send her a Facebook friend request after I got home since we really hit it off but lived so far away. She is from the Philly area and I'm from south central Pennsylvania, which is a little over two hours apart. I had planned to send the request on Monday morning, but woke up to one from her instead! The rest, as they say, is history! We started talking over Messenger and then started calling about once a week, too. We had a ton in common and she was just really easy to talk to. It only took about a month before I realized I really liked this girl and wanted to date her. And for me, growing up as a Christian, dating is about finding out whether or not you want to marry that person.
I asked her if she wanted to do something, just the two of us, and it came out pretty much just as awkward as that. To which she replied, 'Took you long enough to ask!' I planned the whole thing and made it a surprise for her, and took her to Cunningham Falls State Park in Maryland. We had a blast, hiking about a 2.5 mile round trip up to the falls, with a pack lunch that we ate on a rock overlooking the falls from above. That was the beginning of our courtship!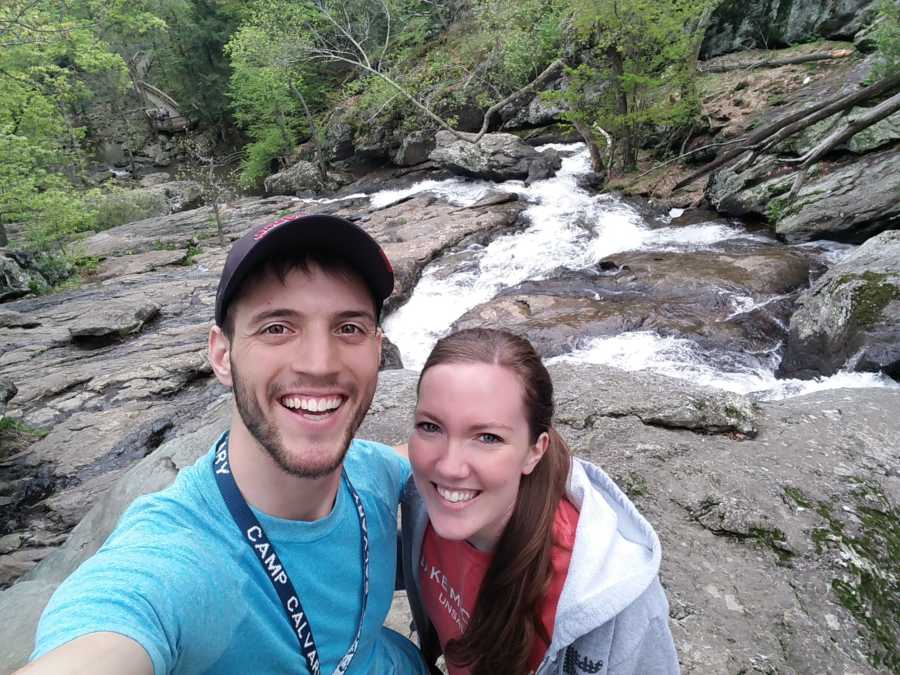 The biggest hardship we've overcome was being long distance. We lived about 2 hours away from each other. It was definitely draining on both of us, and we wished we could be closer rather than just getting to spend the scraps of our free time on weekends together. We might have gotten engaged a lot sooner if we had lived closer! Who knows?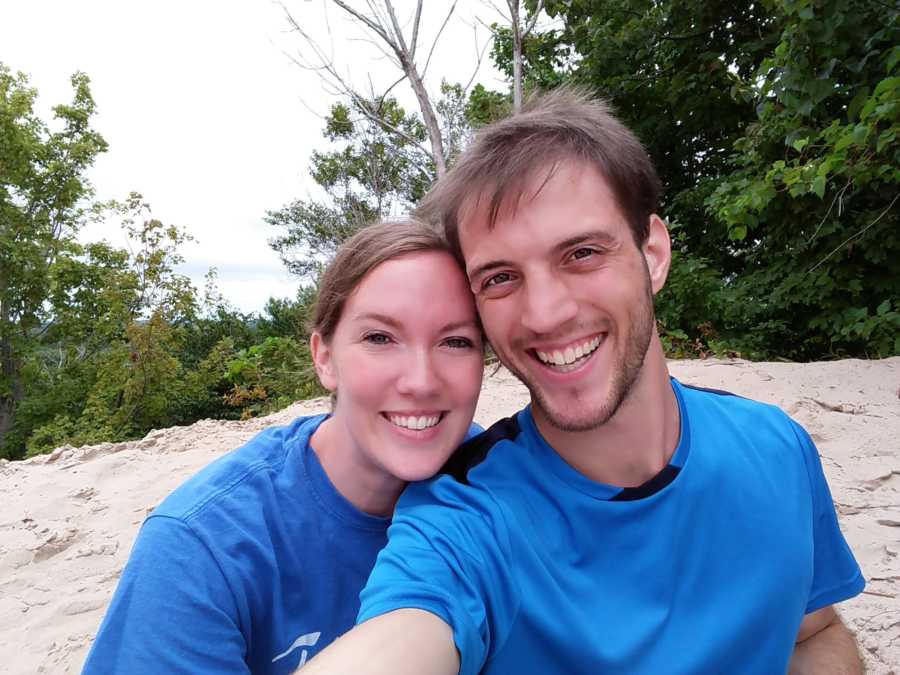 She was the first one to say, 'I love you.' I had been in 4 previous relationships and was a little more weary of it than her. I knew I REALLY liked her, but I wasn't quite ready to hit that milestone as soon as she was. It took me another few months I think. I've always been the slow mover in the relationship. Along those same lines, in regard to our first kiss, I had always dreamed growing up that my first kiss would be on my wedding day. I told her this when we started dating, and we both agreed on it. I guess you could call it a childhood fantasy brought on my watching old movies, and also from my Christian upbringing.
As I got older and saw other relationships between people I admired, and learned more about how Christ defined relationships, it only strengthened my desire to have my first kiss on my wedding day. I knew it was something that I wanted and God would approve of, and for me, I really wanted the woman I was going to someday marry to be the only woman I had ever kissed, and ever would kiss (like…really kissed). It's kind of funny, any time someone asked me about kissing and I told them I'd never kissed a girl, most people were completely flabbergasted! They'd be in shock sometimes, and I would always elaborate and say, 'Well, I've never kissed a girl on the lips, at least.' Cheek kisses are completely different, and anyone who has kissed on the lips knows what I mean.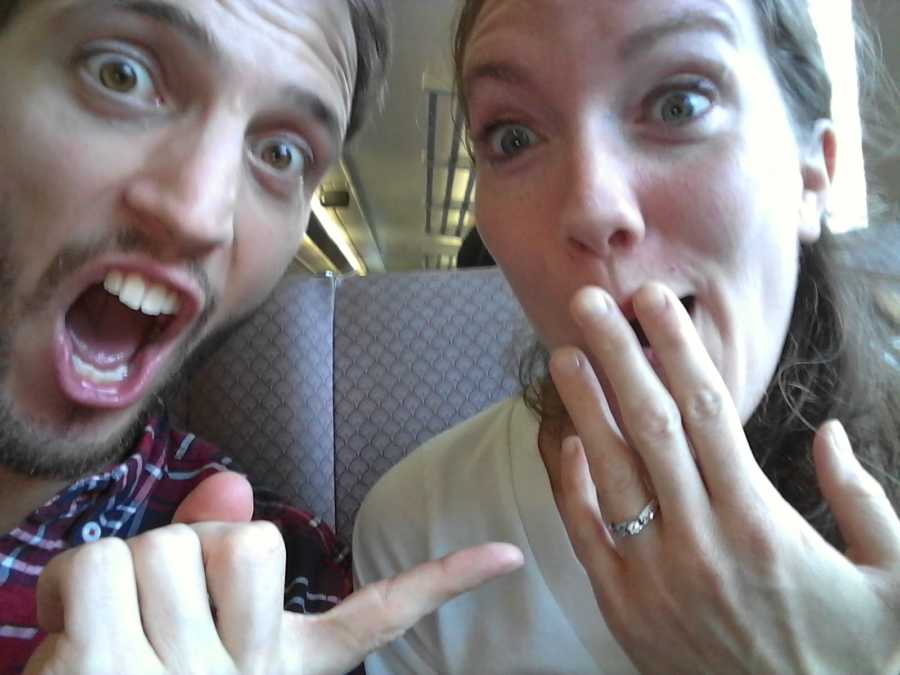 After getting engaged however, we got good wisdom from parents and some of our married friends and we started to reevaluate waiting for the big day for our first kiss. I was still stubborn and wanted to wait, but she was nervous about having our first kiss be in front of so many people. It didn't really bother me, knowing that they were all friends and family. But seeing how much it bothered her, I relented, and we agreed to kiss at some point before the wedding. Being that my main reasoning for waiting was to make sure I only ever kissed my bride, and we were both absolutely sure that we were getting married (to us getting engaged meant no going back either, I wouldn't have asked if I wasn't sure I wanted to marry her; and marriage is a lifelong commitment in our eyes as well), I decided I was okay with kissing before the wedding day. But I made her promise that she would let me initiate it, and that she wouldn't pressure the issue!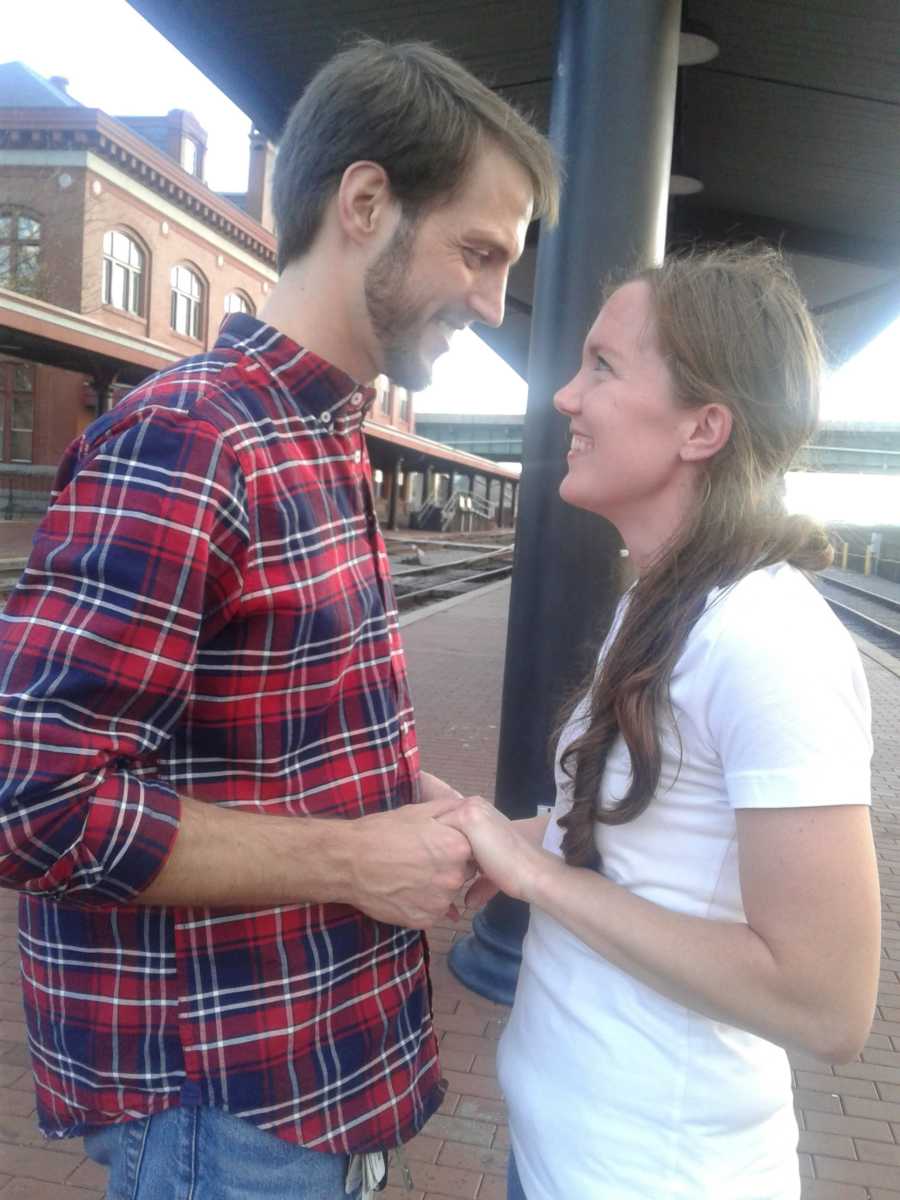 We had gotten engaged in October and after deciding to kiss before the wedding, I started making plans for how I wanted to do it. I settled on going on another hike, since we started dating by going on a hike. This time was about a 2-mile round trip hike out to an area by the Susquehanna River. I was really nervous the whole time, and had no clue if she had figured out yet that I was planning to kiss her. I was winging the setup for the kiss and started to worry about things, like am I going to find a good spot to do it? Is it going to be memorable for us? Am I totally going to mess it up somehow? I wanted to practice a dip kiss too since I wanted our first kiss as husband and wife to be a dip kiss. Would I drop her? Would we both like it? Would it be weird or awkward? Would we run out of sunlight before I made up my mind?
There were some decent spots on the way that would have worked, but I wanted someplace epic. When we turned around to start hiking back, I noticed a trail that went up to 'The Pinnacle.' As we got higher, the sun got lower and was shimmering across the river, and the view was spectacular! I made the call in my head, and told myself, 'Alright…this is going to happen.' I just grabbed her hand and pulled her in, and started looking out over the river and hillsides as we held each other close. We enjoyed the view as I psyched myself up. I could feel my palms getting sweatier, and my heart started beating faster, even after just hiking about 100-feet straight up a hillside! We stood there for what seemed like forever, but was probably only a minute or two, and I finally turned toward her. I was still nervous as all get out. I had never kissed a girl on the lips before. After another long minute of beating myself up in my mind, I finally did it! I kissed her! It was great! We both laughed and we kissed a few more times. It's kind of a blur. I said we should practice the dip kiss! I dipped her right on the edge of an overlook (making sure I had good footing and balance, first, of course) and kissed again! That one was fun. Although it wasn't on my wedding day, I knew I would never be kissing another woman. And Lord willing, I would be kissing Merissa for a very long time to come. It was very good.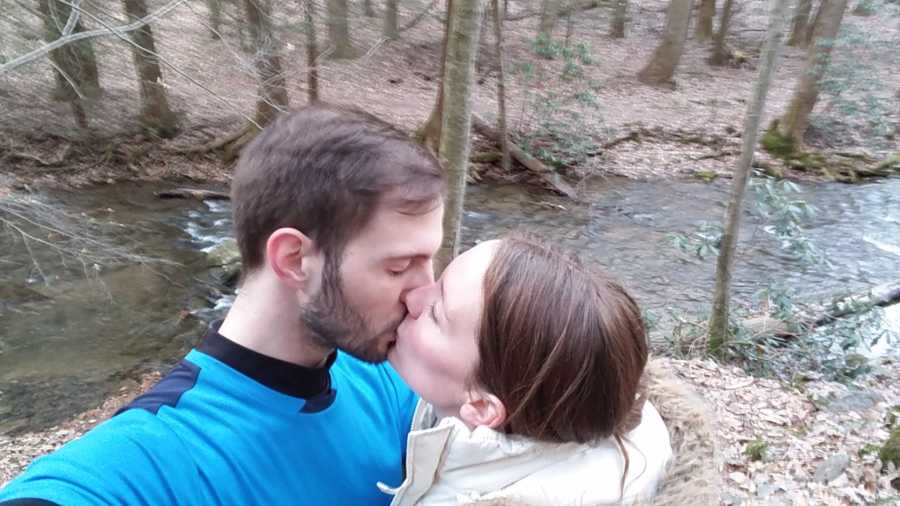 Knowing that we had practiced definitely made the kiss on the wedding day more comfortable, but no less special, because this would be our first kiss as husband and wife! And wow… watching her walk down the aisle… I definitely had a ton of emotions running through me! I almost cried, to be honest, but somehow held it together. She was gorgeous, and this was the woman I was about to say yes to spending the rest of my life with!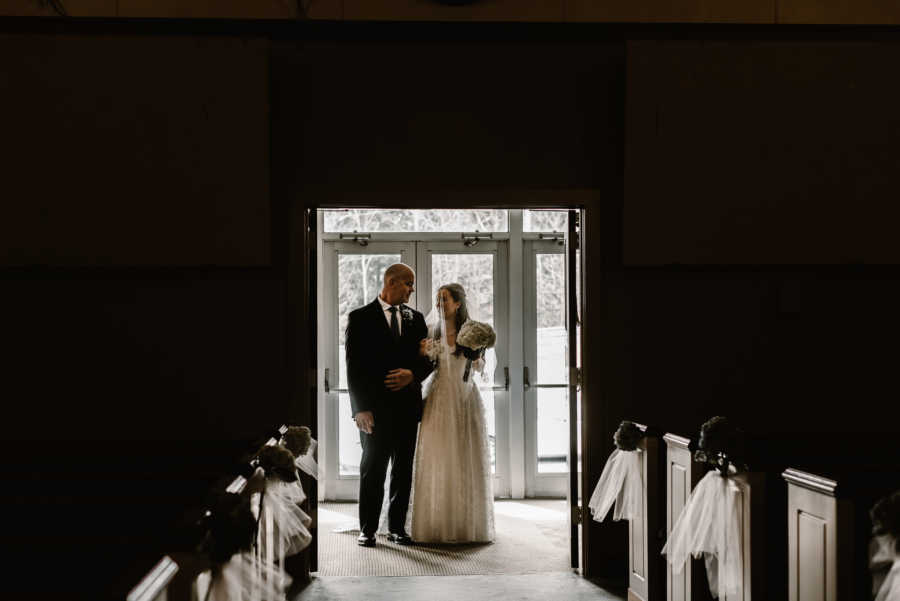 I was so excited to say 'I do!' that I had a hard time focusing on what our pastor was saying during the service. But eventually it came, we both wrote our own vows and said them to each other, exchanged the rings, and we said, 'I do!'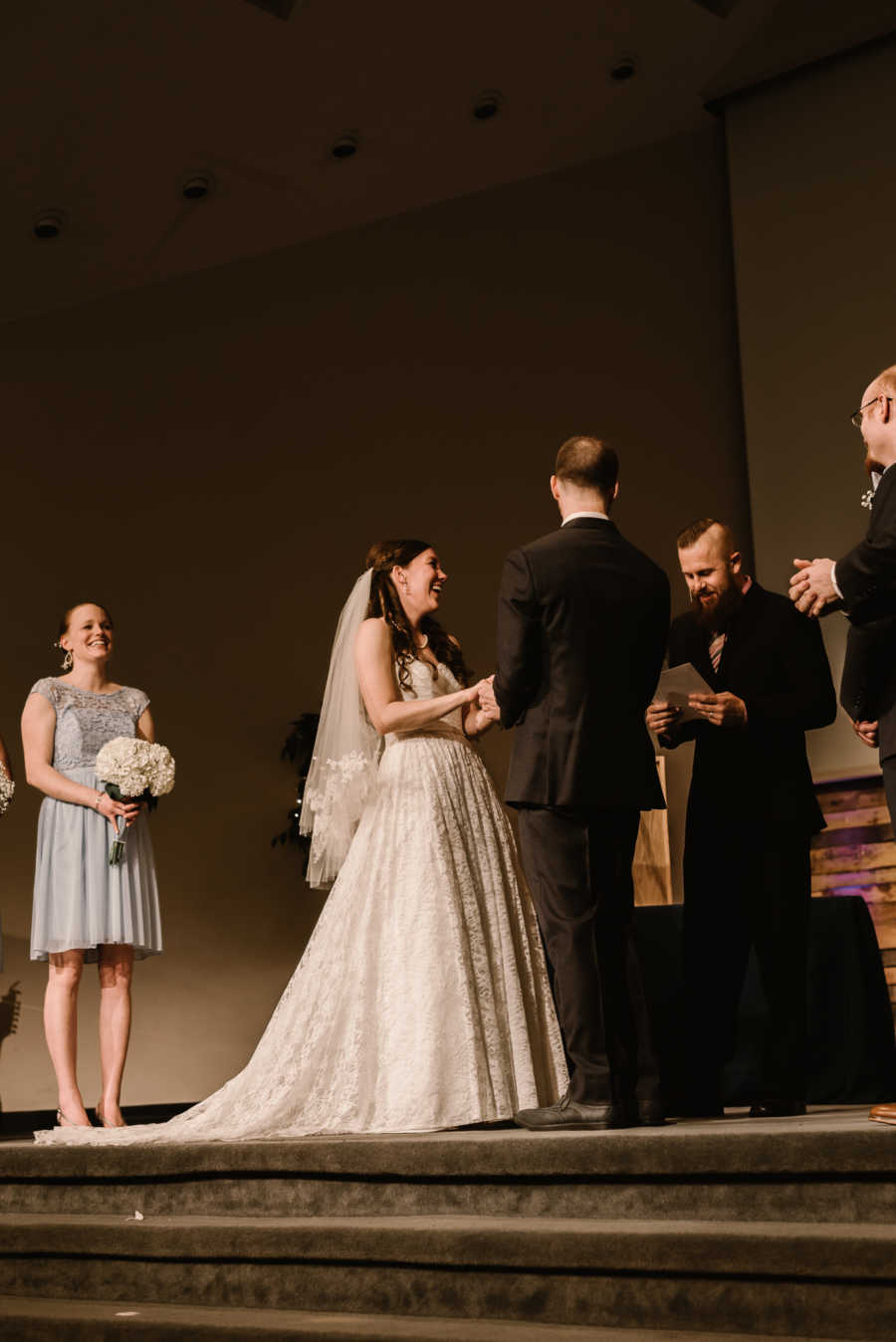 We also performed our unity ceremony, which was a board with a cross and three ropes, one representing Christ, one for Merissa, and one for myself. For us, it's not about religion, it's about a relationship. A relationship with Jesus Christ, our savior. All he wants is to have a relationship with us. His salvation is a free gift, to be in relationship with Him, open to anyone who is willing to accept it. For us, the unity ceremony represents those relationships. We braided all three ropes together in the shape of the cross, representing our new relationship as husband and wife, with Christ woven in just as tightly, and in reality, we strive to be closer to Him, than to each other. Because we know that the closer we draw to Him, the closer we will draw to each other.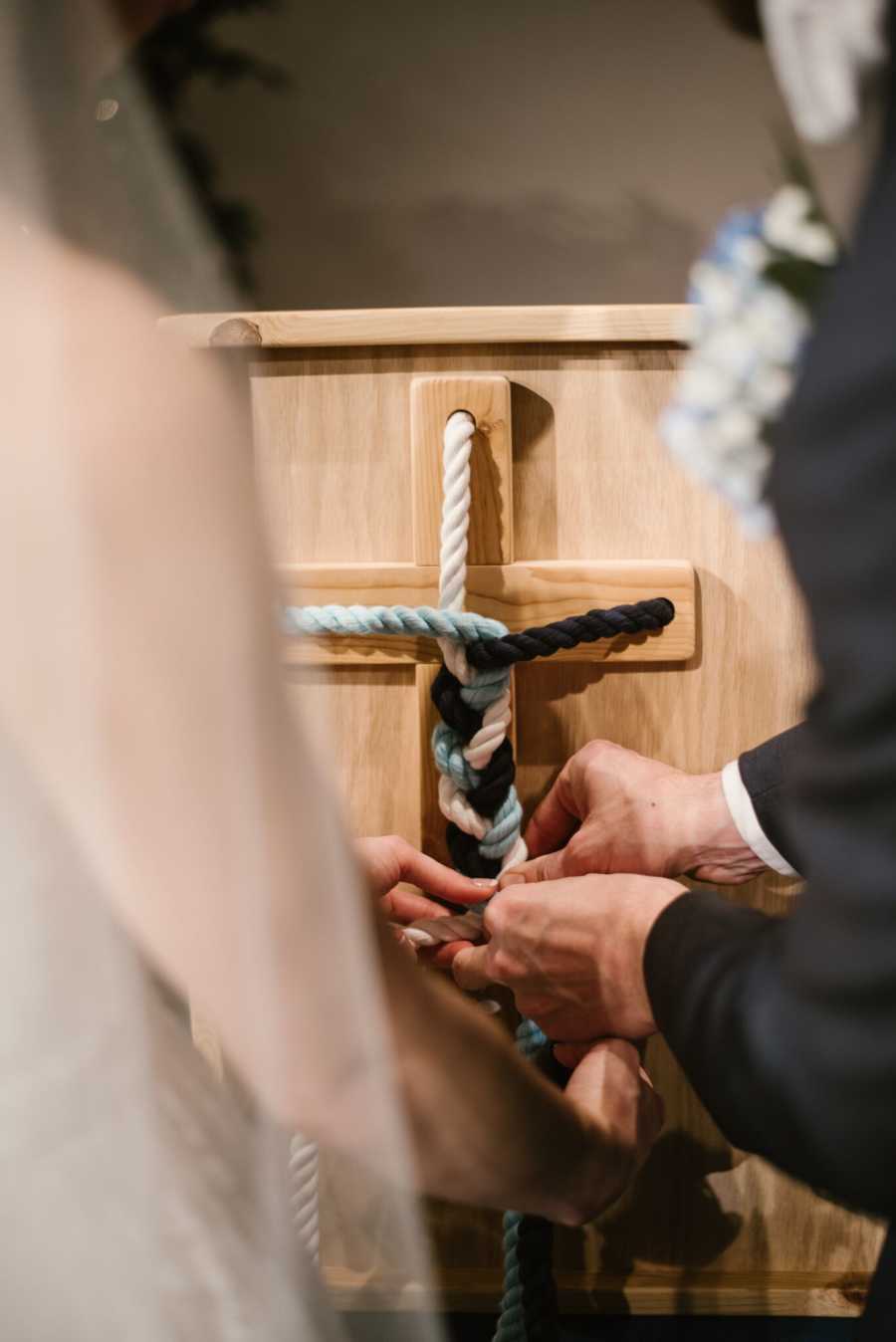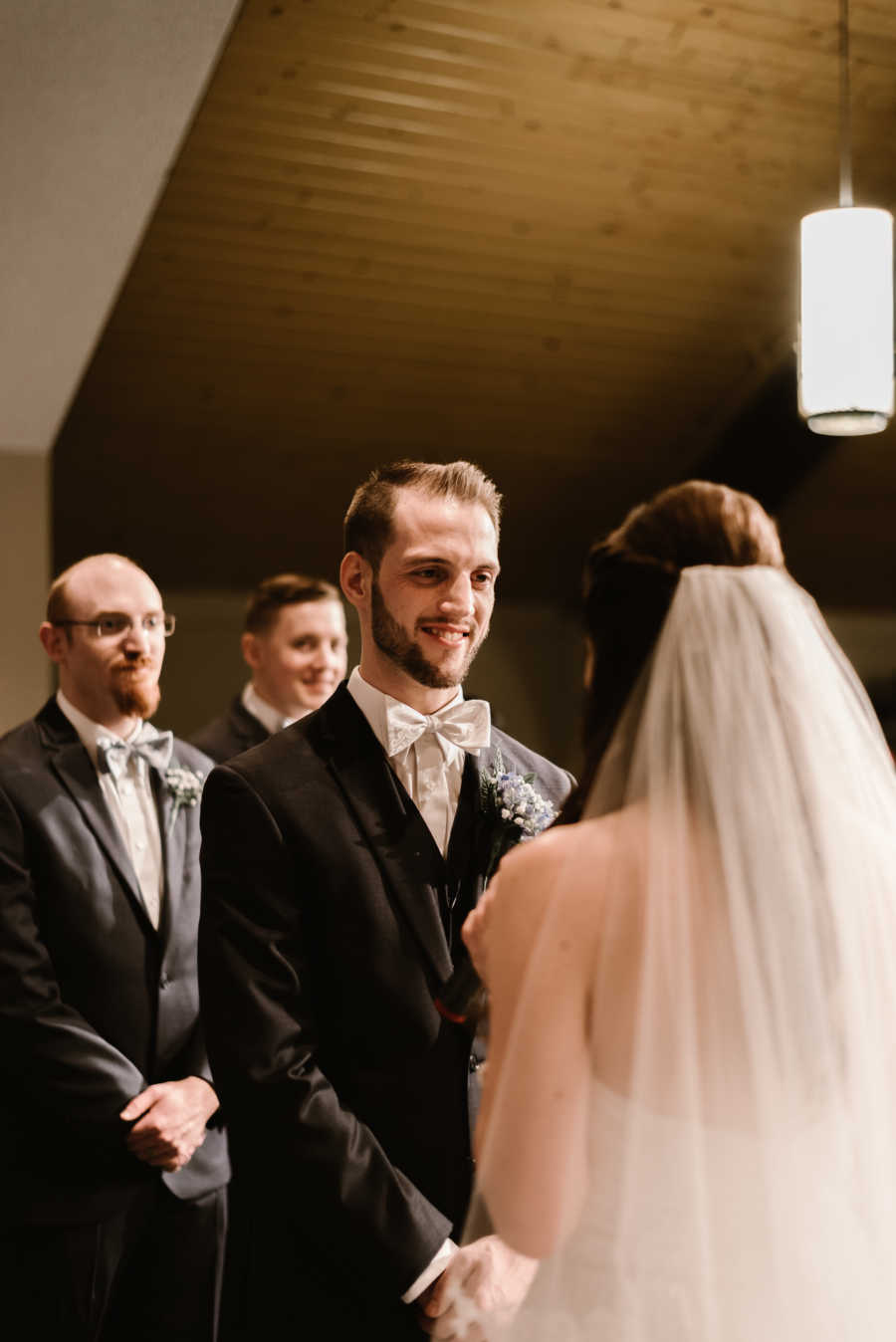 We also strive to make our marriage one that honors Christ and represents His relationship with His people, so making sure that such an intimate act as kissing would only ever happen with the woman I married was another way to honor that relationship and our values that we hold together. And boy was that first dip kiss as man and wife great! I know I'll never forget it.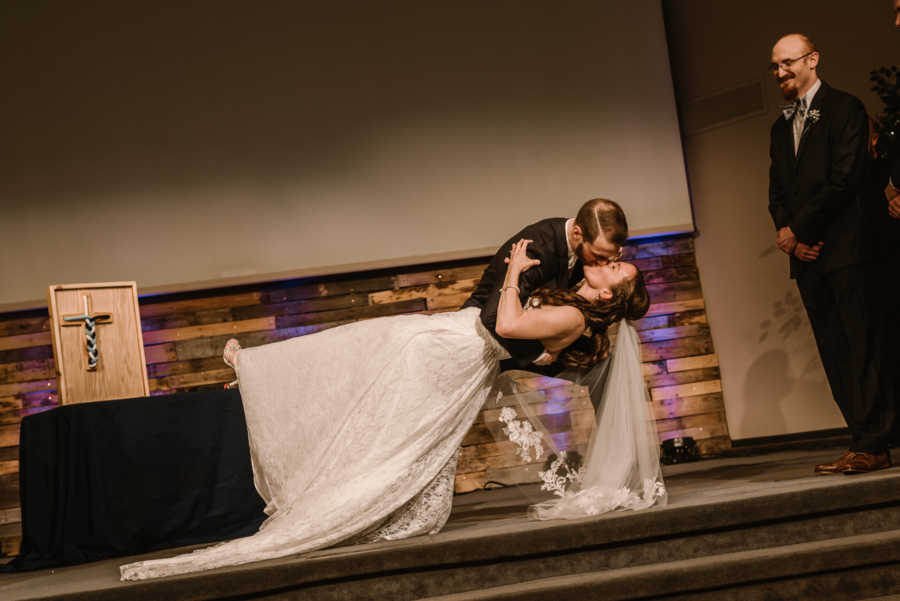 I'm definitely glad that we waited as long as we did. And even if the wedding kiss wasn't the first (like I had originally hoped), or even the second, third, fourth, or fifth, it was still special, and was still with the only woman I have ever kissed."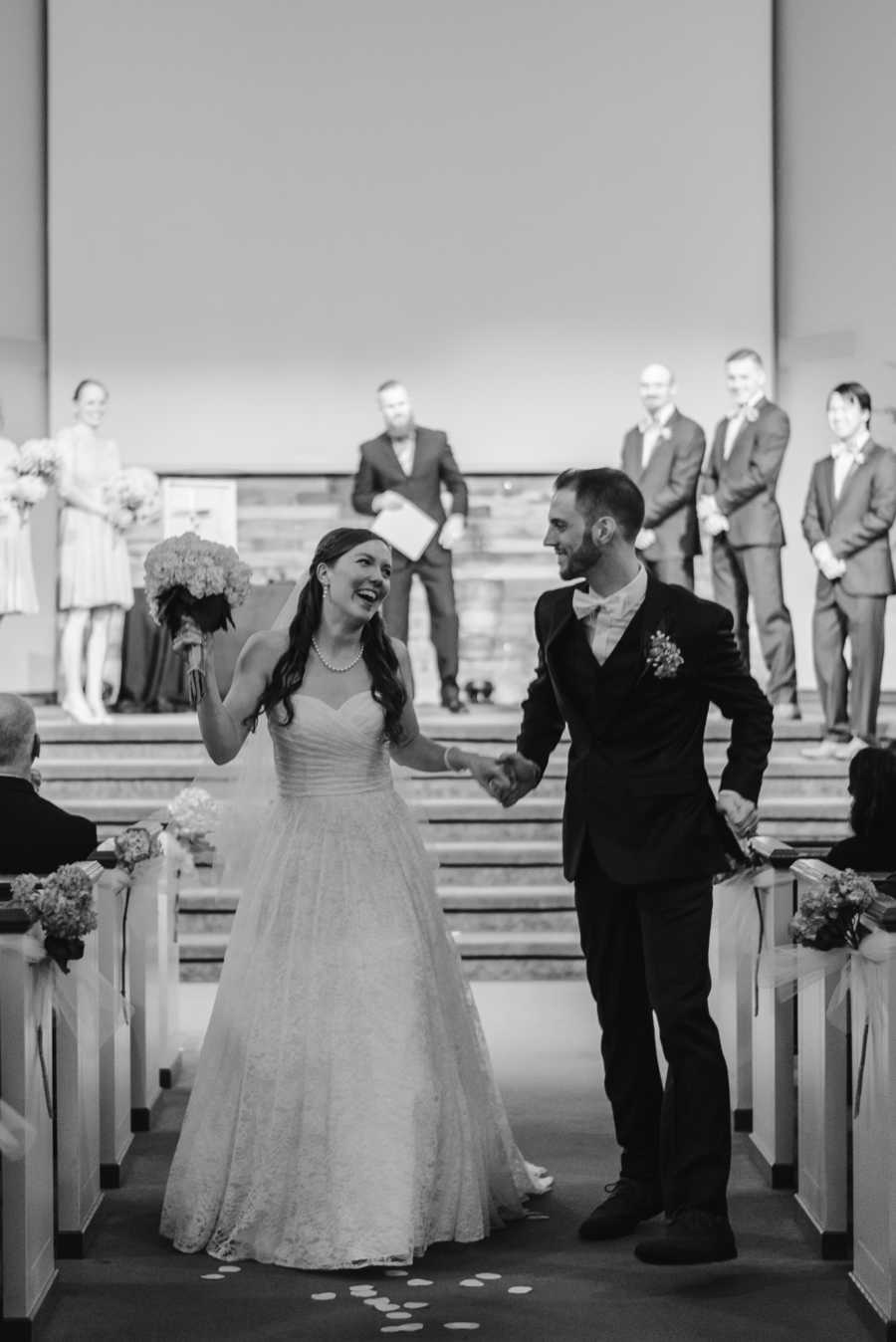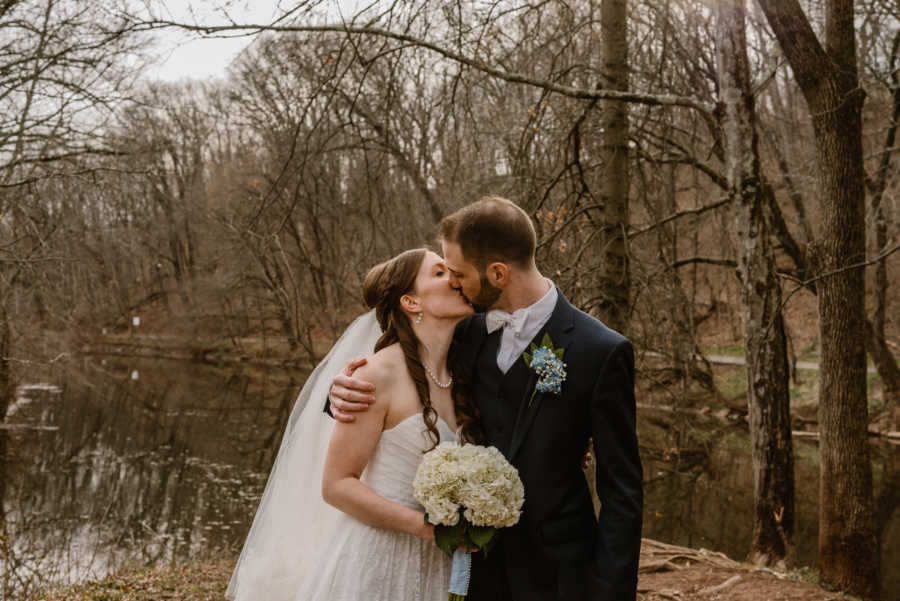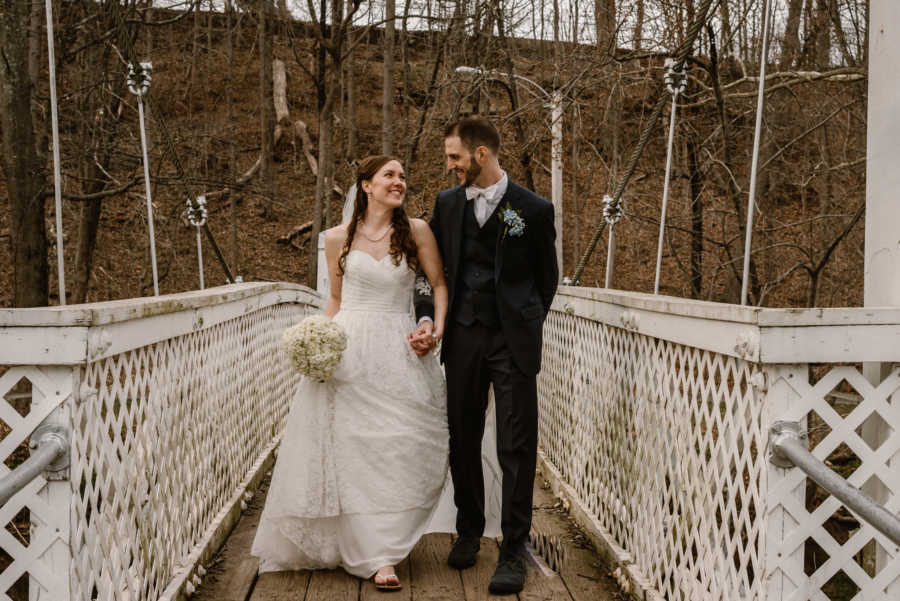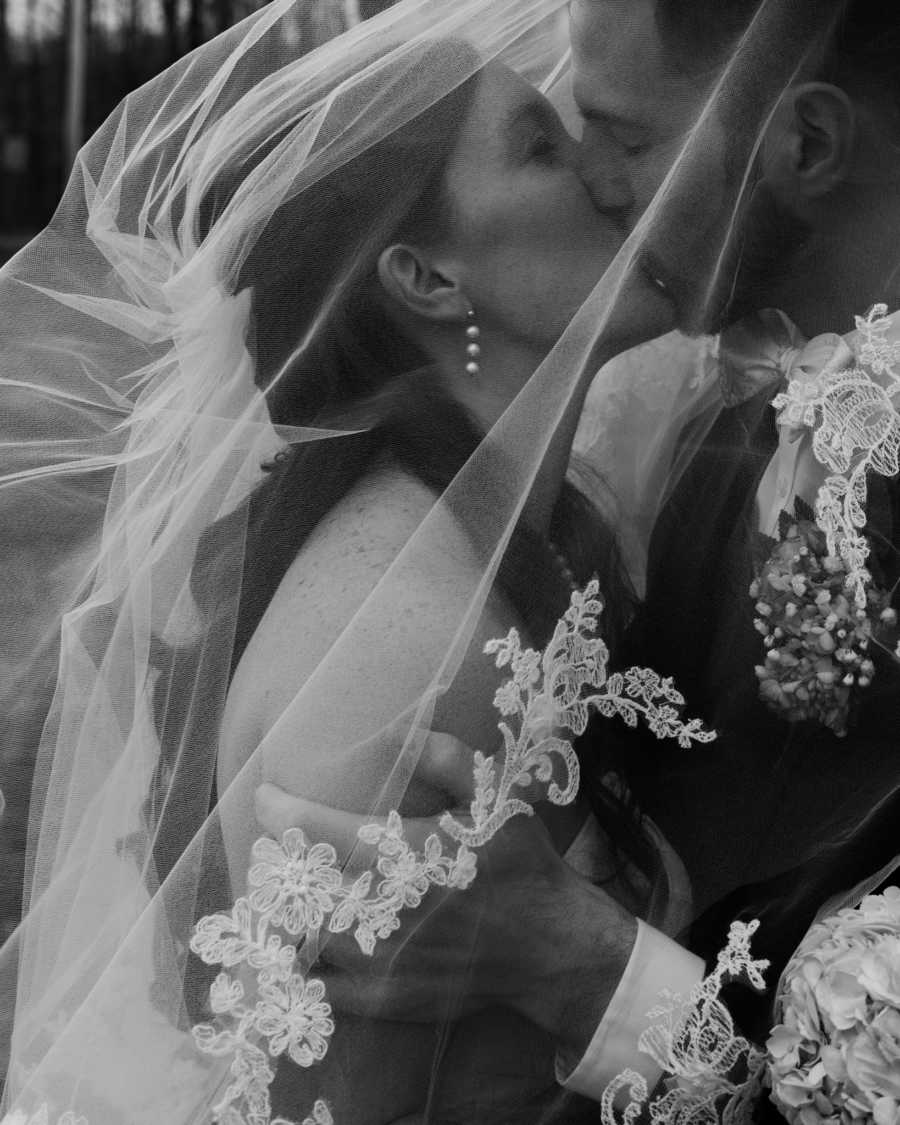 This story was submitted to Love What Matters by Daniel Ecker, 27 of York, Pennsylvania. Submit your own story here, and subscribe to our best stories in our free newletter here.
Please SHARE this story on Facebook to encourage others to cherish every moment and love what matters most.