"The day I will never forget: January 18, 2020. We were at my son's basketball game. My sister said, 'Hey Allison, Mary Kate's eye is drooping a little. Do you see that?' That was the moment my whole life changed. Nothing would be the same for us ever again.
Mary Kate was born 3 weeks early on November 26, 2018. She was our fourth baby and boy, did she come quick! My water broke in the middle of the night and I thought I had a little time. I told my husband it was okay for him to shower — I was wrong. By the time we got into the car, I was in pretty heavy labor and as soon as we got to the hospital, I was at 6 centimeters. This baby would be my fourth c-section so I was rushed back quickly for the operation. The O.B. had to make a vertical incision on my uterus to get the baby out quickly and that is the moment we found out this baby was a GIRL! She was born perfectly healthy. A gorgeous, easy fourth baby!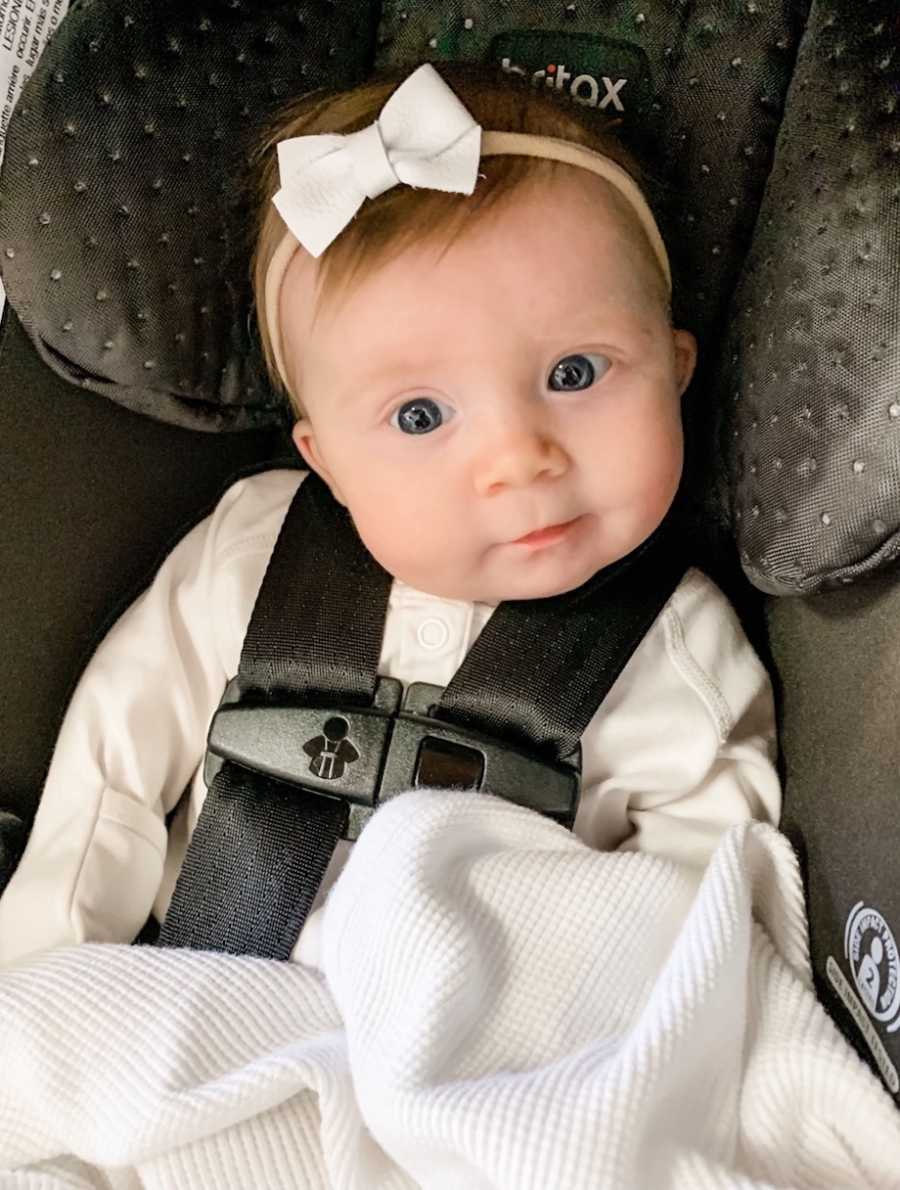 Our other three children, one boy and two girls, were just elated to have a new baby in the family. She was joyful, calm, tiny, and had the world's best smile. The warmth of her smile just filled your heart. She was impossible not to love! From here on out, I am going to let you into our lives and heart.
Back to January 18. I took Mary Kate home from my son's basketball game thinking she just needed a nap. When she woke up, her left eye was the same. Slightly droopy which was completely out of the blue. We called the nurse and they told us to bring her straight to the Emergency Room. I was shocked and incredibly worried! They did a pretty thorough examination and told us to follow up with the pediatric ophthalmologist. We got an appointment pretty quickly and that doctor was wonderful. We had many follow-up appointments and second opinions over the course of the next month.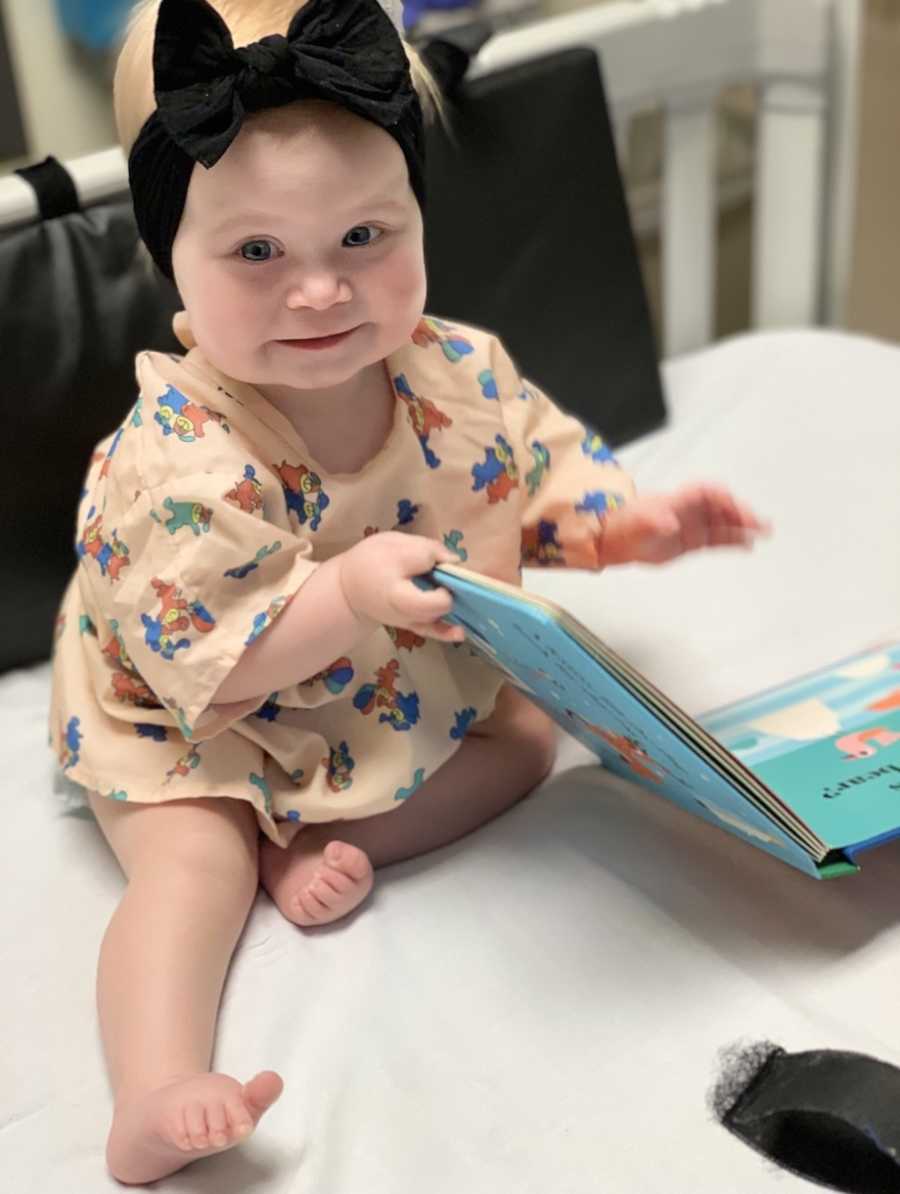 Then one day, she woke up and her eye was exponentially worse. She could barely open her left eye and it was completely out to the right. Luckily, we were already scheduled with our ophthalmologist and after a quick examination, she sent us straight to the Emergency Room again for an MRI. After 14 hours in the Emergency room, an MRI was done. In my mind, I can still see the on-call doctor walking up to me saying, 'This is the best-case scenario: it looks to be a benign schwannoma.' A schwannoma is a type of growth and the radiologist was fairly confident this is what was sitting on Mary Kate's third cranial nerve. We also met with the chief of pediatric neurosurgery, who was definitely more concerned and wanted to keep a close eye with a follow-up MRI in a few weeks.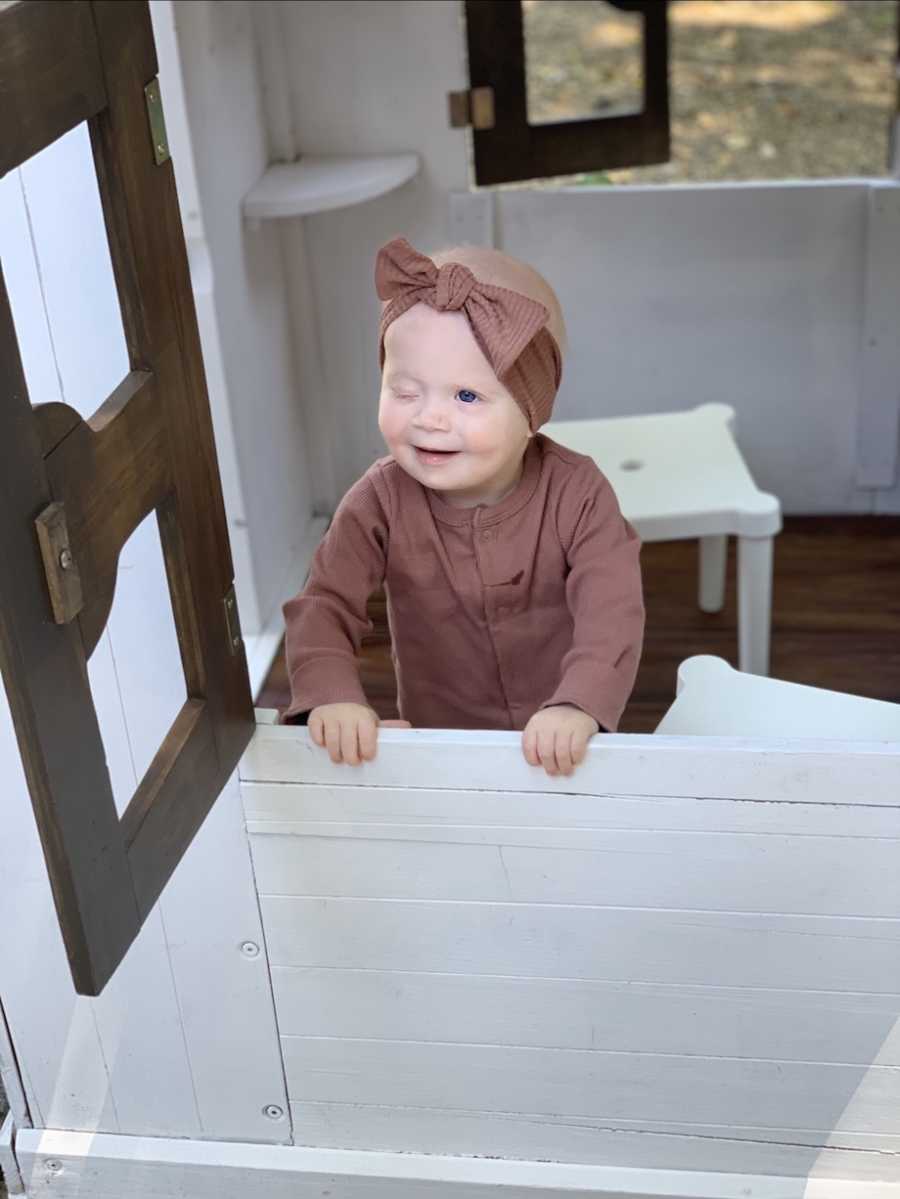 The day we went for her second MRI, I remember walking into the hospital with my husband. Everything seemed very off. People were standing outside of the hospital and security was more or less guarding the hospital. Security told us the hospital policies had changed because of COVID-19 and only one parent was allowed to go in. No visitors of any kind. My husband took her in for her full brain and spine MRI-I sat in the front with a woman who was crying on one of the benches. She told me her husband was in the ICU and she was so upset with herself because she wished she would have stayed overnight with him. They had been married for over 50 years and she wouldn't know what to do with herself if he didn't pull through. She said a prayer for Mary Kate and reassured me all would be okay.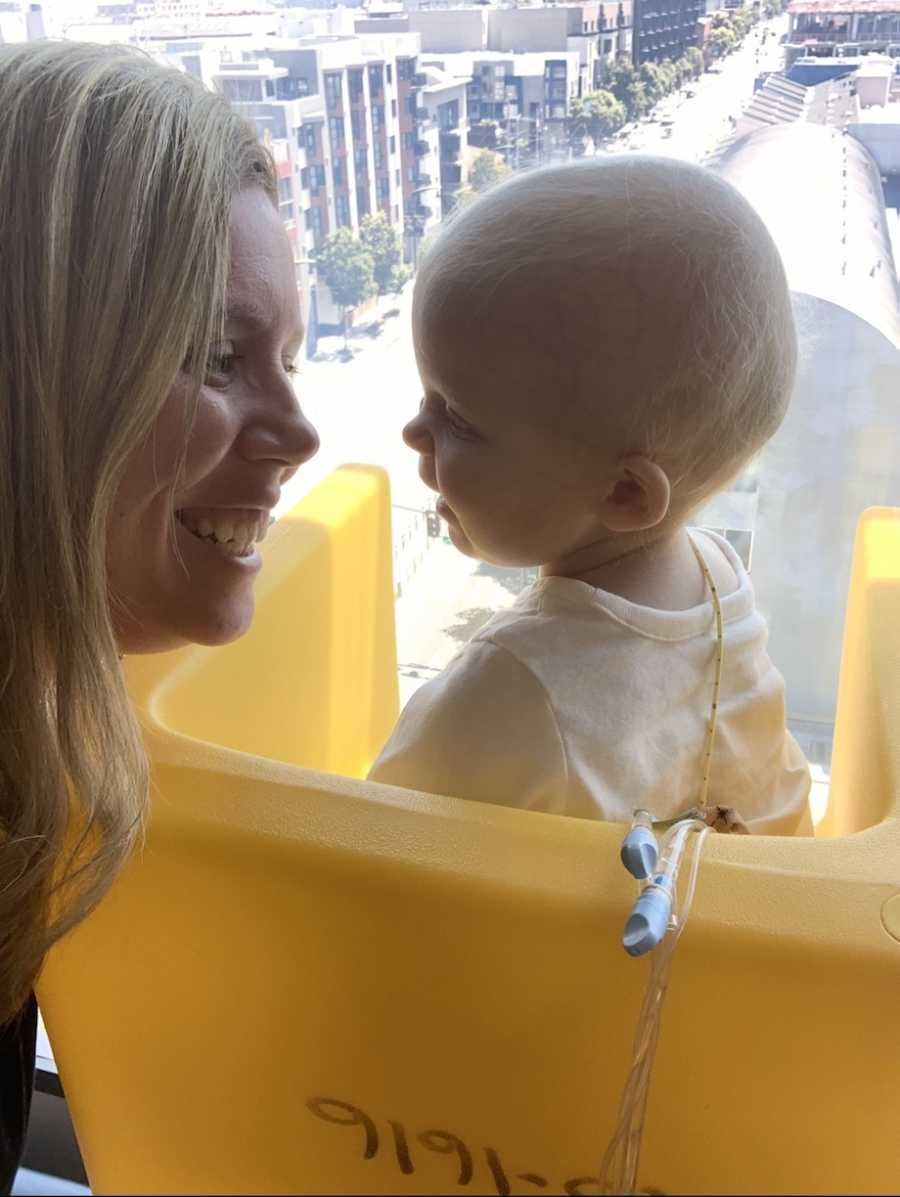 We anxiously awaited the call from the Pediatric Neurosurgeon. The phone rang and I put it on speakerphone for my husband and me. You know there are some situations in your life when everything changes and you didn't even see it coming? This was one of those. I could hear it in the neurosurgeon's voice… 'I am so sorry to tell you—Mary Kate's tumor has grown quite a bit and her entire spine is dusted with tumor as well.'
I could instantly feel the air leaving my body. My heart broke right then and there. We asked if he had any more information about what kind of tumor he thought this might be and he said they would have to do a brain biopsy to know for sure, but he felt like it might be a tumor called an Atypical teratoid rhabdoid tumor. If you google this, you will also feel the air leave your body. It is not something you want anyone, let alone your 14-month-old baby, to have. We scheduled the brain biopsy and it was confirmed. Our 14-month-old, perfect, good-natured baby had brain and spine cancer.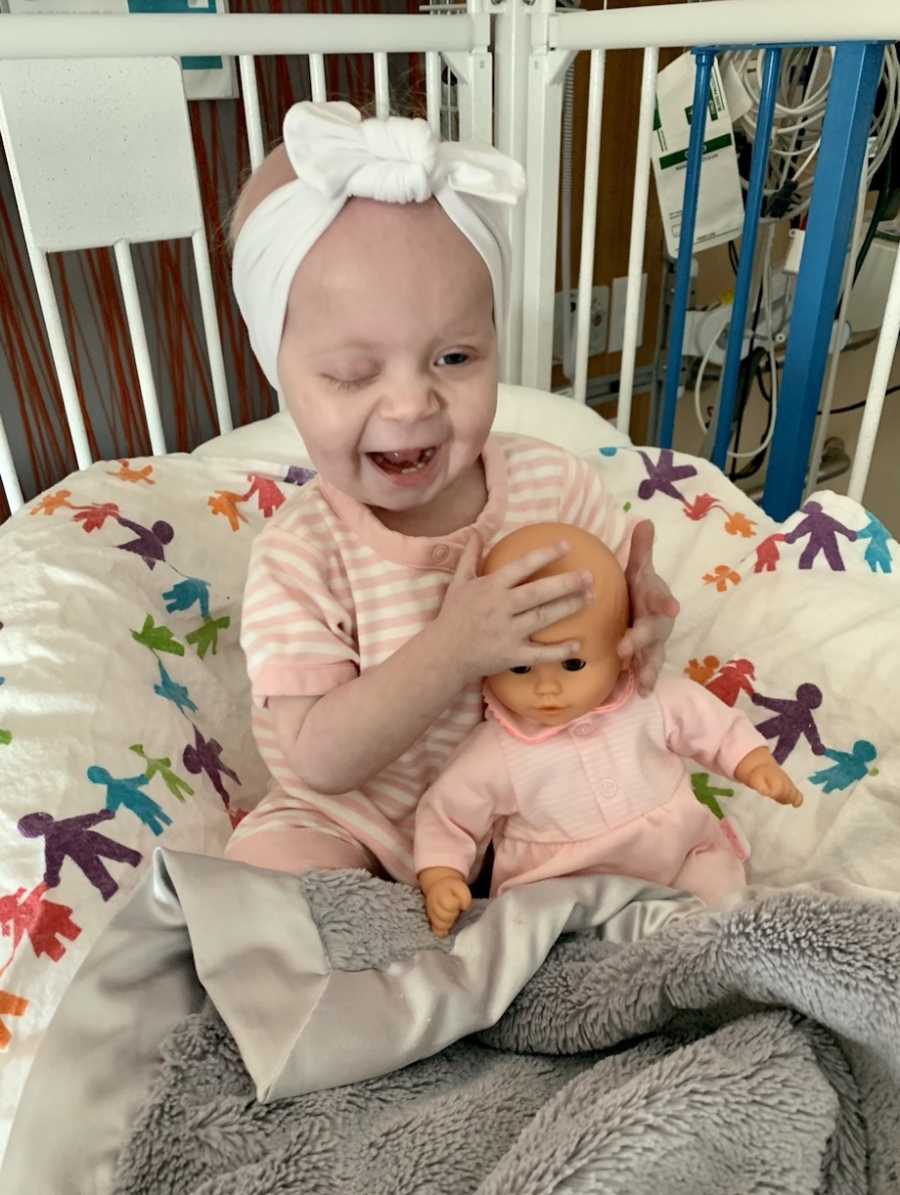 Mary Kate completed two rounds of chemotherapy here in Roseville, CA, as well as three rounds of high-dose chemotherapy followed by stem cell transplants at UCSF. She managed all of her treatment like a champion. She always made treatment look easy and I know it was terrible. She endured three brain surgeries, 86 chemotherapy infusions, 107 nights in the hospital, 25 sedations, and 50 blood and platelet transfusions. Always eating, never complaining, and with a joyful smile. You would never know she was sick with such an aggressive type of cancer.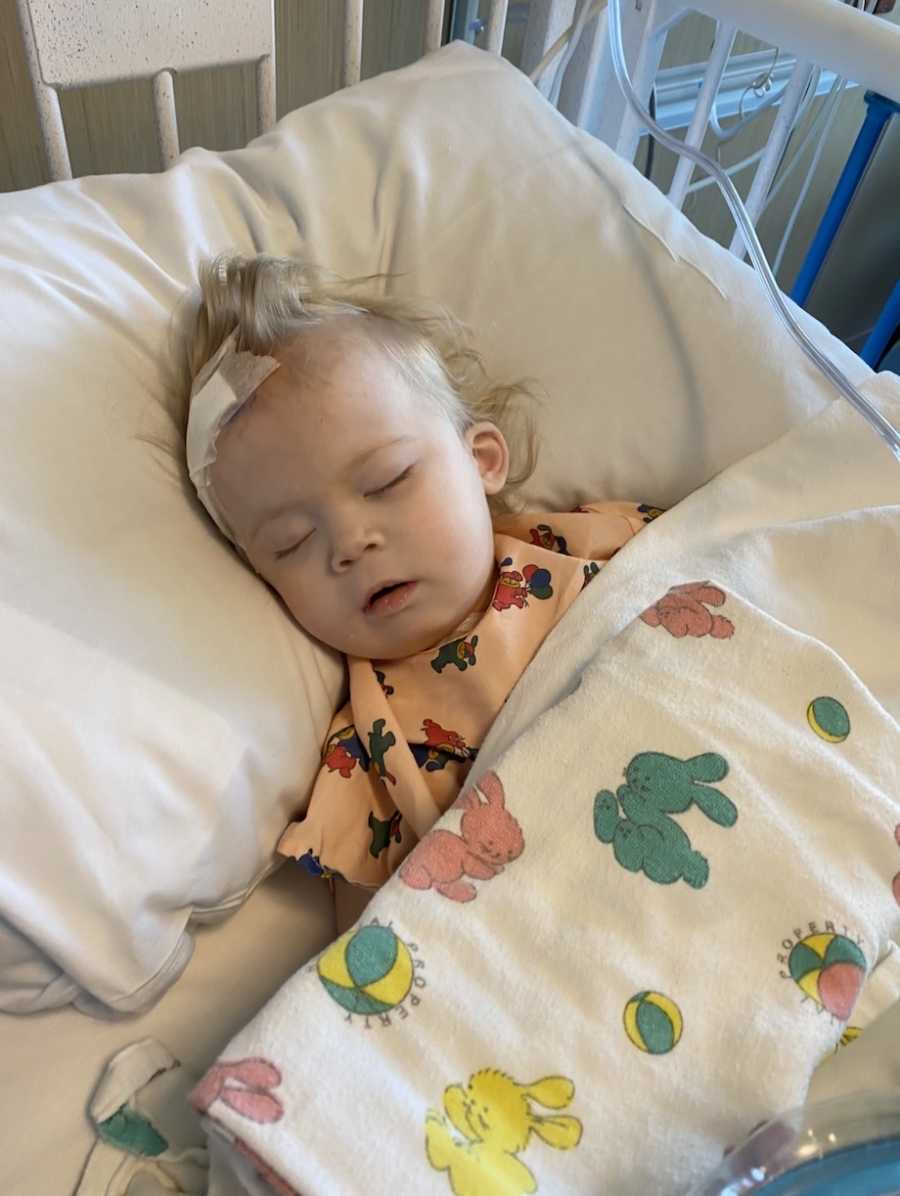 We had an incredible team of support behind us from her doctors, nurses, our families, and an entire community. We were very isolated in the hospital because of the worldwide pandemic but we never really felt 'alone.' Sure, maybe lonely at times wishing our family could be together but not alone. Mary Kate had top-level care. Her doctor at UCSF (Dr. Reddy) is the doctor who, more or less, created what is now the standard of care for ATRT. Mary Kate's oncologist here in Roseville, Dr. Sonali, is a true saint. Her unwavering support and care for Mary Kate could never be matched. She was there for us when our entire world was crumbling, every step of the way, at all hours of the day and night.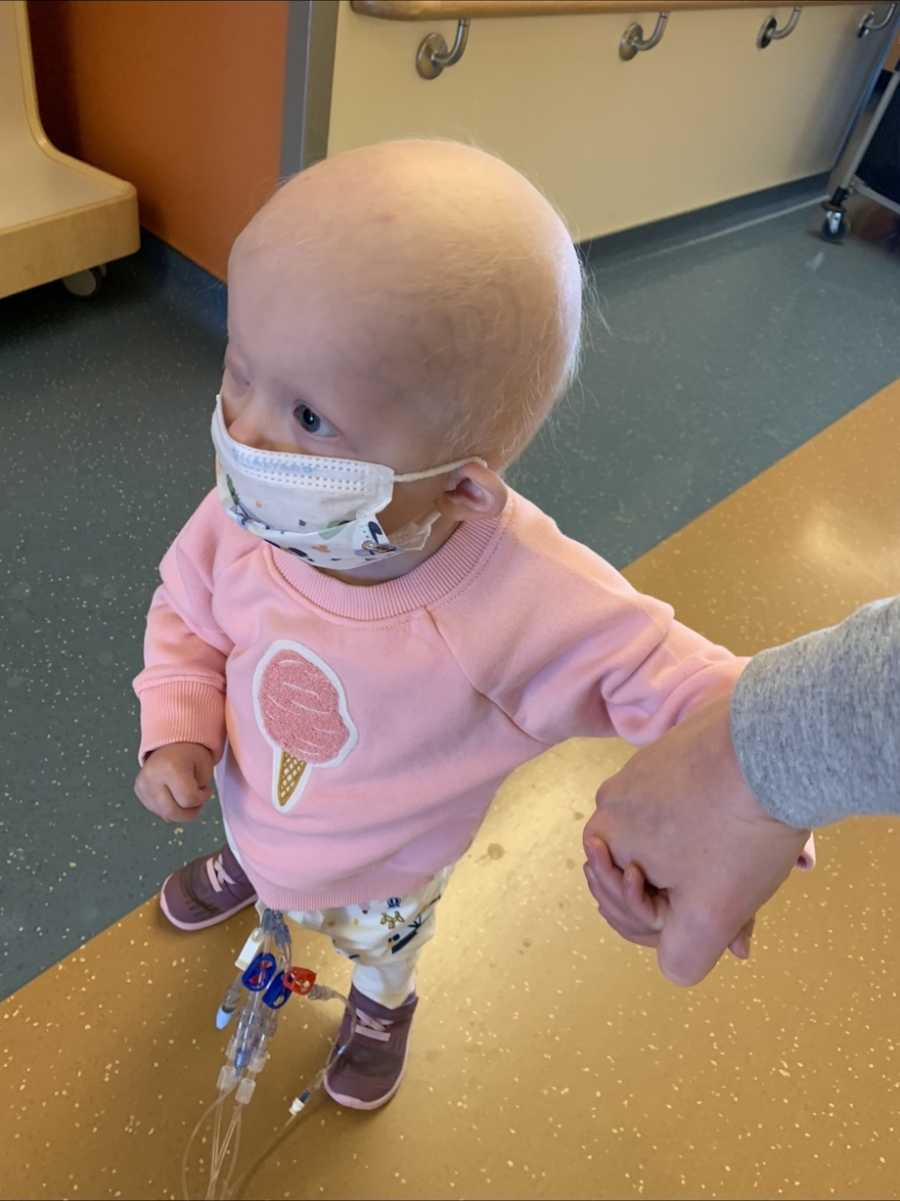 Mary Kate completed her five rounds of intense chemotherapy and her eye had improved so drastically we were all confident the scans would look great. Unfortunately, we got some hard news again. There were new spots on her spine and still some remaining tumor on the third cranial nerve. We started more outpatient treatment at home, which is an incredible amount of work: constant care, constant medications, and always preparing for the next thing. She had daily chemotherapy medications, as well as intrathecal chemotherapy in her spine and brain through a device called an Ommaya Reservoir. Although she was still ridden with this awful cancer, we were able to finally witness her first steps and thoroughly enjoy our time at home with her.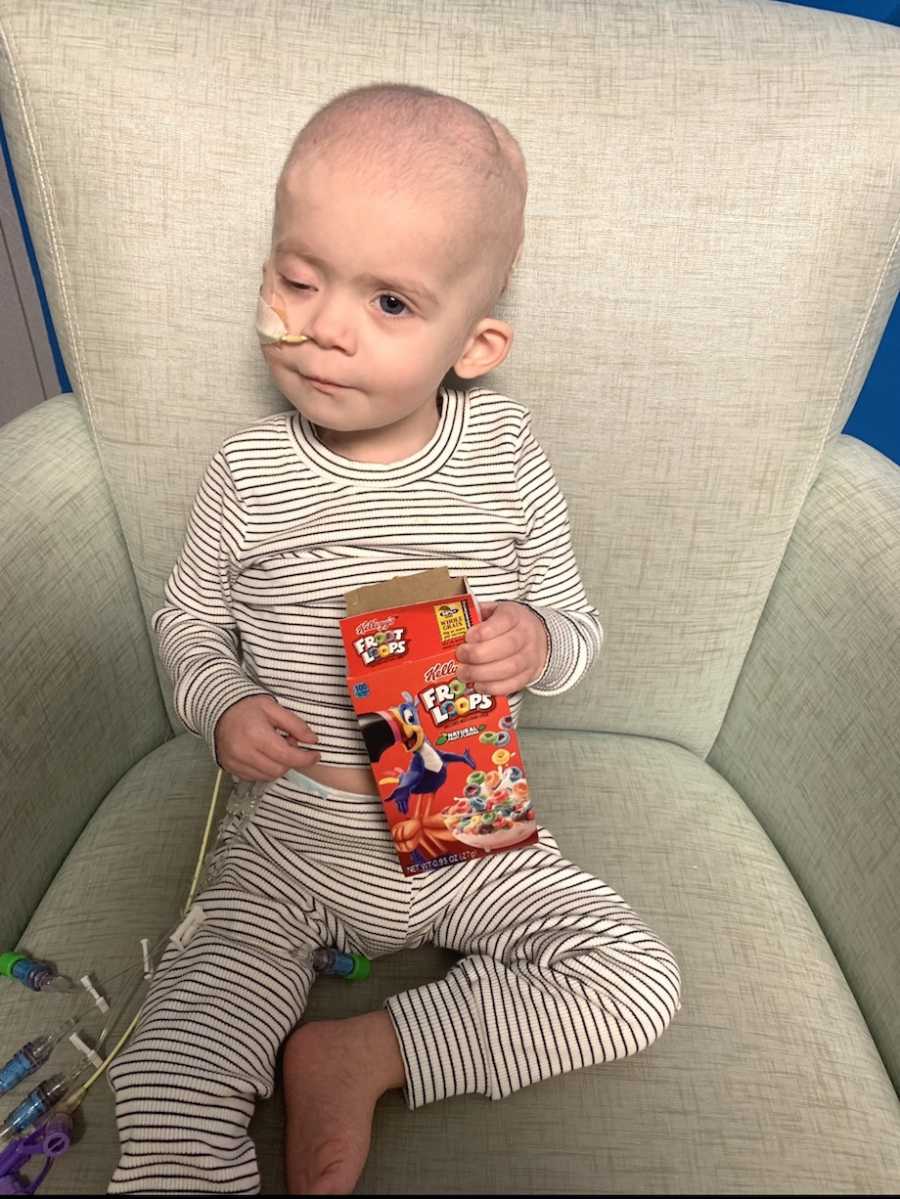 We got through about a month of at-home chemotherapy when we started to notice more changes. We had another MRI done and there was more spread in her brain called a leptomeningeal spread. Our team here at Kaiser Roseville worked quickly to try and figure out other treatment options and we had applied to be in a trial with promising results as well as start on a new medication to try and fight this. About a week or so later, I was sitting in my living room and I could tell something was not right with Mary Kate's behavior. I could not put my finger on it, but in my gut something was wrong. She was admitted to the hospital the next day, November 16, 2020.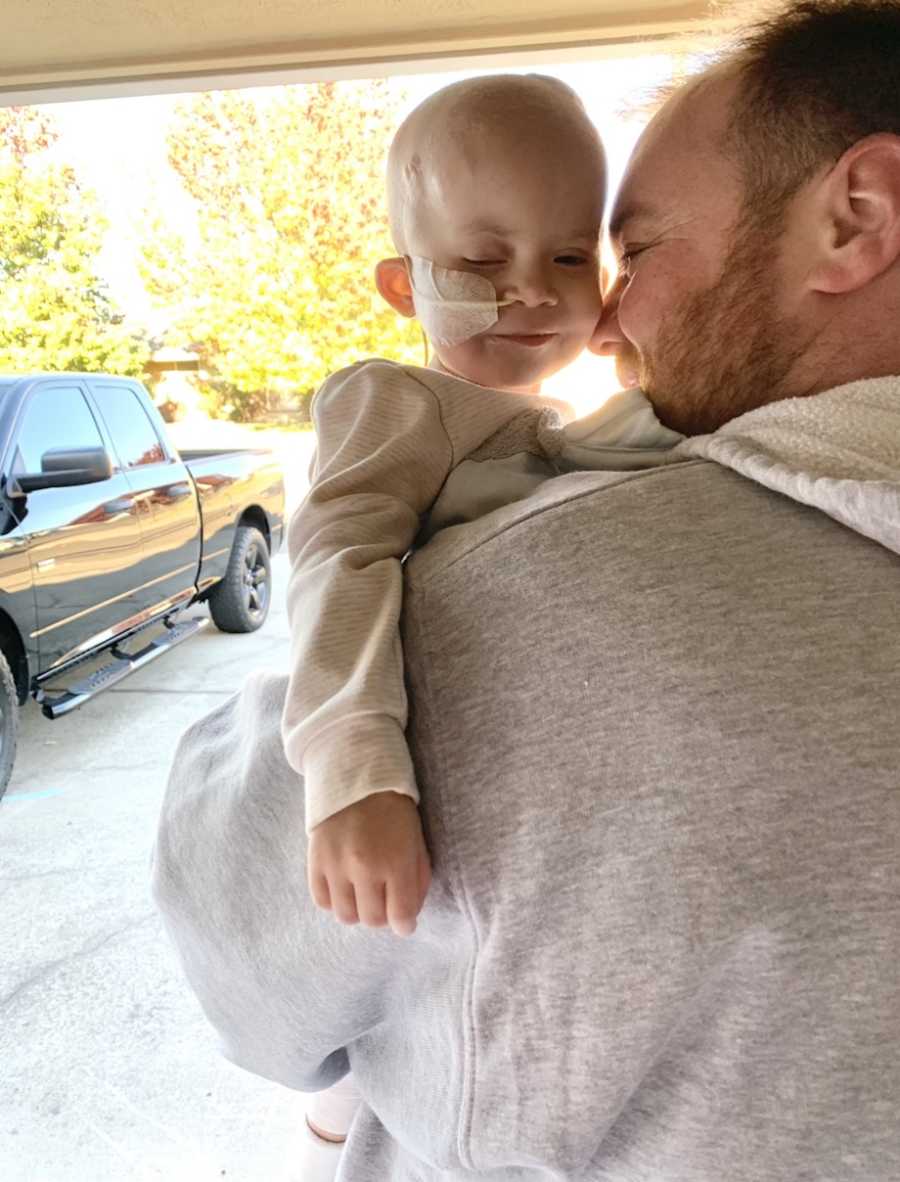 When we arrived at the hospital, all of our angel nurses were there and also agreed something was not right. That afternoon, Mary Kate had a 2-hour seizure that was near impossible to control. I remember the look on our oncologist's face and could feel the worry in her body. We finally got the seizure under control and that was the last time I would have any real moments with my baby. An MRI was done that day and I remember the results popping up on our phones. 'Significant growth with more leptomeningeal spread.' I knew this was it. We would not be leaving the hospital with our sweet Mary Kate.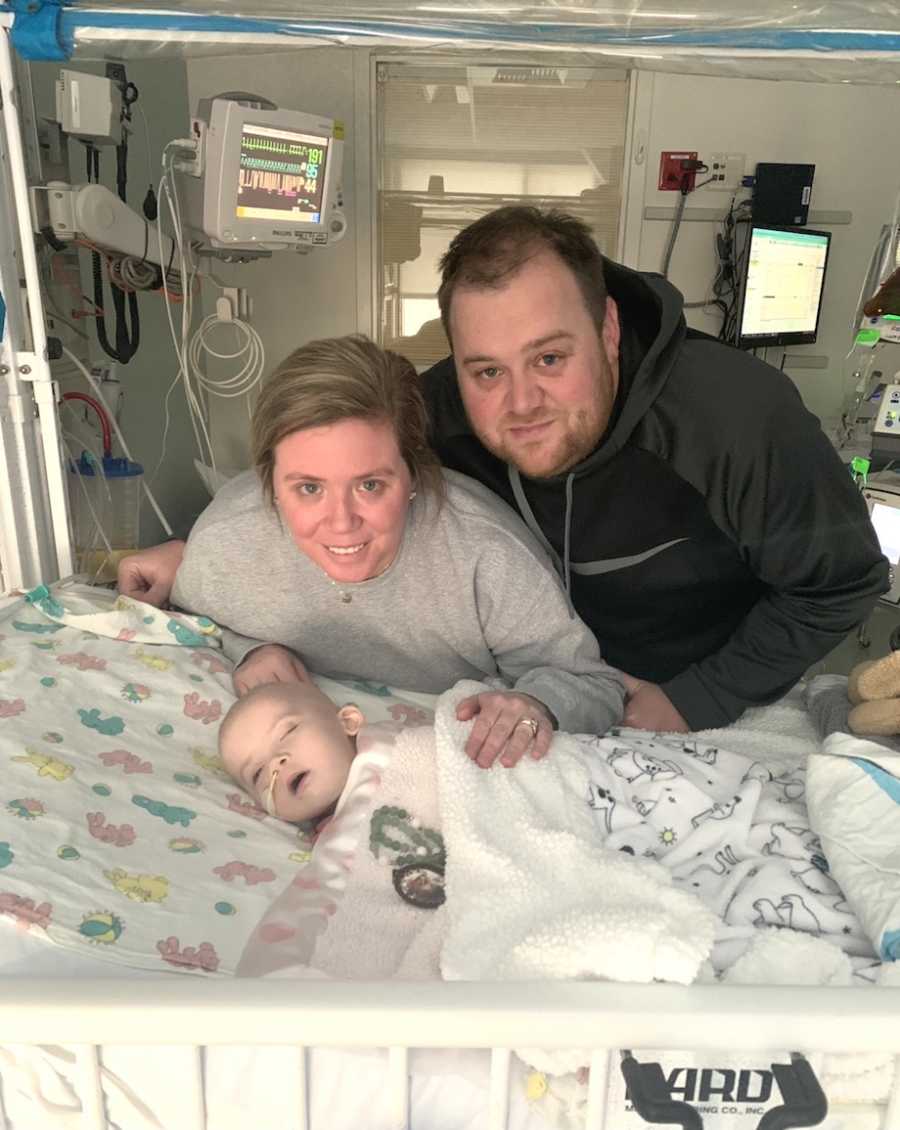 I was determined to make Mary Kate's death beautiful. Not dramatic and awful—I knew God had this plan for Mary Kate's life before He created her. I had already released her back to Him and asked Him to take complete control over our lives, good or bad. Mary Kate passed away on November 22, 2020, 4 days before her second birthday. If you have lost a child, the depth of pain you feel is unmatched. I could not see how I would ever recover or be a mother to my other three children. How could I do that when all I want to do is be in Heaven with Mary Kate? I have made a conscious choice to get up every day, go to my therapy sessions, get on anti-anxiety/depression medications and try to heal from the trauma of 2020.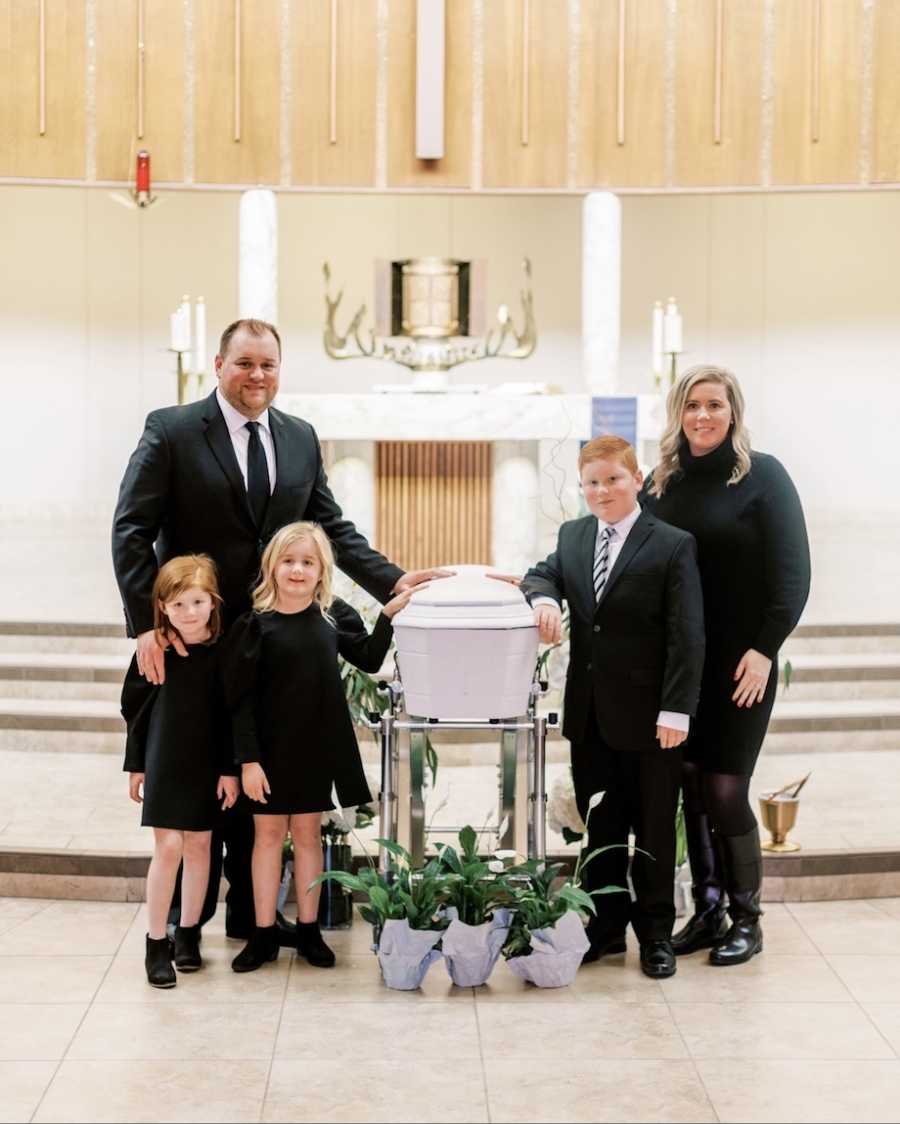 My son and husband bought a 3-D printer for Christmas as a hobby they could both do together. I thought that was great but did not have much interest. They created some pretty cool tiny toys and I thought it might be a fun business for my son to start. That tiny toy business turned into MK's Tiny Toys in memory of Mary Kate. Our hope is she is guiding us every step of the way to bring hope and love to each person we meet through this business. With each purchase, 20% of the proceeds go back into the Mary Kate Funk Foundation. The Mary Kate Funk Foundation was set up shortly after she passed to offer any sort of financial support families may need while watching their child battle cancer.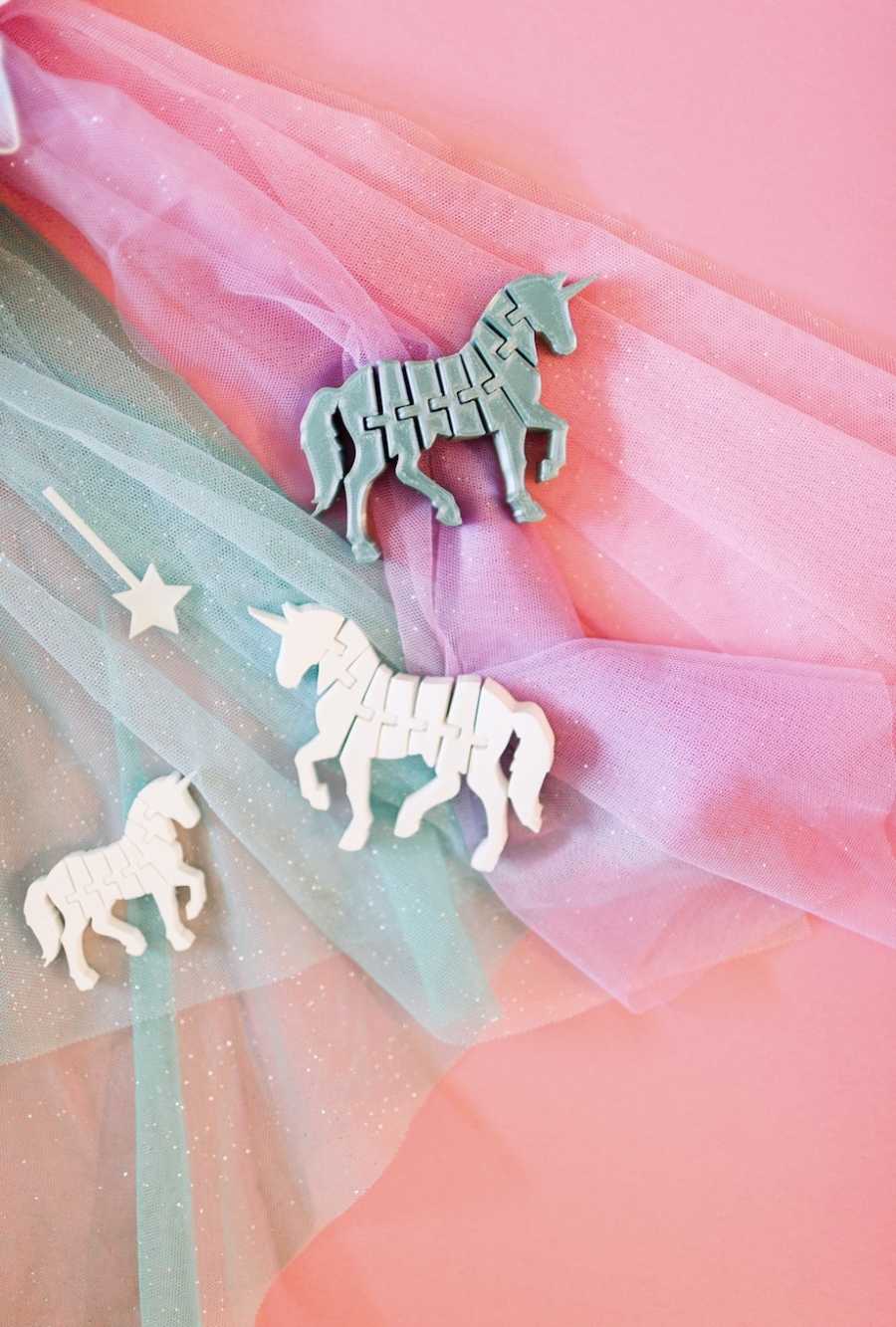 Although the unimaginable happened to us, our hearts are relieved Mary Kate is no longer suffering. As a parent, you would move mountains to take away your child's pain. We couldn't move that mountain for our baby and that is heartbreaking. But, we are so relieved she is no longer suffering here on Earth and is completely healed in Heaven with Jesus. If you're reading this, please know our hearts will never be the same but we are healing through the grace of God. Hold onto hope God will carry you through your trials and sufferings if you let Him have control. We know Mary Kate is our angel and we can't wait for the day we are reunited. Until then, we hope to keep her memory alive with both the Foundation and MK's Tiny Toys. We are sending so much love to every family and child affected by pediatric cancer. May God Bless you and hold you close!"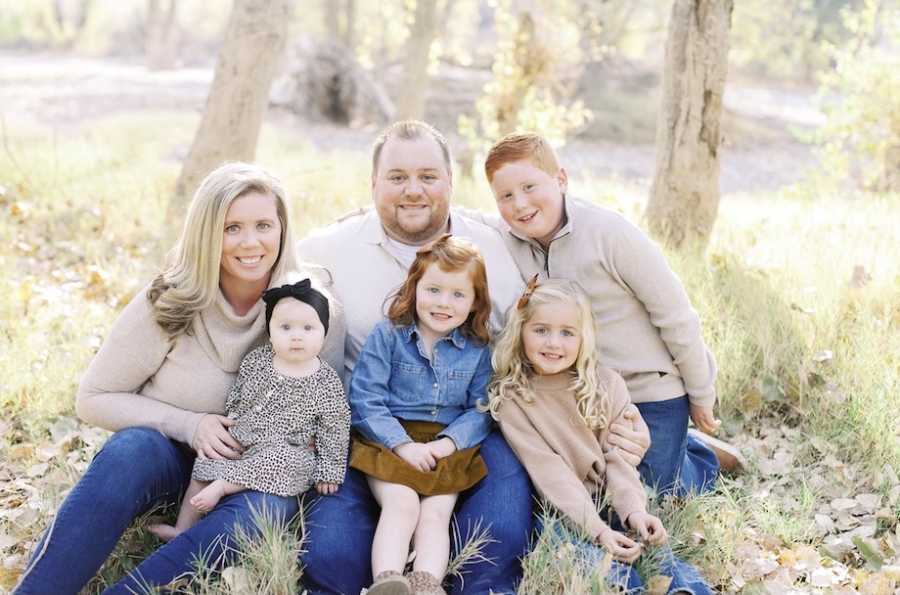 This story was submitted to Love What Matters by Allison Funk from Sacramento, CA. You can follow their journey on Instagram and MK's Tiny Toys. Do you have a similar experience? We'd like to hear your important journey. Submit your own story here. Be sure to subscribe to our free email newsletter for our best stories, and YouTube for our best videos.
Read more touching stories like this here:
'She knew something was wrong with her best friend. Her brother was now a quiet, sick little boy. He never wanted to play.': Sister dotes on her once 'lively, energetic' little brother now suffering from childhood cancer
'I'm so sorry I can't take this away.' He looked up at me with absolute perfect clarity. 'It's okay.': Parents 'astonished' by infant son's miraculous response, lose him days later to rare brain tumor
'My son, this chubby baby, is currently on chemo. He has cancer. He can't be in this waiting room.': Mom has 'immense guilt' for every mother experiencing loss, childhood cancer treatments now that son is healthier
'Does it look too big?' Our perfect, happy, healthy baby boy had a belly full of tumors. Cancerous tumors.': Mom's newborn diagnosed with Neuroblastoma, says 'every little moment' with loved ones is a 'reason to celebrate'
Please SHARE this story on Facebook to help spread awareness to other parents!