"'I suspect he might have Sturge-Weber Syndrome,' the neurologist at BC Children's Hospital told us. Our son, Noah, was just nine days old, and just had his first electroencephalogram (EEG) test. I looked at her in fear and bewilderment, unable to stop the tears from falling. I had no idea what Sturge-Weber Syndrome was. I was a new mom and was supposed to struggle with breast feeding, sleepless nights, and postpartum. While all that was happening, it took a back seat to our new reality. I felt robbed of new motherhood feelings, because there wasn't space for it. I became consumed by this syndrome.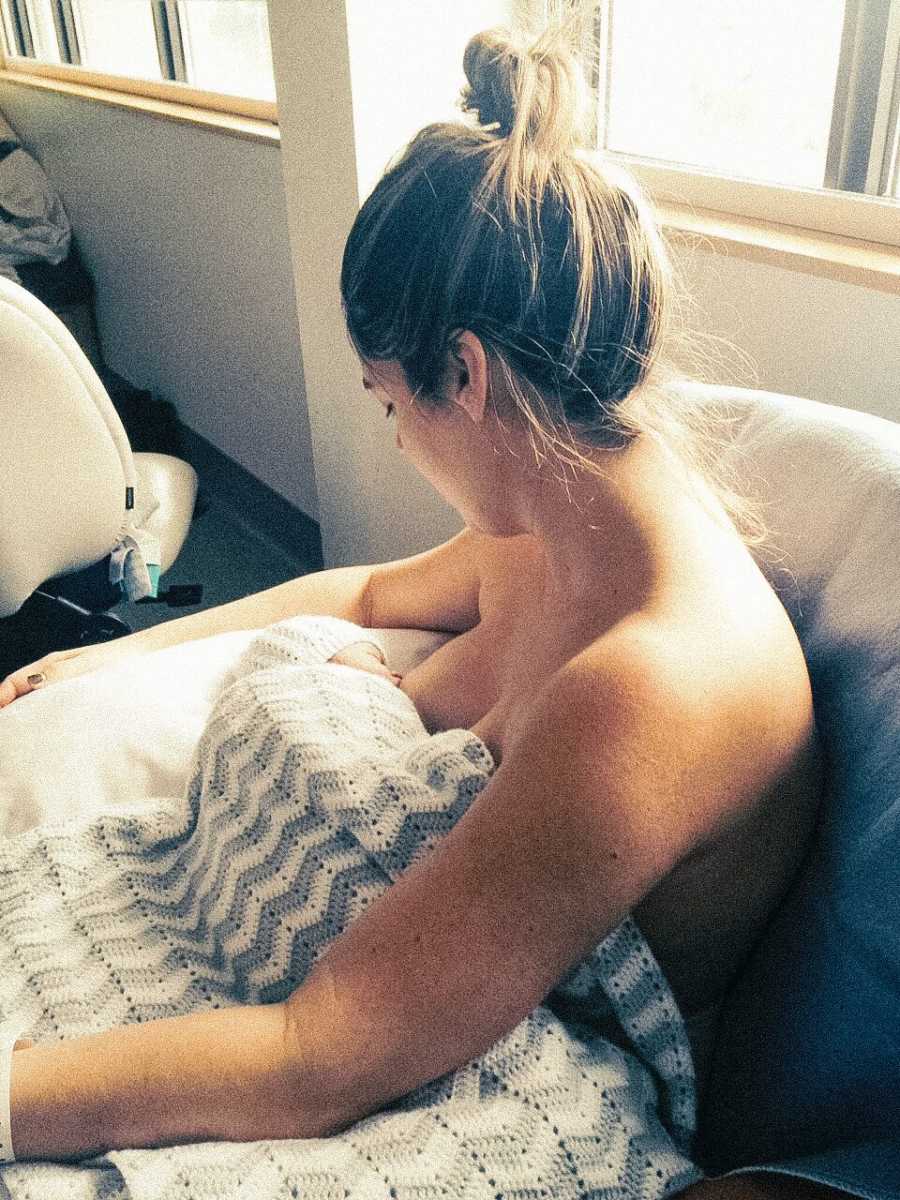 Sturge-Weber Syndrome (SWS) is a rare neurological disorder associated with seizures, weakening (usually to one side of the body), glaucoma, developmental delays, and most noticeable at first, a port wine stain. It is a very complex syndrome, and no two cases are the same. It is not hereditary, and as much as I blamed myself, there was nothing I could have done to prevent it. Not only is SWS rare, but it is progressive and has no cure. SWS is caused by a mutation in the GNAQ gene. The gene mutation is not inherited, but occurs by chance in cells of the developing embryo.
When Noah was born, he looked like a newborn, but with more swelling and bruising. During those five days in the hospital, we learned the bruising was a birthmark called a port-wine stain. It covered ¾ of Noah's face – including his left eye, ear, and scalp. The left side of his face was also swollen and disproportionate to the right side of his face. The birthmark, if left untreated, can grow in proportion to the face, darken, thicken and/or develop blebs. It is essential to seek laser treatment early on.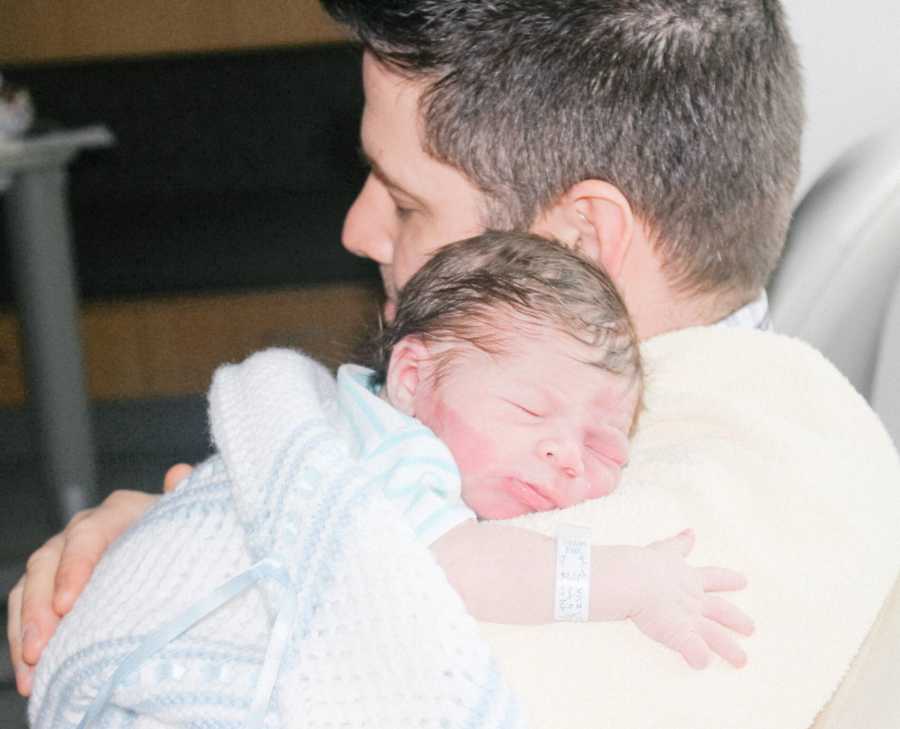 If we were only dealing with a facial difference, as difficult as that has proven to be, we could deal with it. When other people see a large red birthmark and ask me what is wrong with his face, I take the time to educate or lash out as a protective mama bear – I've done both. I can deal with the staring, ignorant comments, and mean people. And the questions – I welcome them! I will take any opportunity to spread awareness. But it's not just a birthmark, and this is just the beginning of our story.
Birthmarks are not uncommon. About three out of every 1,000 children are born with a birthmark, but only 8-15% of those born with a birthmark on their face will be diagnosed with Sturge-Weber Syndrome.
At two months old, he had his first MRI. The results, while not surprising, destroyed us. It was confirmed. Noah had Sturge-Weber Syndrome. We had to scramble to put a plan together, because we had a family trip to Mexico leaving the very next day. What if he had a seizure while we were away? We learned in minutes how to administer rescue medication for a seizure lasting longer than five minutes. He was prescribed a very low dose of anti-seizure meds.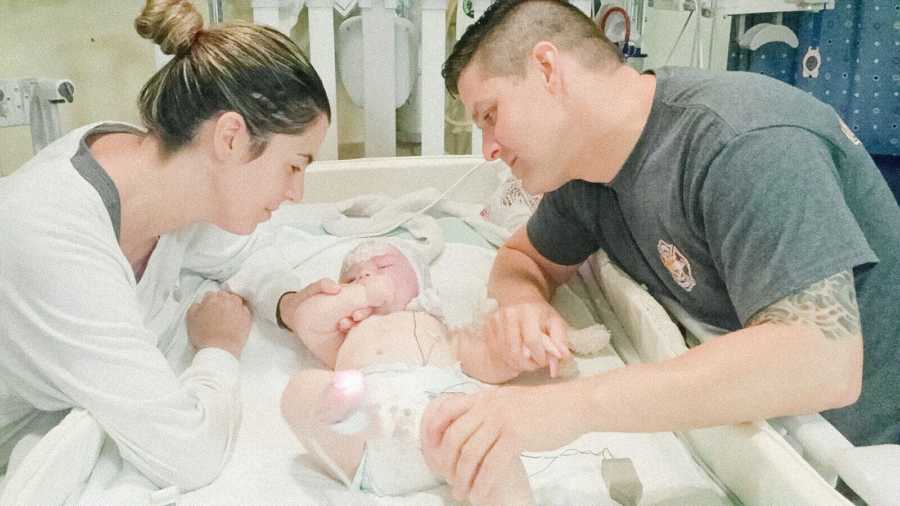 We cried that first day there. But we were in a beautiful place with our beautiful boy, and we were damned if we weren't going to enjoy it. Still, I was on edge. Everything he did I would question. Everything he didn't do I would question. It was exhausting. We were scared, felt helpless, and couldn't begin to imagine what was to come.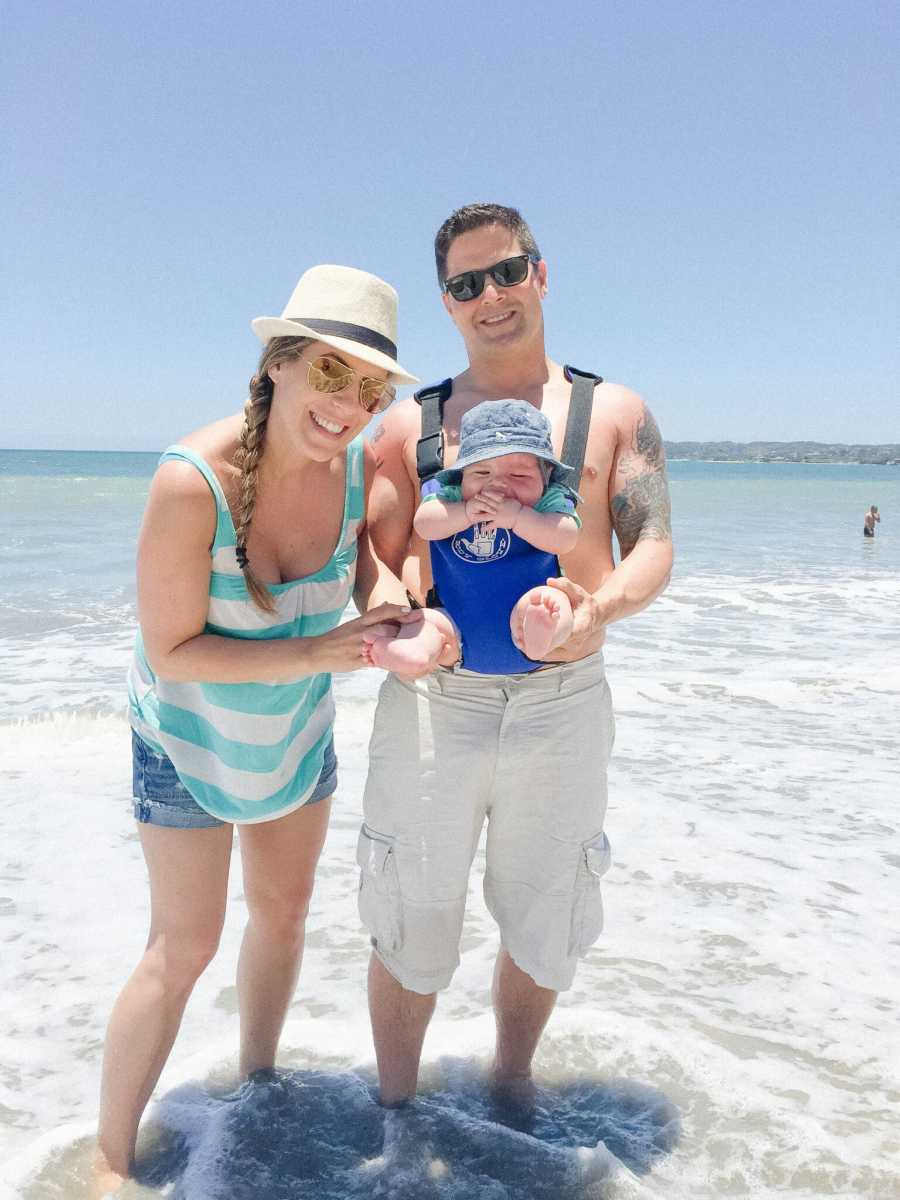 Those first (nearly) six months of Noah's life were incredible. He was hitting all his milestones and was so happy. We felt so lucky. As far as I was concerned, he only had SWS on 'paper.' He was going to beat the odds. But soon we were living a real-life nightmare. One evening, we noticed he wasn't himself. He wasn't making eye contact and was whimpering non-stop. We thought maybe it was the heat from being at the beach that day, so we gave him a cool bath and he went to sleep.
The next morning, he had his first seizure (that we knew of). His face turned blue before my eyes, he went limp, and he could not make eye contact or respond to us. The ambulance came and took Noah and I to the hospital, and my mom and husband met us there. I was raw and numb. I couldn't believe this was happening.
That first time, we were hospitalized for 3 weeks with uncontrolled seizures. I couldn't eat or sleep, and I was in agony watching my baby in pain. I wanted to take it all away from him, but I couldn't. I felt so helpless. The seizures were hard to detect at times, and lasted so long. My baby wasn't my baby anymore. He was lethargic from the medications and exhausted from all the seizures. The doctors were scrambling to find the right cocktail of medications, but still, he kept seizing.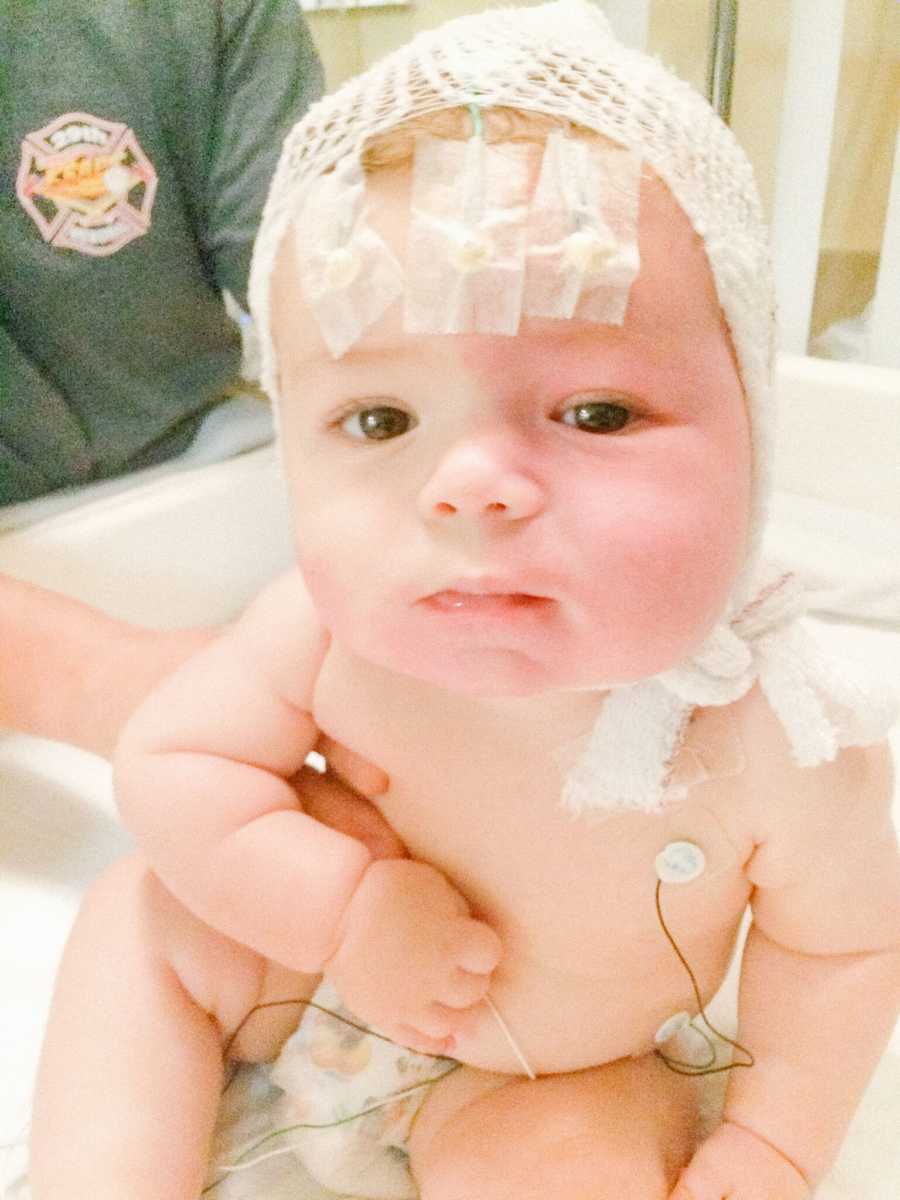 Our neurologist called a meeting with the neurosurgeon to discuss a radical brain surgery called a hemispherectomy. This is where they disconnect the sick part of the brain to ensure the seizures don't transfer to the other side and do further harm. They said it was his best chance at a good life – to try and preserve the good side of the brain. If the surgery was done early, neuroplasticity could take over, and some of the lost functions from the left side of the brain could be relearned by the right. We sat in a tiny room, watching the surgeon put the pieces of the brain together, and I sobbed.
It is a long surgery and there's no guarantee he won't die on the table, let alone ensure all connections are disconnected. And there is no guarantee of seizure freedom. It was an option they wanted us to consider, because they felt things would get worse before they got better. I didn't know how we would ever be able to make that kind of decision, but they told us it was likely the decision would be made for us.
They were right. Seizures came back. Each one worse than the one before. We agonized over the decision and ultimately booked a date for surgery. But it was all happening too quickly. As surgery day loomed and Noah was doing well, we chickened out. We didn't have enough information to move forward. We needed a second and third opinion, and so we postponed the surgery. We obtained opinions from leading neurologists and SWS experts. We went to the hemispherectomy conference, then the Sturge-Weber Conference the year after. I started a Facebook page called Noah's Journey, dedicated my Instagram account to Noah, and joined various Facebook groups. I met people 'virtually' who also had kids with SWS. I realized then, I wasn't alone. Social media became my outlet to share, and was part of my therapy.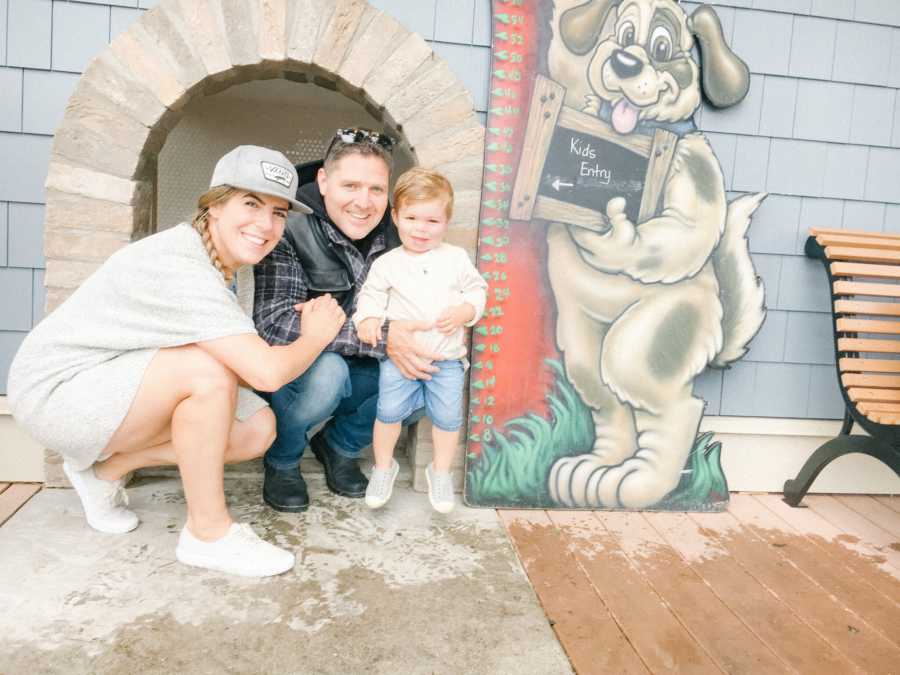 Noah would have breakthrough seizures that would set him back, roughly once a month. But it was amazing how quickly he would bounce back. He was meeting (and beating!) milestones. His occupational and physiotherapists couldn't believe his development. But a few months later (after tucking surgery at the back of our minds), we were back in the hospital.
One day, his saturation monitor started to go crazy, and suddenly there were half a dozen doctors in the room. They were bagging my son, and I thought I was going to watch him die. In that moment, I said no more. I begged his neurologist to rebook Noah for surgery. This was in November, and in January of 2017 (he had just turned two) he was booked for brain surgery for the second time. This time, we had convinced ourselves this was the right thing to do. We went so far as to have an MRI the week prior, do all the work-up needed, etc. But then Noah got sick. And since his body needed to be 100% healthy to undergo such an invasive surgery, it was postponed again. I was relieved. And petrified.
In July of 2017, he was back in the hospital with maybe his worst seizures yet. At the time, Noah was on three seizure medications, one of which was not great to be on long-term. We had tried to slowly wean him off before, but that resulted in seizures, so we immediately stopped. However, at the advice of another neurologist, who was very familiar with SWS, we decided to try again and wean him fast. This time it worked. In fact, coincidence or not, as soon as he came off that drug, his language started to flourish.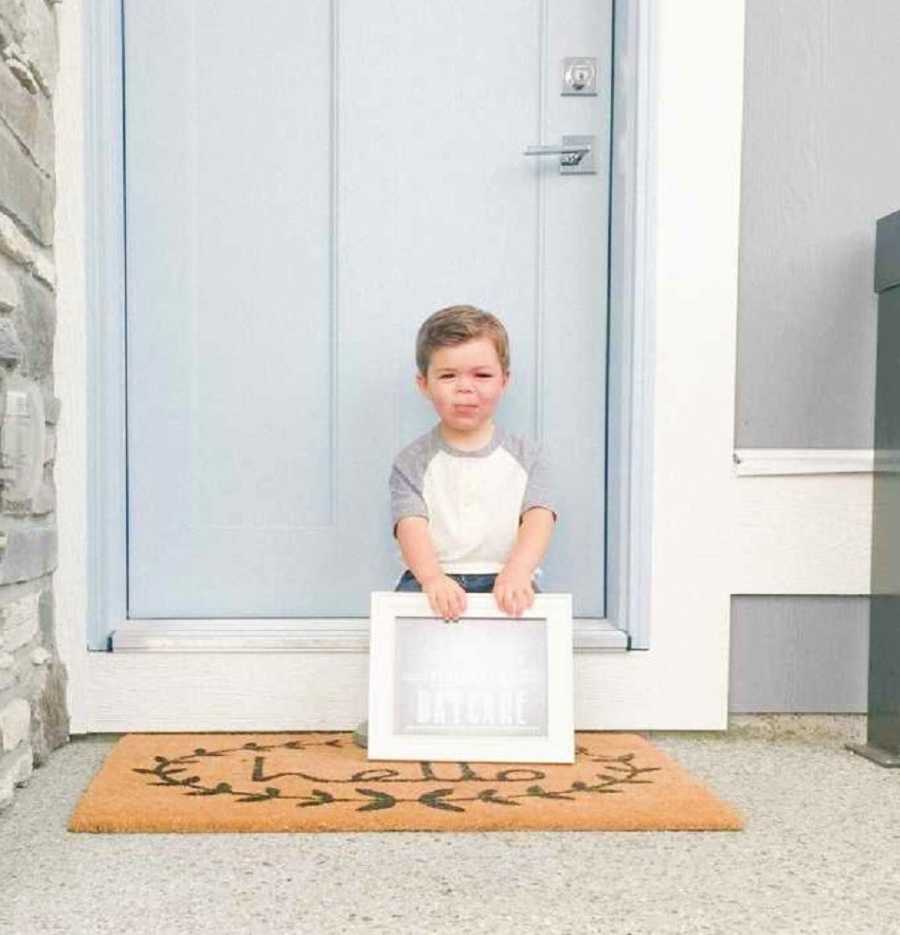 He was down to two anti-seizure meds, and in July of 2017, he received his last medication change. We haven't made any changes to his meds, nor has he had any seizures since. Noah has been seizure free for more than 2 ½ years now! Does this mean surgery is off the table? No. SWS is progressive. Seizures could come back at any time, and we'd be back at square one. It is so scary to know everything Noah has done could be ripped away from him at any time. But we celebrate every day of seizure freedom and every day he continues to develop and grow.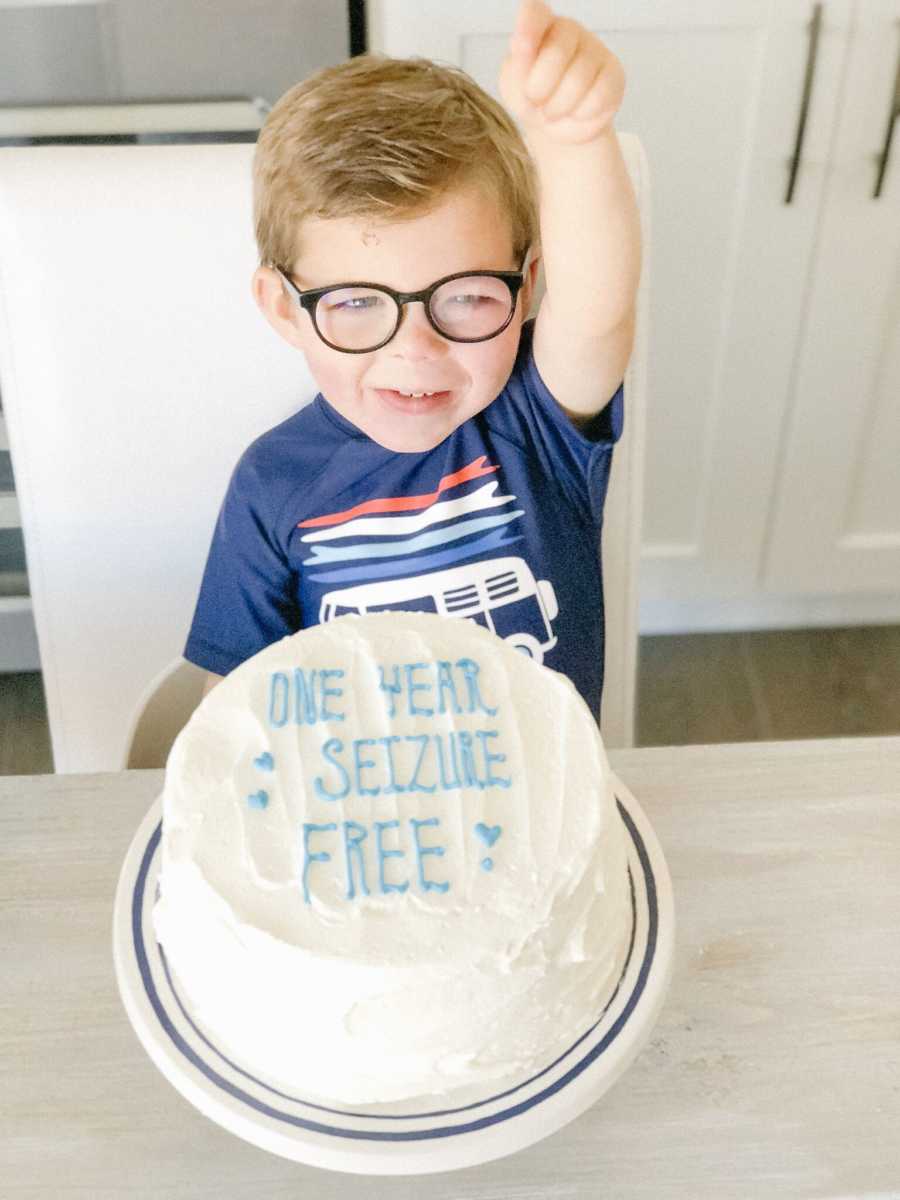 To date, he's had four MRI's, a CT scan and PET scan, various EEG's (as short as 20 minutes to as long as 48 hours), 17-ish laser procedures, and hundreds of seizures. He's gone into status epilepticus, been paralyzed for days on the right side of his body, and been unable to walk. Every single time we've been thrown backwards and have felt seconds from drowning, he's clawed his way back. He's been put under general anesthetic roughly 25 times. At one of his last laser procedures, they gave him too much sedation and what should have been a routine laser surgery, ended up with Noah going into cardiac arrest. Now I am so hesitant to allow him to be sedated. Even though what happened was a fluke, an accident, and as rare as the syndrome he has.
He sees an ophthalmologist every couple of months to check the pressure in his eyes. He wears glasses and takes drops for glaucoma prevention in his left eye. He also patches as much as possible to strengthen his right eye. Eye surgery has been mentioned, but for now drops are doing what they need to do, and I pray his vision continues to improve.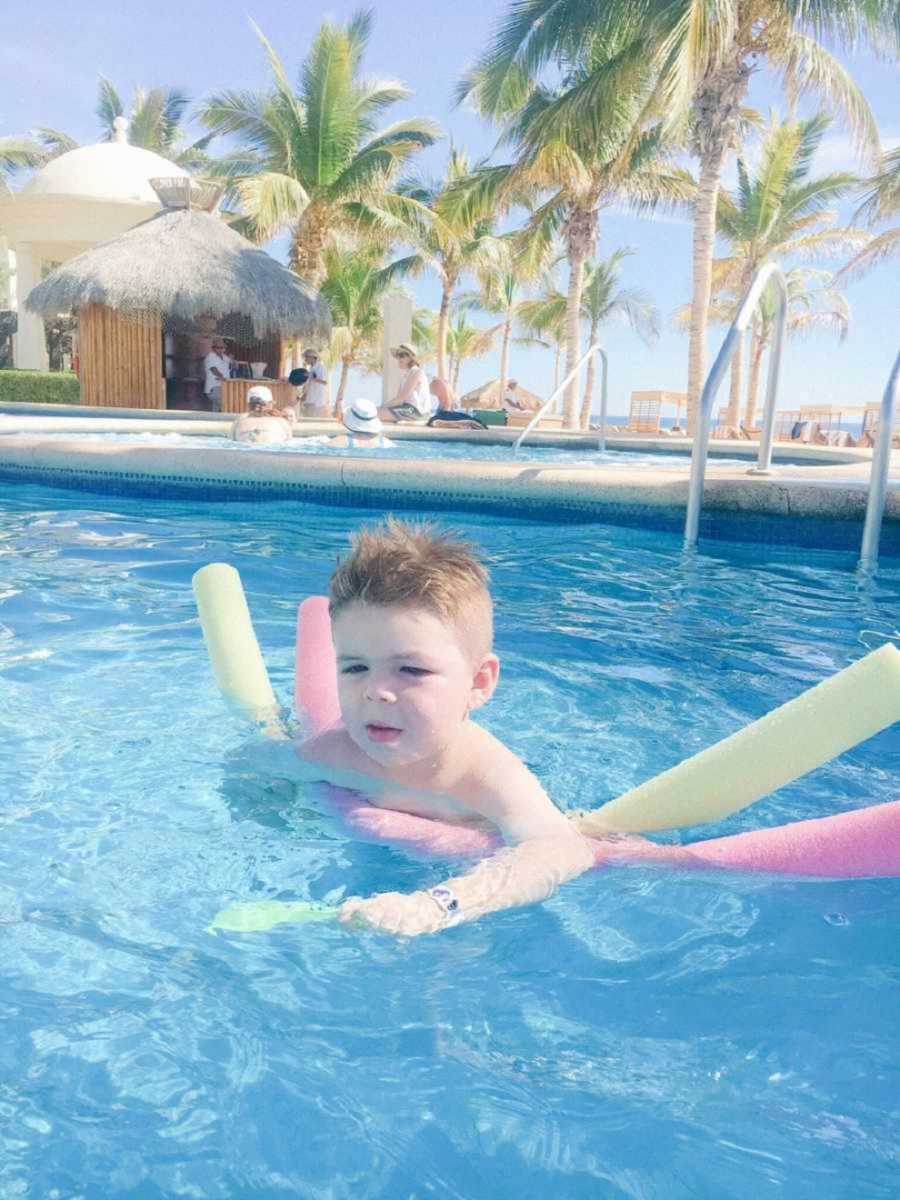 We don't know what the future holds. Whether he will need brain surgery or if medication can keep the seizures away. If he will need surgery to help the pressure in his eye. If he will be on medication for the rest of his life. If he has a seizure tomorrow and loses the ability to talk or walk. If one day a cure will be discovered. We just don't know. Every day we pray for more answers and pray Noah stays healthy. But we do know how resilient, brave, and determined he is. He is strong enough. We are strong enough. He has shown us, time and time again.
Noah just turned five. He has a lot of friends, goes to preschool, and will start kindergarten in September. We live in the moment as much as we can, but the fear never goes away. Especially for me. It has crippled me at times, and one thing I share now with other new moms starting this journey, is to not become paralyzed by the syndrome. I missed so many good moments waiting for the bad ones. I regret that. Throughout the journey, the one thing that has changed is we love our son more today than we did yesterday. At times, it has been the hardest thing we have ever been through, and I didn't know how we would get through the moment, let alone another day. But watching him fight like he has makes me try to be strong. For him. For us.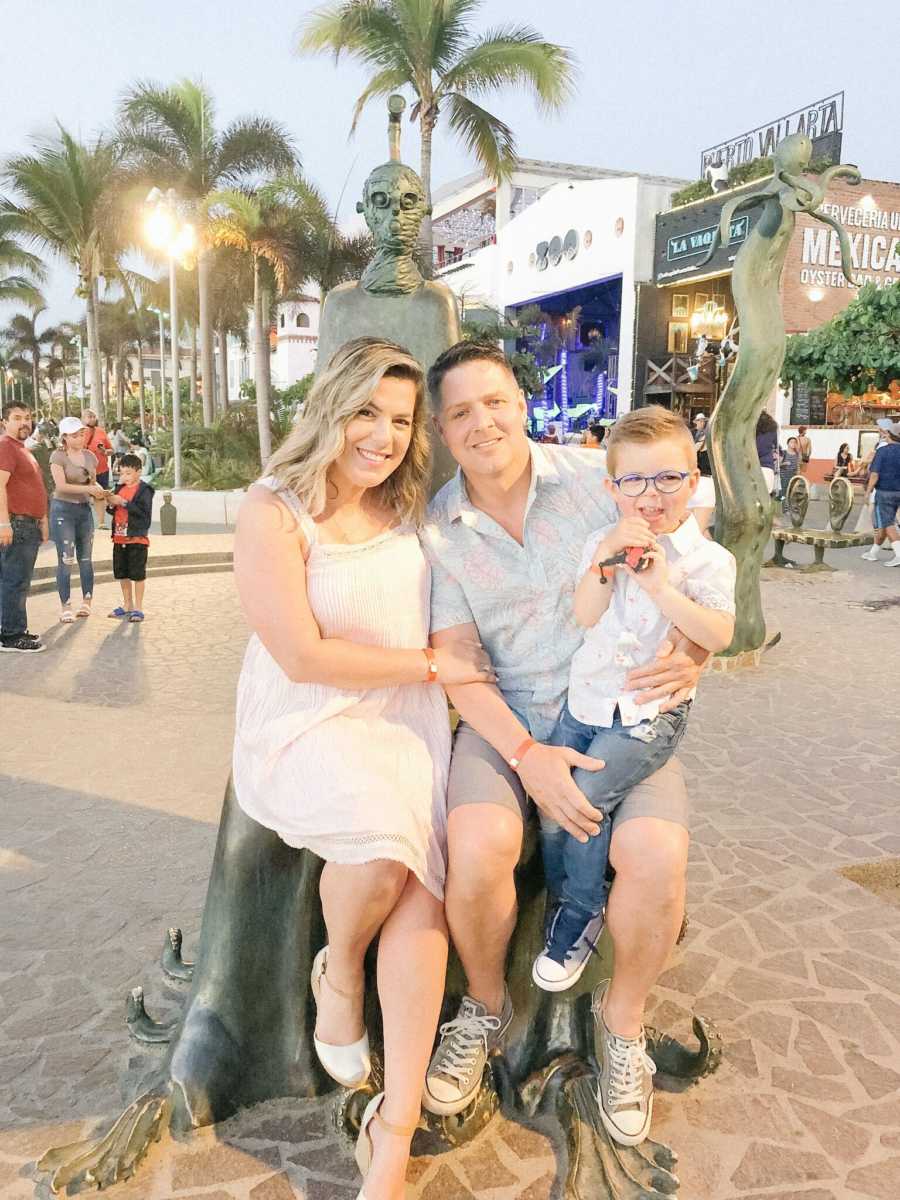 Our story is about heartache and despair, hope and perseverance. My goal is to educate people and bring awareness to a rare syndrome, and to hopefully (in Noah's lifetime, if not mine) find a cure for Sturge-Weber Syndrome. These children deserve it. These families deserve it. This syndrome and all the people working towards a cure need more funding, more awareness, more acceptance and more love.
Noah is the strongest, bravest, most remarkable human. I am incredibly thankful he chose us. We love him so much. A birthmark changed our life. My son changed mine."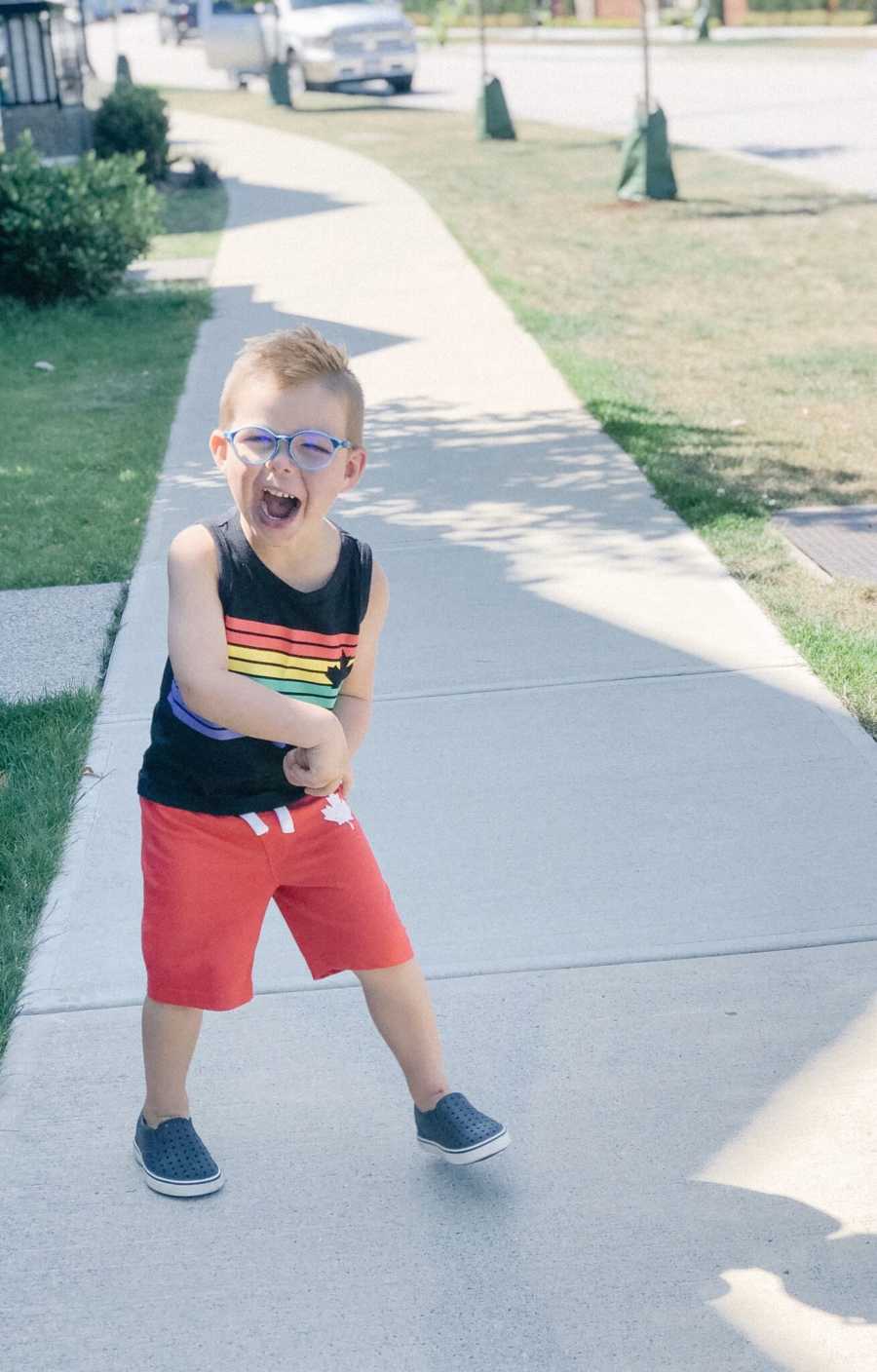 This story was submitted to Love What Matters by Stephanie Vazquez of Vancouver, Canada. You can follow her family's journey on Instagram. Do you have a similar experience? We'd like to hear your important journey. Submit your own story here. Be sure to subscribe to our free email newsletter for our best stories, and YouTube for our best videos.
Read more stories like this:
'Mutation.' Really? I did not get severely burned, I did not get into a car wreck. I cannot wipe it off.': Woman learns to accept birth mark 'again' after moving to new town
'Are you sure it's just a birthmark? Is it contagious? That's gross.' I was nicknamed 'Two-Face.': Man with Port-Wine Stain overcomes harsh bullying, urges 'it's helped me change lives'
'Teachers noticed my 5-year-old making weird movements. 'It's all in her head,' the doctor said.': Mom demands answers for daughter who has 15 episodes a day of what appears to be seizures, actually is PNKD diagnosis
Spread beauty and strength for others. SHARE this story on Facebook with family and friends.