"My dad, Dale Hodson, had two strokes back in 2005. The second one left him with very little use of his right side. He could walk on his own until just a few months ago, but then his health began to decline. Diabetes and a very bad heart have had their way with Dad these last 6 months.
Dad was a hard working man. His father, W.A. Hodson, started a dump trucking company, W.A. Hodson Inc. here in Leesburg, Ohio, back in the early 30's, which my brother Mike, who baptized Dad, and I still operate today.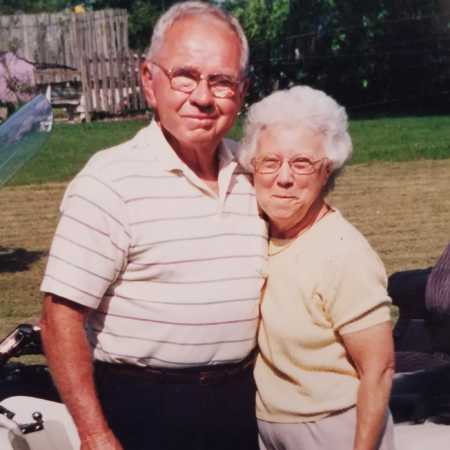 Dad has gone to church his whole life but I was always worried about where he was in his relationship with God. These last few months have been really tough on our family. From his time in and out of the hospital, to our second stint at this wonderful facility at Adena Rehab in Greenfield, to home health, Dad's optimism has steadily declined.
So between Mike, my other brother Ike, and myself, the talks with Dad turned to God and if he was good with where he was? He would say, 'Yep, yep, I think so.'
Well, little did we know, God was working this whole situation! I went to Louisville to watch my son run track last weekend and I get a text from Mike at 8:34 Friday night and it said, 'Dad wants to give his life to Christ and be Baptized!' What did I just read? My dad wants to be baptized?
So now, how do we do it? That's where the occupational therapists, physical therapists, doctors, and nurses came in at Adena! Haley Teeters, who works there, called Mike and said, 'We are going to inflate a pool outside and run hot water to it and baptize him there.'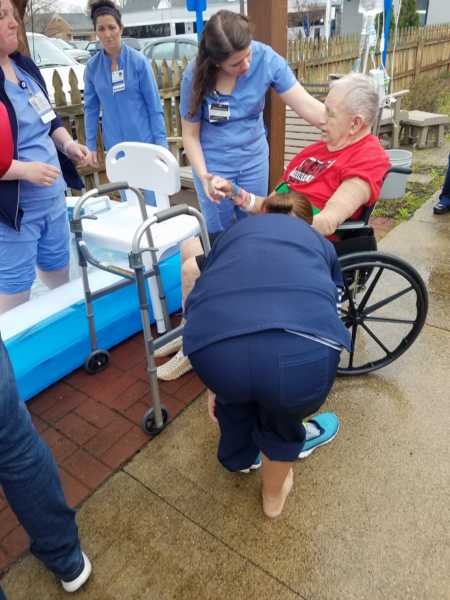 At 10:30 a.m. April 24, 2018, Dad was baptized right there in the courtyard at Adena Hospital in Greenfield! My dad, who I didn't think I would ever see do this, just became one of God's children at the age of 85!
The smile on his face when he sat up said it all! Dad and all his worries were now in God's hands!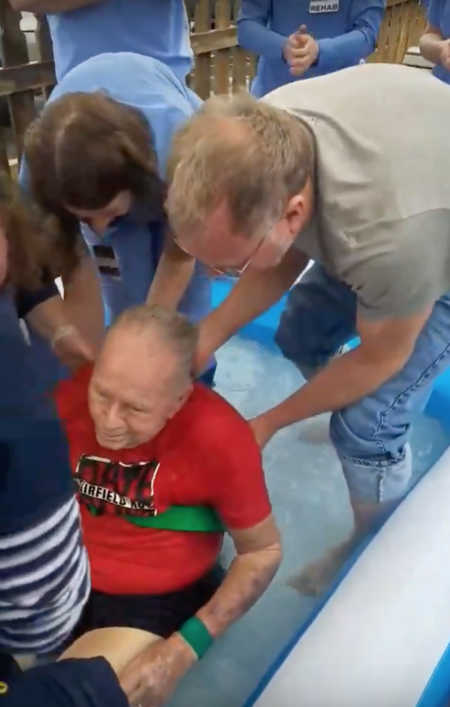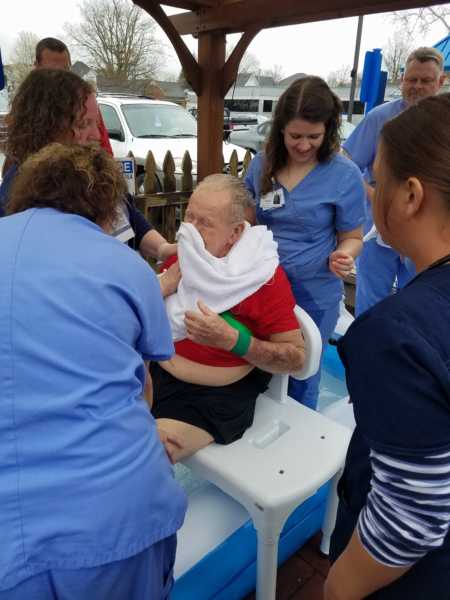 Our family has been overwhelmed by all the wonderful messages on Facebook. We cannot say THANK YOU enough! I was telling Dad last night about how many people he has touched. He just couldn't believe the reaction. As I read some of the comments he began to cry in disbelief.
God is in control of all of this! Not me, Mom, or Dad, but GOD! God will take care of Dad while here with us, but when he gets to Heaven, Dad's smile will be even bigger! To the staff that helped make this happen at Adena Rehab in Greenfield, we cannot thank you enough!"
This story was submitted to Love What Matters by Matthew Hodson of  Leesburg, Ohio.  Submit your story here, and subscribe to our best love stories in our free newsletter here.
Provide beauty and strength for others. SHARE this story on Facebook with your friends and family.