"I work in the medical field and I haven't seen my parents in over a year because of the ongoing pandemic. I miss them terribly. They live out of state. I don't want to take a chance with their health so we have canceled trips. My dad got a smartphone a few years ago and started sending me images of what he and mom were up to. This one really made me smile. My mom learned to cut my dad's hair watching YouTube videos because he was not comfortable going to the barbershop during the pandemic. He was so proud of her, and he wanted to share it so he took a selfie. I love it so much.
I thought about how they have stayed together so long. It made me want to share their story, because it's another thread in the tapestry of what makes America…America the beautiful. My parents (in their seventies) are in their 50th year of marriage. We couldn't celebrate it with them due to COVID-19. My father is from Puerto Rico and my mom is from Germany.
They met at an Oktoberfest during the Vietnam-era when my dad was stationed in Europe. He was drafted out of his small mountain town in P.R. The story they told me and my brother was my dad hit my mom's bumper car at the carnival and said, 'That's the girl I'm going to marry.' He even called his mother to tell her. My mom thought he was handsome and exotic, but she was too shy to do anything but smile at him.
Dad has a knack for picking up languages, so while he was still polishing his English, he took a crash-course in German. At first opportunity he began courting my mom, and being the handsome, charismatic young man he was, won her over. They eventually married, had me, and the military stationed my dad back in the States. My mom was now a homemaker in a new country with a three-year-old.
While my dad was at work she kept house, took care of me, had my brother, and taught herself to read, write, and speak English by watching Sesame Street with us in the morning and General Hospital at midday. She read to us every day in English, starting with children books, and she devoured novels—the appetite for which I have inherited. She instilled a love of reading in me I will always cherish.
Although this may sound like a bit of picturesque-Americana past, my parents went through what many biracial couples suffered during those times and sadly still do. Both of them had to overcome not just cultural differences and languages between each other, but they also had to overcome the racism that slapped them in the face when they were stationed in the States. My dad's dark complexion paired with my mom's fair skin made them a target for discrimination in all its forms.
Yet, through the normal ups and downs of marriage, through the deployments of up to a year which separated them, coupled with the pressure of being a biracial family, my parents persevered through challenges which have broken other couples. From what I have observed over the years, their formula for a successful relationship is one we all can use in our own: communication, compromise, commitment, compassion, love.
Their devotion to each other through good times and bad times inspire me in my marriage. My parents still love each other deeply. They still hold hands when they take walks. My mom still has the countless letters of love my dad wrote when he was away. My dad still cuts flowers from his garden for her. (My favorite was when he planted lettuce to spell her name when it sprouted.)
Our country is still going through the pains of growth, there are strengths and weaknesses in its bones. It will take the formula my parents used to keep many families together during these stressful times. I believe good things can come from hard times. A time of war is what brought a poor, brown-skinned farm boy from a small Caribbean island all the way to a country in Europe, where he met his fair-skinned blonde bride during a festival. All that mattered was the love they found then. It's all that matters now."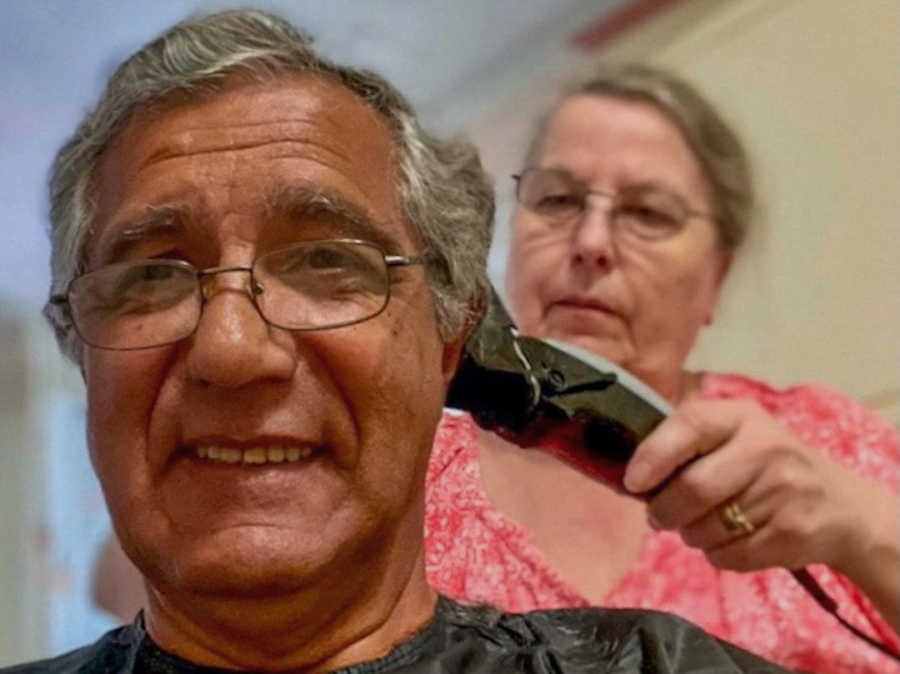 This story was submitted to Love What Matters by Iris Flythe. Be sure to subscribe to our free email newsletter for our best stories.
Read more stories about love:
'We were 15 years old. 'Let's exchange letters.' I couldn't keep waiting. He was just the guy with the awesome jawline.': Couple shares unconventional love story, 'We still choose each other'
'One night, out of nowhere, I dreamed I met him. I woke up all warm and tingly. I took that as my sign and decided to go for it.': Couple share amazing international, interracial love story
Please SHARE this story on Facebook to encourage others to cherish every moment and love what matters most.