"Yesterday my heart sank when I realized the diamond to my wedding ring was GONE!!
It was undoubtably one of the worst feelings ever.
My wedding ring doesn't just symbolize a union and commitment to marriage to Ryan, but it was also my Grandma's. It has sentimental value and I treasure it so deeply. I was very close to my Grandma and always knew that one day, the man I loved would place her wedding ring on my finger symbolizing our love.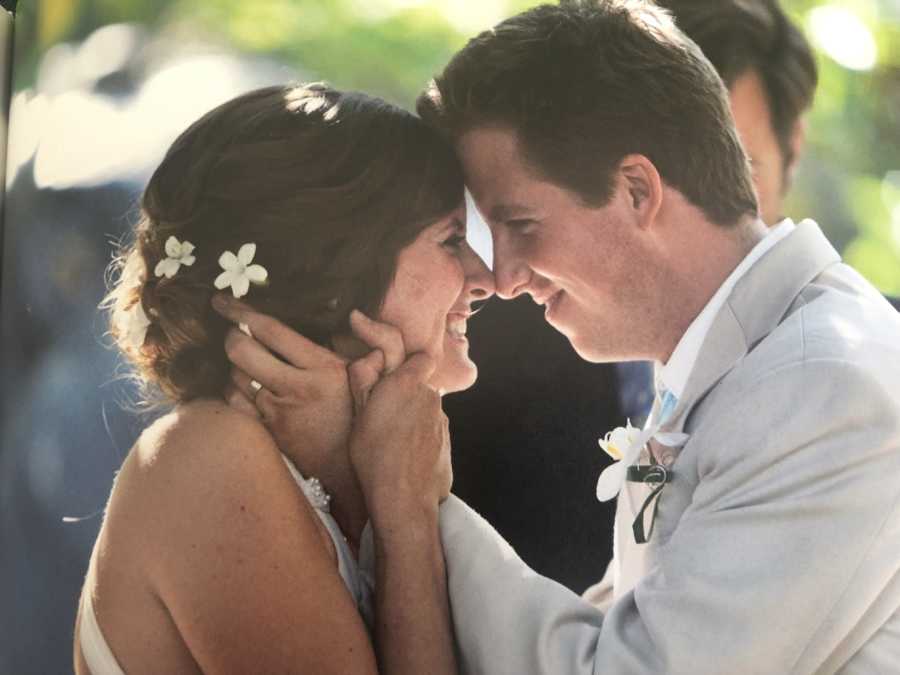 The day I lost my ring was a busy morning. We were headed to Laguna to spend the day with Ryan's family. I got the triplets ready, grabbed towels and sand toys, and we headed out the door. We picked up sandwiches at a restaurant on our way up. Ryan was going to run in to pick up our food, but I told him I would because I had to pee.
I ran in and I ran out. And we were on our way.
Minutes after we were back on the road, I realized my diamond was missing. GONE. I was in instant panic. My heart started racing and my hands got clammy. Before you knew it, I was sobbing. I knew it was on when I got in the car when we left, so I knew it either was somewhere in the car or at the restaurant.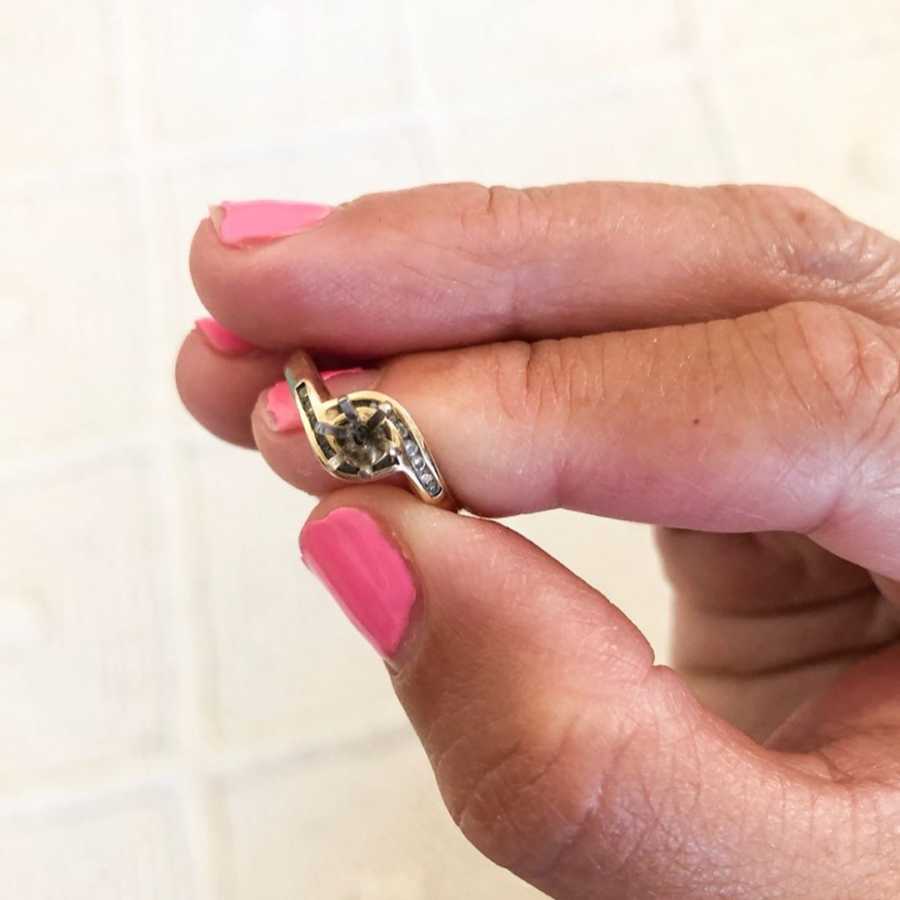 We searched the car and couldn't find it anywhere. We searched the parking lot. Nowhere! Then I ran into the restaurant to see if it happened to fall off while I was there. I even searched through the bathroom trash in case it fell off after I washed my hands. But it was nowhere. I gave the restaurant my contact info just by the mere chance and hope that someone would turn in a loose diamond.
My heart was sad. So sad.
My son Jax chimed in in a break between my tears and said, 'But Mommy, I made the specialist ring for you. Come and put it on!' The ring was a green hair band and it was indeed quite special. He showed so much empathy and it was his way of helping me feel better. It was truly a profound moment for me as I got to witness my son show so much love to me. And despite the fact that my diamond was gone, his thoughtfulness cheered me up.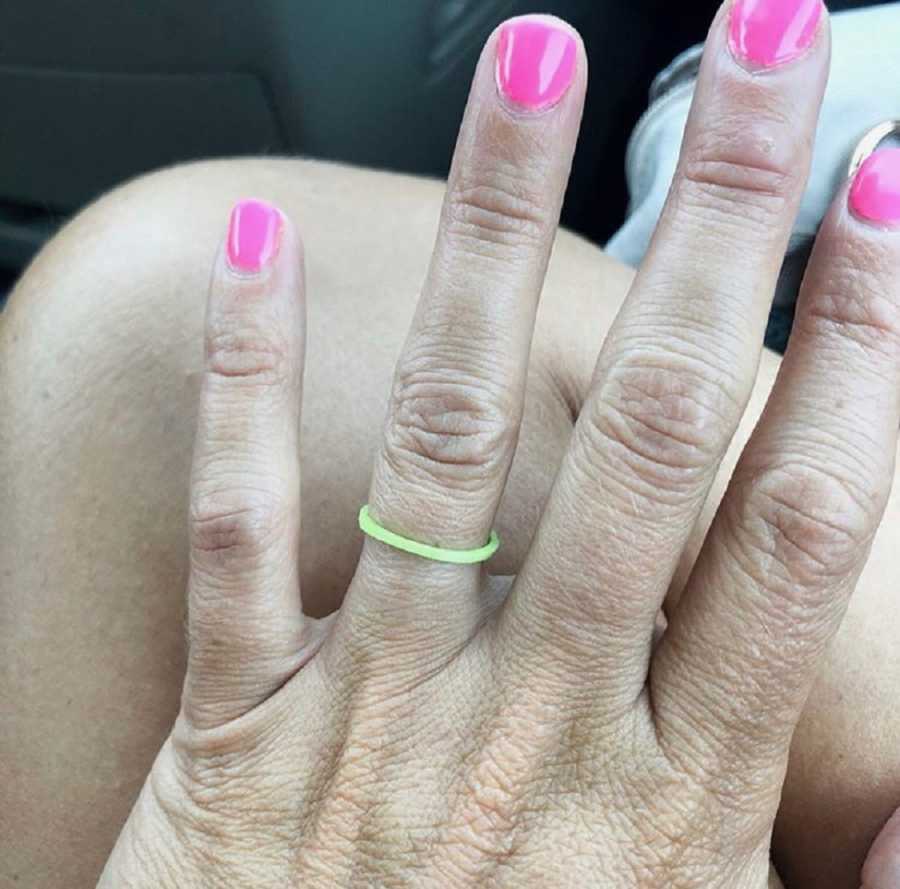 The day went on. We spent the day at the beach.  I was convinced the diamond was gone forever. My mom came over after the kids went to bed so we could search the car. I remember thinking it was probably unlikely that the diamond would be found, but we prayed, 'Lord if it is in here, please help us find it.' I really didn't think there was much hope. But we serve a miracle worker even when it comes to loose diamonds.
In between the goldfish and animal cracker crumbs, lo and behold, my husband found the diamond! He initially thought it was one of the kids' treasure gems, but OMG Hallelujah! I was SHOCKED! I did not think it would turn up.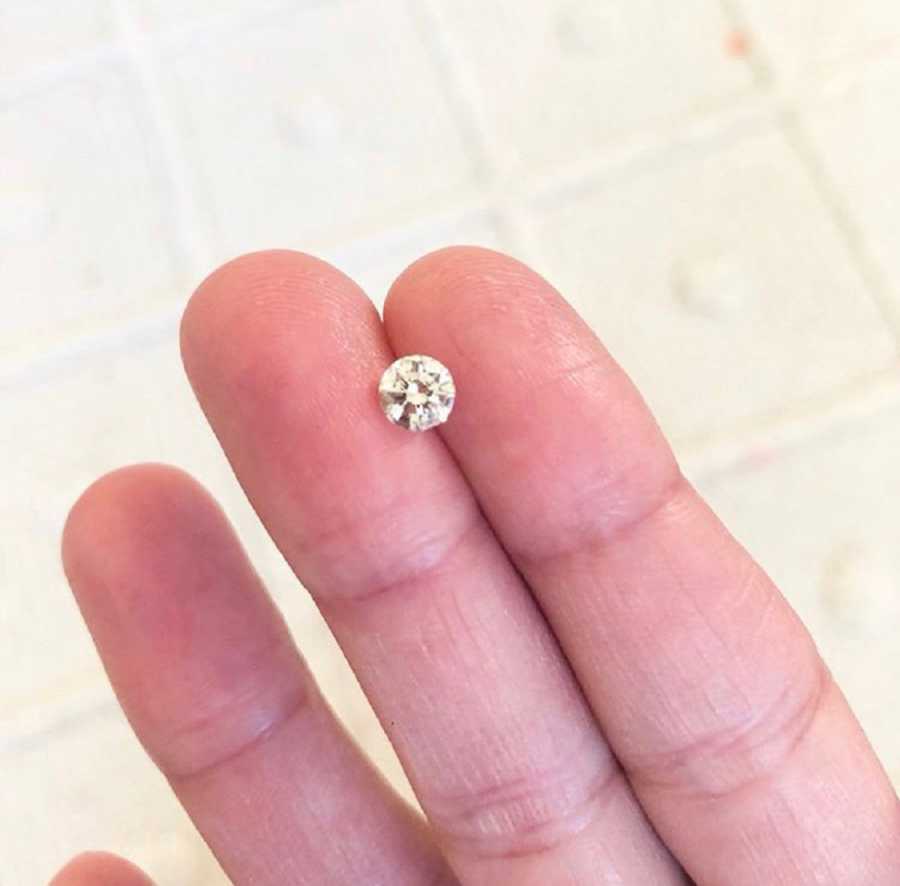 The day I lost my ring, when I thought it was gone forever, I came to a place where I accepted that ultimately, despite how special this ring was to me, and the fact that it was gone, it didn't change my grandma's love for me and my love for her. It was an object after all (a very special object). I knew choosing to focus on her love was the best choice for me because I really thought it was gone forever – and focusing on the mere fact that the diamond was missing made me so sad. I had to choose a new perspective.
But God has a funny way of surprising us sometimes.  I currently have my ring in a safe place and plan on getting it fixed. I know my Grandma is looking down from Heaven rejoicing with me. I know she played a role in helping us find it. I now have a whole new appreciation for the family heirloom I'm so honored to have inherited."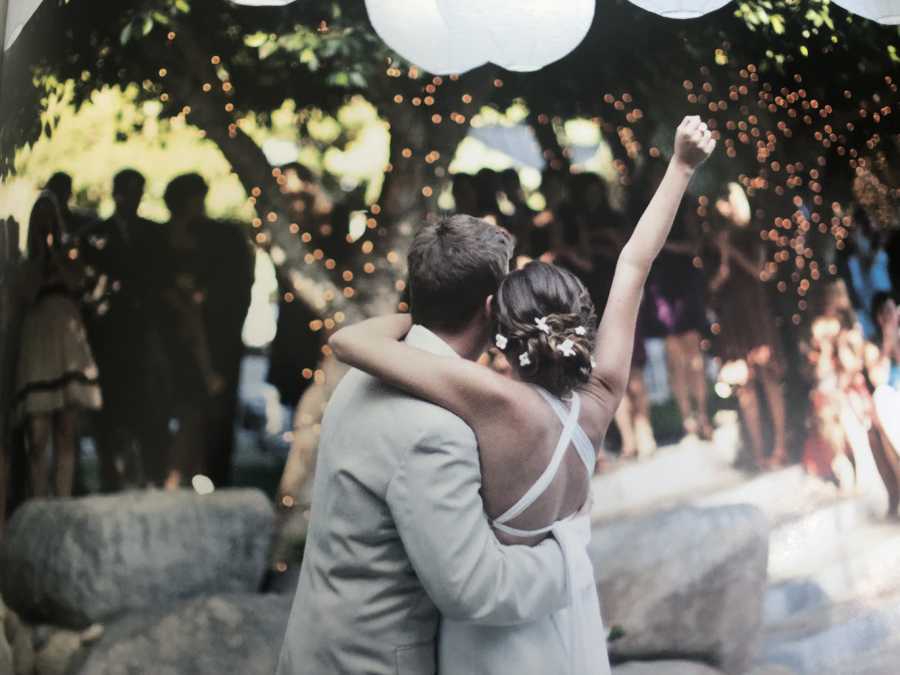 From podcasts to video shows, parenting resources to happy tears – join the Love What Matters community and subscribe on YouTube.
This story was submitted to Love What Matters by Desiree Fortin of California. You can follow her journey as a mom of triplets on Instagram. Do you have a similar experience? We'd like to hear your important journey. Submit your own story here. Be sure to subscribe to our free email newsletter for our best stories, and YouTube for our best videos.
Read more candid stories from this mama here:
'SEX after kids. I can count on 2 hands the number of times we had sex the first year after the triplets were born. Okay, probably just 1 hand.'
'You don't just marry your spouse. There is always room for conflict when it comes to IN-LAWS.'
'I remember our first marital therapy session vividly. I sat separated from Ryan and the tension between us felt so strong. We were two hurting people only hurting each other.'
Have you ever lost a precious piece of jewelry? SHARE if you can relate!