"I settled into the driver's seat, ready to make the 10-hour drive home to North Carolina from my father-in-law's in New Jersey, 11-month-old baby boy and dog in tow. My husband and I had been going through a small rough patch, but we were finally communicating, and I was excited to finally get home and work on things with him. He had been in NJ working and I was visiting him on his days off. As I opened my phone to put our address in, a text from my husband came through. I remember smiling as I opened it, just as I remember trying to find my breath when I read, 'I'm not happy. I want more for myself. If you're coming home, I won't be here.' I pulled into a Dunkin Donuts parking lot. I tried to call him. His phone was off. I tried to remember how to breathe, how to function, as I completed my drive home. I had to make it home so we could talk. It would all be fine, right?
I finally made it home and everything was all too normal. Nothing was out of place, but my husband was gone. I waited all night. I studied the bank accounts and phone records, called hospitals in a panic. There was no way this was real. The $180 charge from the bar didn't show up until later. My husband came home in the morning, got ready for work like nothing was happening, and was seemingly in a great mood. He wouldn't talk to me, no matter how I begged. He just left for work like it was no big deal. This continued for 12 days. Sometimes he would show up for clothes, sometimes he wouldn't. Large bar tabs appeared on our statements every night. Girls' phone numbers came up on our records. I would call the numbers and they would confirm what I already knew.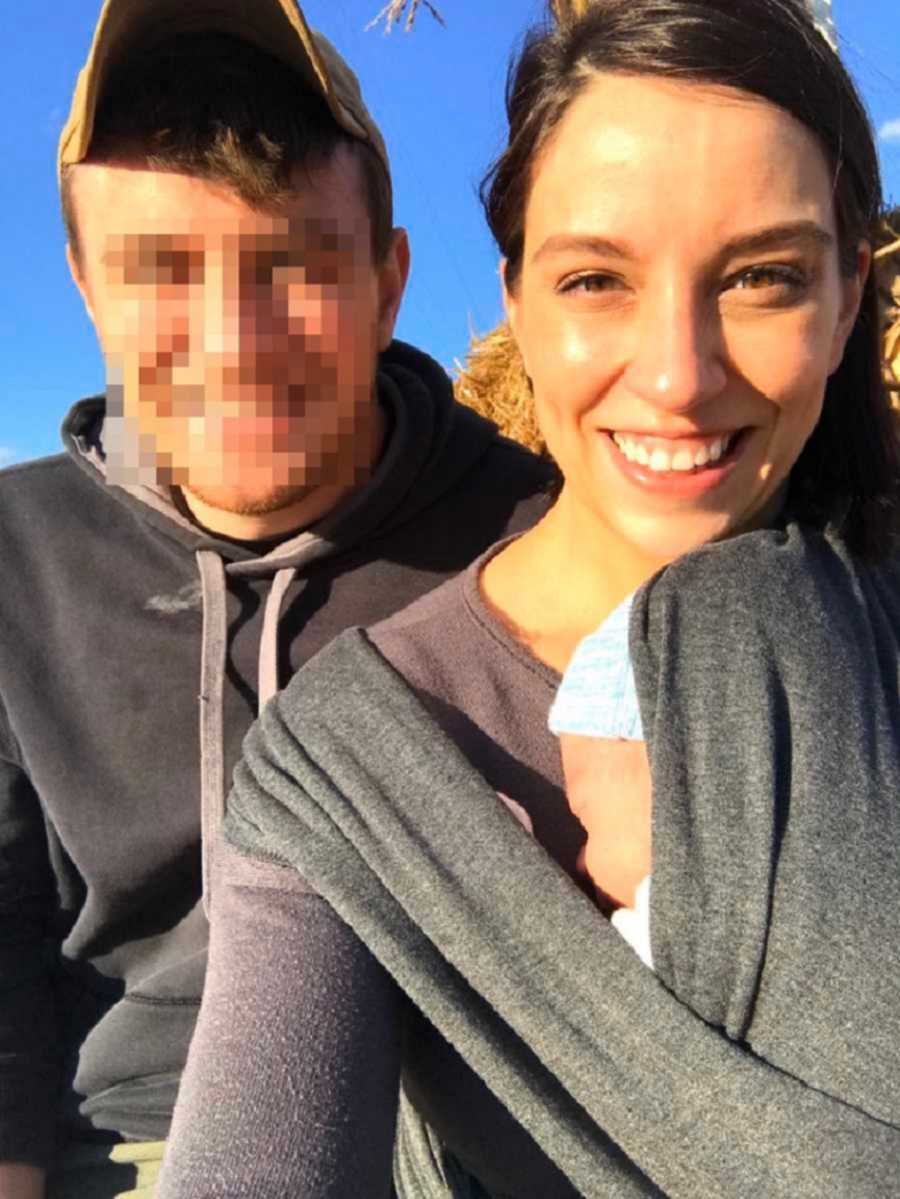 I would wake up in the morning and go through all the motions, somehow making sure my son was taken care of and trying to keep up on my homework, but only able to focus on his words swimming relentlessly through my head. 'I'm not happy. I want more for myself.' I would wait for my son to nap and I would lay in the shower, long past when the water became cold, and sob. At night, I would stay awake and stare at my computer, watching phone records and transactions, not able to do anything.
I obsessed over lists and made calendars, looking for something that may have led to this. Some sort of sign. A reason. I reached out to his friend, his family. Everyone was shocked. The woman at the grocery store asked me when we would be having another kid. When I told her he was gone, she began to cry and whispered, 'But you guys were the goal.' I searched for anything I might have done to push him away. He was my best friend. My other half. We did everything together: played video games, worked out, and competed in powerlifting together. He was the person I still got excited to see every night when he would come home from work. Even through our hardest times, I never fathomed a life without him by my side. We were happy. I needed a reason.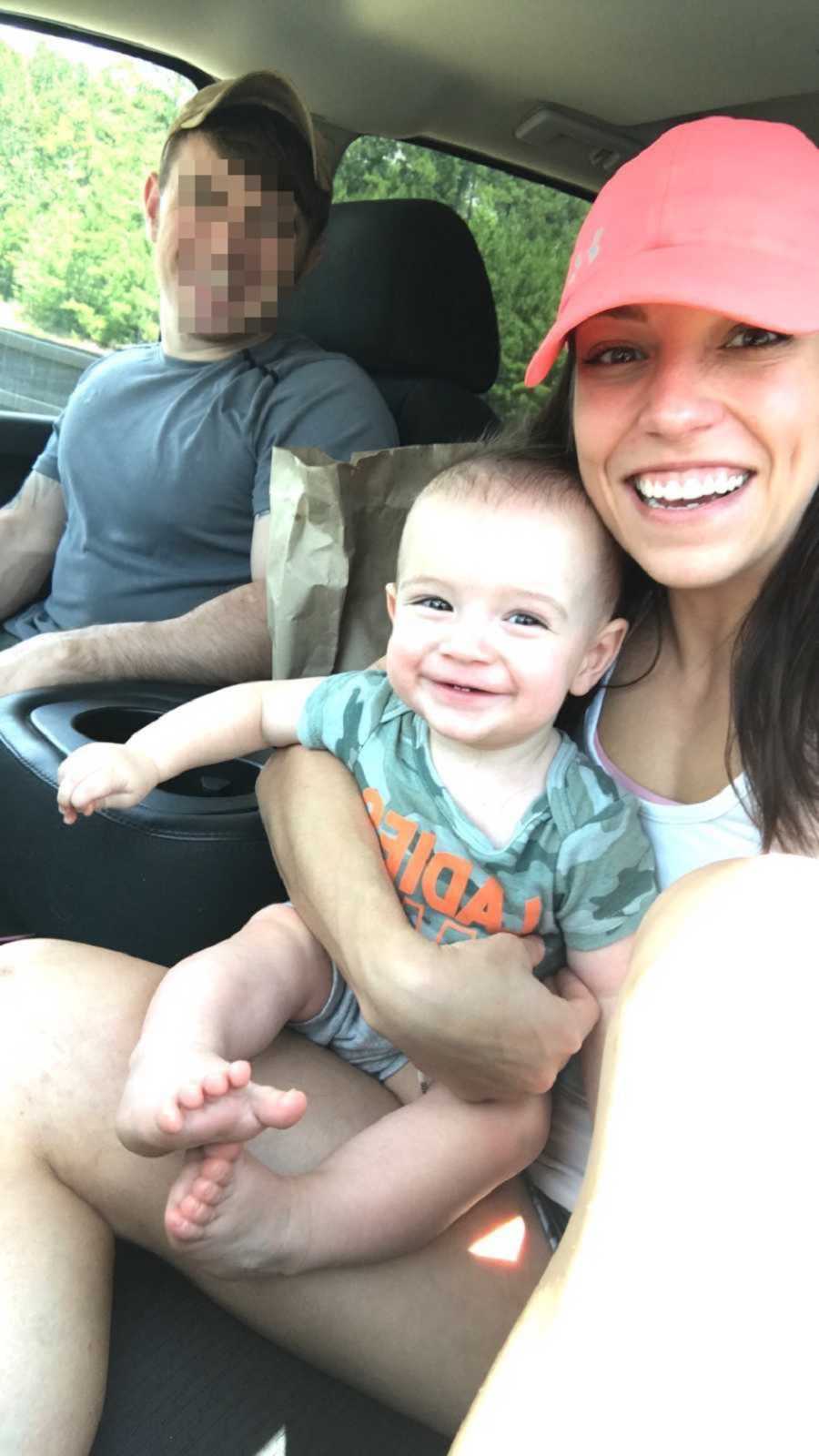 That following weekend, he agreed to meet me at a park so we could talk. He offered no explanation and instead, asked me to figure out how to start the divorce process. In North Carolina, there was a minimum separation period of a year prior to filing, and he demanded I lie to the court to expedite the process. I refused, which made him angry. He was so cold and emotionless. This couldn't be real.
Time passed and he would start showing up sporadically just to eat my leftovers and take naps on the couch, making suggestive passes accompanied by demeaning comments that still ring in my ears. 'I don't love you or anything, I just really, really want to f*** you.' I prepared for my son's first birthday. He suggested we shop for gifts together, but he didn't show. I spent the whole day in a daze, cooking and baking my son a cake. I made dinner for us all and eventually he came. We took pictures, sang happy birthday, and opened presents. I tried my best just to make it through, in disbelief of what five years of marriage had dwindled to. When I didn't act the way he saw fit, he stormed out, saying that I had ruined our son's birthday for him.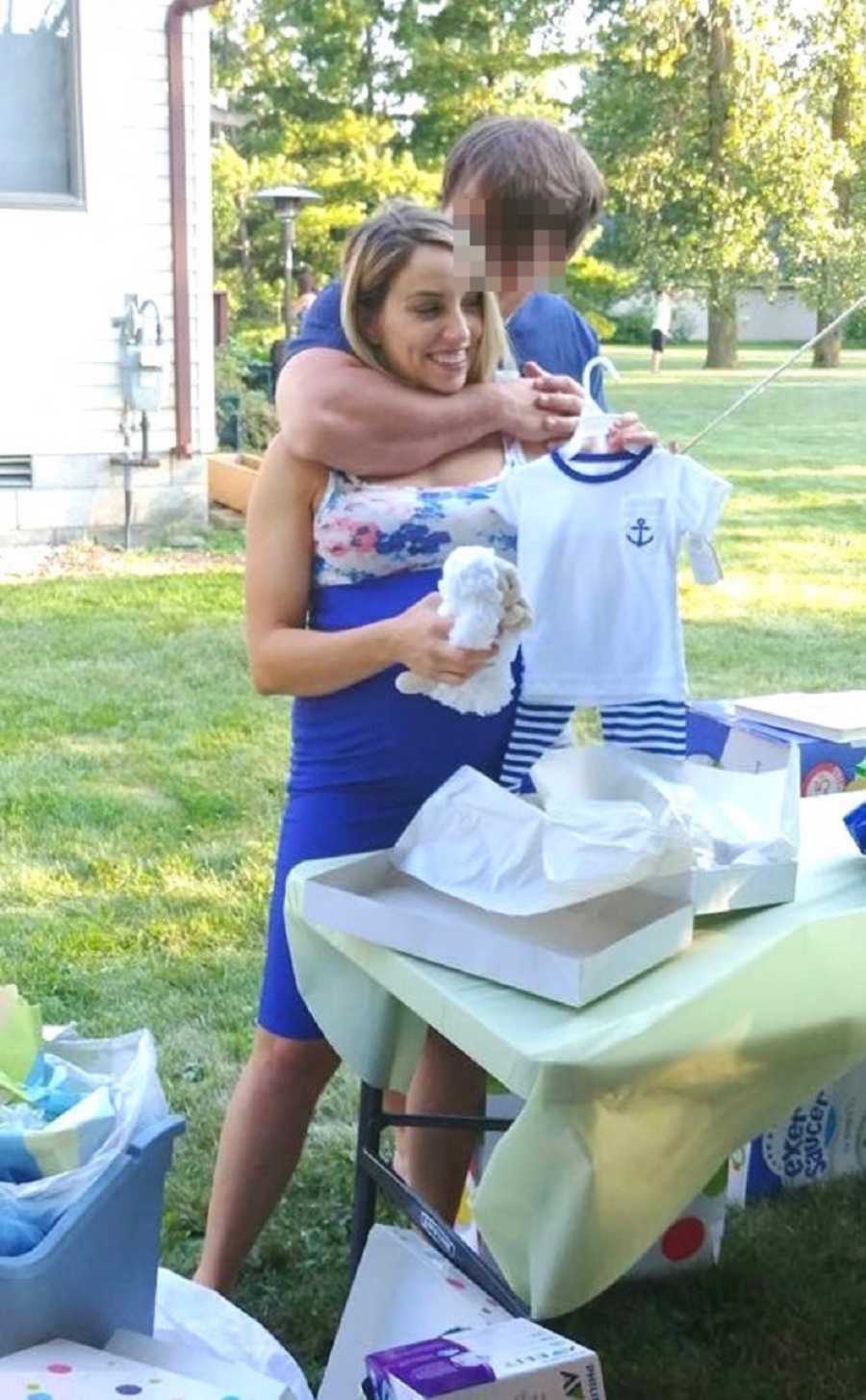 A total of a month passed before I decided to go to Michigan where my family lived. I had promised my dad a hunting trip and thought it might be good for me to get out of town. My husband went to Pennsylvania and stayed at his brother's frat house for three weeks, certainly doing things I could only imagine. I didn't hear a single word from him the entirety of that time and eventually, I accepted he wasn't ever coming home. I decided to fly home, pack up my things, and come back to Michigan for good.
My time there was extremely difficult. I struggled with the heartbreak. I struggled with losing the only home I'd ever really known. I struggled with losing the most important person in my life. I struggled with not having any freedom as an only parent and even some resentment toward my son, as well as resentment toward my husband for being able to live his life as if we never existed, while I was left with all the responsibility of being a parent. I desperately and blindly tried to force fill the role of a father in my son's life. Eventually, I realized it was my process, but that didn't make it any easier. Every time I thought I was on the other side, something would prove me wrong.
To this day, I have no idea what changed in my husband. Not a day goes by I don't miss the man I thought he was. Well over a year has passed and it wasn't until now I felt ready to share my story. I have just recently accepted I will never understand nor have any of those answers I fought so desperately to find.
After struggling to cope and regain my footing in Michigan, my son and I have landed in South Jersey. Here, we're completely alone, but we're finding our new version of happiness. I am still healing, and I know that I may never entirely recover from this, but I am fighting like hell to make a life for myself and my son and to show him that your circumstances do not define you.
Education is something I had formerly put on the back burner for my husband's career, but I am finally completing my undergraduate degree this spring and am even in the process of submitting my applications for Physician's Assistant programs. I look back and am astounded by my strength and perseverance through all of this. I know I can get through anything life throws at me. I am strong. I am beautiful. I am resilient. I will be successful. I will raise a good and honest man. My son will never doubt how loved he is. We will be happy again."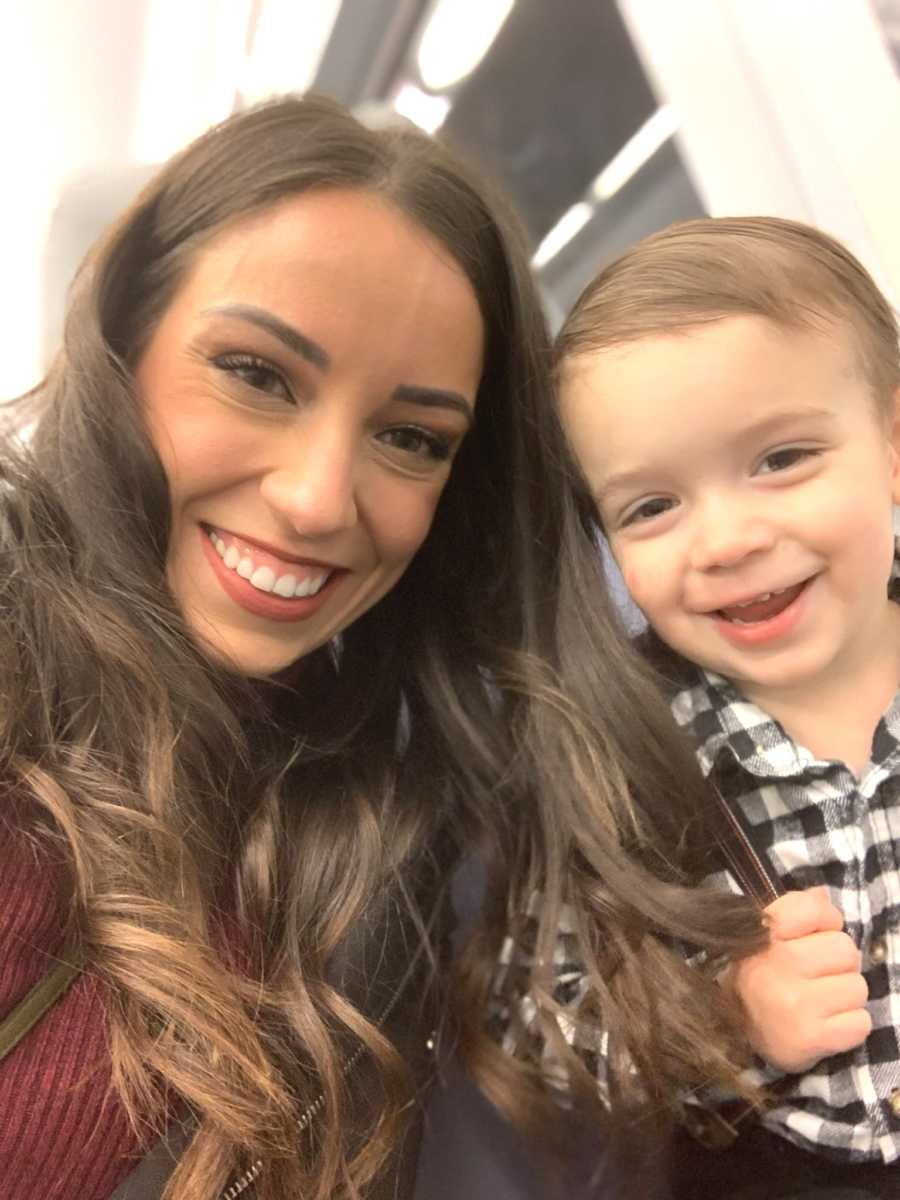 This story was submitted to Love What Matters by Kristi Sives. You can follow her journey on Instagram. Submit your own story here, and be sure to subscribe to our free email newsletter for our best stories, and YouTube for our best videos.
Read more powerful stories like this:
'It was the night of our 8-year wedding anniversary. As I pulled up, I see him standing outside holding a red Solo cup. He came with a cocktail. I thought to myself, 'Interesting.': Woman recalls harrowing divorce
'It's been 6 months since my husband and I filed for divorce. I pass off my kids to him every other week, for the entire week.': Woman claims divorce has made her a 'better' mom, 'I've learned to cherish each moment'
'Within five years' time I lost my mom to cancer, got married, lost two grandparents, had a son, got divorced and went broke.': Woman's journey re-defining definition of success
Do you know someone who could benefit from this story? Please SHARE on Facebook to let them know a community of support is available.