"I sat on my couch.
Alone.
Well, I wasn't *alone* alone. My two-week-old baby was with me, too.
But I felt alone.
It was quiet. Then loud with crying. First hers, then mine.
It was tiring. But I wasn't really doing anything.
My mother went back home, and my husband went back to work.
Now it was up to me: Take care of this child.
She's right there. In your arms. Figure it out. Figure out how to be her mother. Stop feeling scared.
Do the things she needs you to do.
Be her mother.
So I did some things.
And then I did more.
And I kept going.
For six years.
And two more kids.
And I'm still going.
Sometimes I still feel like I'm that new mother alone on the couch.
Waiting to nurse again.
Waiting for the moment where it'd all click and I'd feel all I AM MOTHER HEAR ME ROAR.
Waiting to know what I was doing.
And I'm still waiting, on that couch, to feel like I know what I'm doing.
Because the truth is, I rarely do.
But over time, I mastered the I AM MOTHER HEAR ME ROAR.
While I make mistakes and I don't always feel like Mom of the Year—I *do* feel like a mother.
Her mother.
And most days, a pretty good one.
So, new mama on the couch, I know. I know it's lonely and confusing and terrifying.
And I don't know what words will specifically comfort you, but I can offer you the truth.
Even when it feels impossible, you will keep going.
Even when it feels overwhelming, you will keep going.
Even when it feels painful, you will keep going.
Even when it feels dark and raw and exhausting and like it's all too much, you will keep going.
Why?
How do I know that?
Because, you're somebody's mother now, darling.
And millions of mothers have sat on that couch before you.
Our tears are in your cushions, our breast milk on your pillows. Formula has spilled on our sweatpants we sit in and spit up is (somehow) in our hair.
We've been on that couch and we're all rooting for you. You are not alone. Couch mom's past and present are sitting with you. And we're here to make sure you keep going.
And keep going, you will."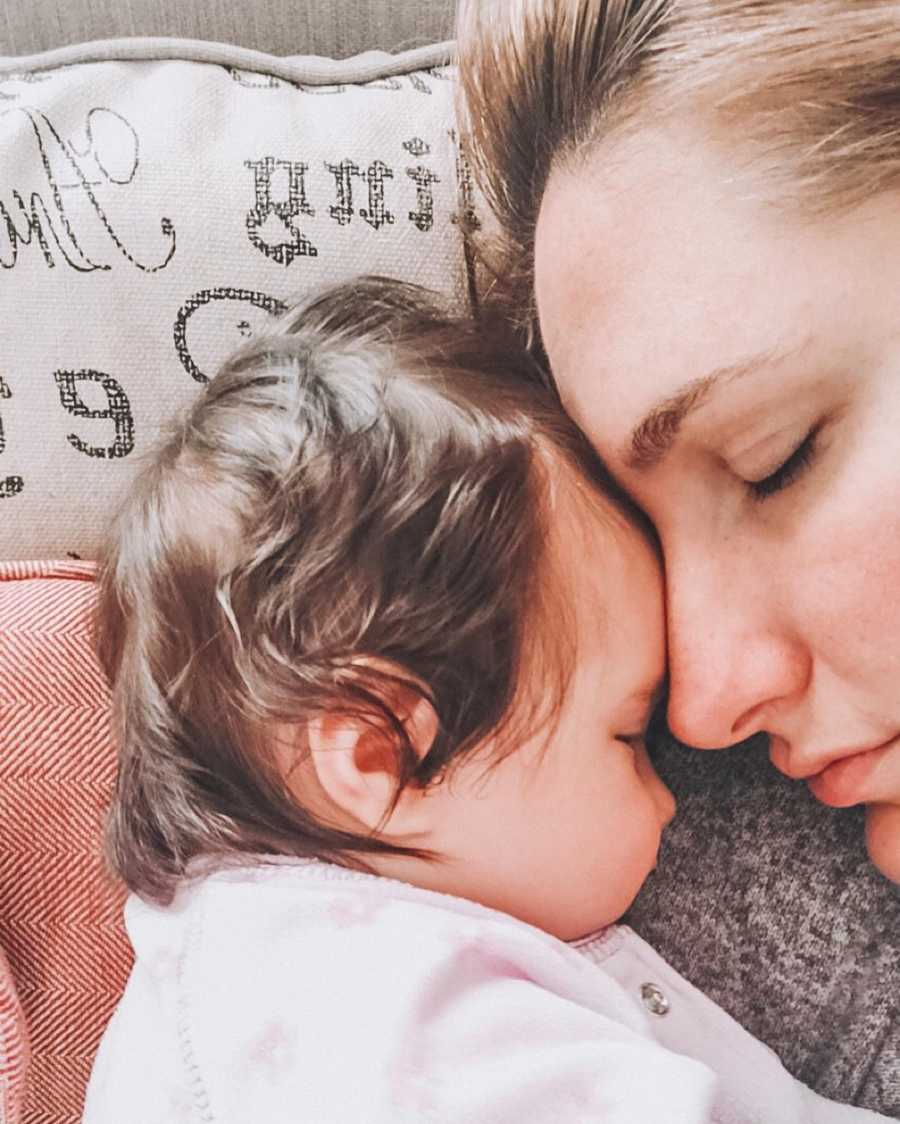 This story was submitted to Love What Matters by Colleen Temple of Massachusetts. You can follow her journey on Instagram. Submit your own story here and be sure to subscribe to our free email newsletter for our best stories, and YouTube for our best videos.
Read more stories like this:
It's okay to say, 'WHAT THE HELL IS GOING ON?' It's okay to actually freak out.': Woman says 'it's okay to not be okay' during quarantine
'As soon as you birth your baby, you're a different person. Take it and run. You're now a mama before anything else. There is no higher title than that.': New mom shares candid reality of first-time motherhood, 'You're doing an amazing job'
Do you know someone who could benefit from reading this? SHARE this story on Facebook with family and friends.