"A dating app began it all. That's where I met Adam when I was finishing my degree. At the time, I did not know this person I was video chatting with would be the 'Papa' to my children. We both started dating knowing what we wanted in our lives. We both wanted to get married, own a house and start a family. At the time, it seemed like it would be difficult or impossible to accomplish our dreams, especially being a gay couple.
We knew right away we were right for each other, and our relationship developed quickly. Adam proposed to me on the top of Rockefeller Center in NYC and had my closest friends and family members waiting downstairs to join us at a surprise engagement dinner nearby. We waited 2 years before getting married in Aberdeen, NJ on January 15, 2017. We always go over the top when we throw parties, so we made sure our wedding was one to remember.
Several moves later, we knew what was next on our list: a house! We wanted to start a family in our forever home and knew an apartment would not cut it for long. At this time we started looking for houses near Adam's job near Philadelphia to purchase. The house hunt was short-lived, however, and we ended up building our home from scratch. Located on a street filled with families of all sizes in a great school district, the construction would end up taking 6 months. It was well before our house was built, though, we started the long journey to fatherhood. Even when we were just dating, Adam and I talked about wanting to have children. We looked into every option on expanding our family and ended up deciding on starting our family through surrogacy.
We officially started our surrogacy journey in the summer of 2018. Adam contacted several agencies who existed to help match surrogates with intended parents like us. We had no idea just how long this road would be. We put down a deposit with The Surrogacy Experience that August, and from there began the waiting game. We expressed we would like to ultimately end up with a twin boy and twin girl, one with each of our DNA. The agency told us this might take longer to match with someone who was willing to carry twins for a same-sex couple. However, we kept our eyes on the prize and committed to finding our match.
During this time we also had to find a fertility clinic to use for egg donation and embryo transfer. Many doctors we called in our area would not do a double embryo transfer, as twins can increase the chances of health complications. We stayed the course to find a fertility clinic that would implant two embryos, which we ultimately found just a couple of hours from home. We met Dr. Leondires of RMA of Connecticut in 2018, and from day one we knew we found the right doctor.
Managing these steps to 'get pregnant' during a pandemic might sound crazy, but we actually had more time to focus on this while being stuck at home. Once our surrogate was medically cleared and we were officially matched, our doctor asked if we had embryos ready to implant. We had no idea that step was next, and we hadn't even started searching for an egg donor! My advice to anyone looking to follow our journey would be to make sure you have embryos created and ready to go for when your surrogate is medically cleared.
I started looking for an egg donor online right away but knew this would slow down our journey by several weeks. I spent days at my computer, creating numerous accounts and researching the best agencies to find our perfect egg donor. At first, I was being far too picky. I was acting like I was on a dating app, I mean, who wants an unattractive mother? I was looking for the perfect background, medical history as well as their look, and I wanted to find someone I thought was pretty!
Many people told me the right donor would come, but I grew disheartened as I kept checking hundreds of agency listings daily. I then stumbled upon a newer agency that only had a few donors, and BOOM, there she was! This donor was a blonde woman with pretty green eyes, who was donating for the first time. Adam and I were so excited to finally find someone who checked all of the boxes. We talked with her and formed a relationship, as I thought this donor would be the mother to our children.
The donor was sent for blood work and ultrasounds in order to be cleared by our doctor. Since she was a new donor, they needed to do extra tests to make sure she would be a good candidate for twin pregnancies, which require more eggs. Each ultrasound and doctor screening reduced our odds to become a match, and the doctor eventually called us to say it would not work out. I laid in bed and cried for hours asking God why he did this to us. Why was he making it so difficult? Was this a sign we were not meant to be parents? I felt defeated, upset, and angry at everything.
Whatever the answers were, I knew I couldn't let this get the best of me. I finally rose from my depressed state and got back to the hunt. Within the first hour of searching, one great profile seemed to have a single issue: the color of her hair. From day one, I wanted to find a donor who had blonde hair and light eyes, who may even resemble my favorite artist, Carrie Underwood. However, this donor's family profile and medical history checked every box. We then looked into her interests and started to learn a little bit more about her.
It was a Friday afternoon when I reached out to the agency, Circle Surrogacy, asking them a few questions. Unlike most other agencies I emailed, they replied immediately. Their team even had the donor make a short video to explain why she wanted to donate. We learned she was a previous donor whose last retrieval provided 30 eggs! We knew this would work for our doctors, who required high egg counts for double embryo transfers.
We then found out she was actually born blonde but dyes her hair dark. She also just happened to become available after a previous couple's match fell through. It seemed like this was meant to be, finding her at just the right time. The following week we officially matched with her as our donor and the process from there cranked back up to full speed.
By the summer of 2020, it had taken us almost 2 years to match with our surrogate and find our egg donor. The next step was to fly our donor in for egg retrieval. Prior to this procedure, the clinic sent the injections she needed to take daily to get her body to produce enough eggs to be retrieved by the doctor. Several weeks later she flew in from Montana for the procedure. Whenever our surrogate or egg donor flew to the clinic in Connecticut, we drove up to see them.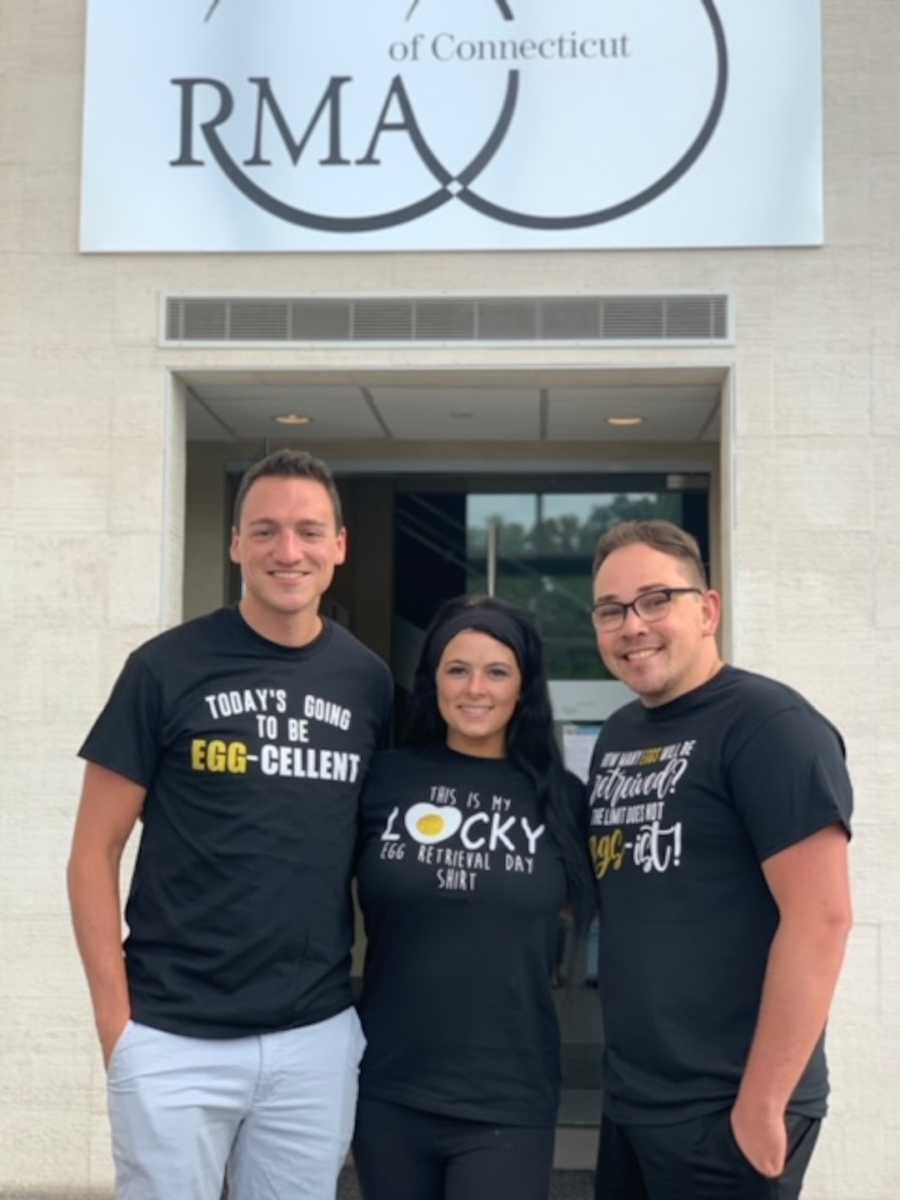 When the donor arrived we made sure to take pictures together to show the babies when they were old enough to know where they came from. Meeting our donor was an exciting day for us both. Her previous donation was anonymous, meaning she never had contact with the intended parents and did not even know if they ultimately got pregnant. Adam and I were very open to communication with both of these women and wanted them to get to know us as a couple.
Our donor ended up donating 36 eggs, which beat her first record. A normal donation is usually around 10, so 36 was nothing short of outstanding. At this point, the clinic split the eggs to fertilize half with my sperm and the other half with Adam's. This was our plan to have an even opportunity to each develop strong embryos. After 7 days of maturing, we ended up with 19 healthy embryos that would all medically be able to be implanted. At this point, we would wait for screening results to come back on the sexes and quality of the embryos. The doctor explained that transferring higher-scored embryos would be more likely to lead to a successful pregnancy.
The longest wait for me was the days leading up to these final results. Adam always dreamed of having a little boy, and I always dreamed of having a little girl, since I am a cheerleading coach who is surrounded by them all the time. I imagined putting her in bows, dressing her up, and spoiling her. The phone call we got from the embryologist was one I will never forget. They told us the quality and sexes of all the embryos we got tested. It ended up being Adam had one male embryo and multiple female embryos that would be qualified as high grade. I had one female embryo and multiple male embryos that would be high grade. They told us we could absolutely try to implant the sex of the embryo we wanted but made us realize we only had one shot, and if we needed to do it again we would have to switch the sexes of the embryo from each father. We agreed on our plan and set a date for the transfer.
October of 2020 is a month I will never forget. Throughout our journey, my father had been battling pancreatic cancer. This was an extended battle for all of us. We went through numerous surgeries, chemo treatments, and clinical trials to fight back this beast of a cancer. Although our road to parenthood took longer than expected, it did give me the opportunity to spend more time with my dad. He was with us every step of the way, too. He helped us make decisions on the house's details, calmed me down when we didn't match with the first egg donor, and talked about his excitement to become a grandpa.
However, it was the weekend of October 9th, 2020 that heaven gained its newest DJ (My dad was a DJ and shared his love for music with everyone he knew). That Friday night was my sister's rehearsal dinner, and after my father passed away Saturday, my sister decided to keep her wedding on as planned for Sunday. This is a decision she made the previous week with my dad. Since she wanted her father to give his only daughter away, we had a beautiful private reception bedside in case he did not make the party. Having our whole family at the reception was surreal, but ended up helping us all to mourn together.
The day after the wedding, October 12, was finally our embryo transfer day. Leaving the hotel early, Adam and I drove up to Connecticut to meet our surrogate. Due to COVID-19 restrictions, we were only allowed to join through a Zoom call. We sat in the parking lot and watched the doctor take two small dots and implant them into the surrogate. It was an amazing thing to watch, and in a way started to ease the pain of losing my father. We waited a few days before taking a pregnancy test, but the result was negative. This hit me very hard. I had just lost my father, and after putting all of our eggs in one basket, a negative test result was crushing my dreams. We were told not to test too early because there are always false negatives, but it was hard to keep up hope. Our surrogate took two more tests before finally sending us a positive result. I had spent days on my couch and bed, depressed, but that faint blue line instantly changed everything.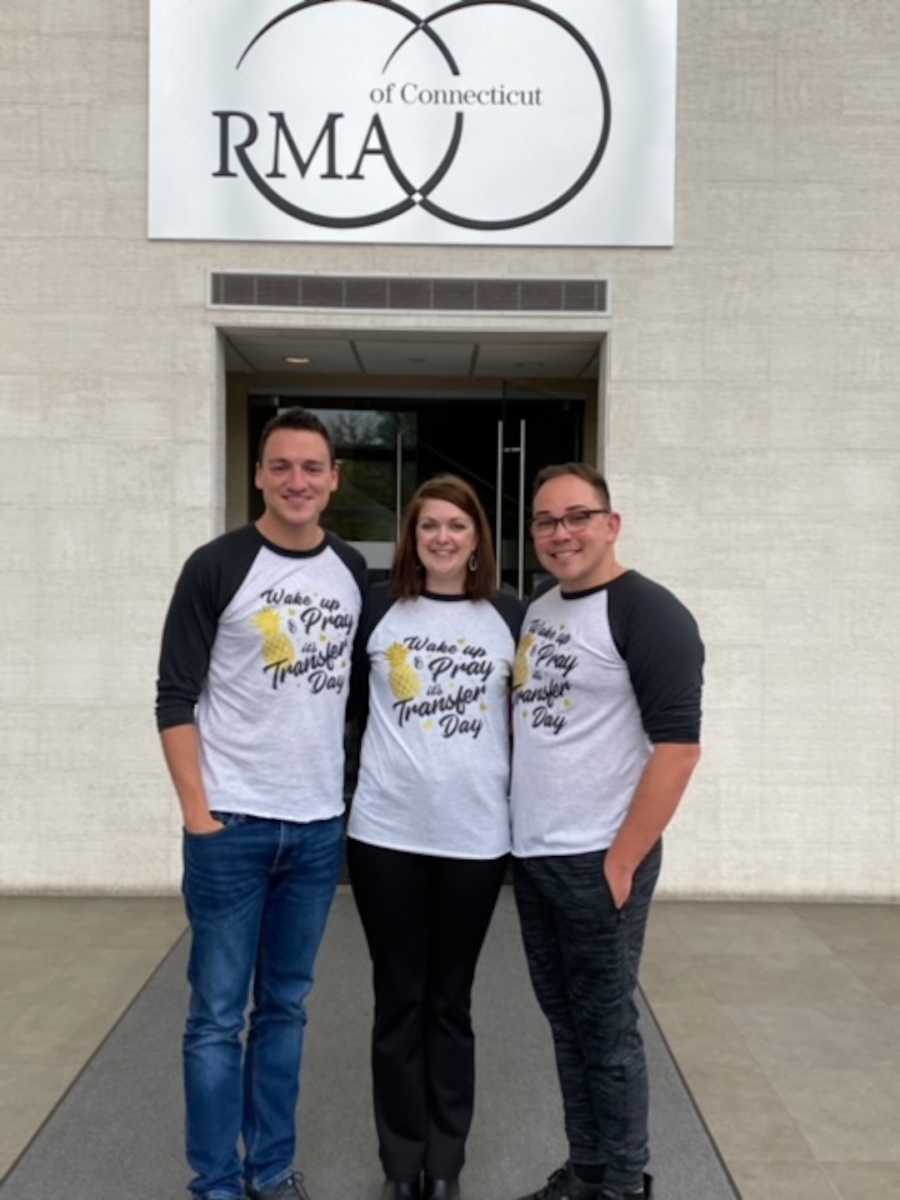 The next step was to get bloodwork to confirm a pregnancy, which we got a few days later and confirmed the pregnancy. We knew right away we couldn't celebrate yet because we didn't know if both took. It would take several more weeks before we could find out. However, at our first ultrasound, we did end up seeing two sacks, which meant we were having twins! Adam and I truly believe we were blessed and my father played a role in getting these embryos to stick.
Every week of pregnancy was a new adventure. After seeing pictures of a growing baby bump, Adam and I flew out to Wisconsin to see our surrogate again and meet her family. This was an exciting day for all of us, where we even got to see the hospital she would deliver. Throughout the pregnancy, we had many doctor appointments we were able to join on Facetime. Each appointment had more good news, and the roller coaster was climbing higher with virtual gender reveals and a beautiful Beauty and The Beast-themed baby shower.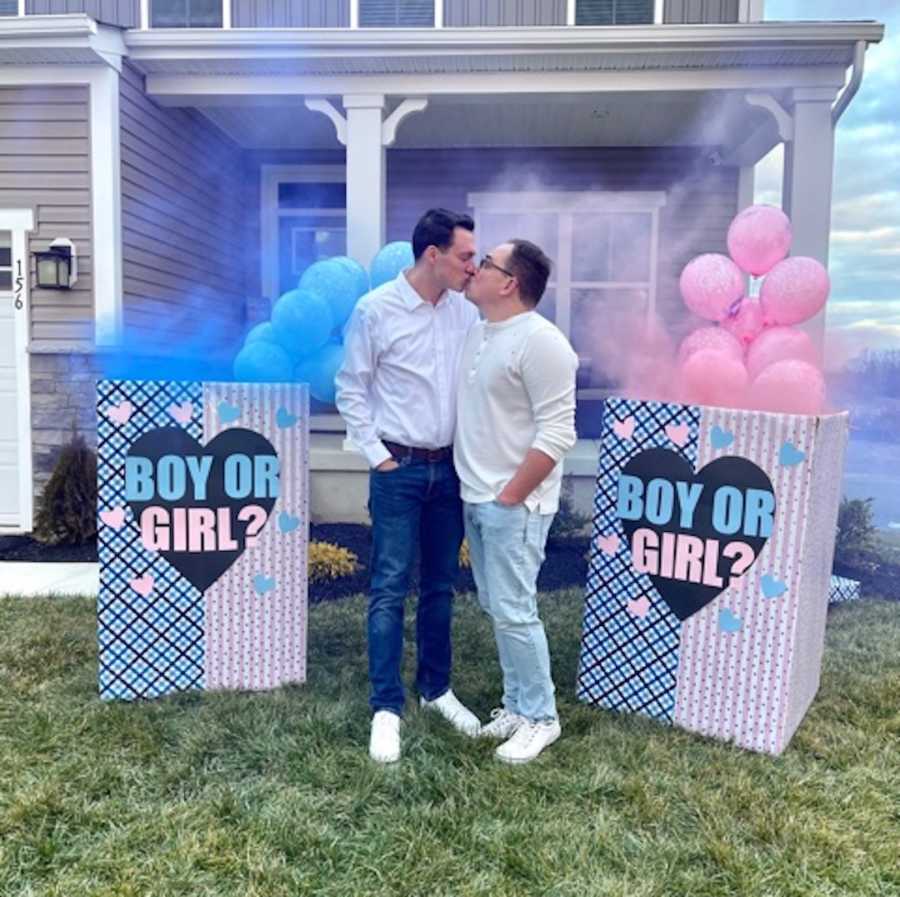 Fast forward a few months and it was time for the delivery at 38 weeks. We had a c-section planned, but 2 days prior were told the surrogate would actually deliver vaginally. This was exciting news for us, as we would both be allowed into the Operating Room to watch our twins be born. We arrived at the hospital at 5 a.m. to get the paperwork done and the process started. We impatiently waited for the medicine to get to work inducing labor. The nurse told us at 12:00 p.m. to grab lunch before it would be time to go.
As we were sitting down to eat we received a text IT WAS GO TIME! Adam and I quickly rushed back up to the room and followed the team of nurses through the hallways. We joined our surrogate and her husband in the delivery room. We each had our own jobs: Adam was on camera duty, her husband was there holding her hand, and I was standing by for emotional support. At 12:57 p.m. on June 16, 2021, we welcomed our baby boy Austin Anthony to the world.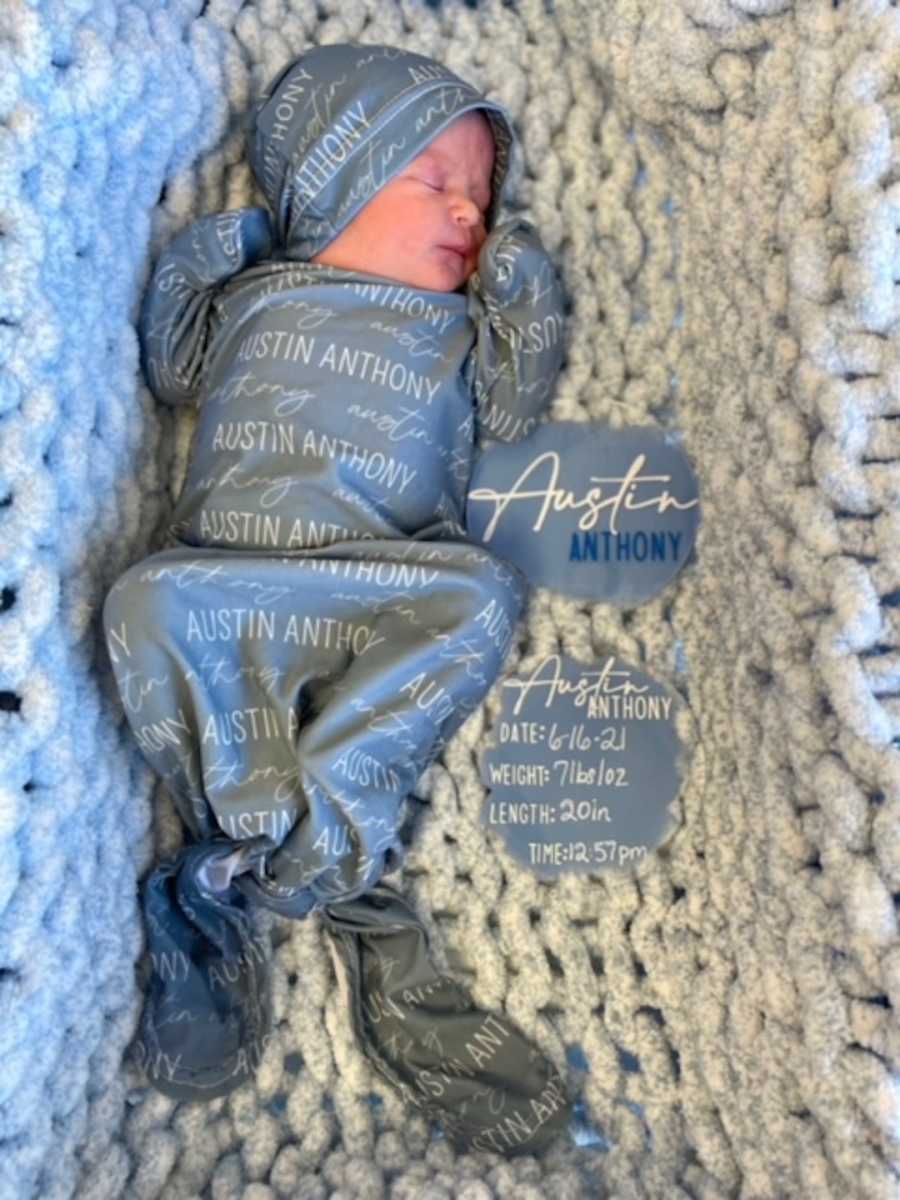 This was one of the proudest moments of my life. Since his sister was breech, there would be some risks delivering her but our doctor believed she could do it. There was a brief and very scary moment where Adam and I were asked to leave the room, but after less than 2 minutes of holding our breaths, we welcomed our baby girl Aubrey Alexis to the world at 1:02 p.m.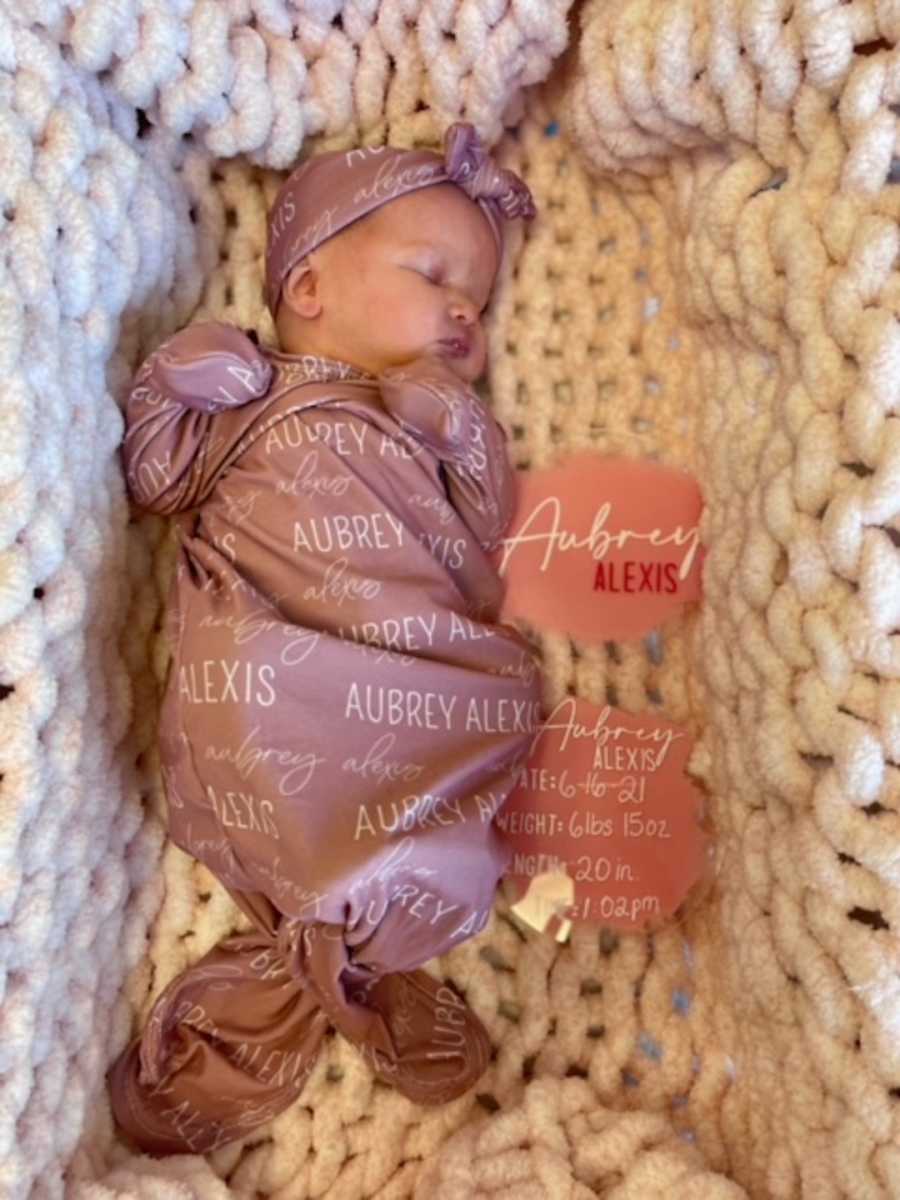 From that moment on Adam and I would be Papa and Daddy first. Our surrogate was nothing short of amazing. Throughout the journey, she asked our opinions, honored our choices, and told us these were our babies and she was just glad to have our trust to help create our family. There are good people in this world, and then there are people who you just cannot describe, and she was one of them. A selfless, loving person who wanted the best for the two men who just a few months before were total strangers. We can never thank her enough for carrying our two greatest gifts. Did I mention she never stopped working while carrying them 38 weeks?! Truly amazing!
As I sit here staring at my two beautiful babies, I cannot describe the feeling of peace, happiness, and love like no other. Aubrey and Austin have been passing all health tests and were released 28 hours after being delivered, which is quite rare for twins. The moment we were discharged we started our drive home to New Jersey to our forever home, which took two days.
Through this entire rollercoaster ride, we have had the love and support of our family, friends, and coworkers. We feel our story is one that should be shared with others because there will always be those days where you feel like we did, when you just want to give up, but holding these two babies made every jarring bump on our journey worth it. Aubrey has already proven to be a drama queen with an attitude, just like me. And Austin is a cool, calm, and collected little gentleman, just like his Papa. Our story might be different than most, but with the help of love, faith, and science, this married couple went from a party of two to a family of four."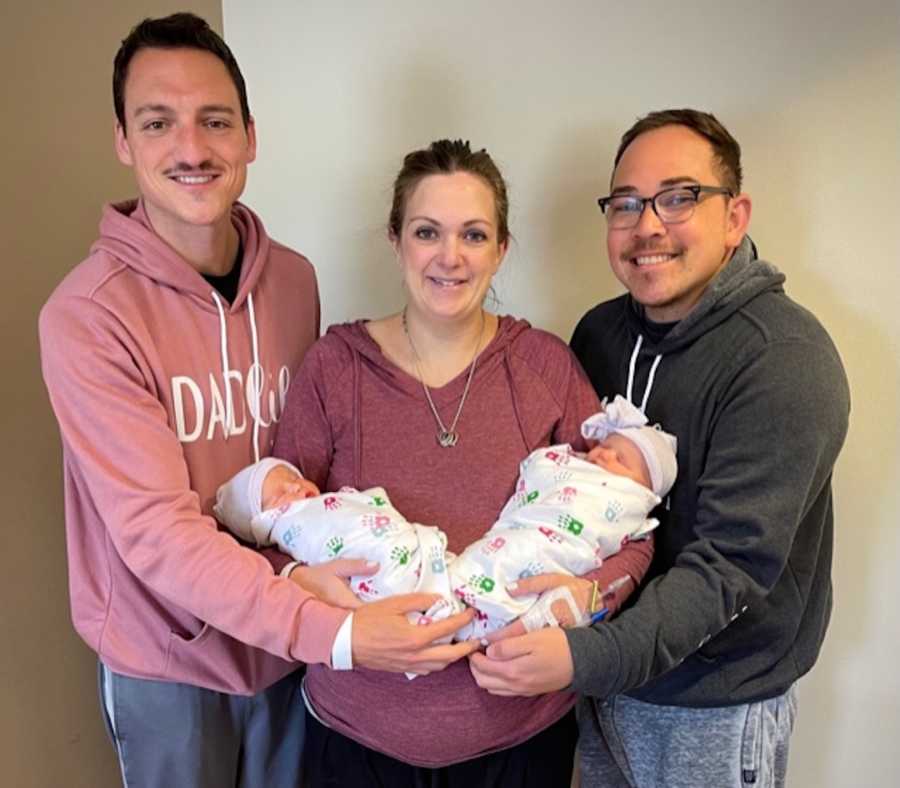 This story was submitted to Love What Matters by Daniel Morelos and Adam Seifert from Swedesboro, NJ. You can follow their journey on Instagram and Youtube. Submit your own story here, and be sure to subscribe to our free email newsletter for our best stories, and YouTube for our best videos.
Read more stories like this:
'It's twins. Congrats!' Josh was speechless. 'Again?' There were 4lb bundles in incubators.': Gay dads experience surrogacy and have 2 sets of twins, 'We were blessed twice'
'They let children go to TWO MEN? And she's BLACK!' She stood with a pen in one hand and paper in the other.': Gay dads encounter judgement, 'See the love, not the people"
'When we saw the ultrasound, I almost fainted. 'We need to hire some staff!' It was an enormous gift.': Gay dads welcome triplets through surrogacy, 'We're surrounded by love'
'You're pushing your gay AGENDA if we let you adopt.': Gay dad adopts 2 kids, runs for mayor, 'Love will ALWAYS drown out hate'
Provide beauty and strength for others. SHARE this story on Facebook with friends and family.