"I think all of us know, in some way, what grief feels like.
But, I often wonder what grief looks like.
Is it tired eyes? Unwashed hair? Is it baggy sweats or holes in your shirt? Is it forced smiles or loud yawns?
Or, is it as simple as a picture like this.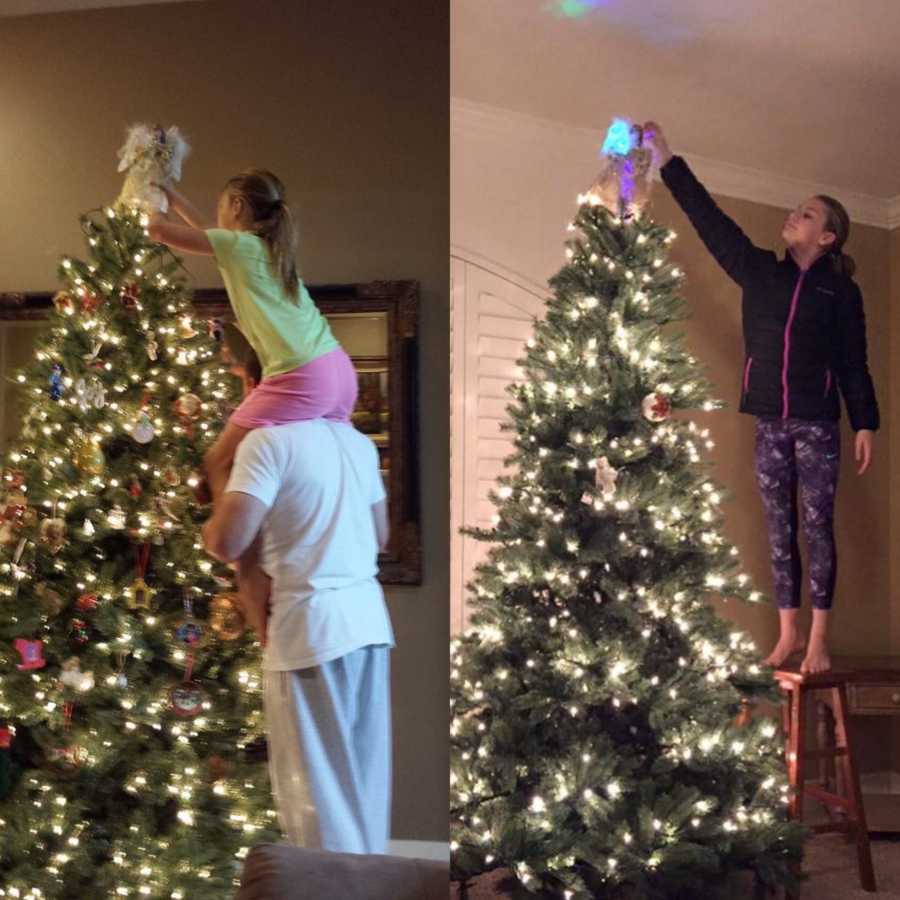 He bought her little diamond earrings for Christmas once. I don't know why. He had to know she would lose them. Afterall, he was the first one to point out that she didn't even know where her socks were half the time. But then again, I don't think he cared. He just wanted to show her she was special. I think Dad's do that with their daughters. You know, stuff that's special just to them.
Like that one time when she wanted a dog so bad, she couldn't see straight. Nobody else in the house wanted a dog, but she did. And at 5 years old she promised she was going to feed it, and water it, and bathe it and walk it and brush it and love it and 'all the things' that needed to be done for a puppy. I think he believed her intentions were pure but didn't totally believe she could pull it off. So, he got her a fake one. Yep, one that walked and barked and begged and ate with a push of the remote control. And on that Christmas morning when she heard the barking in the distance, she didn't care if it was real or pretend, because when she found her hidden puppy, she loved it just like she said she would.
For 48 hours.
And then she moved on to the real stray cat that she somehow adopted that ended up living in our garage.
My husband was not a dumb man, that's for sure. He knew he needed to return the $300 robo-pup after she had lost interest so quickly but was still concerned that her heart would break if she noticed the unnamed canine was gone without an explanation. So, he did the only thing a sane man could think of at the time, and he tore a hole in the side of the box and told her he ran away.
I think she sniffled for a few minutes. He got his money back. He brought her home a fish. And eventually a real dog. And then another. Because all she had to do was flash those big gray eyes at him and it was over. He would do anything she wanted him to do.
And the week before Christmas, all she wanted was to crawl on his shoulders and put up the angel. Every year. And every year, he did it. Even if his back was hurting. Even if he had a headache. Even if he had worked all day. Even if his body was full of tumors.
He did it anyway. And he did it until he couldn't.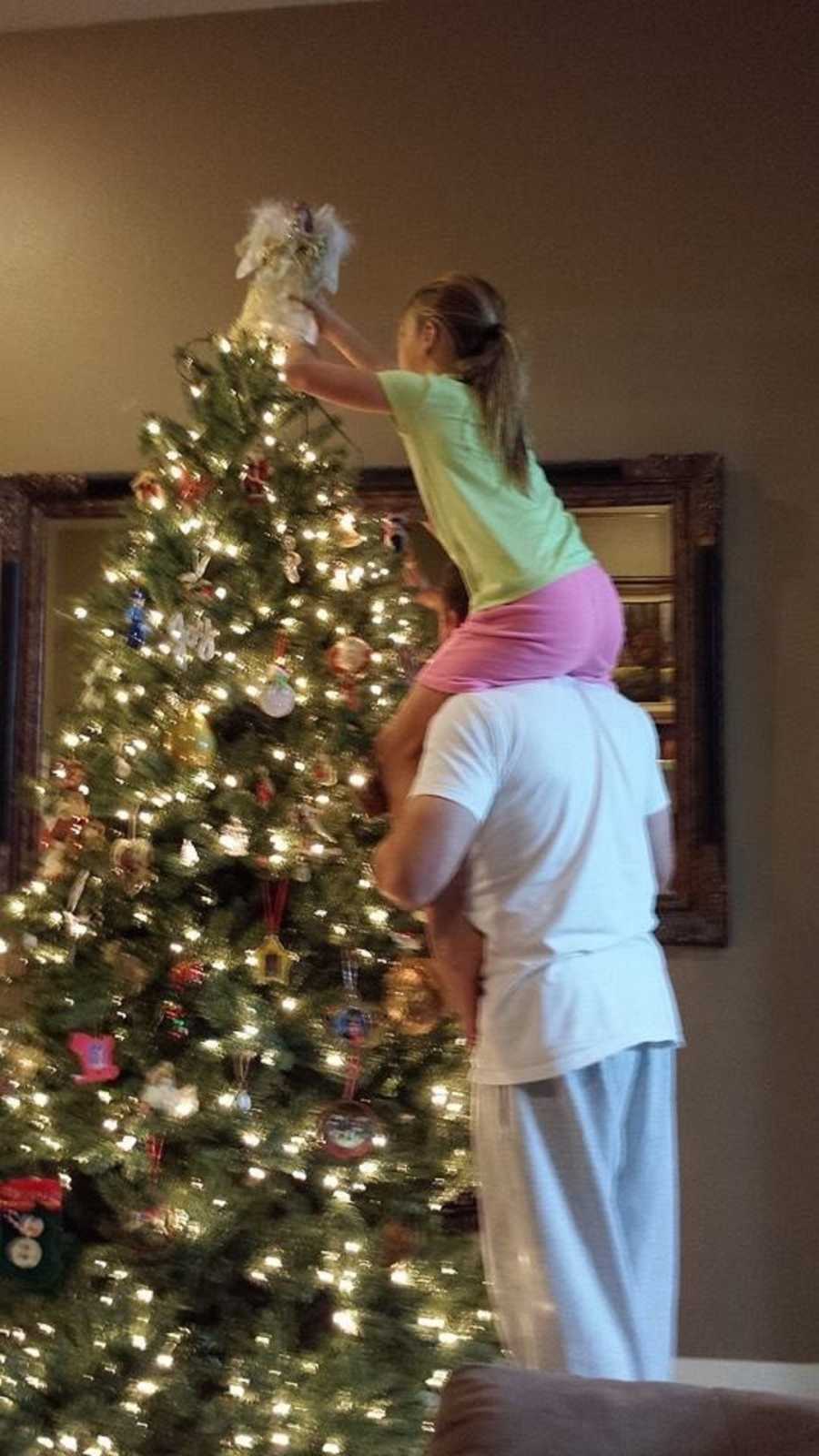 And then the next year, when he was gone, she had to do it on her own, just like so many other things she does on her own now. Because he's not here to do those things with her anymore and we've had to adjust and figure out how to do them, and life, without him.
And it is truly not easy. Not three minutes into our grief, or three months in, or three years in.
Because just when you think you're holding it together, a picture pops up in your social media memories, one that has him in it helping her place the angel, and another one that doesn't.
And that picture truly is worth a thousand words. Many of those cuss words, but either way – it speaks volumes. And to me, it's what grief looks like.
Because that one picture says it all. And you can't help but feel your heart breaking knowing that this year and next year and the year after that – he won't be here for her to crawl on to top the tree.
Yet somehow, we're figuring out a way to go on living. To go on celebrating. To go on decorating the house and trimming the tree. Not because we have to. No, because we want to. Because we still want to live and flourish and enjoy our life in spite of his death.
Take the pictures, friends. Eat the cookies. Open the presents. Wear the sweaters. Put the angels up. Sing the carols. Jingle the bells. Let yourself be consumed by what makes you happy. It's ok to be happy. I promise you, it really is ok – no matter what your grief looks like."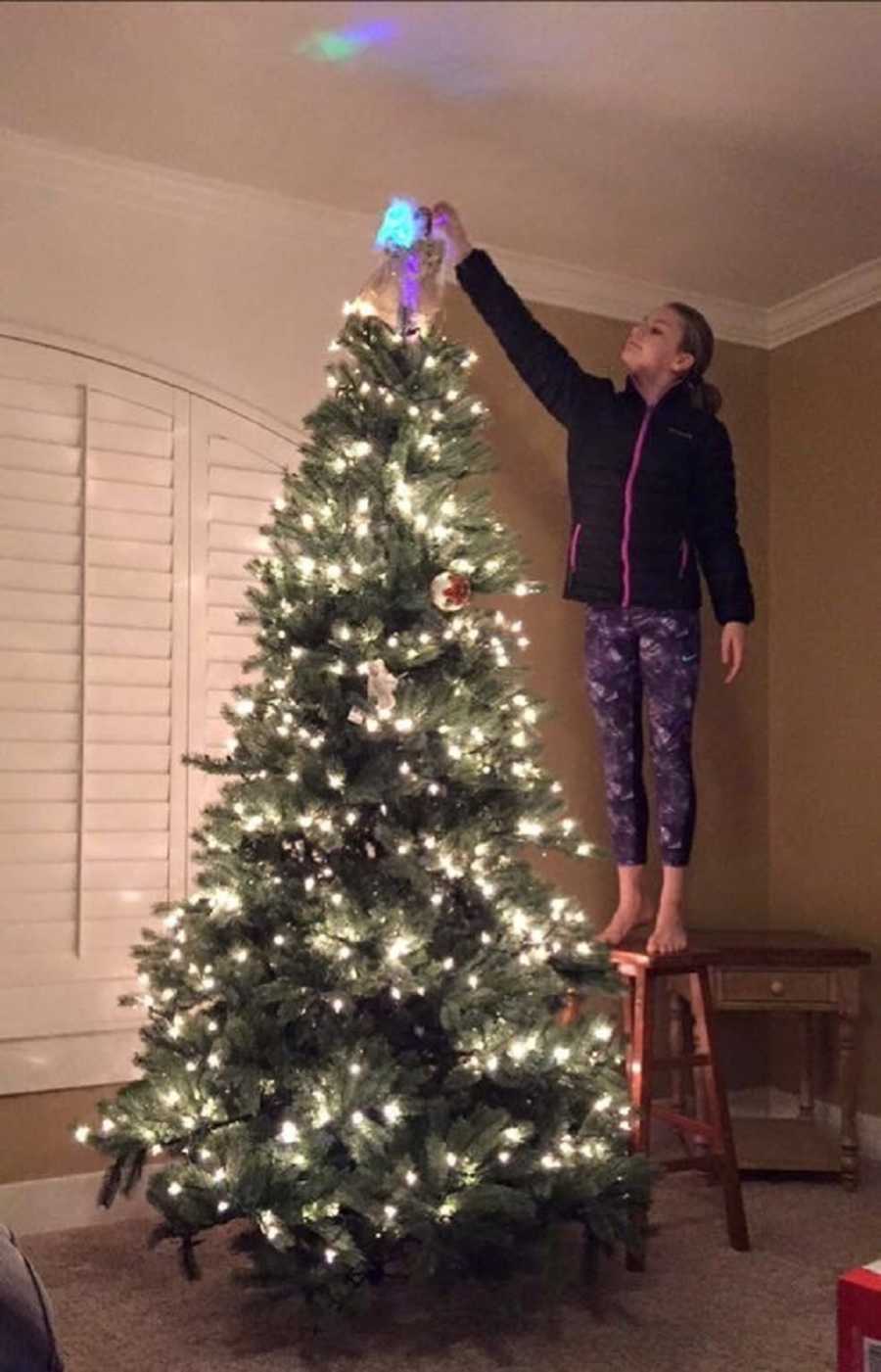 This story was submitted to Love What Matters by Diana Register of Meridian, Idaho. Her book "Grief Life" is available in print and kindle. You can find more of her books here, and her podcast here. Connect with Diana on her author Facebook page, and Instagram.
Read more powerful stories from Diana:
'You didn't pay your bill for 3 months.' No need to rub it in, electric company lady. 'I have a baby up in here!' I lied.': Widow hilariously recalls why she forgot to pay the electric bill, lies to cover her tracks
'Please don't cry,' I mumbled. 'It's a tree. It's just a tree.' And then it happened, full blown tears.': Mom realizes teenage daughter's meltdown was triggered by loss of father, 'No matter how many presents I buy, nothing can heal her pain'
'Mom! You're never going to believe this!' She knelt beside me. 'What is it, darlin'?' I led her to the tree. 'Look, momma!' She saw it too.': Woman reminds us to keep holiday magic alive, even when we're 'tired, on 4 hours of sleep'
Please SHARE this story on Facebook to encourage others to cherish every moment and love what matters most.