"He asked me to marry him before he left for boot camp. A bouquet of roses waited for me at a fancy restaurant on my birthday in midsummer. Afterward, he drove us out to our favorite spot to watch the sunset. He went down on one knee, only to stand up and twirl me around like in a movie.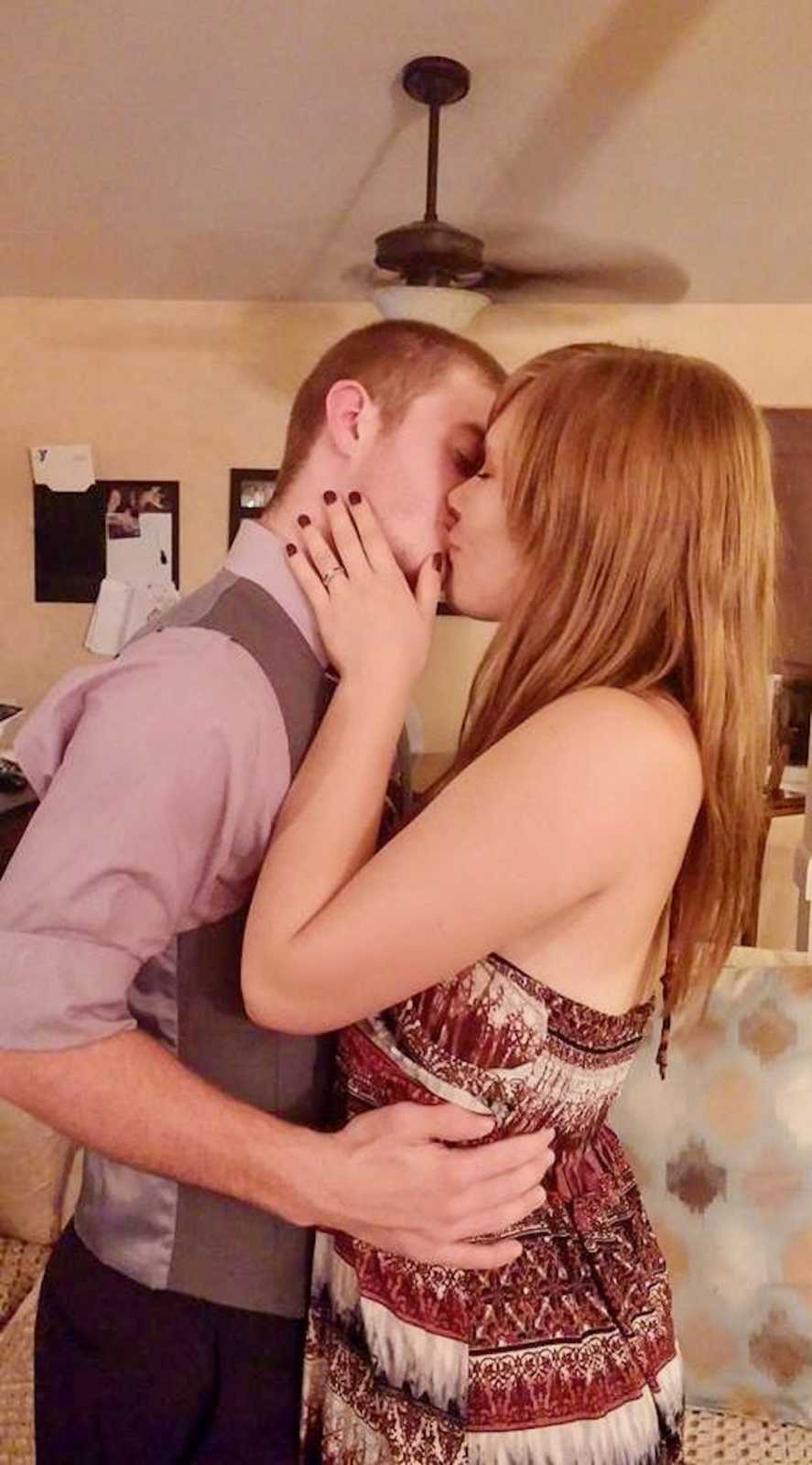 I traveled with his family to see him graduate Basic Training. His flight graduated with honors. Halfway through tech school, he came home on Christmas break with only two days' heads-up because orders were taking him to Germany for the next three years. We were married in my parent's living room on Christmas Eve. I still remember the way he looked in the glow of the lights on the tree, the way our moms cried, and the way my uncle stumbled over the opening of the ceremony.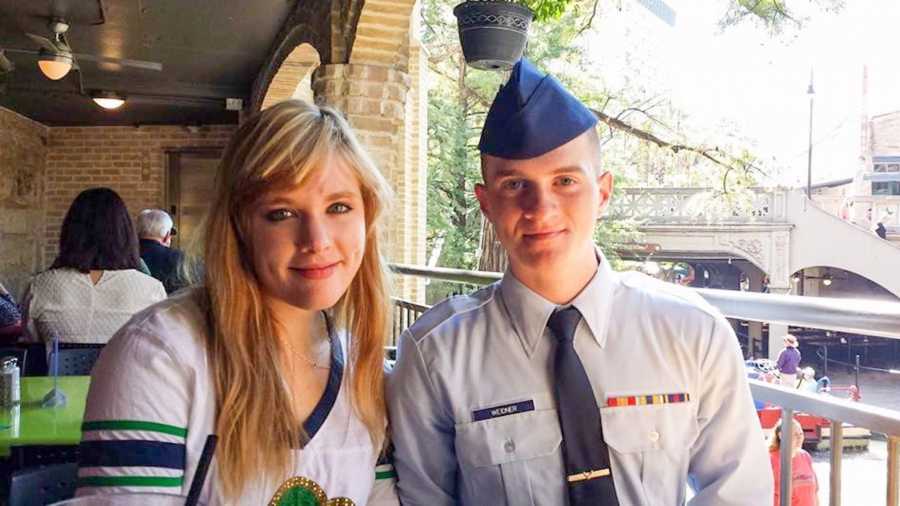 Once he arrived in Germany, he spent the next few days picking out our first car and the first place we would call home, all on his own. I followed him as soon as my passport arrived in the mail. During our time there, our family grew from plants (I killed them ALL), to a dog, to two babies two and under. Once his term was up, we moved back to the U.S., and we have spent the last two years along the east coast.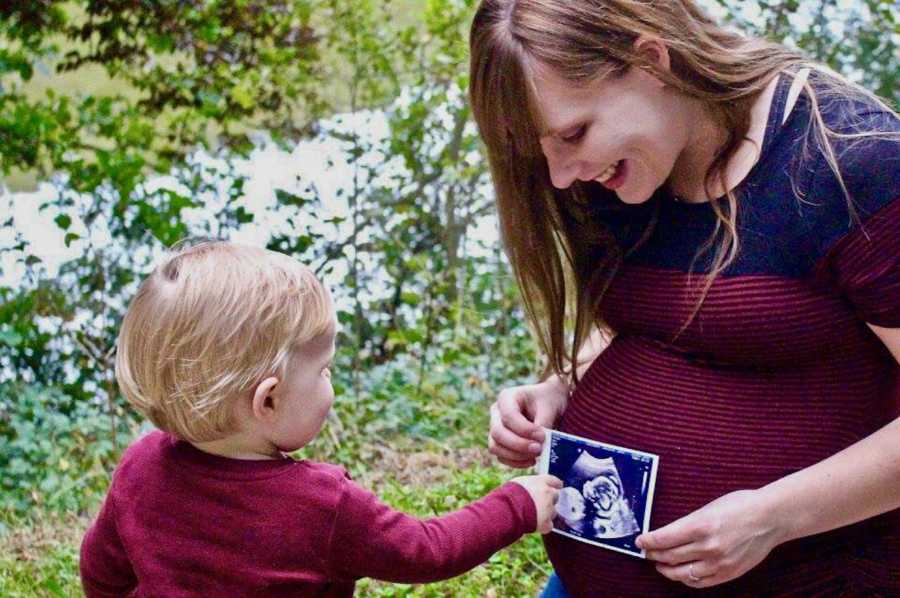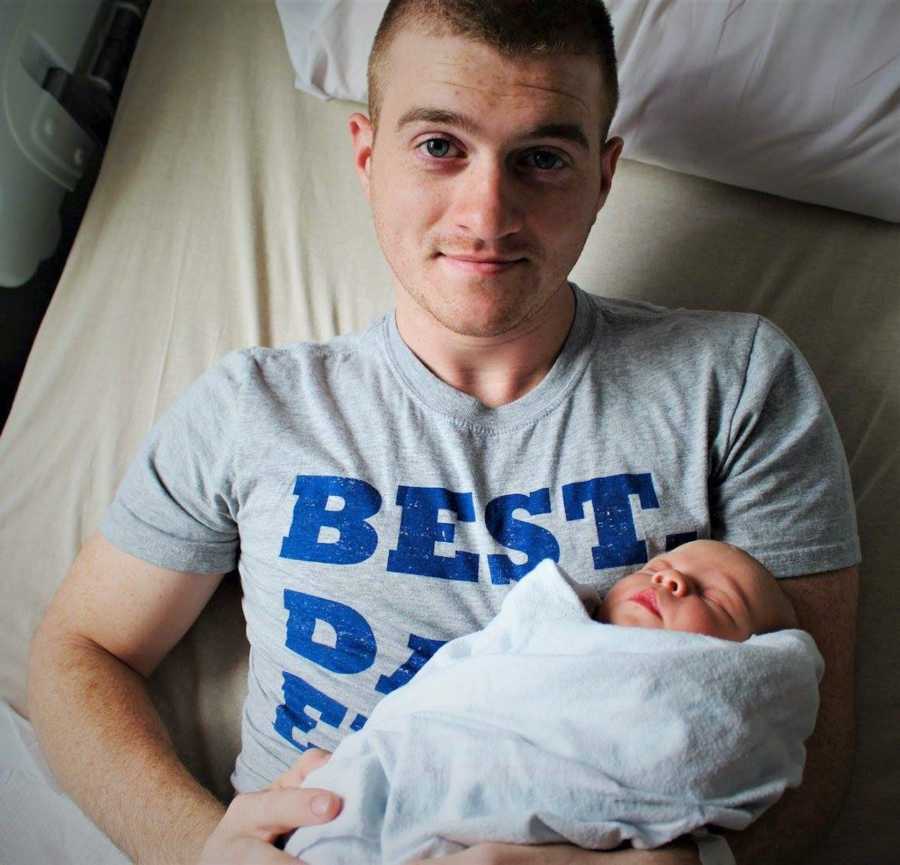 When we lived overseas, there was a seven-hour time difference and a 23-hour flight separating us from the rest of our family. Now, we are ten hours away from one set of grandparents and 18 hours from the other.
He carries a heavy load.
I'm not just talking about the physical one pictured on his back.
He carries a heavy responsibility providing for us so I can be home with the kids and the chocolate lab (who I'm convinced has a very small bladder).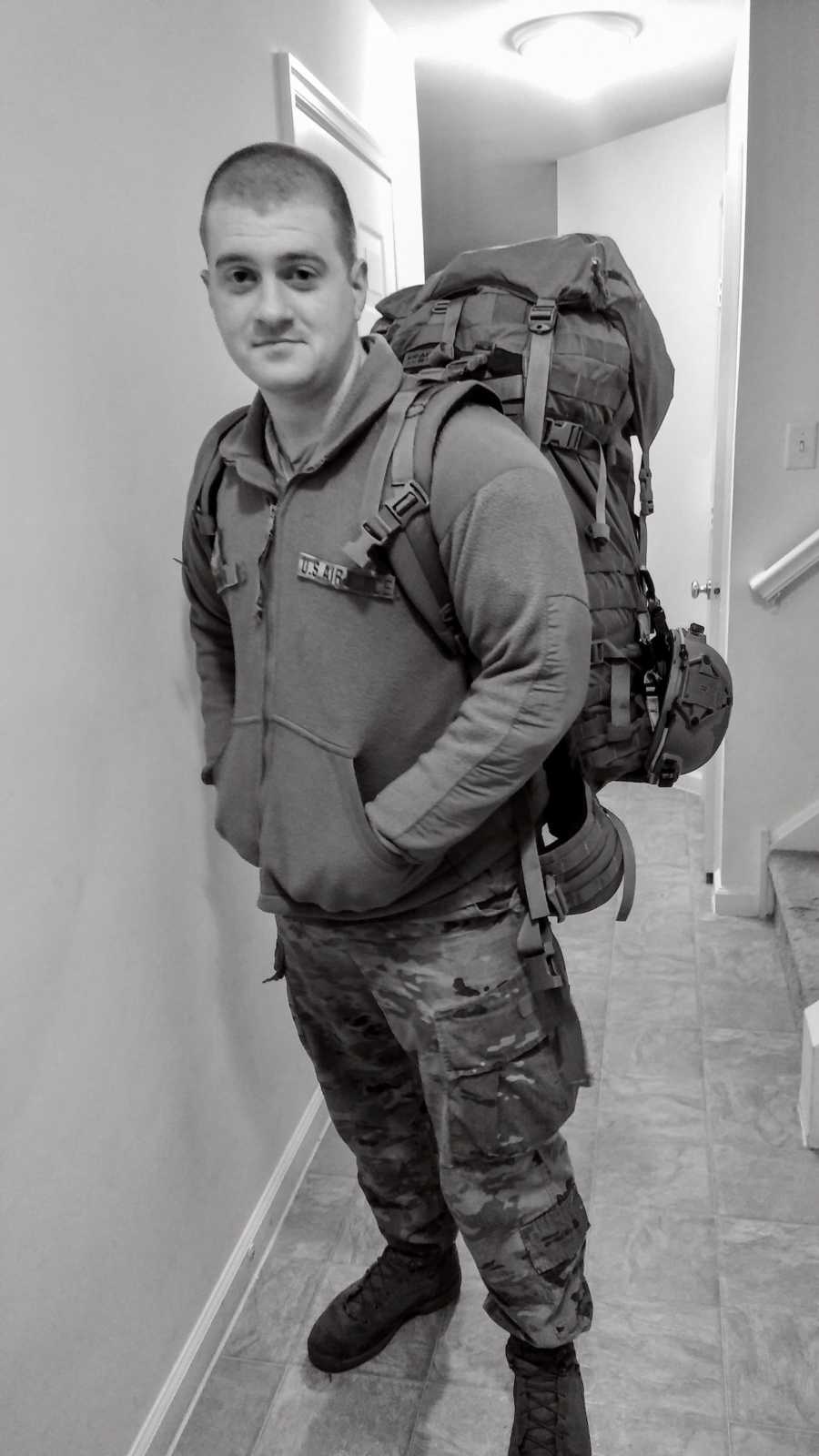 He's brought the same lunch to work week after week as we scraped by to buy diapers and wipes. Now, he comes home day after day to share lunch with me and the kids, never knowing if chaos or peace will greet him at the door. He gives around twenty hugs every time he has to leave, kisses foreheads, and says, 'I love you,' too many times to count. Then, he goes back to work to troubleshoot generators, perform monthly checks on the equipment, fill out endless forms, and reply to emails.
He carries the role of being head of the home, while also recognizing my partnership, value, and inherent sense of respect.
He carries the load of planning for our future. Two summers ago, we lost power for 4 days or so. During that time, he kept up with homework for the 2 classes he was taking, bought us a generator to save the groceries and charge our phones, played on a flag football team, and bounced our daughter on his shoulders as we ran through the grocery aisles picking out non-perishables. Last summer, he studied and studied to graduate ALS and elevate to Staff Sergeant. Even now, he carries our future at the forefront of his mind. He's spent the last year researching resumes, applying to jobs, interviewing, and preparing himself to transition out of the military and into civilian life-wherever that takes us.
He carries the integrity to stay faithful to me and our family even when we spend time apart. He told me once when he was deployed, a woman noticed my picture on his laptop. When she commented on it, he went on a ten-minute spiel about how amazing I am. I turned bright red when he told me.
He carries the strength to change diapers, cook on the weekends, potty train, teach our son how to count, hug our daughter, kiss me goodnight, and everything in between.
I've watched him work while sick, tackle projects above his pay grade, and do everything he can to learn his job.
I've also watched him save leave (days off) for when our son was born, and drop everything to come home when one of the kids got hurt and I was scared and needed him.
He's the kind of man you brag about to your parents and stay smitten with even when you disagree.
He's the kind of man who reminds you to take your prenatal vitamins, rubs your back when you're in labor, brushes your hair when it's super tangled, and smiles for the hundredth picture that day (because you just can't get enough of watching him be a dad).
He's the kind of man who holds you when you cry and ask for forgiveness.
He's the kind of man who gets tired-so tired- and climbs into bed by eight o'clock.
He's the kind of man who comes home with aches and pains and has blisters and cuts on his fingers show just how hard he's been working.
He's the kind of man who does it ALL for you because he loves you with ease.
He's the kind of man who can't watch a movie or show more than once, who loves football, and watches nerdy interviews on YouTube.
He's the kind of man who's not only your partner but your best friend.
And because of that, you are able to recognize when his load becomes too much.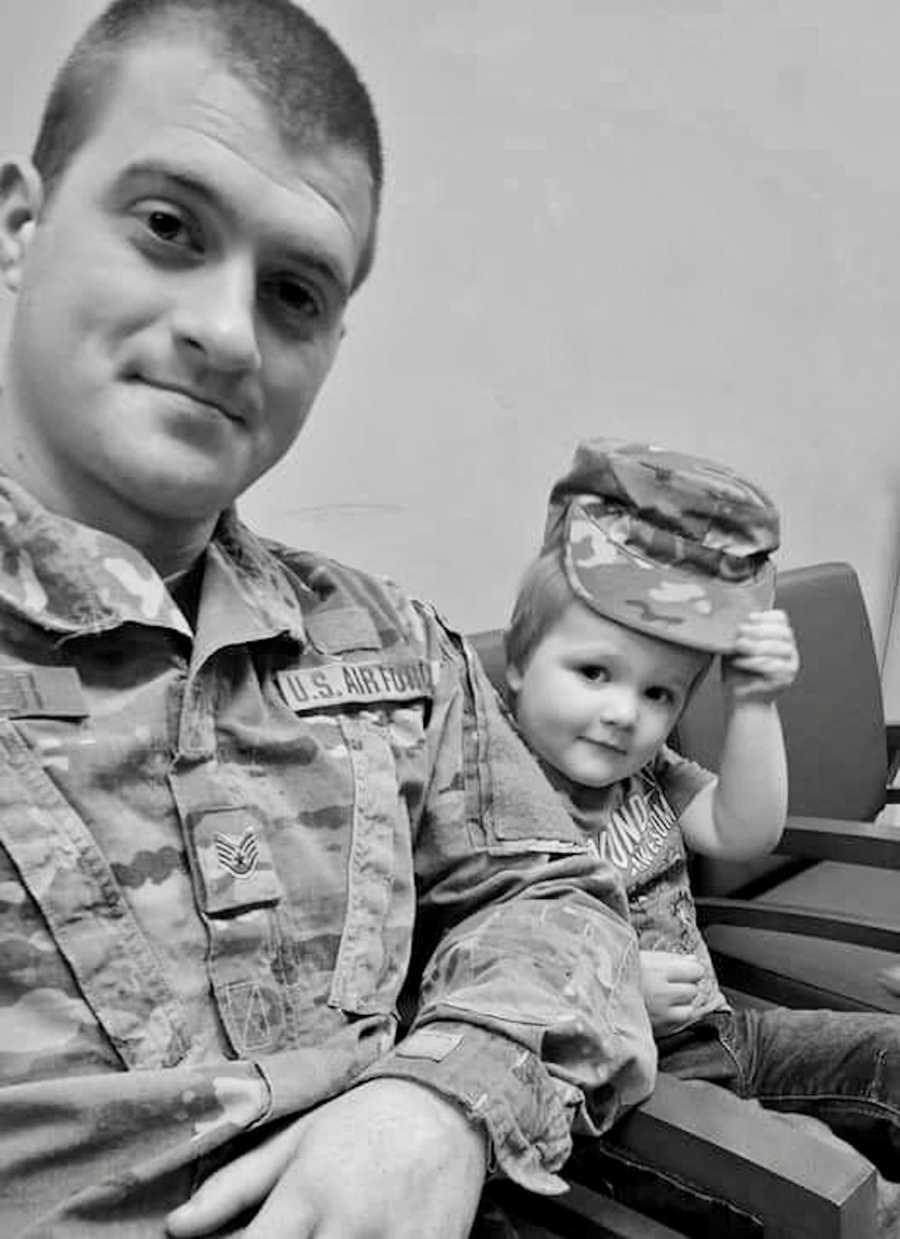 You're able to see when he's overwhelmed and crabby, and when it comes out with disinterest or sarcasm, you do your best to give him the space he needs. You'll recognize the headphones that have been on for several hours are merely a sign of survival. Eventually, they'll come off. You'll understand stress is the reason is his appetite has decreased, and you'll know which of his favorite meals will help pull him out of it.
You'll be able to struggle under the weight of a messy and imperfect week. Of a messy and imperfect 5 years.
You'll be able to fight to remember all the ways he has fought for you.
Because he's not the only one carrying the load, and it's so much lighter when you carry it together.
The Christmas Eve when I pledged my heart and life to him was one of the best of my life, but it pales in comparison to all we have shared in the moments since.
And those mundane, compact, exhausting, hilarious, and exhilarating moments bind my heart with a love that was written by the One who created the stars."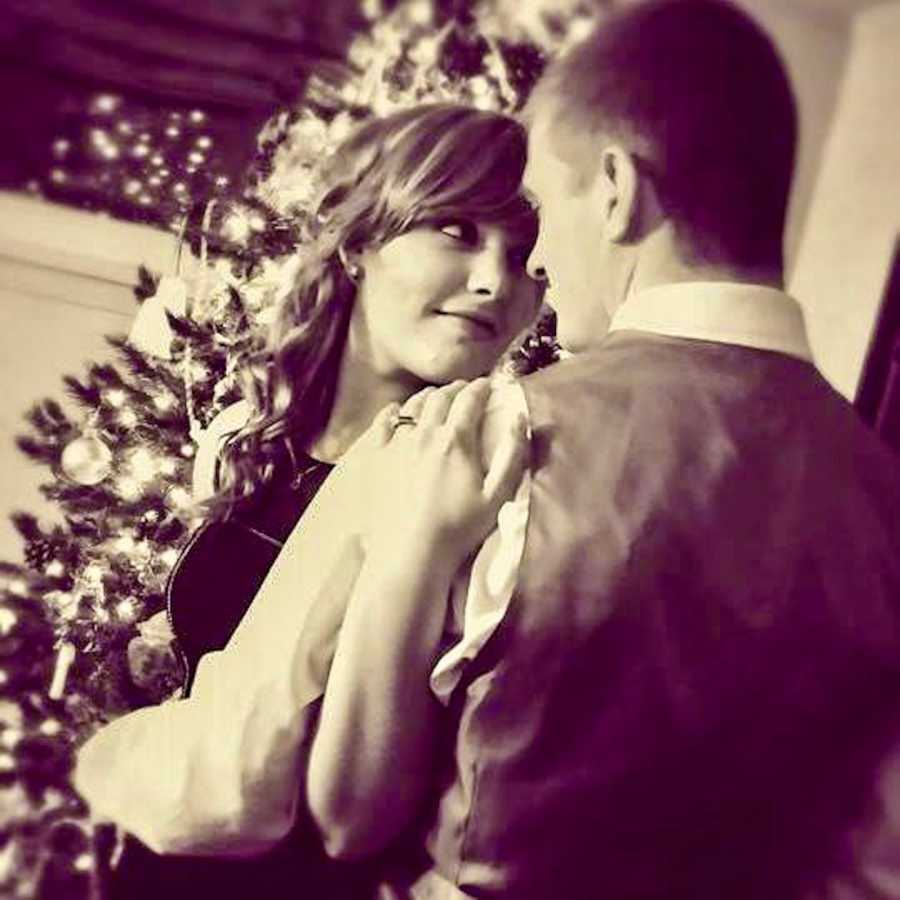 This story was submitted to Love What Matters by Rachel Weidner, 25, of Indiana. Follow Rachel's journey on Instagram here. Do you have a similar experience? We'd like to hear your important journey. Submit your own story here. Be sure to subscribe to our free email newsletter for our best stories, and YouTube for our best videos.
Read more stories from Rachel here: 
'We arrived at the checkout. I'd left my wallet in the truck. In my rush, my daughter tripped and skinned her knee as we raced out the door.': Mom says 'our children repeat what they hear'
'A stranger approached, startling me by placing her hand on my shoulder. 'Can I do anything to help? Would you like me to buy you a coffee?': Mom 'surprised' by young mother's kind gesture, 'I wasn't as alone as I felt'
'Where's Daddy?,' he asked. 'At work,' I replied glumly. My sweet son literally crumpled to the floor in disappointment. It surprised me.': Military spouse gets reminder to remember the 'bigger picture'
Do you know someone who could benefit from reading this? SHARE this story on Facebook with family and friends.