"She looked over at us while we were having dinner and wrinkled her brow. She squinted her eyes and then shook her head. Her expressions were VERY over the top and made her own kids at the table wonder who she was looking at. So, the whole table peered over at us. Luckily, most of my family's backs were turned so they didn't see what I saw. It was almost like that lady was trying to be overly dramatic so I could see she was not approving of my family.
I will never understand people like that. Why? Why even waste your time, especially when my babies are present? Is it an inferiority complex? Does having a family of my own make her think that her family is any less than mine or vice versa?
It was obvious to me her demeanor changed once she saw our middle daughter who happens to be black, the same race as the onlooker. But two white dads were NOT ok.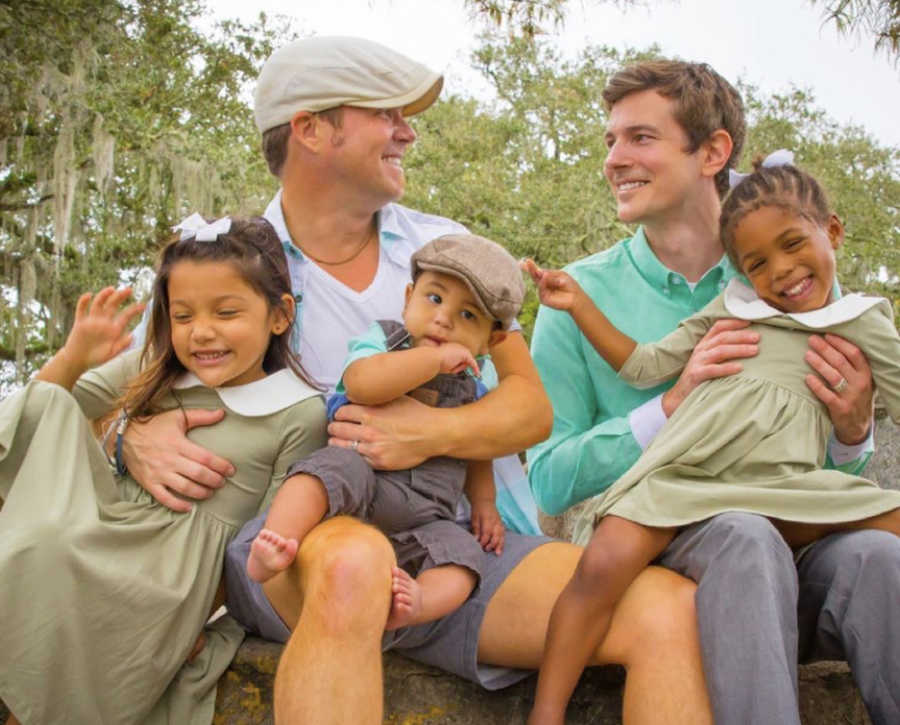 I wish I had the words to say to help deescalate her emotions. Unfortunately, I was just left speechless. We saved our daughter from what could have been a really tough and trying life.
Without hesitation, we came rushing when we got the call about matching with her birth mother.
I happened to grow up in the same little town in South Mississippi where she was from. We even frequented the same sno ball stand during the summer. In my past blogs I have written about this town. This is the poverty stricken area where my trash for a father raised us until my mom divorced him. This is the same town where my father would take us to the creek on those hot and stifling summer days; the same town where he taught me to write my name in the sand on the creek bank under the overpass.
I am very familiar with that way of life, because I lived it once upon a time. Our baby would also have lived it had we not come along. Yes, another family could have come if we hadn't. And hopefully so! But what if not? Our little girl would have unbelievable hardships no one could possibly relate to.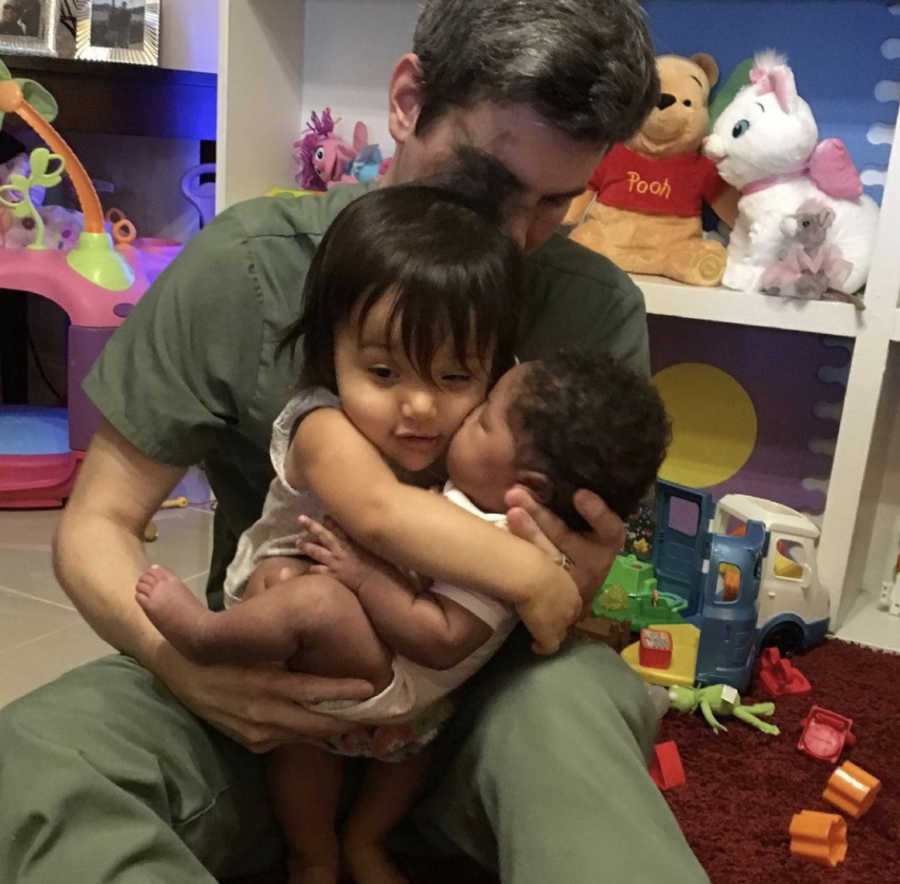 You never know the situation someone is dealing with. The lady's anger at us raising our black daughter is something that hasn't left me. I absolutely do not hold ill will towards her. Actually, it gave me determination and the drive to prove her wrong in every way imaginable.
There are thousands and thousands of people around our country who still do not believe my husband and I should be married, much less have a beautiful and thriving family. My message to them is, when you know better, you must DO better. Some may have not had their 'aha moment' yet. But when they do have it, the responsibility falls on them to change. Maybe by changing their habits. Maybe changing their language. My hope is they will change how they are raising their children.
Even if these families come from the most religious of homes, the way they interact with others who don't carry the same views is crucially important. Others members of their family can see their disgust. Live and let live.
If somehow your opinions change for the better, pay it forward with kindness. Smiles go a long, long way. Without saying one word you can either brighten or darken someone's day. Don't be a cloud. Please?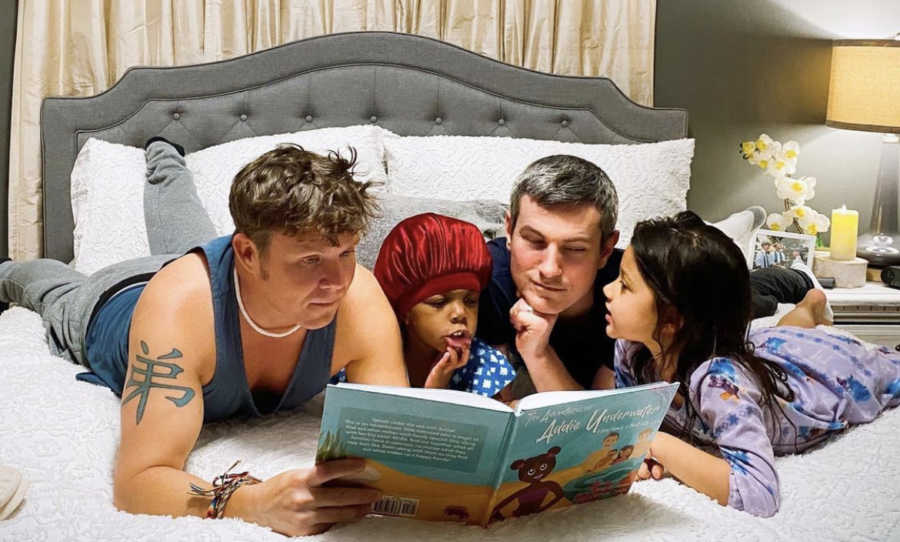 Children are the future. We are able to help mold their little characters into bold and eager adults who will continue marching through life, mimicking what they were taught growing up. The older they get, the more stubborn they become. Lead by example and your examples will become leaders.
My husband and I would do anything on Earth for all three of our babies. I would lay down my life in a split second for my babies and anyone who wouldn't, shouldn't be parents.
Years ago, when I started writing my blog, Nolapapa, I didn't realize more than just gay parents would read it. In a way, I felt like it gave the perfect opportunity to allow everyone else a glimpse into my own family. How we practice what we preach and lead by example every single day. And how we love our babies more every second that goes by.
So what we are gay. Who cares!? God? Actually, all our children are baptized and we all belong to the Episcopal church. Our church family happens to be very beloved to us. Someone else's God may not approve, but with all do respect, that isn't the God my church teaches. My church teaches us we are all God's children, and he molded us to be uniquely beautiful the way we are.
With this message, I felt like I needed to do something more with it. Despite who you love, or what your skin color is- family is family. Period.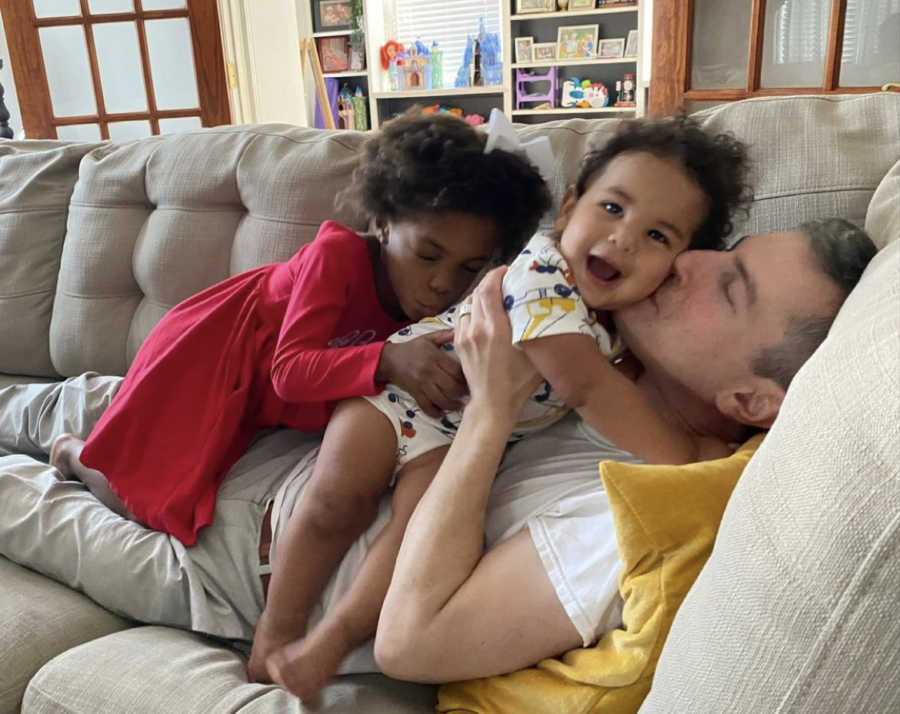 So, I created a children's picture book series which will help children from 3-10 learn about unconditional love. It gives children the opportunity to relate to characters they may have never seen in a picture book before. 'The Adventures of Addie Underwater' is based off of my own family's life. Addie is based on our middle daughter who just so happens to be black. And her siblings just so happen to be brown. And her two daddies just so happen to be white. It creates the opportunity to have some of the most important conversations you will ever have with your babies in a tactful manner. It allows them to see how important representation and positive visibility is that same sex families so desperately need.
Because at the end of the day, tolerance leads to acceptance and acceptance leads to kindness and kindness leads to love.
It could all begin with a book and an open mind.
And it all starts at home. Nestled around your parents or loved ones.
When we lead by example, we effectively stop the cycle of ignorance. I knew instantaneously I wanted to have family diversity be the context of my first book in this series of five. There are over 7 billion people on this planet and we all come from different families. Each of us are different. But one thing remains the same. And that is, love.
Recently I was at my book's release party at a historic bookstore Uptown in New Orleans.  I was about to do a public reading when the sweetest little girl raised her hand. She said, 'My daddy has to work and I never get to see him.' And just as I was about to say something, she continued louder. 'And then my mommy watches me. And when my mommy can't watch me my Nana watches me. But when she can't, the babysitter has to watch me. I don't want to my babysitter to watch me.' Just then her voice started to shake, and her eyes puddled up. 'I just want my daddy to be home. And my mommy to be home…'
You cannot plan for moments like that. As much as I wanted to start sobbing,  I had to keep it together. All of the eyes are on me at this event. Don't get scared now. What will you say? How will you say it? Times up, go!
'Oh my goodness. First of all, what is your name?' I asked immediately. 'Well, ——— (insert name) , did you know that I talk about this exact thing in this book? I am telling you- this very thing!' I squatted to get a better view. 'Ya know what ____[insert name), I bet you anything that your daddy works so much because he wants to provide the life of your dreams.He works so much so he can also take you on awesome vacations; unbelievable vacations!' She wiped her eyes and began to smile.
'He does take us to the private island. But not last summer because of the virus.' The audience chuckled. I said, 'Hold on to what we are talking about right now and when we get to this part in the book start clapping, okay?' I said with a smile.
I stood up and looked at everyone. 'You can't plan for that. And ladies and gentlemen, this is why I wrote this book. Babies all over the world needs identifiable representation as they grow and blossom.'
And yes, as we went on about the book reading, she clapped so hard when we got to the spot in the book. She was able to identify with Addie, despite what she or her family looks like. She could identify very much so with the emotion.
It is our job as parents to pay attention to those emotions with a compassionate heart when they do come our way in the most unexpected of times."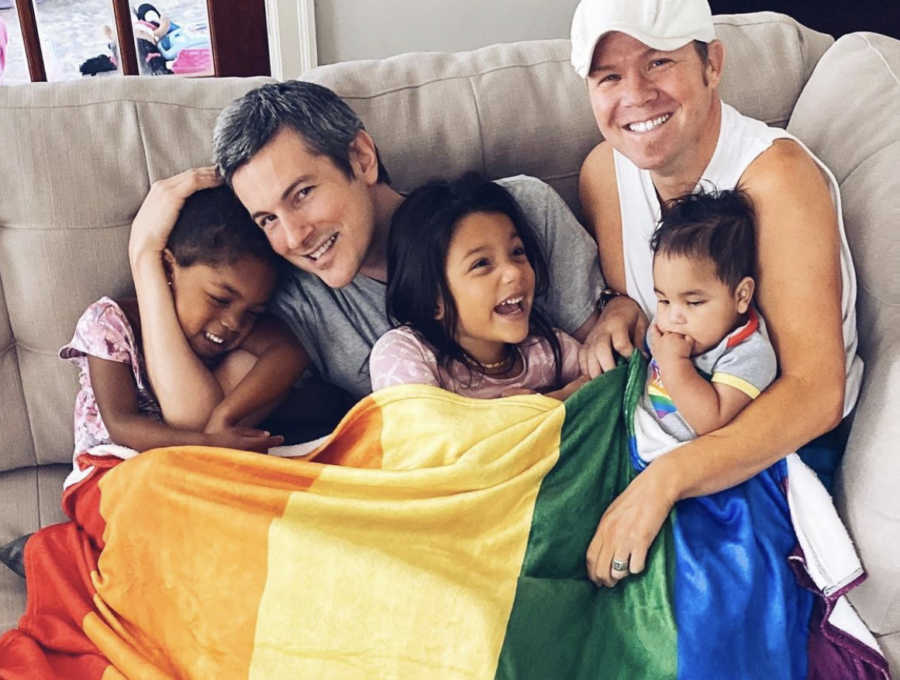 This story was submitted to Love What Matters by Erik Alexander. You can follow their journey on Instagram and Facebook. Be sure to subscribe to our free email newsletter for our best stories.
Read more stories by Erik:
'People ask, 'Who's the mom?' Just like them, we'd do ANYTHING for our babies.': LGBTQ dads urge for acceptance
'Are you my birth mom?' I fought tears. 'She searched all over for a Daddy and Papa who'd take care of you.': Dads discuss blessing of open adoption
SHARE this story on Facebook and Instagram to help celebrate unique and beautiful differences!