"For the last day or so, I have tried to summon the words to describe our life this last year and a half. Thinking about the changes we have gone through brings me to tears, but not the sad tears you would imagine when you have a baby with a rare genetic disorder requiring her to be Ventilator Dependent. The tears I have are happy tears. Happy we have the most lively daughter still on earth with us. Happy tears her brother and sister get to grow up with her by their side, and happy tears for the growth we have gone through as a strong family unit and more important our growth as parents.
In order to show you all how we got to today, we have to go back to January 2020. Thea was born on January 22, 2020. My pregnancy was perfect. My scheduled c-section was perfect. You would never know something was wrong until Thea died in my arms at just 2 weeks old. I remember the day like it was yesterday. Where I was sitting on our couch, what the living room looked like, and what it felt like.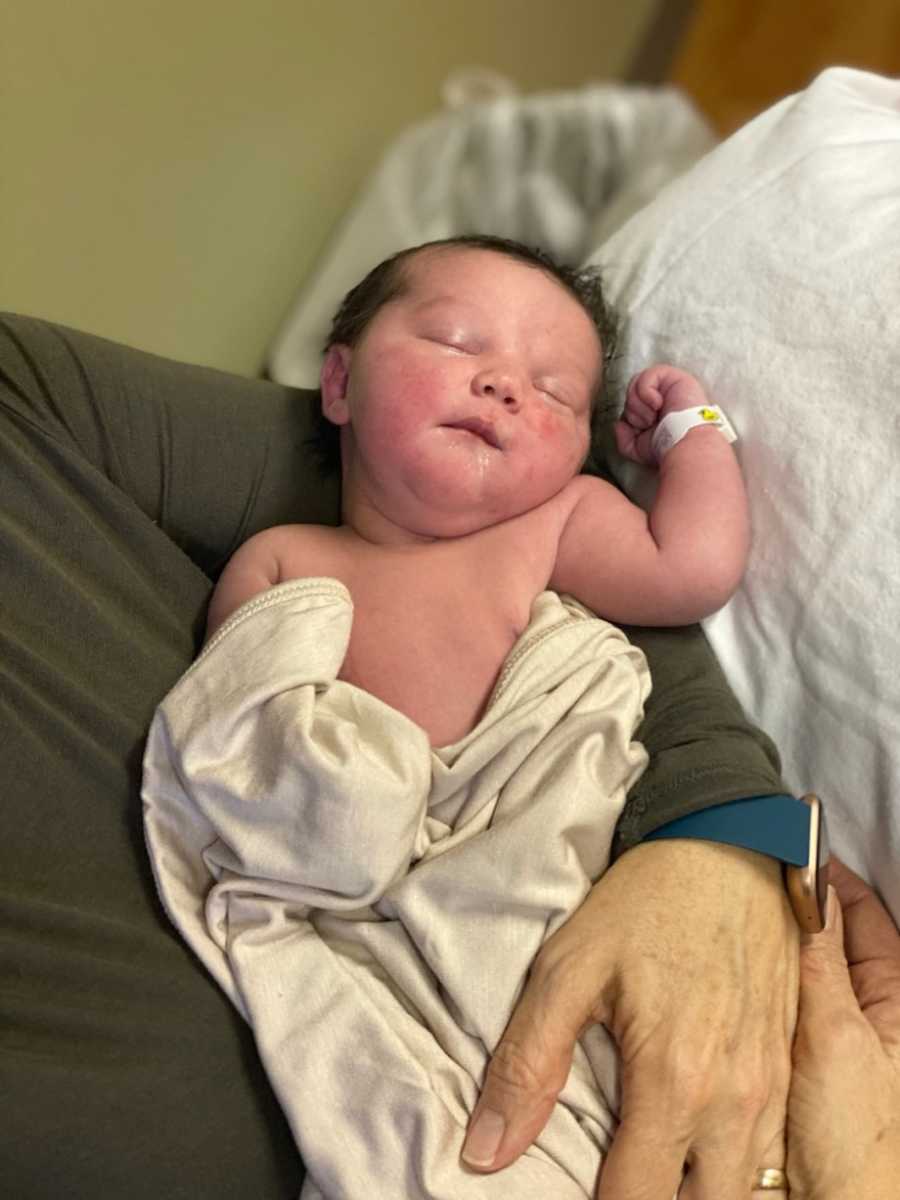 Earlier that day, she seemed different. Less alert, more tired than usual. I remember asking my husband if she looked okay and researching what 2-week-old babies 'should' be doing. She seemed off but it was not enough to take her in to see a doctor. Back to our living room, we sat there watching TV. Thea asleep in my arms, Daddy next to us, and our two other babies at their dad's house. Life seemed so sweet.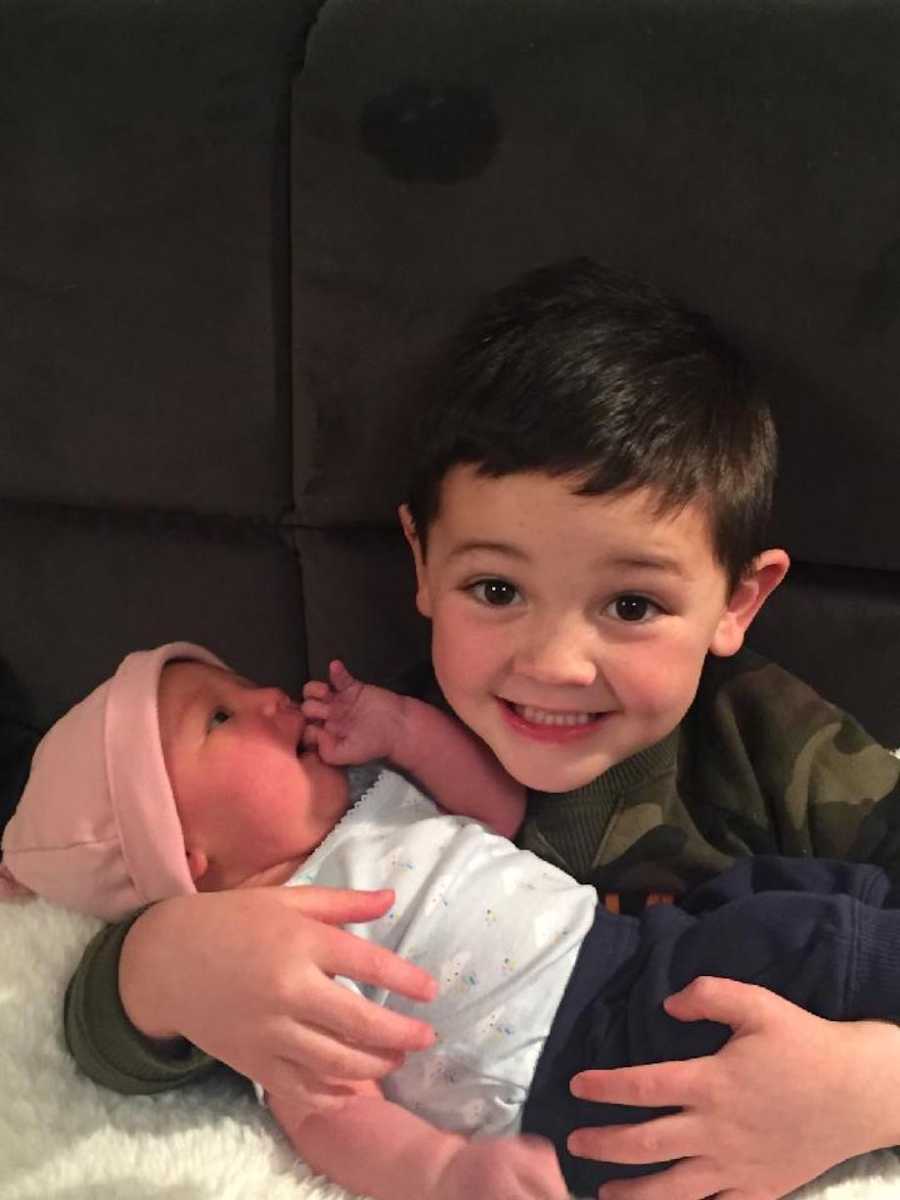 Once Thea was done eating, she let go from breastfeeding and not more than 5 minutes later, her 9-pound body flopped back lifeless and her face color turned blue. I turned towards my husband, asking him if this was real. He quickly grabbed her from my hands, tossed her lifeless body over his knees, and started CPR. I truly, truly could not believe this was real. The amount of adrenaline that ran through my body was something I had only heard of but never thought I would feel for myself. As my husband gave her CPR, I called 911. I remember begging dispatch to tell them to hurry. I could not even answer the question they were asking me I was in such a state of shock.
My husband was Thea's first blessing. If he was not there, I truly believe she would have died that night. Since we live in a small city the ambulance showed up quickly. They loaded her up and my husband and I jumped in with her. This is the first time I have written this and when I tell you I remember this moment, I mean I will NEVER forget this night.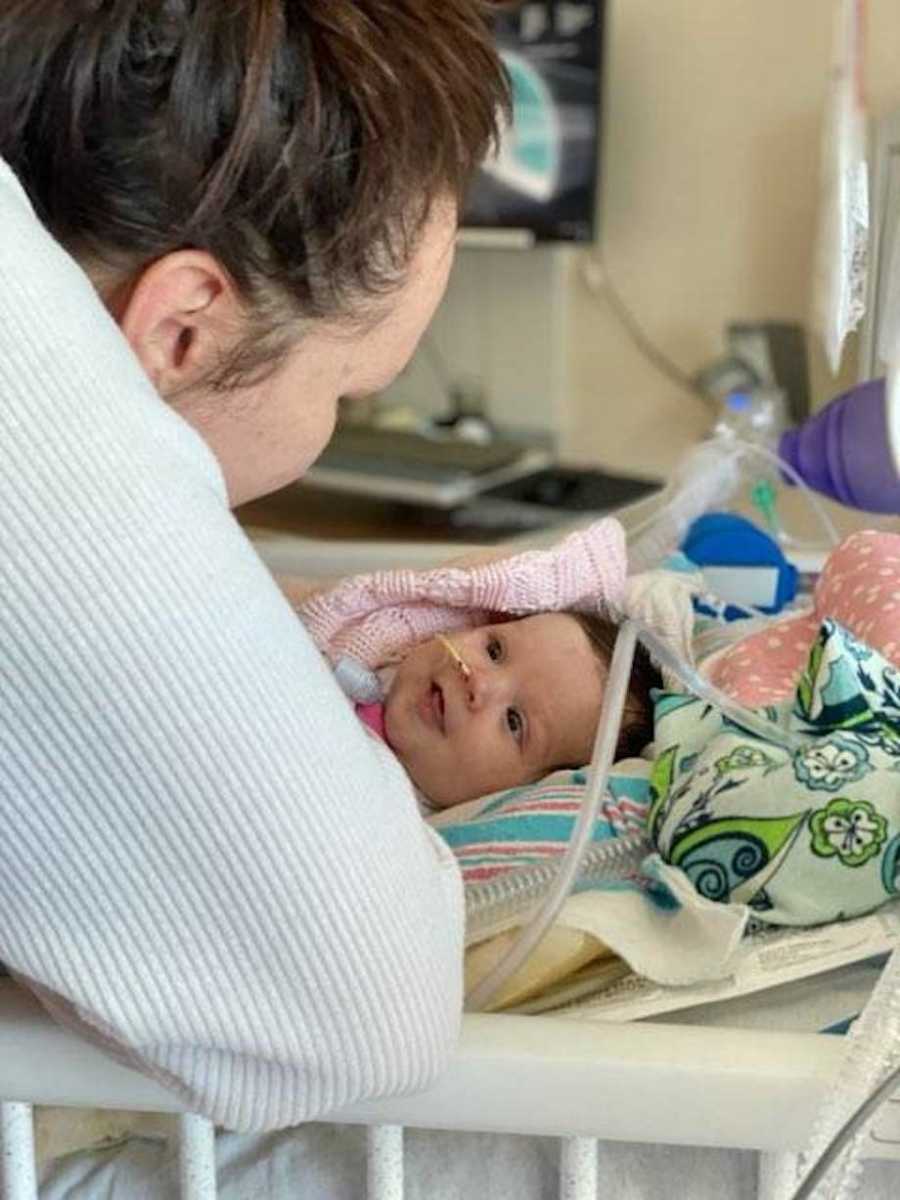 At the hospital, we assumed everything would be okay. Once there, I called my dear friend, our town's neonatologist, and the lady we call Thea's guardian angel to meet us at the hospital for assistance. Once she arrived, she made plans for Thea. She is Thea's second blessing. Unfortunately, Thea was extremely sick and they were having trouble keeping her stable. We quickly knew she was going to need to be flown out to a major hospital in our state.
Once we were at the larger hospital, we truly felt we could receive the care Thea needed. We spent 10 weeks in the pediatric ICU. 8 weeks of that time Thea was deathly ill and even coded multiple times at the hospital while she was being monitored.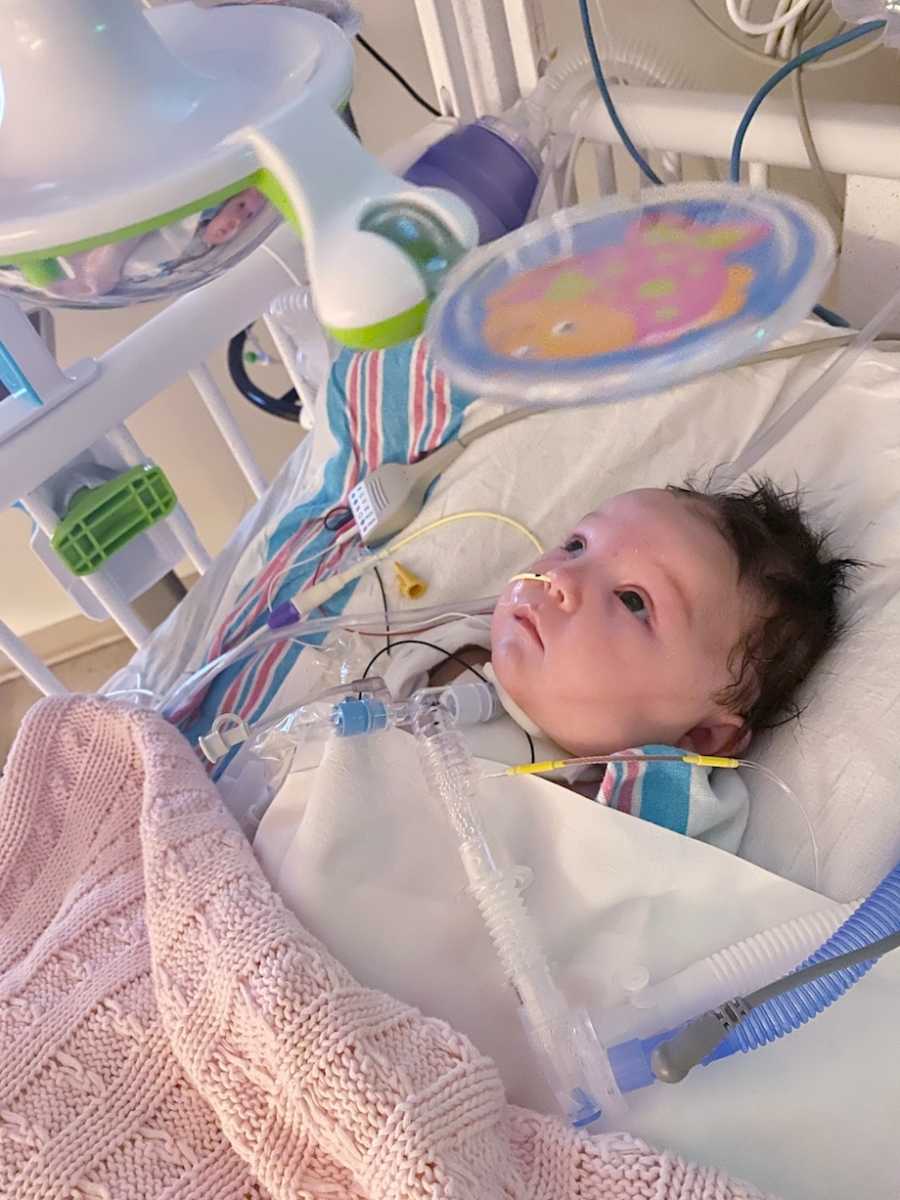 Our guardian angel neonatologist told us we needed to have Thea tested for this extremely rare genetic condition called Central Congenital Hypoventilation Syndrome a day after we got to the new hospital. When we heard this we truly thought she was crazy. 'Congenital central hypoventilation syndrome (CCHS) is a rare lifelong and life-threatening disorder. CCHS affects the central and autonomic nervous system which controls many of the automatic functions in the body such as heart rate, blood pressure, sensing of oxygen and carbon dioxide levels in the blood, temperature, bowel and bladder control, and more. The most recognized symptom of CCHS is the inability to control breathing that varies in severity, resulting in the need for life-long ventilatory support during sleep in some patients or all the time in others. There are estimated to be 1000 – 1200 cases of CCHS worldwide. CCHS affects males and females equally. Currently, there is no cure for CCHS.'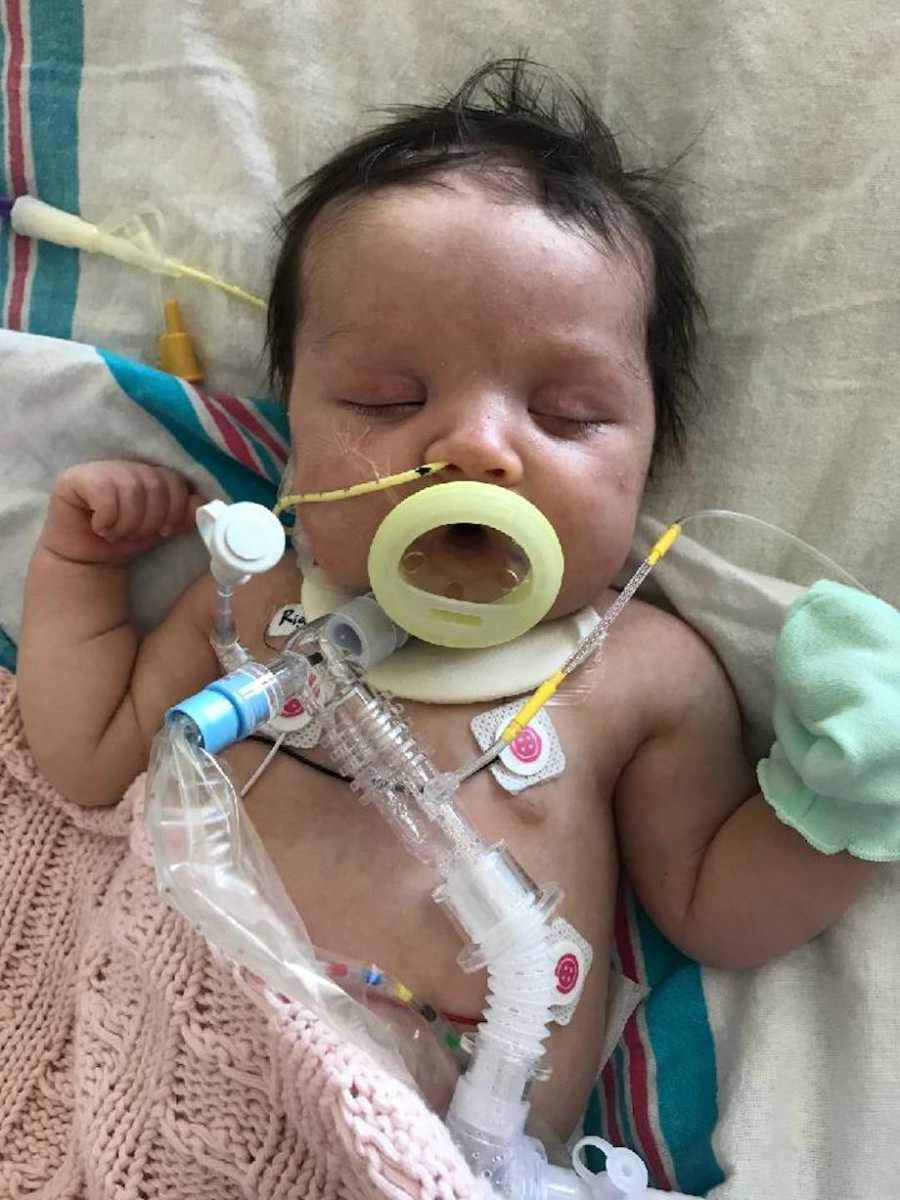 I mean, imagine having a 2-week-old baby die in your arms and you have someone tell you they think she has an extremely rare genetic condition requiring her to receive a tracheostomy and be vent dependent for the rest of her life? Even with thinking it was a wild suggestion, we wholeheartedly trusted her and brought it up to the resident we saw the next day. Thank goodness for the resident who trusted our thoughts and opinions and brought it up to the pediatric doctor. She was our third blessing. Without the first three blessings, we would not have gotten to this day.
Thea was not making any progress. She was still extremely sick and the doctors finally decided she needed a tracheostomy. One day after her surgery for her trach, we received the big news: her positive Central Congenital Hypoventilation Syndrome diagnosis. By this point, we had gone through every single other possible option and we had come to terms this diagnosis was what she had.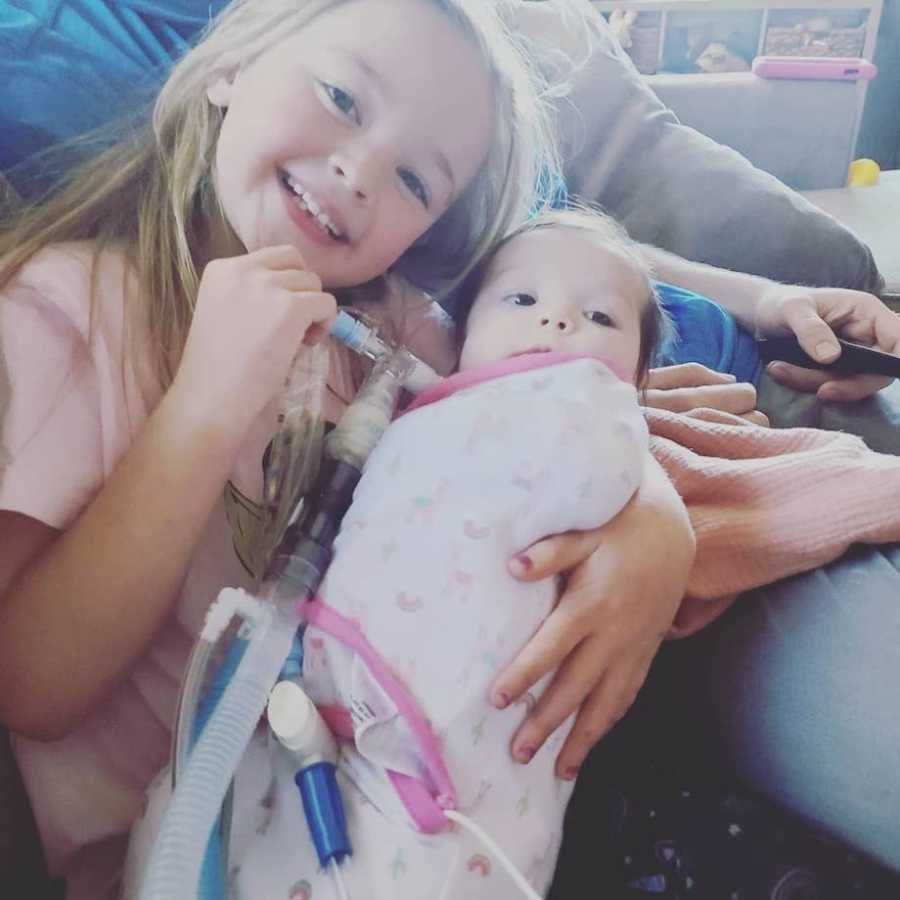 Now let's do a little recap so you can see the breakdown of these 8 weeks. Thea dies at home, she gets flown to our major hospital, her guardian angel says she needs to be tested for the extremely rare genetic condition. Thea codes a few more times at the hospital and doctors go through every other option they can think of meaning countless blood draws, countless, IVs, countless medications, countless scans. Thea was finally tested for the genetic condition, she receives her Tracheostomy, and finally, we receive our diagnosis. It is wild to write this down. But I hope you see the amount of pain she saw all within 8 weeks.
My husband and I were lucky enough to be by her side every single day and all night, sleeping on a twin bed just so we can be there for her every second. The downside to this was we got to see our other two babies maybe a handful of times within the 10 weeks of staying at the hospital. Making the choice to be there for Thea at all times instead of being there for the other two was one of the hardest decisions I have ever made. But we made it, knowing Thea needed us more during this time than they did.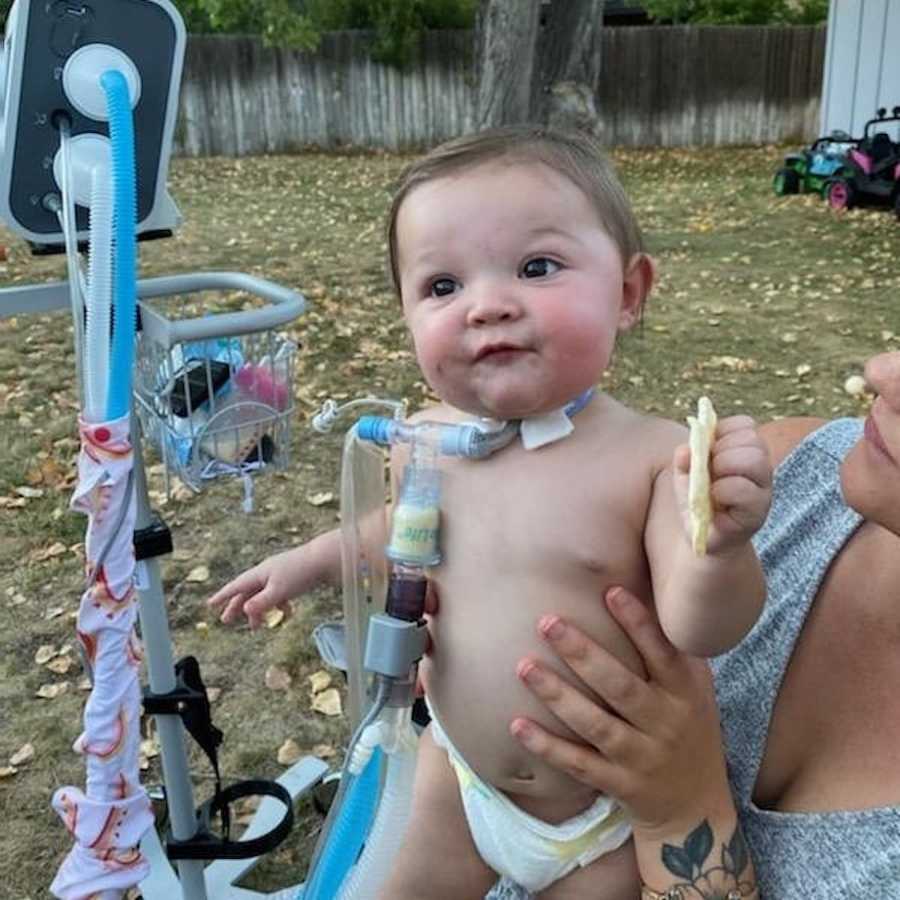 Now here is where it gets really wild. As if this is not a lot we are going through, we were now hit with the Covid pandemic. We were stuck in the hospital learning our new way of life as the nurses were rushing our training to get us out while the world around us is shutting down. In such a short time, we had to learn so much, how to care for our special needs daughter all day every day. I mean, nurses take years to learn the stuff they gave us 2 weeks to learn.
By this time, my husband and I made the decision to sell my Aveda hair salon so I could be her caretaker and he would continue to work full time to provide for our family. This on top of everything else was just a small piece of how much our lives changed. We were supposed to come home to home health (all other states would have required this) but due to Covid and living in a small town, we are still searching for help, which means we do everything related to medical care for Thea. We also do not have a single person other than my husband and me, because she requires 24/7 care from what should have been a nurse or us.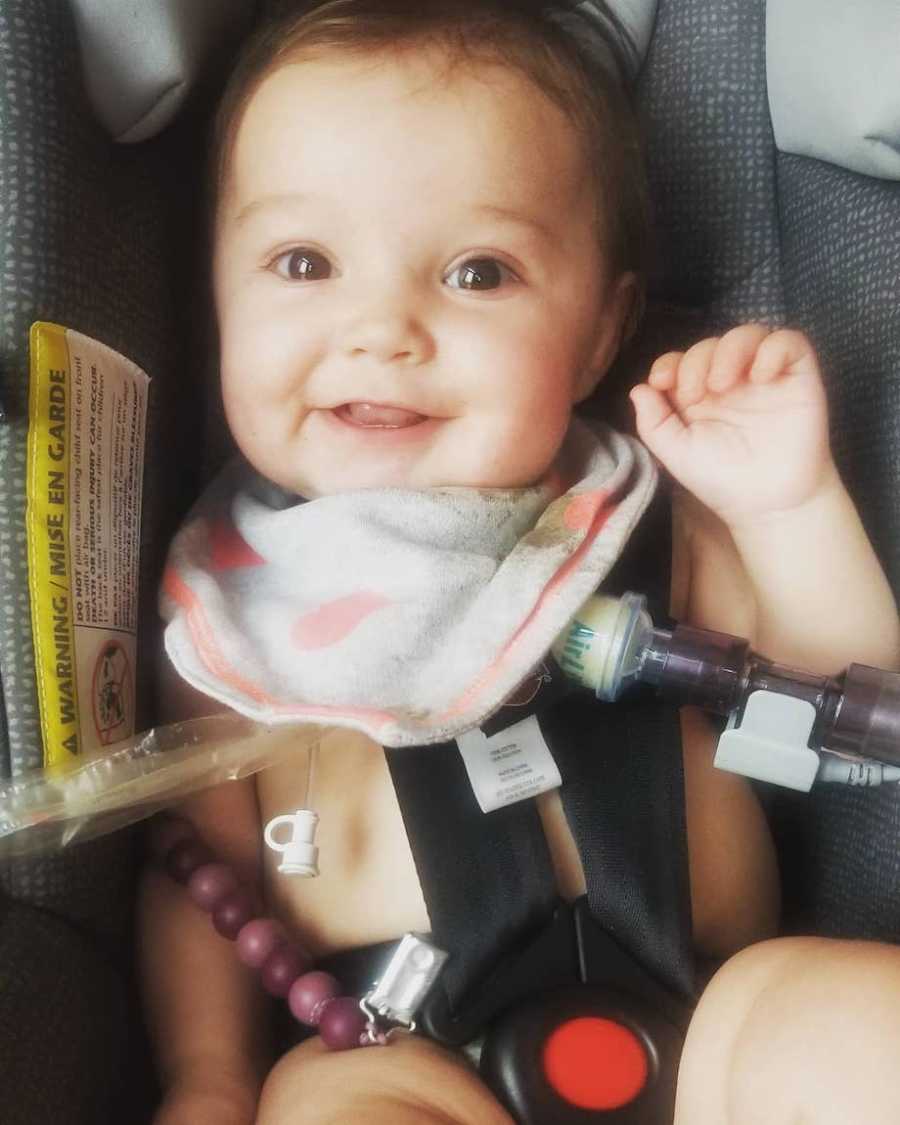 Once she received her tracheostomy and diagnosis, our world changed. This meant there was no chance our life would ever return to its old way. That is a hard moment to grasp and it was indeed hard.
The first few months at home were extremely hard. They were filled with overwhelming anxiety, depressed with the what-ifs. What if she dies since now her chances are much higher? What if she is developmentally delayed from the times she was at loss of oxygen? How will everyone react to her because she has this attachment most people do not see very often? What if her brother and sister are scared? Would they feel unloved because their sister requires so much more attention? And more important am, I going to be okay taking care of her by myself?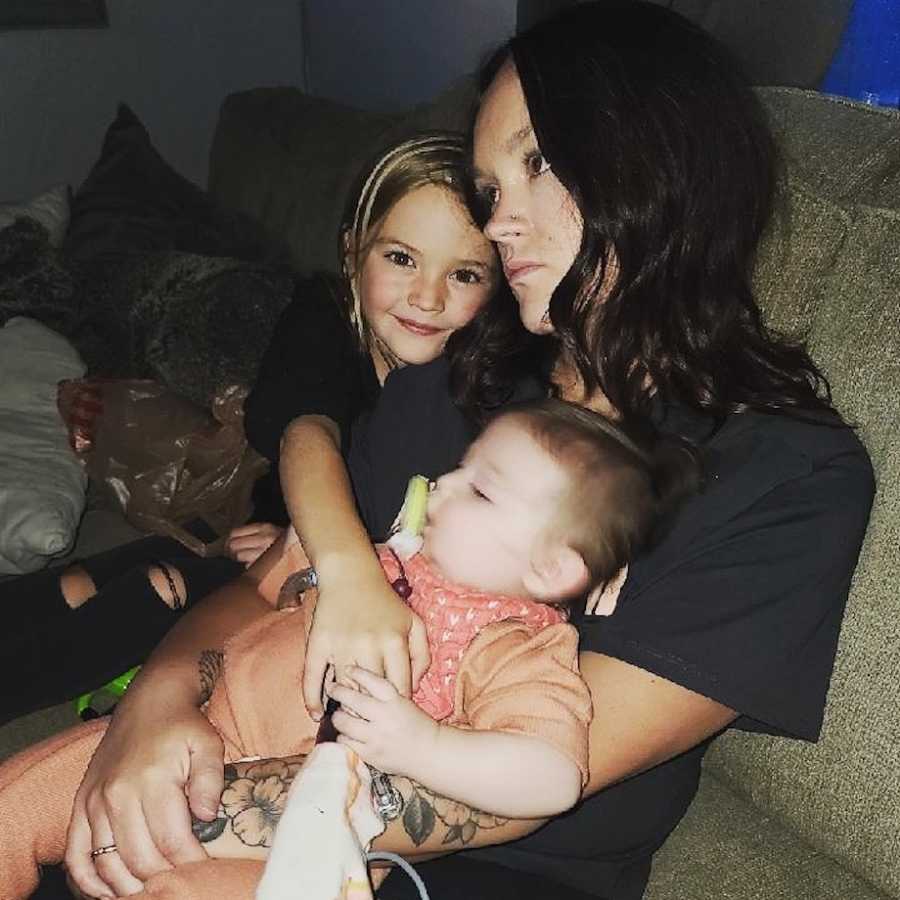 One day, I woke up and decided I was not going to let my fears and anxieties run my life. This is the day when everything changed for me and in return changed for my family. I started working out 5 days a week to help with my mental state, I stopped drinking alcohol to help with my depression and anxiety related to the extreme life change, I started eating healthier to improve brain function, and was amazed at the person I had become. Not only was I the version of myself I had always hoped to be, but I was now a better wife, mom. I was now able to take on any challenge that was thrown my way.
Thea's diagnosis is not a curse. It is not something that will forever haunt us. Every single person in this world has a quark or multiple quarks and her having a rare genetic disorder is only a small part of her story and all of our stories. Thea has taught us as a family that hard times are okay and will always be a thing but as long as we face the hard times together as a family we can get through anything.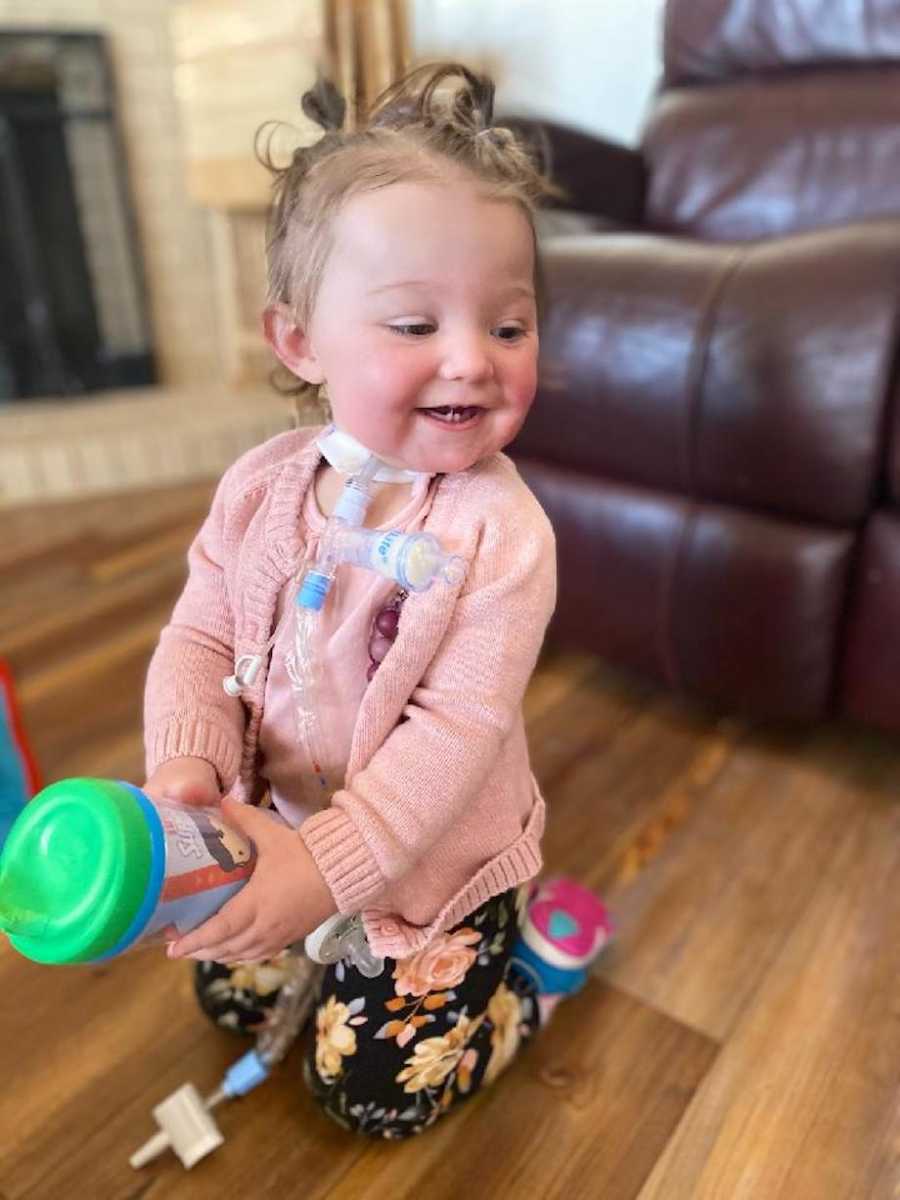 I have started a YouTube channel to document our life, the good, the bad, and some beauty videos thrown in. I'm hoping this channel will help those struggling with everyday life related to having a special needs child and hoping it will make their life easier so they do not have to struggle like we have. Things such as sleeping arrangements, bathtime, travel, and anything else that comes up. Thea, her sister, and her brother are such bright lights. Their beautiful energy alone keeps us going and I am hoping it will for you all also. Remember, even in the hardest times there will always be blessings, you just need to look for them and remember they will be there."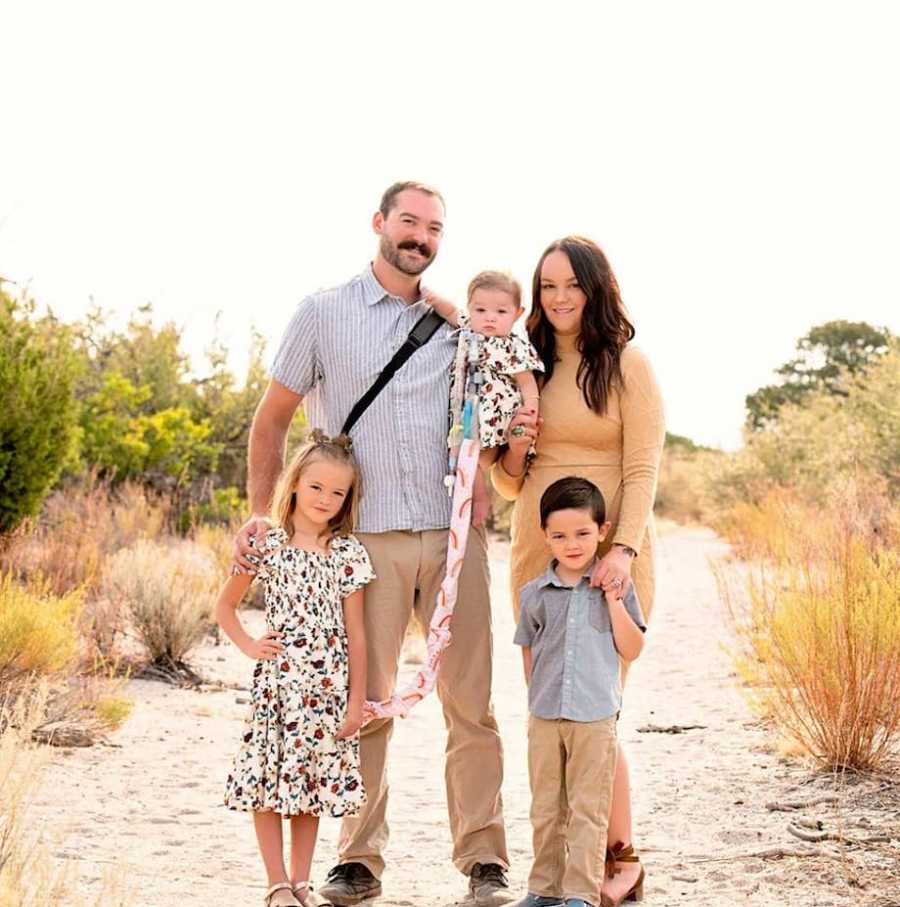 This story was submitted to Love What Matters by Chelsea Tousley from New Mexico. You can follow their journey on Instagram, Facebook, and YouTube. Do you have a similar experience? We'd like to hear your important journey. Submit your own story here. Be sure to subscribe to our free email newsletter for our best stories, and YouTube for our best videos.
Read more touching stories like this here:
'Honey, something's wrong.' Our baby's skin was marbled and black. I had no idea what was going on.': Mom's son diagnosed with extremely rare skin condition CMTC, loves his 'special skin'
'The midwife said, 'You have to let her go.' Her arms and legs moved around, as if she was searching for me.': Couple lose baby due to missing DNA, 'In her 50 minutes of life, we hope she knew nothing but love'
'I went on countless job interviews, but I didn't 'look the part.' The second they saw me, the whole vibe changed.': Woman with Nemaline Rod Myopathy embraces disability, 'I want to be seen for the smart, fun, boss babe that I am'
Provide hope for someone struggling. SHARE this story on Facebook to let them know a community of support is available.