"The call came at a hectic time. I was standing on a stool, rearranging cans in the pantry. The kids were swarming under me, grabbing cereal for breakfast. My husband was rushing around the kitchen so he could eat before a call. A repairman was fixing something in the kitchen.
I don't normally answer numbers I don't recognize. But for some reason, I answered this call.
The voice on the other end introduced himself. He was calling from a salon at a hotel I had recently had my hair done at. My first thought was, 'Crap, was my credit card declined?' But then I thought, 'No. They would have told me when I was checking out. It would be odd for them to just catch that now.'
'There's no easy way to say this,' the voice on the other end continued. 'But the client we had before you at the salon just tested positive for COVID-19.'
I kept organizing the cans. I was strangely calm. I'm not normally cool in a crisis, but I felt an almost ice-like stillness in my veins.
'OK,' I said.
'She saw the same stylist. Her appointment was 11:00 a.m. to 11:30 a.m. Yours was at 11:30 a.m.'
'Did we sit in the same chair?' I asked.
'Yes,' he said.
My heart lurched.
'But she was not symptomatic at the time,' he said. 'She's still asymptomatic.'
'Then why was she tested?' I asked.
I know there's a serious lack of tests in this country (don't get me started on my fury with the government for not being prepared for, and actively denying, this pandemic they saw coming for weeks!). I know people who got off a plane from Asia with fevers and couldn't get tested. So why would they test this asymptomatic woman?
'I don't know,' he said. 'I believe her husband is a doctor at Stanford. Maybe there was some exposure.'
'How is the stylist?' I asked.
'She's fine. She's self-isolating and keeping an eye out for symptoms. We've shut down the salon.'
'I'm so sorry,' I said. 'I'm sorry you've had to shut down, and I'm sorry you have to make these calls.'
'It's the least I can do,' he said. 'I'm the one who is sorry.'
'It's not your fault,' I said.
A heavy silence hung between us on the line. What was happening? Why was this happening? How could this happen??? It was surreal. It was scary. It was too much. I suddenly just wanted to be off the phone.
'OK,' I said. 'Thanks for calling.'
'Please don't hesitate to call back if you have any further questions,' he said.
'I will.'
I hung up the phone and stared at the can I was holding in my shaking right hand. Feelings crept up my spine. Disbelief. Fear. Anxiety. Panic.
I needed to talk to my husband. STAT. But by now he was on a call, beginning his marathon day of back-to-back meetings. I tiptoed into the office and scribbled a note on a scrap of paper next to him: 'We need to talk.'
He looked up, concerned, and nodded.
And then I started making calls. I called every friend I had contact with, which luckily, was only three people. (Yay for being an introvert!) I called my doctor. I called my OB. I called the special hotline Stanford set up for COVID-19 cases. I called the pediatrician. I called the county health department. I called the kids' schools, which are thankfully closed now. I called my parents who called a friend who is an ENT doctor. I called everyone and anyone that could give me some answers.
Was I at risk? I had sat in the same chair as this woman, moments after she stood up. We breathed the same air for some unknown amount of time. We were touched by the same hairstylist. We put our hands on the same surfaces. Our heads in the same shampoo bowl.
No one knew. No one knows. That's the problem with this novel virus. We just don't know. Despite my plethora of phone calls, I couldn't really get any answers.
A million feelings have surged through me since the call. Terror. Calm. Panic. Serenity. I've vacillated between 'I'm going to die!' to 'It's fine. I'm fine. We're all fine.' I've worried for myself. For my daughter who has asthma. My husband who also has issues with his lungs. My small son. My parents. Most of all my parents, because of their ages. The friends I have seen since the salon date. Especially the one recovering from surgery.
After the phone calls, I started googling. How long can this virus live on surfaces? If I sat down right after her, was I in danger? Can it be passed from person-to-person-to-person? AM I AT RISK??? IS MY FAMILY AT RISK????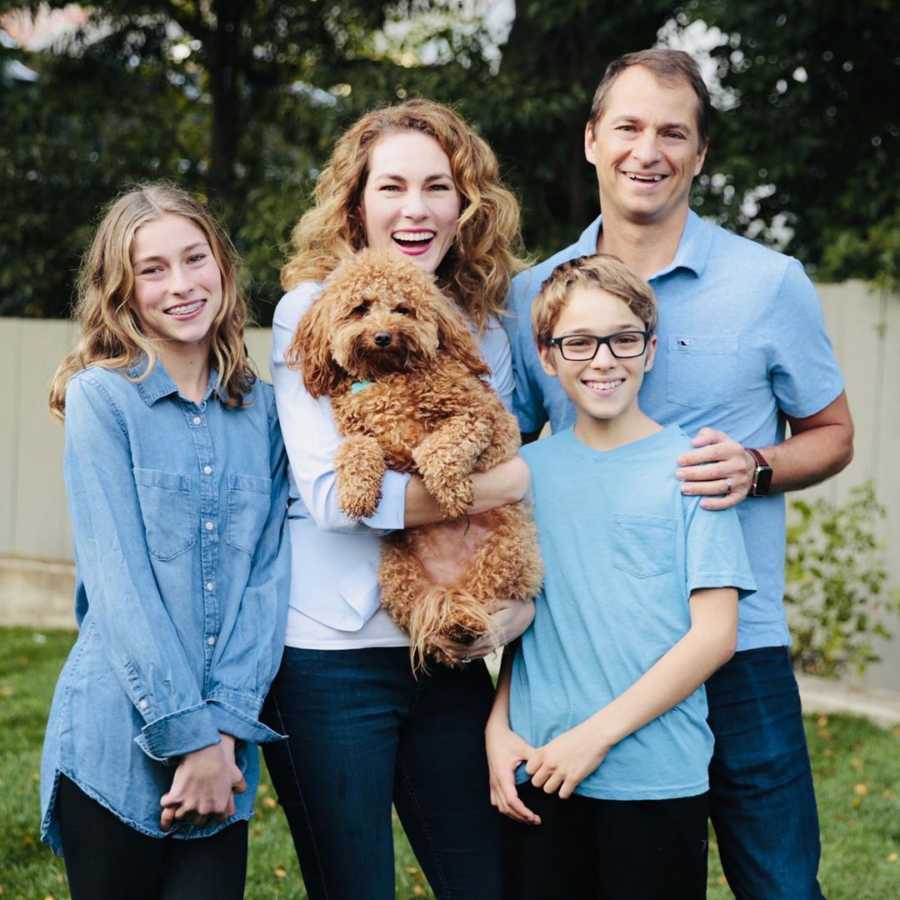 The doctor told me to watch for symptoms. She said according to the CDC website, I am considered low risk and don't need to self-quarantine or do anything special. I've opted to stay home, not just for my sake, but for the sake of others.
So far I am fine. I have a bit of a goopy throat and feel dizzy occasionally. But I'm breathing fine. I don't have a fever. I don't have any cold or flu symptoms. And the goopy throat and dizziness may just be allergies. Or a reaction to the work the handyman was doing with smelly chemicals in the kitchen. Or maybe it's my Hashimoto's acting up again. Maybe it's just anxiety.
Or maybe it's Coronavirus.
The truth is, unless I develop severe symptoms, I'll probably never know whether I have COVID-19 or not. Because there aren't enough tests. Because the hospitals and clinics are already overloaded (I read that ICU's in New York City are already at 80% capacity) and we haven't even seen the tip of the iceberg of this thing in America.
A friend very eloquently explained the danger of over-taxing the hospitals, which is the scariest thing that could happen during this pandemic, and a very real scenario playing out in Italy right now. She said, 'You know how we have run out of toilet paper everywhere? Extrapolate that to not having enough hospital beds for those who need them. Extrapolate that to not having enough ventilators for those who need them.' There are doctors in Italy right now who literally have to decide who to save and who to let die. Because there aren't enough beds. There aren't enough ventilators.
They didn't slow the curve in time.
But we still have a chance in America. We are a week behind Italy. But in order to slow the curve, all of us have to practice social distancing.
And this is why it infuriates me when I hear people say, 'I'm not afraid. I'm not sick. I'm not going to stay home. You can't tell me what to do!'
Because you may feel well. You may think, 'I'm going to go get my hair done today.' But you could be carrying the virus without feeling sick at all. In fact, there are studies suggesting people can be contagious before they feel ill. And that's why we all need to practice social distancing. Because you may think you're fine, but you could be infected without knowing it.
Like the woman who exposed me.
We all need to work together to stop the spread of this pandemic. We need to flatten the curve. Now. So we can get back to normal as quickly as possible.
I saw a tweet today that said, 'Your grandfather went to war. All we are asking is for you to stay on your couch.' Funny, but drives the point home. Sometimes we have to do things that are inconvenient or uncomfortable to protect other people. Sometimes it's not all about us. Sometimes we have to sacrifice for the greater good.
Right now is that sometimes.
So please, stay home. Don't go out unless absolutely necessary (to go to work, to get groceries, to fill prescriptions). Buy gift cards to your favorite restaurants and local businesses to help keep them afloat, and then go splurge when the worst is over. Order take out, but don't go out to a crowded restaurant. When you do go out, stay 6-feet away from people. Because you might think you are healthy, but you might not be.
You might be like the lady in the salon.
Or you might be like me. Exposed.
UPDATE: I've developed symptoms and was tested yesterday. I will keep you updated."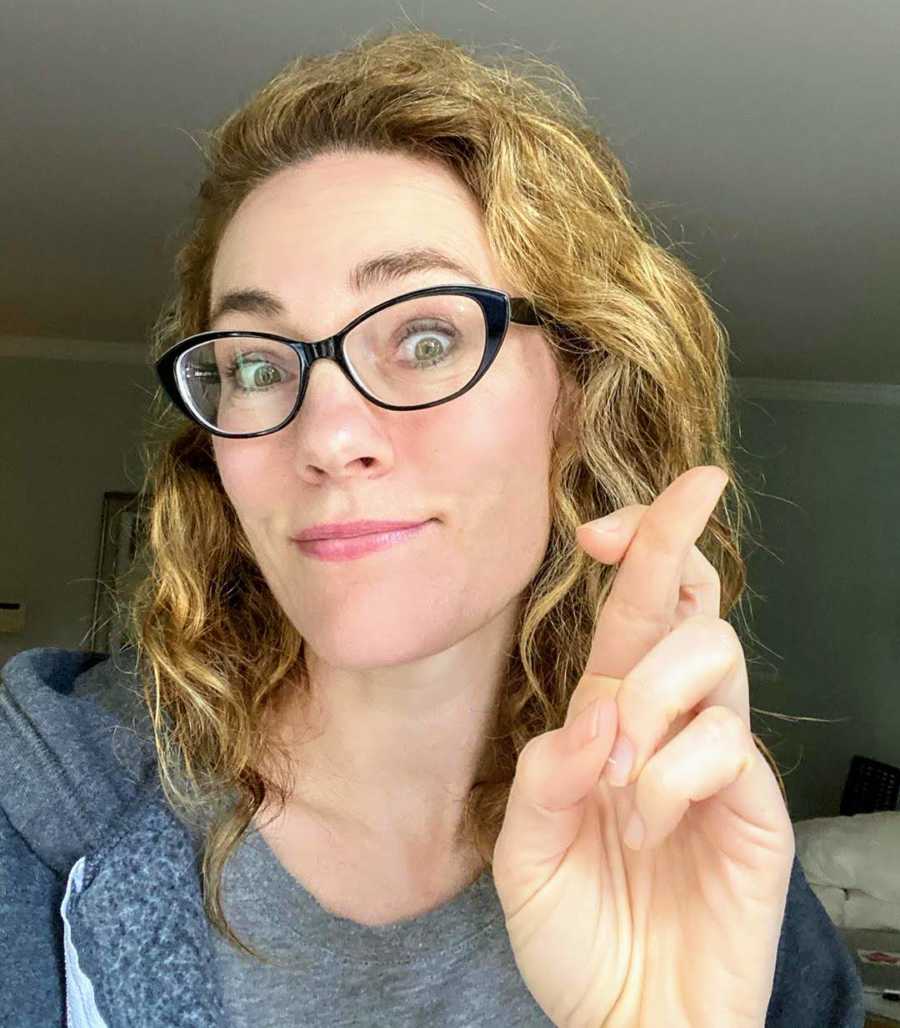 This story was submitted to Love What Matters by Deva Dalporto, known primarily for her funny music parody videos for which NBC dubbed her the "Weird Al Of YouTube Moms," of My Life Suckers. You can follow her journey on Instagram, Facebook, and YouTube. Submit your story here, and be sure to subscribe to our free email newsletter for our best stories. 
Read more stories like this: 
'Today I cried. Not because I'm stressed out or scared. I cried because of a 92-year-old man.': Woman says 'forget about the 75 rolls of toilet paper you think you need and think about the 92-year-old man'
'An 80-year-old woman cracked her car window and explained, in tears, 'We're afraid to go in the store. We don't have any family to help us.': Woman urges 'offer help to anyone you can' during coronavirus hysteria
'The old man asked the cashier, 'Do you have any toilet paper? Please, my wife is sick.' He was exhausted and on the brink of tears.': Man shares act of kindness for elderly man, 'Now, more than ever, we need to look out for one another'
Do you know someone who could benefit from reading this? SHARE this story on Facebook with family and friends.