"As a 32-year-old mother of four, many find it hard to believe just over two years ago, I wasn't a mother at all — or at least, I didn't appear to be one. For as long as I can recall, I've wanted to be a mother. Shortly after marrying five years ago, my husband, Sam, and I learned starting a family by traditional means may not ever be feasible for us. Early on, we had multiple miscarriages and extensive failed infertility treatments, which left us feeling defeated by our seemingly futile efforts to create our family. Little did we know then what we know now — we were meant to be parents to four precious humans who we'd adopt through foster care. I could spend a lifetime telling you stories about each of my babes, of their strength, courage, resilience, and heart. I could go on and on about the unfairness of life that drew us all together and the circumstances that granted us each tremendous and painful losses. Or instead, I could tell you of the beauty and joy in creating our unique little family.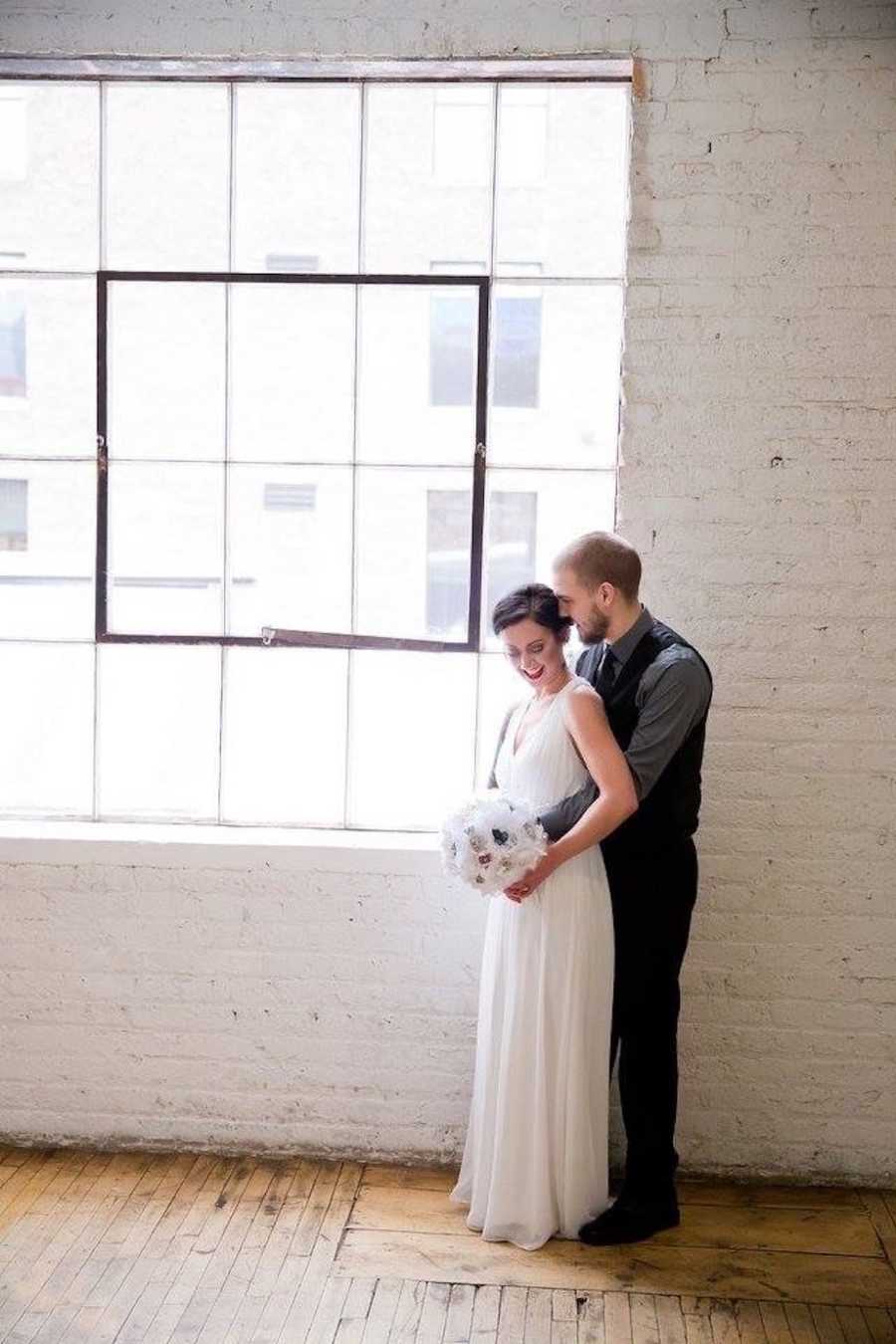 When we began the process of becoming foster care licensed, it was with the intent of seeking an adoptive placement of a child or children who were considered 'waiting children.' Waiting children are kids in the foster care system that have not been successfully reunified with their biological families for a number of reasons and are awaiting adoptive homes. Many times the children who are left waiting for adoptive families are older or a part of a sibling group. When we initially sought out adoption, we felt a pull to foster care adoption and the idea of adopting a sibling group was immediately on our hearts.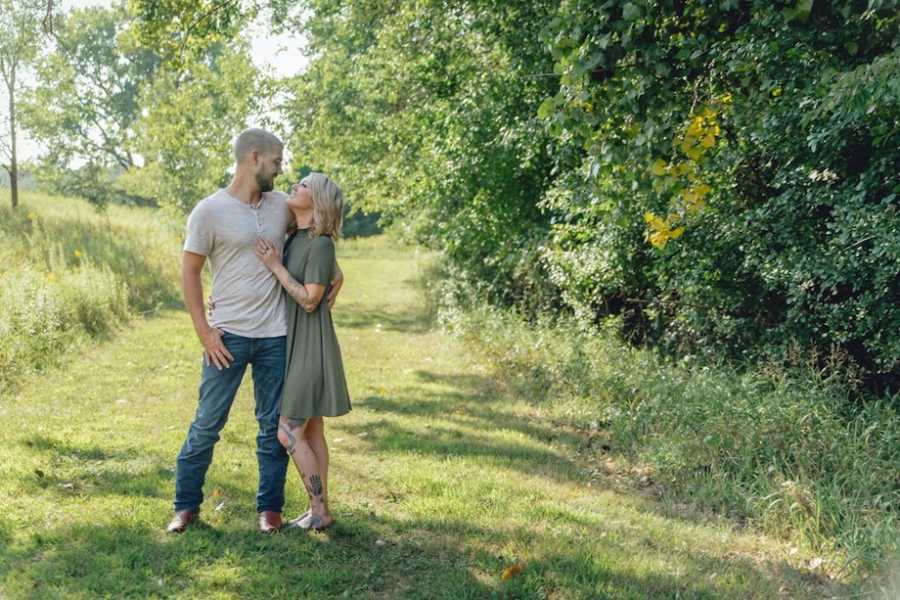 We became officially licensed in December of 2017 and first heard our oldest boys' names within days. An email stating a sibling group of two boys, ages 4 and 7, were awaiting adoption. They had a few requests for their forever family: they wanted parents who loved the MN Vikings, would play outside with them, and they wanted a real mailbox where they could receive mail. We immediately asked for more information, and it was another month before we heard back. The social workers requested a meeting and we were thrilled. For some reason, we couldn't shake the feeling these were our children.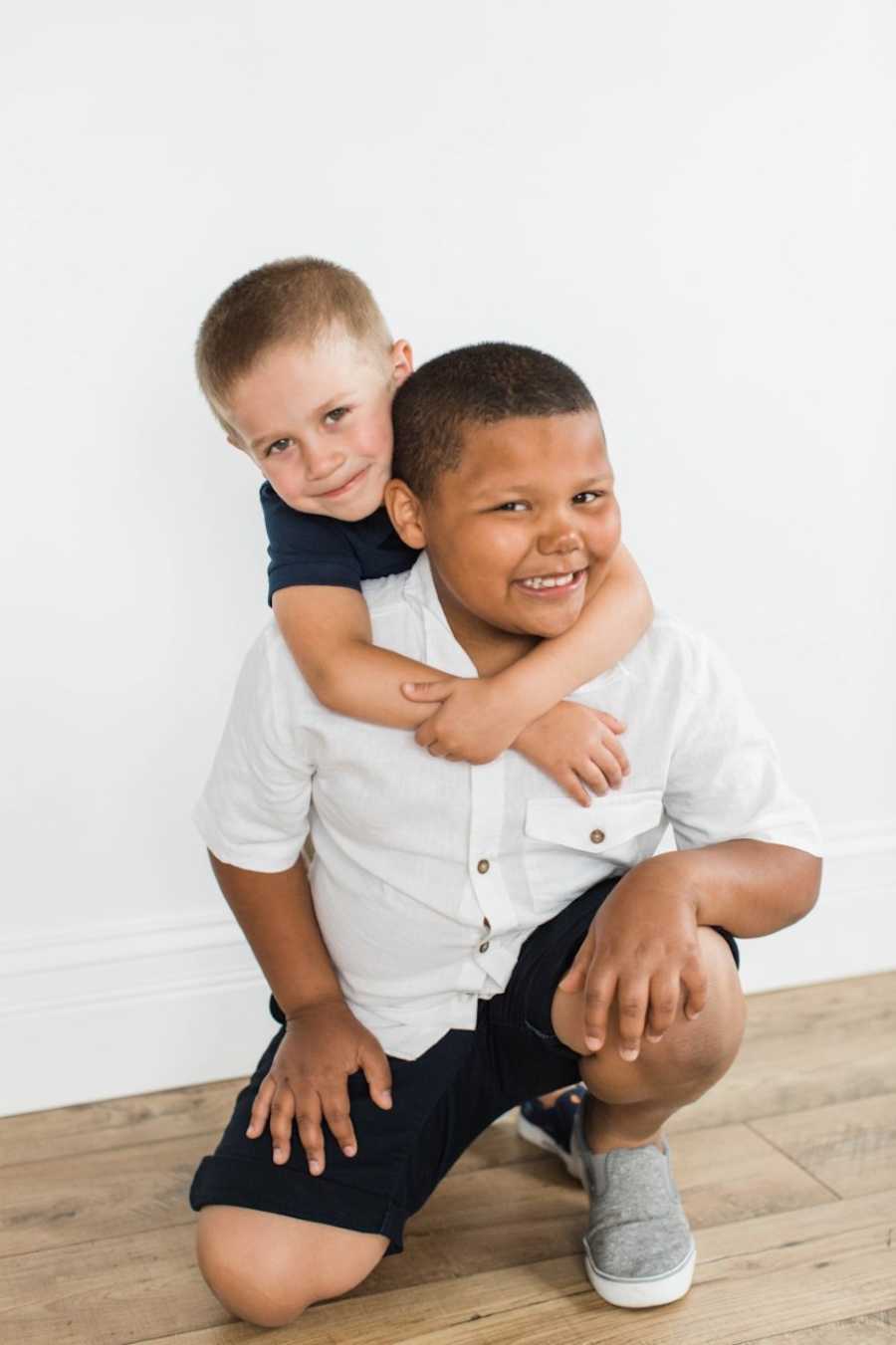 After several more meetings with social workers and foster parents and teachers, we sat in a room and were told we were one of three families being considered for these two little boys, JJ and Wesley. I went out on a limb and told the social workers I knew without a doubt these were my children. I felt like I might be a little crazy, and they surely thought I was, but it was true and I had to say it. We got the call the next afternoon we'd been chosen and in March of 2018, our oldest boys moved in. We finalized our adoption the following August and became an official family of four!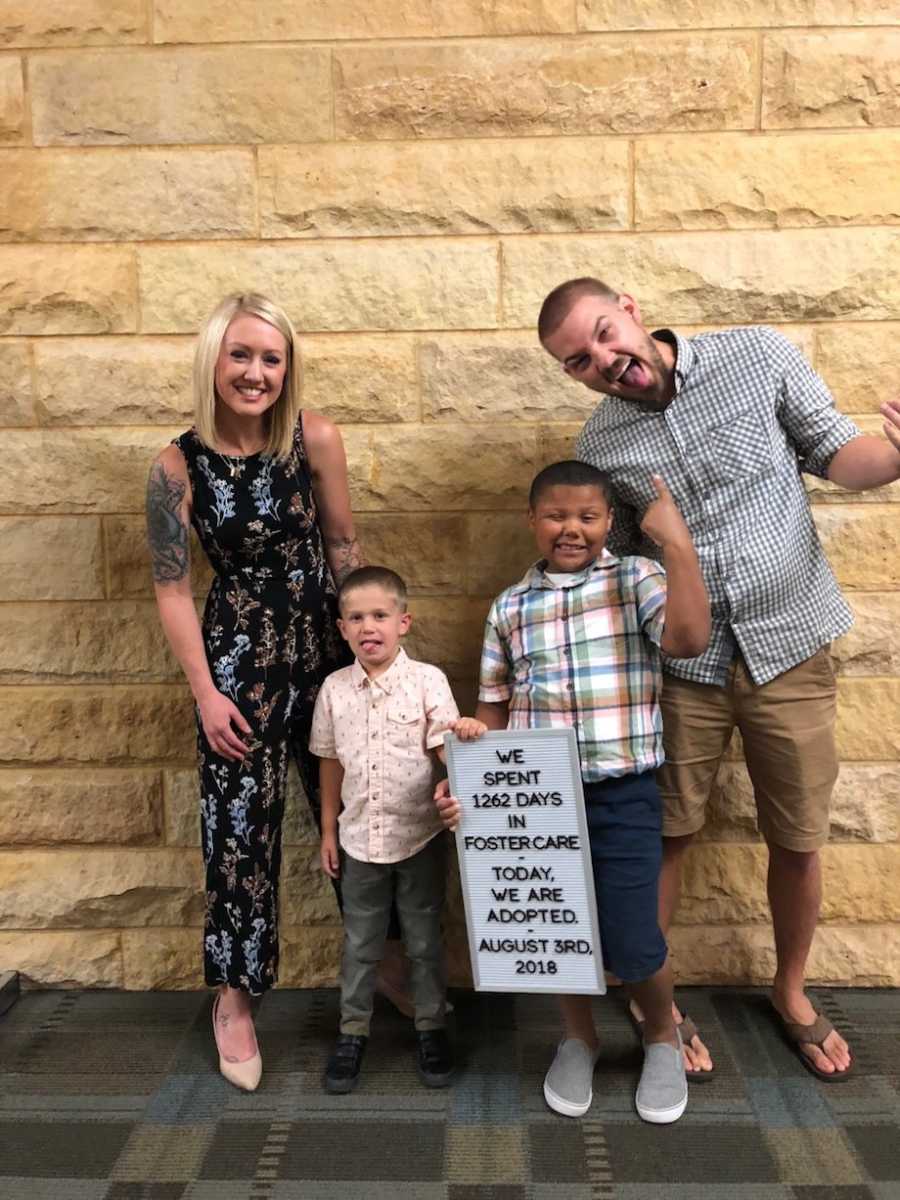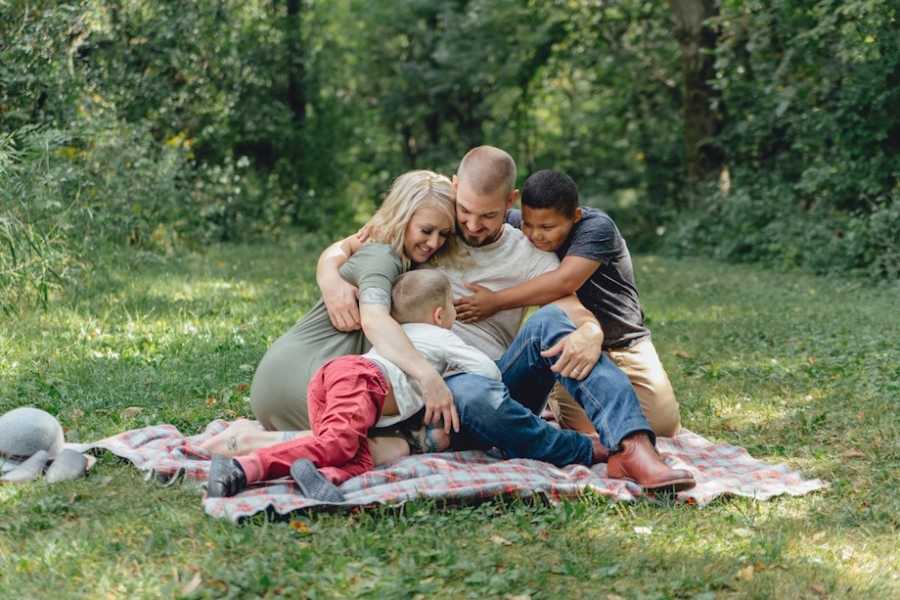 One year after placement of JJ and Wesley, in March of 2019, we received a call inquiring if we would take immediate placement of a three-year-old little boy, now our son Noah. We said yes and within hours, our family had grown. Noah was awaiting an adoptive family and we felt blessed to have been chosen for this sweet little boy. He transitioned into our home seamlessly and rounded out our family of five. Just months after Noah's move-in, another call from a social worker changed our lives. Noah's infant biological brother, Micah, was in need of placement and permanency.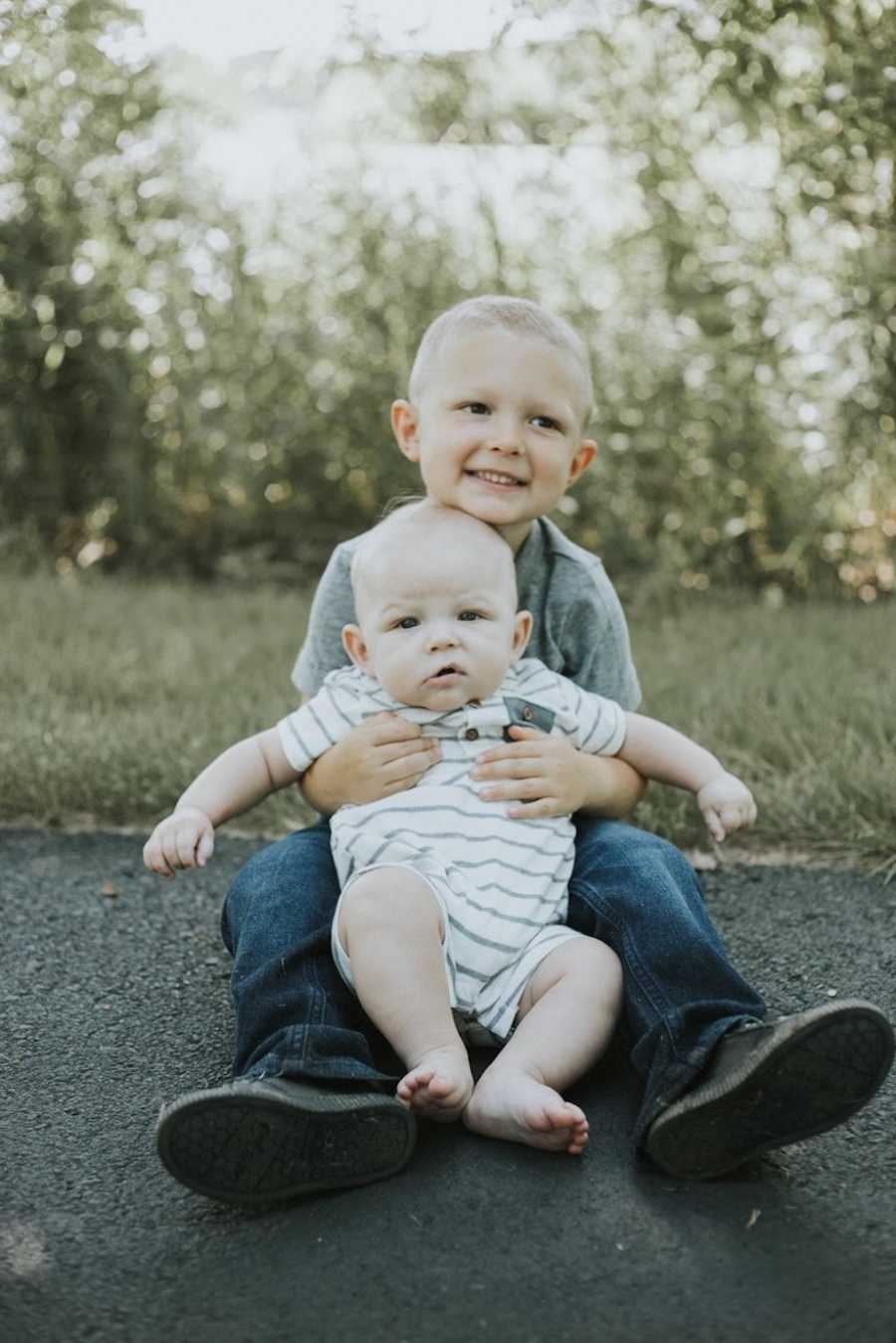 With a fourth child entering our home in less than 18 months, we were now sure our family was complete with four rambunctious little boys. Noah and Micah's adoption took a little over a year and was made more complicated by a global pandemic. We were able to finalize the younger boys' adoption in May 2020 via Zoom meeting – now legally, officially, and forever a family of six.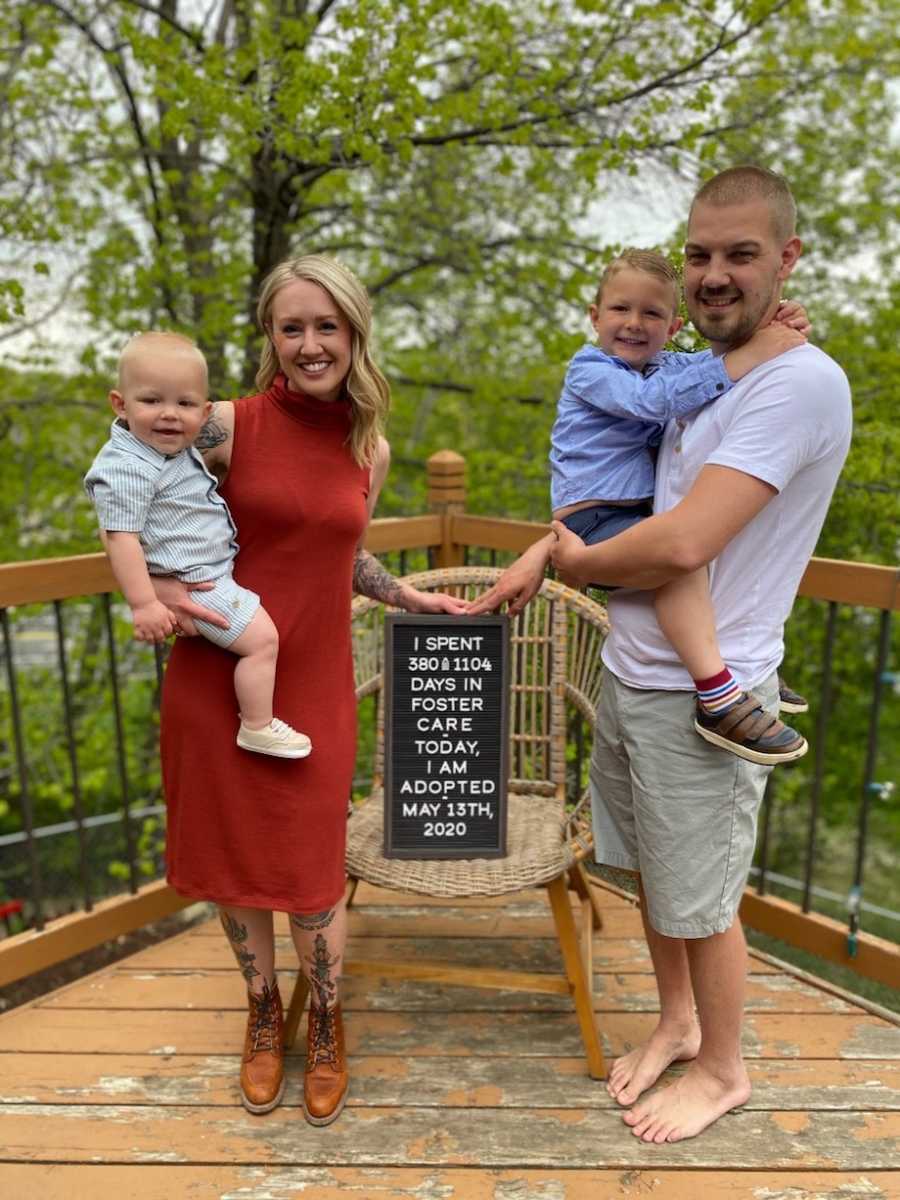 These sons of mine are more magnificent than I could've ever dreamed up for my own life. Of course, our life isn't the picture of perfection. I've pulled live frogs from the pockets of my son's pants in the laundry bin, my kids have peed in their dresser drawers (yes, it's happened more than once…), the pin has been pulled on the fire extinguisher, only to have it sprayed throughout my entire master bedroom… and loads of other less humorous, PTSD-related occurrences due to tiny lives brimming with trauma and neglect.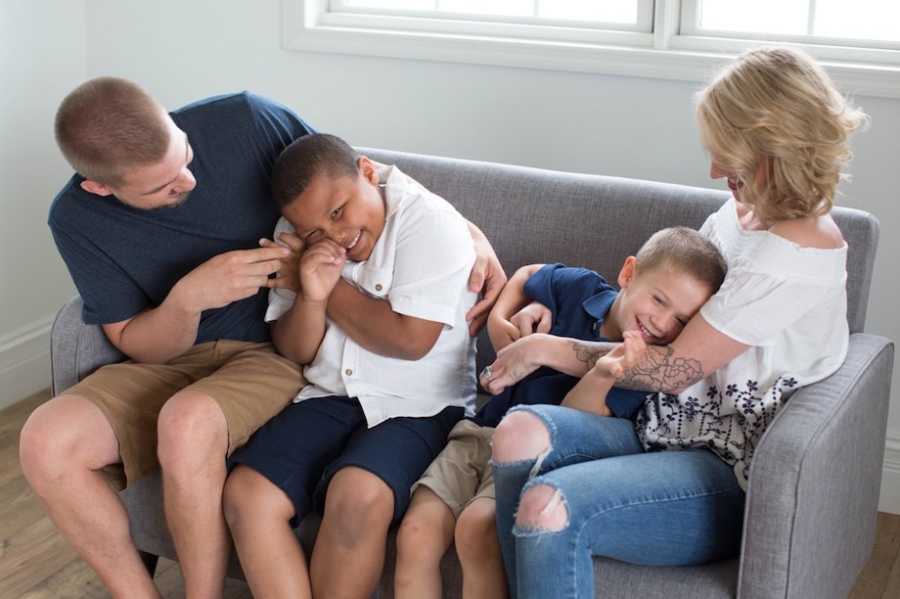 I've stood in courthouses and prison visitation rooms, endured countless rude remarks, fielded inappropriate questions, and had to advocate for my children to receive the most basic of rights. Through all this, I have found my voice and a voice for my children. I've lost both friends and family, and in turn, gained a new perspective on so many levels and also my very own village of women who just 'get it.' I've not thoughtfully chosen the names of my babies, carried them within my womb, or passed down my bad eyesight and flat feet. I've missed major portions of their lives and they will always belong to another mama, too. And yet, they are mine.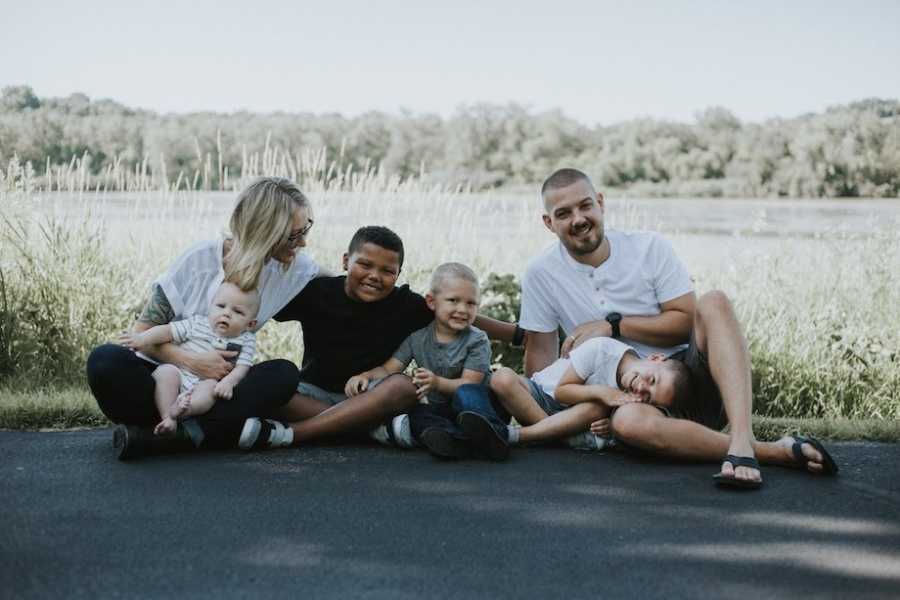 Like all families, we share our own versions of beautiful, heart-stopping, moments of wonder. I'll never forget the first time each of my older children called me 'Mom' instead of 'Michaela' or said 'I love you' as they finally began to let their walls down. I still remember our very first hugs, ones that were earned after the shyness wore off and they were willing to stand close to me. I can recall exactly where I was seated when the tiny voice of a three-year-old asked from across the room if I would be his mama forever… seared into my mind are the feelings that rushed over me the first time a social worker handed me Micah, then just a tiny 3-month-old babe. As I stood in the parking lot at work, wearing sweaty scrubs, I hit my knees and sobbed, never thinking I'd experience holding, much less parenting an infant of my own.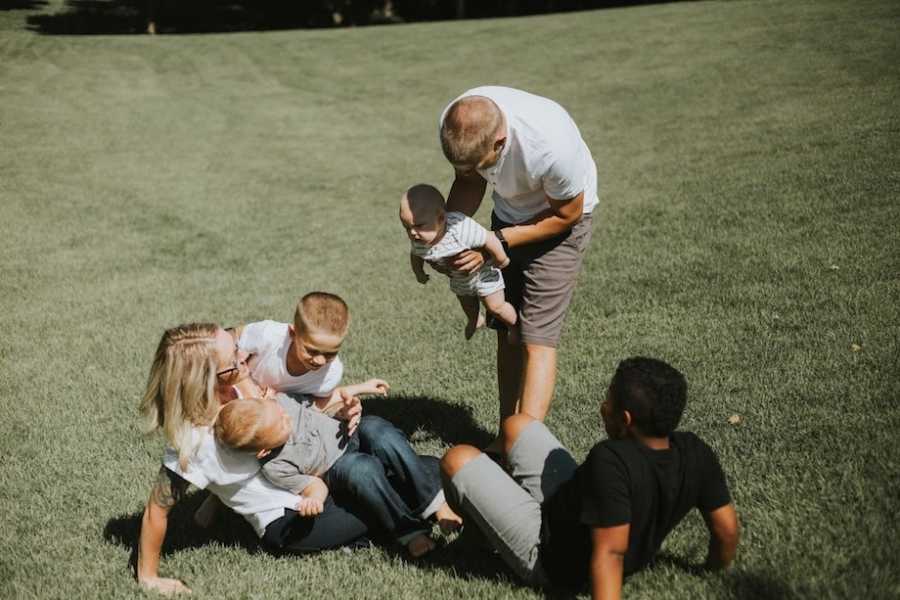 We have slow dances in the kitchen while making dinner and quiet early morning chats snuggled up in our jammies. I tote my 45-pound toddlers around and people tell me my kids are much too big to be picked up. I smile at them, knowing they're completely unaware I never had the opportunity to hold their once tiny bodies. As I tuck my children in at night, we mull over the 'If I had been there's' of their lives previous to our shared one and wonder aloud about the why's behind it all. The moments of beauty are endless and I probably find tears spilling from the corners of my eyes more often than not because I am just so grateful, so grateful for this life we all share.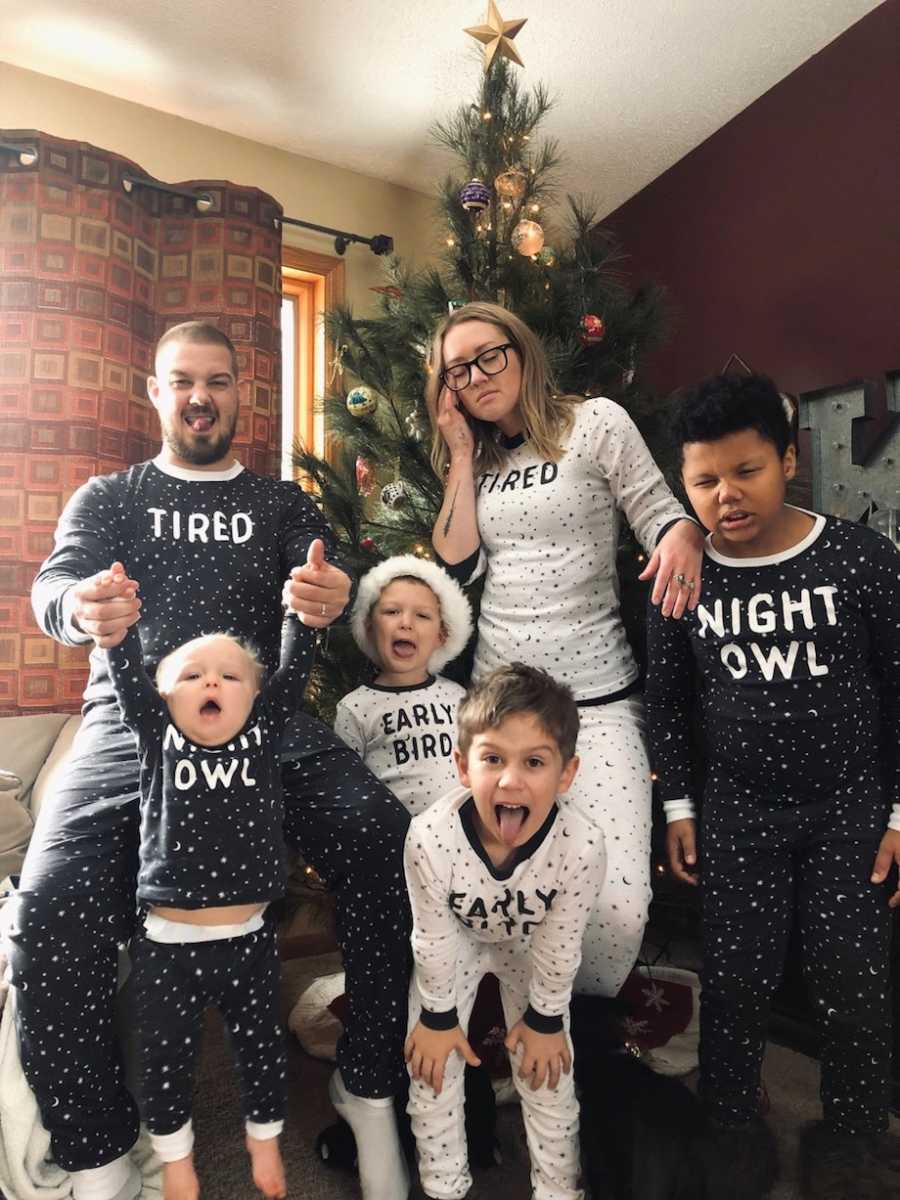 It is the most extraordinary privilege being these boys' mama. It's an honor I wasn't certain I'd have, being called 'mom.' And now, here, being called mom by these precious humans who were birthed by another. They will forever be mine and also hers. They will forever hold my heart and I will never take for granted this opportunity I've been given to raise these perfect little human beings."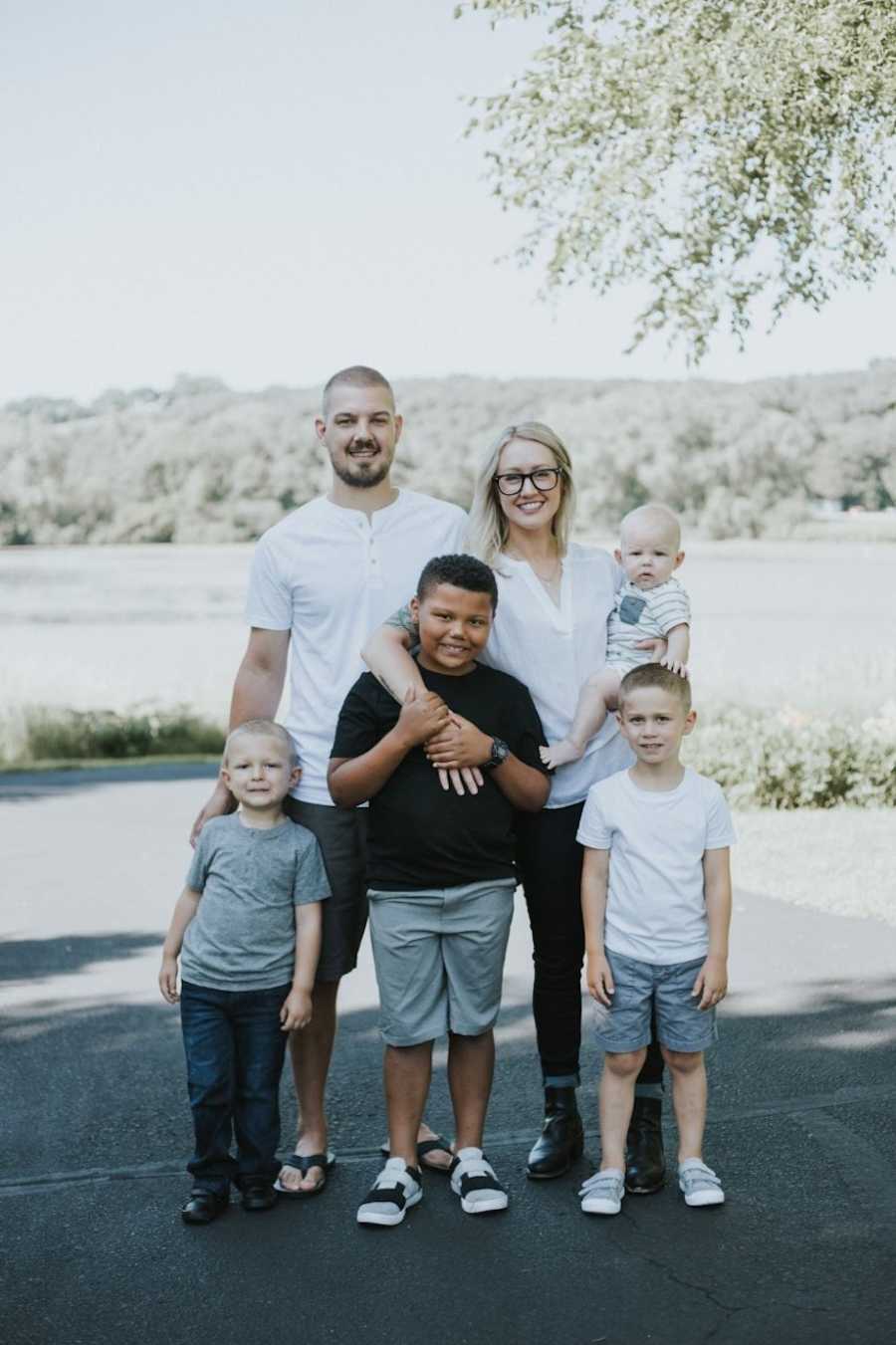 This story was submitted to Love What Matters by Michaela and Sam from Minneapolis, MN. Do you have a similar experience? We'd like to hear your important journey. Submit your own story here. Be sure to subscribe to our free email newsletter for our best stories, and YouTube for our best videos.
Read more stories like this:
'I've told you I'm a virgin a million times!' She slammed on the brakes. 'We need to find an adoption agency.': 16-year-old birth mom pursues open adoption, 'He deserved better than me'
'We are having a closed adoption! She will not steal my baby!' Then our lives were suddenly intertwined.': Mom 'gains a sister' through open adoption, 'We get to walk this together'
'The family stopped answering. 'They've backed out of the adoption.' They wanted a healthy baby, not my son with a disability.': Mom of 5 adopts special needs child after rejections, now in beautiful open adoption with birth mom
Do you know someone who could benefit from reading this? SHARE this story on Facebook with family and friends.