"I have known since I was a little girl that one day I would adopt a child. I can't really explain why I have always felt an unrelenting pull to adoption or how I, so distinctly, knew there was a child I would not give birth to who was simply that: my child. I have known it as certainly as I have known anything else, and I didn't always know how to make sense of it, but it was there. In its chaos and ambiguity, it was there.
Over the years, I became more familiar with the actual process, expectations, and demands of adoption. My best friend placed her baby for adoption in our teenage years, and I witnessed then firsthand the beauty – and heartache – so intricately interwoven in adoption. Upon meeting my husband nearly eight years ago, I learned he and two of his brothers had been adopted. All three share the same birth mother, all three different birth fathers. Their adoption story is extraordinary, and nothing short of inspired and miraculous, but the hard truth of adoption is this: Where there is love, there is loss.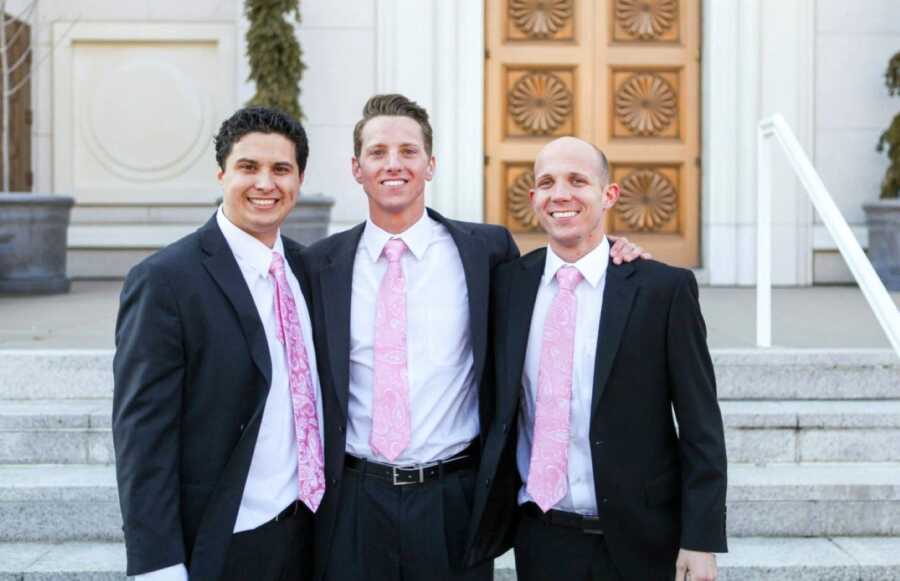 My husband lived twenty-one years of his life never knowing his birth mother. When asked how he would describe his first meeting with her, he said 'Emotional and confusing, but hopeful.' I, too, was fortunate enough to meet her months before she passed. It was in June 2018 when the three of us sat together in a booth at a local pizza café. I quietly sat in awe as I watched my husband and his first mother interact, observing similarity after similarity in both their physical features and mannerisms. Seeing my husband's genetics reflected in this woman who gave him life was something I will never forget.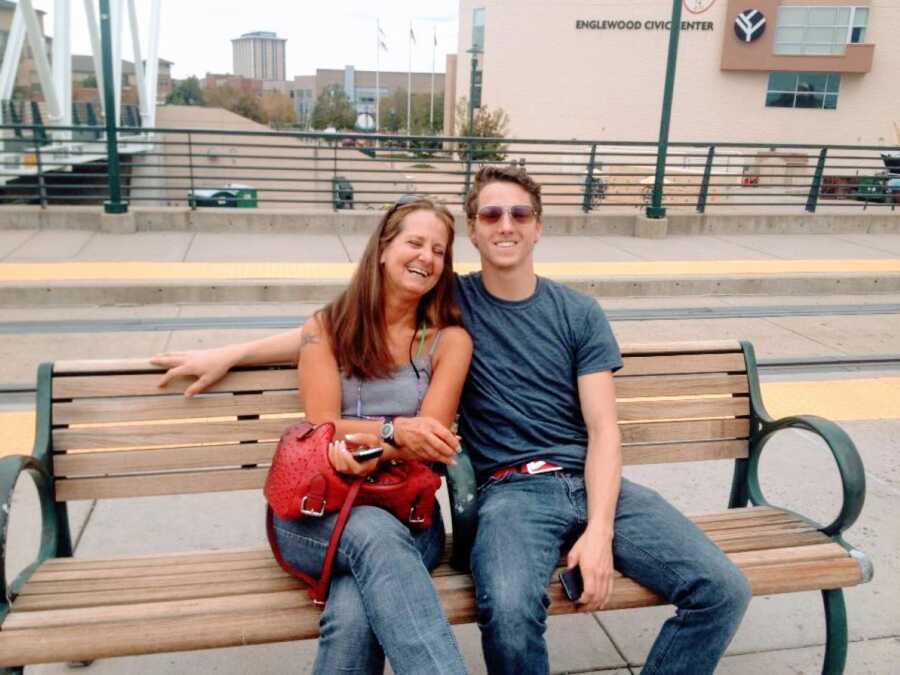 Although adoption had been a recurring discussion in our marriage, we began seriously researching private and agency adoptions about six months after my husband's birth mother passed. By the summer of 2019, we had applied with a local private adoption home study provider. By November, our paperwork had been completed, our home study was finished, and the search for our child was officially underway.
Within the first month of posting our adoption announcement online, we were contacted by dozens of women. Unfortunately, most were scammers preying on hopeful women, and some went radio-silent a few days after communicating. By the end of December, we were in frequent communication with a woman just a few weeks pregnant. Shortly after the contact began, she told us she would like to place her baby with us. We anxiously flew to meet her and her family in March of 2020. We cried during this baby's ultrasound, talked into the late hours of the night with this expectant mama, and fell so, so in love with this unborn baby girl.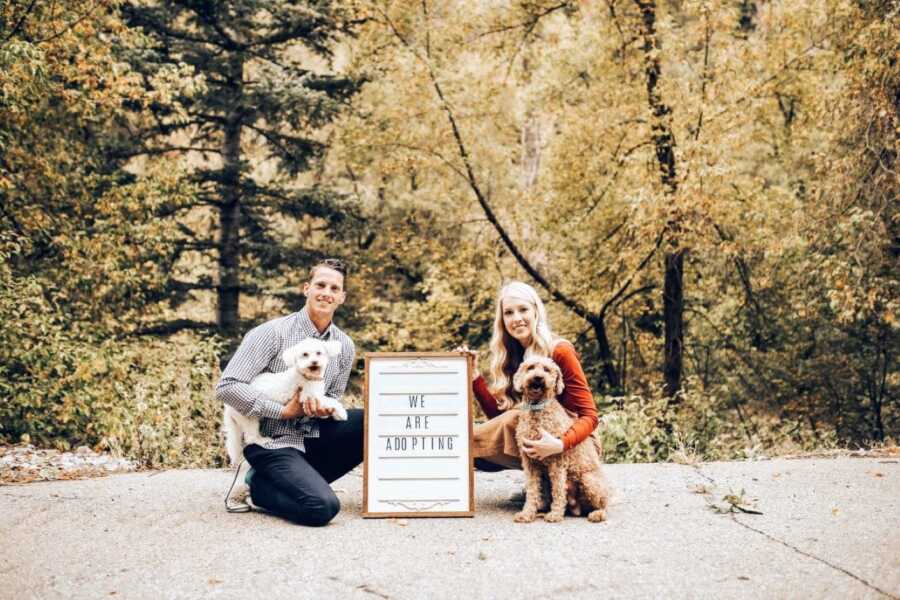 Two months later, I logged onto Facebook to find a message from a woman I didn't know. This woman claimed the expectant mom with whom we'd been matched had told her and her family she would be placing her baby with them. Within weeks, I received a dozen more emails from different families claiming the same thing. Upon further investigation, I learned of more families, all of whom (with us) had been paying generous amounts of money every week to help support her. Our dream suddenly became a nightmare. My husband and I held each other, weeping in each other's arms. The following morning we closed the door to our nursery so we wouldn't be reminded of this baby we thought would be ours.
It wasn't until October that we had mustered up enough strength to continue pursuing adoption. We had no interest in pursuing private adoption. After endless hours of research and speaking with thirty to forty in-state and out-of-state agencies, we applied with an agency we felt good about. By March 2021, our paperwork, required training, and newly-updated home study was complete. A short two months later, we were matched with a baby boy to be born in October.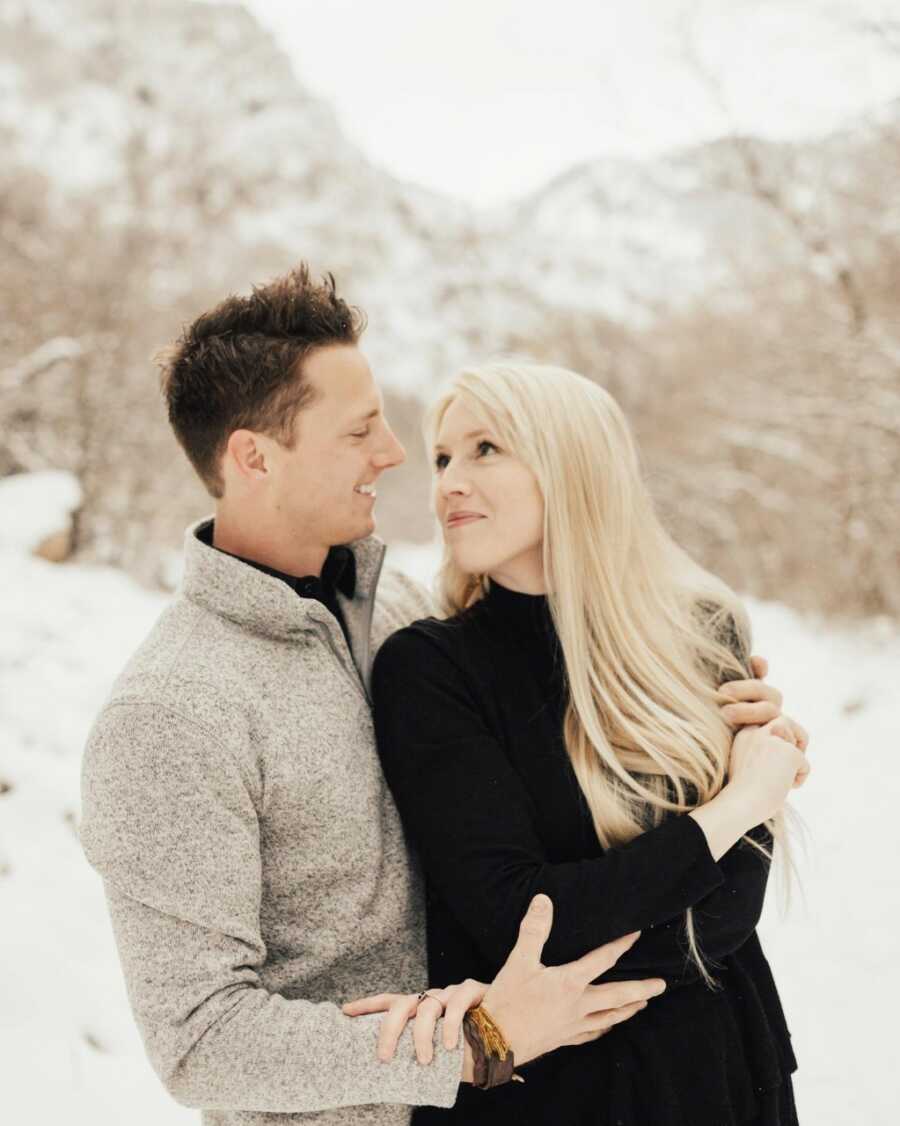 We were in full-on baby mode for the next four months. We spent all of our free time setting up the new nursery, acquiring baby necessities, and rearranging work and school schedules to prepare for this baby. On Thursday, September 9th, we were thrilled to learn our baby boy had been born. After the pain from our earlier failed adoption, we were finally going to become parents. Over the next few days, this woman whom we had come to love and admire so much began distancing herself from us. She became less responsive to our agency. We didn't know what to think until we received a text from our agency asking to speak with us. They said the words we were so afraid to hear: The birth mother had decided to keep her baby.
The familiar feelings of despair crept over us like an enveloping cloud, making us question our decision and desire to adopt altogether. A second failed adoption. Perhaps my intuition had been wrong all these years. Maybe adoption wasn't in the cards for us. We couldn't get out of bed. The scene looked eerily similar to the scene sixteen months prior. My husband and I holding each other, weeping. Our dreams, once again, totally crushed.
We had merely begun the grieving process when we got this text from our agency: 'We have a birth mom in labor. We will not know gender until baby is born. Might you be interested?' My husband and I didn't know what to think. It hadn't even been two days since we received the crippling news. Should we try again? Could this be it? Was this the baby we were meant to bring into our home after all?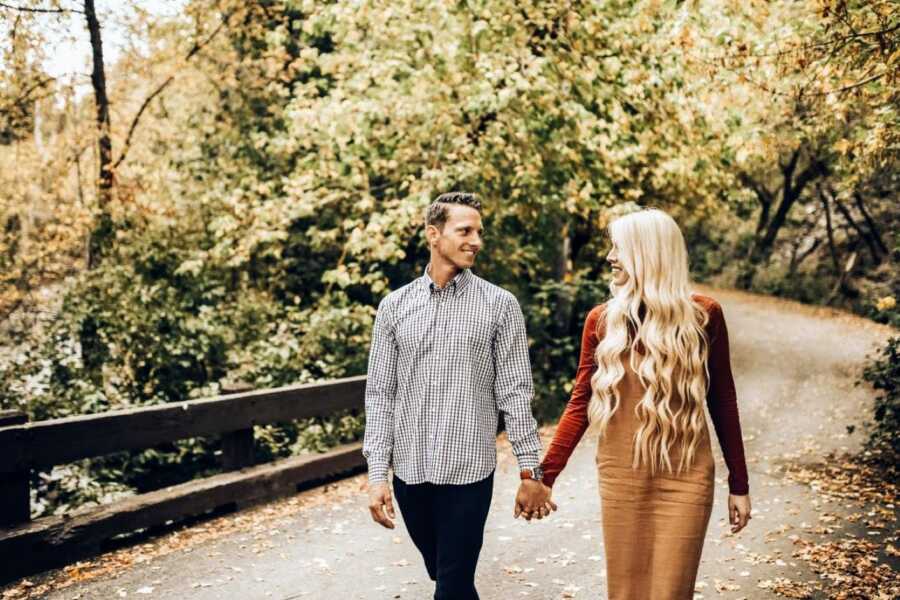 The following day we were told this birth mother knew we were meant to raise this baby. Out of all the families presented, she had chosen us. We were humbled and terrified, still reeling from the news we had received a couple days prior. The vast array of emotions we had experienced in the span of two days would make anyone's head spin. Would this adoption fall through too? Would we fall in love with this baby just to come home empty-handed?
We immediately caught a flight and arrived at our hotel late Tuesday night, where we successfully achieved the most restless night of sleep either of us had ever had. We anxiously awaited a phone call from our caseworker who would tell us when we could go to the hospital to meet this baby boy. About noon on Wednesday, September 15th, we were on our way to the hospital. It was the longest twenty-minute Uber ride of my life.
We arrived at the hospital and located the building. We stood in the waiting room where we prayed like we had never prayed before. The nurse then took us back to the nursery, where she asked us to wait until the baby had finished eating. My husband took my hand and squeezed it tighter than ever, and together we waited to meet our son. I'll never forget the moment the nurse rolled his bassinet into the room where we stood. We took one look at him, glanced at each other, and then tears filled our eyes. Words weren't needed; we just knew. We knew he was ours. We knew the last two and half years led us to this moment. We knew this baby was the purpose of it all. And we knew we'd do it all again.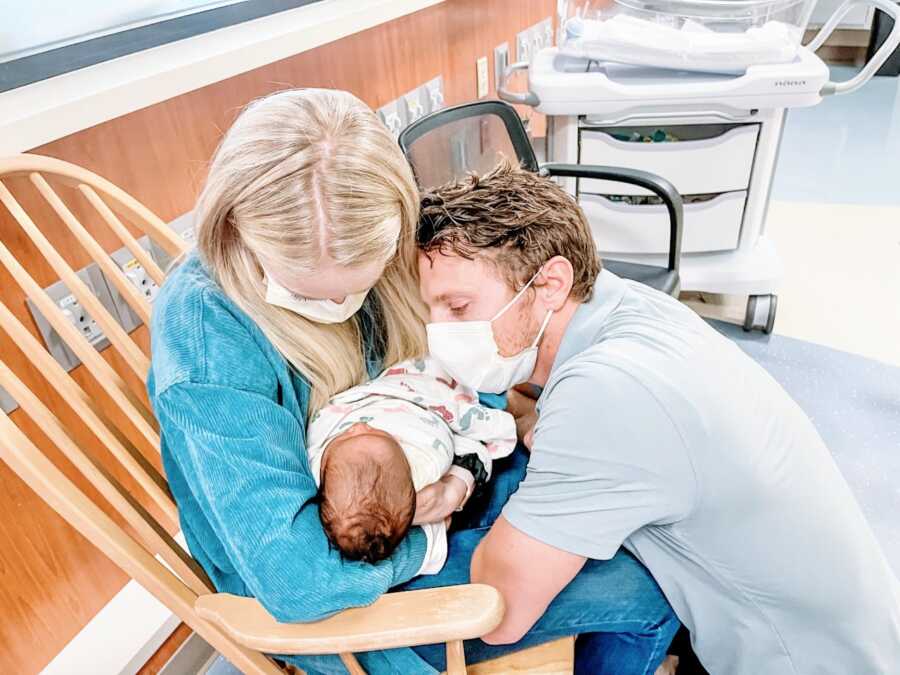 The last two and a half years, albeit messy and hard, were equally sanctified and miraculous. God, in His goodness (and frustrating but perfect timing), would give us just enough to keep hanging on, as He does with any challenging but worthy endeavor in life. In every moment that left us wondering if inspiration was revelation, God met us there. He stood in those moments with us, but never allowed us to stay there.
This boy was tirelessly searched for, and to know this feeling and understand the wait has given immeasurable purpose to the last two and a half years. The blessings of adoption have given me my two greatest gifts in life: my sweet husband and my perfect son. Without their first mothers' selfless and noble sacrifice, I wouldn't have the family I do today. I am so grateful. So very, very grateful."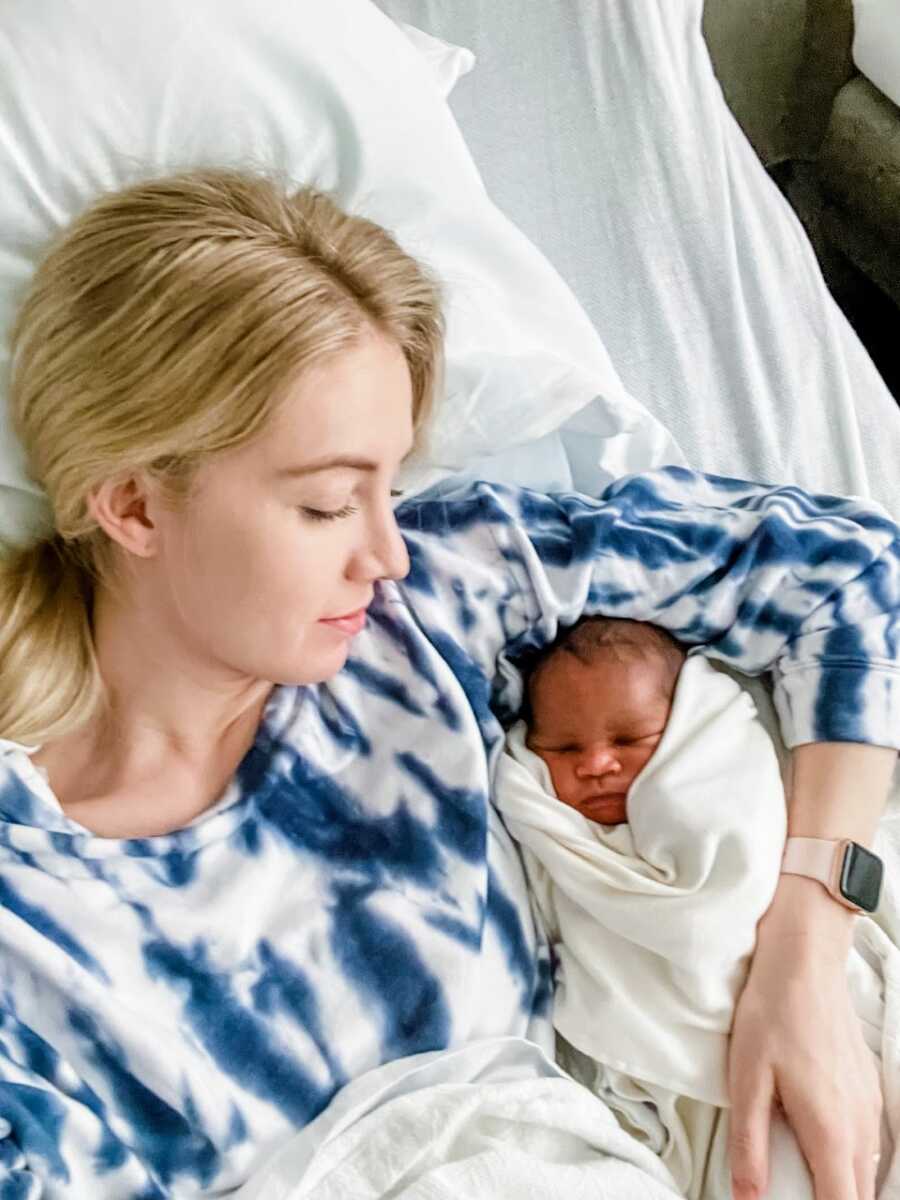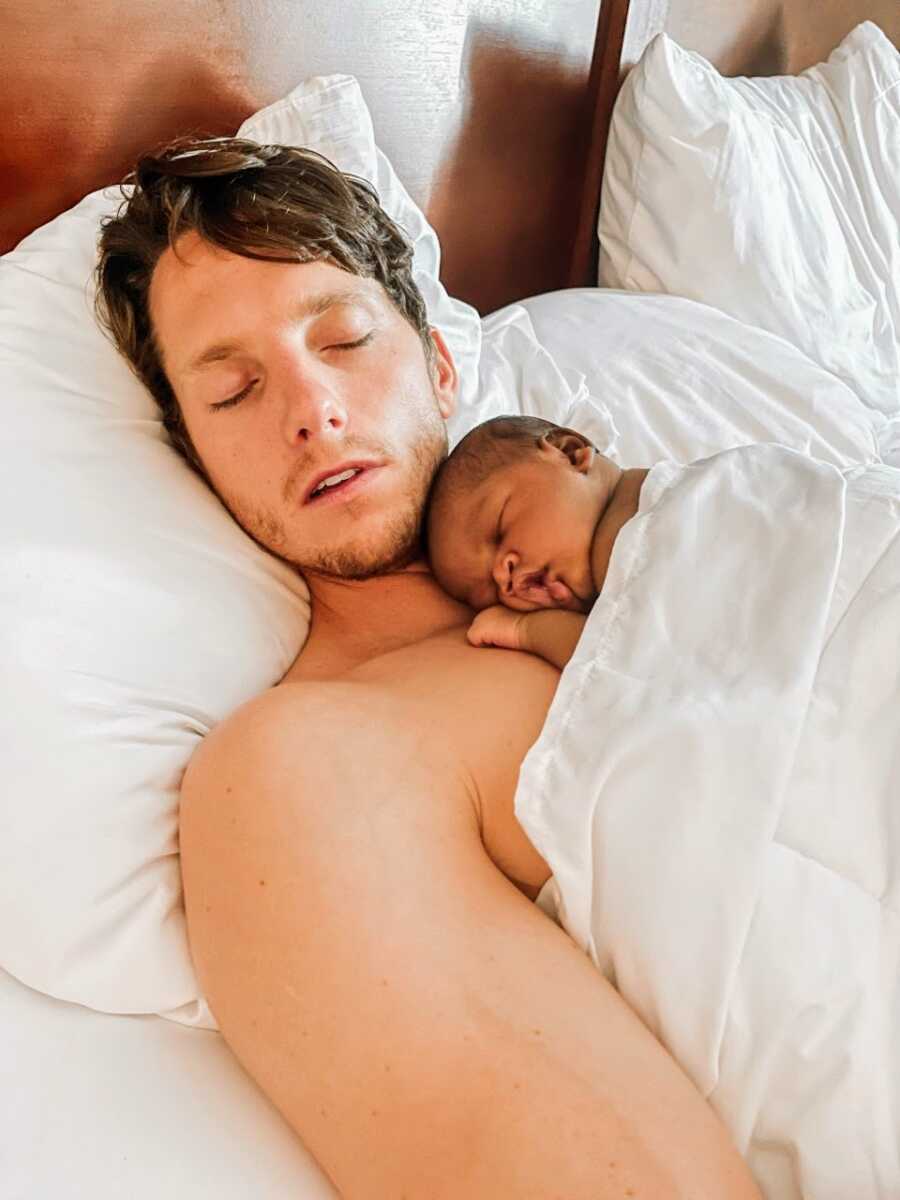 This story was submitted to Love What Matters by Kenna Orgill. You can follow their journey on Instagram. Submit your own story here, and be sure to subscribe to our free email newsletter for our best stories, and YouTube for our best videos.
Read more stories like this here:
'The lawyer called, she wanted him back and the papers were already signed. I knew we'd be saying goodbye.': Couple credits birth mom for saving almost failed adoption, 'The bond between us made this happen'
'I'm sorry. The adoption is over.' He was being placed in foster care. I had this feeling, this wasn't the end.': Couple hikes the globe with kids after nearly failed adoption of 'beautiful little boy'
'You're so lucky, you won't have to get fat.' She walked away laughing. Anger ran through my body.': Woman's harrowing journey with infertility, 3 failed adoptions
'When we opened the door, she said, 'You're really here! You're so beautiful!': Couple adopts daughter after failed adoption and infertility battles, 'Adoption is in our blood'
Help us show compassion is contagious. SHARE this story on Facebook with your friends and family.