"I wanted to share some brightness from our corner of the globe! My husband is a firefighter for the Revere Fire Department in Revere, Massachusetts (just a few miles outside of Boston). In May, there was a news story going around about a fire department in Oklahoma that welcomed 7 babies in 15 months. Myself and some of the other 'fire wives' saw this story and jokingly said, 'We have that number beat!'
It took off from there. We put the word out with the husbands and it turns out Revere FD had 9 babies born in less than a year! From September 2017 to September 2018, there were 3 boys and 6 girls born, 2 of which (mine being one of them) were even born on the same day! How cool, right?! So, of course we had to get all the dads and babies together for a picture!
We set the date, ordered onesies for all the little ones, and yesterday was the day. Getting 9 newborns and infants to look at the camera was near impossible, but we still got some awesome shots and I have to say, it was adorable seeing all these 'tough guys' cuddling and coo-cooing their little babies for the pictures.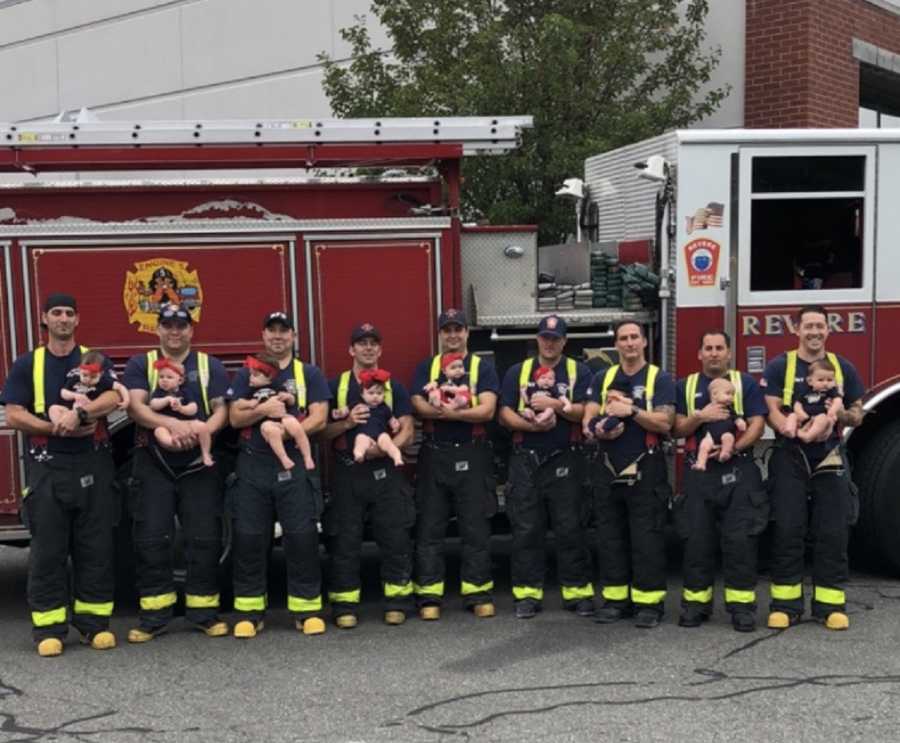 During the course of all this planning, we found out 2 of the newest guys on the department who were sworn in just last week recently had babies as well, so the true number of new babies in the last year is actually 11! There's certainly been many jokes made over the last few days about 'something in the water' and it 'must have been a cold winter' here in Revere, but we are truly just so blessed to have all these new babies and happy, healthy families.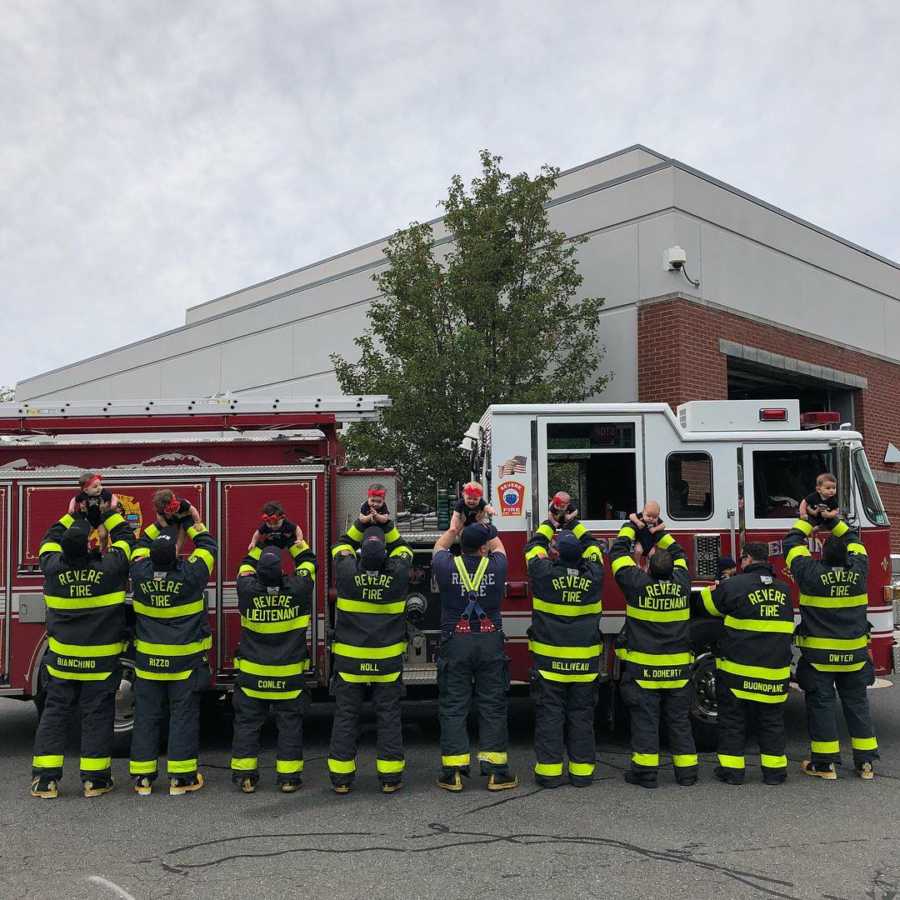 We even got some shots of the dads with their 'older' kiddos (toddlers), and THAT one was pretty chaotic!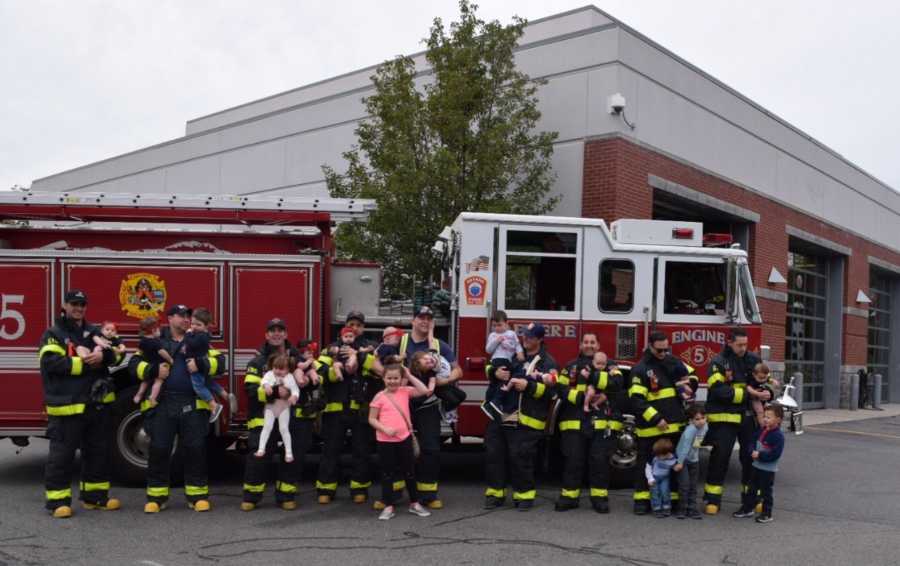 We (the moms) really only wanted to do these pictures to share with family and friends on Facebook and have a fun little memory to share when all these kiddos get older, but it has been so fun seeing our story out there for everyone to enjoy! Revere is a big, busy city with a lot of guys on the department, many of whom have multiple young children, so it's easy to get caught up in the hustle and bustle of everyday life and lose touch with each other.
But at the end of the day, these guys are truly a brotherhood. They've been in each other's weddings, do annual softball and volleyball games together, raise money for families in need, and have Christmas dinners together. Many of these guys grew up together and got on the department at the same time, so they've been learning, training and growing together for many years, and now they have something else to bond over – fatherhood!
This experience definitely brought us moms closer together, too (because you know we orchestrated the whole thing), and I'm certain there will be many playdates and birthday parties in our future! We even joked about re-creating the photos when the kids are 18, so look out for that!"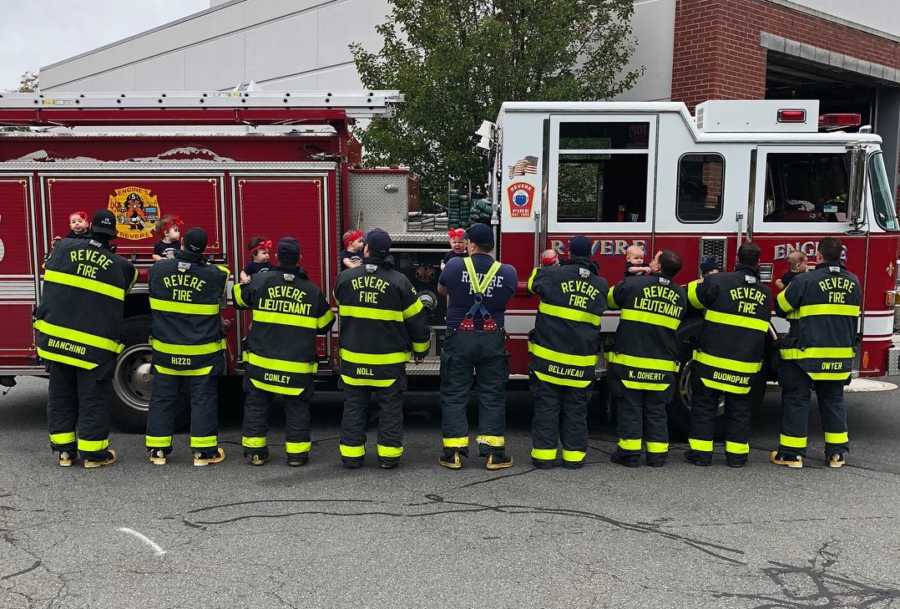 This story was submitted to Love What Matters by Jennelle Noll of Revere, Massachusetts. Did your community have a similar baby boom? We'd love to hear your story. Submit your story here, and subscribe to our best stories in our free newsletter here.
Read more stories like this here:
'A firefighter is never off duty.': Seven firefighters rush to save stranger's life 30,000 feet in the air
'It could be the most interaction and joy they experience for months. In some cases, their last experience.': Firefighter repels to visit children in hospital where she fought for her own life
Firefighters Go Above And Beyond To Rescue Deaf Dog Trapped In Storm Drain
'I wanted to tell you, we'll be naming him after you.' He replied, 'Really?!': Woman tells firefighter who saved her life 21 years ago she's naming unborn child after him, 'I can't wait for them to meet'
Please SHARE this story on Facebook to encourage others to cherish every moment and love what matters most.