"Wynter Sophia Eve Seymour was born on December 31, 2011. She was born with a head of thick, jet black, fluffy hair and bright blues eyes! We couldn't believe it as her sisters Savannah and Esmée were both born with very little hair that eventually came through blonde. We were hoping it would stay dark as she was so cute with it. Then after a few months, we noticed her hair was becoming lighter in color and what almost seemed like overnight, her hair came through poker straight and white blonde. Pure white! She looked just like a newborn chick does – a fluffy chick!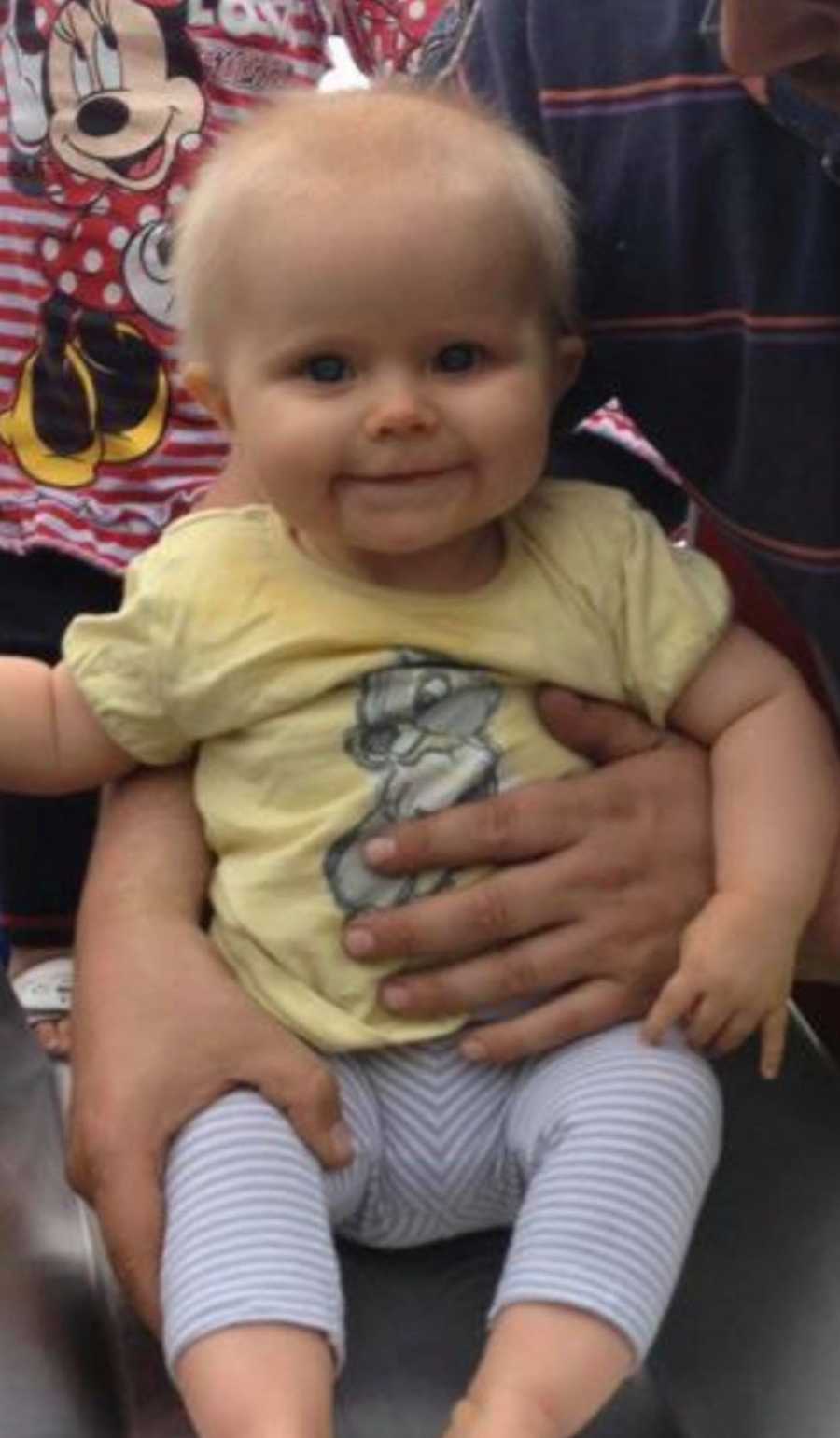 People would always comment on how beautiful her hair was, and at that moment we didn't see anything wrong with it. By then it was still completely normal, although very blonde and very straight! She looked like she had static hair.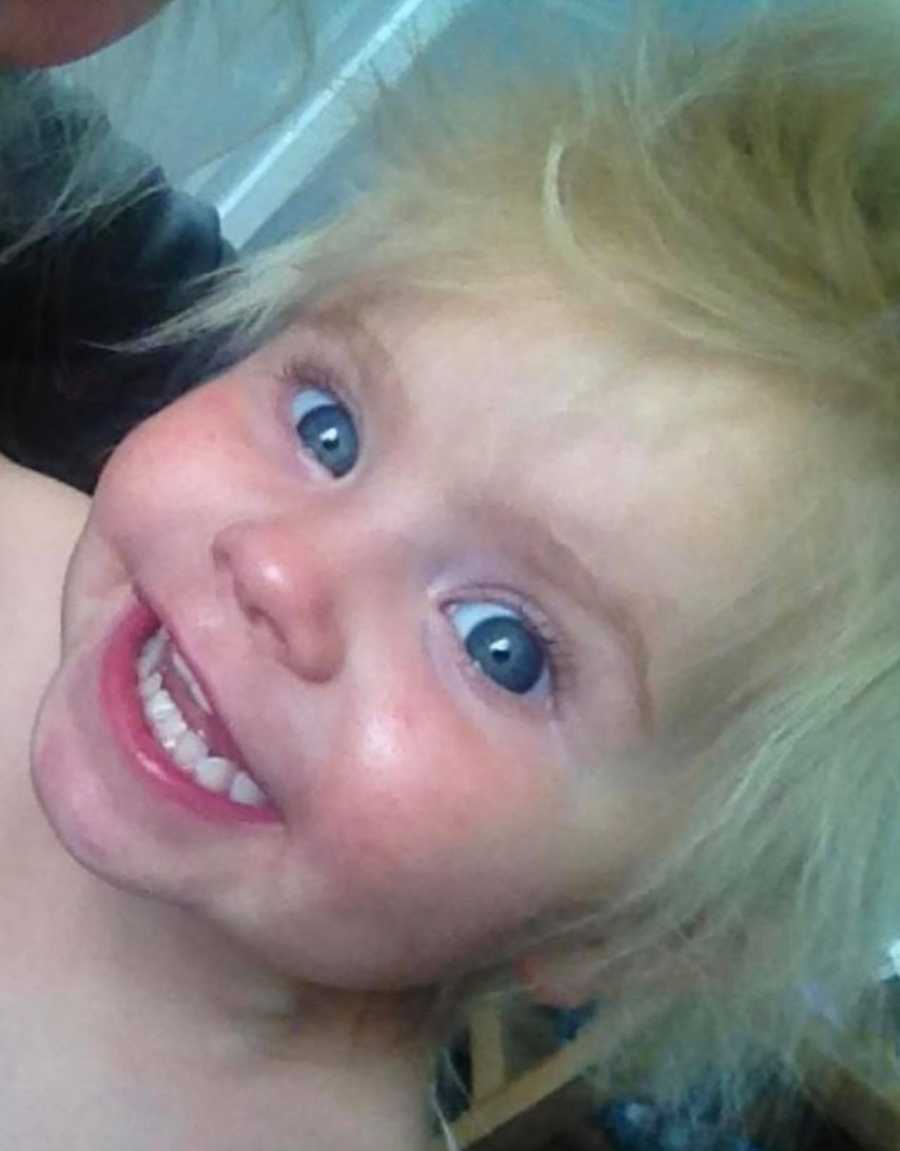 By the time Wynter was roughly 2 years old, her hair was still very blonde and very, very straight. We had to pin her fringe down! She and her sister were picked up by a modelling agency and with her bright blue eyes and super white hair she became popular for work. This was when I remember her hair changing – as she got work, we would have to change her hair or make it look tidy. It became increasingly difficult. Some of it was so straight but it wouldn't lay flat, and other bits started to look like they were becoming crimped. Her hair then started to look like it had a glitter effect and again people would comment about how I'd looked like it was glittery!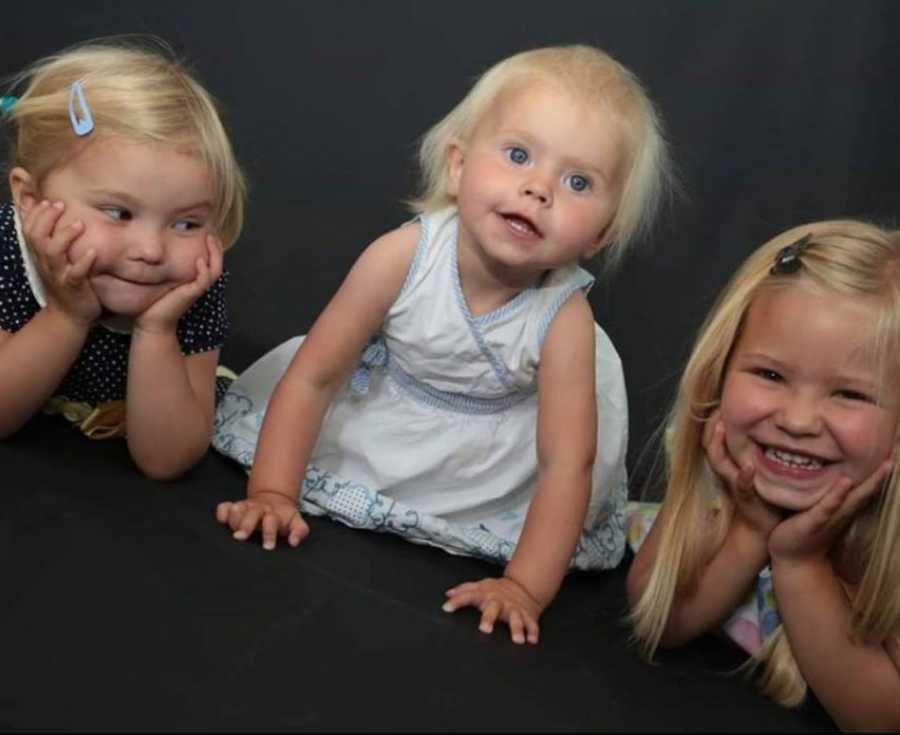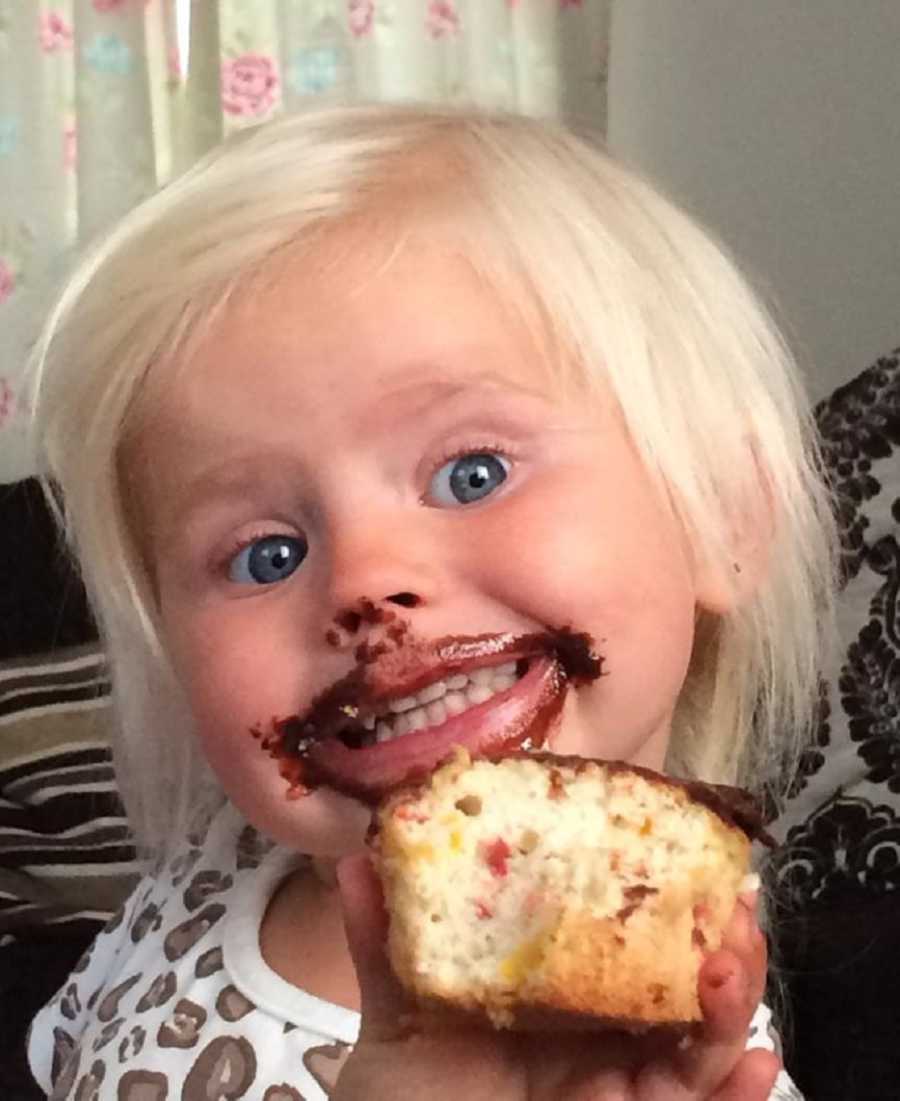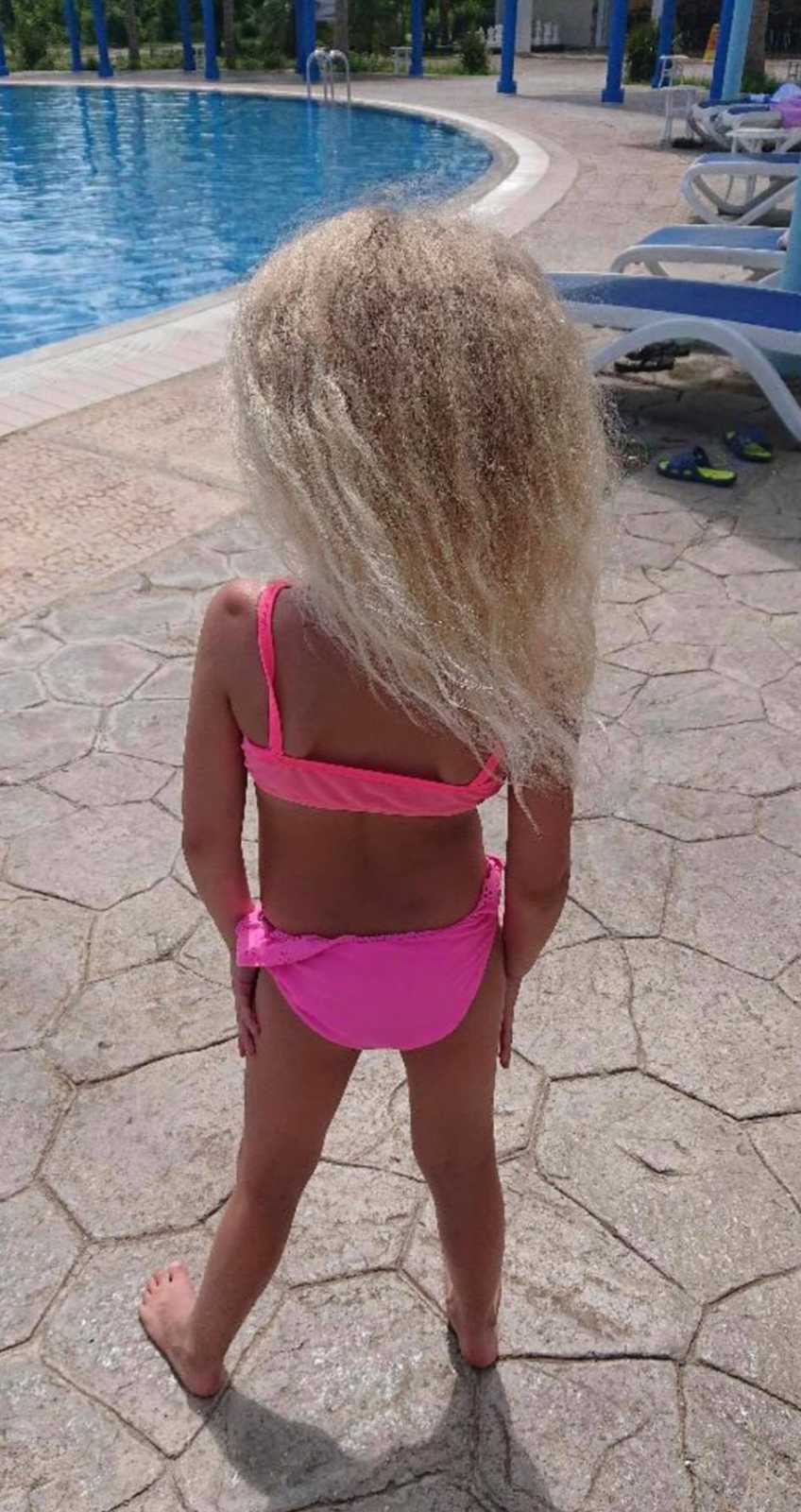 As she became a little older, we both noticed that her hair was growing not only outwards, but she had very, very little hair on the sides of her head. The bit she did have became like sheep's wool, only like wire wool, and would matt up. Her hair just didn't seem to grow past a certain point, although from the back it looked as though it grew in a v-shape.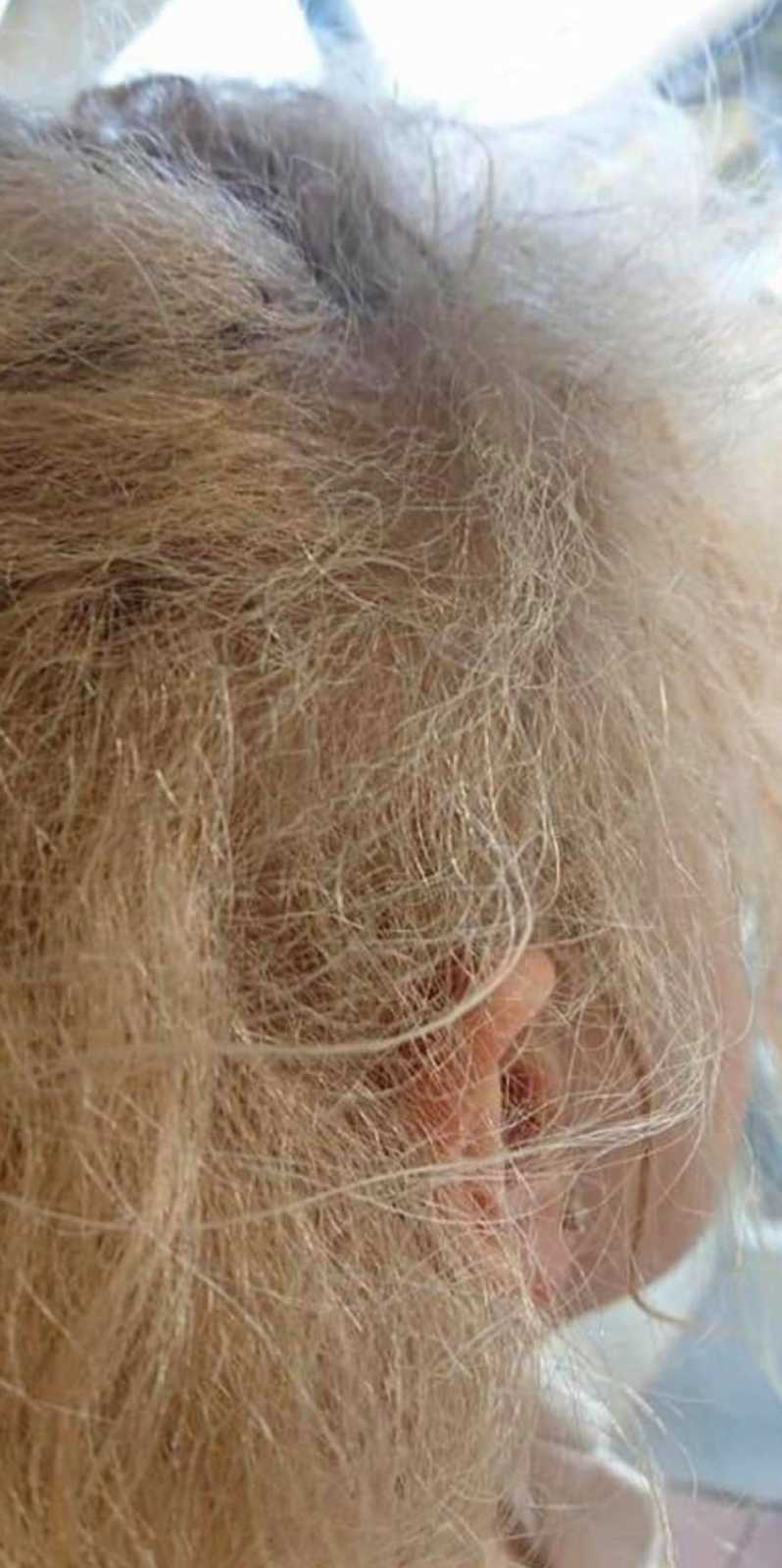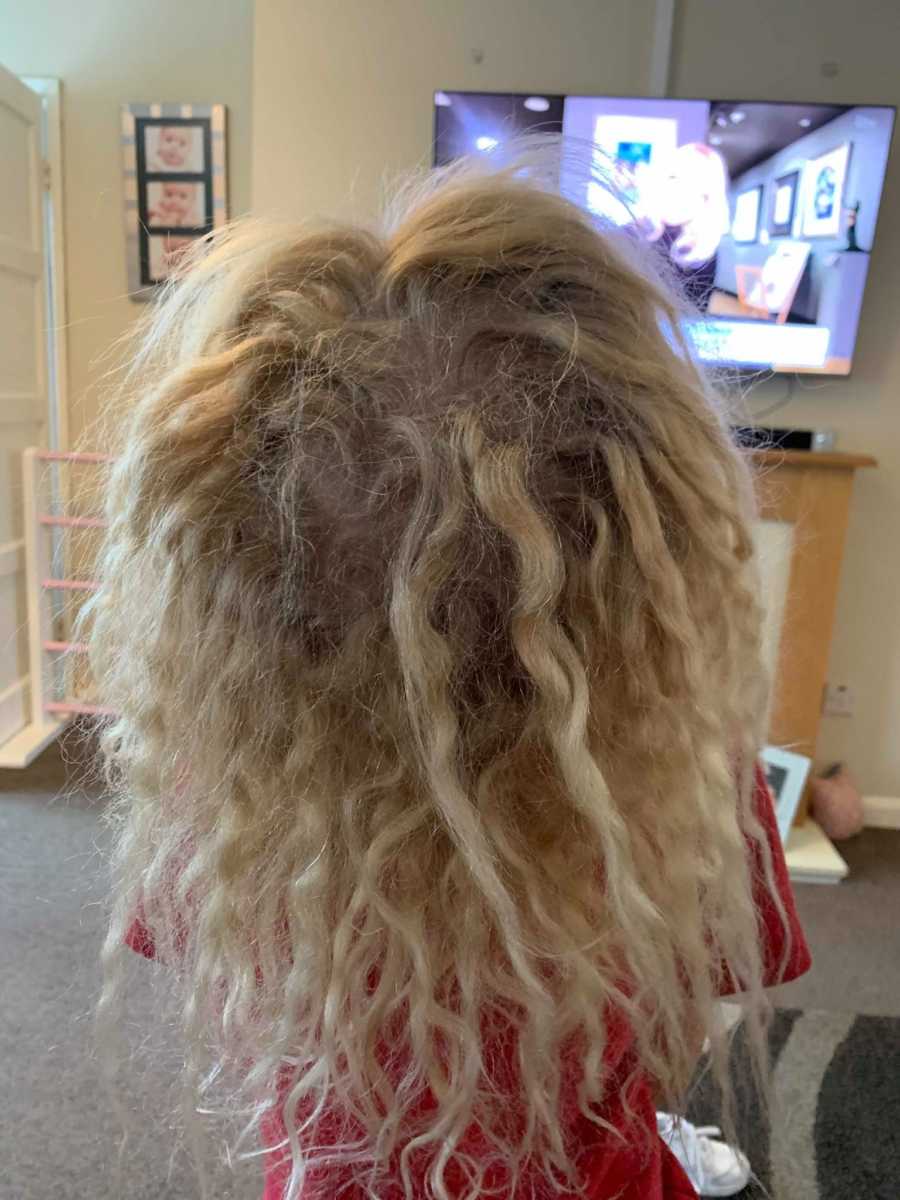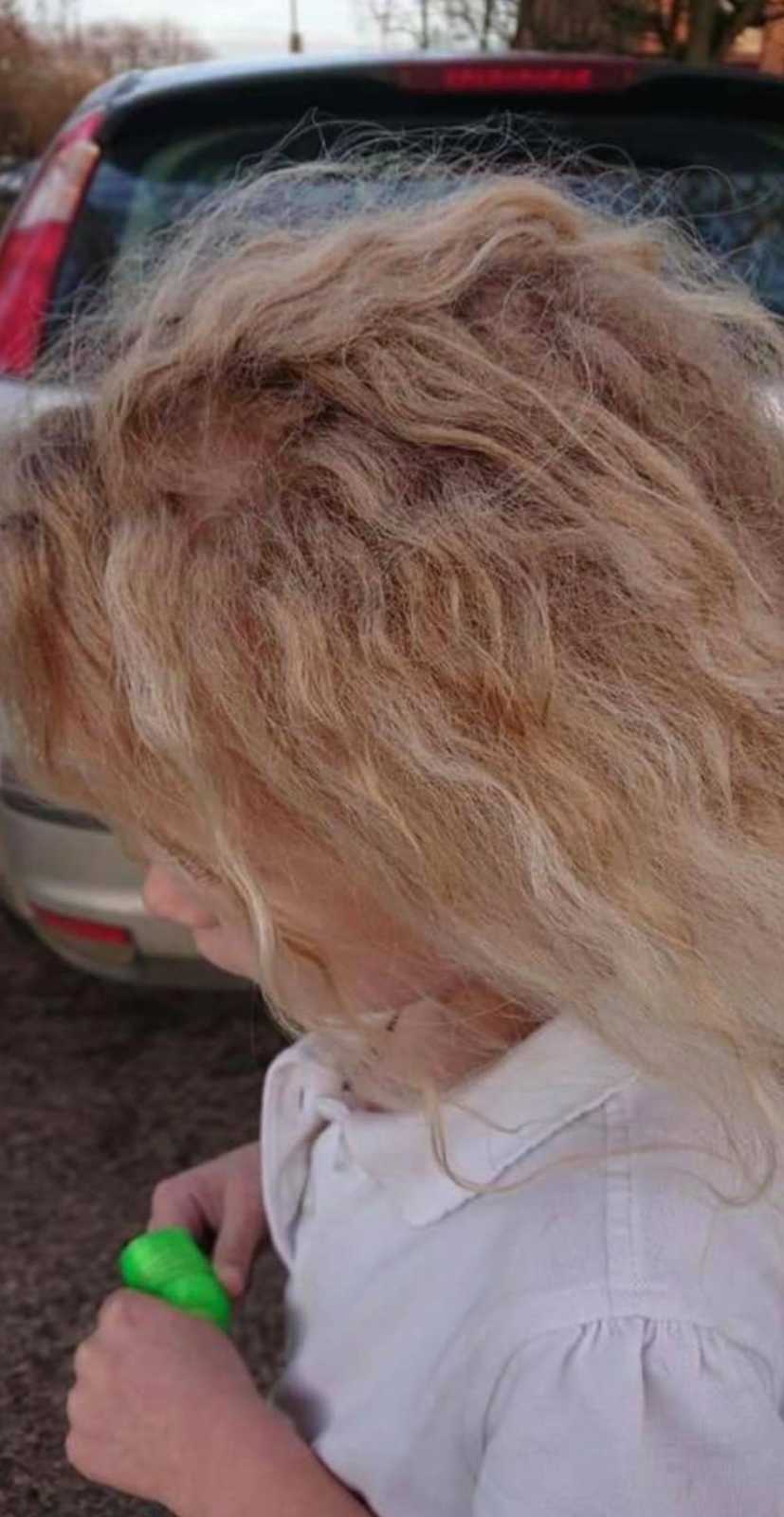 Slowly her hair became worse. Every strand became like wire. Her hair fell out fairly easily. It became hard to control. A lady at her dance school had mentioned uncombable hair syndrome (UHS), but to be honest, she was so small, I thought nothing of it.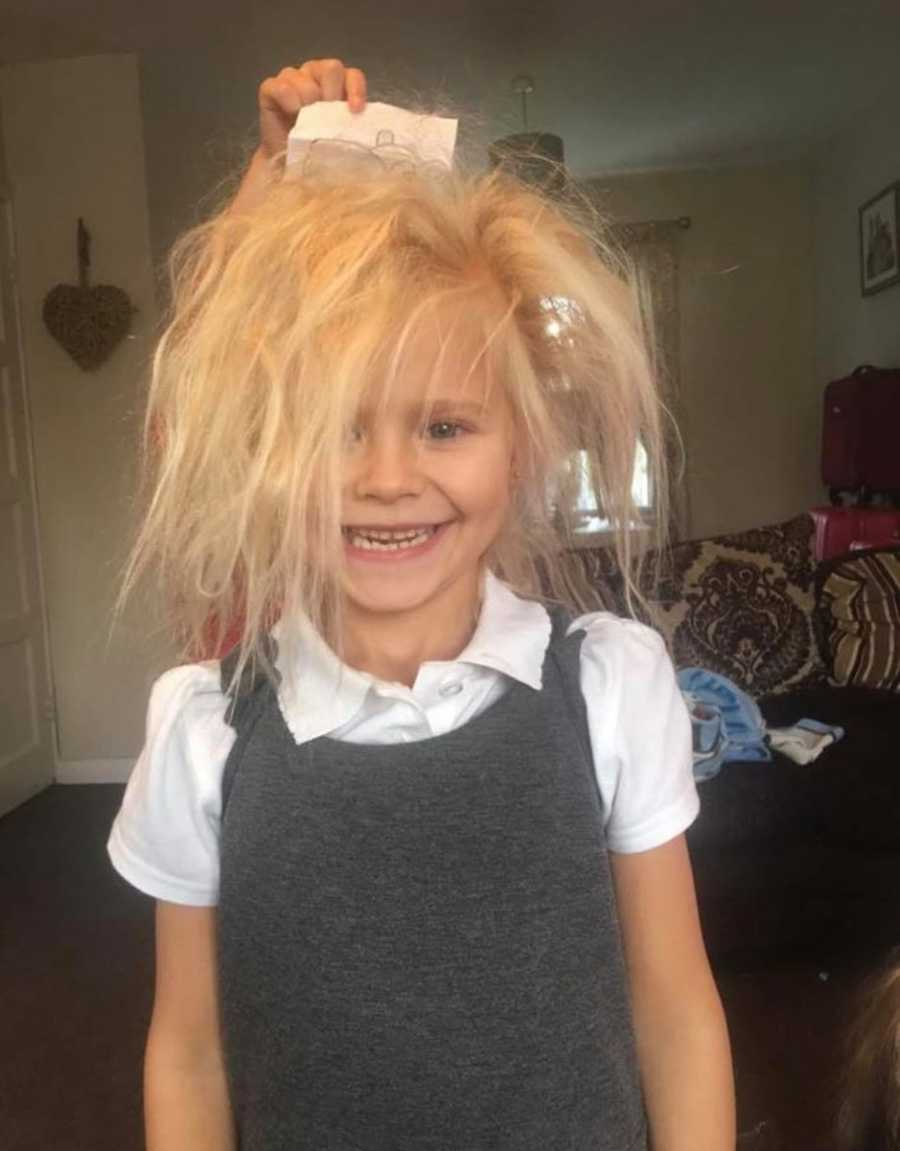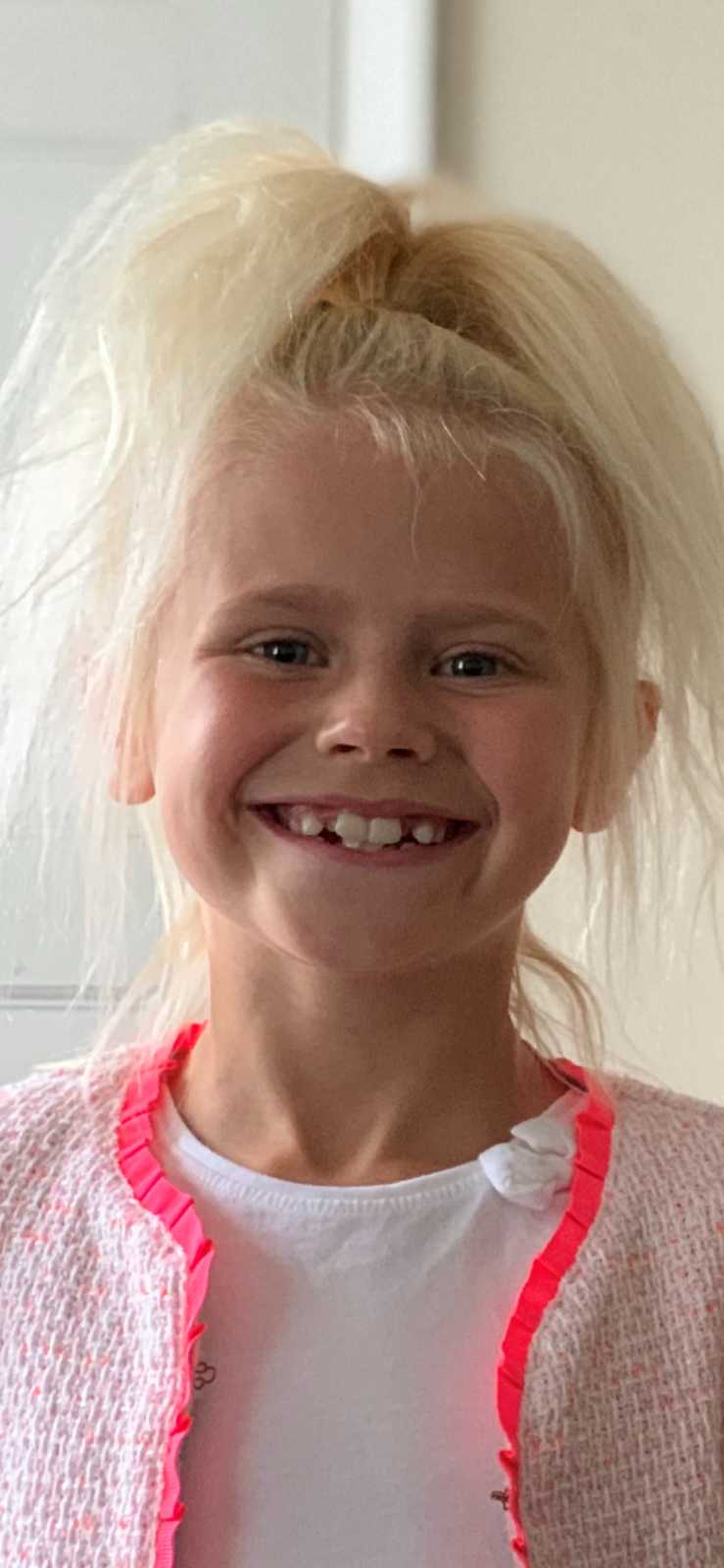 Her hair just seemed to get bigger and wilder as she grew. Bits would clump together, bits would matt up and become painful for her to brush. Wynter then started to dance like her sisters and she had to start wearing fake hair pieces. They were painful for her to wear for competitions and left her scalp sore, and so that's when I really tried to find anything to help her.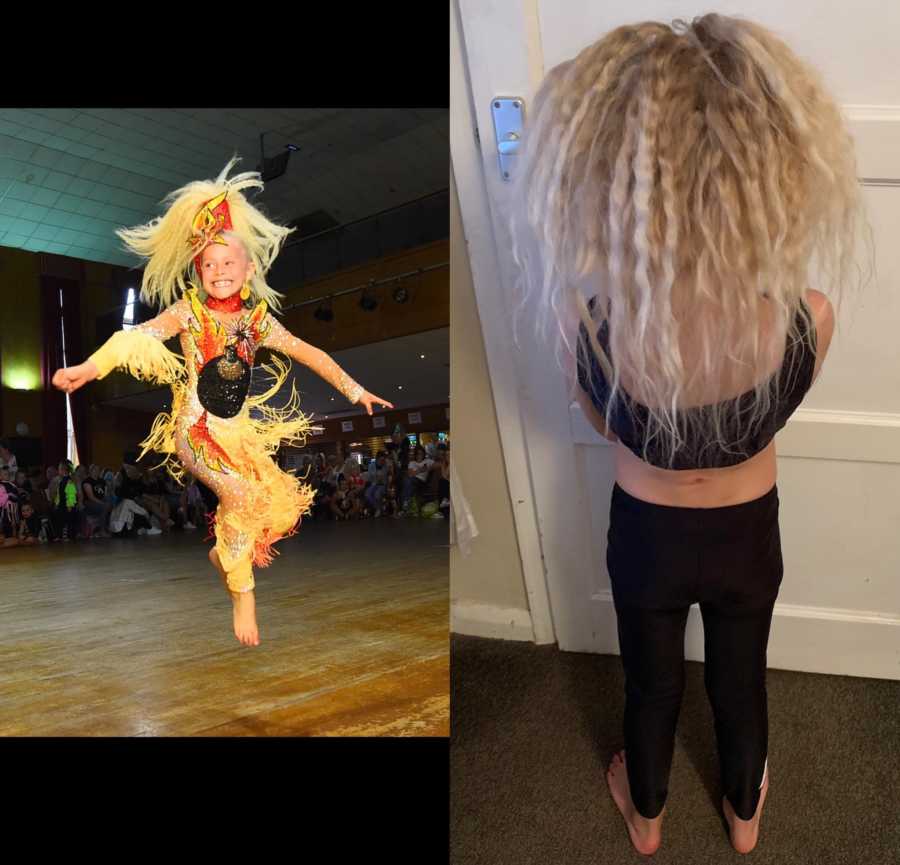 Even putting her hair up for school became an issue! By this point we had nicknamed her Chucky, from the horror films! I know, bad parent award goes to me, but that's exactly what she looked like – and she embraced every second. People used to say, 'Her hair reminds me of that Chucky doll,' and it stuck. That's what everyone knew her as, however it's only a pet name. I want to make that clear. I then started to google Caribbean hair products after I had taken her to a few hairdressers for advice. We tried many products and took her to Caribbean hairdressers who were lost for words once they had had a good look, but offered some oils and shampoos to help.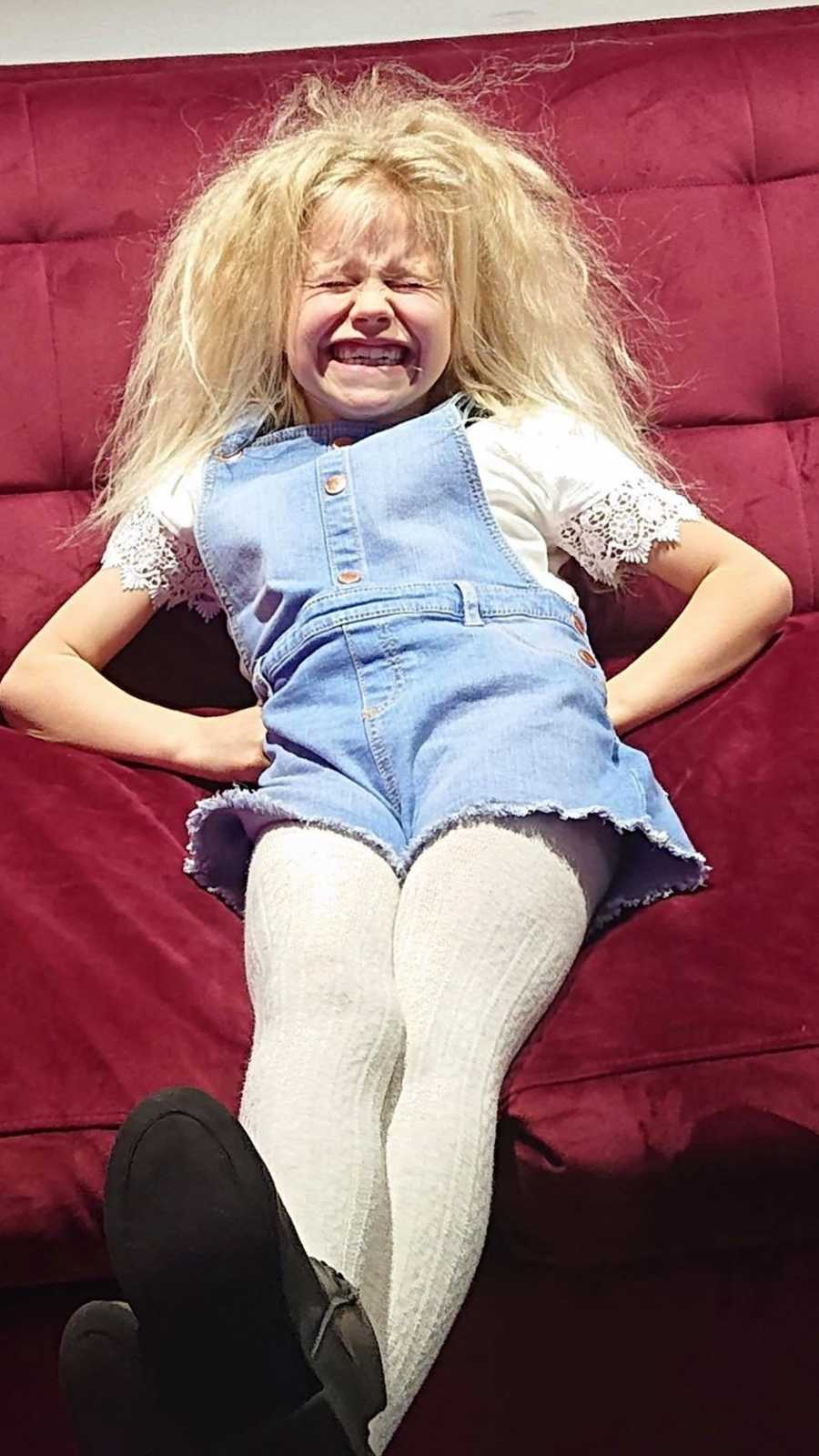 We tried the shampoos and nothing seemed to work, although oil definitely helps make it a little manageable. I finally started to think something wasn't right. I googled and by accident came across uncombable hair syndrome and remembered that mom at dance who had said she had heard about it. I did more research and straight away after comparing pictures – I knew that's what she had! I spoke to many about it who all agreed she definitely had it. But once I realized it was a problem, a condition or what have you, we just accepted it. I never wanted to bother a doctor about it as I knew there was nothing we can do. People continued to comment on her hair. The older she got the crazier and bigger it got, but she's not bothered at all. She knows no different. She just embraces it. One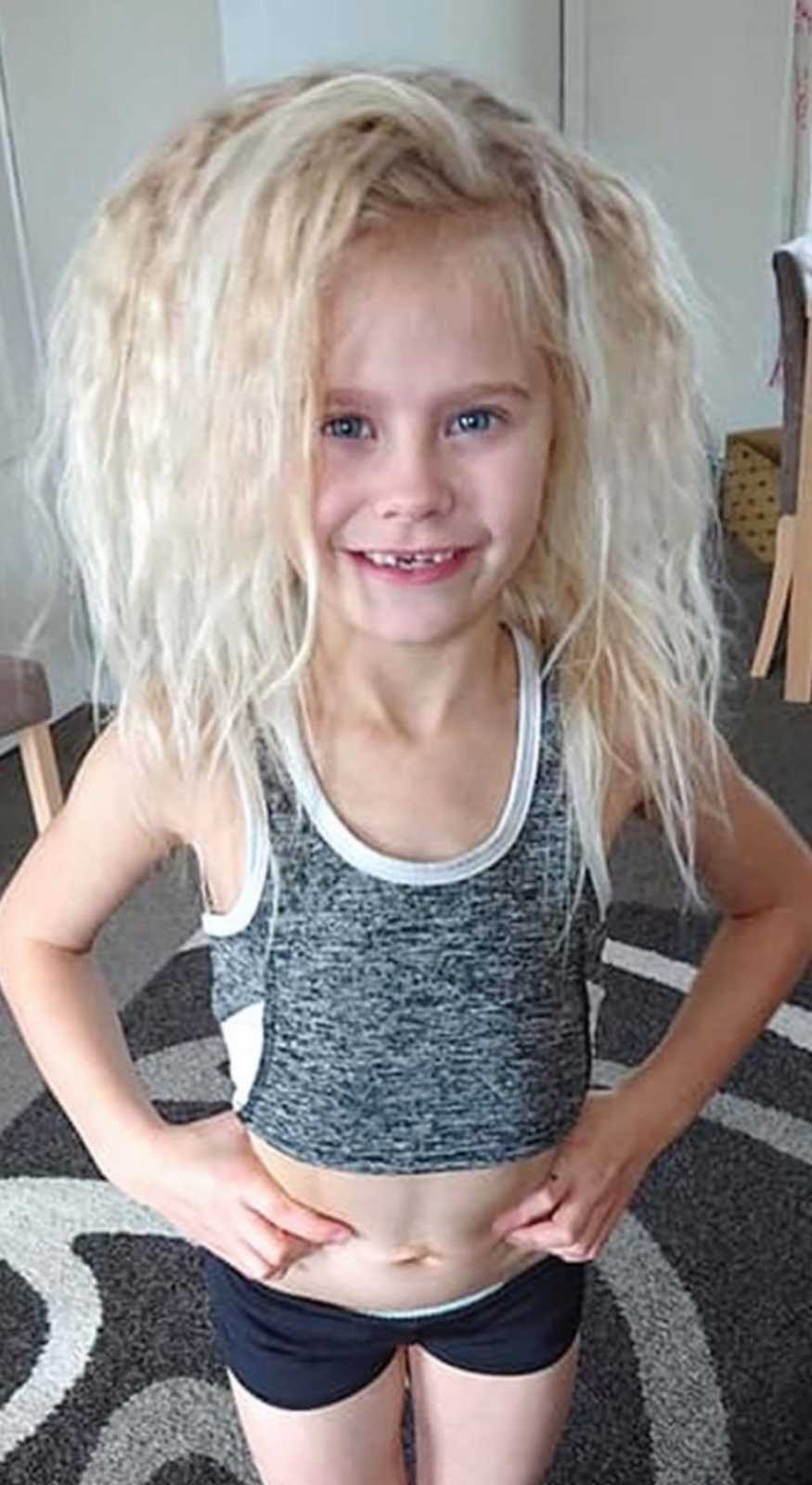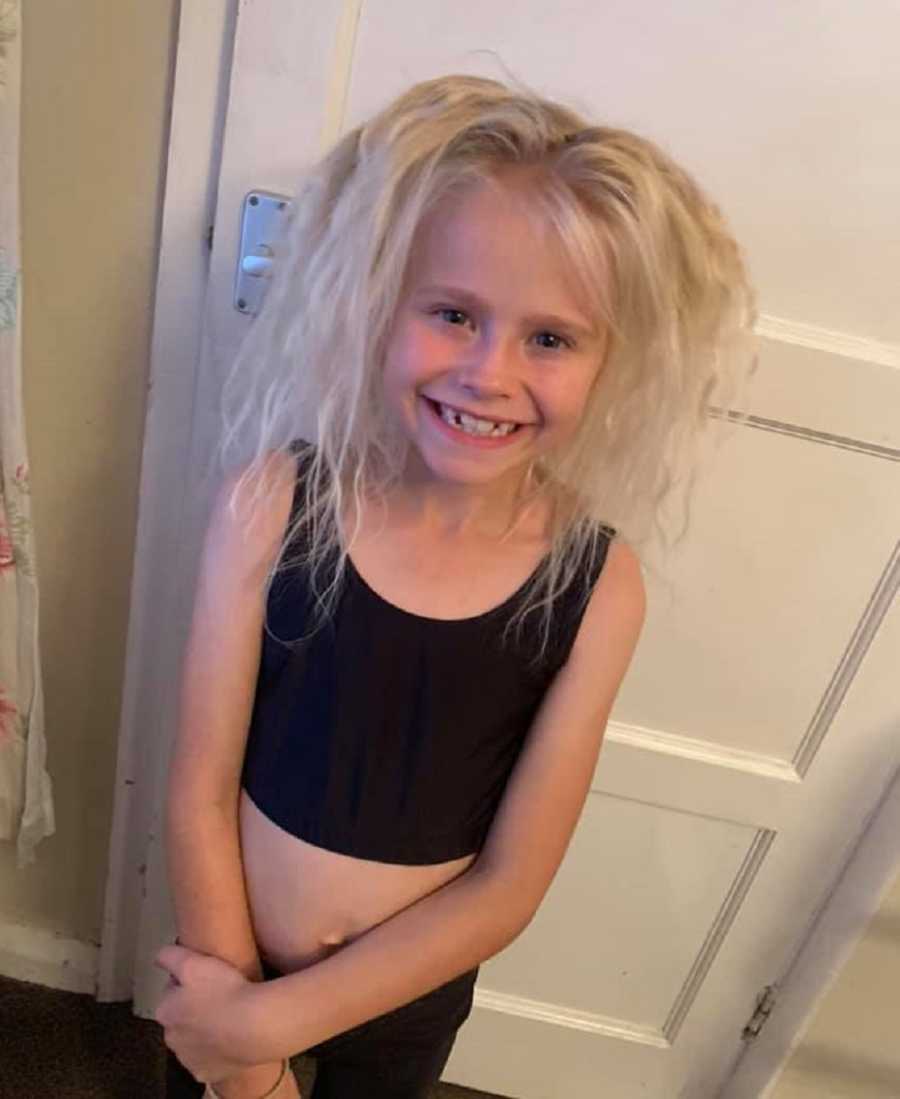 One day I went to the doctors about something for myself and while I was there I had Wynter with me. I just quickly asked the doctor what she thought as she had commented how crazy her hair was. I mentioned the findings I'd found and she said she had never heard of it. Later, after further investigation by the doctor, she confirmed that she and her colleagues believed UHS is indeed what Wynter had. 'Wow,' we thought, 'we have one special kid!' I looked into it more and found out that Albert Einstein also had this condition. 'Fabulous! We have a genius on our hands,' we joked. We quickly realized that not many people have the condition.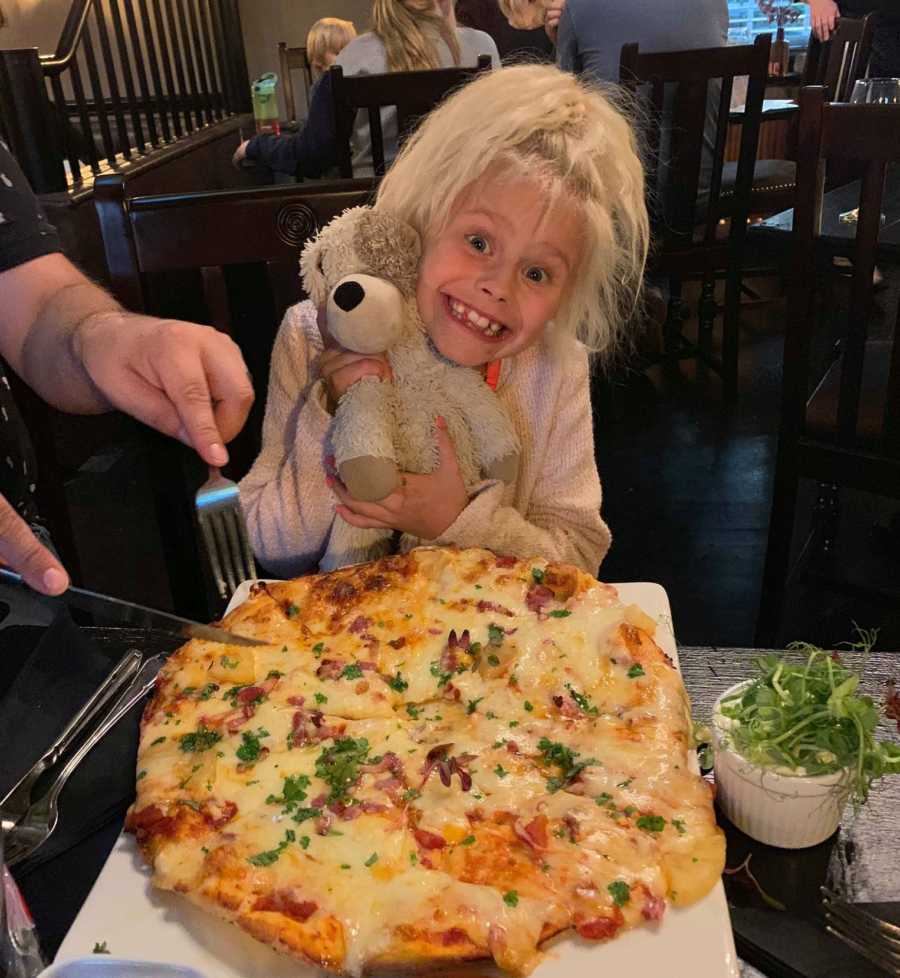 Fast forward a year or so, Wynter was 7 and we were contacted by someone who wanted to run a story on her hair as it was so rare. We agreed and so it went into a few papers in the UK. Wynter absolutely soaked every ounce of attention up and loved every second. We were very kindly asked to go on a TV show in the UK called 'This Morning.' We agreed. We thought, 'Wow, if we can get this out there, maybe other people with children who have the same condition will learn what it is, too.' As it turns out, it was the best thing we did. We raised awareness. It opened the doors to for us too as we were then contacted by others with the condition, or had children with it. We found Facebook groups and we made friends along the way. We were also put in contact with a geneticist who was doing a study at the time. Although Wynter's condition is not an illness, we are told that studies say that most children grow out of it by the time the hit puberty, however that isn't the case for everyone and some still have it as an adult.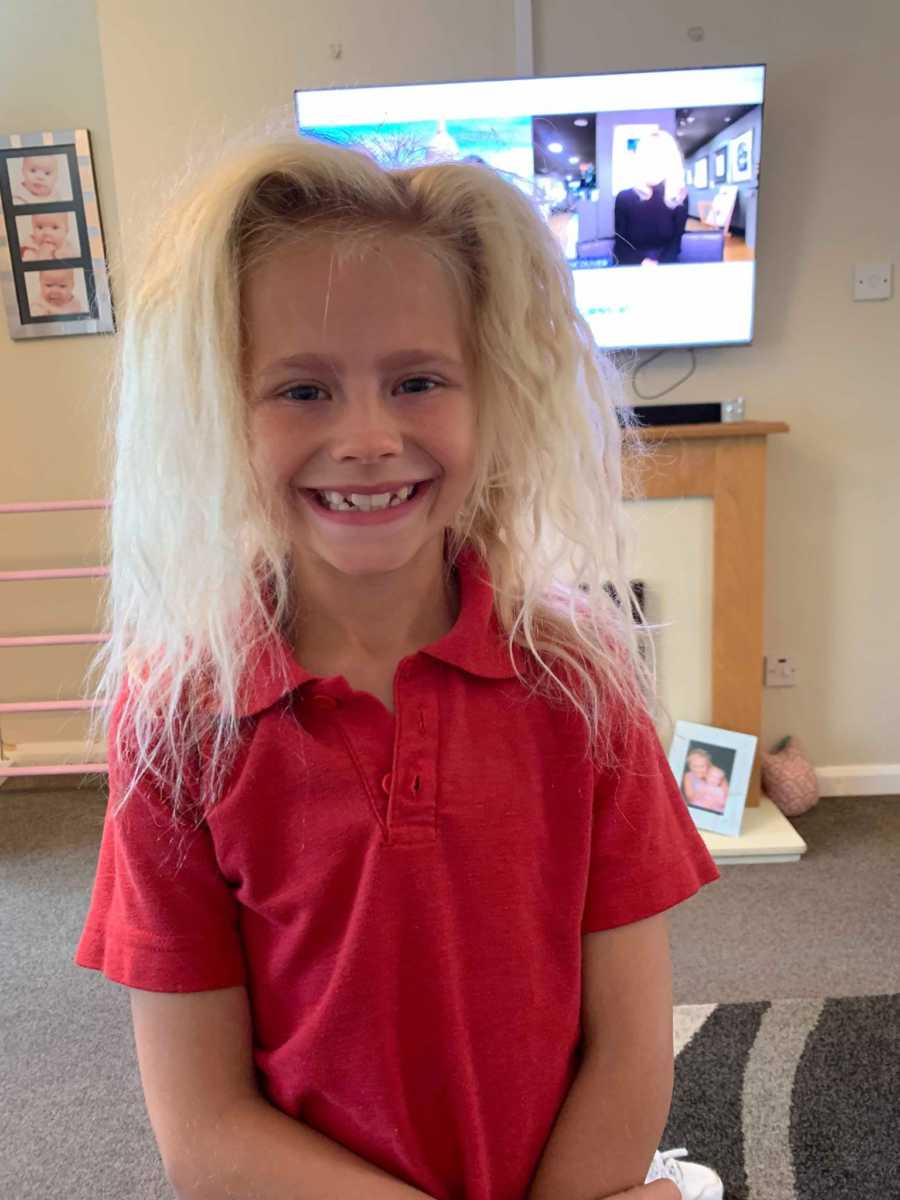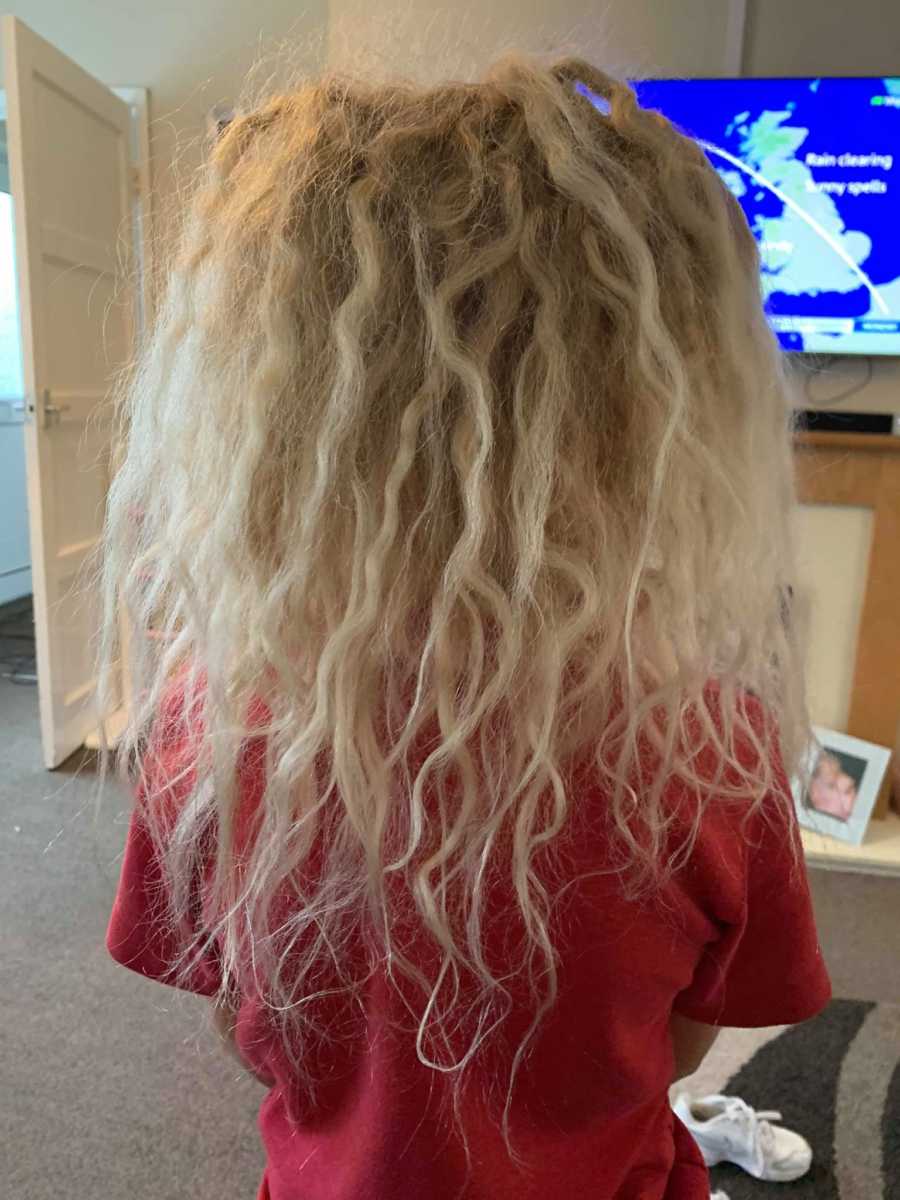 I spent most of the time feeling sorry for her, thinking, 'Oh my, what is she going to do with it when she's older? She will hate it!' However if you know Wynter, you'd know that she absolutely loves her hair and wouldn't change it for the world! She loves the fact it's crazy! She loves the attention it brings. People worry she will get picked on, but I can honestly say that no child has ever said a word to her because they just see her for her and nothing else. She's the kid with crazy hair. Every comment we have is positive or inquisitive, adults and children alike.
I hope she doesn't lose it. It still looks like it has glitter in it. She still doesn't have much hair on the sides, just wool-like at the roots. It still clumps together and we struggle to brush through it. I have to say the longer it gets, the harder the roots are to see, but the root is where the main problem lies with Wynter. A wool-like matted mess, and the rest looks like you have crimped it for her. We found out children can have different strains of it so not are all the same. But in the end, we are all different and if this raises more awareness for something that is actually very rare, we have done our job. We wouldn't change her for the world, and she wouldn't change her hair for anything."
From podcasts to video shows, parenting resources to happy tears – join the Love What Matters community and subscribe on YouTube.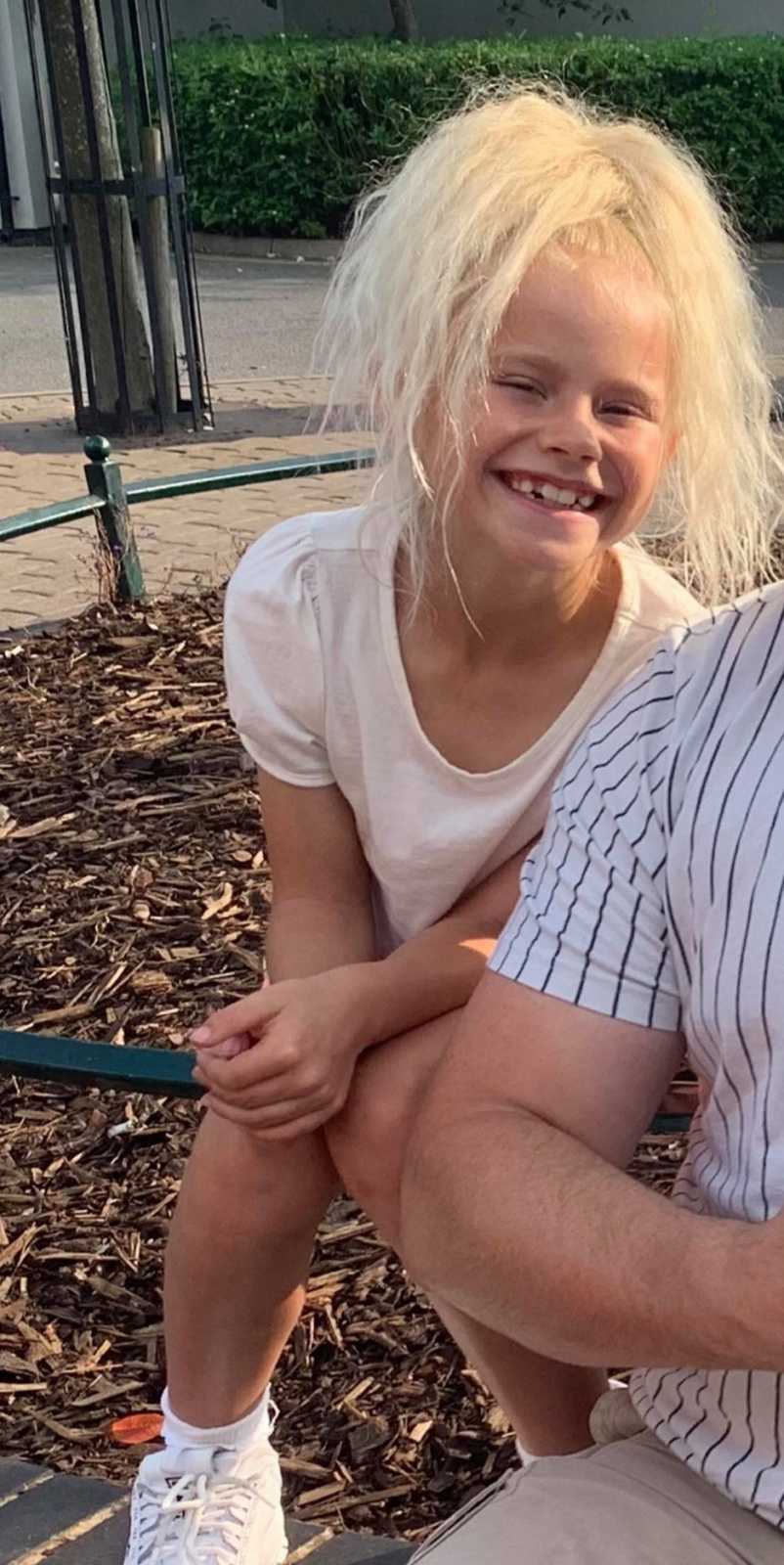 This story was submitted to Love What Matters by Charlotte Seymour of North Yorkshire, UK. You can follow their journey on Instagram.Do you have a similar experience? We'd like to hear your important journey. Submit your own story here. Be sure to subscribe to our free email newsletter for our best stories, and YouTube for our best videos.
SHARE this story on Facebook to help celebrate unique and beautiful differences!