"Rissy had been sick so much in the past 10 days. We thought she would just need some fluids for dehydration to get her back on track. This was after being in and out of the doctors for what we originally thought was just a double ear infection, since she was known to get a lot of those. As we walked into the ER, we did not expect to get the news we did.
After a long wait in the waiting room, she was finally admitted after a CT scan. I was alone with Rissy and her little sister, Brenna, in the ER when the doctor made me go in the hall. 'Your child has a mass in her brain.' He told us the mass needed to come out. I tried hard not to let the tears out since I had to get a hold of her dad and her older sisters, who were both at gymnastics, and also our Amity (student teacher) from Spain who lived with us. Rissy was then admitted to surgery to place a tube to drain the fluid pressure that was causing her to be so sick.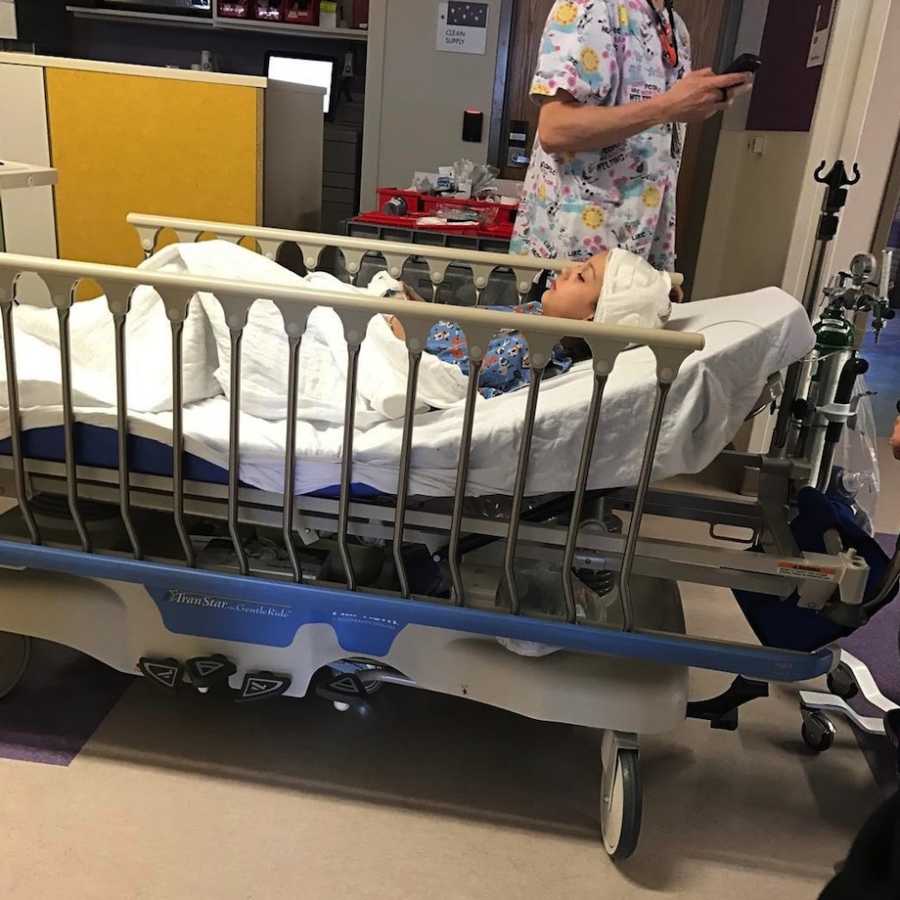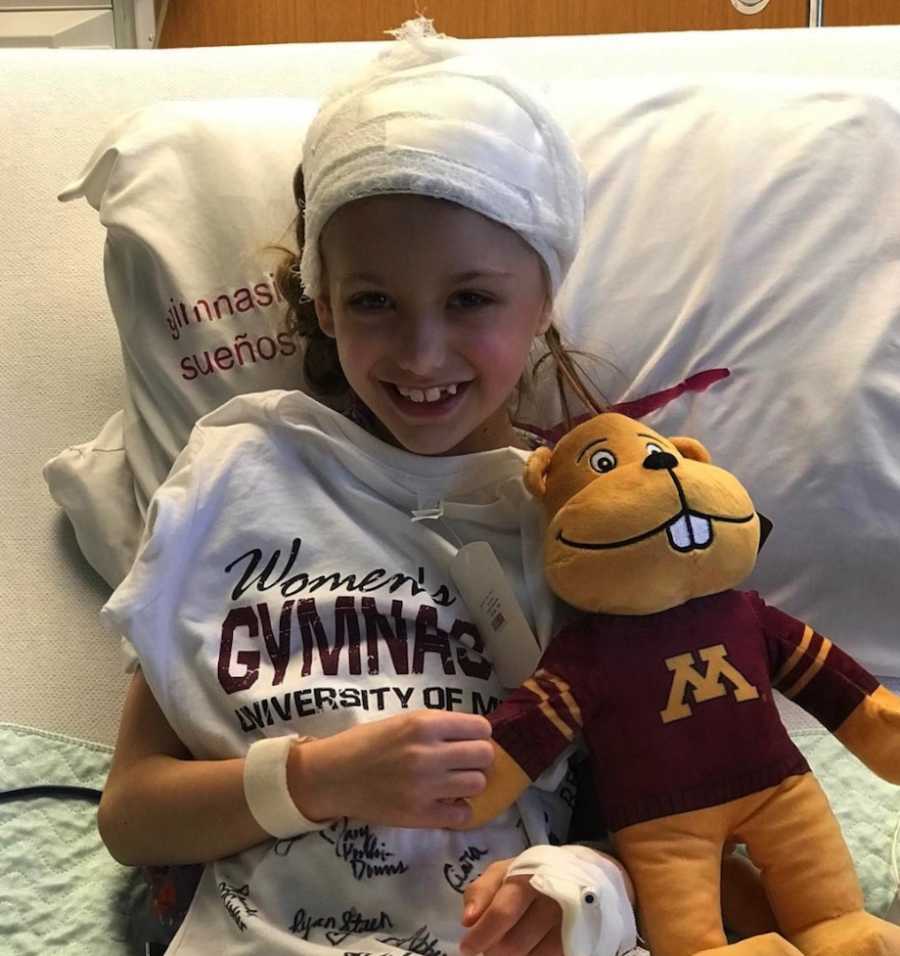 She had to wait a week to remove the mass, due to needing an available surgeon. A week later, she was transported by an ambulance to the other local children's hospital. She had surgery for the tumor, which is when we learned more it was cancer. We all were in complete shock but at the same time, we so grateful the surgeon was able to get the whole thing.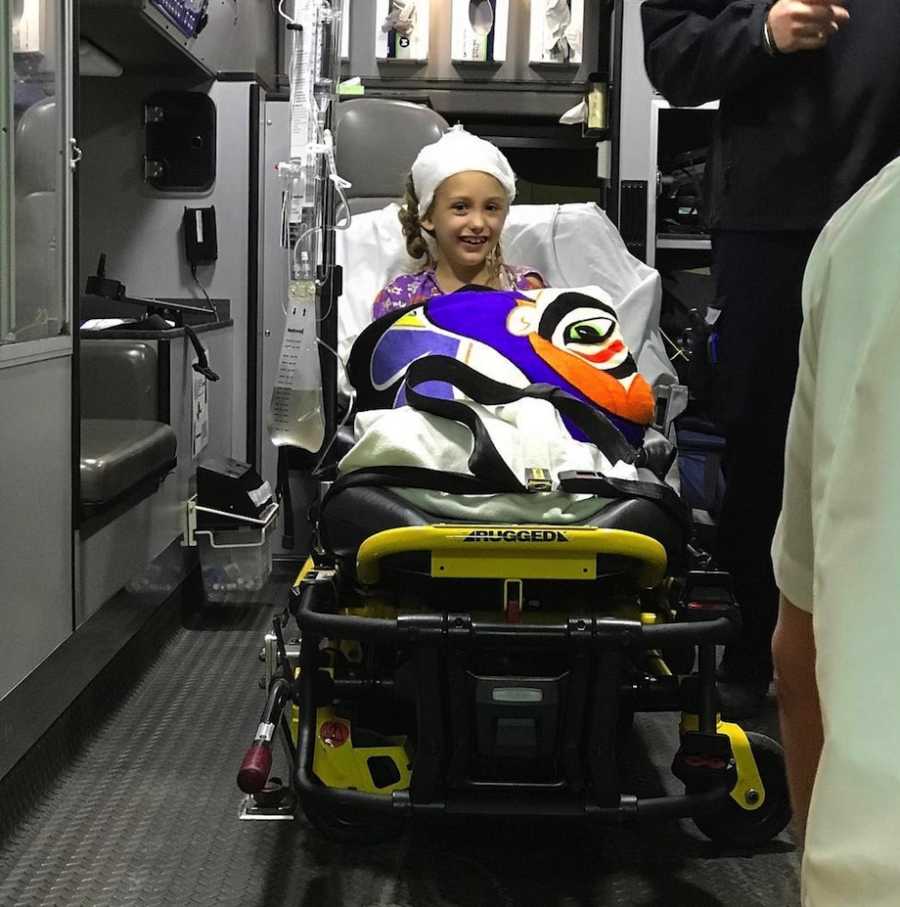 During this week, her little sister was not allowed in the hospital room, since she was only 4 and needed to be 5. Thank goodness for FaceTime and high school-age sisters to help her, since the sisters missed her so much. Sharing a room with each other at home made this separation harder. Thanks to the Ronald McDonald House, we were able to stay in the hospital as a family so little sister was not completely separated every night.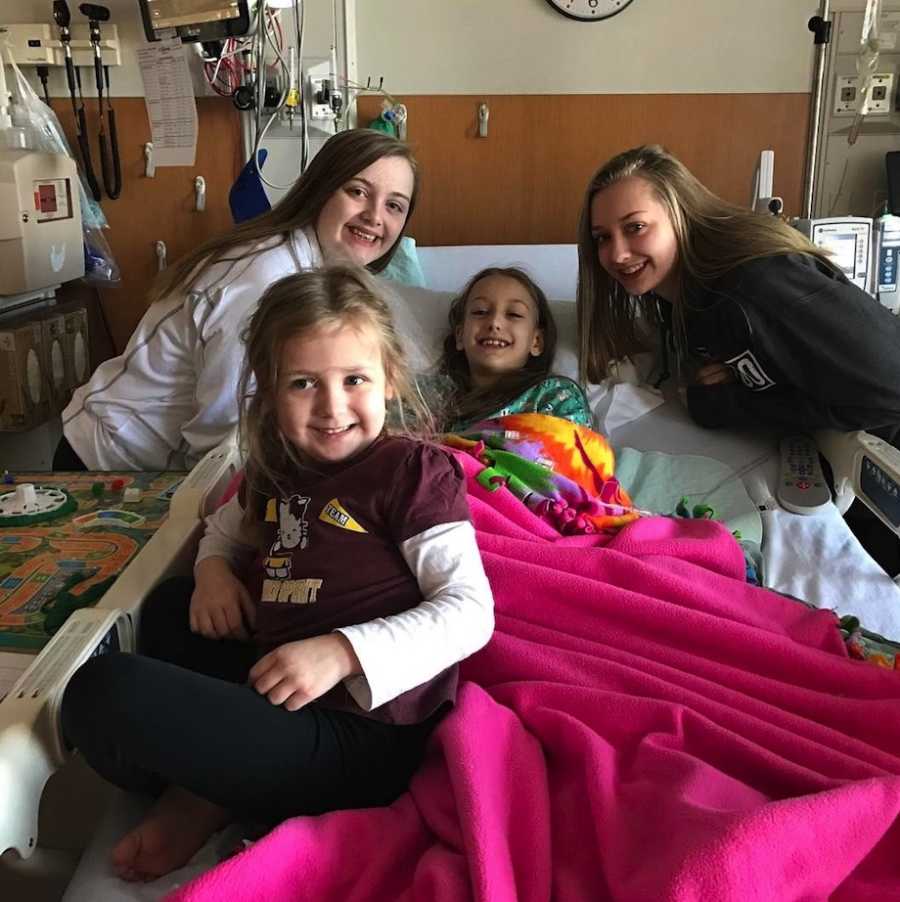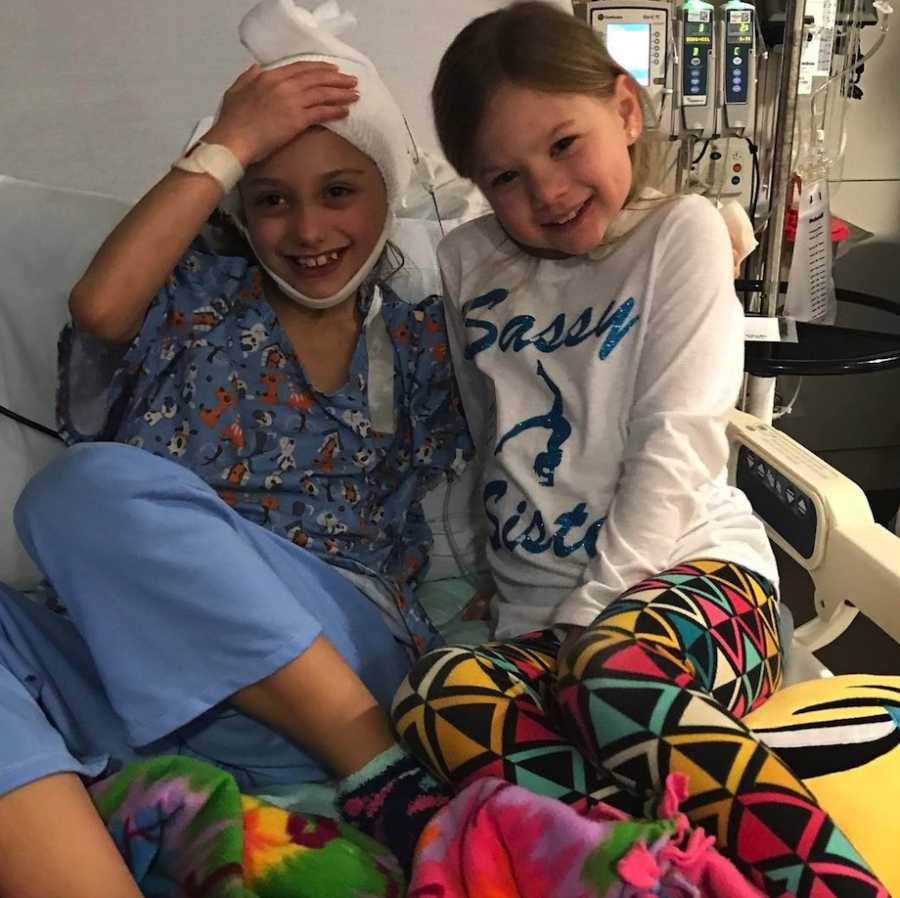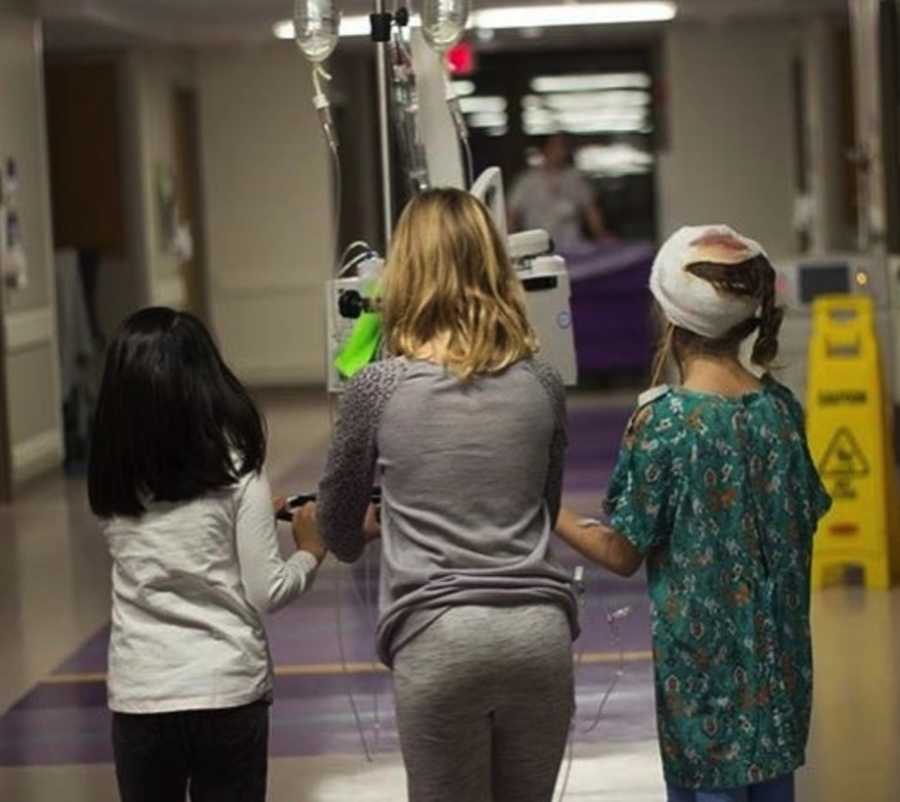 After the second surgery, we were told it was a cancerous tumor called medulloblastoma. We learned what would come next: radiation for 6 weeks and then 4 months of chemo. We found out our amazing surgeon was able to get every bit of the tumor! What a blessing it was to hear it was all gone, but she still needed radiation and chemo to make sure no stray cells were there.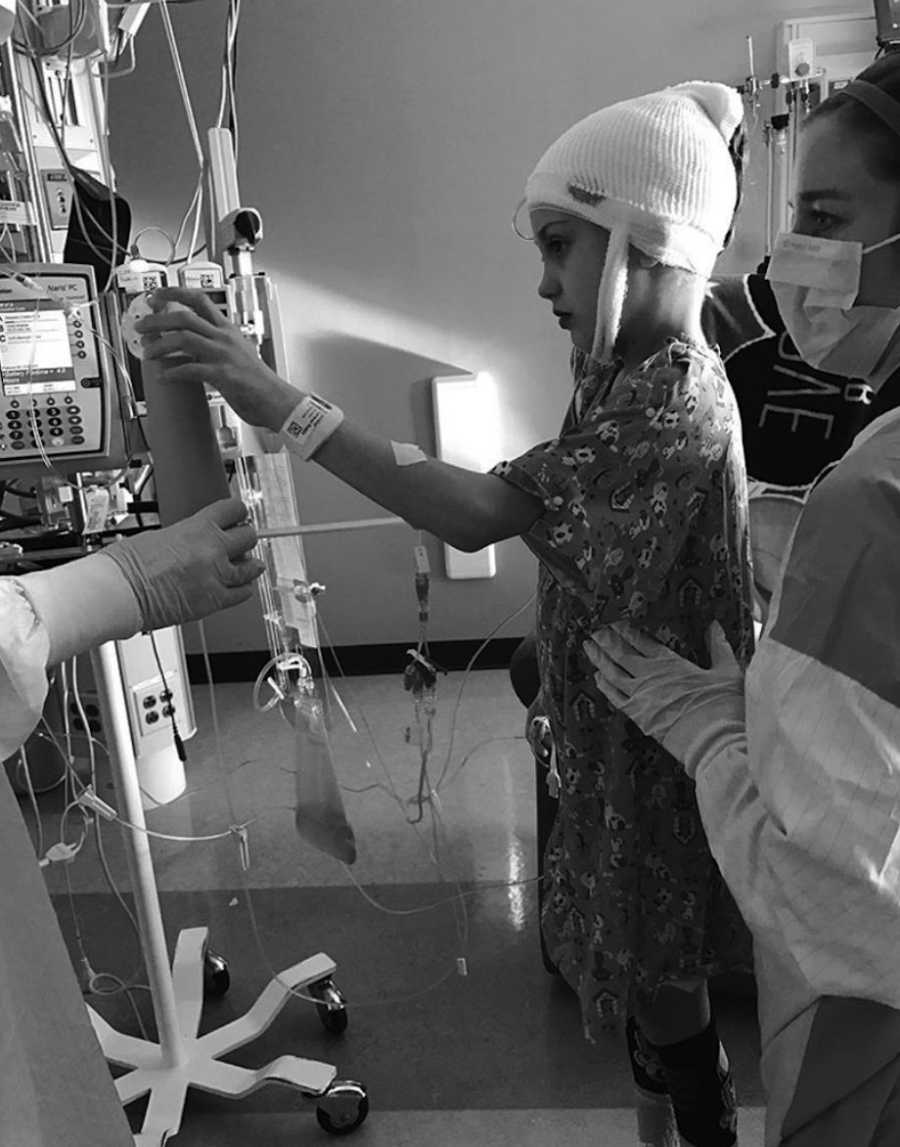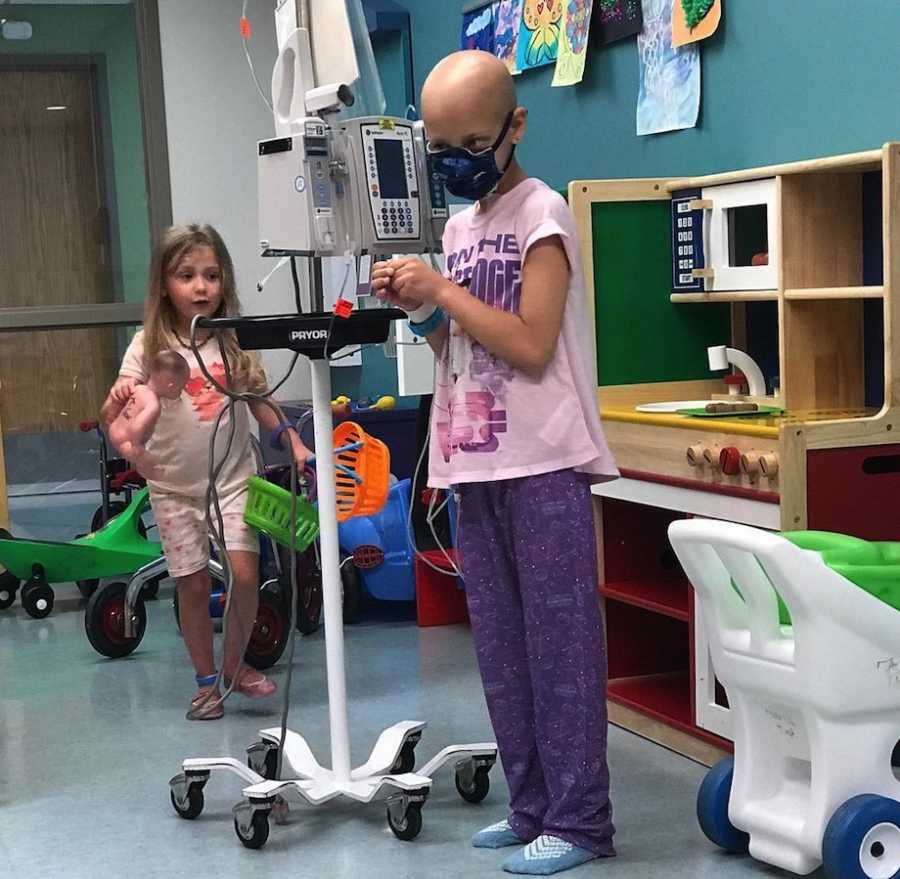 Rissy did amazing and was literally the strongest kid. She would bring her weights and anything that could be brought with her to keep working out (within guidelines). The physical therapists at Mayo Clinic had to find new ways to help her since she would be able to do things too easily. Being a gymnast, this was helpful but the tumor she had affected her balance, so it was something she had to overcome even more.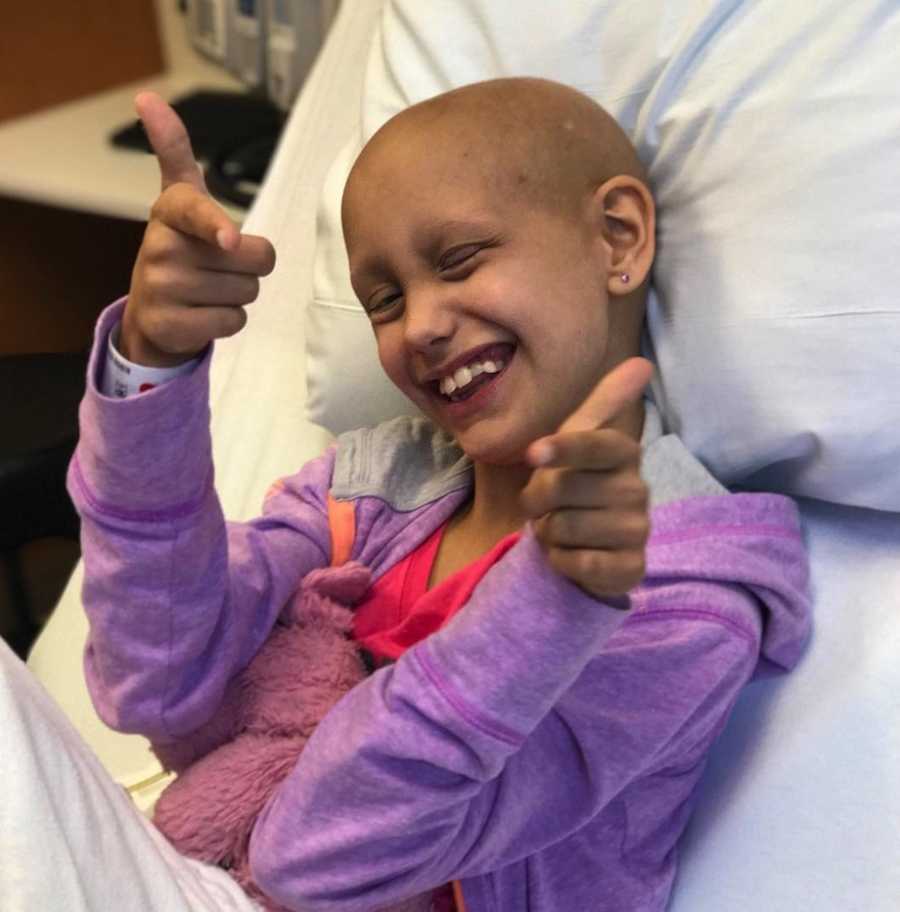 She would have fun with the Mayo Staff before getting put under each day. Five days a week for 6 weeks, she would bring her joke book, and they even added some they had has well. It made the not-so-fun days a little better. At night, back at the Ronald McDonald House, we would have fun with the staff and pet dogs, then head to our room. Rissy had trouble sleeping so she got her weights and worked out. On weekends, the three of us went home to see the other half of our family. Her second-grade teacher came to teach her on Sundays. We were so blessed to have an amazing teacher.
When radiation finished, Rissy was able to attend the last few weeks of school with many doctor appointments within, but we held off a few weeks to let her have some joy with class, friends, and the fun school year endings. The first day of summer break morning started with round one of chemo and a 4-day hospital stay. For the rest of the summer, she spent time with friends, now and then, saw her best friend's mom become a US citizen, and even walked a couple of miles in a 4th of July parade with her gymnastics team. She was able to go to gymnastics now and then but with an accessed port at times. Having low counts, she was in and out of the hospital but she made the best of it all.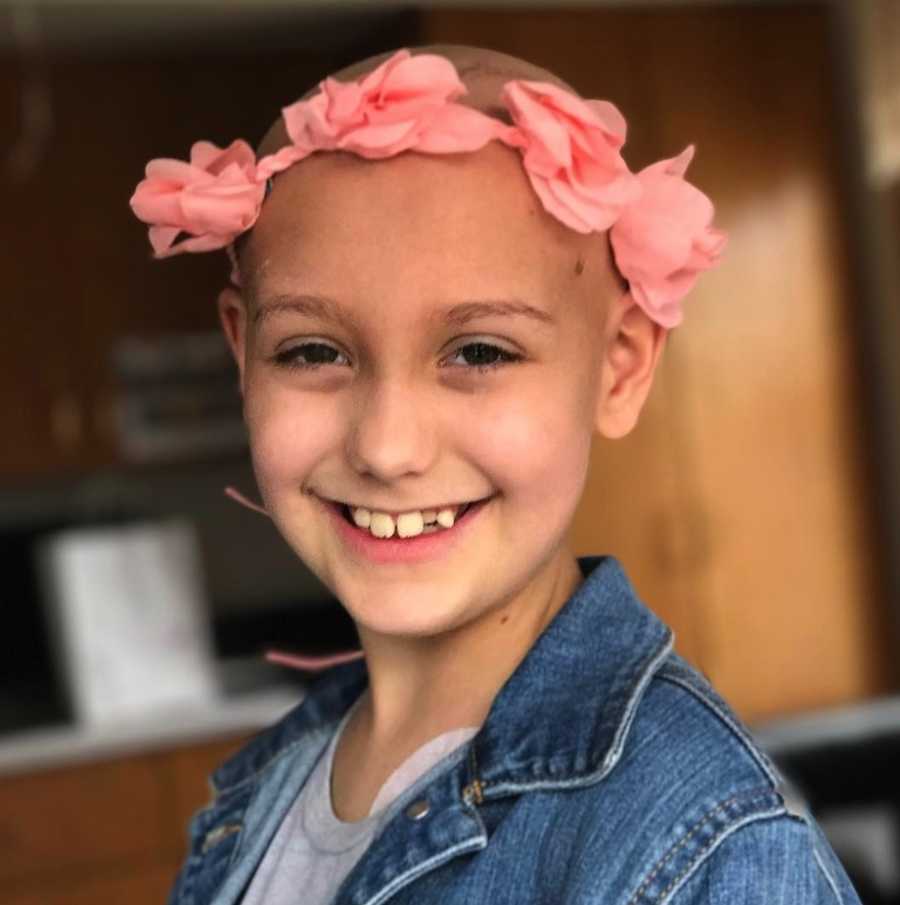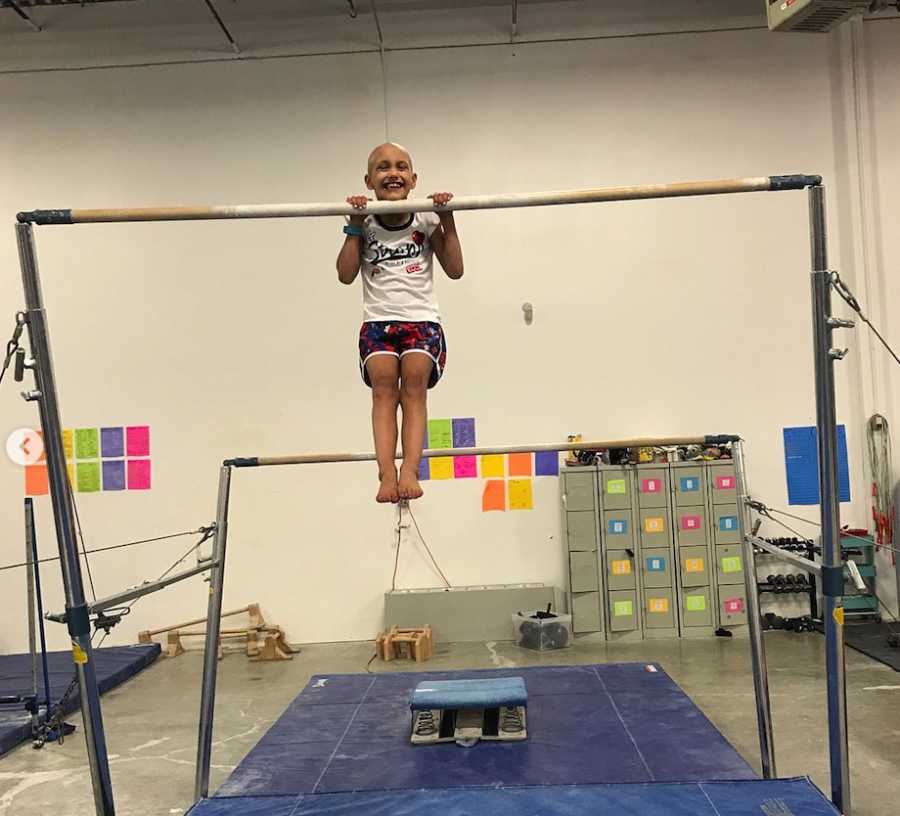 At the end of the summer, Rissy needed an NJ tube since she was not able to eat as much, due to nausea from the chemo. She started the first day of school with her NJ tube. She is such a brave kid since it was obvious she had this. Thanks to her amazing school, they talked to the class and helped make the transition easier, even with a new teacher who was on board.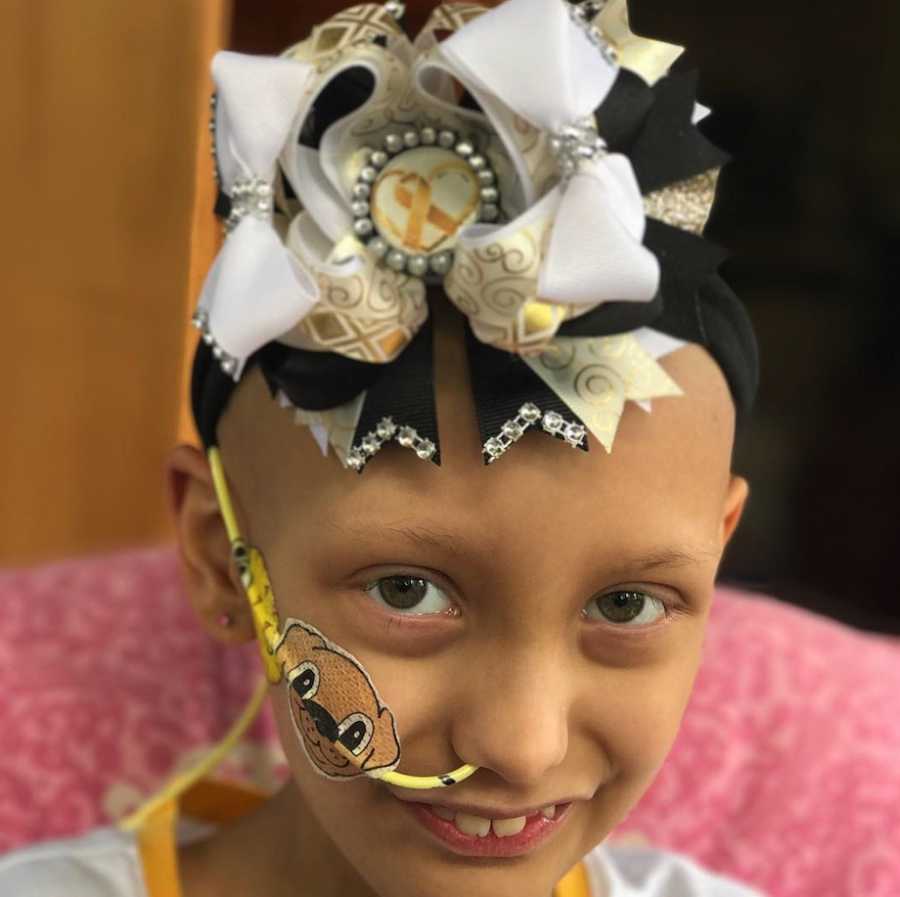 She got to attend one week of school before her next round of chemo, which was also her last round. She missed the rest of September but also was out before her birthday and celebrated her 9th birthday by raising money and pajamas for the Minnesota Children's Hospital, where she spent her surgery and chemo days (radiation was at Mayo Clinic with amazing staff who even did musicals with her and made the not-so-fun things a lot more doable).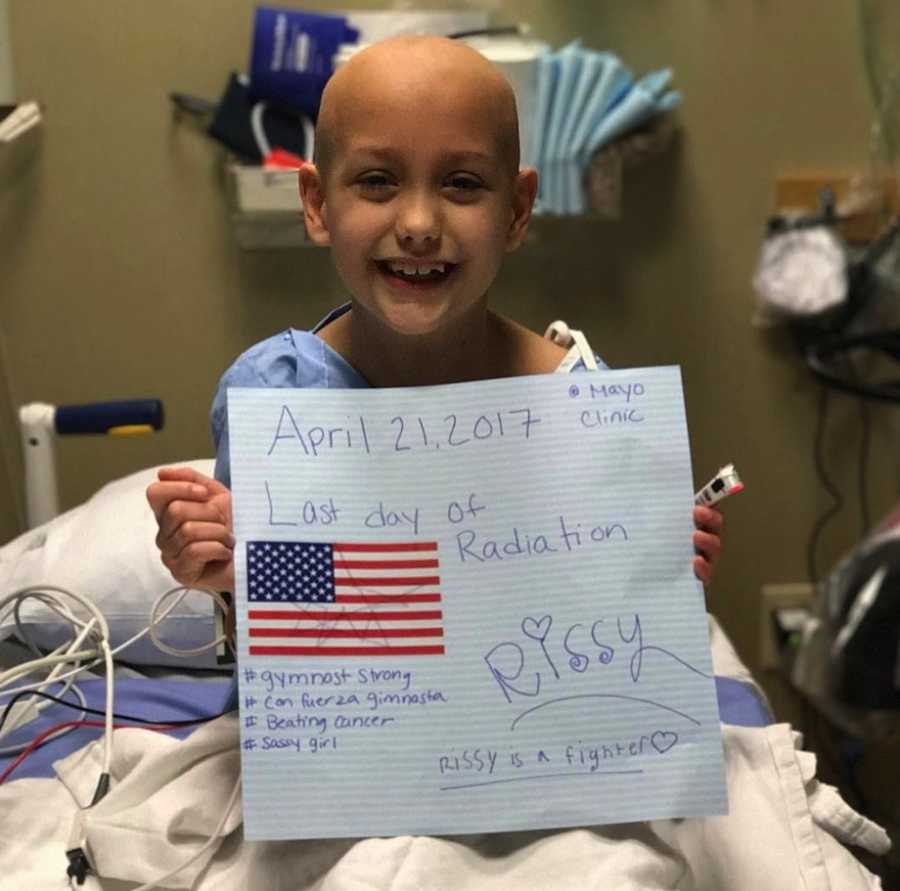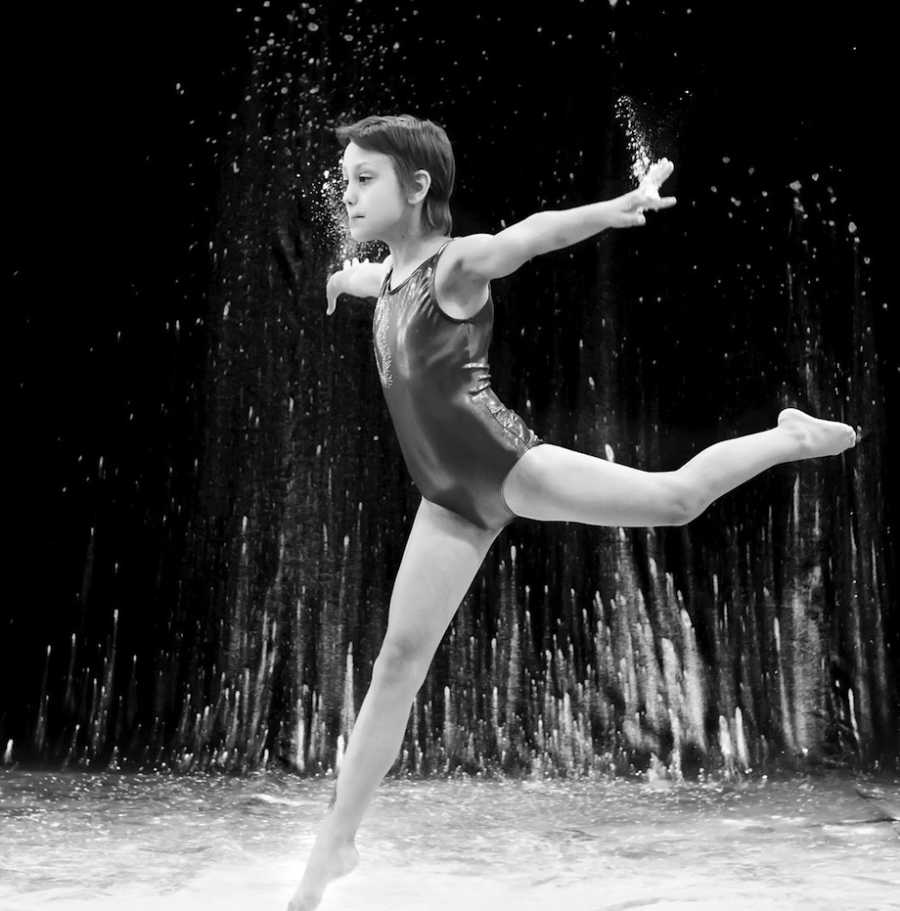 The next month, she was back in the gym and even did a partial competition with support from her team and rocked it! So many tears were shed because of the Rissy's strength, mentally and physically. Now, almost 3 years later, she is back to gymnastics, running, and even ninja warrior. She is also on daily shots since the radiation affected her growth and has handled it so amazingly. She is making the best of it all. "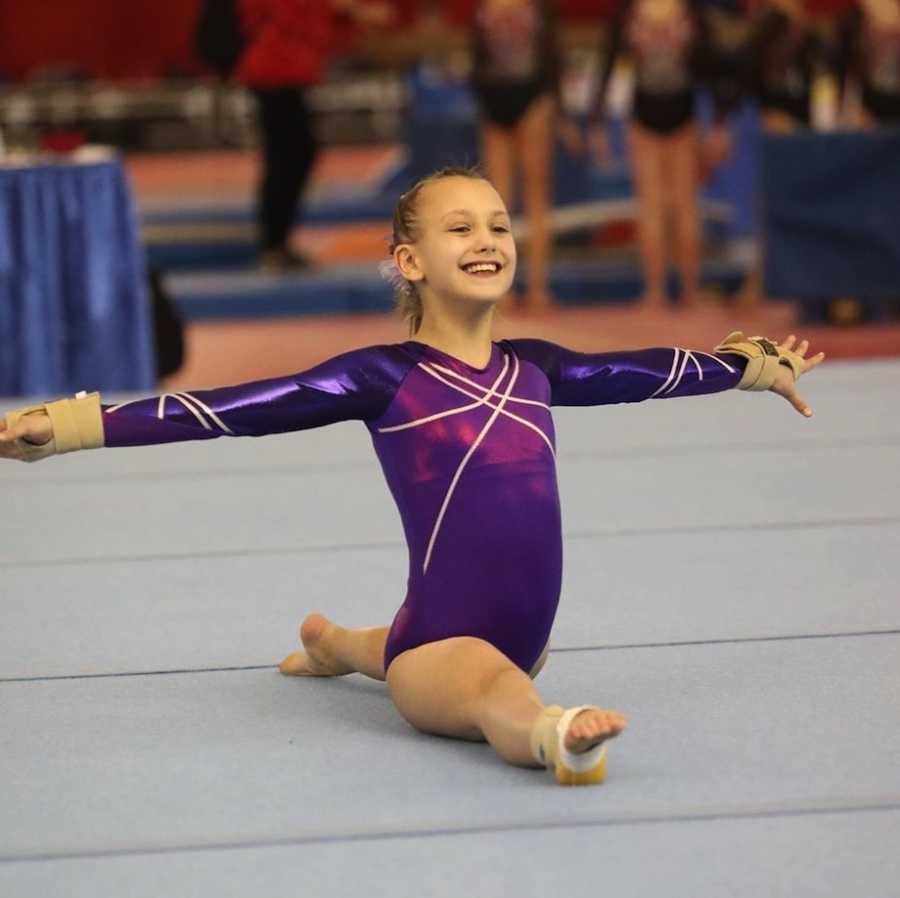 This story was submitted to Love What Matters by Kelly Schafer. You can follow Rissy's journey on Instagram and Facebook. Do you have a similar experience? We'd like to hear your important journey. Submit your own story here. Be sure to subscribe to our free email newsletter for our best stories, and YouTube for our best videos.
Read more stories like this: 
'Mommy, I've been scared to say this, but I have a big bump on my chest.' I lifted her shirt. Sheer horror!': 8-year-old girl diagnosed with breast cancer after both parents beat cancer, 'we are a family of fighters'
'She knew something was wrong with her best friend. Her brother was now a quiet, sick little boy. He never wanted to play.': Sister dotes on her once 'lively, energetic' little brother now suffering from childhood cancer
'I have to remove his top lip.' It had turned black. Half his face was gone, it reminded me of a zombie.': Boy battles leukemia, mouth infection, now in remission and mom says 'we still continue to trust in God'