"'What happened to your arm?' I've become so used to the question. My response is almost automatic at this point, like a broken record. If I had to guess, I'd say I've been asked a few thousand times in my 28 years of life. 'I was born like that,' I always say.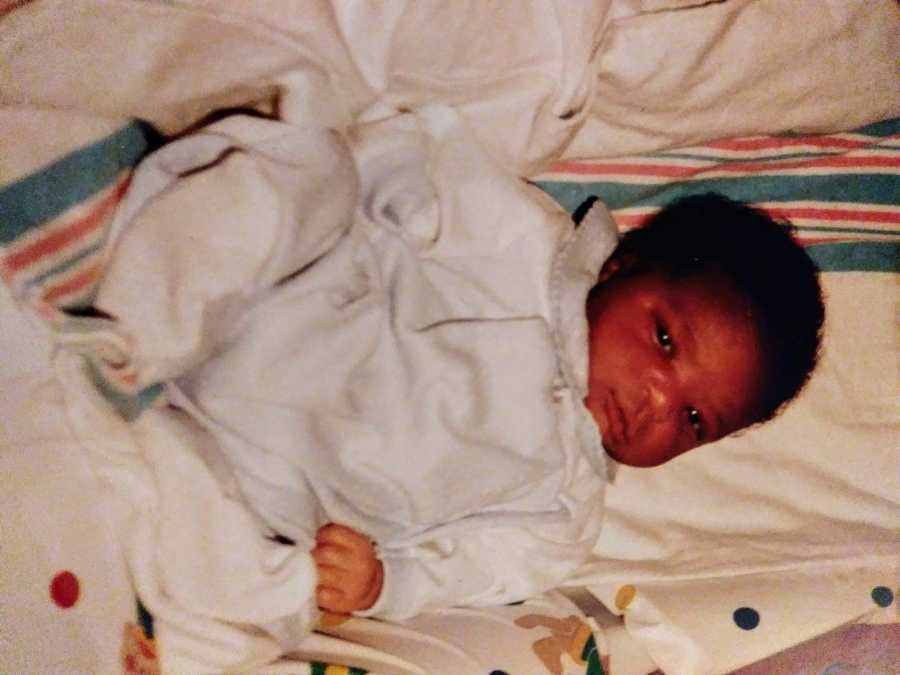 I have a limb difference and was born missing the lower half of my right arm. Once, while buying a metro card in NYC, a man behind me went as far as to tap me on my shoulder, gesture to my arm, and ask, 'What happened to you?' I never understood why people, strangers in particular, felt the right to know my story. To demand personal information. My arm is only a part of who I am and it doesn't define me. Just as a person is born with brown hair, or freckles.
Growing up, I never thought much of my arm. It was normal to me. But when people meet me, however, their first words are never 'What's your name?' or 'Hello'. I've don't have the pleasure of being greeted normally. Instead, it's always a curiosity about my arm. For many years, I tried to hide my arm.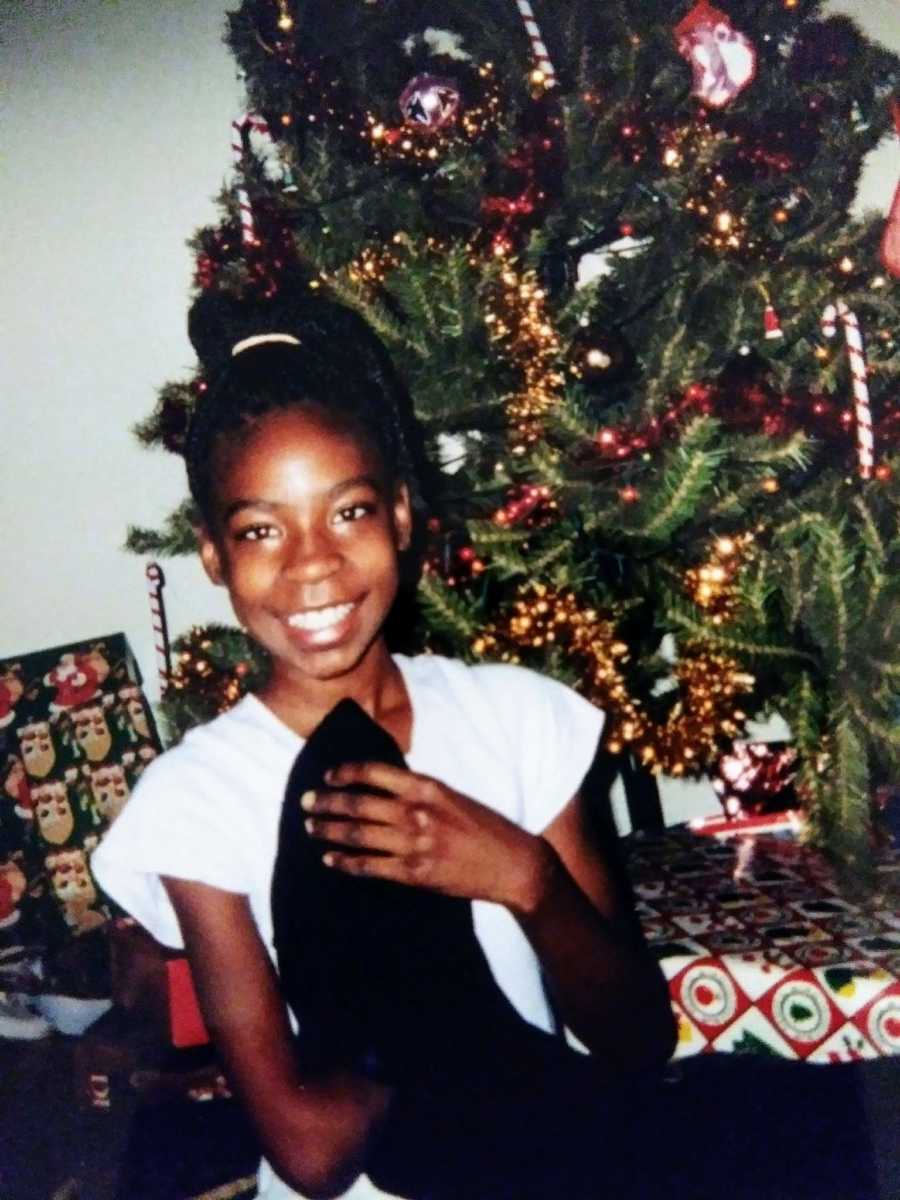 I remember applying for a job as a cashier at 16. During the entire interview, I hid my arm until I was hired, afraid I might not get the job if they found out about my disability. On my first day of work, I showed my arm and saw the manager's shock. But after showing that I was capable, I was in charge of running the whole front end of the store. I find that I have to go through life like this. Proving myself capable to everyone I come into contact with.
One day, when I was in school at Manhattan Christian Academy, there was some issue with my tuition payment and the school had me sit in the hallway outside the office until they could reach my mom. I was there most of the day. At one point, a student came up to me and asked, 'Hey, what happened?' Without even looking up, like clockwork I responded, 'I was born that way.' But to my surprise, she said, 'No, not that. You've been sitting here a while. Is everything okay?' I was totally shocked. Not even for a second did I consider that someone would ever be asking about ME and not my arm. Though rare, it's a moment I remember so vividly years later.
At this point in my life, I am tired of being known as the girl with one arm, or the model with one arm. So, let me re-introduce myself. I am Jaleesa Mone't Graham. I'm sarcastic, funny, loving, smart, hardworking, and thoughtful. I'm also an actress. And a model. I'm a sister, a daughter, a great friend, and wonderful girlfriend. And none of that has to do with my arm. Although my arm is part of me, it's literally just one part. A part that gets all of the attention from strangers.
Among other things, I am also a mother. I will never forget the day I gave birth to my son Nicholas on April 6, 2012. The nurses hesitated to hand me my baby, like they were unsure how I would hold him. But I did hold him, just fine. I can hold a baby, just like I do everything else: in my own unique way.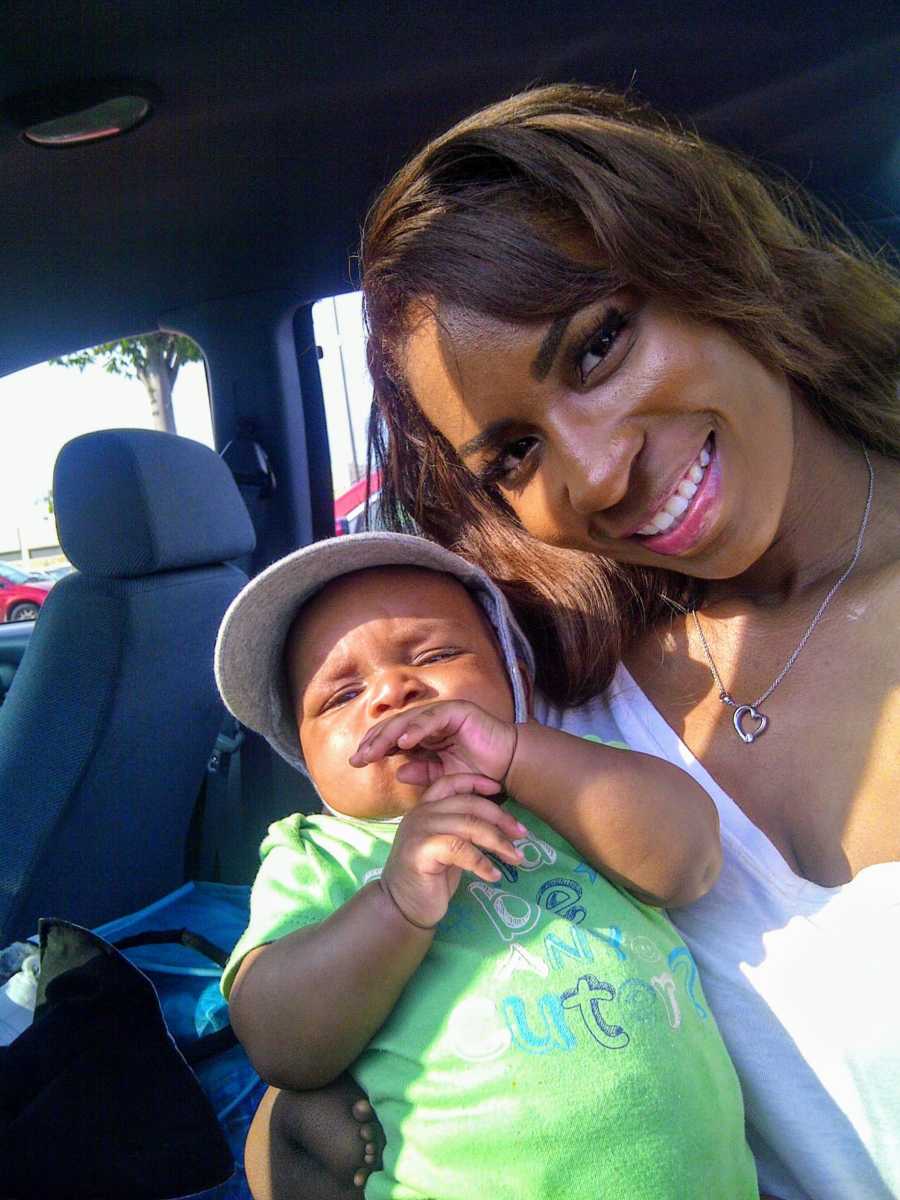 Around the time Nicholas was born, I stumbled across an ad for foster parents. Being involved in the foster care system as a child, I felt inspired to look into becoming a foster mom myself. I wanted to help, to be a safe space for a child until they got to go home. I had seen the ad so many times before but, for some reason, it spoke to me this time more than others. I felt instantly inclined to call and ask, though I wasn't sure if I was even qualified. I thought I had to be married and own a house in order to qualify to love and care for a child. To my surprise, you don't.
The process to become a licensed foster parent was supposed to take 4-6 months. Mine took about 11 months. I will always remember the day I was heading to class at Mercer County College. I received a call from my case worker suggesting I discontinue my application to be some a foster parent because 'I was once in foster care' as a child. It didn't make any sense to me.
As a child, I'd never been with a foster parent directly, but with a family member who took me in. I knew this couldn't have been the reason they were disinterred in me. After all, I hadn't done anything wrong. Then it clicked. Throughout the training process of becoming a foster mom, I remember the teacher being less than kind and always blatantly staring at my arm.
My suspicions turned out to be true. She later asked my case worker about my arm, voicing her concerns. My response was, 'If my arm didn't stop me from being a great mother to my own biological child, why would it stop me from being a great foster mom? I am a mom, period.' I was advised to give up, but I continued.
On February 1, 2016, I become a licensed foster mom. On February 25, 2016, I received the call. The worker said, 'Ms. Graham, are you able to take the placement of a 6-month-old baby?' I was hesitant only because 6 months was so young, but my mouth said, 'Yes!' I rushed home and waited. It took longer than I expected, but then I saw a car, circling and looking lost with a baby in the back.
I signaled to the worker and he came in. That's when Nicholas first met baby Gabriel. He was wearing a light blue snow suit, sitting quietly just staring at us. The worker quickly explained the paperwork, gave what they had for Gabriel and left. He was so cute, so quiet. He just gazed at us.
Just like any mother, 2 arms or 1, I went to Walmart and loaded up on baby stuff, formula, bottles, clothes, pampers. I had nursed Nicholas, so I was new to making bottles. But I did it. I changed him, I bathed him, and I loved him. All with one arm. Because I am a mom (period).
I had never intended on adopting. I always planned to care for these children, until they were able to go back home. But as time passed, it seemed that Gabriel was not going back 'home'. He was already home.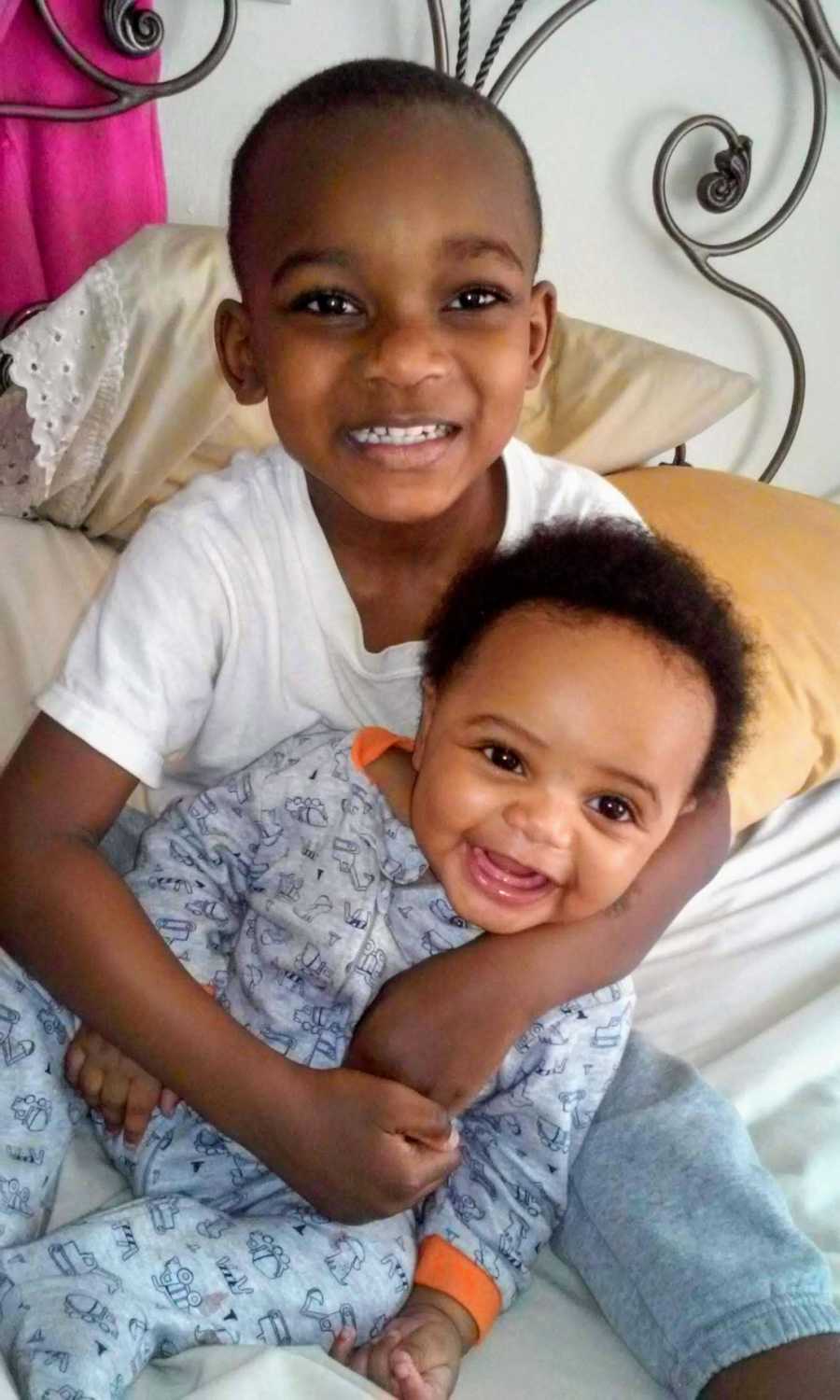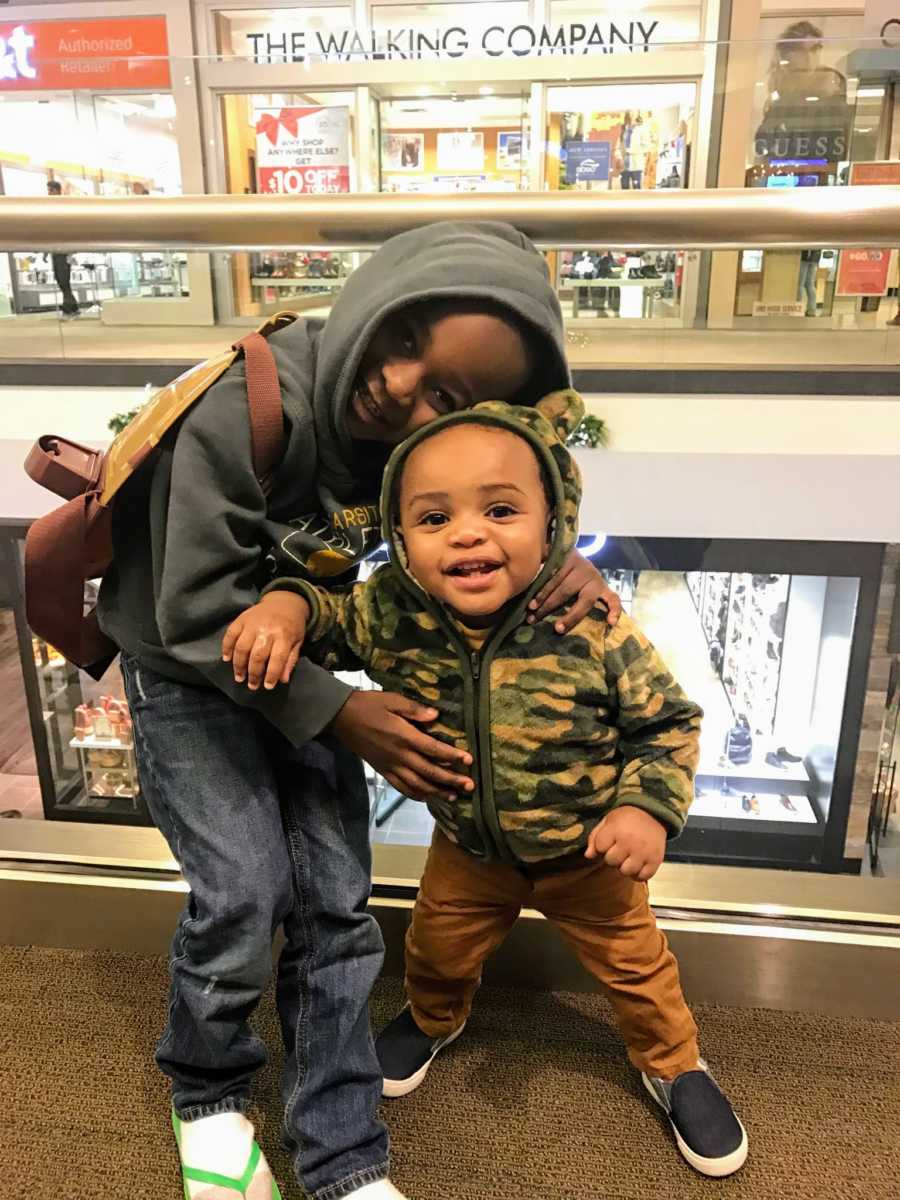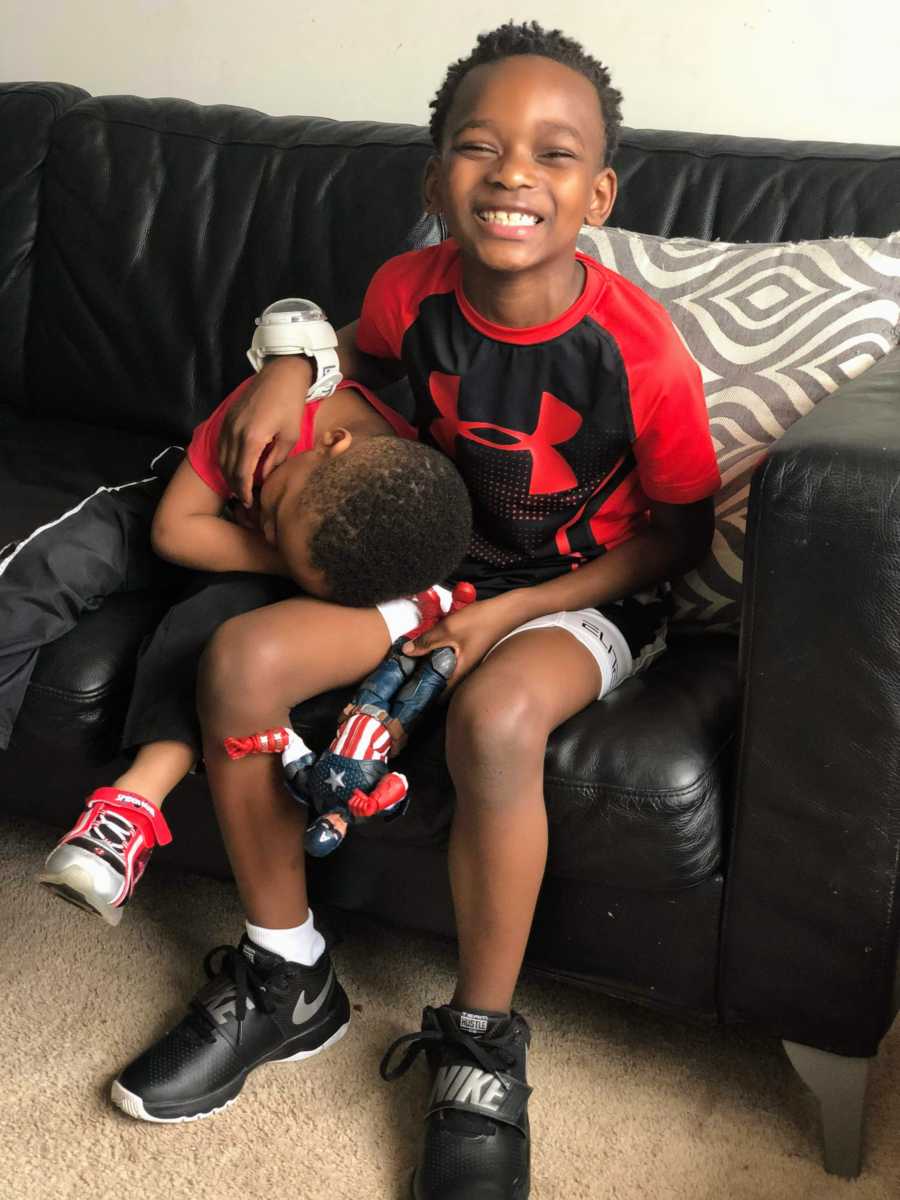 It didn't take long for me to see Gabriel as my son, instead of my foster son. I knew in my heart he was mine. After having Gabriel with us for over a year, and finally heading towards adoption, his family members started appearing out of nowhere, wanting him. Wanting my son. I was heartbroken and had no rights. He had a mother, biologically, and it wasn't me.
My case worker informed me that he was going to start regular visits with his 'real' family. Gabriel was two years old at the time and had been with me every day since he was 6 months. I couldn't help but think, 'Then what am I? His fake family? His fake mother? Was Nicholas his fake brother?' I burst out in tears.
In the beginning, I just wanted to foster. But at this point, adoption was the only option for us. I couldn't see my life without him. When you ask him who is his mom, he looks to me. He doesn't care that we don't look alike, that we have different complexions, or even about my arm. He just knows I'm his mom.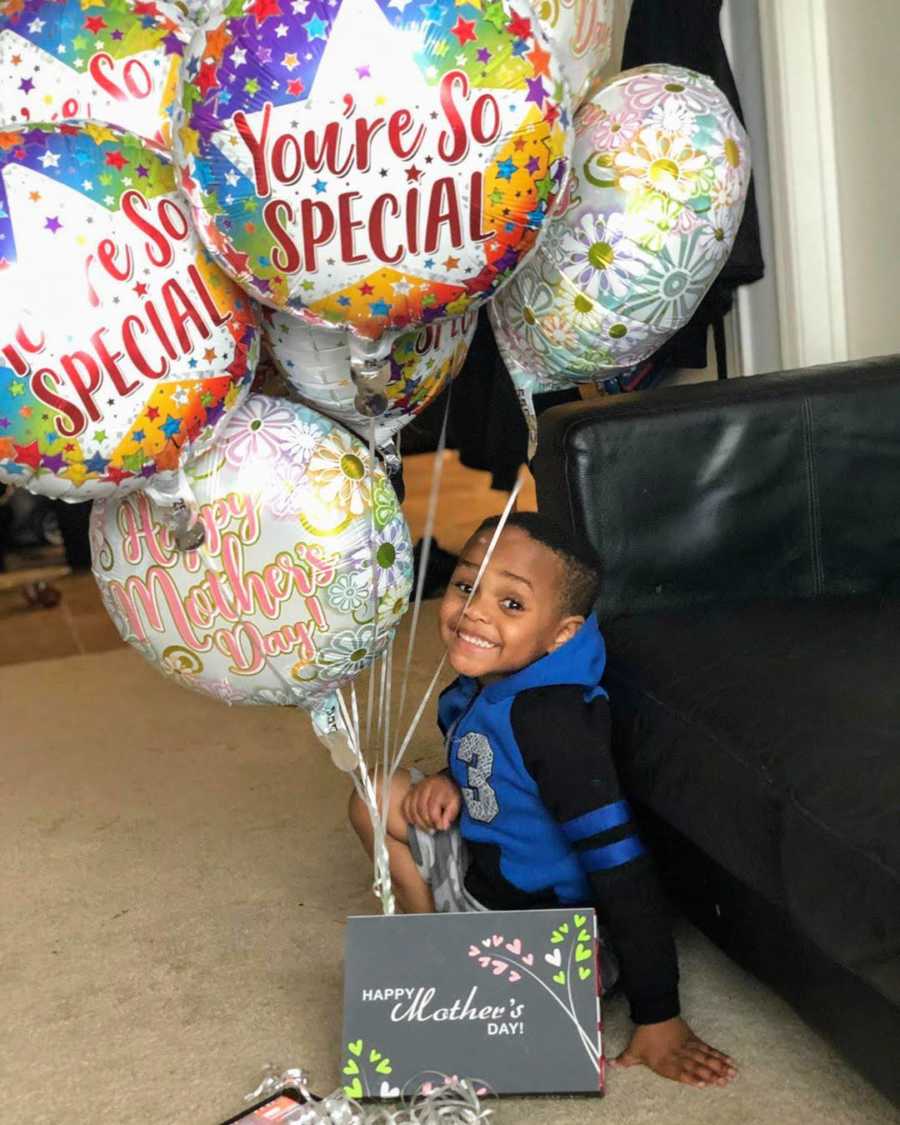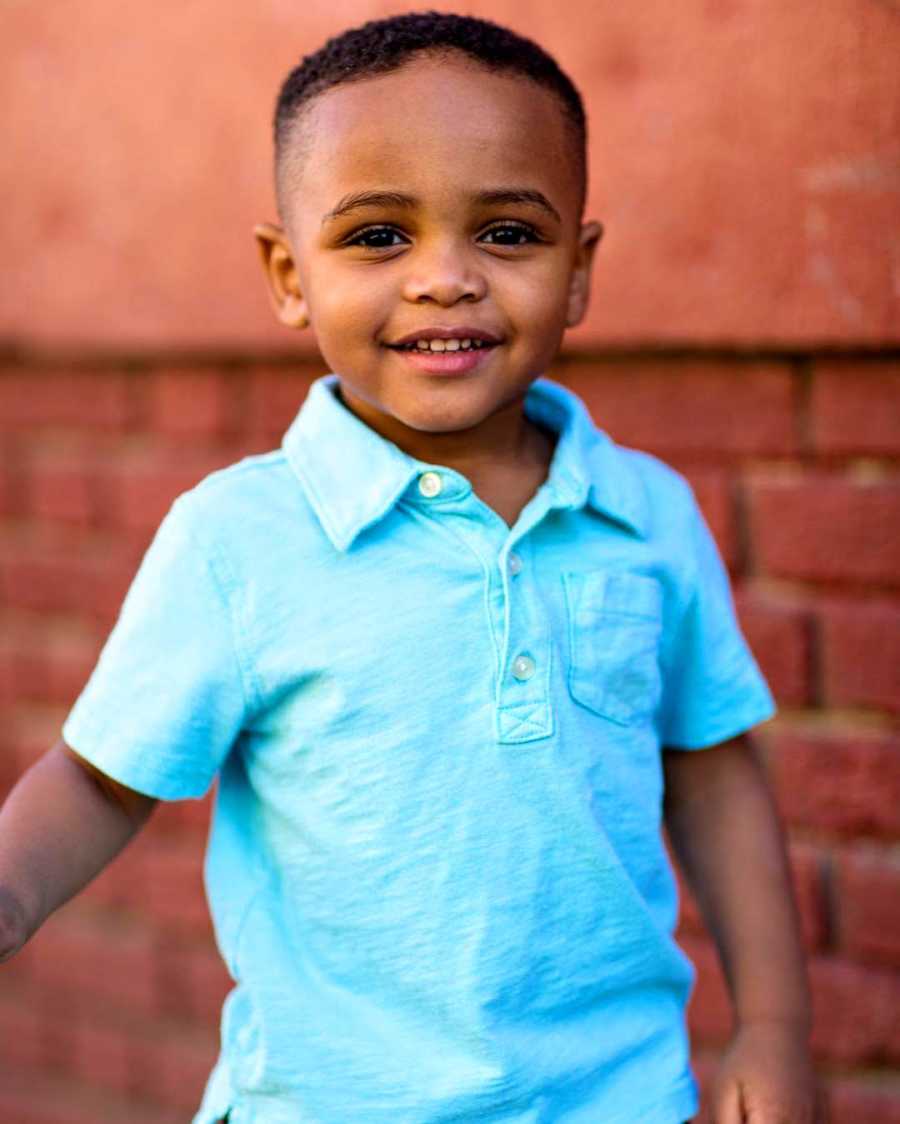 I remember the day I was leaving the dentist and received a phone call from his worker that Gabriel would be leaving me on Friday to spend a weekend with his 'real' biological mother. I was heartbroken, my heart was heavy, the tears began falling. I was losing my son. I knew he was mine. Why was this happening so close to adoption? It didn't feel real. I never prayed so hard.
That Friday, I received another call. 'The plans have changed. There won't be any more visits.' I was now getting an adoption worker. My prayers were answered and I couldn't believe it. It took another 18 months to 7 be finalized, but it was worth the wait. On April 12, 2019 I legally adopted my son Gabriel. I am now a proud mom of 2.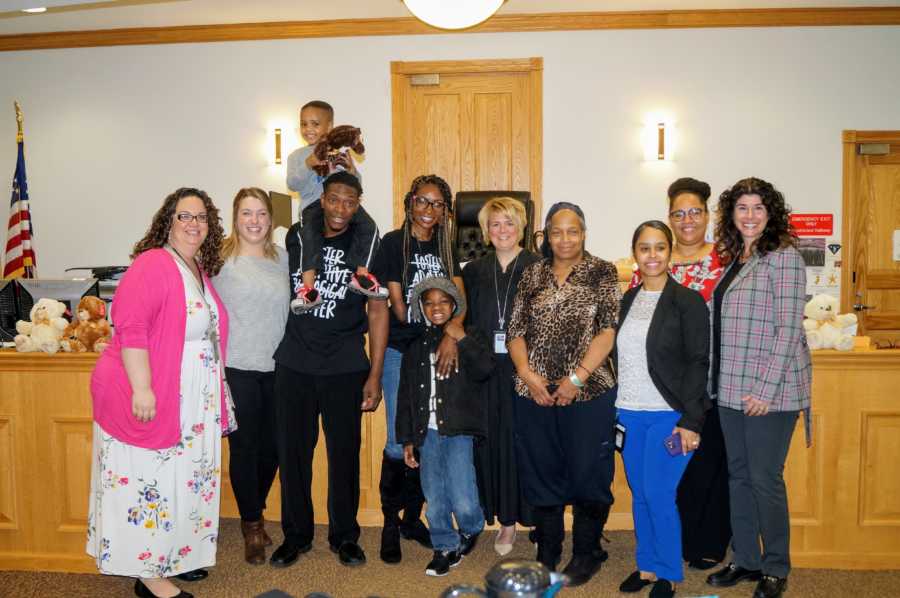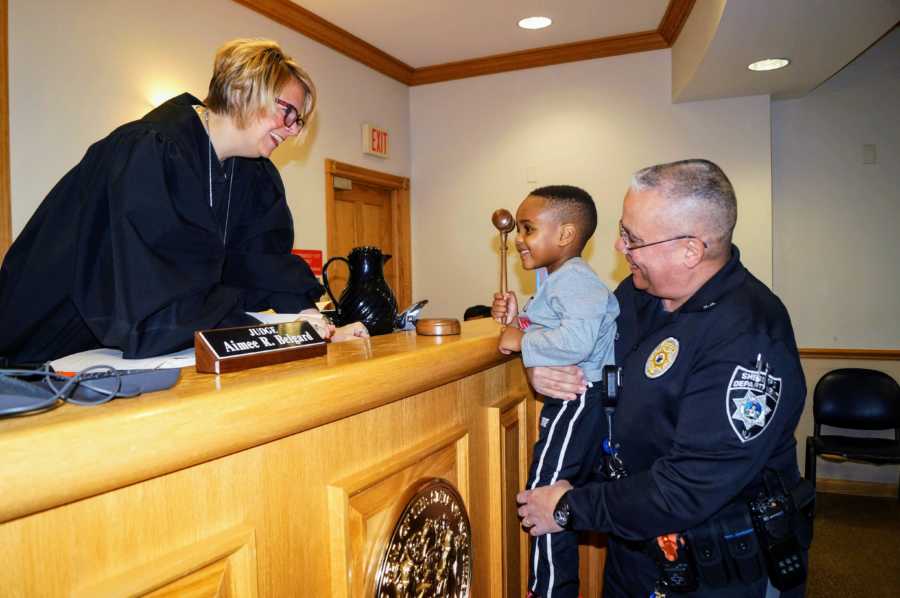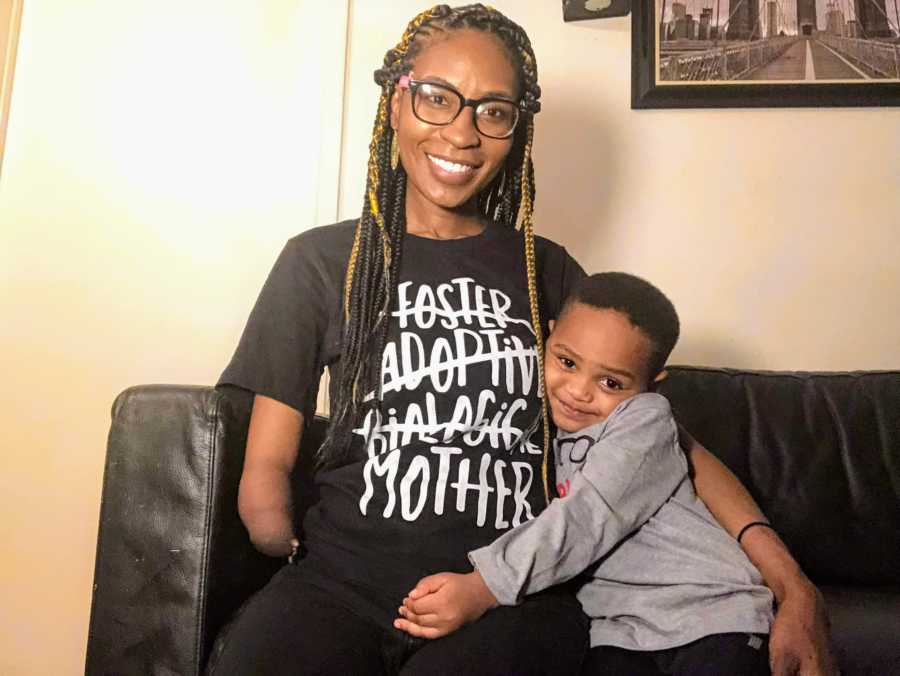 Oddly enough, neither Nicholas or Gabriel has ever asked me what happened or what's wrong with my arm. I remember sitting Nicholas down when he was 5 years old. I gave him a camera and asked him to look at me and tell me how I'm different from other moms. His first answer was, 'Hmm, maybe your hair.' My response was, 'Nice answer. Anything else?' After some contemplation, he looked at me and said, 'You're more awesome!'
My kids notice my arm, but never mention it. They know it's a part of me and it shouldn't matter. I'm not their mom with one arm, I'm their mom (period). It makes me feel good that I don't have to explain to my sons what happened to me. I've shown them, through raising them, that although people may look different sometimes, it doesn't matter. What matters is what's within.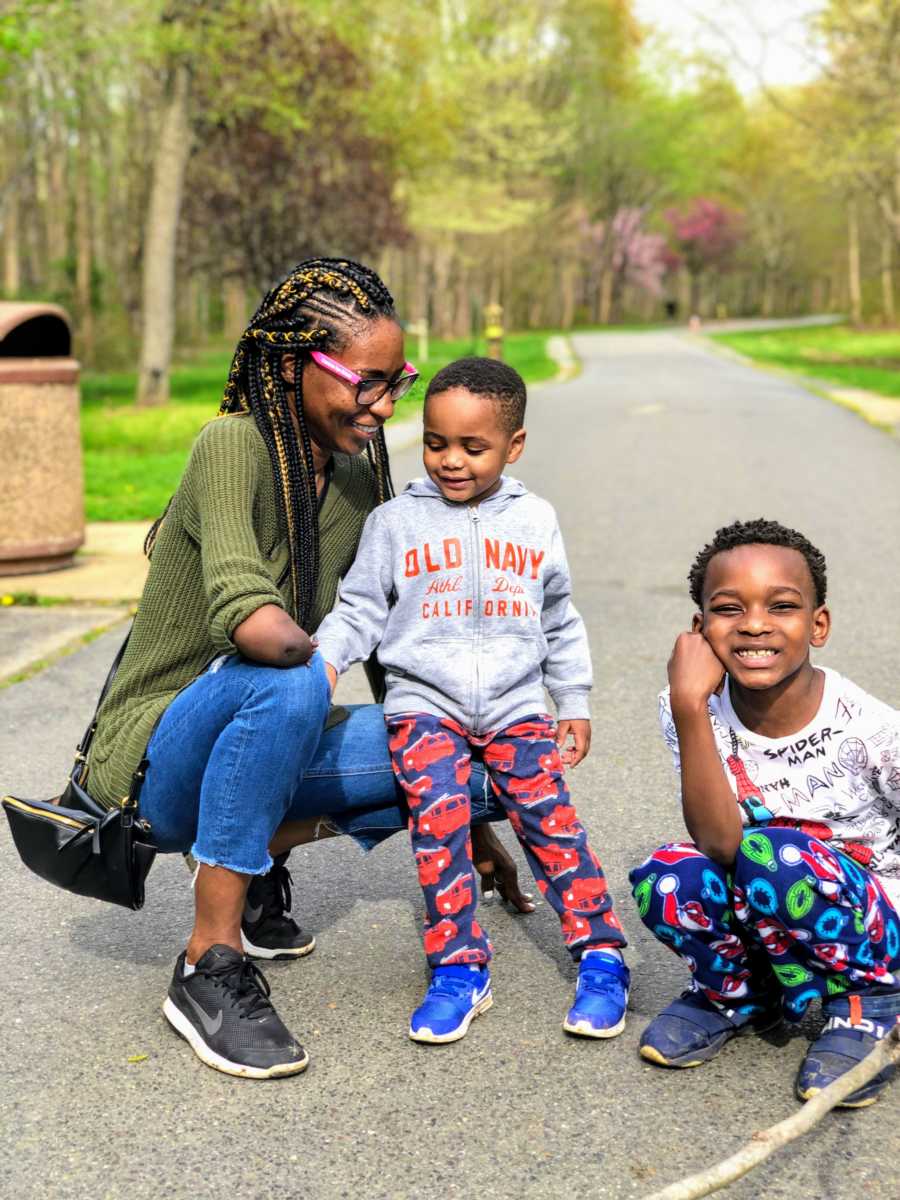 When I go to the supermarket with my children, I still get looks. I know I always will. I'm often asked multiple times by people if I need any help pushing my cart or carrying my groceries. I know it's with good intention, but sometimes I'm treated like I'm utterly helpless. Like I'm a dead weight. Despite what others think, I can shop for food with my children and I can do it on my own. I do it all the time. Although I look different, I'm just like other moms.
At times like these, I remember that I am not my arm. I am not my skin. I am the soul that lives within."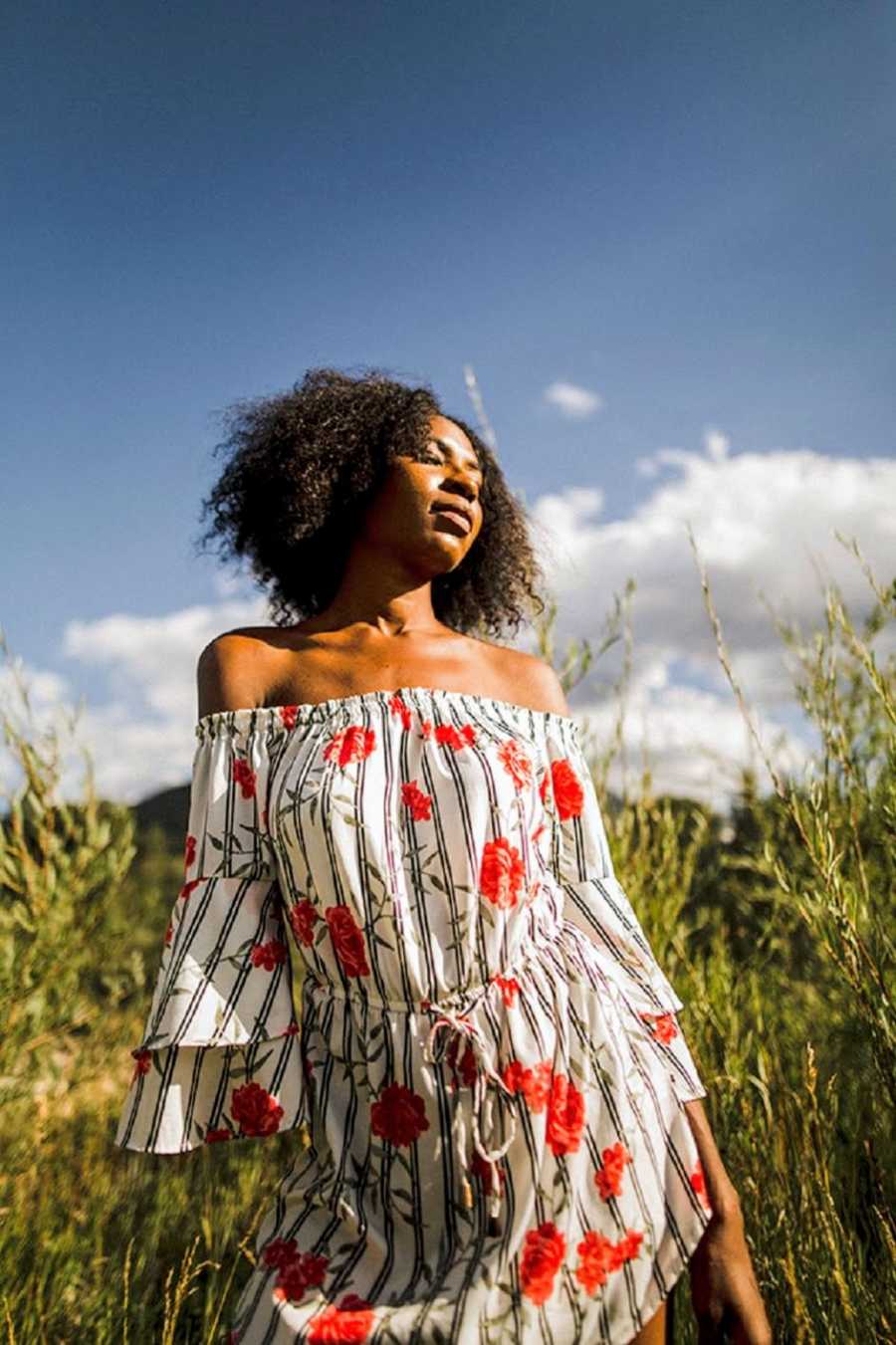 This story was submitted to Love What Matters by Jaleesa Graham of Robbinsville, New Jersey. You can follow her journey on her blog here and Instagram here. Submit your own story here and be sure to subscribe to our free email newsletter for our best stories.
Spread beauty and strength for others. SHARE this story on Facebook with family and friends.