Disclaimer: This story contains details of postpartum depression and suicidal thoughts that may be upsetting to some.
"There was never a time in my life I didn't want to be a mother. I dreamt of a big, beautiful family, the white picket fence, the whole nine yards; but like most college girls, I envisioned it happening way in the future after I finished a bachelor's degree from the private university I was attending. I had just gotten engaged in the summer of 2008 after one year of dating my now husband, Brandon. I was maintaining a 3.5 GPA while working two jobs and preparing to compete for the title of Miss West Virginia. Back then, I was always driven to write my own success story. I had never really struggled with mental health issues and failed to be understanding when someone around me fell into a dark place.
Brandon and I had met at the age of 12. He had the ability to make me laugh and I remember at even that young of an age, he made me feel important and at ease. The year before we became friends, his oldest brother passed away with his high school sweetheart in a tragic car accident on the way to school. It rocked our small town and little did I know, that one event would mold him into the compassionate, attentive person he is today. We remained friends throughout high school and didn't actually begin dating until June of 2007. I decided to stay close to home for college and so did he. After our first date, we became inseparable.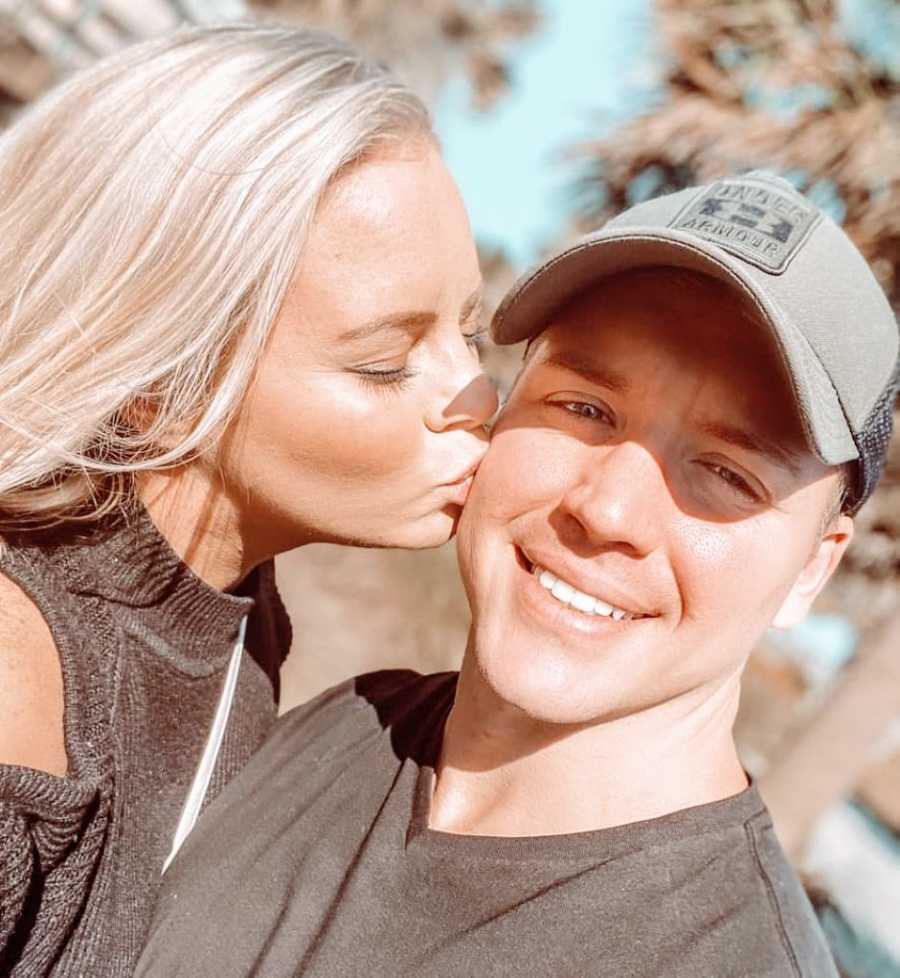 Only a year into our relationship, he proposed on a beach in Florida while we were on a family vacation. I was only 18 (turning 19 the following month) at the time. I eagerly began planning our wedding, even though the original plan was to wait until we both graduated. I carried around a binder with wedding magazine cut outs and caught myself daydreaming of our special day when I should've been taking notes in class. I knew Brandon was different than most guys his age. He always seemed to pay attention to other people's feelings and cared about how to make the people around him feel valued. That incredible quality would come into play later on in our relationship when I needed help the most.
By 2009, I was focused on chugging along in school, working my two jobs, and spending every spare moment with him while preparing for Miss West Virginia that would occur the following year. I turned 20 in July and couldn't wait to finally see the light at the end of the tunnel of my degree. I was ready to get married a couple years later and start the next chapter in my life. I didn't realize it would happen way sooner rather than later. On August 29, 2009, I went to an appointment for a routine PAP exam and realized I had been a day late on my period. I also recalled becoming nauseous at the smell of crayons from the preschool I was employed at and the fatigue was unbearable.
The doctor sent me to have a blood pregnancy test. The sound of the nurse saying, 'Congratulations honey, you're going to be a mama' while handing me a piece of paper with the result 'POSITIVE' circled with black sharpie still stains my mind. My world stopped. I could hear my heart beating loudly in my chest. My OB asked, 'Are you in a good relationship? Do you still live at home with your parents? Is this something you want to do?' I sat, frozen, trying to find the words to express my fear. Yes, I was in a good relationship, but what will he say? Yes, I still lived at home with my parents, and Brandon did too. We weren't even allowed to stay at each other's houses overnight even though we were engaged. And I didn't know what I wanted to do. Could I even be a good mother? What if I have to do it alone?
As soon as I got to my car, I promptly called Brandon and blurted out, 'I need to talk to you now. I'm pregnant.' I could hear him hesitate. I didn't know it at the time, but he was at my house typing a paper for one of his classes while my mom was standing right next to him. When I got home, he was standing in the driveway. I couldn't get out of the car fast enough; I just wanted some reassurance that everything was going to be okay. He pulled me in tightly to his chest and said, 'We'll figure it out, Kels. I promise to take care of you no matter what.' My stomach sank because what I had to do next was terrifying – tell my mother. I knew I had to tell my mom and I knew this kind of news would shatter her heart. She's not the kind of mother you can keep secrets from; she's intuitive and could always read my emotions.
I wasn't in the house long before she figured out something was off. When I finally said the words, 'We're having a baby…' I saw the pain and anger in her eyes. I had the whole world in front of me and this was going to change everything. Nobody in my family had ever had a baby out of wedlock. We both came from conservative Christian families and this type of thing was taboo. For a short time, I contemplated putting the tiny human growing inside of me up for adoption. I personally couldn't go through the emotional pain of aborting and I wanted to provide a family with happiness if I couldn't go through with parenting myself, but we ultimately decided to move forward with keeping our baby.
A couple days after my life-altering news, my grandmother (fondly known as Meme) approached my mom with an idea. She suggested because we had such a solid relationship and were too young and financially unstable to move out on our own, we should get married to learn how to be a married couple before bringing a baby into the world. She offered to let us live in her home until we could get on our feet. It just made sense. We wanted to give our baby a strong foundation and both of our families supported this idea. So, on October 17, 2009, only six weeks after finding out we were going to become parents, we said, 'I do.'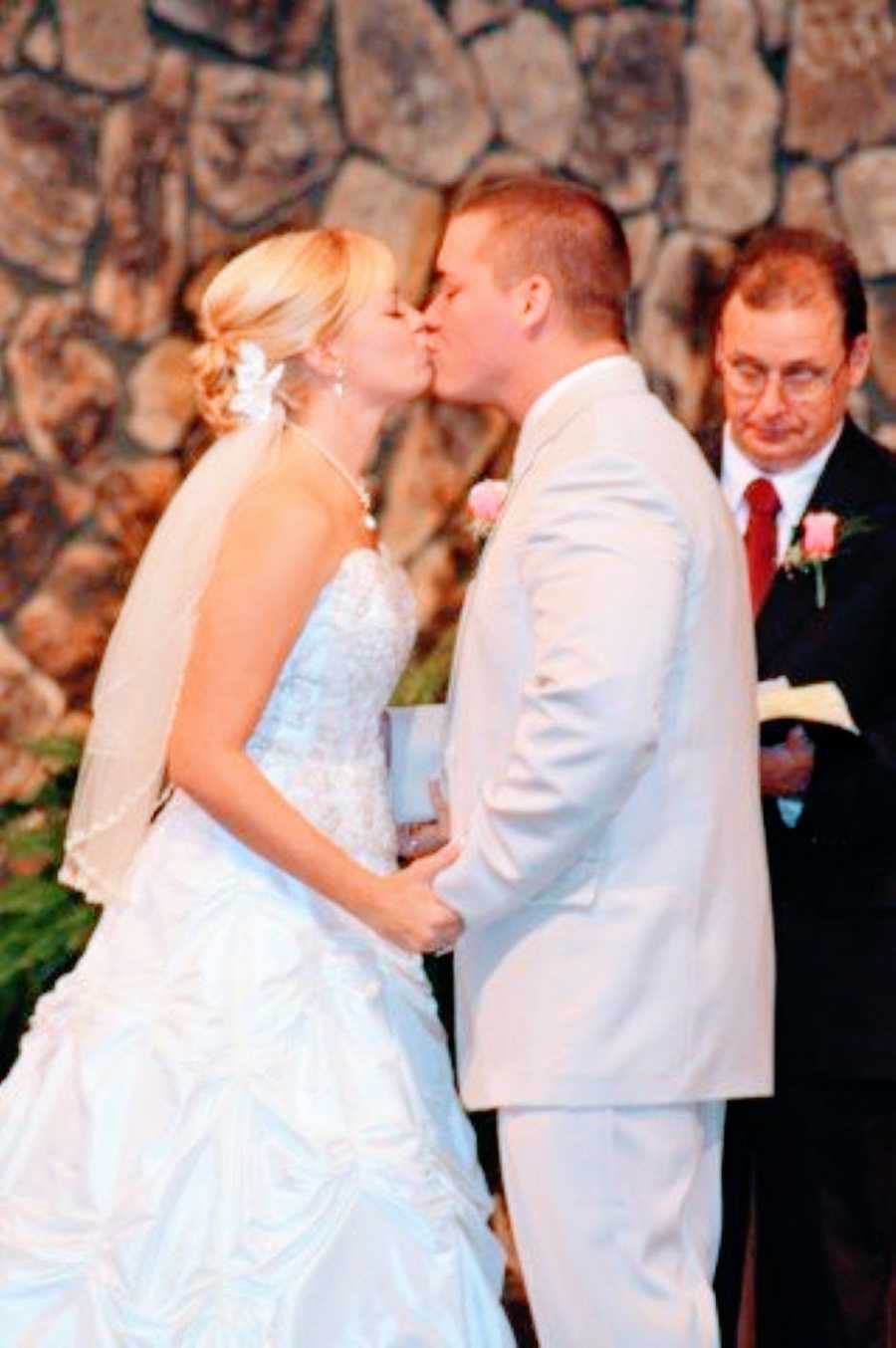 I cried the entire morning of my wedding day between running to the bathroom, vomiting everything I ate thanks to severe morning sickness. To put it plainly, I was scared for our future. Everything I had known in my life was completely torn from me in an instant and I have never been good at processing change. This was really the beginning stages of depression for me. I wasn't allowed to wear white and I had to choose a clearance gown that hid my growing belly. I was twelve weeks pregnant. I can remember the look I gave my dad as he took my arm to walk me down the aisle as my stepdad took the other arm. My dad whispered words through tears as I made my way towards Brandon, 'Your life is going to change forever, Kelser.' He wasn't wrong.
After our wedding, I realized moving into my grandmother's house ultimately meant learning how to become the model wife. She took her role as my mentor very seriously. I remember waking up to her knocking on our bedroom door saying, 'It's time to go to the grocery store, but first I'm going to teach you how to make a menu for the week and budget.' She was old-school and I soaked up every bit of it. 'You set the tone for the evening. Meet your husband at the door with a cheerful smile and a good meal on the table. Make sure you look presentable, it matters,' she'd say. That's just what I tried to do.
My pregnancy was going fairly well until halfway through when I started showing signs of preterm labor. At the time, I was still trying to go to school and continue working, but around 26 weeks, I was put on full bedrest after being hospitalized for going into active labor and dilating to 4 cm. I was allowed to get up to use the restroom and shower, but other than that I was bound to a bed. She would have me get up in the morning, make myself presentable, then I'd get back into my bed and pray the days would pass quicker. Getting myself fully dressed was supposed to help me not become depressed, as most women do during long bouts of bedrest. Being out of work and constantly worried, the dark days got darker. I had to drop out of school and I began to second guess everything. Was I even cut out for this? Brandon was working long hours as a customer service associate at Lowe's and I felt jealous that nothing about his life really changed outside of marrying me.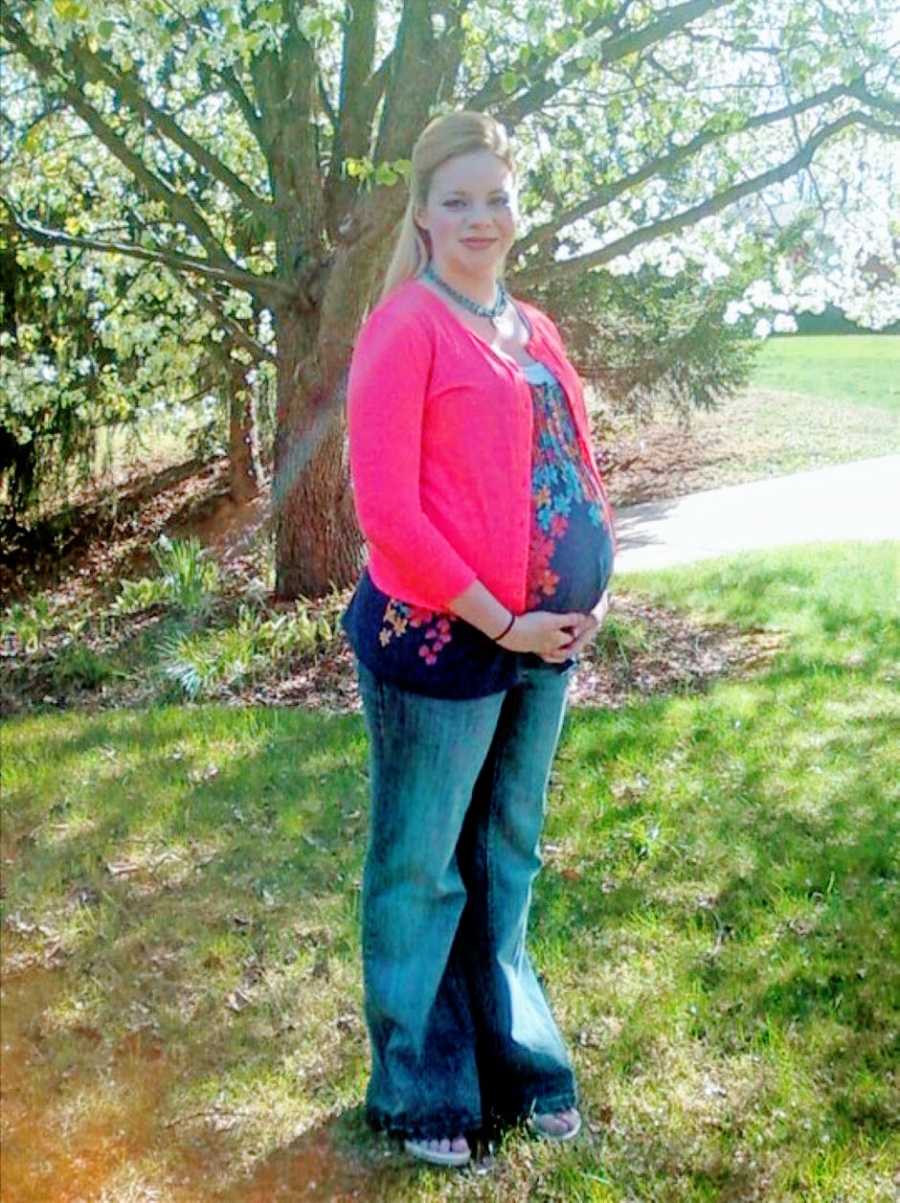 By 37 weeks, I went into labor again and was cleared to deliver after a test revealed my amniotic fluid was leaking. I walked into Labor and Delivery and was able to immediately get an epidural, so I had a comfortable labor and an easy delivery with only six hours of active labor and four minutes of pushing. At 3:27 p.m., I delivered a beautiful son, Brodyck 'Brody' James Ullom, weighing 6 pounds 7 ounces, a complete carbon copy of his father. I couldn't believe how much I fell in love with him the minute he was laid on my chest. I bonded with him immediately and Brandon did, too. He beamed with pride and from day one was an extremely hands on father.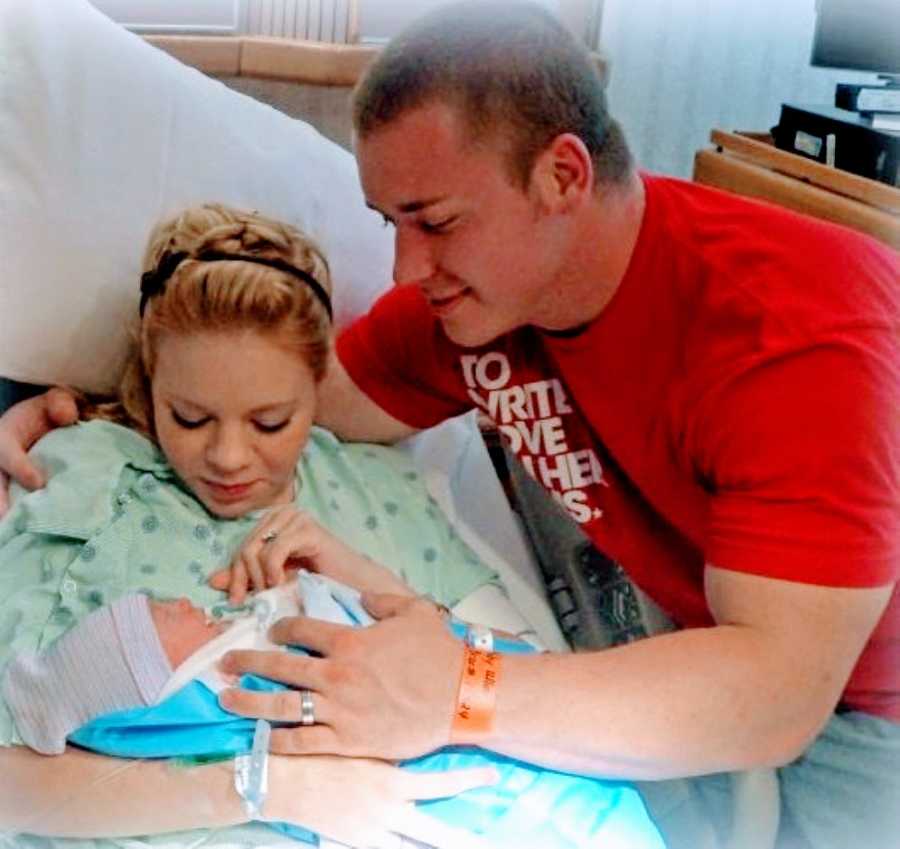 We had so many visitors because this was the first grandchild born on both sides of our family. The entire time I was in the hospital, I was plagued with self doubt. I didn't know what to expect and the anxiety of the unknown kept me from sleeping in the hospital. The first night at home, our new baby screamed for hours. Around 4 a.m., I sat on the edge of the bed with Brody in my arms, sobbing over him while he screamed, repeating the words, 'I don't know what I'm doing' over and over again out loud. Brandon calmly put his hand on my back and said, 'I'll take over. You've been doing too much and I just want you to rest.' You know that kind of sleep that makes you wonder what year it is when you wake back up? I crashed THAT hard. This was the first time I remember feeling an intense amount of guilt for not being the one who could calm him down.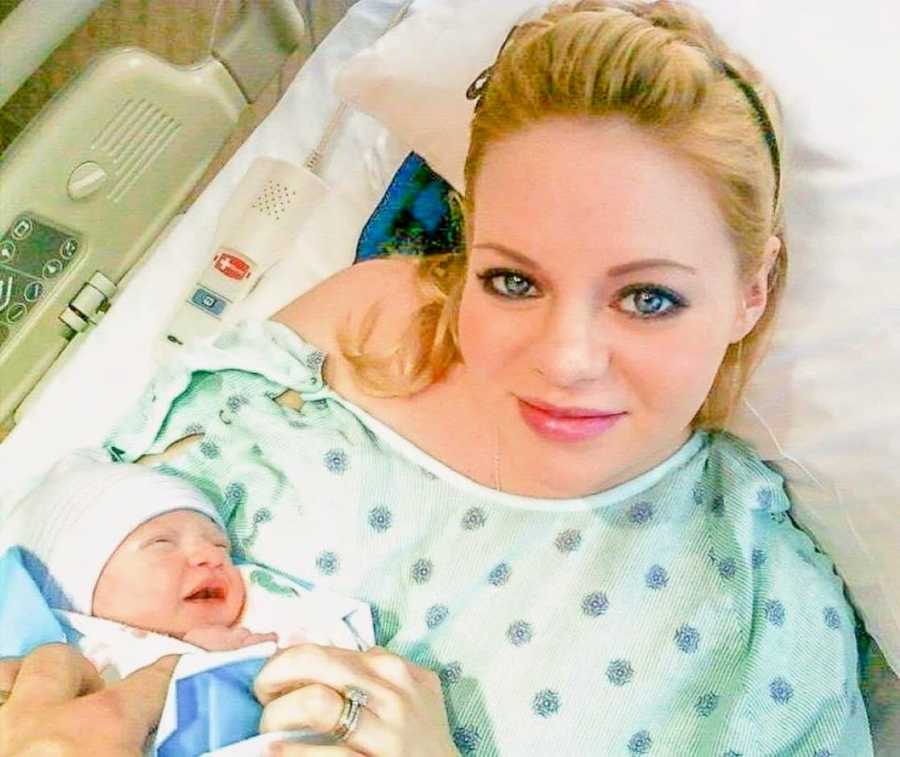 Once Brandon returned to work, I had help from my grandmother to put Brody on a routine. She taught me how to get him on a feeding schedule, sleeping schedule, and how to be an efficient mother and wife. What I didn't realize until later is I began obsessing over doing everything perfectly. I wanted to show everyone I was capable being a good wife and mom. I had something to prove because I knew most people assumed we only got married in the first place because I got pregnant and they probably had bets on how long we would last.
Around three months postpartum, without even realizing it, I started getting up in the middle of the night to clean even though everything was already clean. This is when the insomnia began. Brody was on a schedule sleeping well through the night and I had no reason to be up, but I couldn't seem to make myself rest. I also began obsessing over my body. I had always been fit, especially as a pageant competitor, but now I had deep stretch marks on my legs and tummy. I gained a lot of weight thanks to months on bedrest and boredom eating. I restricted calories to lose weight and stopped producing healthy breast milk, which turned my once happy baby into a really fussy one, but I didn't connect the dots. I was too naïve to understand the connection between healthy eating and breast milk production. We struggled with a small bout of colic, but after finding a formula that worked well, he returned to his happy self.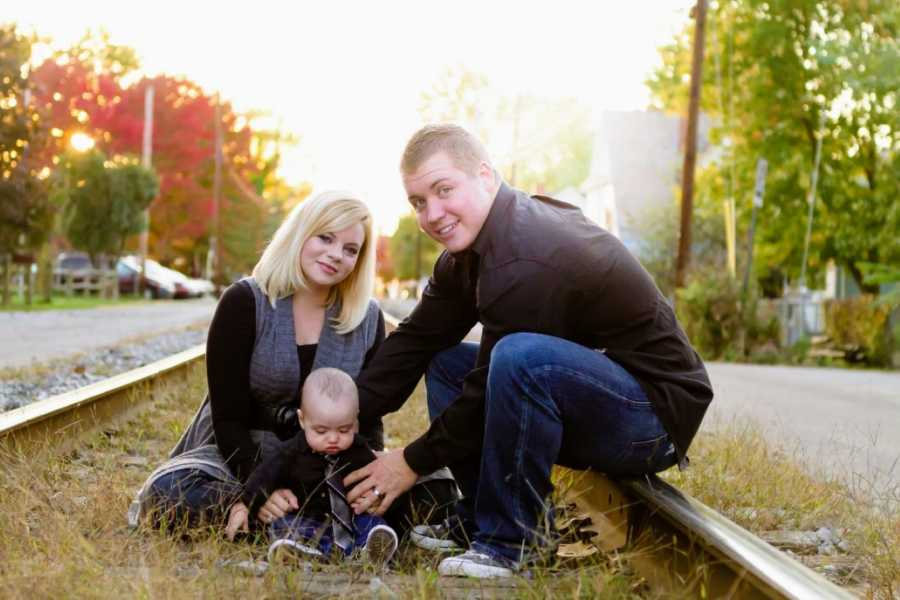 Everything seemed fine on the outside looking in, but that's when the onset of many troubling postpartum depression symptoms began, especially intense sadness, crying spells, and mood swings. When Brody was four months old (August 2010), we were able to find an apartment and finally move out of my grandmother's house. Brandon had just gotten hired to work as a correctional officer and I was spending a lot of time alone. It was a small two-bedroom townhouse and I believe this is when my symptoms worsened. I was on my own, not having the reassurance or company of my grandma anymore. I didn't understand what was happening to me, but my first thought was to keep it to myself.
I remembered seeing a sheet on 'Baby Blues' in the giant folder of informational discharge papers the hospital sent me home with after my baby's birth, but I never actually read any of it because nobody told me how important it was to recognize and monitor. The following month, I got hired to work full time at a crisis pregnancy center as a receptionist. I wasn't ready to leave Brody, but I knew staying at home and not being able to contribute financially wasn't an option because we had to start paying rent.
My job was intense at times because most of the girls coming in to be seen at our clinic weren't in the position of providing for their baby – some were even drug addicts, in abusive relationships, or still in high school. I could almost feel their pain because a year earlier, I was learning to process my own unplanned pregnancy, but I wanted to make a difference, so I tried to show as much compassion on a daily basis as I could. The emotional burden of working with women in crisis situations caused my postpartum depression to intensify even more. I remember one woman coming in and asking for a pack of wipes because the baby had been sitting in a soiled diaper for hours and all she had was Clorox wipes. I hurt for her and many of the clients who came through our doors. That hurt didn't go away when I clocked out. It stuck with me and I carried it into the next day.
By October, a house came up for sale next to Brandon's parent's home. It was a cute yellow ranch style home with a covered front patio and a big backyard on a dead-end street. We started the process of applying to buy our first home and for the first time in our marriage, I finally felt proud as we made progress. We qualified to buy it, but because it was being settled in a divorce, we had to wait longer than usual to close. During the waiting period, we decided to move out of our apartment and move into Brandon's parent's house. This is where my real nightmare began, not because of having to live with my in-laws, but because we had a huge lack of space and it's when I began not sleeping altogether. Brandon's dad and mom welcomed us with open arms and to this day, I still love them with my whole heart, but back then their home became my own personal hell.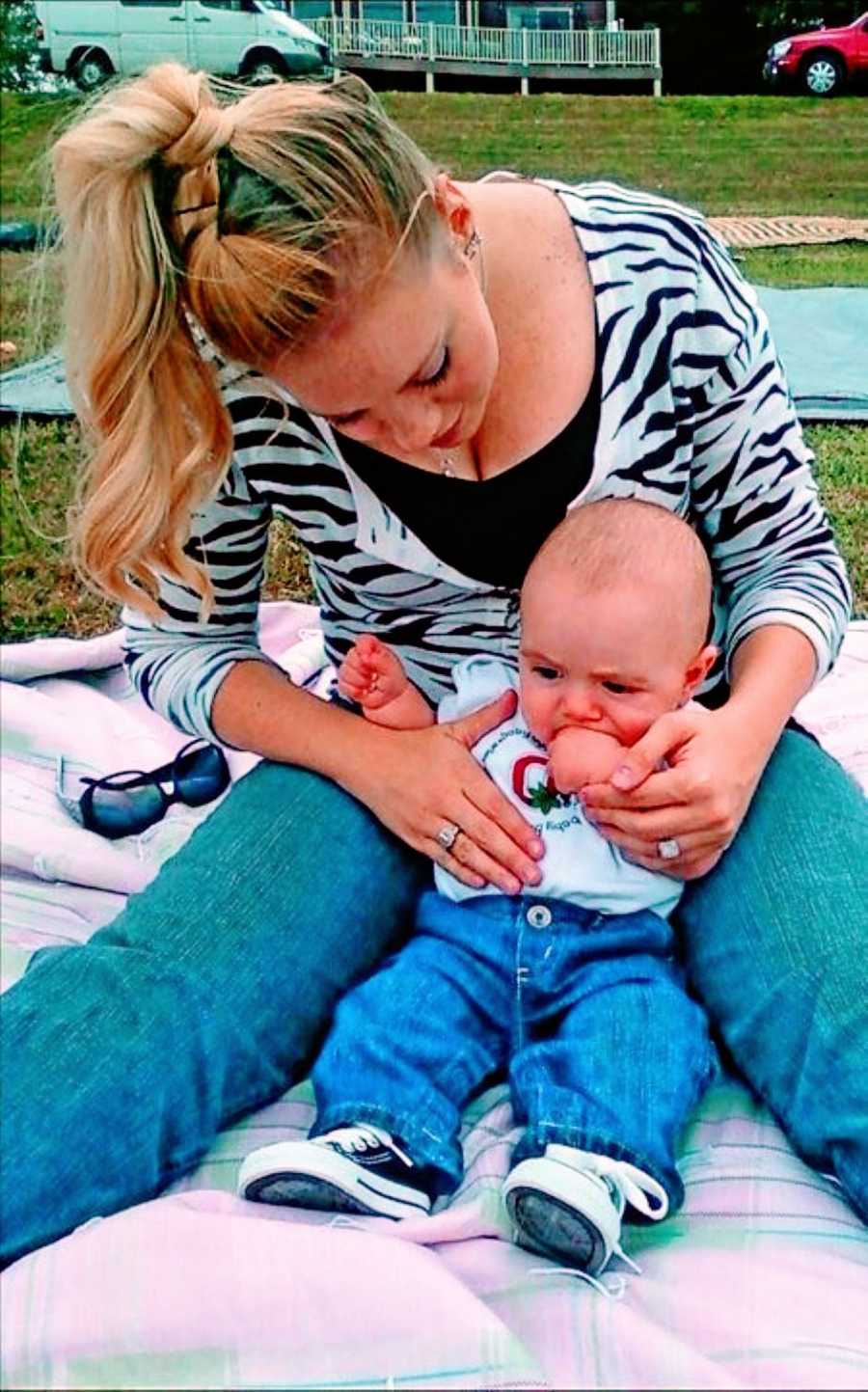 Between the emotional burden of my job, the stress of buying a new home, and the intensity of my postpartum depression symptoms billowing in size each passing day, I began to slowly unravel. It started with me waiting until everyone went to sleep. I would get up and stand in the small space between our bed and Brody's crib, watching his chest rise and fall with each breath, just praying my baby boy was okay. He was perfectly healthy, on target with all his growth milestones, and I had no reason to worry this would change, but my fear of losing him grew.
To keep myself busy at night while the insomnia owned me, I would compulsively clean to avoid panicking. There were nights I would stand in the bathroom, gripping the vanity counter talking out loud to myself, 'You don't know what you're doing, Kelsi. Why did you even have this child, you're failing him one day at a time.' I would hyperventilate while trying to gather myself before raising any suspicion something was wrong with me from anyone else in the house. That's when the delusions began. I started believing if I told anyone I wasn't sleeping, compulsively cleaning, and obsessing that my baby was going to die, he would be taken from me. Of course none of this was true, but I didn't know that. I thought reaching out for help would label me as an unfit mother, resulting in my baby being given to someone more qualified than me.
Brandon's a heavy sleeper. He rarely woke up, and if he did, I would make the excuse I was up to use the bathroom. He didn't know I was panicking at night and watching our baby sleep. I was good at hiding my emotions, and even scarier, I was a good liar. I wouldn't let anyone see weakness in me as I was slowly breaking down from the inside. At work, I would disappear into the bathroom to cry. My hand shook constantly and the first hallucination I ever experienced was feeling like bugs were crawling under my skin. I repeated the same cycle every single day for over a month: go to work, cry in the bathroom, pretend nothing was wrong, go home, skip dinner, wait for everyone to go to bed, get up and watch my child sleep or clean something to keep myself busy.
By December, the delusions and hallucinations worsened. I started hearing voices telling me to start planning my death or my baby would die and it would be my fault. I would close my eyes and see myself holding his lifeless body. I couldn't get that image out of my head and I couldn't decipher whether it was real or not. It was like this horrific event was already decided for me and I couldn't escape it. I didn't want my child to die. I wanted him to have a life full of love and fulfillment surrounded by people who loved him. I started feeling a dark sense of emptiness, realizing my only escape was to end my life. Because I had become so mentally ill and completely lost touch with reality, I was fully convinced I would be saving him by sacrificing myself. From the outside none of that makes sense, but it was completely real to me.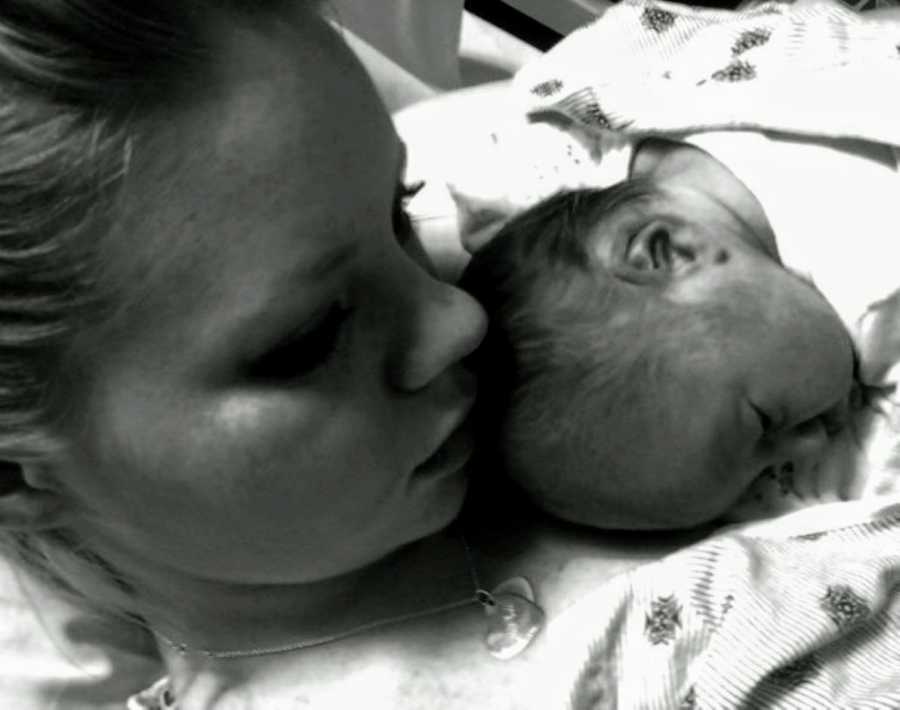 On December 24, 2010 I decided how I'd end it after I had spiraled past the point of no return. My plan was to go home during my lunch break, take a bottle of pain pills I had saved after my son's birth, go to sleep and never wake up. I also wrote my goodbye letter to Brandon and Brody that night. It was stained in tears and folded neatly, tucked in my bible for safe keeping. I explained how much I loved them and how they deserved the best, something I couldn't provide. I didn't want to commit suicide on Christmas Day because I didn't want to ruin such a special holiday, plus everyone would be together and I wanted to have one last happy memory with my family before I followed through with my plan.
I soaked up every single moment that day, watching my baby boy crawl across the floor towards gifts on his first Christmas. For the first time in months, I felt peace because I knew the voices would stop and the burden of my existence would end. It's important to note when someone is suicidal, they can't see outside of their own struggle and how the action of ending their life can dramatically create pain for the people who love them. I never understood that until my own suffering. From the outside, suicide is a selfish act, but when you're in the deep pit of mental illness, you can't see outside of yourself at all. It's like being chained to the ground all alone, trying to scream but not able to be heard, in a prison cell with your name on the door.
The next morning I went to work, fully aware of what would happen later that day. I couldn't sleep the night before and my mind screamed at me in the silence of the night. I had no more internal battles about what my mind was telling me to do because I was too sick to realize if I just opened my mouth and told someone how badly I was suffering, I might be okay. I wasn't too far into my daily work activities when out of nowhere, I started panicking at my desk and vigorously scratching my chest. I began pulling my top away from my throat and felt like someone had grabbed ahold of me, trying to choke me out. I was having an anxiety attack and nothing could stop it.
The ladies in my office took notice and swiftly pulled me into one the client peer counseling rooms. I sobbed and shook. It was the first time anyone had really noticed I was unwell and as they asked me questions, the words of my struggle began to fall out of my mouth until one of the women asked, 'Do you have a plan to take your own life, Kelsi?' I looked up and cried, 'YES, but I just need rest. I just want to go home to sleep.' What they didn't know is the 'rest' I was trying to get was for me to take all the pain pills and drift into a forever sleep. About 15 minutes later, Brandon showed up completely confused. One of my coworkers pulled him aside and told him to call my OB immediately. 'She's not okay. This is an emergency situation,' I heard her say. He walked me to the car and by this point, my eyes were swollen, I had red scratches all over my chest, and I just kept repeating, 'I'm fine. Please just take me home. I want to go to sleep. I want to go to sleep!'
He dialed up my OB and they told him he needed to take me to the emergency room to be evaluated. I started screaming, 'NO. JUST TAKE ME HOME. I JUST WANT TO GO TO SLEEP.' He could've brushed off the evidence of my instability, took me home, and let me have my way. He could've disregarded the warning signs to make me happy, but he didn't. He listened to his intuition and drove me to the hospital. By this point, I was combative. I finally stopped fighting him and let him take me inside. As I was taken to a triage room, I was told I had to remove the bobby pins from my hair, take off my bra to have the underwire cut out, and they gave me a paper-like gown to put on. I no longer felt human. I felt numb and exhausted.
The next couple hours were a blur. I could hardly explain the mental hell I had been struggling through in understandable terms as the nurse wrote in my chart. I didn't even realize Brandon was still there until I saw him sitting in the corner of the room, bouncing his leg, holding back tears. We were only 21 years old. He wasn't exactly equipped with how to handle someone who is mentally unstable. The nurse came in and said, 'The good news is you're here and safe. Only crazy people don't think they're crazy. It's really brave that you came to get help and you have a really great guy who just wants to see you get better. We would like to admit you to the behavioral health unit for observation and to start you on some medication, but we need your permission.' I looked at Brandon with huge tears in my eyes, and signed the papers for admission. I was beyond the point of exhaustion and for the first time since my baby was born, I felt like I could accept help.
Brandon was told to pack me a bag and bring it back later that day. We weren't allowed to see each other once I was admitted. He gave me a hug and told me he would make sure Brody knew how much I loved him, then they wheeled me into an elevator where I felt naked and alone, shivering under that uncomfortable gown. Once I arrived, reality hit HARD. I couldn't believe where I was, sitting in a paper gown watching a man pace back and forth talking to himself. The loud cry of an elderly lady echoed down the hallway. I wanted to go home. I wanted Brandon and my baby, but most of all, I wanted rest.
That night, I slept hard. They gave me something to sleep and it worked well. I woke up early to the sound of my door being cracked and a face peering in. In the unit, nurses have to monitor patients every 15 minutes to make sure they aren't trying to harm themselves. Brandon had dropped off a duffle bag full of clothes, but I wasn't able to have contact with him at all. The toughest part of the whole experience was not being able to have visitors outside of specified windows of time, no phone calls unless they were monitored, and you never actually knew how long you'd be there. I attended every class they offered to help me navigate my way through this experience. I was counseled and put on medication to help stabilize me.
I finally began feeling like myself and most importantly, I had hope again. At one point, I remember a woman calling me out during one of the group sessions saying, 'I don't know why you smile so much, you're stuck in HERE.' I could only respond with a grateful heart saying, 'Yes, I'm stuck in here, but because I'm here I am still alive and I get a second chance at life.' I spent 6 days there total and the entire experience quite literally DID save my life. The moment I got discharged and was able to meet Brandon and our son outside of the unit doors, I hugged them both harder than I ever had before and thanked him over and over again. 'Because of YOU, I'm still here. I get to see our son grow up,' I said through sobs. Brandon surprised me with the keys to our new home. While I had been in the hospital, he was able to complete the closing process and moved everything in. I got to go home to our first REAL home. I never felt more thankful in my entire life!
I later found out what I had experienced was called Postpartum Psychosis, which is nearly always an emergency situation where the mother can become suicidal or homicidal. It usually occurs in women with prior mental illnesses, but my case was rare; I had never struggled with any kind of mental health issues until depression during my pregnancy. I had never been educated on the baby blues or postpartum depression. I hid my symptoms so well, everyone around me assumed I was fine and because I dealt with an immense amount of shame, only a small handful of people knew I had been suicidal and hospitalized. I treated my run in with postpartum psychosis as a hidden secret, buried deep from anyone I could until five years later when I decided to step out in faith to openly share what I had gone through.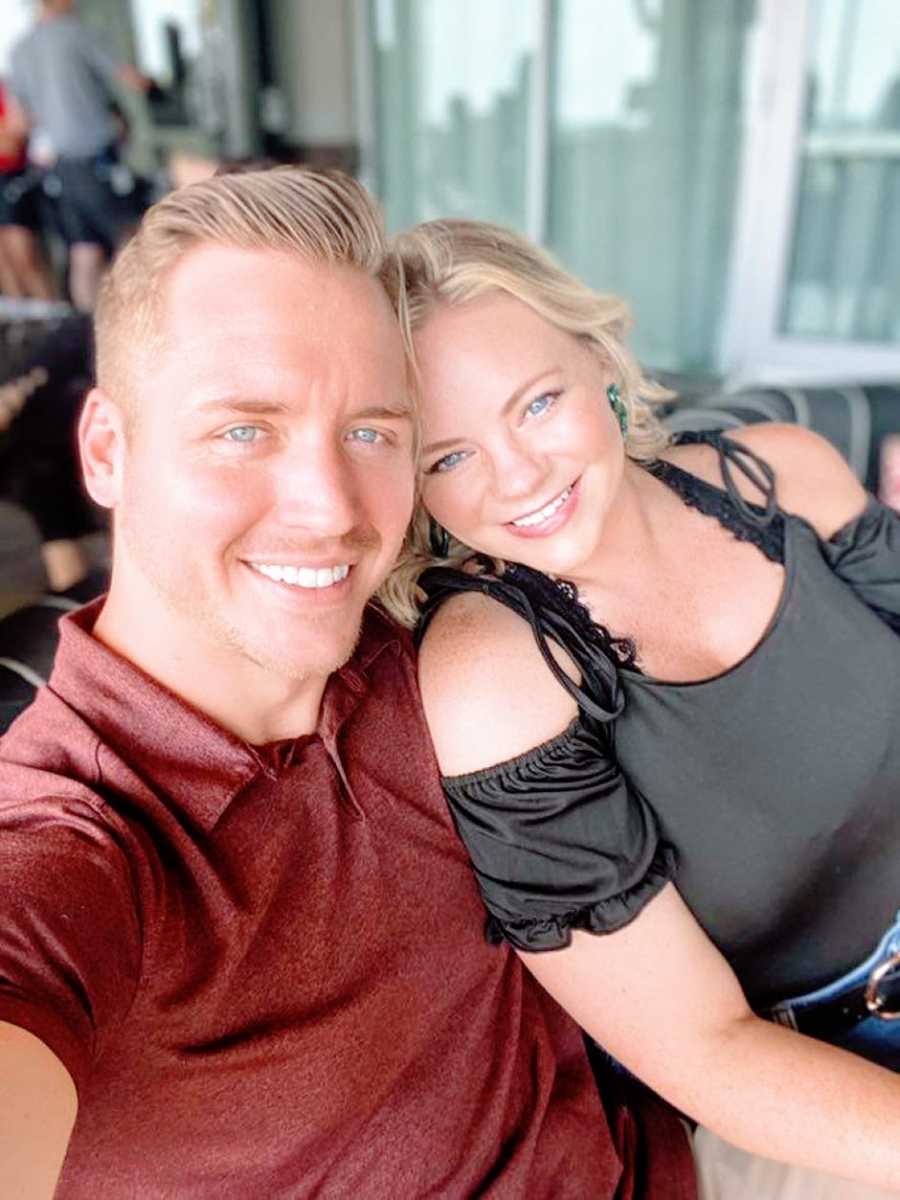 By this time, I had given birth to two more children: Ryder and Sophia. During their pregnancies, I learned to create a battle plan in the event I had to go through the same situation. I learned to advocate for myself and I went on a mission to give other women a voice to learn to advocate for themselves, too. What happened next was really the start of me realizing my purpose in this second chance at life. A Facebook video I made was viewed over 50,000 times and I started getting messages from women all over the world sharing their story with me. The common theme was the fear of speaking up and the constant struggle of feeling guilt or shame.
Last Fall, Brandon and I filmed a video for TikTok to share his point of view and raise awareness. It was viewed 4.2 million times and shared by 27,000 people. Again, I saw an outpour of support, but more importantly, my inbox filled with women brave enough to share their own postpartum experience. That's when I realized I had to create a community, share my story MORE, and start working to impact more lives. Brandon's role is to help men understand the warning signs of postpartum depression and he stresses the importance of taking care of your child's mother during the emotional stages after giving birth. We started a Facebook page called 'The Postpartum Pineapple' and I'm currently writing a postpartum journaling book for women to use to help navigate their emotions and educate them about how to advocate for themselves when they're not feeling mentally well. Uplifting quotes fill the gaps in between. It's interesting how someone can not just survive something that was meant to kill them, but thrive in life by boldly sharing their experience to impact others.
Today, Brandon and I just purchased our dream home and have four children: Brody (11), Ryder (9), Sophia (7), and Axton (2). He works as a Narcotics and Violent Crimes Agent and I work from home as a social media marketer while I work on my book and continue to grow our Postpartum Pineapple Community. My ultimate dream is to grow my community into a company and travel to different events, sharing my story in front of thousands. I just want women to know they are loved, valued, and have the power to speak up for themselves if they're struggling! 'It's okay to not be okay, it's not okay to stay that way,' is my motto. I hope this touches lives and gives people the courage to share their own story!"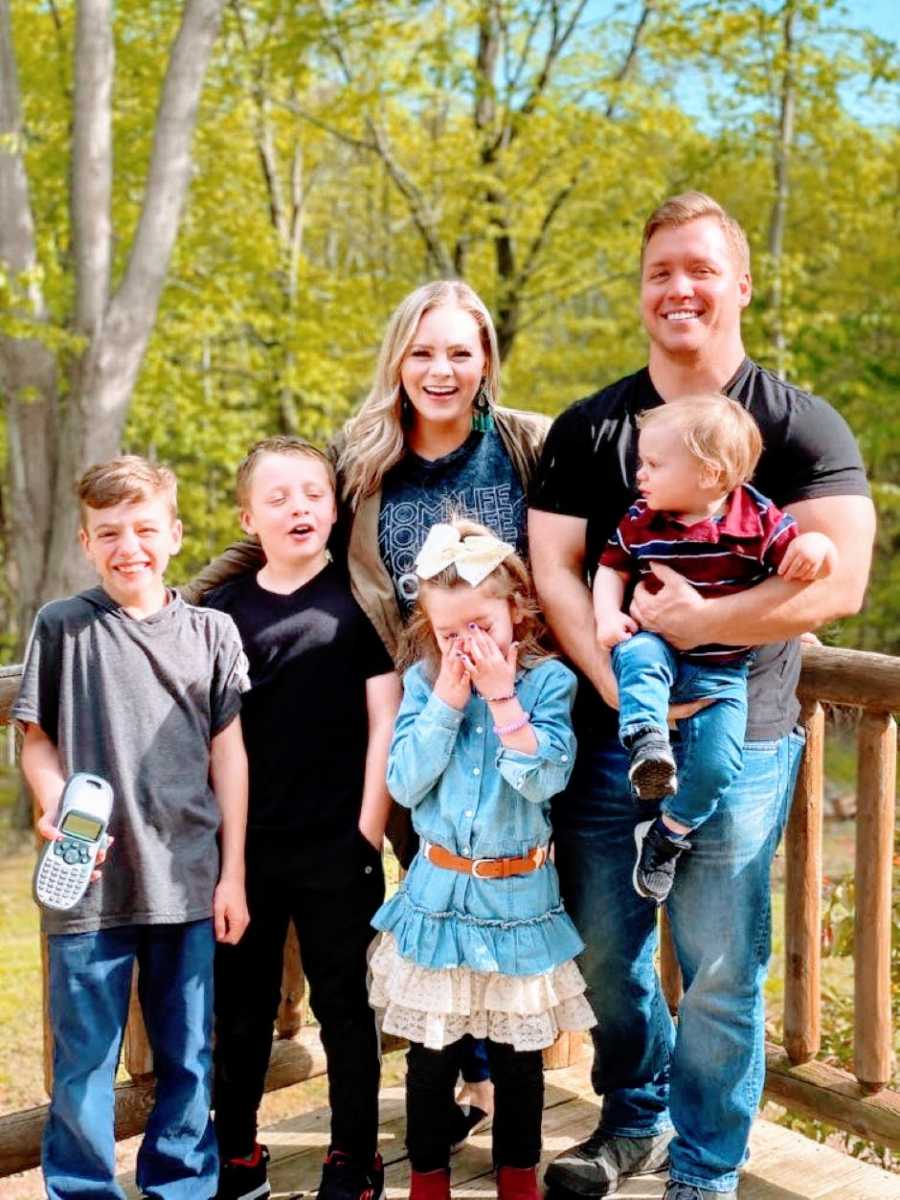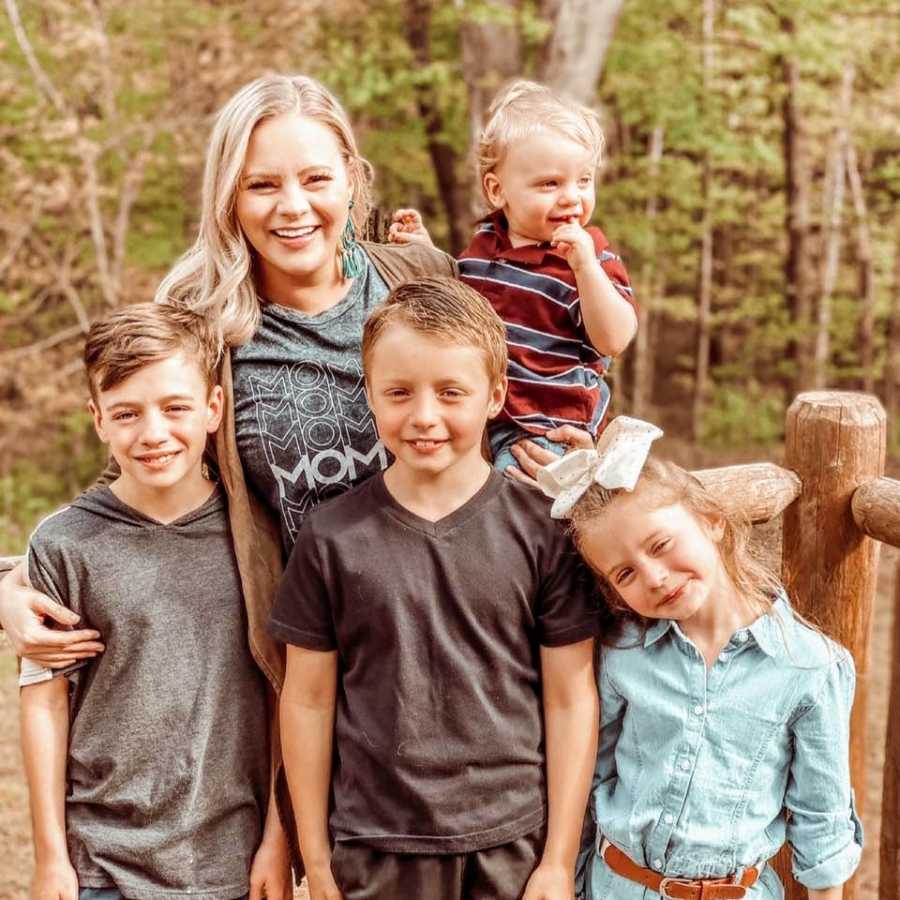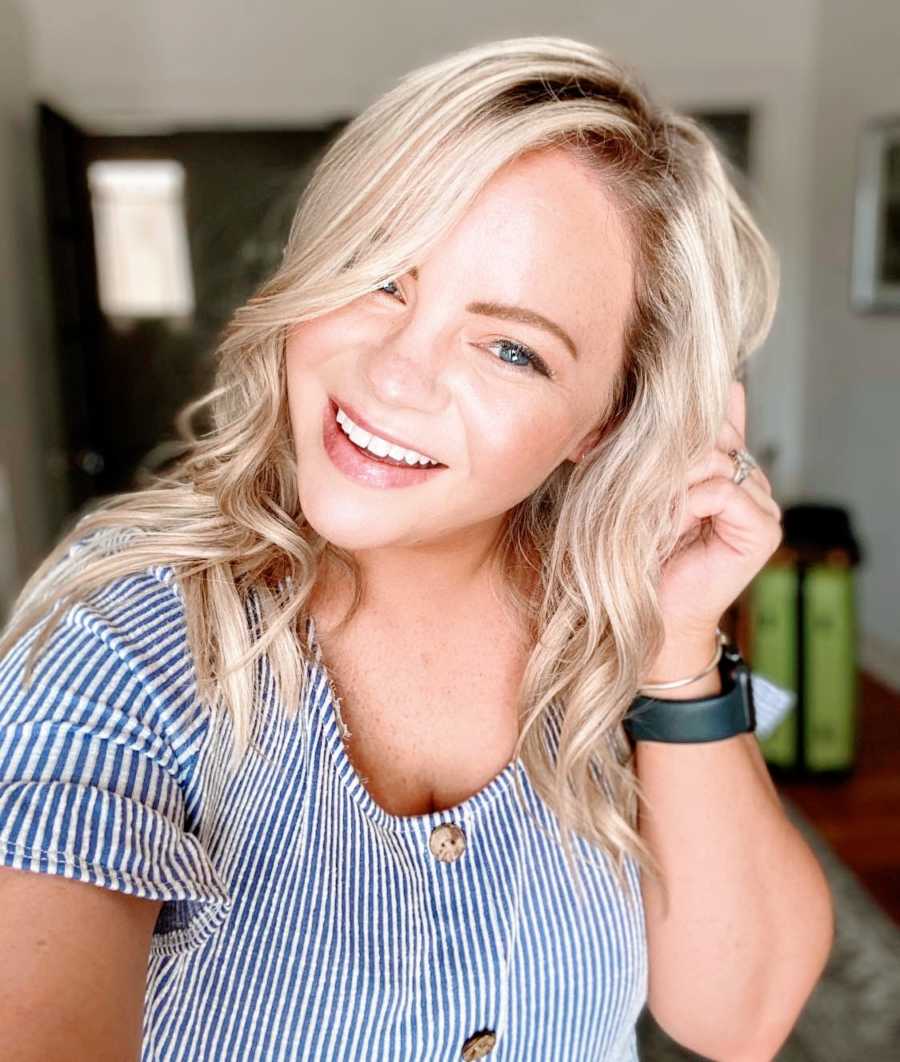 This story was submitted to Love What Matters by Kelsi Ullom. You can follow her journey on Instagram, Facebook. Follow the Postpartum Pineapple on Facebook and Instagram. Submit your own story here, and be sure to subscribe to our free email newsletter for our best stories, and YouTube for our best videos.
Read more stories like this here:
'Pregnant at 18, I heard, 'You're young, you'll bounce back!' It became etched in my mind. Stretch marks and loose skin? BAD.': Mom learns to cherish postpartum body, 'This body is my home'
'Don't say, 'When can I see the baby?' Say, 'Let me know when you're ready for visitors.': Post-labor mom reminds us 'there is nothing more vulnerable than a freshly postpartum momma'
'You need your husband's permission.' I begged. I didn't feel maternal. I was told I'd 'change my mind.': Woman speaks up after refused sterilization procedure multiple times
'There are moments I think, 'Can I give the baby back? I'm not cut out for this.' And yet, there is nothing and no one else in the world who matters more.': Mom shares candid reality of first month of motherhood
Show some support for the wonderful mothers in your life. SHARE this story on Facebook with family and friends.