"I was blessed with a picture perfect first pregnancy. My oldest child was born at forty weeks gestation, with a head full of vibrant red hair, just like his momma. The pregnancy had been blissfully uneventful; his delivery, despite the c-section, was equally ordinary. And despite being unprepared for two babies so close in age, I was excited when the pregnancy test glowed positive for baby #2 once the initial shock wore off. My oldest was nearing 1 years old.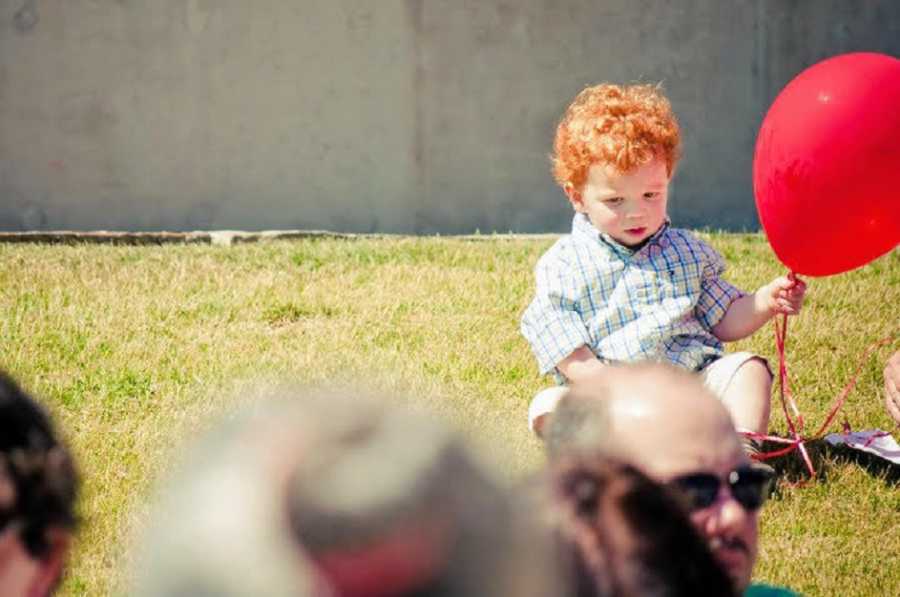 I don't consider myself to be a superstitious person, but when 2011 began with the death of a beloved pet in January, followed by my mother in law's passing in February, an uneasy feeling began to creep into my psyche, as I noticed I was measuring larger than I should have measured in the second trimester. By that point, ultrasounds had long confirmed I was carrying a baby girl, and she would ultimately be named Kathryn (I call her Katy, for short).
I was 32 weeks along in that pregnancy when it was discovered on ultrasound that Katy was a very sick little girl. That moment changed my world. Suddenly, I was ushered into the world of 'high risk OB,' maternal fetal medicine specialists, and, ultimately, genetics. But in those first few days and weeks, all that was known was that Katy was incredibly sick, and the odds were not in her favor to survive until delivery.
Katy had an almost always fatal complication of pregnancy called fetal hydrops, which is a complication due to hundreds of causes. On paper, though, she was perfect — the amniocentesis, the microarray screening, ALL the tests and screenings showed a perfectly healthy baby girl.
The night after Katy's ultrasound revealed how ill she was, I didn't sleep a wink. I laid in bed, tossing and turning. Sleeping was an impossibility anyway due to my rather large size – a complication of her condition was increased levels of amniotic fluid for me– which ultimately led me to grow to the size of someone carrying full term quadruplets.
That night, when I finally waved the white flag to sleep, I got up, walked downstairs to the kitchen in the earliest hours of the morning when the sun was peeking through the horizon in a pink haze, and I fell to the kitchen floor and sobbed. I was crying over the loss of a perfect pregnancy, but more than that, they were the tears of a mother who was terrified of already loving something so much that the loss of control over her fate was simply too overwhelming for anything but tears.
Words didn't do any justice.
Over the next month, my size grew as the fluid accumulation in Katy's body worsened. And eventually, on May 12, 2011, my doctor admitted me to the hospital following my 36-week appointment after he took one look at me and shook his head in sympathy. By that point, I was unable to fit behind the steering wheel of my car, couldn't turn over in bed, and was essentially bed bound and immobile due to the unbelievable amount of fluid that had built up in my womb. My doctor simply couldn't stand to watch me suffer physically any longer, and while I wanted Katy to stay inside me, where I knew she was safe, I was incredibly exhausted. The trauma one feels as a prisoner in their own body is hard to describe.
On Friday the 13th of May, 2011, I locked eyes with Katy for the first time. She was beautiful, with a head full of brown hair and the cutest button nose I've seen. Even still, Katy was SICK. Her APGAR score was a zero when they first scored it. She was, for all intents and purposes, dead, and were it not for the wonders of modern medicine, I would have never had a single moment with her.
But lucky for me, I got twelve whole days.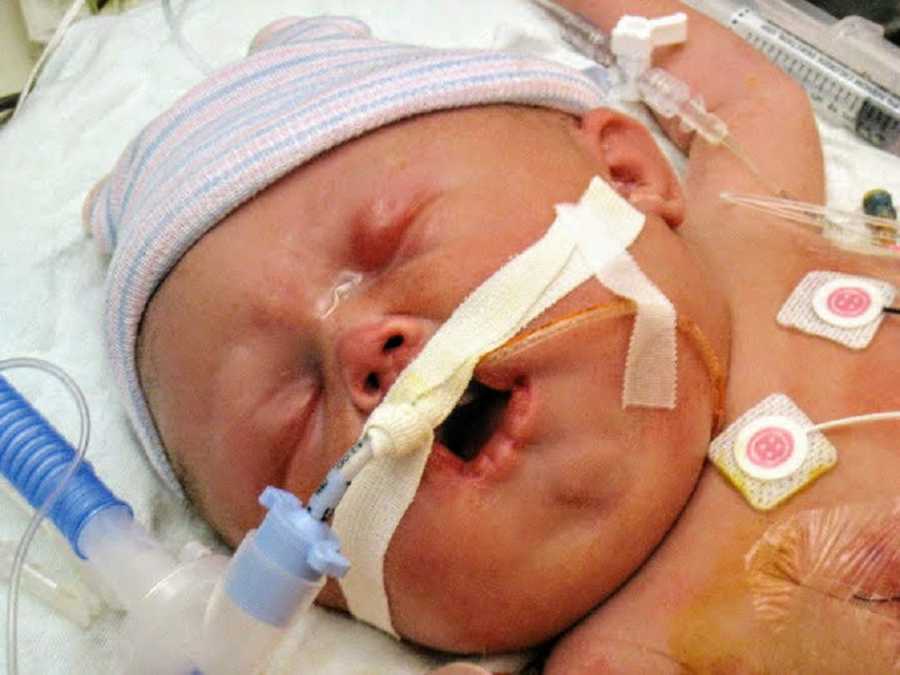 During that time, her healthcare team worked tirelessly around the clock to determine what was causing Katy to be so sick. I earned my MOM MD credentials during that time, as well. I was so limited in ways I could help her that I did all I knew how to do: I made her milk. Religiously. Every three hours, my phone alarm would go off, reminding me it was time to step into the next room and pump. I didn't know if she would ever need it, but I knew that if I DIDN'T, I was almost giving up any hope I had that she'd survive. Pumping and standing watch became my full-time job, and I gave it everything I had, while I knew that Katy's doctors, nurses, respiratory therapists, and other healthcare team members were giving it their all, as well.
For twelve days, we gave everything we had to her. In exchange, she gave us pure joy, pure love, and like I said earlier, the cutest little nose I've ever seen. Twelve days of NOTHING but pure love.
And on the twelfth day, at 1:11 a.m., I got to hold my baby girl for the very first and last time as they removed the ventilator and she took her final breaths in my arms. My heart broke into a million pieces at that moment. One thing I've learned, however, is how incredibly resilient the human heart is at healing, even after being shattered.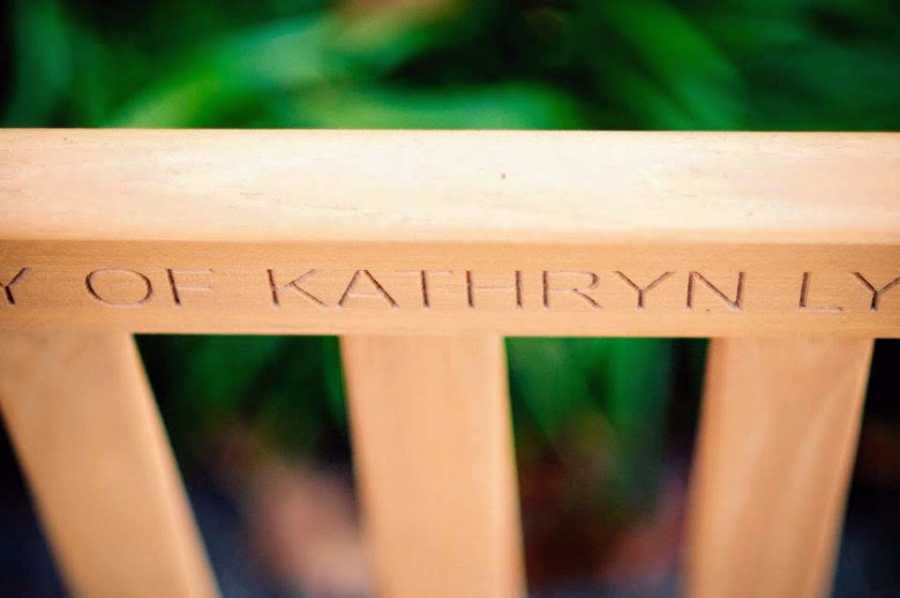 Later that summer, Katy's autopsy report suggested her complications were caused from a structural birth defect called a congenital chylothorax, because her thoracic duct was unidentifiable during the autopsy. If there is a silver lining to news such as this, it seemed this would have been it – as her doctor said this was a situation unlikely to recur.
'Are you SURE?' I asked, while reading over the report. 'It would be like being struck by lightening TWICE, so yes, I'm sure,' Katy's doctor said. If there's one thing we're taught from an early age, it's to trust your doctors. Following that meeting, I felt lighter, like a weight had been lifted, knowing that should another child be in the future, that child wouldn't suffer the way Katy had.
One year and three days after what would have been Katy's first birthday, I took a pregnancy test. Those two pink lines popped up in less than thirty seconds, and just like that, I was a bereaved mother in the emotional battle of my life. I was terrified from the start but tempered that with prayers for serenity and acceptance, and I worked to remind myself daily that I had no control over the outcome. My job was to trust this world was beautiful, and that God is good all the time, regardless of the outcome.
At my 12-week ultrasound, I looked at the monitor to see a bouncing, active, healthy baby boy. Fighting back tears, and with a smile on my face, I asked my doctor if there were any additional tests we should run. 'I don't want you worrying about ANYTHING except what you're going to name this baby,' he told me. And as I'm not one to ignore doctors' orders, it didn't take long to settle on a name: Micah. It was strong, and in hindsight, perfect for him.
Six weeks later, however, there was a somber tone in the ultrasound suite, as the tech went to get my doctor. He came in, looked at the screen, and then the words came out of his mouth like the weight of a million tons dropping from the sky: 'I have a couple concerns…,' he drifted off. Fetal Hydrops—the exact same complication, with the same unknown cause. I was literally reliving my worst nightmare.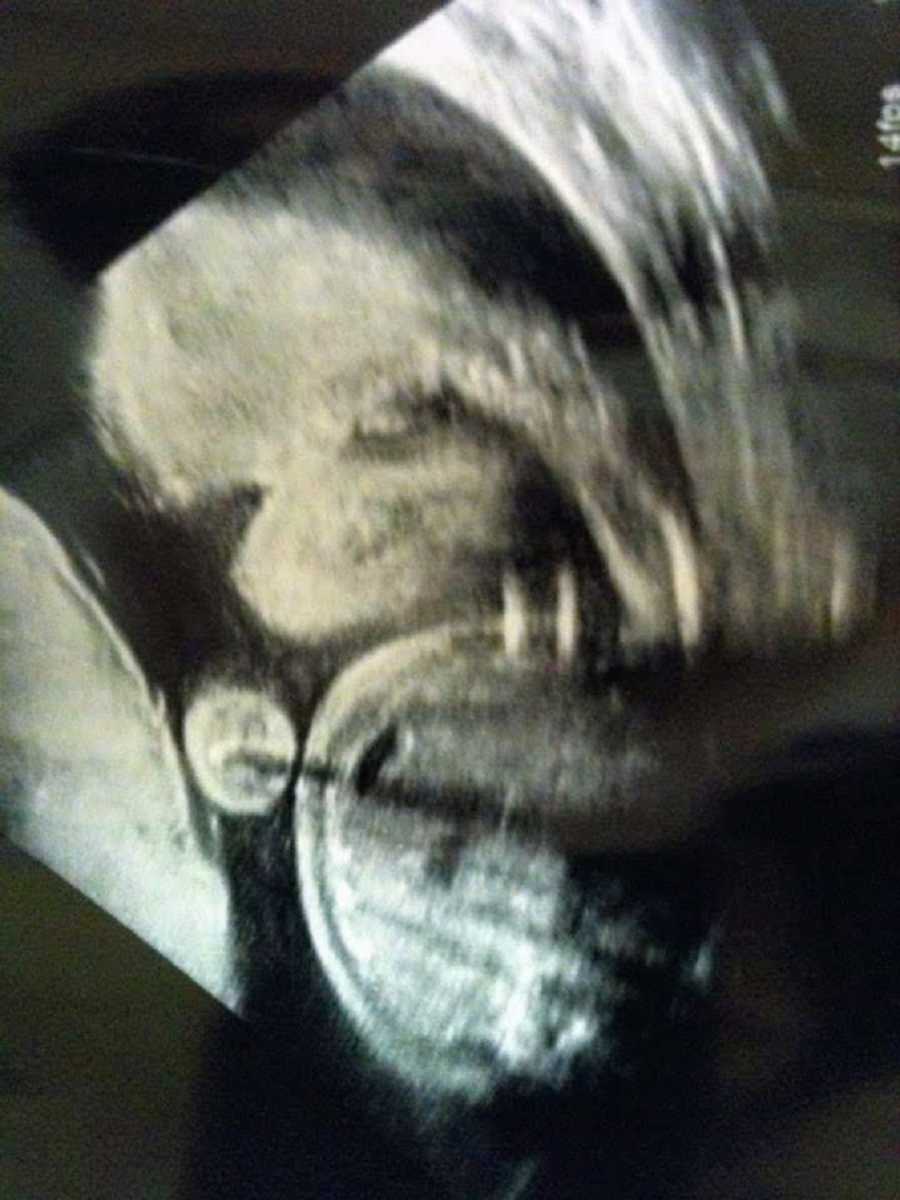 I don't even think I heard anything else. My heart was pounding in my head, I broke out in a cold sweat, and my body was shaking from the inside out. Knowing now what I didn't know then, I can recognize those symptoms as related to the complex PTSD I developed, which only got worse and more complicated as the years progressed.
There was one major positive to Micah's diagnosis – it was caught much earlier than Katy's. Because of this, it opened the door to pursue prenatal interventions, and my doctor placed intrauterine shunts into Micah's chest cavity to drain the fluid off his lungs. This procedure had to be repeated twice because Micah was stubbornly pulling out the shunts following their placement. I thought, SURELY, we deserved a different result.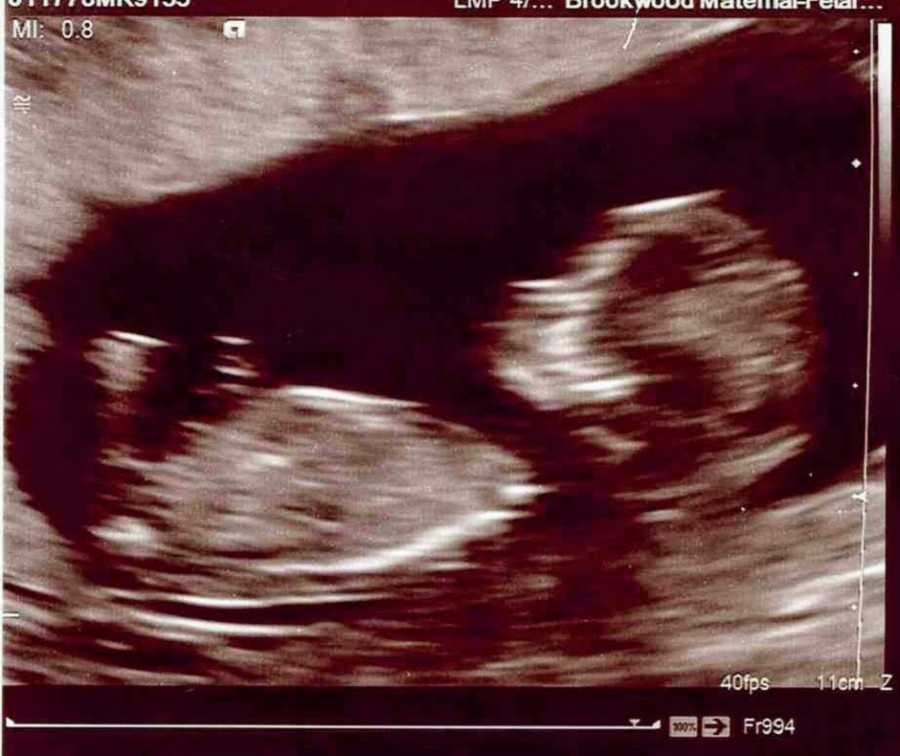 Unfortunately, when I was 27 weeks pregnant, my water broke. Ten days of hospital bedrest later, I suffered a placental abruption, and it was at that point that delivery became the option of last resort.
Micah was born on Thanksgiving night in 2012. He was SICK. Sicker than any baby I'd seen. I lost an incredible amount of blood, and it was the scariest night of my life. It's funny, though, how the exact same circumstance can yield such different results.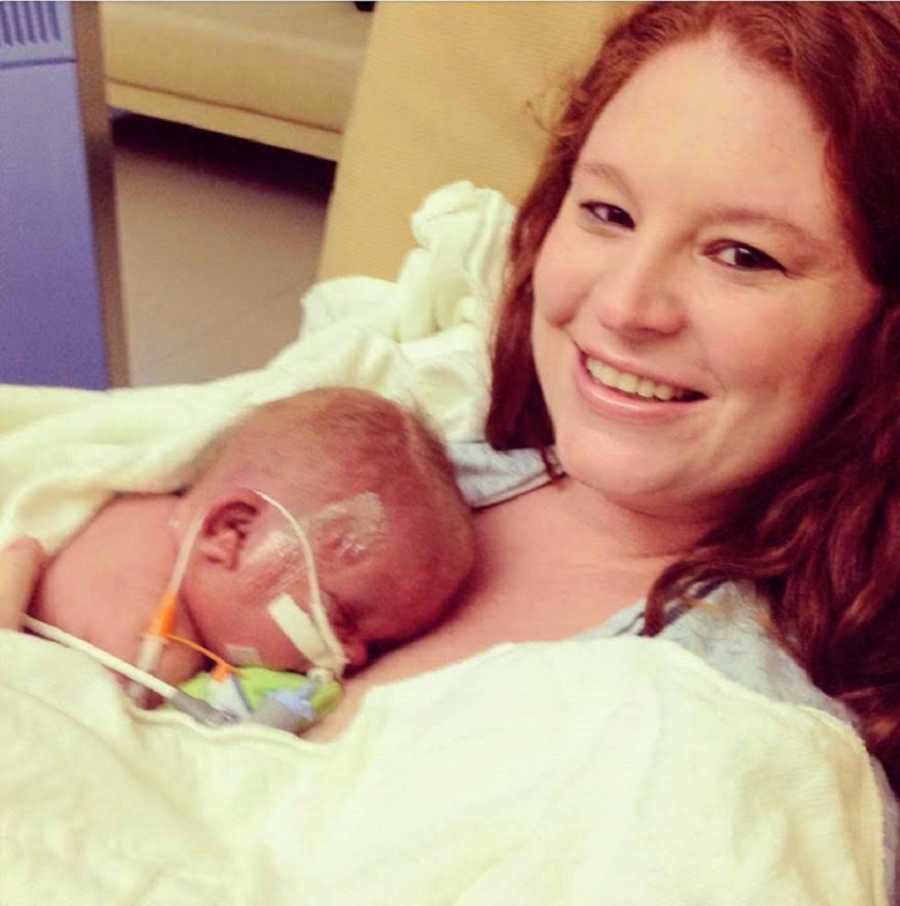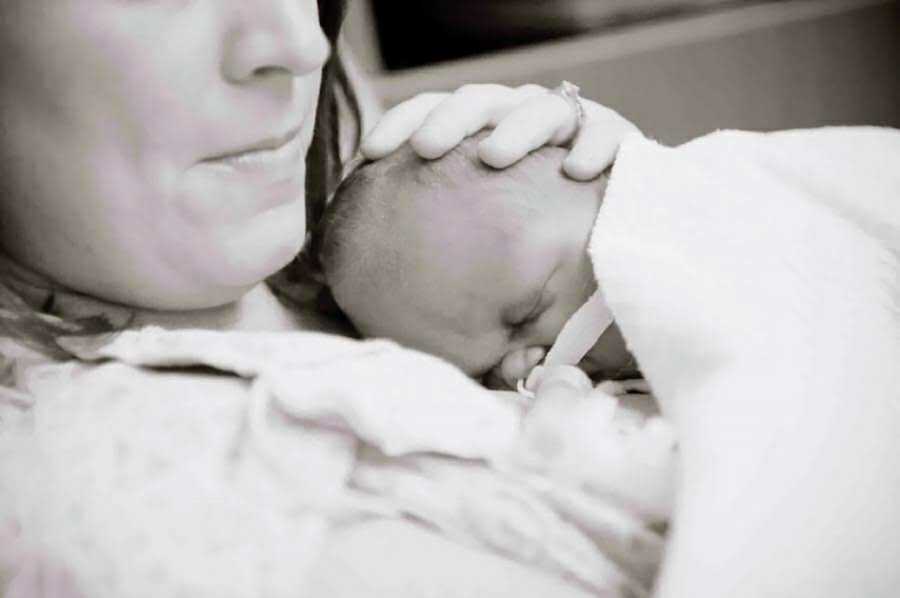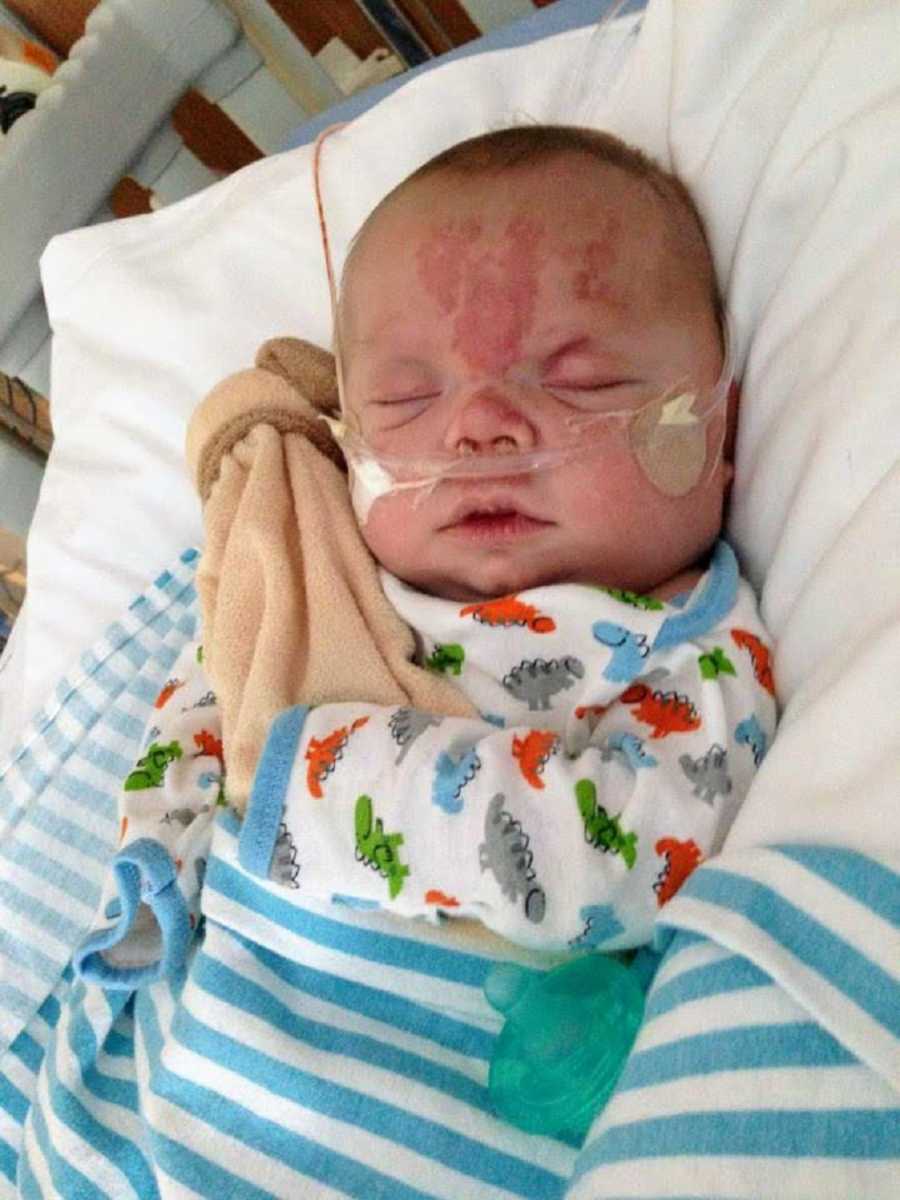 Micah fought like a warrior. He spent nine months in the Neonatal Intensive Care Unit (NICU) before coming home with his family in July of 2013. Three entire seasons had passed before he existed outside the walls of a hospital room. Even still, Micah came home oxygen-dependent, g-tube fed, on thirteen different medications, and STILL had no diagnosis.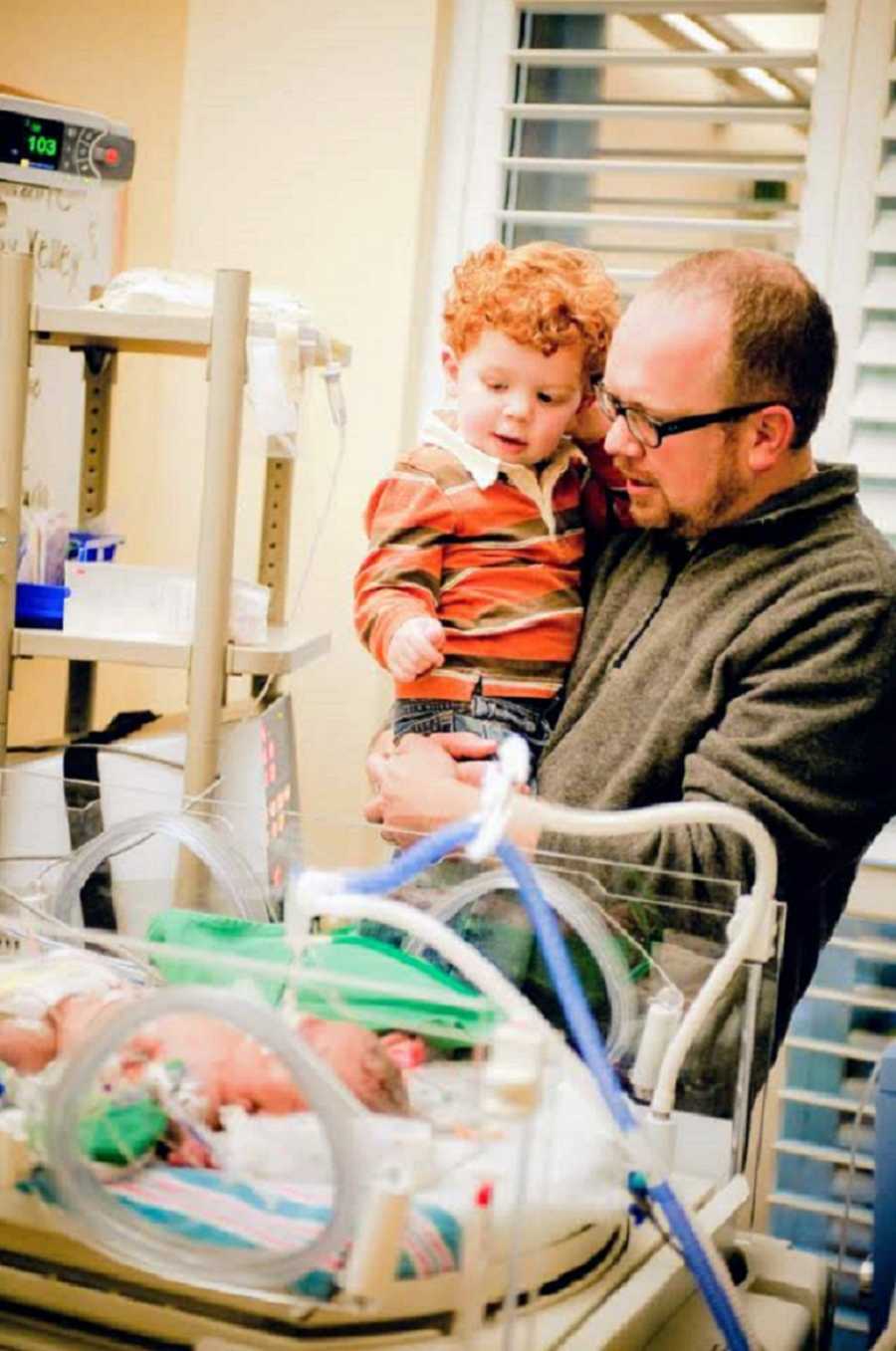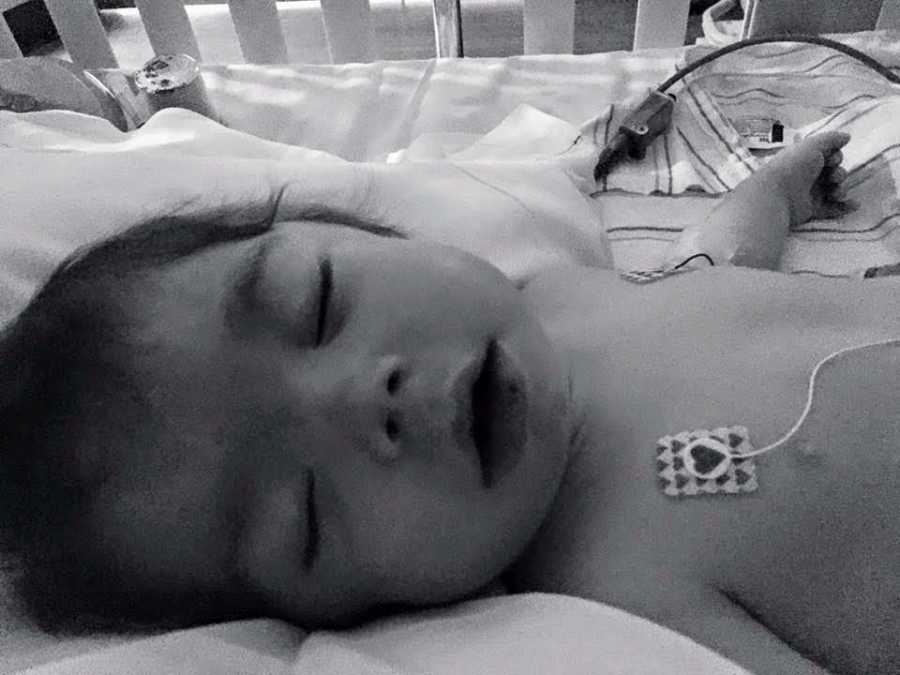 Eventually, days turned into months, which turned into years. After being accepted into an undiagnosed diseases genetics program, ultimately Katy and Micah both got a diagnosis: a rare recessive hereditary lymphatic dysplasia. For the first time, I almost felt like I could breathe again, knowing that Micah beating his neonatal term greatly increased his odds of survival.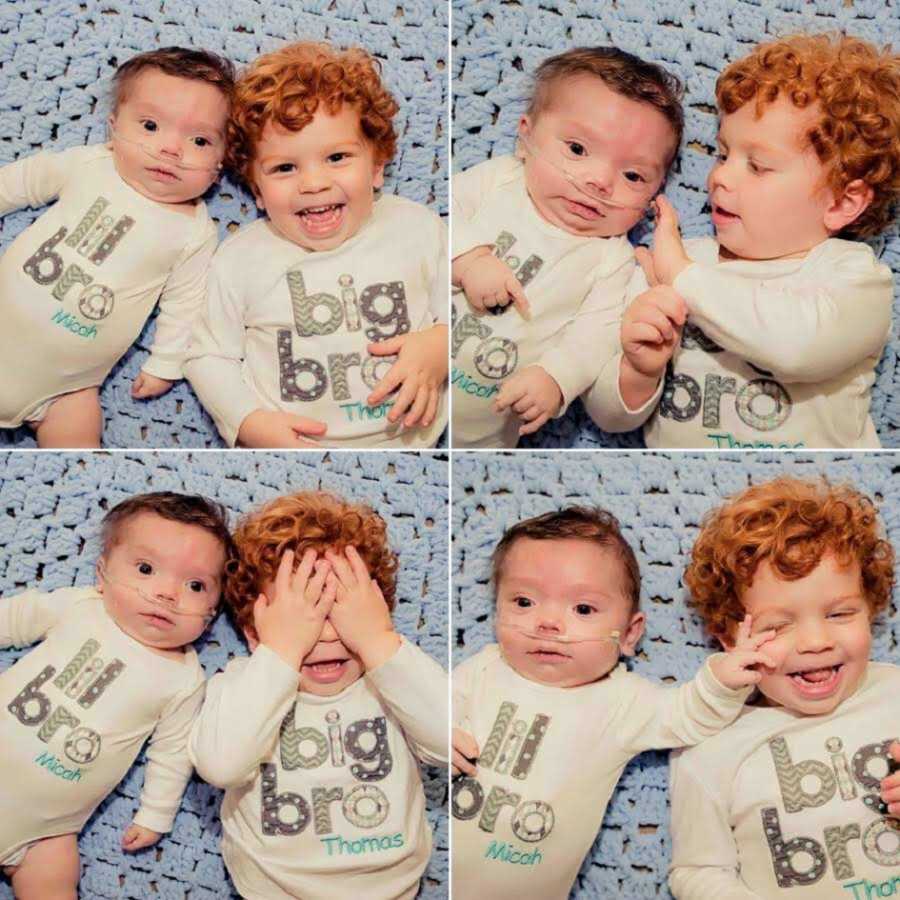 Then, at 18-months old, after experiencing repeated 'mystery episodes,' Micah was diagnosed with Systemic Juvenile Idiopathic Arthritis (SJIA). It caused dangerously high fevers during his flare ups, joint pain so bad he couldn't walk, a systemic body-wide rash, and an overwhelming autoinflammatory response during each flare.
These flare ups continued in frequency and severity, as I adjusted to life as a special needs momma. Micah was on Biologic injections for his arthritis, but being nonverbal, it was incredibly tough to know when he was in pain. Even with all he'd been through in his little short life, Micah was one of the happiest, silliest, craziest children I'd ever known. He and his big brother were like two peas in a pod together, and Micah continued to thrive. He even started walking at 2-and-a-half-years-old! And eventually, he even began to find his voice.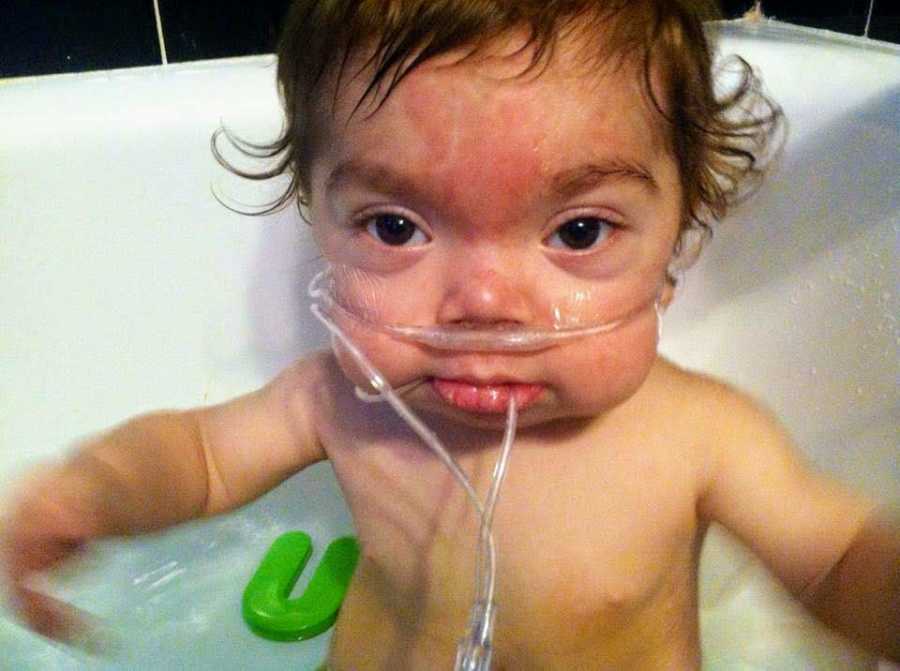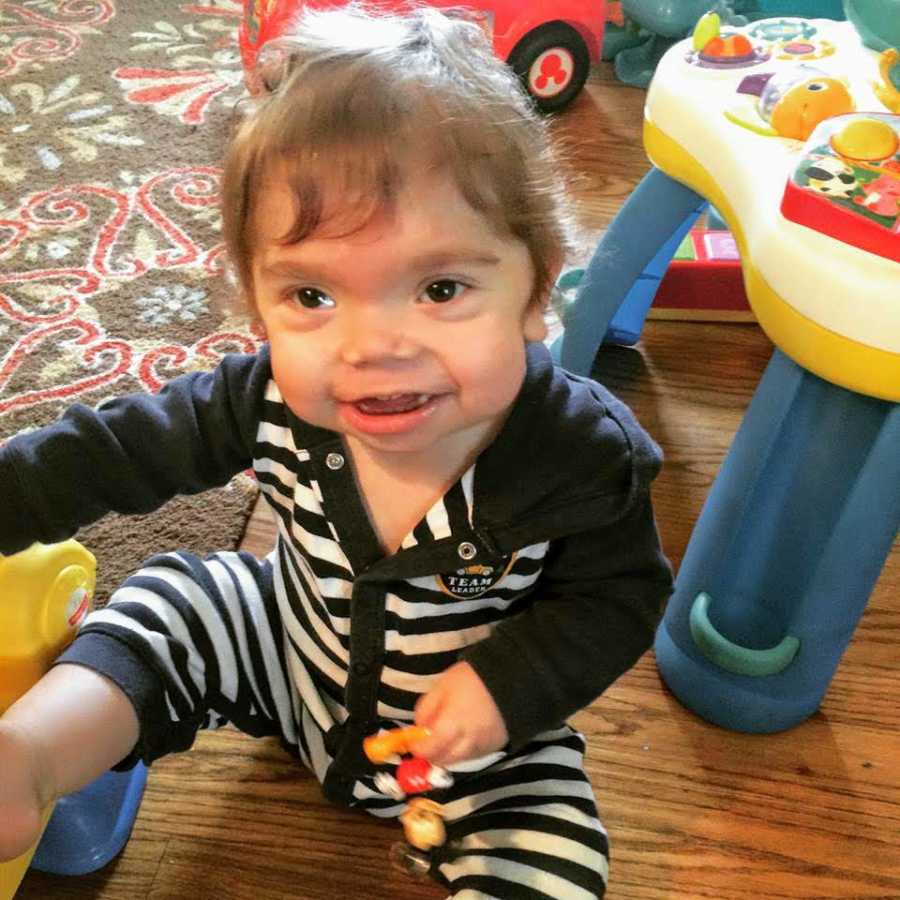 He was, for all purposes, THRIVING. Because Micah was doing so well, he had begun preschool a few half days a week to work on his developmental delays. He was a little social butterfly, and if there was a chance for Micah to get out and jump into the joys of this world, you'd better believe he'd do it.
It was the Friday right before Mother's Day 2016, and Micah came home from school that day just like every other time before. I pulled out his artwork from the day –an adorable little yellow chick, and Micah walked over, pointed to it, and said, 'Yellow!' with that big Micah smile on his face.
On Mother's Day night, two days later, Micah spiked a fever of 106 and was rushed to the Emergency Room, where he was admitted, placed in the Pediatric Intensive Care Unit (PICU), and ultimately intubated, all within the span of six hours.
Hours passed.
The team searched for answers.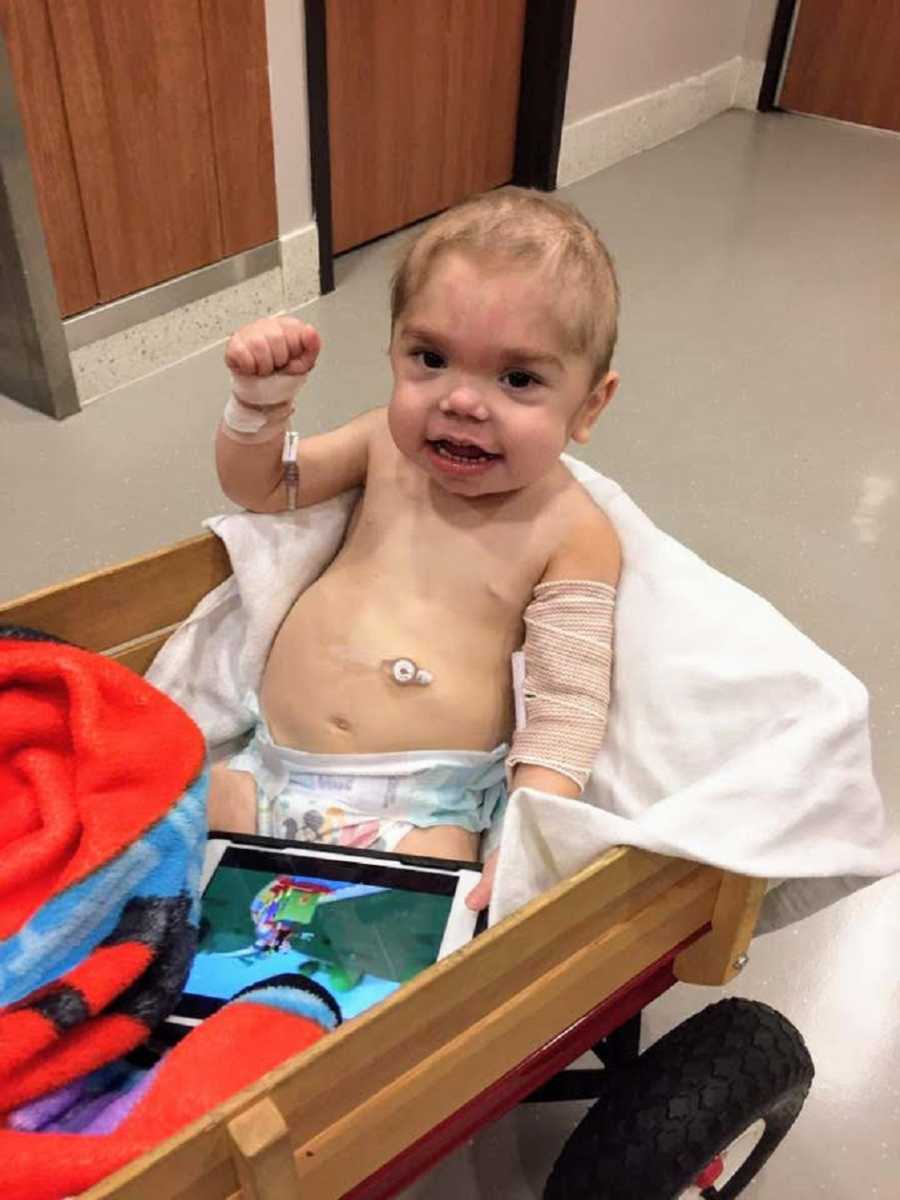 As mother's intuition often does, I pushed for the answers that seemed to be so obvious to me. It took over twenty-four hours for those answers to be confirmed by labs. During that excruciating wait, at one point, I walked into the bathroom in his PICU room, shut the door, and let it ALL out. I screamed, moaned, hit the walls, punched the mirror, and cried the guttural tears of a mother who already knew how the story ends, because she'd lived this story before.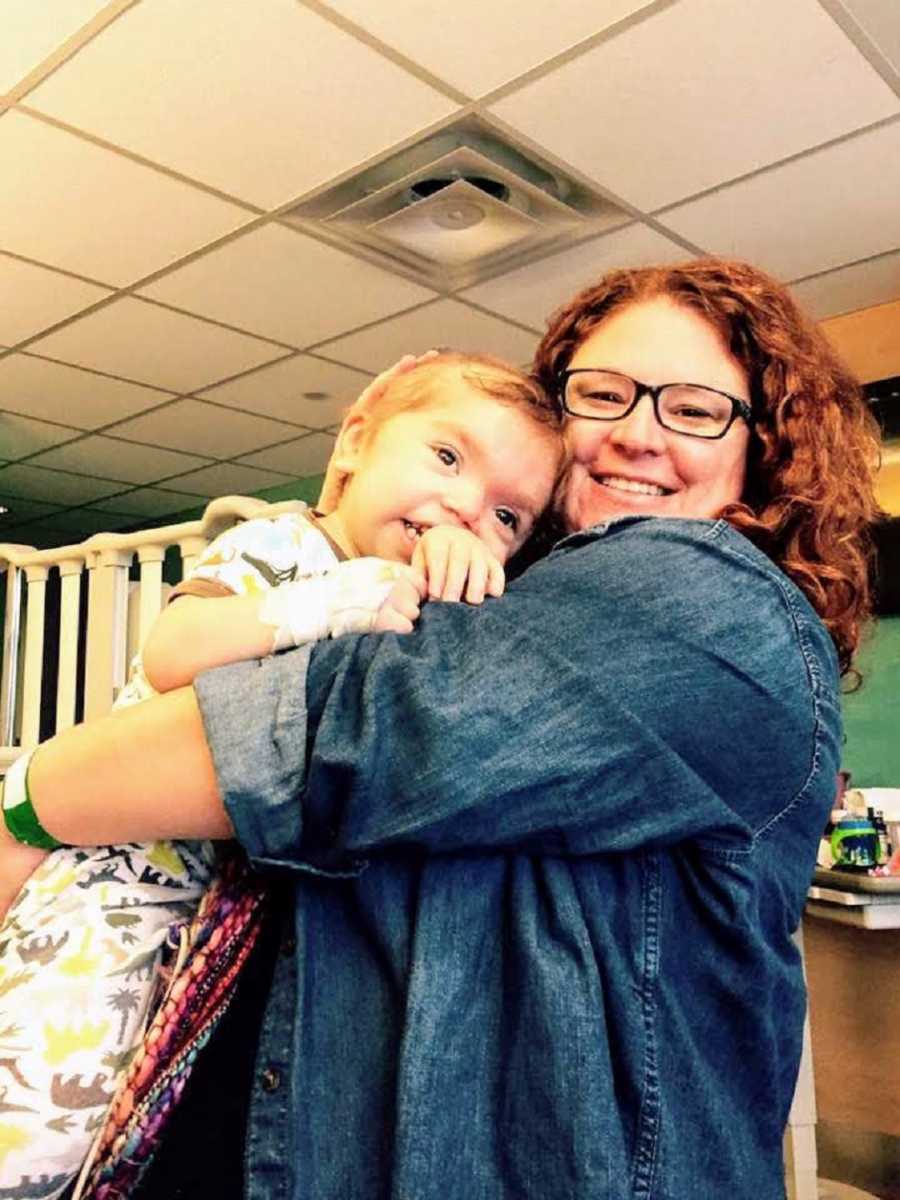 Micah had contracted a bacterial infection that triggered Macrophage Activation Syndrome (MAS), which is a rare, but often fatal complication of his SJIA. By Tuesday morning, with family and close friends surrounding him, I held Micah in my arms, as he took his last breath.
Micah was 1,271 days old. That's how many days I got with him. He died from ARTHRITIS.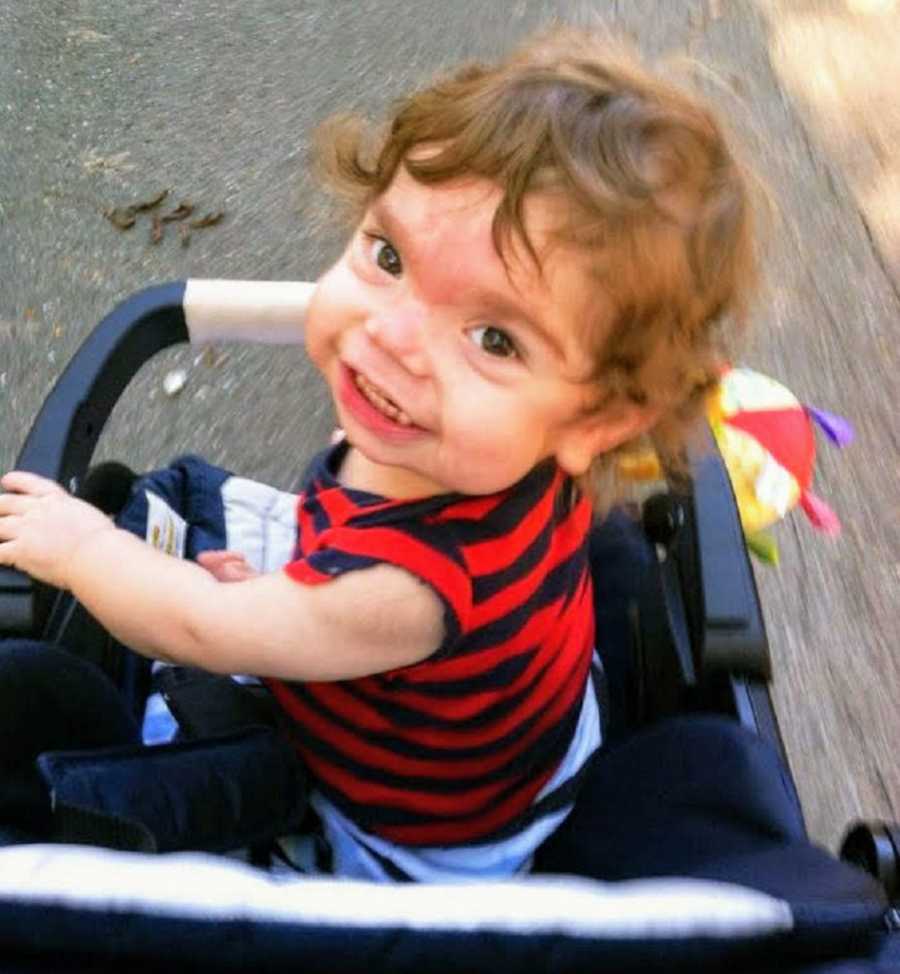 As of now, he's been gone from me for 1,249 days. On November 9th of this year, Micah will have been gone from me for longer than I had him. He would be seven this year, on November 22nd. He would be a first grader. But he's not.
If I had a nickel for every time someone said to me, 'I don't know how you do it, I couldn't get up each day if I were you.' Guess what? You could. You don't really have a choice, do you? I've spent a lot of time over the last eight years studying grief, specifically as it relates to child loss, and there's one thing I know – there are those that give up, just shut down, and live their lives in the past (or stop altogether). And then there are those who cherish the past for what it was, for the gifts their children gave them and commit to spending the rest of their lives doing good work, making a difference, and encouraging others, because by doing so, it honors the child that's passed away.
I wouldn't wish this journey on my worst enemy. It's excruciating. The PTSD alone can drive a person mad. I know now to expect to have bad days, and to allow myself to have them. In extension, I grant myself permission to have pity parties, and to not feel the need to suffer through unnecessary gratitude exercises if I'm just not feeling it.
I don't have to be thankful for their deaths. I'm not thankful for my insomnia, or the fact that there are certain circumstances, even after all this time, that I must avoid so I don't trigger memories that cause undue panic and hardship on me. And I HATE the fact that my oldest child must grow up without his siblings. There are plenty of things NOT to love about this journey.
But the joy I experienced – the pure LOVE I had for Katy and Micah, and they had for me—nothing can compare to that experience. I knew them. I loved them. I LOVE them.
For me, they're an active, present part of my days. I say their names, and I cherish their memories. Some days are downright rough. And then other days, I just feel so incredibly grateful to be given a story to tell, to offer hope to others going through similar circumstances, and to know that a life fulfilled for me has zero to do with my career, my income, or my accomplishments, and has everything to do with honoring their lives.
I am so thankful for every one of the 1,283 days combined I got with Katy and Micah. I got to kiss the face of that beautiful angel here for such a brief stay – to be given the beautiful job of holding her as she saw the face of God. I got to kiss Micah's dirty little ragamuffin face, and I got to rock him to sleep at night. Sometimes, I'm so absolutely overwhelmed with gratitude that he knew I was his momma. I'm thankful for his messes everywhere. I'm even thankful for the flare ups, because they showed me what it meant to be a real fighter.
Sometimes, when I think about it all too much, the tears flow – not from sadness – but from the unbelievable beauty of it all. I am the mother of three amazing children. That'll never change with neither time, nor space, or death."
From podcasts to video shows, parenting resources to happy tears – join the Love What Matters community and subscribe on YouTube.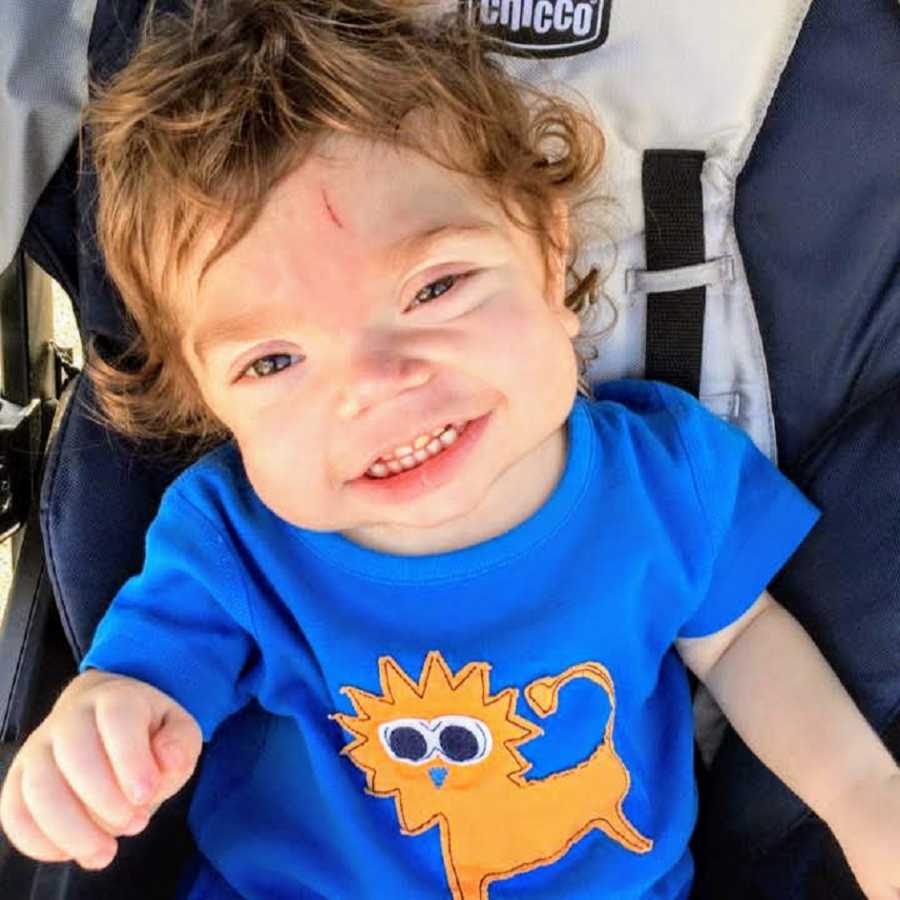 This story was written by Mary Michael Kelley, blogger at Living With Ghosts, from Birmingham, Alabama. Submit your own story here, and be sure to subscribe to our free email newsletter for our best stories.
Read more important stories like this:
'Can you do the session tomorrow? We don't have much time.' I couldn't hold back my tears.': Photographer captures 'bittersweet' moments one day before baby passes from Microcephaly
'As my daughter was giggling, bursting with love in the next room, I was learning she wouldn't be growing up at all.' Mom's 18-month-old daughter diagnosed with 'Childhood Alzheimer's'
Provide hope for someone struggling. SHARE this story on Facebook to let others know a community of support is available.