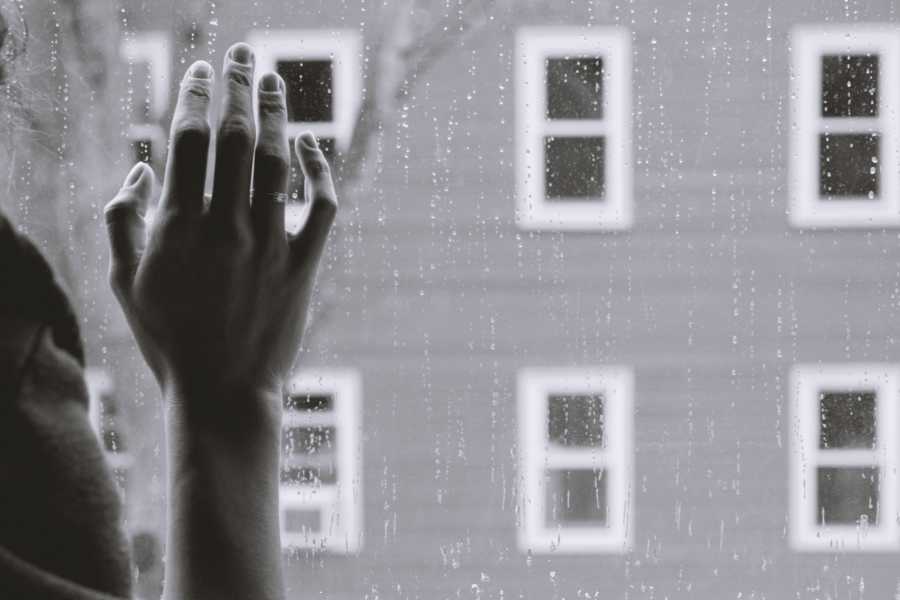 When I was 19, I met my first boyfriend at a local café. His striking blue eyes and sense of humor drew me in straight away. Jake and I exchanged numbers and started dating not long after. We were together for a year and a half before tragedy struck. Days before Christmas of 2013, Jake was diagnosed with brain cancer. He was 24 years old.
For the next three years, Jake threw everything he had at this disease. He underwent two craniotomies, numerous chemotherapies, many radiation sessions, and oncology appointments, but the tumors just wouldn't stop growing back.
Jake was then forced to experience a very brutal and inhumane way of dying. Over the course of a few months, the use of a walking frame was needed, then a wheelchair, then a bed as he faced being almost completely paralyzed from his neck down. In late October of 2016, Jake passed away at 27 years old. We were together for just under five years.
Learning to date again after loss… if only there was a detailed book on the topic. Personally, I found learning to love again after loss is rarely talked about. I wished someone were there to explain the different phases and stages you will go through when you begin another relationship again. Below is my experience of how it feels to love again after a devastating heart break.
Stage One: 'I Will Never Love Again'
I said these words MANY times. Often, they were said months before he had even passed. And I meant it every single time. I had experienced every single aspect of being in a relationship; the good, the great, and the heartbreak that followed. While many get to experience all these emotions in a lifetime together, I got it all condensed down into 5 years.
At the time, it feels like you could never comprehend someone new coming along, let alone feel that type of love in your heart again. Everyone is so different; for some, this phase could last for months and for others, decades. I was here for around 2 and a half years. I acknowledged my feelings of 'never again' are all part of the grief journey.
Stage Two: Grief Healing
Dealing with the grief that followed, while also having vivid flashbacks of his dying experience, is something you can never prepare yourself for. You are deep in mourning. You can't eat, sleep, or concentrate. You are overwhelmed and stressed out. You feel as though some days you can barely function.
My appetite vanished and I lost so much weight my clothes began to slide straight off me. The insomnia still continues to disrupt my sleep to this day. (I can't even remember the last time I slept through the night without waking up 15 times!) You are going to feel like you are slowly losing your mind. It's okay, because you are not going crazy – it's just the physical and emotional symptoms of grief.
Stage Three: Fear
Alongside my attitude of never wanting to get into another relationship again, there was always a lingering fear of, 'If I did, what if it happens again?' This was also a huge part of the reason I steered well away from another relationship. Two and half years later was when I met someone else. The first person I have been interested in since my late partner Jake. That's when a whirlwind of new emotions started, including but not limited to fear, anxiety, guilt, and panic.
I was terrified to open up to someone else in case it happened again. I knew it was normal for someone who had lost a partner like I had to experience this once meeting someone new. I also knew if I didn't get ahold of this, the chance would pass me by. And I didn't want it to. I still have this fear lingering in the back of my mind, but it no longer holds me back like it once did.
Stage Four: Moving Forward, Not On
In many ways, you're never 'over' such an enormous loss. But eventually, you do move forward. Moving into another relationship becomes slightly easier knowing this is what he wanted. Jake told me often to leave him and find someone who can give me the life I deserved. He even told me this on his death bed. Those words always brought me pain then, but later, you do find comfort in them.
It's the opposite of forgetting Jake – it's actively remembering him and deciding how best to move forward while still respecting the past we shared together. Moving forward doesn't mean the end of grief, either. I believe grief will always continue to remind us of loss throughout our lifetimes, just in different ways and at different times.
Stage Five: Honoring Your Late Partner and New Love
Not long after Jake's death, I began my own jewelry business to raise money for vital brain cancer research. It has done incredibly well and has raised just over $12,000 and found it's way to many local newspapers, media outlets, and websites. I feel proud I can honor Jake in such a creative way, like there is almost a piece of his spirit that gets sent all over the world!
Love is similar to the concept of a candle. It doesn't lose any of it's power by lighting another. Personally, I have found this new love feels more independent and more mature. More like the self that was created after loss.
Losing a loved one teaches you many things. Challenging lessons you would have rather learned another way. Life does eventually move forward, as much as you believe it could not possibly during so much pain – but it does. You are not alone, and love does live on. If the time is right and the person is right, you will know. Just as you knew before.
This story was submitted to Love What Matters by Danielle Paparone. You can follow her journey on Instagram and Facebook. You can support her Etsy shop here. Submit your own story here and be sure to subscribe to our free email newsletter for our best stories.
Read more from Danielle here:
'Days before Christmas, I anxiously woke to Jake hitting me in the back. 'He has 6 to 12 months left to live.': Woman raises money for brain cancer research after late boyfriend's passing
Read more stories like this here:
'No. It's just a sinus infection.' I demanded my husband get tested. A full-blown yelling match ensued. 'OK, OK.': Woman loses husband to Brain Cancer after 'sinus infection' misdiagnosis, 'This is a never-ending healing journey'
'We held our babies for the first and last time. We entered the hospital pregnant, and left without our baby.': Woman responds to Chrissy Teigen's viral child loss post, 'You are not alone'
'I found myself sniffing men's deodorant in aisle 11, holding back tears. I'm trying not to forget his smell, but it's fading.': Widow candidly shares 'gut-wrenching' grief journey
Provide hope for someone struggling. SHARE this story on Facebook to let others know a community of support is available.