This is a follow-up story to Shannon's ongoing grief journey. To read the full back story please click here.
"The other day, I decided I was going to get showered and dressed. Like put on make-up, fix my hair, get out of sweats, the look good, feel good kind of dressed. Don't judge but since Kinsley passed, showering is a chore, let alone make-up, real clothes, and hair. On top of that, this corona pandemic doesn't help my situation. My motivation has been lacking when it comes to self-care. We all joke about getting dressed to go to our living room but for this particular day, that's what I was going to do. I feel as though I need to do a jean check occasionally, to make sure they still fit and I'm not putting on the 'Corona-19.' My husband already jokes that he put on the 'Kinsley-20.'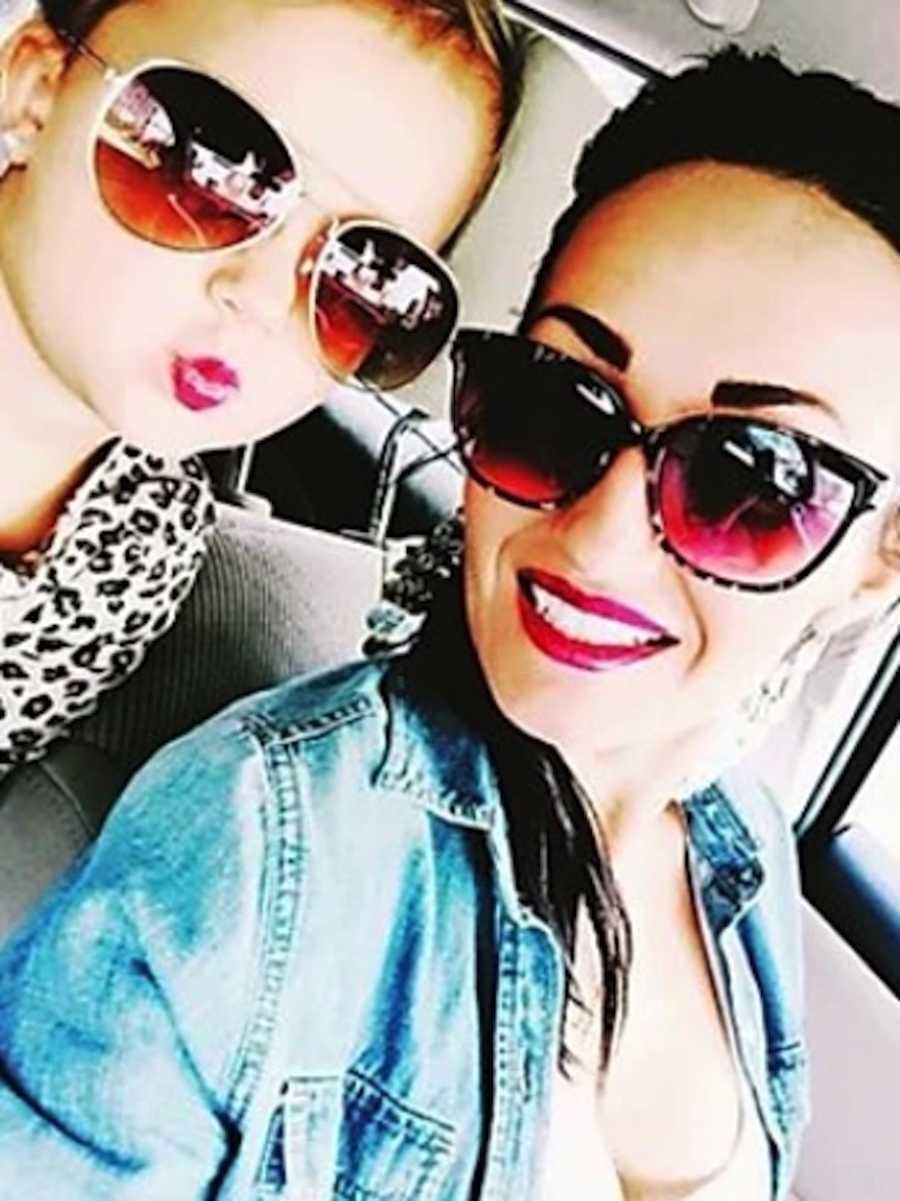 'Happy girls are the prettiest girls.' Being happy is attractive. It's contagious, Looking at photos of people who are truly happy makes me happy. It makes you feel good. Before all of this happened, it felt good to look good. I felt better about myself, confident, and ready for anything when I was 'dressed.' Now it just doesn't seem like an important part of my day. It doesn't matter what I look like because it doesn't match the way I feel. I used to get in pictures with my kids and my husband and take selfies but everything feels and looks different now.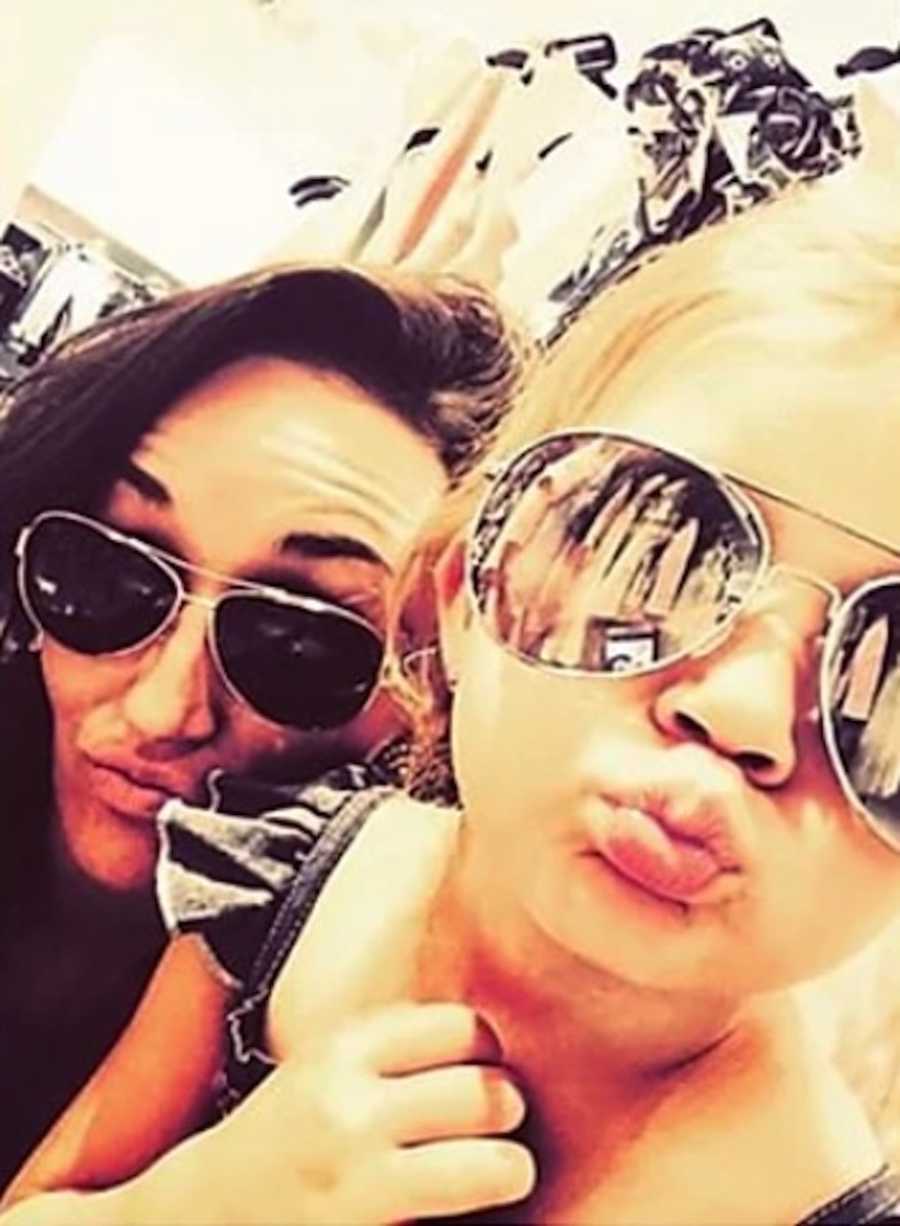 When I was scrolling through pictures on my Facebook looking for a picture of Kinsley and I, I noticed how happy I was. My life was 'picture perfect,' you could say. The woman in those pictures was beautiful: a mom, a wife, a teacher, someone who looked complete, someone who was happy. I can assure you, social media and photos are deceiving and there is a lot more to the 'behind the scenes' than what a picture depicts.
Were we happy every single second? No.
Did I always have everything together? No.
Do the kids walk around every day in matching outfits? No.
But for the most part, what you saw in those pictures was exactly who we were. A perfectly imperfect family, complete, content and most importantly happy.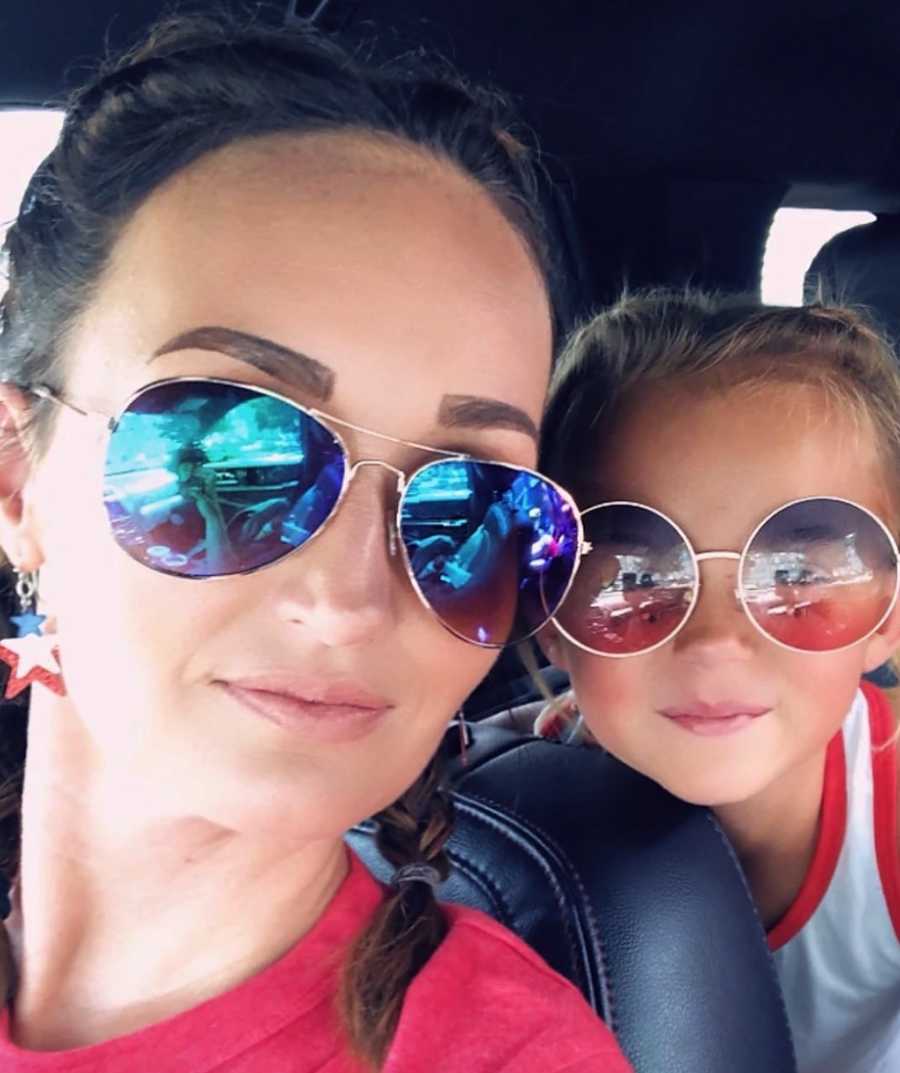 After I got dressed the other day and did my hair and make-up, I was out on the deck watching my kids play in the backyard. The sun was shining, their laughter filled the air, it was an almost perfect day. I say almost perfect because no day will be perfect without her. The lighting on our deck was ideal for photos. I took pictures, videos, boomerangs of the kids jumping on the trampoline, playing on the swing set. Like I said, almost perfect. I took a picture of myself using the filter I like, and I didn't even recognize the woman staring back at me. This is the second time I've taken a photo of myself since she passed. There was the time at the St. Patrick's Day parade my husband and I took a photo together and I noticed the same thing. The woman looking back at me seemed worn and tired, but mostly, she looked completely broken. I could see the hurt in her eyes. There was no light or that little squint of the eyes that reads through the camera to show pure happiness. It wasn't there. The lines on her face, her forehead, her eyes were all evidence of crying and worry. She looked so sad. I don't know who that woman is. Then I realized I have no idea who I am without her. A part of me died when Kinsley died. Now life looks and feels so different.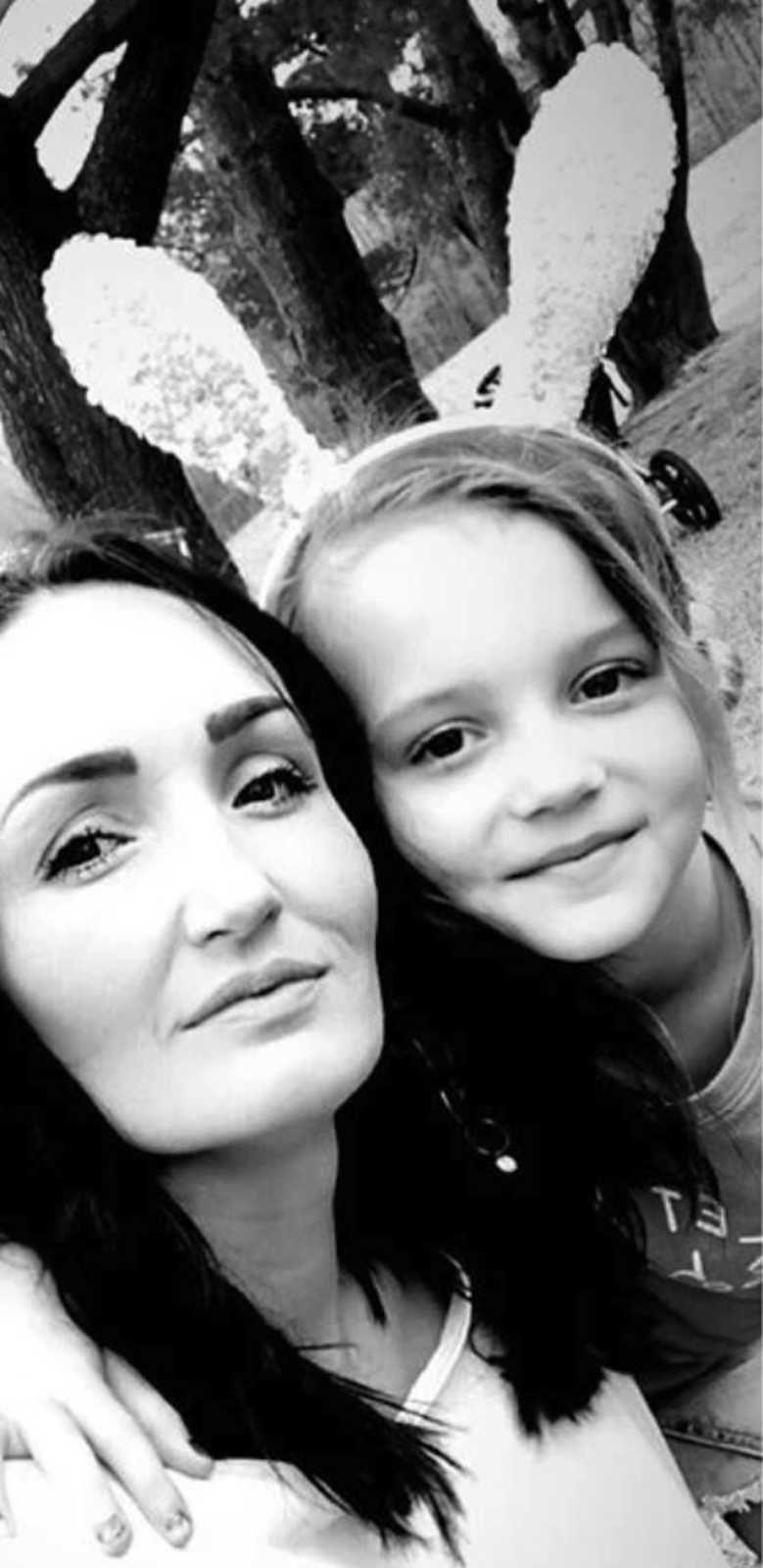 I'm not even sure how to get 'me' back and a part of me doesn't want that if I can't have her. People keep saying there is happiness after loss. Of course, I have moments of joy each day when I am with my family or seeing faces of my friends on Zoom but those moments are minute in comparison to the vast hole of emptiness that consumes most of my day. Pure happiness seems like something of the past or unattainable now that I have experienced such a huge loss. You will never know true pain until you have lost someone you truly love. I will patiently wait to find out what happy looks and feels like after Kinsley, as well as finding a new version of me through this journey. But without Kinsley, I will always and forever be beautifully broken."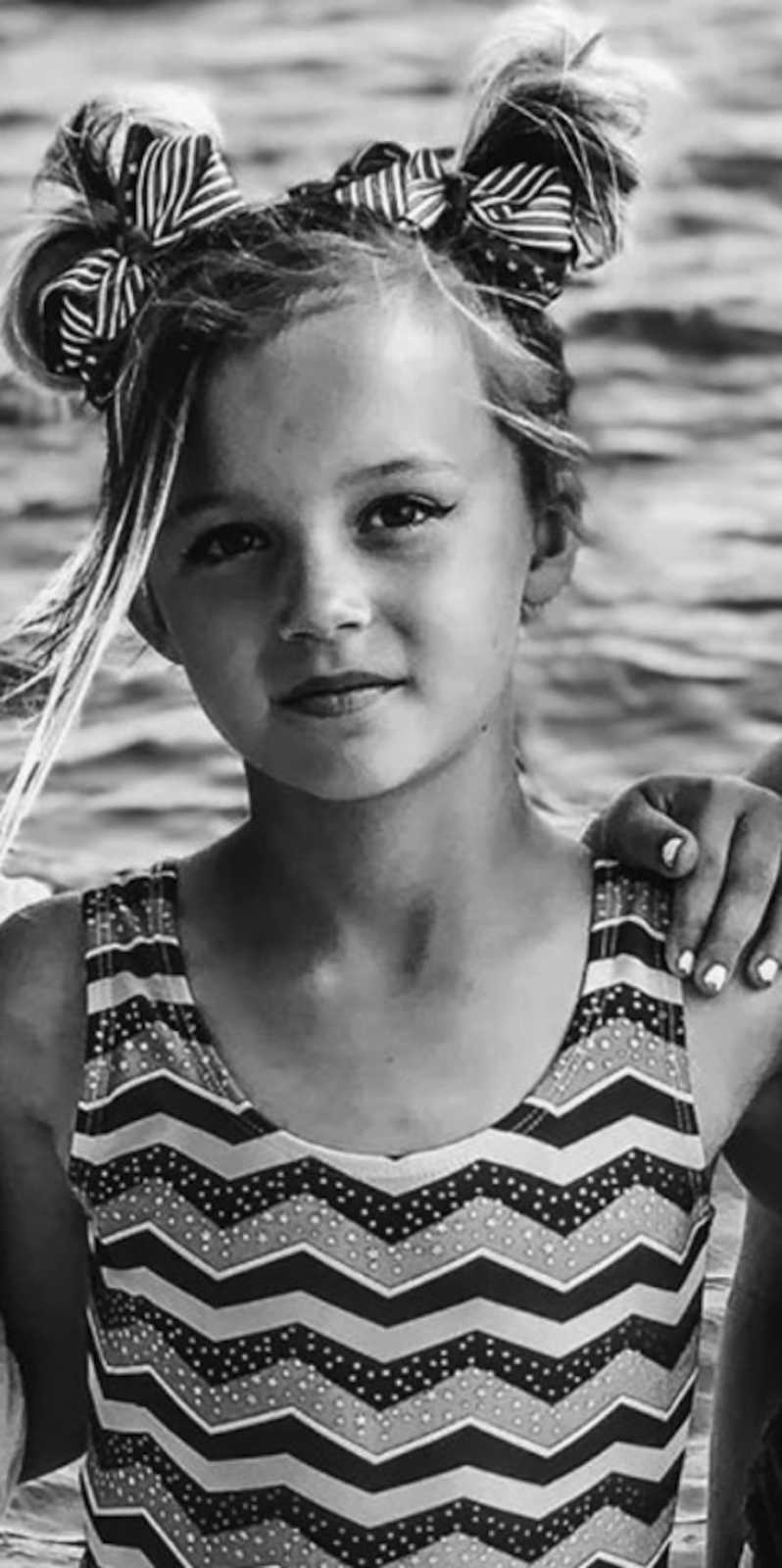 This story was submitted to Love What Matters by Shannon Sandvik. Follow her journey on her website here and Instagram here. Do you have a similar experience? We'd like to hear your important journey. Submit your own story here. Be sure to subscribe to our free email newsletter for our best stories, and YouTube for our best videos.
Read more stories from Shannon here: 
'Her eyes looked up at me in panic. 'Mommy, it's blood.' We were just in the ER and everything said she was fine. My stomach about hit the floor.': Family says goodbye to their 'forever Valentine' after battle with flu
'We were at dinner when I said, 'Hell, give me another drink. I may take up smoking too.' Kinsley was as healthy as a horse and in a week span, she was dead.': Mom loses daughter unexpectedly to flu
'She constantly pissed us off. Lord, did she stir up drama. Now, I'm pissed there will always be an empty seat. The family dynamic has been rocked.': Mom continues to make memories after daughter's passing, 'We are going to find something to smile about'
'Be grateful all of them are in one house alive and healthy, because mine aren't. The fighting used to annoy me. Now, I'm glad they're even here to fight.': Mom says 'they will remember what you do during this quarantine'
'We won't get to take fireball shots together when she turns 21. She'll never get to drive the red jeep with no doors that she wanted. We were robbed.': After losing daughter to flu, mom is reminded that 'love is permanent'
Do you know someone who could benefit from reading this? SHARE this story on Facebook with family and friends.