"I'm probably the most bipolar stay at home mom right now.
Poor kids never know which Momma they're gonna get.
Tonight, I'm going to grill out all your favorite foods! Then, we're going to make s'mores!
Go fix your own food today. If I have to fix it for you, that's more school work for you.
I'm going to work outside all day today getting your pool clean and getting everything perfect for our family!
I'm literally not moving off the couch all day.
Come sit in Momma's lap and let's read a book!
Please don't touch me. I feel claustrophobic.
It's 7:30! Wake up, eat breakfast, brush your teeth, and get ready for homeschool!
Guys, let's just stay in our pajamas today. No school today if you'll let me sleep an extra hour.
Today, we're going on a scavenger hunt together and going to enjoy this beautiful day!
Please just go outside. Don't get bitten by a snake.
No sugar!!! It's not good for you. Grab a water bottle.
Sure cookies for supper are fine. You do you, boo.
If there's anything I've learned while social distancing with four children…while homeschooling…while working from home…is THIS: Don't expect anything.
Take away every expectation you have of how your day is going to go and just throw it away.
Some days are going to be really awesome. You're going to get all of the work completed. The house is going to get cleaned. The kids will have all the healthy foods, and you will calmly accept everything that comes your way.
Then, the other days will come. You'll change out of your night-time pajamas and put on your daytime pajamas. (Or you may just not change at all…and that's okay, too.) You'll have chocolate cake for breakfast. Kids will be constantly hanging on to your pants and screaming for…you're really not sure why they're screaming, actually. But they're doing it. And generally while you're on a Zoom call for your work or trying to take a bath.
You'll lose it, scream, and feel so guilty afterward. BUT DON'T. Don't feel guilty.
We're all just trying to make it through an extremely difficult time. Your kids understand your craziness and love you anyway! Having a bad day? DON'T WORRY. You'll have plenty of other days. At home. With your kids. To make up for it all. Love and prayers for all the other crazy mommies out there just trying to make it through the day! I'm with you, boo! We got this."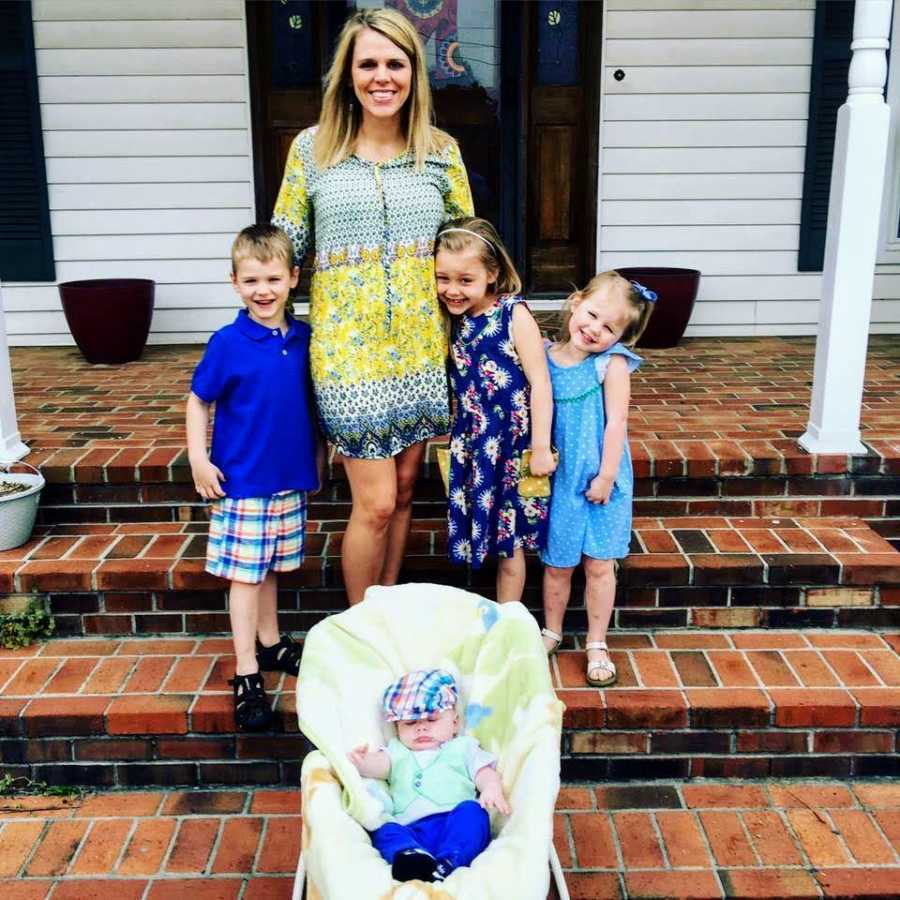 This story was submitted to Love What Matters by Jamie Meeks. You can follow her journey on Facebook. Submit your own story here and be sure to subscribe to our free email newsletter for our best stories, and YouTube for our best videos.
Read about amazing acts of kindness during the coronavirus pandemic:
'I put down my window. She handed me a bag and said, 'We want to thank you for what you're doing. You and all truckers working hard to keep our supply lines open.': Truck driver 'touched' by stranger's act of kindness during pandemic
'My family and I live check by check. 'The lady in front of you wanted you to have this.' I'm pregnant and super emotional as it is. I start bawling my eyes out in line.': Woman thanks stranger for act of kindness, 'There are still great people in this world'
Do you know someone who could benefit from reading this? SHARE this story on Facebook with family and friends.